Zakynthos Greece And What To Do
The Ionian Island of Zakynthos and its main town Zante offer a multitude of diversity between the north coast, the interior of the island the beaches of the south east coast.
The northern edge is defined by extremely steep white limestone cliffs, turquoise inlets and bays and pockets of sandy coves.
The interior of the island is rolling hills filled with Olive plantations and really traditional Greek homes and farms. There is even a 2000 year old Olive tree to see. The southern coast is home to some lovely islands and beaches so Zakynthos has something for everyone.
My recommendation for Zakynthos would be to hire a car, at least for a few days. Hire cars aren't expensive and the island isn't huge so you could spend 2-3 days with your car seeing everything on offer, return the car and then spend the next week on the beach!
You could also base yourself in Zante for a few days and do day tours from there.
So lets dive into the 10 best things to do in Zakynthos!
---
1. Navagio or Shipwreck Beach
In the northeast of Zakynthos lies Shipwreck Cove (or Navagio Beach). Best seen from the top of the cliffs, it is a cove in which the remains of a shipwrecked container ship lies.
The Panagiotis ran aground in 1980 and the logistics of removing it were just too great. This however has lead to Shipwreck Beach being one of Zakynthos premier tourist attractions. If you have a hire car, the location is easy to find on Google Maps and also easy to combine with other things to see in the northern part of the island.
Once you get to the carpark there is a viewing spot that you will have to queue for to take a photo. If you keep walking to the right of the viewing platform (facing it go right) you can walk along the cliffs and see a wider view. Please be careful on the cliffs though and don't go too close to the edge. This land can be unstable.
There are lots of companies that offer visits to the beach as stand alone tours or part of a bigger day tour and I've listed some below.
If you do a tour to the beach you will have time to lay on the beach and take close up photos of the wreck but be warned it does get very busy.
Navagio Shipwreck Beach Tours On Zakynthos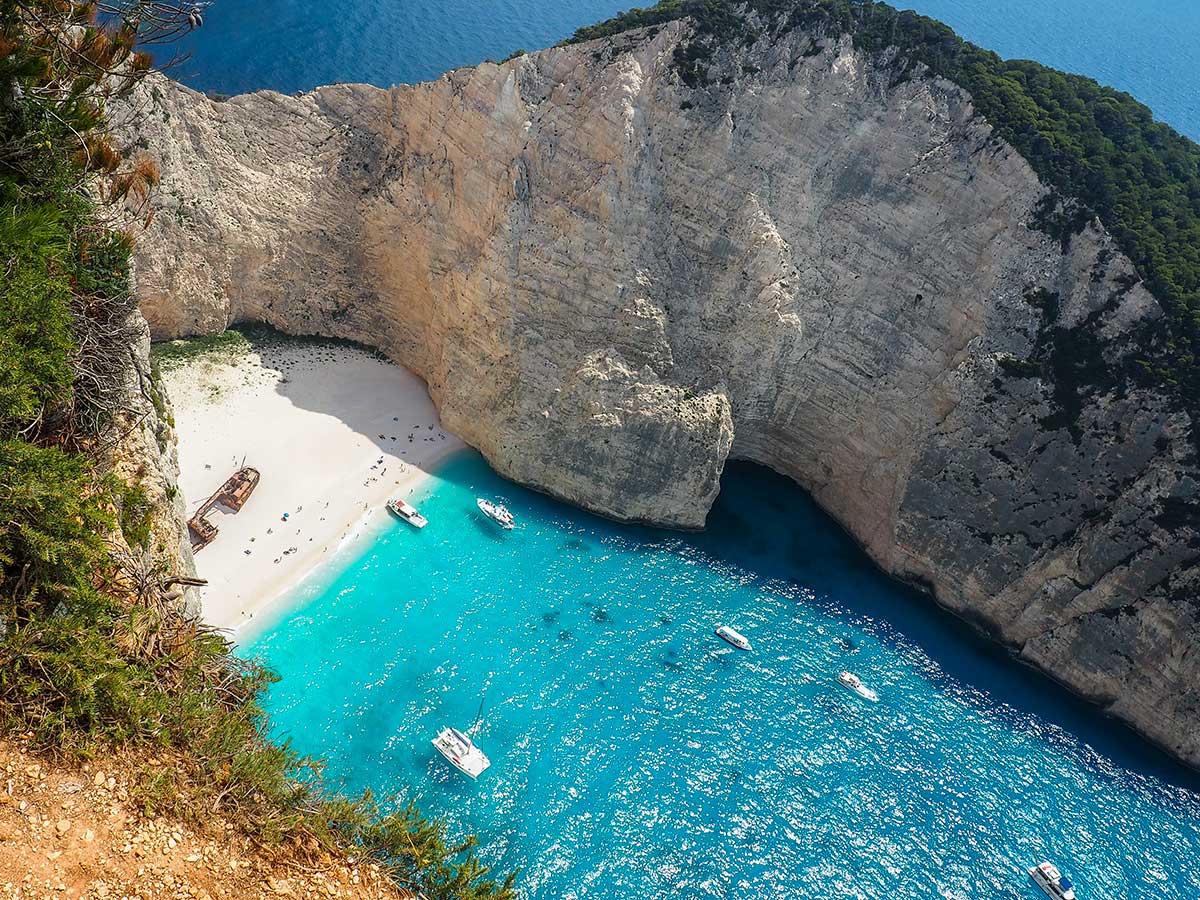 ---
2. 2300 Year Old Olive Tree
In the middle of the island is Exo Chora a small village which hosts an olive tree that is over 2000 years old.
The little town is lovely and there is a Taverna right off the square which serves great lunches. There was also a little stand at which you could purchase olive oil that is apparently from this particular tree. A local lady said it's not there all the time, just during the main tourist season and was very cagey about the oil actually being from this tree so I would say take it with a grain of salt, but purchasing some will help the locals and it is really flavorsome oil!
The tree itself is very gnarly and wizened and there is a little table and chairs where you can sit and have a photo of yourself taken with the 2000 year old olive tree. I would time this for your lunch stop as the Taverna had very good food and I liked spending my money in the little village.
Zakynthos Day Tour That Includes The 2000 Year Old Olive Tree
---
3. Anafonitria Monestery
After leaving Shipwreck Beach if you are intending to head to the Olive tree, Anafonitria Monestery is worth a stop. The grounds are open usually however it isn't common for the interior of the church to be accessible. Its worth a look but to be honest I probably wouldn't make a special trip to see it.
It has a stone tower that was built to defend the church complex which is in remarkably good condition, especially when you consider that the monastery is still standing after a significant earth quake in 1953.
---
4. Walk the promenade in Zante Town
Zante town is often overlooked by visitors to Zakynthos. The beach resorts and azure water of the coast line seems like a much better way to spend your time in the Ionian Islands that in a main town of Zakynthos.
Zante has a charm all of its own and yes while the main road is very tourist oriented, get up early one morning and wander the promenade along the coast line. Taking you past the port and many restaurants and guest houses you will also see things like the Open Air Cinema, a few monuments, countless cafes and of course locals out walking or sitting and watching the world go by. We only spent two days in Zante and I was so glad I got up early one morning and headed out as I got some great bakery recommendations from these two elderly gents I met along the waters edge. They told me in Greek, I answered in English they directed me on Google maps and I got back to our apartment with fresh croissants (I know!) and Greek sweets.
---
5. The Blue Caves
The Blue Caves on the north east coast of Zakynthos area must see for everyone who visits, HOWEVER – the blue that is reflected on the cave walls off the ocean doesn't happen all day. It is usually early in the morning so make sure and ask the tour operator a few days before when the best time to go is. It is still a great few hours out in the boat and make sure you take or wear swim gear but if you want to see the full blue reflection, make sure you get the right time.
If you head out to Agios Nicolaos there are a few tour operators that go direct from there. Otherwise if you get a day tour, they will probably take you there to get on the boat anyway. Be aware that Blue Cave time is something like Philippino time – it will happen but you are never really sure when, so be prepared to wait maybe up to an hour even though they tell you 10 mins.
Day Tours That Do The Blue Caves Zakynthos
---
6. A 4 Hour Scenic Walking Tour
This locally led walking tour leaves from the bus station in Zante and your first stop is the ruins of the Venetian Castle overlooking the town. On Bohali hill, the castle was built by the Venetians in the mid 1600's and was originally an acropolis. Over the years the castle has been damaged by war, weather and earthquakes and is now simply a historical site on Zakynthos.
It was 4 Euro to get in (which surprised me actually) and having the guide meant that we learned all the history and time frame of the castle. I'm not sure if we didn't get any info because we were with a local, but nothing was handed out at the gate so you would just be wandering aimlessly without info about the site. Worth knowing I think.
From here you walk through and over Olive groves and admire the scenery around you. While the walk is 4 hours long, its only about 6-7 km's and does take in some local places in town and the Saint Dionysios Orthodox church.
Well worth it but it won't be suitable for people that aren't walkers. It isn't strenuous at all but its uneven ground in places.
UPDATE: March 2022 – this tour is no longer available, however you can see all Zakynthos options on Get Your Guide via this link.
---
7. Zakynthos Cycling Tour
I must admit I did give the operators of this cycling tour a really good interview. We had just come down to the south of the island after being in the north and mid section for a week and I was really concerned that this cycling tour was going to be for people who could or had ridden the Tour De France. I love my bike but I am absolute rubbish on hills so I was a little nervous.
I had nothing to be concerned about as it was almost all flatish with just one hill leading up in Macherado village.
We ended up with just 3 of us on the tour as a larger group didn't show so the guide was very flexible and took us on these little local roads and we stopped and bought Olives from a local farmer and then bread and meats in town and ended up picnicking under a shady tree later on the ride.
The bikes were great quality and they even had one big enough for my long legs so I was choofed.
---
8. Marathonisi
Marathonisi is the place to go if you are looking to see turtles in the water. I did see two actually but I'm a very experience snorkeller so was swimming out a fair way and diving down a lot.
The beach is lovely but not very big and in peak season it would be packed I would imagine. We got lucky somehow and there was only 4 or 5 boats there that day and by the time I put my drone up a lot had left. I think they must to morning and afternoon tours as lunch time was by far the most quiet. We went out with a friend of our cycling tour from the day before and they were so much fun. In fact Brad ended up on a fishing trip with them the next day,.
I'm sure they do nesting turtle tours but I had already volunteered in Borneo and then helped turtle hatchlings out to see in Panama so we just did the morning out to the beach. A lot of course combine this with Kerri caves but we didn't feel the need to do more caves so we just spent our time on the island.
9. Turtle Spotting Day Trips To Marathonisi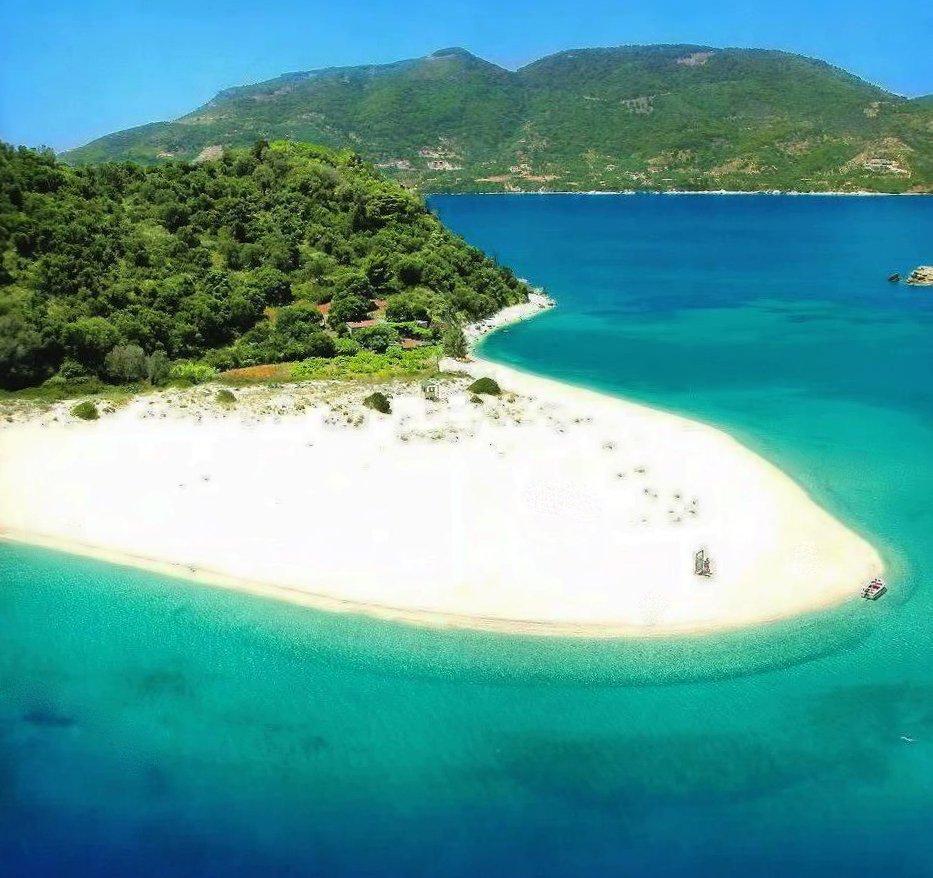 ---
10. Go Fishing For A Day
We got lucky and managed to do a fishing trip out with a local fisherman, however we met a couple that evening who had done a locally run fishing trip and had loved it. While we had to work on a fishing boat, they got to set the nets, visit a few local beaches and swim and snorkel and then pulled the nets and cooked what they caught for dinner. They raved about it so I have no hesitation recommending it. UPDATE March 2022 – This trip is no longer available so I've removed the link, however I suspect it will appear again once the COVID restrictions ease. Keep checking the Ionion Tours on Get Your Guide.
It is a different day out than most of the island tours but it is a great way to see how generations of locals have lived and supported their families for years.
---
Bonus: Orizodes Restaurant
I know it seems weird to put a restaurant in this list but this is one of the best places we ate in all of Greece and it seemed irresponsible NOT to mention it. If you are driving and going to the blue caves, you will as I mentioned earlier find yourself in Agios Nicoleos to get on a boat. The main town does have food, however, it is all tourist food and while it does look good, you see buses with 60 people pull up and pile out and that always makes me nervous if I'm eating somewhere. Not for the quality of the food but for the service and the timing. If I'm going to wait for my food I'd rather be somewhere I want to be and not just trying to get a meal in.
We didn't eat until after we got off our boat tour and almost stayed in the village until Brad remembered seeing this restaurant just up the hill on the way down into town. So we went back to Orizodes Restaurant and hands down one of the best meals we've ever had. If you are heading to the Blue Caves, time your visit with lunch and you won't be sorry.
---
Day Tours Visiting Zakynthos Attractions
If you don't have a car, or feel like letting someone else take the wheel, there are more than a few half or full day tours on Zakynthos. Check these tours from Get Your Guide.
---
Where To Stay On Zakynthos
You have quite a few choices on where to stay on the Greek Island of Zakynthos. I've explained the areas and accommodation choices below.
Zante (Zakynthos Town)
Zante Town is the main town on Zakynthos and is also where the ferry's come and go from. It is a cool little town and there is a few things to do close by. Bochali Venetian Castle is worth seeing and the Panoramic view from Bohali is great. There are lots of places to eat and drink and almost all day tours will pick you up from Zante Town.
Zoom in or out to check on accommodation in and around Zante Town.
TIP – Zooming in will give you more options.
Accommodation in Zante Zakynthos.
Tsilivi Beach
The beaches in this area are nice, but not stunning. Sure they are nice sandy beaches but they aren't the beaches you might expect from a Greek Island. If you are after sun and sand, they will be perfect but it is worth knowing that they aren't white sand stunning beaches for the most part. The local village and facilities means that you can stay at the beach and still walk to restaurants and cafes easily, which is why I've recommended this area. It would be great for families too.
Tsilivi Beach is a sand beach and has a lot of accommodation on and around the beach and surrounding streets. You will find cafes and restaurants, and if you have a spare day, I would highly recommend Secret Beach Club. You will have to make a reservation for both your beach beds and umbrella, and lunch or dinner as it is very popular and gets busy. We spent pretty much a whole day here and loved it.
The North East Coast of Zakynthos Hotels and Villas
These beaches are beautiful, however mostly the area has just villa's and private rentals for accommodation. You will need a car if you are staying up here but it is beautiful. The beaches while mostly pebbles are this crystal clear blue water and to die for! Check out the photo of Xigia beach below. Xigia, Climati and Kremidi beach in this area are all gorgeous little coves and feel like what Greek beaches should be. You will be close to the Blue Caves, Skinari LIghthouse and Cape Skinari up here.
Check out the villa's below for some options on where to stay in this area.
Armyra Villas
BUDGET:
From 130 AUD per night for a studio with terrace. Its not on the beach but it does have a pool and is about 500m from the coast.
Orient Villas Deluxe
MID RANGE:
From $450 AUD per night – HOWEVER this villa sleeps at least 6 people and can manage 8. That's $75 pp for 6 of you with a private pool.
Dion Villa
SPLURGE:
At $730 AUD per night this is the top end for Zakynthos, however it is a lovely villa about 6 mins walk to the beach.
---
How To Get To Zakynthos
Flying To Zakynthos
If you are coming from Athens, you can fly to direct Zakynthos with Sky Express or Olympic Air. Try skyscanner for times and availability. From outside of Greece there are a few direct flights from London, Amsterdam, Rome and Paris, but usually the easiest way to get to Zakynthos is via Athens.
Find a Flight To Zakynthos
Driving To Zakynthos
From Athens Airport it is around 280 kilometers to Kyllini (Killini) where you will catch the car ferry to Zakynthos. The drive is on the motorway most of the way but there are lots of options to get off and eat. Greece has these amazing facilities every 5km on the motorway so toilet breaks are super simple. I loved that about Greece!
The car ferry runs 3-4 times per day and you can book your can on using Levante Ferry's website. If you are booking it before you pick up your car, they enable you to put RENT123 in as your car's rego which is really handy.
As at May 2022 1 small car with 2 passengers was 113.20€ for a return trip on Levante Ferrys.
Regardless of where you stay or how you get there, you will find that a week will go in a flash on Zakynthos. By the time you visit the attractions, eat some amazing Greek food and while away a few days on the beach, your week will be up in no time.
---
Zakynthos Top 10 Things To Do – Summary
Zakynthos was one of the places that blew me away. I planned to go to see the Shipwreck Beach and spend a few days relaxing but I was amazed at how muchthere was to do here. I loved this little Greek Island and am sure you will too. The best thing about Zakynthos is that you can visit 4 or 5 of the main sights on a day trip from Zante town and then pick and choose what extra tours you might like to do.
If you are looking for day out, Get Your Guide Zakynthos tours are a great place to start. Find some by using the link below.
Or of course you can lay on the beach and get a great tan. With sunscreen of course!
Check out my Greece Destination Page for all the info, posts & places to visit in Greece.
---
---