10 Zakynthos Vacation Homes (With A Private Pool) Under $100 per night per person
Zakynthos in the Ionion Group of Islands in the north west of Greece is just as beautiful as Santorini or Mykanos. It is very different to it's more famous cousins, however it is still stunning and worth at least a week's stay. I don't know about you, but if I'm going to be staying in a holiday home or villa, it will be a splurge. If I'm going to spend $150 per night and I can pay $200 and have a pool to myself, that's what I'm going to do. It can be quite challenging to find a great vacation rental with a private pool for that kind of budget, but it is possible!
Here are 10 Amazing Vacation rentals that have their own private pool and are under $75 AUD per night per person. Well one's not but you have to have one budget buster in there right?
NB: My last update for the prices in this post was in February 2021. Prices may be different due to the current COVID outbreak. Prices are in AUD and based around a weeks stay in June.
If you are looking for things to do in Zakynthos, check out this post with all the best tourist destinations to see in Zakynthos.
UPDATED: I updated this post in July of 2022. Prices are still indicative of what I've stated below, however as most of you are aware, prices are flexible and everything seems way more expensive post COVID. I have included a link on every home to check the current prices for your dates. Seasonal prices of course will vary.
---
Homes & Villas with a private pool under $50 per person per night
It is hard to beleive however its not even that difficult to get a Vacation Rental in Zakynthos for less than $50 AUD per person per night. You are unlikely to be ocean side and equally as unlikely to have a fantastic ocean view, but its not impossible.
You will probably need a hire car on Zakynthos though. You might be able to get away with it if you stay somewhere close to Zante Town. You could use Taxi's and Uber to get around, local buses of course and do day trips or tours to see the sights. Paying only $50 per night per person will give you a good budget for tours I would think.
Voro Cottage – Lithakia Village
Set in Lithakia Village about 9km from Zante, Zakynthos's main town Litakia has a population of just under 1500 and is a cute and quiet little village. This cottage is affordable even if you are traveling solo.
Voro cottage is nestled among Olive groves less than 5 minutes drive from local beaches. There is a Taverna, Cafe and minimart in the village and its not far to larger towns with more facilities. Sleeping 2 people in a king sized bed, this cute little villa comes complete with a private pool.
Price: $72 AUD per night (for June 2021) – $36 per person
Min Nights: 4 night minimum booking.
---
Koukla – Lithakia Village
Also situated in Lithakia Village, sleeping 4 with two bedrooms Koukla Villa is a lovely villa beautifully furnished. With a main bathroom off the living area and the second off the main bedroom it is perfect for two couples or a family.
Koukla Vacation Home has a small kitchenette and while it is perfectly serviceable it is small. Two bathrooms allow everyone some privacy and the small hot tub shaped plunge pool will allow you to cool off after a day of sightseeing.
Price: $202 AUD per night (for June 2022) – $50.25 per person
Min Nights: I can't find a minimum booking time frame, however I used a week when searching for these properties.
---
Boschetto Holiday Village – Agios Leon
About a 20 minute walk from Agios Leon, Boschetto Holiday Village would be more suited to a few friends or family wanting a lovely quiet and private location for their Zakynthos trip.
Broschetto Holiday Village is surrounded by Olive orchards and pine forests and is constructed in the traditional stone that is featured around Zakynthos. 3 bedroom with one king and two bedrooms both with single beds this lovely villa would suit almost any combination of guests. With 1 full bathroom and a second toilet it does cater to multiple guests well. The pool looks divine! Close to both Porto Roxa Beach & Porto Limnionas Beach which are beautiful rock edged beaches. This is a villa resorts similar to the ones you find in Bali.
Price: $196 AUD per night (for June 2021) – $48.00 per person
Min Nights: I can't find a minimum booking time frame, however I used a week's stay to get these prices.
---
Villa Kampos
Only 4.8 km from the centre of Zakynthos town, this larger villa is situated in the farming area just past Pastreika. A more traditional Greek home, this villa is a stand alone home that is fully fenced and private.
Sleeping 8, Villa Kampos has four bedrooms, two set up as doubles and two with twin single beds. There are two bathrooms that service the house and of course a sunny pool area to laze the days away. No views to speak of but at the price, who cares! This villa can sleep up to 9.
Price: $194 AUD per night (for June 2022) – $48.65 per person for 4 people.
Min Nights: 1 night.
Check out my Greece Destination page for all Greece Posts
---
Homes & Villas with a private pool under $75 per person per night
Gerakas Stone House – Vasilikos
Vasilikos is a community on the "boot" of Zakynthos that is home to quite a few villas and is the perfect location if you are interested in visiting the Zakynthos Sea Turtle Rescue center. Gerakas Beach is a popular beach that in summer is lined with deck chairs and umbrellas, but managed to maintain that local feel.
Only 200 meters to the beach and close to restaurants, mini marts and bus stops Gerakas Stone House is great for couples and families alike. While they say it sleeps 6, it only has two bedrooms so I've kept my guest numbers to 4 for this one. The pool is surrounded by grass so possibly better for little ones.
Price: $240 AUD per night (for June 2022) – $60 per person
Min Nights: 2-5 nights which I assume will depend on the season.
---
Alonaki Apartment – Agios Leon
There are 4 Apartments in this block, however 2 of them have private swimming pools. While they do say they sleep 5, I've taken that as 5 because there is only 2 bedrooms.
Alonaki Apartments look new and modern and the pool looks lovely. There does seem to be limited seating in the living area which would be worth investigating, however I guess you will be sitting around the pool or under the patio anyway.
Price: $235 AUD per night (for June 2021) – $58.75 per person
Min Nights: 3 night minimum booking.
---
Villa Filanthe – Bochali Zakynthos
Very close to Zakynthos main town, Villa Filanthe commands an impressive view out over the surrounding landscape.
Catering for up to 9 guests (I've based my numbers on 8) it has 4 bedrooms and 3 bathrooms ensuring that it would be a comfortable stay for 8 people. The villa is set over 3 floors with add the the privacy levels and is probably the one villa on my list for which you could do without a car. There are multiple restaurants within 1km of the house and of course taxis and ridesharing are available in Zakynthos.
Price: $420 AUD per night (for Nov 2023) – $52.25 per person
Min Nights: 4 night minimum booking.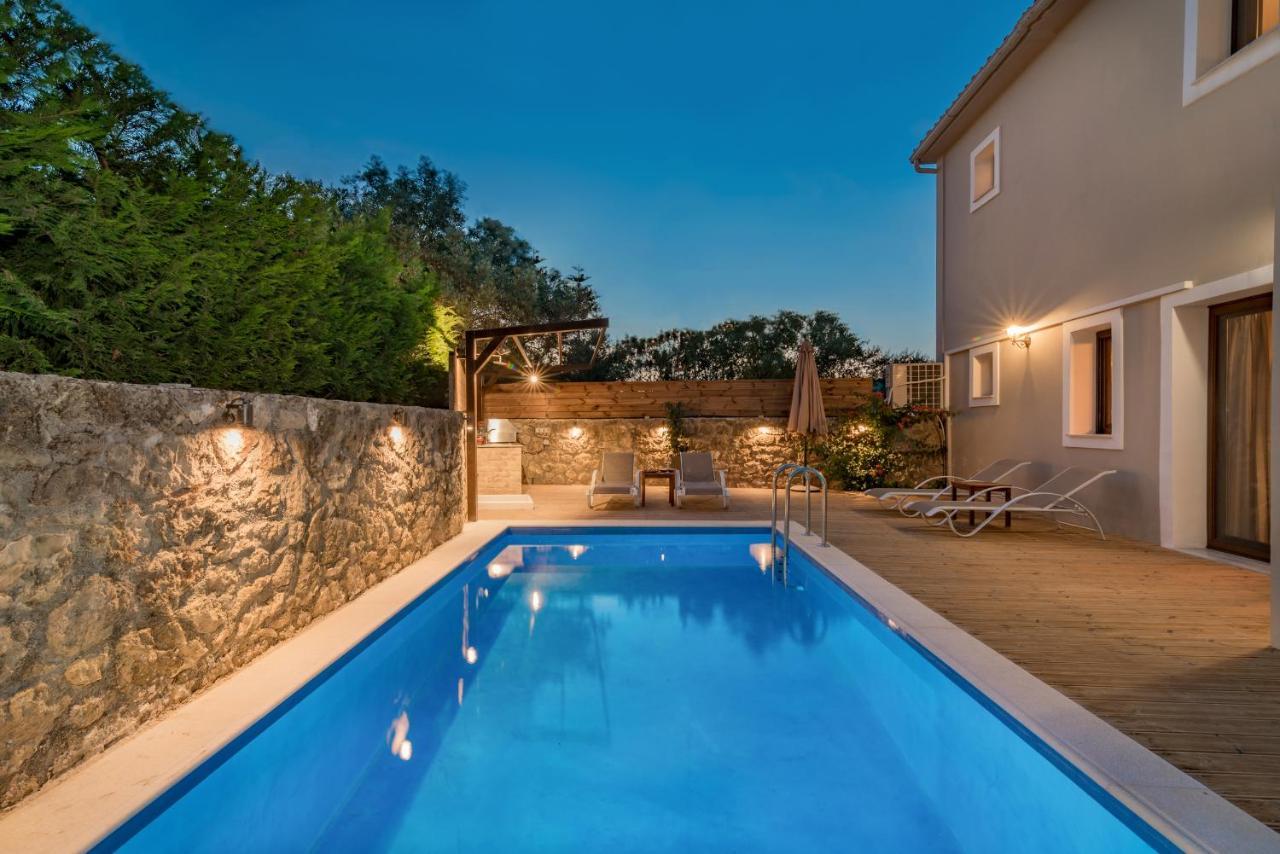 ---
A Villa In Zakynthos With A Private Pool Blowing All Budgets!
Finally, this particular property is just amazing and would be the ultimate budget buster place to stay in Zakynthos for a couple. There are WAY more expensive properties than this one, but I love this and its about the top of what I would ever imagine myself paying. It would have to be for something spectacular though! Maybe for Brad and my 30th wedding aniversary next year??
Villa Astrea, Zakynthos Town
This particular villa is just gorgeous. It is very modern with thick adobe style walls and amazing lighting everywhere.
Villa Astrea sleeps 8 people in style with 4 bedrooms, a gorgeous kitchen, multiple bathrooms and an amazing view from the pool and the house. Airconditioning means you don't have to suffer the hot summers of Zante and it even had its own coffee maker.
Price: $855 AUD per night (for Nov 2023) – it actually only ends up at $107 per person if you have 8 people. Obviously if it was just us it would be $430 per person.
Min Nights: 4 night minimum booking.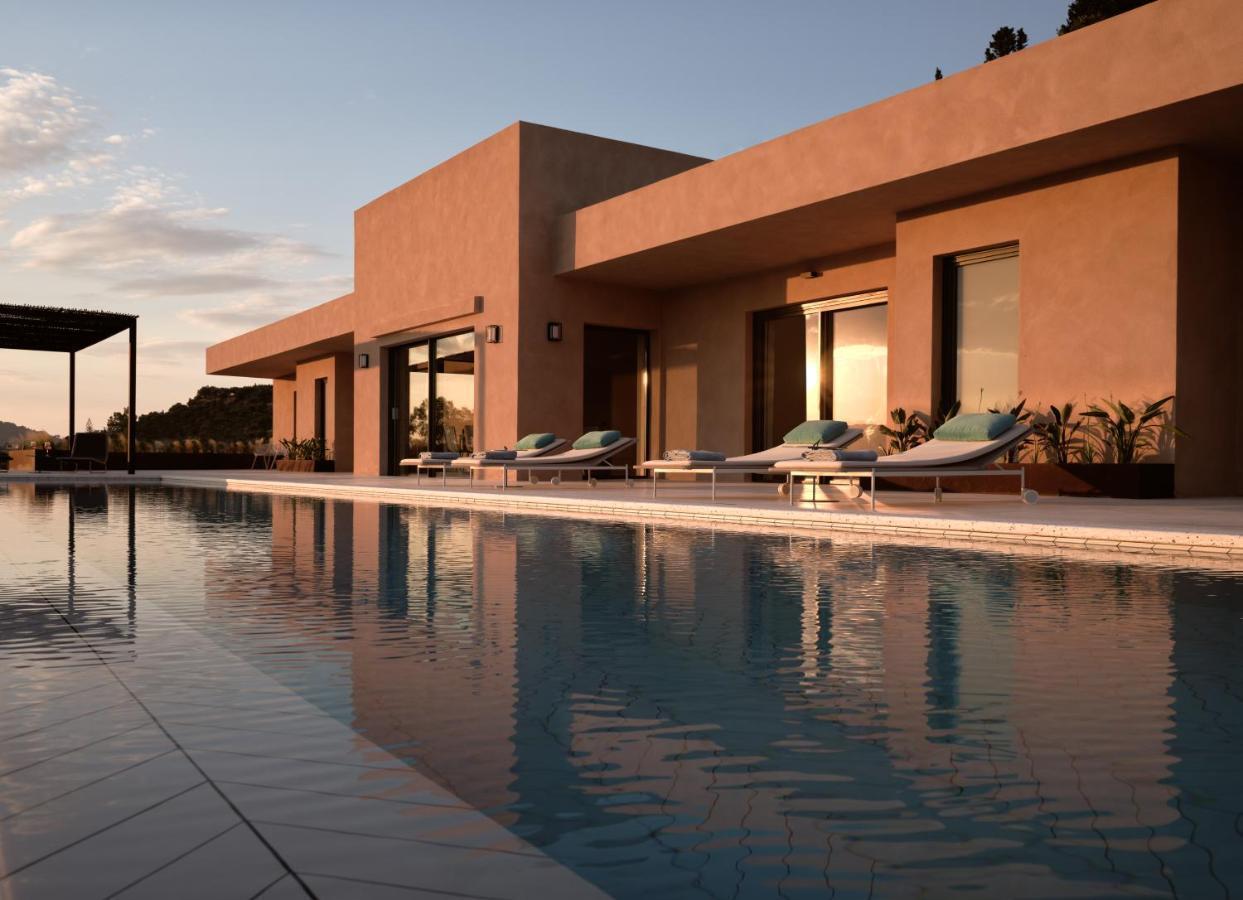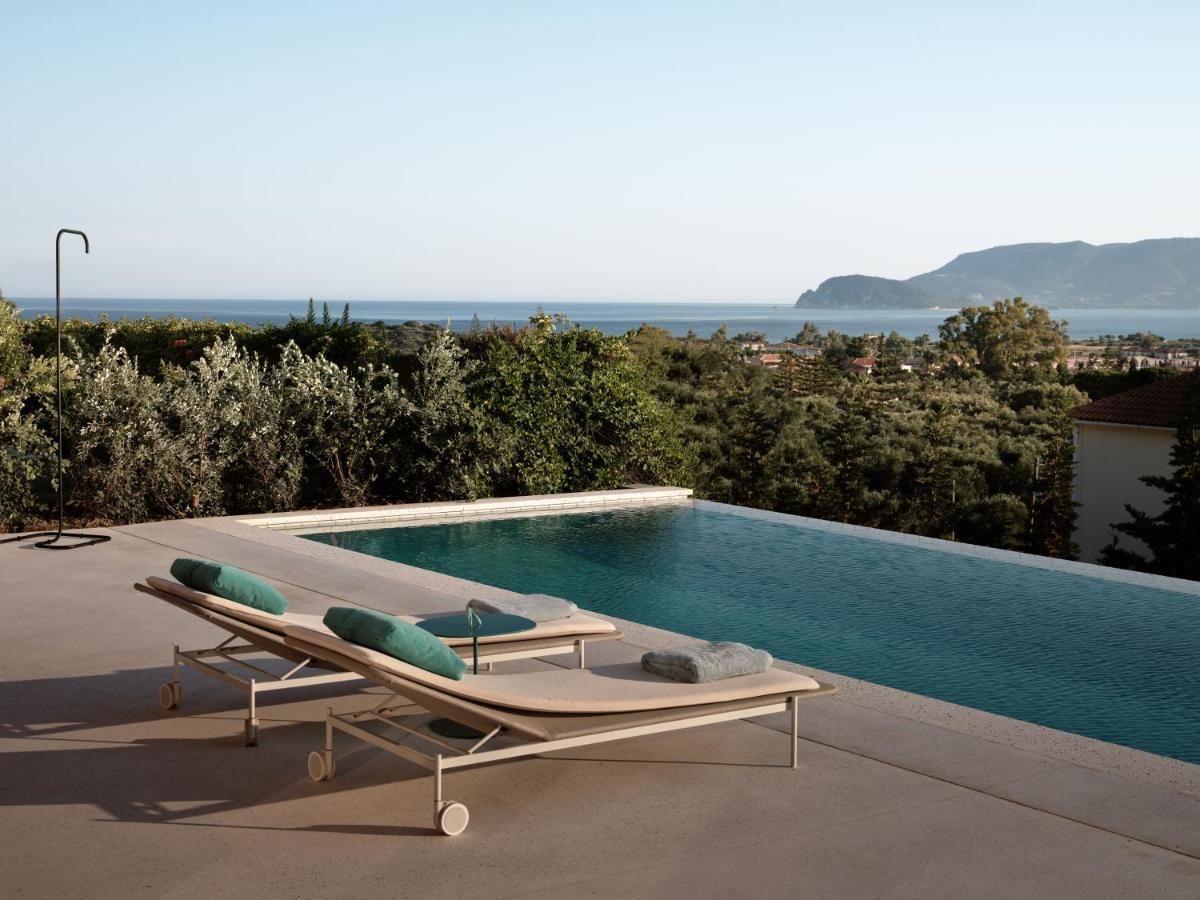 ---
Visiting Zakynthos is a must do if you are spending time in Greece. Zakynthos has heaps to see and do and is worth at the very least a few days. If you are a couple or a group of friends I'm sure one of these private villas (with a pool) will suit your needs.