Looking for what to do in Cusco?
If you are thinking about going to Cusco, you are probably looking to experience some quintessential Peruvian activities. Or maybe you are planning a hike, even possibly the Inca Trail to Machu Pichu. Cusco is a beautiful travel destination that has many interesting places and activities for tourists. You won't lack something fun to do or an experience you will treasure when you are in the city.
I have been to Cusco twice, and each visit included creating many beautiful memories. The first thing you'll notice about the city is the stone pavements, historical architecture, and rich delicacies. I felt that I should share my favourite activities of the city and would also love to hear your feedback on which were your best places to visit. I'm thinking of revisiting Peru to do the Saltanay hike to Machu Piccu so would love an update on the new things Cusco has to offer.
This list includes 15 of the best things to do when you are in Cusco. You may have to travel a few kilometres for some activities, but it will be worth it. Keep your camera close because there is so much beauty around Cusco that you will want to capture. Before we get into the fun activities to do, let's discuss getting adjusted to the city.
What to Do Upon Arriving in Cusco and How to Deal with the Altitude
Cusco is a town in Peru located about 3,200 meters above sea level. It takes a day or two to adjust to the new altitude unless you come from a mountain region. One of the popular remedies hotels offer for free to help visitors with altitude sickness is Cocoa tea. You can also get Cocoa leaves and prepare the tea yourself for the first few days. You can also simply chew the leaves.
Be aware however that Cocoa leaves don't work for everyone and for a decent percentage of people will actually make you feel quite ill. I was about 3 days into the Inca Trail thinking that my altitude sickness was getting way worse when I figured out that the Cocoa leaves were responsible for about 70% of my symptoms. Try it and if you don't feel quite a bit better, it might not be for you.
Once you get to Cusco, take it easy on the first and second day until your system adjusts to the new altitude. Walk slowly, don't rush anything, drink plenty of water and rest when you need to. As you can see in the chart below, Cusco's effective oxygen percentage is about 65% lower than that available at sea level. That's a chunk!
If is worth knowing that altitude sickness often has no correlation whatsoever to your fitness levels. This article from the Journal of Wilderness Medicine on the relationship of mountain sickness to physical fitness is worth a read. So never assume because you have the fitness to hike the Inca Trail that will mean that you don't develop any altitude sickness symptoms. That's just not the case.
These results indicate that physical fitness or exercise intensity during ascent were of minor importance for the development of AMS and HAPE in our subjects.

Reference from Journal Of Wilderness Medicine article
You will want to schedule any real physical activities from around day 3 onwards. Don't worry, though. There are plenty of places to visit and explore while your body adjusts to your new surroundings.
Altitude To Oxygen Chart
This table below will show you just how much altitude affects how much oxygen is in the air. The difference between sea level at the 3200 meters where Cusco sits is considerable. Don't beat yourself up – just take it easy and be prepared to aclimatise slowly.
| Altitude(Feet) | Altitude(Meters) | O2 MonitorReading | EffectiveOxygenPercentage | Example Location |
| --- | --- | --- | --- | --- |
| Sea Level | Sea Level | 20.90% | 20.90% | Sea Level |
| 3,000 | 1000 aprox | 18.60% | 18.60% | Chamonix, France (3,264 ft. – 995m) |
| 7,000 | 2000 aprox | 16% | 16% | Flagstaff, AZ (6,910 – 2106m) |
| 10,000 | 3000 aprox | 14.30% | 14.30% | Leadville, CO (10,200 ft. – 3109m) |
| 11,000 | 3352 | 13.70% | 13.70% | Cusco, Peru (11,152ft – 3399 m) |
| 13,000 | 4000 aprox | 12.70% | 12.70% | Yabuk Camp, Sikkim, India (12,467′ – 3800m) |
| 17,000 | 5150 aprox | 11% | 11% | Everest Base Camp (16,900 ft. – 5150m) |
| 20,000 | 6000 aprox | 9.70% | 9.70% | Mt. Denali (20,310 ft. – 6190m) |
| 24,000 | 7300 aprox | 8.40% | 8.40% | K12, Pakistan (24,370′ – 7428m) |
| 29,000 | 8839 | 6.90% | 6.90% | Mt. Everest (29,029 ft. – 8848m) |
---
Things to See and Do In Cusco
1. San Blas District
San Blas District is a cool place to hang out when you want to have beautiful city views. It is a little way up the mountain and away from the main tourist attractions in the city. There are cool chilling spots including cafes, bars, and restaurants where you can have a good town. It is a quieter place you can visit whenever you want to get away from crowds of tourists in the city. You can also check out jewellery and clothing stores to see if you will find something you like.
One of my favourite places is the Plaza San Blas and the surrounding areas. There are so many hidden treasures in the shops, cafes, and restaurants. You can find new delicacies that will tantalize your taste buds to the point of asking for a recipe to try at home. The clothing store will depend on your style, but everyone can find beautiful pieces as you look around.
Another favourite location is the KM 0 bar, an excellent option for people looking for fun nightlife. Their music is lively, and the happy hour is lengthier than your average happy hours, meaning more drinks at a discount. Do not be discouraged by the hippies who hang outside the bar. Since San Blas isn't crowded with tourists, you can enjoy their thriving nightlife without getting lost in crowds of tourists.
2. Visit the Rainbow Mountains of Vinicuna or Palccoyo
Have you ever heard of a rainbow mountain? For a long time, Rainbow Mountains in Peru were hidden under ice until recently due to climate change. Global warming has seen ice melt on mountain tops, and the Rainbow Mountains are visible to tourists in Peru. The rainbow colors on the mountain tops are a result of metal deposits reflecting sunlight. It is a beautiful sight that tourists like to experience when in Cusco.
This wasn't even discovered the last time I was in Cusco, however they are very popular and I will explain both Rainbow Mountain Ranges below.
Vinicuna Rainbow Mountain
The most popular rainbow mountains destination is the Vinicunca Rainbow Mountain. You have to hike 5,200 meters for three to four hours if you are fit, and about 4-6 hours if you go slowly. Its a very steep hike and not for the unfit. You can rent a horse to take you a good amount of the way, but I've heard that they are small ponies and not suitable to some of the people that get put on them. Make your own decision there.
Palccoyo, The Alternative Rainbow Mountain
This is an excellent alternative if you are not keen on altitude. It is a 1.5-hour hike on a much easy slope to summit the 5,000-meter mountain. It is located in the Palccoyo area, and you will still enjoy beautiful views of the Rainbow Mountain tops. Also, there are fewer tourists in Palccoyo than the 2,000 tourists who visit Vinicunca Rainbow Mountain daily. While the altitude is not too much different, the hike is heaps flatter, the distance shorter and fit people can do it in 45-60 minutes. Even slowly its doable in an hour and a half.
Rainbow Mountain Chart Comparison
| Info | Vinicuna Rainbow Mountain | Palccoyo Rainbow Mountain |
| --- | --- | --- |
| Visitors Per day | 1500-2000 | 70-100 |
| Altitude | 5201m | 4971m |
| Travel Time | 3.5 hours | 3.5 hours |
| Rainbow Mountains | 1 | 3 |
| Time to hike | 2-3 Hours | 45-60 mins |
| Hiking Distance | 6km (10 to do the Red Valley as well) | 7km |
| Hike Difficulty | Hard | Moderate |
It is far easier to get a day tour from Cusco to either mountain than it is to try and get there yourself.
Viator has quite a few day trips to Vinicuna available and almost as many to Palccoyo Rainbow Mountain.
3. Qoricancha (Korincancha or Corincancha) Golden Temple of the Sun & Convent in Cusco
A vacation is not complete without exploring historic locations. The Golden Temple of the Sun is part of the Incan history and mythology of what led to the Temple's destruction. Legend states that the Temple was a sacred place and a centrepiece of the Incan empire. There were riches like gold and silver in the Temple as part of the Incan wealth.
The Temple fell in the era of Emperor Atahualpa, who the Spanish kidnaped, demanding a ransom for his safe return. The Incas melted the Temple's gold and silver reserves to meet the ransom demand by the Spanish. In a turn of events, the Spanish murdered the emperor after receiving the ransom and went to Cusco to take over the empire. Not a great story is it?
The Spanish destroyed the Temple, took the remaining gold, and built a church in the ruins of Qoricancha. You can read the rich history of the clash in the San Damingo Monastery (the Temple the Spanish build) and learn first-hand how a new temple was built in the ruins of an old one.
Entry tickets cost $5, and you can spend 1-2 hours tour through the historical site. Don't forget to check out some street art in Qoricancha before leaving.
4. The 12 Angle Stone
The Incas were a unique civilization, and one of the mysterious things they did was create a fascinating 12 angle stone of Hatunrumiyoc. The stone was symbolic in the Inca Empire, and it was originally part of the Roca Inca Palace. The 12 faces represented the 12 families of the Hurin dynasty and the 12 families of the Hanan dynasty.
The ancient Inca palace built over 700 years ago became an Archbishop's palace in the 20th century. The stone's angles fit into the wall behind them perfectly, which is one of the reasons why tourists are fascinated with it. It is another Inca architectural beauty preserved for tourists from all over the world to see. It is only 500 meters from the main square of Cusco city.
Head to Calle Hatunrumiyoc 480, Cusco just outside the central plaza. Google Maps Location
If you are standing on the road in front of Plaza De Armas looking at the cathedral,
turn right and walk to the T junction,
turn left and walk past the cathedral, past Paddy's Irish pub,
cross over the next cross road into the smaller street almost directly opposite the street you've just walked down &
the 12 angled stone will be on the left in the wall just past the Museo de Arte Religioso
5. Go to Machu Picchu
Machu Picchu is an ancient city that is at the top of Andes Mountain. It is a tourist attraction in Peru because it is a symbol of the Incan Empire. It is among the Seven Wonders of the World, and it is a designated UNESCO World Heritage Site. The citadel fell into ruins once the Incan Empire fell in 1572 after the Spanish conquest. A visit to Machu Picchu for Cusco could be a multi-day visit if you want to enjoy exploring it over more than one visit.
You can get to Machu Picchu via Peru Rail, and the Poroy station outside Cusco is the best place to start your journey. You will enjoy 3.5 hours of a scenic journey along the Urubamba River in the Sacred Valley. Viator has options for different levels of sightseeing train and of course lots of day trips from Cusco. I would take the train over a car however. The train is a great trip.
The tickets go for $50-$150 one way, depending on the demand by tourists and the level of carriage. It would be best to book your tickets in advance on the dates and times that would be most convenient for you.
Or alternatively you could hike the Inca Trail which would be my preferred way to get to Machu Picchu. The hike is amazing and following in the steps of the Incan's all the way to their holy city is incredible.
6. The Sacred Valley
Incas are a large part of the Peruvian culture, and Cusco is close to some of the Incan culture's well-preserved historical sites. A visit to the sacred valley can provide two or three days worth of exploration. You can find tours that take tourists to the locations for affordable fees. Visiting the valley shows the Incas' advancements and will give you insights into the ancient civilization. Below are some of the places to visit in the sacred valley.
Moray: An Agricultural Laboratory
The Incas had human-made terraces in a circular shape, creating an enclosure where agricultural experiments took place. They wanted to learn how light and temperatures affect crop production in farms. The results are evident through the 2000+ species of potatoes that are available in Peru. Moray ruins are another example of the architectural prowess of the old civilization.
Salineras de Maras means Mara Salt Mines, which are the source of premium quality salts from Peru. They are near the Moray ruins, and you can see them during your visit there. We were able to see workers scraping salt in the mines during our visit to Moray.
Pisac Ruins
The ruins are 45 minutes away from Cusco city and a suitable place to visit on a day trip. Most tourists view Pisac ruins as Machu Picchu's little brother. However, expect to be wowed by the ruins during your visit there. The terraces are in good working conditions, and you will have an excellent view of the Urubamba valley from the ruins. The market in Pisac town is also a good wander.
Ollantaytambo
It is easy to get to the old town from the Machu Picchu train stations, and you will appreciate the ruins. Ensure your phone has enough charge to take pictures of the picturesque old town as vacation keepsakes. Many tourists visit the location due to its proximity to Machu Picchu, so you may want to get there early to enjoy the views when it isn't crowded.
7. Humantay Lake Tour
Humantay Lake is a blue glacier lake at the top of Snowy Mountain. You will have to climb 4,200 meters to reach the lake, which will take you about 2hrs each way. There is an option for horses at Humantay, but the experience will be more enjoyable if you walk to the lake.
There are group tours at Cusco that are affordable, and you can book an appointment at one of the offices a day before. It is cheaper to book the tours physically than it is to do it online, however even online they are really affordable, and of course you know you have the date you want. Walk to Plaza De Armas, and you will see several touring agencies that you can visit. You will come down from the mountain with amazing pictures of the glacier lake with a backdrop of the mountain. Most pictures taken there are worth being on a postcard.
8. Sacsayhuaman Sacred Site
Sacsayhuaman (pronounced as Sexy Woman) is an impressive old citadel with walls built using large boulders weighing 300 tons each on average. It is another Inca architectural wonder as most tourists can't help but ask what the Incas had to use to move the boulders. There is enough historical stuff to explore for 1-2 hours before moving to the next location.
You need to check your guide for the Sacred Valley tour as it may be part of it already, and you don't want to spend your vacation time going to the same place twice. Sacsayhuaman is a 30-minute walk uphill from Cusco town Walking includes going through the city of Cusco and up the mountain via the Atoc'sekuchi staircase.
You can ask for assistance to get to the location from hotel staff or use Google Maps. Alternatively, some buses drop tourists at the locations for a small fee. Another way to get there is by using a taxi, which takes about 10-minutes. You can visit Cristo Bianco, a big statue of Jesus Peru got from Palestinians after WWII. You will enjoy a fantastic view of the city of Cusco.
As you prepare to go up to Sacsayhuaman, make arrangements on how you will get back to the city before it is dark. Walking down the mountain using the staircase in the dark is not an option. You can organize for a taxi to pick you up if you plan to stay late.
Entry fee to Sacsayhuaman isn't as simple as buying a ticket at the gate however. It is included as part of the BOLETO TURISTICO GENERAL or the BOLETO TURISTICO PARCIAL which are tickets that cover multiple locations in and around Cusco. If you want to do the budget edition, the PARCIAL ticket includes Sacsayhuaman. You can purchase the ticket at Sacsayhuaman gate – however you just need to know which kind of ticket you want before you get there. It can seem a little confusing.
The Parcial ticket (Circuit I) is aprox $21 USD and includes entry to:
Sacsayhuaman and these other sites within that area:
Qenqo.
Puca Pucara.
Tambomachay.
You need to be aware however that all of these sites are in the Sacsayhuaman compound and the ticket is only valid for one day.
The full Boleto Turistico General ticket includes entry to heaps more around Cusco and is valid for 10 days. More info at the Cusco Touristic Website
9. Cusco Historic Centre
Cusco is an archeological destination for the best archeologists because it was the capital of the Inca Empire. It is also an architectural attraction because historic buildings show an infusion of Spanish and Andean styles. Most historic buildings will make you stop in awe of the beauty and the intricacy of the designs.
Cusco has directions all over for circuits, historical sites, and buildings that tourists can explore. You can start at the city square, Plaza De Armas, where you can see the Cusco Cathedral and the Church of the Company of Jesus. You can explore restaurants for local cuisines and enjoy the sunrise or set from the main square. Tourists can go into buildings to explore the history and the architectural designs.
Other places to see include the following:
San Blas Neighborhood
The San Blas artist district.
The Cusquena School of artists and painters.
The Church of San Blas
The Church and Convent of La Merced
The House of the Inca Garcilaso de la Vega
The House of the Admiral
10. Coffee on a Balcony Over Plaza De Armas
Balconies have a way of making regular streets interesting and amazing views something to remember. We are not used to aerial views of things, and seeing the beautiful city of Cusco when taking Peruvian coffee is one of the things you need to do. Plaza De Armas is a busy location with cafés on the second floor that offer magnificent views of the city.
The square has the Cusco cathedral on one side, which acts as a UNESCO heritage site, and the beautiful Church de La Campania de Jesus closeby. You can opt to drink your morning coffee or evening drinks near the central square of the city. The best place on Plaza De Armas is Cappuccino, where you can enjoy world-class Peruvian coffee.
You can opt for Cappuccino Cusco Cafe for taking morning coffee on a balcony or a drink after a day of exploration. Another place where you can get terrific coffee is L'Atelier Cafe Concept in San Blas. Overall, your visit to Cusco should include coffee on a balcony people watching everyone below.
11. Have a Meal at Green Point
Cusco has a variety of delicious cuisines that tourists can try out. Even if you aren't usually a vegetarian, Green Point is an excellent place to try out delicious vegetarian meals. You may even be inspired by some of the meals and want to attempt them once you get back home. They have a menu of the day that is always amazing, but only available until its gone.
There is a standard menu that is a little more expensive and is probably better for dinner. Green Point is popular, and you need to get there early before food sells out. You can book online here.
If you are looking for an alternative, Taste Of India, Cafe Carvalho is an excellent place for a curry. You can request for your curry to be extra spicy if you like spicy food.
You can explore other Peruvian restaurants with both local delicacies or food that is taken from other cultures to create unique culinary dishes. I always love the way there is great food in Cusco for a reasonable price compared to other travel destinations. You can still find Italian or Japanese restaurants if you are craving some regular meals.
12. Shop for Trendy Local Clothing
Tourists greatly overlook Peru's fashion designs because they aren't the main attractions for visitors. However, Cusco has small shops that carry trendy clothes that can help you stand out from the crowd. The city has some top-notch textile manufacturers, and cloth designs have hints of Incan culture, making the pieces unique. You can only get some of the designs in the little streets in Cusco, so don't leave the city without a proper shopping spree.
13. Chocolate Tasting and Cooking Classes
Travelers with a sweet tooth can visit Cusco to enjoy some top-rated chocolate from premium cocoa beans grown in Peru. There are several places where tourists can visit to get a tour and learn the chocolate-making process. The best part is sampling (in significant amounts) high-quality chocolate around the city. You can visit the Choco Museo for a workshop where you can create your chocolates. Other places to visit on your chocolate tour are Bonbonao and Tika Chocolates.
Cooking is an essential part of the Peruvian culture, and cooking classes can teach you a few skills in Cusco. Cooking classes include visiting the market and learning about corn and potatoes before proceeding to the kitchen to prepare meals. Your instructor will provide the history of various cuisines that you prepare. There is a four-hour class in Cusco that was our favourite, and we recommend it to anyone visiting Cusco.
14. Watch the Sunset
Watching the sunset may seem like a normal activity to do while on vacation, but wait till you get to one of the viewpoints in Cusco. Cusco and its surrounding areas are beautiful, but the sunset rays add a deep level of beauty that makes the whole place look like something out of a Van Go. You can use many viewpoints to get a breathtaking view of the city and the surrounding areas.
Limbus Restobar is an excellent place to watch the sunset and the city as you sip a cool drink. It would be best to prepare yourself for a long and breathless climb to get to the location, but it is all worth the effort. There is an outdoor sitting area, but the place has ceiling to floor glass walls for those who want to watch the sunset from inside. The queues for drinks can be long, so you will need to be patient.
The View House is another place where you can cool your heels and enjoy a rooftop ambiance as you watch the sunset. It is a bit higher on the mountain so there are no big crowds and the service for drinks is faster. The extra climb will be worthwhile as you watch the mountain's foot and valley transform into a gorgeous view. Other amazing viewpoints include:
Plaza San Cristobal
Desde ei Cristo Bianco
Mirador de San Bias
15. Visit San Pedro Market
A visit to the San Pedro market is a different experience from the markets that you see in the USA. There is street food in the market, and you can buy lunch or a smoothie from the market when you are hungry. The market has a collection of food vendors as well as others who sell trinkets and gifts. There are fruits and vegetables in plenty, depending on what is in season at the time of your visit.
If you are used to sanitizing areas, be ready to see stained butcher boards as meat and fish are sold in the market. All produce is fresh and safe for consumption. Another thing you will experience is how many locals visit the market for produce. You will be amazed at how the residents of Cusco consume a lot of fresh food.
If you enjoy the San Pedro market experience, you can visit Mercado Wanchaq daily and Baratillo market on Saturdays. Don't forget to find something memorable to buy when you visit the market. Overall, you will experience how the locals live when you visit any of the markets above.
What You Need For Your Visit to Cusco
As you can see, many activities involve walking around the city and exploring historical sites in and around Cusco. You should pack a good paid of walking shoes and/or hiking boots. It is imperative to have the right footwear to protect your feet and your joints. While most of the walking is on firm surfaces there are a lot of steps and the paths can be uneven. It is possible to walk more than 15,000 steps by the time you sit down in the evening to enjoy a drink so good shoes are a must.
You will need warm clothes for hiking at mountain tops, some of which could have some snow on them.
A backpack will come in handy when you are exploring ruins or walking on a trail. Most ruins and attractions are close to the city, and the others are accessible by car or train. I've not experienced any pickpocketing in Cusco but as per any tourism location I'm sure it is there. So be careful, don't carry your passport with you and keep to smaller currency notes so you aren't seen changing larger denominations.
Finally, rest after going on a hike, especially the longer ones like the Rainbow Mountains hike or the Humantay lake visit. You can enjoy non-hiking activities like exploring the city and historic buildings on rest days. Also, try out different cuisines as you take time to recover from your hiking activities.
Conclusion
The list above contains all the areas we found interesting during our visit to Cusco, Peru. Some tours will take you to the historical sites at an affordable fee. However, it is cheaper to go to the sites without a touring agency. It is easy to find most of the locations using Google Maps or asking the hotel staff for directions. There are so many places around the city that you can walk to and have fun experiences during your vacation.
You might not have to do all the activities on this list, but you will still have a good time in Cusco, Peru. This is just a list of my favourite places, and I thought you could check them out if it is your first time visiting Cusco. Above all, ensure your phone or camera stays charged because there are some impressive ruins and moments in Cusco that you can capture and cherish when you are back home.
Accommodation Options In Cusco
Hotels and hostels in Cusco can be very affordable which makes it easy to stay for more than a few days. From around $9 per night for a dorm bed you can't go too wrong. I know most of you reading this would probably like a private bathroom so these accommodations below are all close to the center of town and the rate is per night. So if you have two people, they range from $32.50 AUD per person per night.
La Casona Real Hotel
BUDGET LEVEL:
Large clean rooms with a view out of almost every room's window. Central Cusco location. From $63.50 per night for 2 guests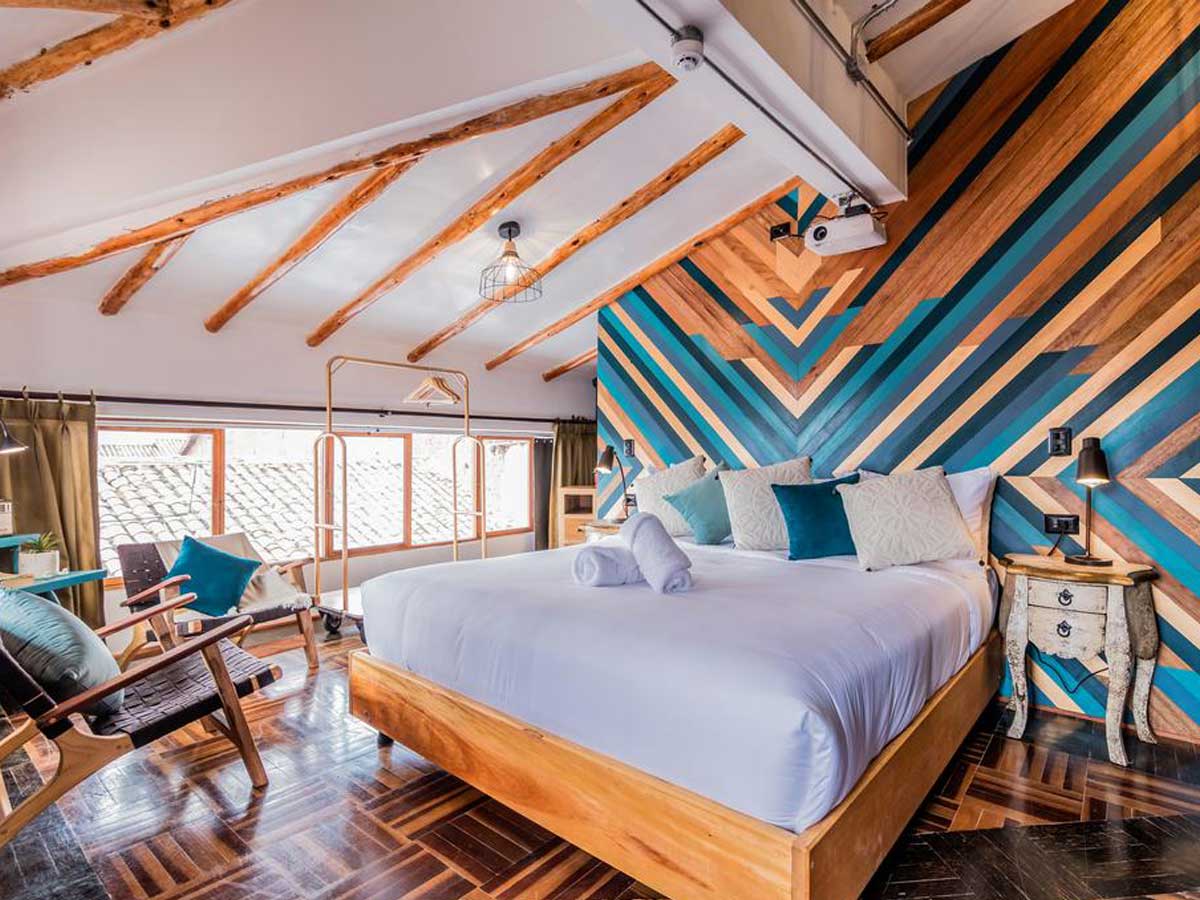 Selina Plaza De Armas
MID RANGE:
Two blocs from the Plaza De Armas, this very cute hotel has rooms that are very cool. A standard room with a bathroom will set you back $72 per night.
Inkarri Cusco
UPPER RANGE:
Situated close to everything on offer in Cusco this very cute hotel offers rooms from just $87.75 per night. These are all AUD as well.
NB!! – If you are going to be travelling regularly, try creating an account on Booking.com (who I use for almost all of my accommodation) as once you have a good booking history you will aquire a Genius status account. It doesn't take much and there are three levels now, however being a genius member myself, the rates for these bookings dropped considerably.
La Casona went from $251 for 4 nights to $175

Selina Plaza De Armas went from $186 for 4 nights to $158 and

Inkarri Cusco went from $413 for 4 nights to $351.
Admittedly when I last updated these prices it was March 2021 and COVID is in full swing so discounts are much higher than they usually are, however the level 3 Genius usually means at least 15-20% off everything and often up to 40% off the expensive hotels. I've gotten The Meydan Hotel in Dubai for $230 per night which is usually around $600 I think. That's not something I would normally spend but man that hotel is NICE!