Iceland in Winter – Don't be afraid!
I know you think me saying don't be afraid to visit Iceland in winter is a little daft, but I'm Australian. I live on the Gold Coast (Surfers Paradise & Snapper Rocks) so if I can spend time in Iceland in winter, so can you!
---
What to expect for Iceland in winter
I'm not going to lie – its going to be COLD!
Your other main consideration should be when in winter you visit. February probably isn't the best idea but November or even December is completely doable – usually!
Obviously you need to check the weather forecast and I don't just mean for tomorrow. Check what is expected over the next month. If you look at December and the forecast is for an unusually high snowfall or a massive cold front that isn't usual weather in December, think about how that might impact your trip.
We visited at the end of November and I could say this is almost the perfect winter time to visit Iceland. Its cold for sure, but not so bad that everything starts to close down and most tours are still available in November.
---
What to do in Iceland in winter
The Golden Circle
The Golden Circle is a tour path done by a few tour operators but it is well worth the full day out to do it.
Usually it encompasses:
The UNESCO-listed Thingvellir National Park
Gulfoss Waterfall;
Geysir, the geyser after which which puts all others to shame
Kerið crater lake.
The North American and Eurasian tectonic plates.
There are so many companies that do this tour (check them out below), however we went direct to Xtreme Iceland and did their full day Golden Circle Tour. Unfortunately the Thermo Power plant is no longer on their tour and that was really worth a visit so if you are considering doing a day tour for the Golden Circle see if you can find one with the power station included.
Some Great Tours Of The Golden Circle From Reykjavic
---
Gulfoss Waterfall
Gullfoss is one of the few waterfalls in the world where you view it from above. This perspective makes it look like the water is falling into a hole in the earth.
There are multiple viewpoints however they aren't all open during winter. The steps down to the lower viewpoint may be open but BEWARE – they can be very icy and slippery so you must be careful and if you have them put your crampons on. The trail that goes down to the overlook is now always closed in winter and it would be really dangerous to even try that in the snowy and icy conditions.
The visitors center has good information about the history of the falls and they of course have souvenirs and a cafe. There are bathrooms inside the visitors center, and also paid bathrooms outside. A lot of people were complaining about the paid toilets however I found them to always be clean and well looked after all over Iceland so I never had a challenge paying for the facility.
The experts actually consider Gullfoss to be two individual waterfalls. When you take a good look it is two separate drops. The top one is considered to be a cascade and not an actual waterfall. A cascade is where the water runs over the rocks where as a waterfall the water drops off the rocks with no intervention until it hits the bottom pool. Geologists believe that the Gullfoss canyon was formed by glacial outbursts sometime during the last ice age.
In winter you can get pretty close, however in summer don't be surprised if you end up drenched by the waterfall's mighty spray at the same distance.
NB: Almost all tours that do the Golden Circle will include Gullfoss so you will see it if you do a Golden Circle Tour.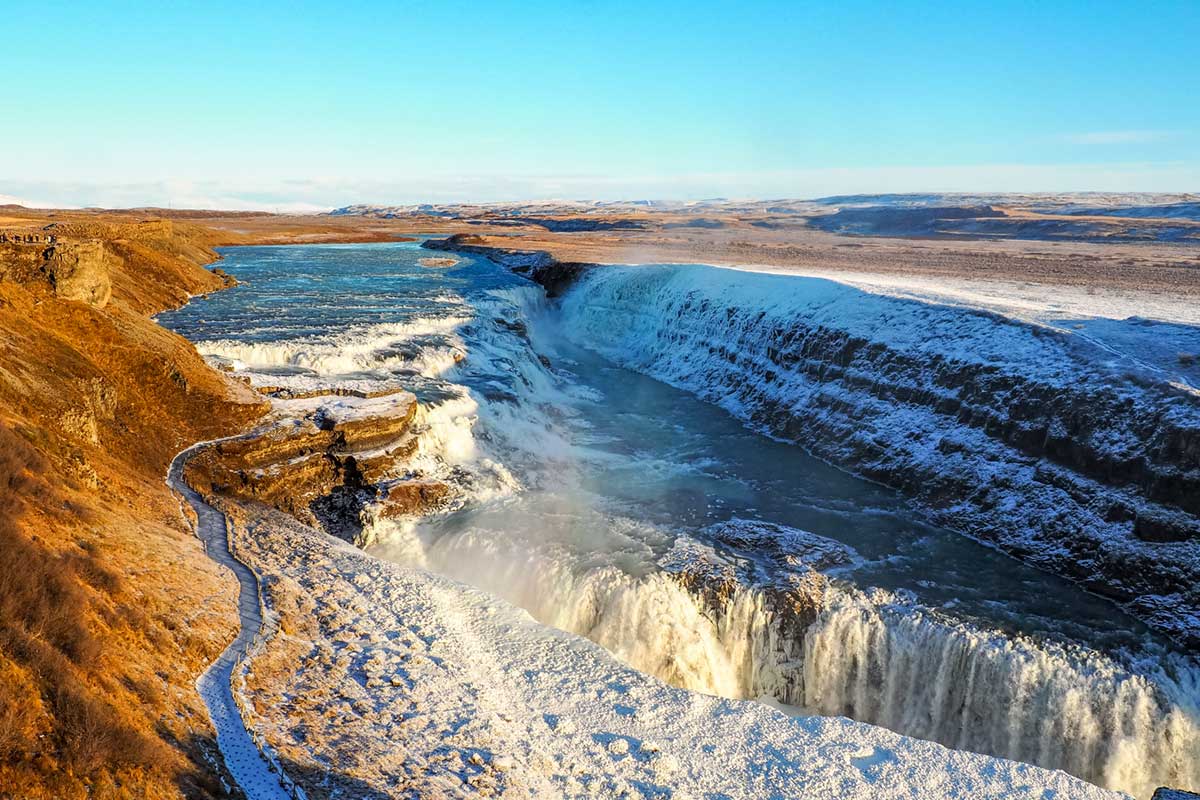 ---
The Tectonic Plates
Iceland is the only place in the world where you can see the meeting of two tectonic plates above the water level. Iceland is divided by the North American & Eurasian tectonic plates and visiting Þingvellir National park will enable you to see both plates up close and personal.
The rift valley in between the two plates is effectively no mans land and you can walk alongside (or between) both of the plates along a nice path. As everything is in winter in Iceland, it can be very slippery so if you have crampons, put them on! At the end of the path there is a lovely waterfall called Öxaráfoss. The plates move approximately 2.5cm per year and while there is a lot of volcanic activity in this are it's not something you usually feel.
There are places you can snorkel or dive in between the plates and visibility is in excess of 100 meters. The most popular one is Silfra Fissure. The water is around 2 degrees celcius all year round so you do have to use a dry suit to take part in these tours. Snorkeling requires you to be over 12 and able to swim well but diving here means you must be dry suit qualified. This tour is the full Golden Circle with Silfra snorkelling included.
Unfortunately it is primarily a summer adventure so its usually not available in the winter.
---
Geyser Hot Springs
While there are many many geysirs in Iceland one of the most popular is Strokkkur at the Geysir Hot Spring center. The Great Geyser in the same location has traditionally been the most impressive however it is not currently erupting. Affected by an earthquake in 2000, the Great Geysir eruptions reached up to 125 meters and on occasion lasted for 2 whole days. The eruptions however decreased down to a few times a day by 2003 and today its activity is minimal and its impossible to predict when it might erupt again.
Stokkur erupts every 7 or 8 minutes and its usually around 15-20 meters in height. It is a very cool thing to see. There is information in the visitors center telling you how to prime for photos. The surface of the pool starts boiling a little more that usual and the surface of the pool retracts just before an eruption. If you think of a tidal wave and the wave sucking the water out, its a similar principle.
---
Kerid Volcanic Crater
One of the stops on your Golden Circle tour will be Kerid Crater lake. At over 3000 years old, the lake is quite shallow which allows the water to reflect the sky allowing it to be the most iridescent blue. You do have to visit on a very clear day to witness the lake this color however. It is always blue but a really bright sunny day apparently makes it very bright.
There is a path around the top of the crater and you can also walk down to the waters edge. The Kerid Crater in winter does look very different to the summer, however I personally loved that it was much quieter and its quite surreal with snow on the ground.
It is believed that Kerid was originally a cone shaped volcano that after eruption fell in upon itself causing the crater we see today. It's not known when the crater filled with water, however it is believed that the Kerid crater is filled with ground water and not just rain water. While the level of the lake does vary based on the rainfall and time of year, the water sits at the same height as the water table so it isn't 100% rain water. It can be between 7 and 14 meters deep but is always a true reflection of the height of the ground water table.
Almost all of the tours that do the Golden Circle visit Kerid Volcanic Crater. If you want to visit Kerid Crater Lake winter is still a good time to see it.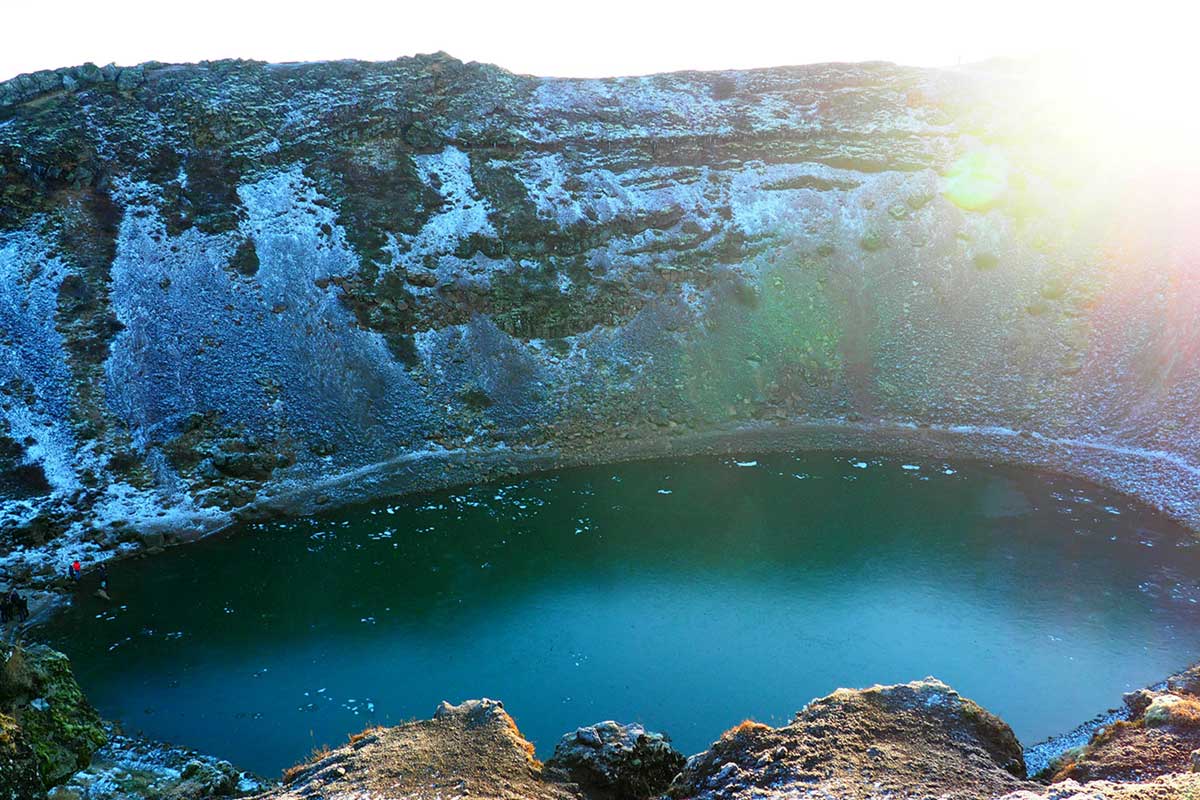 ---
The Northern Lights
One of the primary benefits of visiting Iceland in winter has to be viewing the Aurora Borealis. Unfortunately the first few nights we were in Reykjavik, the nights were very cloudy and the lights were nowhere to be found. Our very last night was the only opportunity we had but we were being picked up at 3:50 am to go to the airport the next day so we were limited with what we could do tour wise.
There are a lot of bus tours that head out into the darker regions surrounding Reykjavik that would have been the better options, however a lot of them didn't get back until 2am so that just didn't work for us. We decided instead to do a boat tour out from the city and thought that even if the lights weren't great, we would at least get to see the city at night from the harbour.
The boat runs from Reykjavik's Old Harbour and heads out into Faxaflói Bay away from the lights of the city. They supply you with warm overalls there is a bar and snacks available and if the lights are nowhere to be found they will take you for free the next night.
We donned our overalls and headed up to the top deck however even with the full kit on it was still bitterly cold. The boat had been out around the far islands and still no lights so we really didn't think it was going to happen. Bizarrely, it was when we could see the lights of Reykjavik again that she came out and danced like Kylie for us.
I had tried to see the northern lights twice before with no luck and to finally get to see the Aurora Borealis and fully understand what is meant when people say it dances was incredible. It is so hard to take photos of and my images are rubbish, but she twirled around and danced us back into the harbour like guiding lights. It was really amazing.
Northern Lights Tours From Reykjavic
---
Reykjavik City
I have to start this part of my post by telling you that Iceland is EXPENSIVE!! Really expensive and you notice it the most in Reykjavik. Spending money on tours or a hire car doesn't seem too out of whack with other costs around Europe but once you are in the city and having to pay for meals, wow it really adds up. For example, we came back from a day tour and just couldn't be bothered cooking so went to an Italian place for dinner. We both had a main meal, one glass of wine each and I think maybe a garlic bread and it was the equivalent of $170 AUD!
Iceland has a whopping 24% GST (or VAT) and while food from the supermarket is only taxed at around 12% I believe, it makes eating out very expensive. Accommodation is also not cheap so you do need to plan your trip to Iceland pretty well.
That said, I loved Reykjavik as a city. The city center is condusive to wandering, there are many cafe's and bars and while as I mentioned it's expensive the variety of restaurants is good.
Winter in the city does mean that you probably aren't going to be sitting out drinking beers, but it does have a very casual feel about it.
Hallgrímskirkja
Right in the middle of the city you can find Hallgrimskirkja, the Lutherin church and one of the tallest buildings in Iceland.
It is said that the designer Guðjón Samúelsson's based the church's architecture on the mountains and glaciers of the Icelandic landscape. After visiting the tectonic plates, I could really see that in the designs.
It took 41 years to build the church ending in 1986 and has since seen a major restoration in 2009.
There is a large pipe organ inside the church that is pretty impressive and you can take a lift up to the viewing deck to check out the city and surroundings.
---
Fly Over Iceland
This unique experience is a great way to see some of Icelands amazing landscape virtually.
Hanging in front of a huge screen you take flight through the stunning landscape of Iceland. Canyons and glaciers whiz by and you visit locations like the Dyrhólaey Cliffs complete with wind, sounds and smells. It really is worth doing.
It was only about $60 I think from memory and is open from 10am to 6pm in winter and until 9pm in the warmer months.
Overall Reykjavik is a nice city and while winter does limit you somewhat it is worth taking a walk down to the port and around some of the neighborhoods for a closer look at the architecture around the city.
Iceland in general is stunning and really worth spending at least a week I would say. We weren't completely sure what the weather would be like so we based ourselves in Reykjavik and did day tours out to what we wanted to see. Being Australian we just aren't very experienced in driving on icy roads and we both were glad that was the option we took. The morning we landed it snowed for hours and then pretty much didn't stop at all. Even some of the tours we did that had very capable 4wd's we did end up crawling around icy roads that would have been way outside our comfort zone.
---
Would I recommend Iceland in winter?
Absolutely!
While it isn't as quiet as I expected, I'm sure it is much less busy that the peak time in summer. I would check that the tours you want to do are running during the time you plan to visit and as long as you can get out and take in the sights, Iceland in winter is amazing.
Accommodation can be half the cost of the summer prices which means your dollar will go further and if you try and get something that is self contained, you can minimize your restaurant spend too.
---