Malaysian Borneo Travel Guide
I had wanted to visit Borneo for such a long time before I finally got there. I went the end of January so it was hot hot hot, but reasonably quiet as well. If you are wondering what to see and do in Borneo, this travel guide is for you.

Borneo is a country of such stunning natural beauty, however it has some major challenges with keeping those forests and animals intact. Relentless forest clearing for palm plantations have taken a massive toll on the wildlife and that was very much a feature of my trip. I now sponsor an Orangutan, a Sun Bear and a Sumatran Rhino (Rosa!) and make every effort I can to avoid palm oil at all costs. 

Being so very close to Australia, you Aussies out there should consider Borneo as your next holiday destination. It has everything from hiking to beaches and of course that to die for Malaysian food!
My Fave Photo From Malaysian Borneo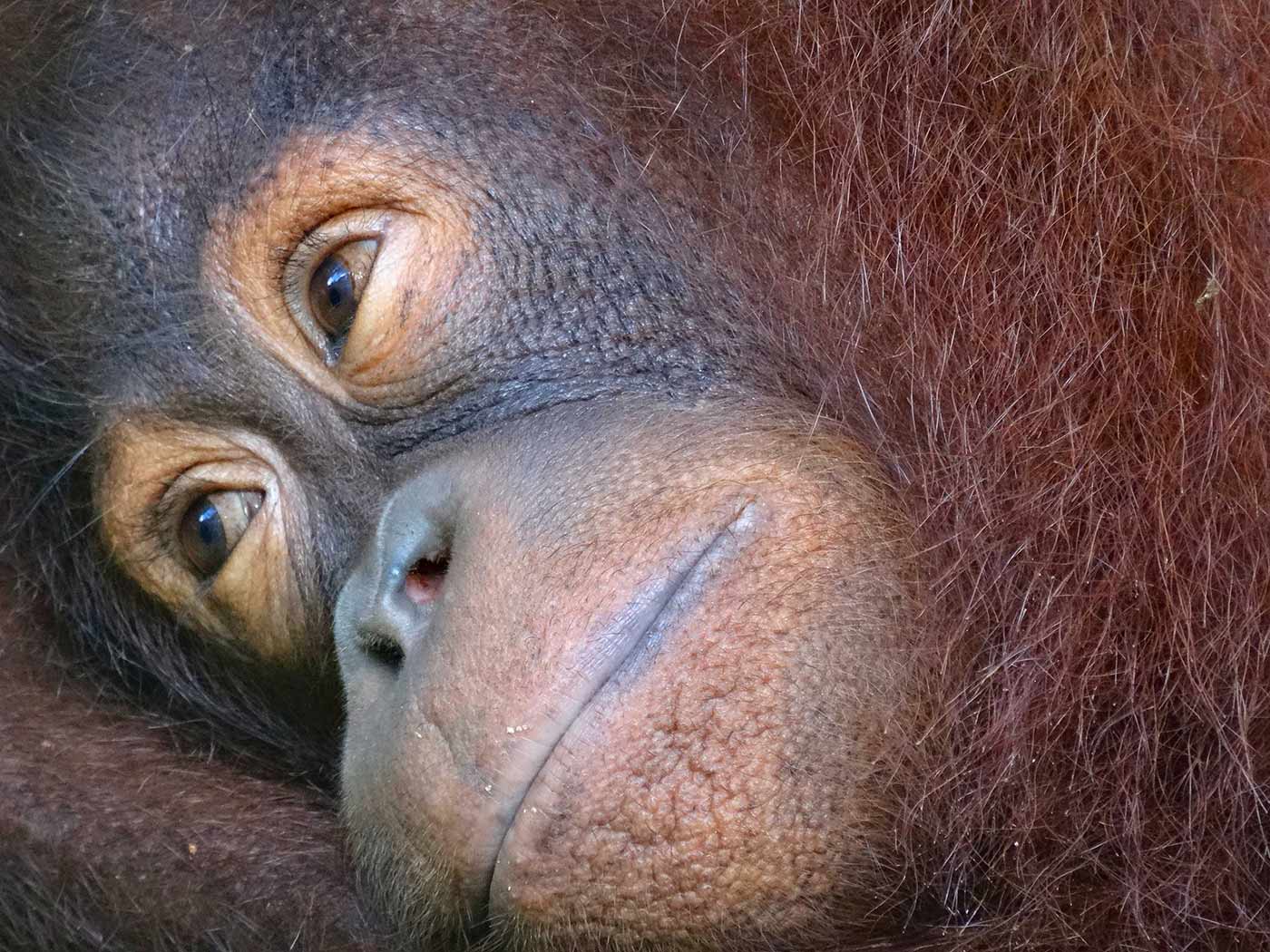 Initially I spent a few days at Sepilok Jungle Resort which is within walking distance of the Orangutan Sanctuary and I visited the Rehabilitation centre for most of the day one day, and the afternoon of the second day.
This gorgeous young lady had been rescued as a tiny infant when her mother was killed during a forest clearing . She had been in the nursery for about 9 months and the staff were attempting to get her to interact with the older Orangutans in the hope that in about 2 years, she can look after herself in the wild and will not attempt to seek out human contact.
It's so hard for them when the Orangutans come in so young because they attach themselves to the staff completely. The staff then have to try to detach themselves when they get older or the animal is destined to stay in the park. They won't risk releasing an Orangutan that will still go to humans readily and you can imagine why.
She had been out in the "teenager" area for the morning but hadn't been keen to get involved with the other Orangutans so her keeper had brought her back into the nursery area. She laid down on the grass right next to me and was just looking at me with those eyes.
Of course if you know me at all, I was grinning like an idiot and crying at the same time. If you can help – this blog post will give you all the options.
Get rid of Palm Oil where you can!
---
All About Borneo
Must Have Info About Borneo
Mount Kinabalu is not a terribly tough climb but unless you are a great sleeper you end up doing the summit on no sleep due to the 1am rise time to see the sunrise, so not super physically hard but you feel like crap.
The very first time you see an Orangutan in the wild it is very hard not to cry!
The food is amazing. A mixture of Malay, Chinese and even some Japanese influences (udon soup) make the food incredible.
Often it is cheaper to fly than bus. Air Asia has a lot of domestic routes around Malaysian Borneo and they are frequent and cheap.
The beaches in Borneo are often more reef than sand which makes the snorkelling amazing.
Borneo is home to a species of pygmy elephants which are just adorable. Still 6′ tall at the shoulder and could flatten you easily but they are so cute to look at!
Even the monsoon season is typically fine in the morning with rain in the afternoon/evening.
Most of the toilets in Borneo are squat toilets so get those quads ready!
F

acts & Figures Malaysian Borneo
The Island of Boreno is the only island in the world to be home to 3 countries. Malaysian Borneo, Kalimantan (Indonesia) and Brunei
Malaysian Borneo is actually two states, Sarawak & Sabah and you do have to present your passport moving between the two.
29% of Sarawak are Chinese or of Chinese descent.
The Bornean Orangutan & also their Sun Bears (the smallest species of bear in the world) are at great risk due to deforestation for Palm Oil plantations. It used to be logging that threatened their habitat but that has now morphed into Palm Oil plantations destroying what's left.
Borneo and Costa Rica are constantly competing to be declared the most bio-diverse places on the planet. If you have been to both, they are eerily similar. I kept looking for Orangutans in Costa Rica!
Borneo is actually Malaysia but it always feels like I should declare it independently from the rest of Malaysia. It is known as Malaysian Borneo, but it always just morphs into Borneo.
---
Recent Blog Posts From Borneo
Borneo (or Malaysian Borneo as I should call it) holds a very special place in my heart. It is such an incredible place to see animals you won't see anywhere else in the world and you are still able to actually see them. Where else can you see a huge male orangutan make his nest for the night? 
The best day tours to take from Kota Kinablau. From national parks to white water rafting and snorkelling, there is heaps to do from Borneo's capital city.
The best national Parks in Malaysian Borneo, what to see at each park and how to get there.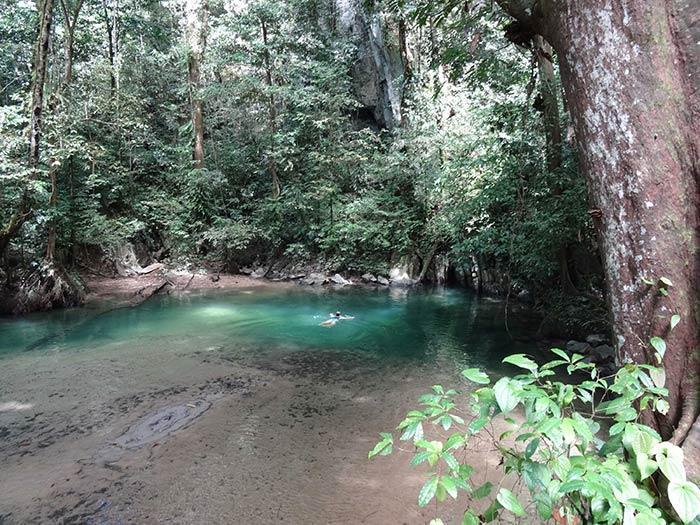 Hiking in Ganung Mulu National Park in Borneo is really special. While The Pinnacles hike is tough, there are other much more sedate ways to see this amazing national park. Check out my list of things to see and do in Mulu National Park.
View All Borneo Stories and Articles
---
3 Must Do's For Malaysian Borneo
Mulu National Park
If you don't hike the Head-hunters Trail you have to fly into Mulu NP. There are a wide variety of accommodation options available. The park has some great hiking (make sure you are fit & do The Pinnacles), caving, walking and animal watching. The Deer Cave, The Garden of Eden & The Cave Of The Winds are just some of the things to see. I spent 5 days (two of which was the Pinnacles) after walking in and that was the perfect amount of time.
Climb Mount Kinabalu
If you get a chance and you are able, Mount Kinabalu is a great climb. It is easier than you think its going to be. It's only hard if you want to summit for the dawn because of course you are getting out of bed in the middle of the night & you haven't really slept anyway. I was 6 months out from an Achilles reconstruction & with a wedge in my shoe I was fine, so as long as you have some fitness you will be OK. Even just visit Kinabalu NP which is amazing.
Kinabatangan River
I stayed at Bilit Adventure Lodge on Kinabatangan River but there are a lot of options. I would say mine was mid range, as I saw some pretty luxurious looking ones and some that were a little less than mine. Dawn and dusk boat rides are the main stay of the river. We had some amazing experiences and even saw a male Orangutan making his bed for the night. Crocodiles, monkeys, pygmy elephants and the Orangutans are in the area.
---
More Things To Do In Borneo
While you do head to Borneo for nature tourism, the food is amazing, the people very friendly and there are some great national parks to pull your hiking boots on.
Bako NP – an hours bus ride from Kuching

Sandakan – a great coastal city on the north east of the island.

Climb the Pinnacles at Mulu National Park.
Sianagan Turtle islands between Borneo and The Philippines

The Sun Bear Sanctuary at Sepilok.

Miri is a cool little coastal town

If you have the time, make the trip into Brunei
A few of my favourite Borneo photos