How to spend 3 Days in Gunung Mulu National Park Borneo
Gunung Mulu National Park is situated in central Sarawak in Malaysian Borneo. You can't drive to Mulu National Par, which is actually pretty cool. You have to either hike in via the head hunters trail or fly into Gunung Mulu NP. Mulu is much more organised than Bako (the other main national park in Sarawak, primarily because of its incredible system of caves. You can do everything from walk along the boardwalk to the Bat Cave (where the bats exit on dusk) right up to multiday adventure caving so it has a wide and varied appeal to all types of nature lovers.
I didn't realise and I'm sure a lot of non Malay's don't that Borneo is actually two different states. Sabah (the north east) and Sarawak (pronounced Sarawah – the k is silent) the south west require you to pass through immigration from one to the other. Its slightly confusing at the airports but no challenge really. Both states are really all about the nature tourism as that's primarily what brings you all to Borneo.
---
Getting to Mulu National Park
There are no roads in to Gunung Mulu National Park. You have to either walk in via the Head hunters trail or fly in and out. Walking in isn't as simple as it sounds. I did it, however the trail itself is only about 15km long and you have to get to the trail head via a local town, boat ride and then a hike. I had been recommended a local guide who knew I like to hike so he had us deposited about 3 days out from the park and we walked in from there. I loved it but it was January and HOT HOT HOT! I'm Australian and I love the heat but I was so glad I was used to that level of humidity because otherwise I might have just sat down and not got going again. Our walking was pretty much slashing through the jungle to the next clearing where we slept for the night and I can tell you I was very relieved that I had insisted on tents and not hammocks. I had my tiny tent which only weighs 1.2kg and Arthur my guide had tried to talk me out of it but it has no-see-um mesh and there was no way I was exposing myself to one possible chance of a stray mosquito so I carried it and was so glad I did.
Traditionally if you do the Head Hunters hike in, you don't start that far out (usually you start at Limbang and then upriver by longboat) and it would be really hard to find someone who would help you in that regard so be aware that this was a one off.
Flying in can be done from Miri (30 minutes), Kuching (1 hour 20 minutes) & Kota Kinabalu (55 minutes). Don't even consider a connecting flight on the way out. Weather and park time can mean the flights are very delayed.
MAS Wings and Malaysian Airlines fly the route.
---
Caving in Mulu National Park
I had prebooked three tours which was a few different caves and the Garden of Eden walk. Most of the caves you can't enter without a park guide and two of my tours were only half day tours, with the Garden of Eden being a full day. The half day tours are pretty great as to get to most of the caves you have to go upriver in a little local boat (often having to get out and push) and then your caves are varying degrees of difficulty. The park staff are very knowledgeable and won't let you do anything outside your comfort zone anyway. There are quite a few steps (a couple of hundred in and out of most of the caves) and they can get a bit slippery but unless you pick a tour that is "adventure caving" you should be fine.
Deer Cave
Deer Cave is a 3km walk from the main park reception and most people head up there for the bats that fly out at dusk and return at dawn. The dusk departure is much more spectacular than the dawn arrival. They leave enmasse in the evenings but come back over the space of a few hours in the morning not to mention that the walk up there in the dark isn't the best idea.
The walk to the Bat Observatory platform is free its only if you want to go inside the cave that you have to pay a fee. There is also toilets available here which is handy.
A hop, swim and jump past Deer Cave is the Garden Of Eden. It is in fact a swim (or wade depending on the water levels), some boulder hopping and a hike through the jungle to the Garden of Eden but is is pretty cool.
Clearwater and Cave Of The Winds
To do this tour you jump in a longboat and head up the Melinau river. You stop to visit a Penan longhouse & a local market at Batu Bungan before your first stop at Cave of the Winds. There is a few sets of stairs here but it is a nice cave and a great introduction to the Mulu Park. I would do this trip first as it will show you what you could be up for in more advanced adventure tours.
The next stop is Clearwater where the underground river runs out from the cliff face. There are stairs here again, but only maybe 150-200 which you take to enter the cave. Clearwater is one of the biggest cave systems in the world, measuring over 220km in length and while you don't do heaps of it you do get a great sample.
NB: At one point there is a path you can go down (however it is on a more adventurous tour) that is very narrow for quite some length. They actually measure you before you can sign up for that tour and in true Asian style simply tell you that you are too fat if you are outside the size parameters. I fit but just and honestly I wouldn't have done that one again if I had of known I would be squeezing along a tunnel for what felt like an hour. I tore my shirt to shreds and had scratches everywhere. I'm not great in small spaces and the only thing that saved me panicking was that the guy behind me was a caver and just talked me through the entire thing. I was terrified at times and he got me through and out the other side. David if you ever read this – thank you! That however isn't on this tour – its on the more advanced one.
You can't swim inside the cave, however you do get to swim from the picnic deck after the cave. Apart from the cave tours there are also very easy walks around the main park area. From simple strolls to a few kilometers they are easy to do and a lot are on well cared for paths or boardwalks, so even if you aren't a hard core hiker there is something for you.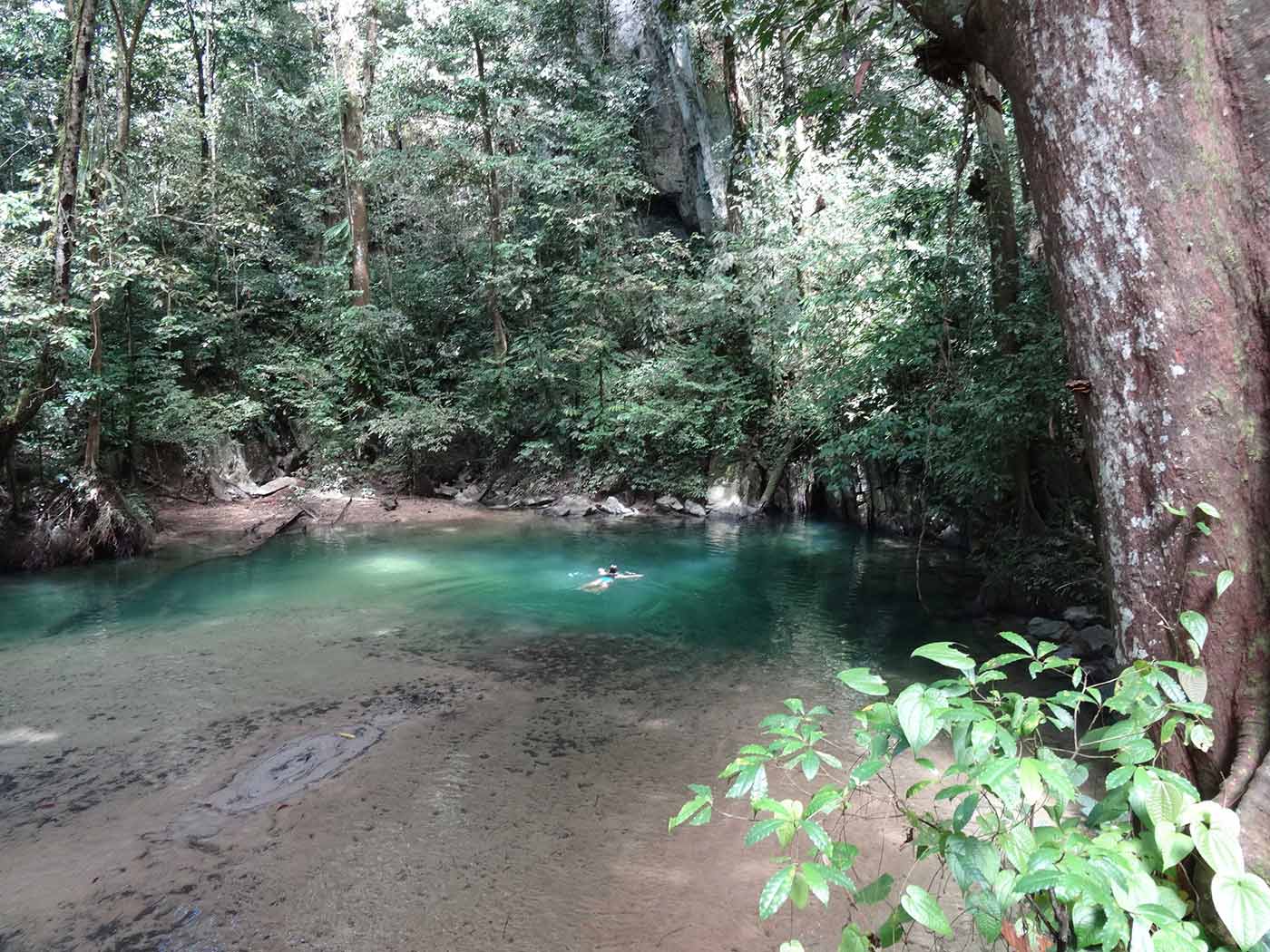 The Canopy
They also run tours every 90 minutes of the canopy walk. This is really worth doing and they limit the group to 6 people so its a nice small group. They take you across the canopy spotting animals and birdlife and then down onto the forest floor to finish the trip. I think you walk around 5-6kms but its very easy and a nice way to spend an hour and a half.
The first tour started at 7 and if you can make it that early that would be the one to do. It does start to get a little warm after about 10am.
The guides are great and explained the evolution of the caves really well and in easy to understand terms. The actual caves are pretty amazing and all have different features and attractions. I really loved Mulu and spent my 4 days there either doing caving tours or walking the miles and miles of jungle paths. Unlike Bako – they were just paths through the jungle and very easy to navigate. It was pretty quiet and at one point I spent about an hour under a waterfall all on my own, on one of the more remote paths and only passed one other hiker that day, so very serene indeed.
Check out my Borneo Destination Page for all the info, posts & places to visit in Borneo.
The Pinnacles
I hiked in via the Head hunters trail so did The Pinnacles on the way in. Thank Goodness!
While I had been hiking in the jungle for a few days, it wasn't huge distances or huge elevations so I wasn't sore at all. We got to camp 5 at lunch time, so had the entire afternoon resting and relaxing before our Pinnacles climb. It would have been much harder for me to do it after 3 days of caving as I did have a few sore bits from slipping on rocks or just bouldering for hours over wet rocks.
While The Pinnacles isn't heart wrenchingly aerobic it is TOUGH. The terrain ensures you have to go slowly especially when you get to the ladders, but it is up for 3-4 hours so after a rest at the top, an hour spent enjoying the amazing scenery and then lunch, you are quite cool and then have to start the downward leg. I didn't find up too bad (YES it is hard though) but down as always was a little challenging to me. Arthur said that usually he would have started at dawn, but because he'd seen me stomp my way through the jungle for days he figured I had what it took and decided we would start at 8am. That meant me getting up there in just over 3 hours mostly because I'd had a good nights sleep. Knowing I had to get up at 3:30 am would have meant I wouldn't have slept and that would have made it much harder.
Once you get past the ladder section going down its all plain sailing and it is totally worth it. Arthur was amazing and considering it was just me and him, I actually didn't feel like I slowed him down at all. They are very good at judging how well you are doing and I believe from others I spoke to that the guides all have a turn around spot that they use. If you don't get there by a certain time, they turn you around.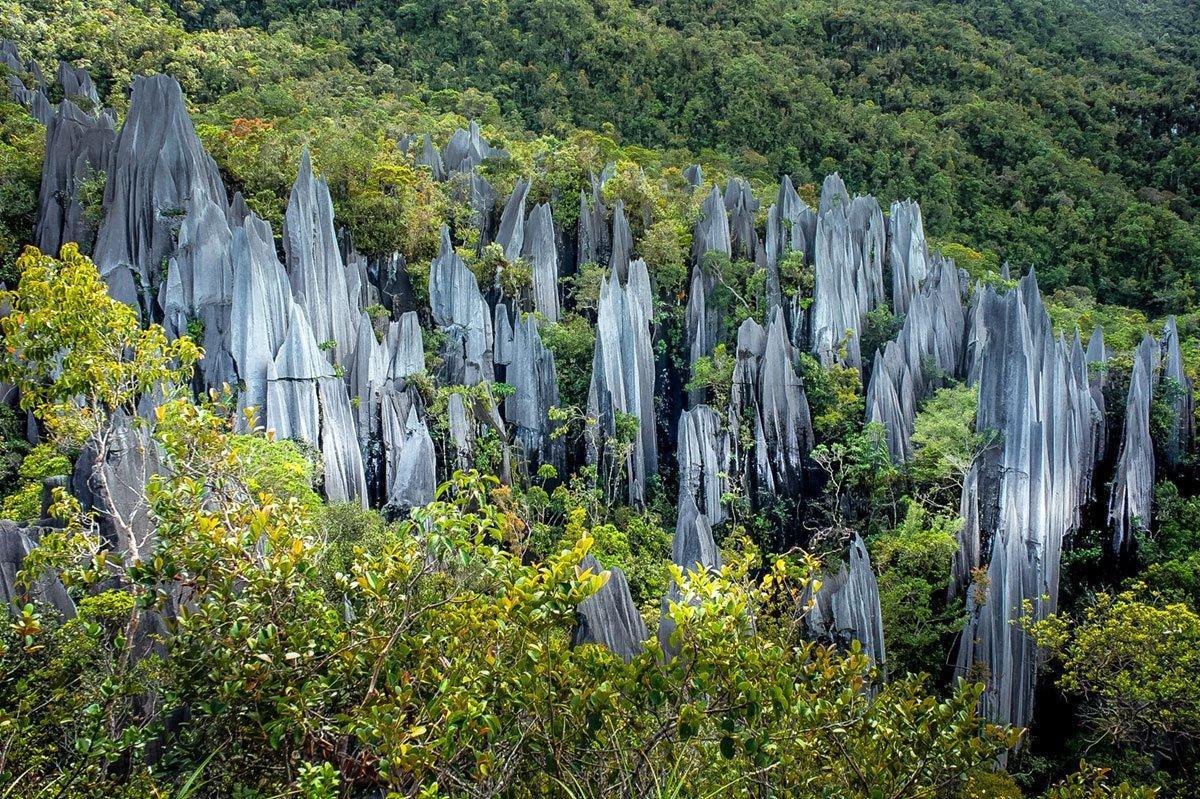 ---
Where To Stay In Mulu National Park
Brad very sweetly said he would pay for some nice accommodation for me in Borneo. After 4 days in the jungle I figured I would splurge and use it at the Mulu Marriot Resort instead of staying in one of the bunk houses. I was so glad I'd taken that option. ASAP I got there (stinking like a pole cat I'm sure) I checked in and wallowed in my giant bathtub for at least an hour. The bed was so comfy and they had shuttles to and from the park entrance every day and also on demand. I just had to call them and they came running. It was so nice!
There is a selection of accommodation options below, however the park also has accommodation on site. They vary from dorm beds to cabins but do book out early. Some look very nice actually.
---
Some Accommodation Options At Mulu National Park
Mulu Marriot Resort
The Marriott Resort at Mulu is very nice. The rooms are a great size, the beds really comfy and there is a pool! It's about $180 AUD per night so not cheap but it is nice!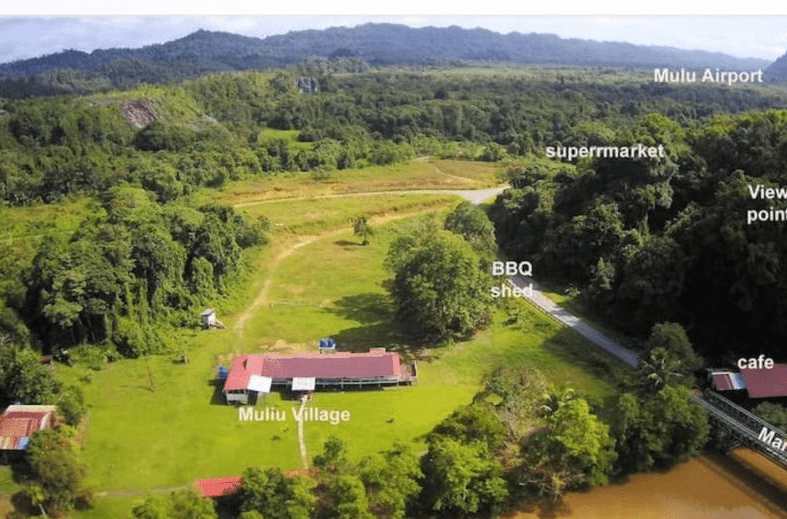 Mulu Village – Longhouse Accommodation
Mulu Village is a long house on the river that has dorm style rooms, some with attached bathrooms and some not. $16 per night for a shared bathroom and $33.50 for a room with a bathroom attached. AUD.
Dianna Homestay
Dianna Homestay is dorm style accommodation on the river. I met someone who said it was very clean & the owners were great. $17.75 for a dorm bed & $48.25/night for a double incl bathroom.
Visiting Gunung Mulu National Park Summary
No matter where you stay, Gunung Mulu National Park is worth at least a few days stay. While some of the activities are pretty hard core, there are lots that aren't.
Check out my Borneo Destination Page for more articles, info and tips for travelling Malaysian Borneo