Travelling Solo In The UAE
The United Arab Emirates is a great place for your first solo female trip.

If you've never been it can seem daunting going to an Arab country as a solo female traveler, however the UAE offers some fantastic sights and happenings and is by far one of the easiest countries to get around.

It's easy to split your time between Dubai and Abu Dhabi and even Sharjah (which I really like). If you have more time consider these other 5 Emirates you should visit.
What challenges might you face as a solo female traveller in the UAE?
Honestly, if you understand the UAE and you are prepared to be respectful of their traditions and customs, you shouldn't really have any challenges at all.
Here's an example: at some point, a gentleman in a white robe (known as Kandura or dishdasha) and Guthra (their head gear) will swan past you, push into the line you in front of you and be very quickly ushered inside while you stand in the heat.
LET IT GO!
To me this tiny little tip, is the key to having the very best time in the UAE.
Their community is very defined by standing. This allows those who have more than others get preferential treatment. Not necessarily financially but a really good example is the one I've mentioned above. You might be waiting at the valet for your car and all of a sudden someone wafts past you, the valet grovels and immediately gives them priority.
This is just part of their culture. LET IT GO!
The other misconception is that because the women wear Abaya's and some even the Gishwa that this is against their own beliefs & they are happy for you to be in varying states of undress on women only beaches or in women only clubs. That is often FAR from the truth. Their clothing has evolved not just from what works for the hot and dusty middle east, but also from their religion and assuming women want to be romping around in bikini's is not an assumption you should make. I had it explained to me by a Muslim friend a few years ago and she explains it as based around modesty but also as a way of trying to enable others to see the beauty in who you are not just in your physical attributes.
* A Gishwa is the black veil that covers their entire face but has a mesh style netting for them to see out. The Burqa is the veil where only the eyes are visible.
Dressing respectfully, not getting flustered at the preferential treatment others might get (which if you think about it happens here too), and respecting Friday as their holy day will set you in good stead for a great stay in the United Arab Emirates.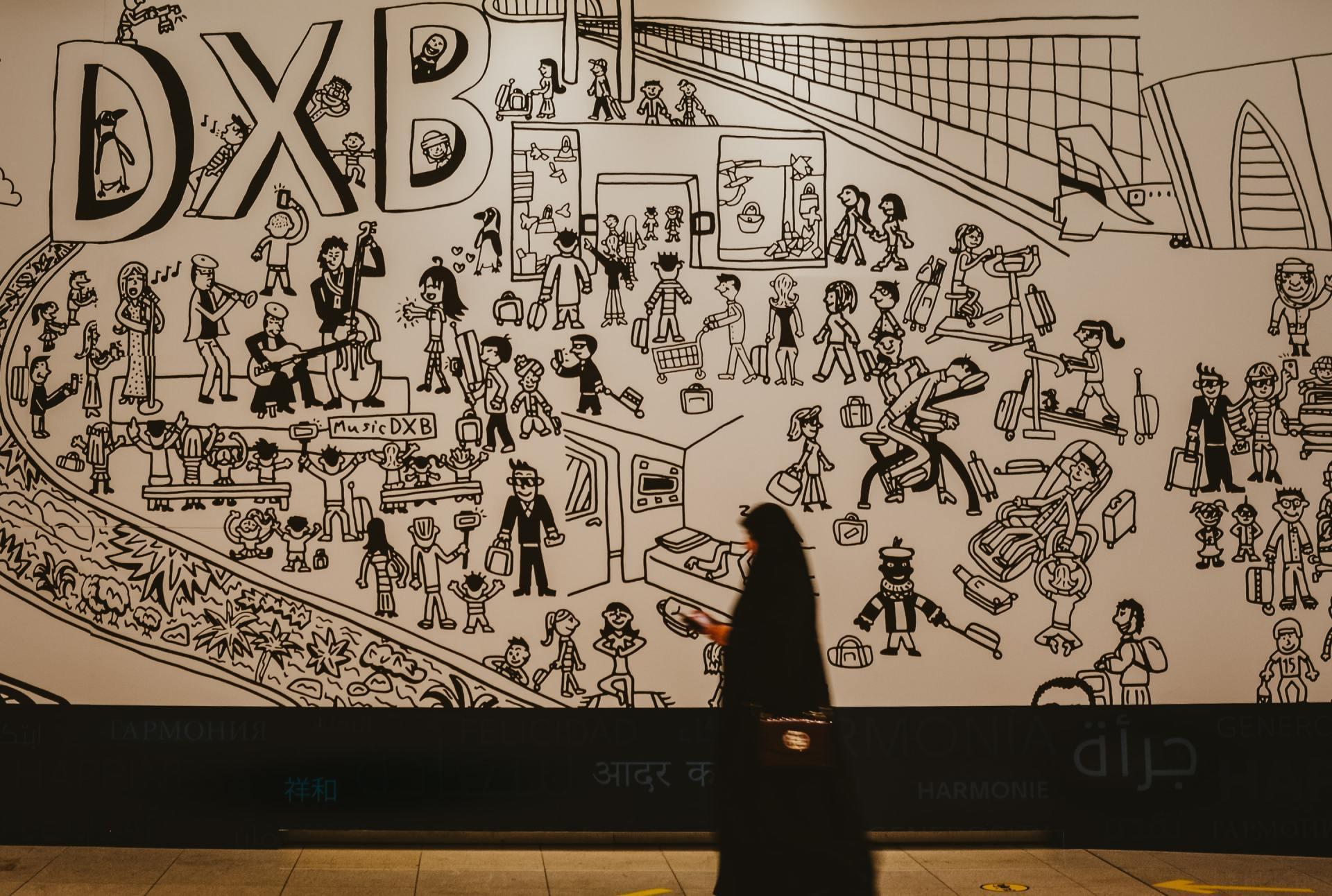 ---
Why would you travel to the United Arab Emirates Solo?
I would Consider the UAE to be safe
I've always found the United Arab Emirates to be very safe. I've never had the challenges that places like Egypt can produce by travelling as a solo female, and so many people aren't Emirati that there is always someone close that speaks good English and is happy to help.
There is good transport options in the UAE
The public transport is pretty good, the taxi's are cheap and yes there is Uber. Uber is linked in with the taxi companies though so don't be freaked out when you order an Uber and a taxi shows up.
The hotels can be affordable
You can get a lot of hotel for your money and they are always happy to help you get anywhere you need to go. Of course you can spend tens of thousands per night if you want to but they have some great hotels at very reasonable prices. If there are two of you consider checking out The Meydan Hotel in Dubai. We stay there often and love it especially the pool! It will be VERY expensive when the races are on (Its also a horse racing venue) but just check outside those dates and you can often find it for as little as $200 per night.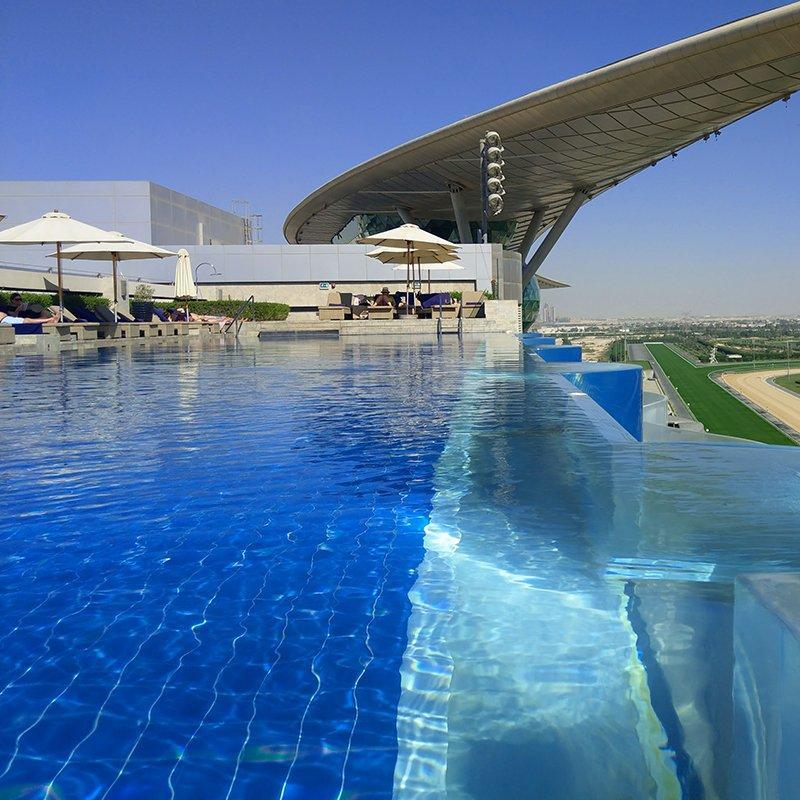 Tourism is Welcomed in the UAE
Tourism is HUGE so they are set up for all kinds of travellers and no-one bats an eyelid at you eating alone or doing whatever you are comfortable with. There are a plethora of day tours both from Abu Dhabi and Dubai as well as some to the outer edges of the country as well.
There are many tours on offer for Abu Dhabi and I would highly recommend the Sheikh ZayedMosque Tour. It is an amazing place to see and if you do a tour they organise all your clothing and everything for the entrance.
Abu Dhabi Day Tours You Might Like
Dubai Day Tours You Might Like
Dubai is teeming with things to see and do. Some tours that you might like are below, however when you have had enough, its always (well mostly always) warm enough to lazy by the hotel pool for a few hours and wind down.
---
Getting there is usually only one flight
You can fly direct from Australia so there's no stress about connections which to me is a really good thing.
Virgin / Etihad Airways fly direct from Sydney, Brisbane & Melbourne to Abu Dhabi, while Qantas / Emirates fly from the same cities to Dubai.
Emirates flies direct to Dubai from LAX, London, Singapore, Beijing, Barcelona & Hamburg so you can get to the UAE easily from almost anywhere in the world.
When you are traveling solo, avoiding a transfer can be really nice. Not having to navigate an unknown airport, get your luggage and make connections makes getting to United Arab Emirates simple and easy.
Check flights to the UAE from your location:
---
Should You Visit Dubai or Abu Dhabi?
Definitely both. They are both very modern cities and are only about 45 minutes apart, however they can have a very different feel. Dubai is traditionally more luxury based and Abu Dhabi is more traditonal in its character.
However if its shopping you want, Sharjah is the place to go for affordable shopping and cheaper hotels. I actually love Sharjah and would choose it over both Abu Dhabi and Dubai, however I've been probably 5 or 6 times so if I'm going now I'm going to relax as a stop over. If I'd never visited I would dedicate my time to both Dubai and Abu Dhabi.
My Suggested UAE Itinerary
I would suggest around 10 days in UAE if you want to get a really good sample of the country and spend a few days getting some RnR. I've broken it down to Dubai, Abu Dhabi and Sharjah which is way more affordable for everything. I haven't included Sharjah in this post but will do a separate post about it in a few weeks.
I would say to dedicate 3 days to Dubai and 4 to Abu Dhabi at a minimum. Add an extra few days if you would like some tanning time at the end.
Things To See and Do In Dubai
Burj Khalifa:
You can't just rock up to the Burj Khalifa, you have to book a time slot with your ticket. There is of course a chance if you arrive at the mall and head straight to the ticket office they may have some availability but the first time we went we were in Dubai for 3 days and couldn't get in. It's very popular.
Another option is to use one of the companies on Viator to get your tickets. They usually purchase blocks of tickets so if you can't get in via the Burj's website try Viator.
We did this Burj Khalifa & dinner combo which wasn't cheap but was really nice. The dinner was on the top of a building so you had a fantastic view of the entire city.
The Dubai Mall is at the base of the Burj Khalifa and the fountain is just outside the doors on the ground floor. The fountain shows are 1 and 1:30pm (except on Friday) and every half an hour from sundown until 11pm.
Dubai Garden Glow
This is a location that has a few attractions. Ice Park, Art Park and the Glow park. It's a bit naff to be honest but it is a fun thing to see and wander around for a while. Obviously you do it after dark!
Dubai Gold Souk
WOW – I have never seen so much bling in my life. I actually went here because I wanted a really fine gold chain but I left without even looking. Admittedly I'm a rubbish shopper but I was so overwhelmed that I didn't stop to ask anyone. It is really worth a walk through however just to see it.
Tours that include the Gold Souk Dubai
Burj Al Arab
Despite what you might think you can access the Burj Al Arab without staying there. The Scape Lounge is a very nice terrace that you can book a table at. The prices aren't cheap but they aren't horrific either.
Al Mahara is the seafood restaurant you see with the full aquarium. It is very expensive ($175 AUD for the cheapest main meal) however, they often have lunch deals. We did it once for $175 for both of us for a three course set menu type of thing. You just have to keep an eye out on their website. I had seen it last time we were there but we ran out of time so I called and asked and they honored it! It is for a couple I know but on the off chance you are there with a girlfriend its not a bad deal.
Tours that visit Burj Al Arab Dubai
Palm Jumeirah
There is a monorail that goes down the main spine of the Palm Jumeirah which enables you to have a sticky beak at how the other half live.
It also connects you to the hotels and clubs, Dolphin Bay and Aquaventure Water park along the beach edge of the Palm.
Slot yourself into one of the Beach beds at White Beach Club for AED 200, of which 100 is redeemable on food and drinks. Currently that is around $85 AUD but gives you $42 to spend on drinks and food. Call for reservations however as it does sell out quickly. I was going to spend a few hours there one day and spent the entire day!
They also have Daysies Ladies day on Tuesday afternoon that is AED 100 with 50% discount on food and drinks. It isn't just ladies however, men are just AED 200 instead.
Dubai Creek
There are many ways to see Dubai Creek however if you are going to do a sailing tour I would probably do it at night. It is great with all the lights and you could just wander down to the docks and negotiate a small boat to take you or you could do a dinner cruise in a traditional dhow. Or do what I've done and hang back until you see a couple looking for a boat and simply ask if you can join them and split the cost.
There are so many options on Viator that should suit almost every budget. If you are travelling solo and don't want the stress of negotiating with a local boat driver, make a night of it and do a dinner cruise instead.
Dubai Dinner Creek and Canal Cruises
Dubai Festival City
Festival city is a little like Dubai mall. It has a business district, apartment living and of course shopping. The mall is huge and has a raft of shops and restaurants and even a cinema. There is a viewing wheel and a nice waterside promenade for a stroll.
Etihad Museum
The museum is good however it is a lot about how the 7 Emirati's came to unite and less about more cultural items. I would spend my time at the cultural park in Abu Dhabi instead.
Jumeira Beach
Jumeira has two public beaches. One right next to the Dubai Canal entrance and the other is down near the Burj Al Arab. (both these links are google maps links). They are big wide beaches but are public beaches so dress appropriately and don't be showing too much skin. I would say a full piece is fine but a bikini a little disrespectful.
The beach near the Burj Al Arab is easy to get to via the Number 81 bus from Dubai Mall. The bus stops at Umm Suqeim Park right opposite the beach. The closer beach is also the number 81 bus and if you press the stop asap you cross the bridge over the canal you will find the beach on your right. You might have to walk back a little from the stop and head down Al Athar street.
Canal Walk
Canal Walk starts the Downtown side of A Wasi Road and is a nice stroll along a pedestrian walkway. You can walk along the canal and admire the view. I walked along the canal and through to Dubai Mall just after dusk and it was a nice walk for most of the way. It's about 4 km's I think so around a 45 min walk however taxi's are readily available and are cheap.
Stand on the pedestrian bridge and check out the sunset between the sky scrapers.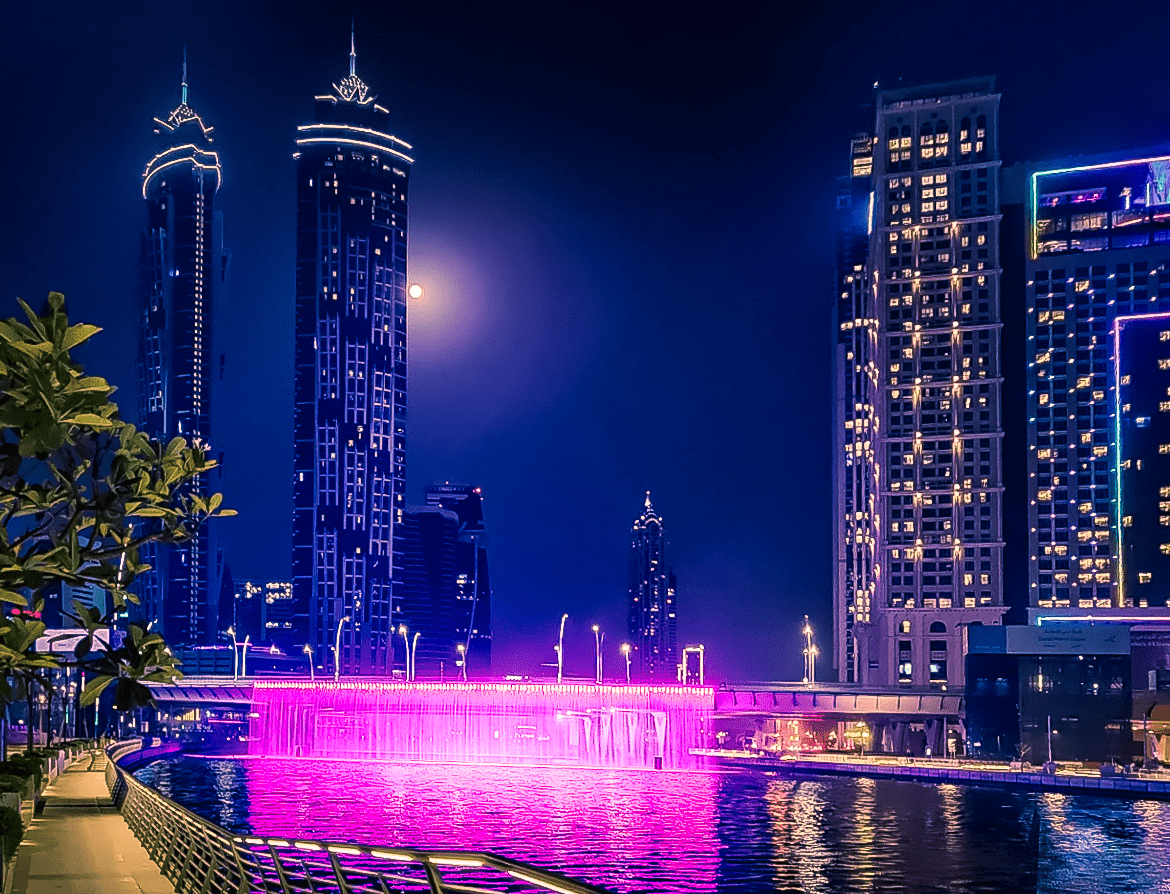 Al Fahidi Quarter
Old Dubai is on display in the Al Fahidi quarter. There is so much to see however I would highly recommend a tour for this area to get the most out of it. It isn't a large area so it can be a little challenging to find a tour that is ONLY focuses on Al Fahidi but this tour I did was a great way to see the old town and cross the creek in a boat. It was only around $60 AUD so a great way to get an overview.
Of course there are many things to see and do in Dubai. From theme parks to Dinner in the sky you won't run out of things to do that is for sure! You can even go ski-ing in Dubai!
I've stuck with what I would assume someone similar to me might enjoy but the list is endless!
---
Things to see and do in Abu Dhabi
Sheikh Zayed Mosque
The Grand Mosque is (as far as I'm aware) one of the only mosques open to non Muslims in the UAE. It really is a sight for sore eyes and it's open door policy means that you can visit the mosque and participate in a tour.
Last time we were in Abu Dhabi, brad was on business so I did this Sheikh Zayed Grand Mosque with Emirati and LOVED it. Abdullah was so helpful from getting my Abaya to the history of not just the mosque but some very interesting Muslim history too. It was around 2 hours and I had heaps of time to take photos and ask whatever questions I wanted.
Tours that visit the Sheikh Zayed Mosque
The green route on the Big Bus Hop on Hop Off Abu Dhabi will get you to the Mosque if you would like to do it yourself.
The Louvre Abu Dhabi
I haven't actually done this. I'm not really an art gallery person however friend visited not that long agon and loved it. He is a lot more "cultured" than me however.
Central Market
This is a little shopping center laid out like a traditional market and a great place to buy gifts or souvenirs. I got a gorgeous mesh beaded spread for our bed here that I loved.
Abu Dhabi Public Beaches
Along the Corniche there are a few public beaches that are free to enter. There is also a women's beach and family beaches which can cost a few Dirham to get in. You can pay for sunbeds and I would suggest going early. Not just to escape the heat but to avoid the crowds. It can get really busy!
Private Beach Clubs
Saadiyat Beach Club is open 7 days a week and has a great deal on Mondays for Ladies day. Usually 250 AED for a day pass it is only $90 AED on Mondays or 150 AED for free flowing house beverages from 11 until 2!
It is a great way to see real beach in the UAE and weirdly felt very Hamptons to me. A full list of facilities here.
Observation Deck at 300
There is an observation deck that was accessible without reservation, however it is 95 AED (around $40 AUD) however you get a 55 AED voucher to spend on food and or drinks. A traditional black tea is 45 AED so that gives you an idea of what you get for your money.
It is a great view and for $40 with a cup of tea, not terrible I guess. I would personally go for the wine which is 35-70 AED per glass and a great way to watch the sunset.
Jumeirah At Etihad Towers Observation Deck
Scroll down a little and click the A la carte for the menu.
The Dhow Harbour
This is a great place to get a photo with the traditional dhows in the front and the very modern Abu Dhabi skyline in the back.
Big Bus Hop On Hop Off Abu Dhabi
This should be your starting point for Abu Dhabi. It is about $45 USD per ticket which is about $80 AUD at present with our horrible exchange rate, however if you buy it online you can sometimes get a discount.
They offer two routes and I always try and get on board first thing so I can do a full route and see where I want to get off and visit.
Emirates Palace Hotel
Emirates Palace hotel is said to have cost over 6 billion dollars when it was built and you can see why. Yes you can enter and I would say the best way to have a look around is to visit Le Cafe, grab a coffee or a drink and The Red Velvet. At $30 for a cheesecake slice its pretty over the top but I'm not a cheesecake lover and I was hooked! I thought it was red velvet cake (reading the menu without my glasses on) so ordered it by accident but OMG so good!
Etihad Museum
The museum is good however it is a lot about how the 7 Emirati's came to unite and less about more cultural items. I would spend my time at the cultural park in Abu Dhabi instead.
Ferrari World
We are taking our nephews to UAE in December after out Everest Base Camp hike so I imagine I will be able to report back on Ferrari world after that.
It is on Yas Island which also has a water park and Warner Brothers and is easily accessible from the number 190 bus departing Al Wadha Terminal. I would imagine it would be pretty hard to miss the park stop!
Heritage Village
While this is called the UAE Heritage Village some taxi drivers will claim they don't know where it is and if that is the case just ask for Marina Mall. The Heritage Village is just further down the little road that turns off to the mall.
It's a good way to see what life was like before the oil boom and the back of the village has a great view back to Abu Dhabi skyline.
Yas Island
If you have any kind of motorsport interest, Yas Island is for you! There are many driving experiences, tours and theme park adventures to be had here.
Yas Island Tours You Might Like
Arabian Nights Village
While you would usually stay a night here, Arabian Nights Village does offer Day Desert Safari's which include transport, dune bashing, sand boarding, camel rides and dinner. When I did this it was about $120 AUD from memory but I would have loved to have stayed overnight. Sadly with COVID I can't get the prices for the accommodation but even the day trip is worth it.
---
Places to stay in the United Arab Emirates
Abu Dhabi Hotels
All the hotels in this list are walking distance to where you want to be and have pools. Trust me you want a pool in the UAE. There are cheaper hotels but they are usually taxi rides away from the main city area or a good hours walk.
Budget Hotel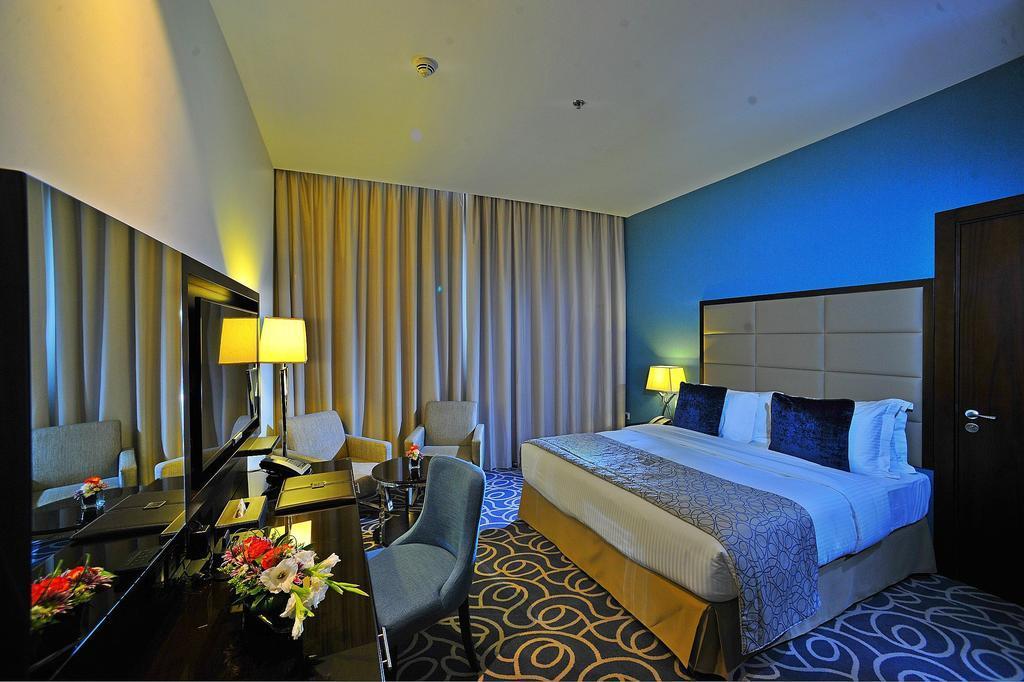 Ramada Abu Dhabi Corniche isn't a bad location and was a great hotel when I stayed. From around $80 AUD per night. TRYP by Wyndham has rooms from around $80 AUD per night but the pool is weird. Well its almost undercover which is great if you want to cool off but not so great for sunbaking.
Mid Range
Le Meridien Abu Dhabi has Rooms from around $175 AUD per night. Breakfast is $29+ AUD though so that adds a chunk. The pool area is fantastic though and it is on the beach.
Novotel Abu Dhabi is further away from the Corniche but is a nice hotel at affordable rates. It usually sits around $125 AUD including breakfast and also has a great pool area.
Top End
If you really want to splurge, Emirates Palace has rooms start from around $650 AUD per night but if you add breakfast its $100 AUD extra. Maybe when I win lotto!
Dubai Hotels
Budget
Located in between Jumeirah beach and Dubai creek this is a great accommodation option. From around $75 AUD per night.
Mid Range
Rooms from around $175 AUD per night for one of the best hotels you will ever stay in.
Do yourself a favour and read this review I did on the Meydan Hotel.
I would recommend this hotel to everyone (but check out my room recommendation to get the best deal).
Top End
Rooms start from around $2020 AUD per night and I know what Brad would say should be included for that!
---
What is the Best Time To Go to the UAE
This is a loaded question.
Hotel prices vary greatly from season to season and while it might be hot as hades Summer from April to November will be a lot cheaper for accommodation. You can often negotiate free breakfasts and discounts from in house restaurants but of course do it nicely and before you book.
Between November and April is their winter and it is lovely! The temperature is still in the mid 20's celcius so still ok for lazing by the pool but of course the hotel prices are peak prices and can get really expensive.
You are just going to have to make the decision yourself.
Getting To and From the UAE
Flying to the United Arab Emirates
From Australia we can get direct to Dubai with Qantas (Emirates) or to Abu Dhabi with Virgin (Etihad) and they are usually around the same prices.
Brisbane to Dubai with Emirates is around $1200 return at present. (AUD).
Brisbane to Abu Dhabi with Etihad is $1377 and Virgin $1655 (which will probably end up being an Etihad flight anyway!)
This search was for mid August which is a busy time.
HERE IS MY MASSIVE TIP!
If you book a flight that is an Emirates flight number, even if you book it through Qantas, there is a very real chance that if you are flying over the summer (except during the xmas holidays) when its quiet you will get an email from Emirates with an upgrade offer.
The lounge is always excluded so its just for the flight and the price does vary, however I've upgraded to business class for as little as $500. Sometimes is $2000 which I won't pay but on more than one occasion I've swanned home like a lady of leisure or an extra 500 bucks!
They run planes that have an entire upper floor that is all business class so if they are very full with economy passengers you can often get an upgrade offer, but I've found that weirdly it is often when the plane is empty that you get it.
It won't always happen and if it doesn't, nothing lost, but man flying that 13 hours in business class is worth every penny of $500 to me.
---
Solo Female Travel Abu Dhabi or Dubai Challenges
If you are concerned about any challenges you might have as an Abu Dhabi solo female traveller, I'm going to say almost none. Dubai for solo travellers is the same. Honestly, as long as you are respectful in the places you should be, you won't have any challenge at all. I've ventured further into the other 5 Emirates of the UAE and still not had any trouble.
Wear light flowing clothes and cover your knees at all times if you can.
Smile, nod and be respectful of everyone around you.
Wear your swimsuit at the hotel pool or on the tourist beaches, but do not walk between your hotel and the beach in anything revealing.
Consider women only beaches for sunbaking and even then, please remember that the local woman might not want to see you flaunting around in your revealing bikini either. A good coverage two piece or a one piece swimsuit is best.
If you want to do something and are a little concerned about doing it on your own, get a tour. There are tours for almost anything and everything in the UAE so grab one and relax.
Day Tours in the United Arab Emirates
---
In Summary: Solo travel Abu Dhabi & Dubai
I've found the United Arab Emirates a great place to travel as a solo female traveler. There is lots to do and if you get a bit sick of it all there is always the beach or the hotel pool.
Yes it's not the cheapest place you will ever go for sure, but it can still be affordable if you keep you whits about you and consider buying cups of noodles for lunch.
Often in these more expensive places I make lunch my main meal and boil my kettle for instant noodles in my hotel room for dinner.