Walking the Camino De Santiago Spain
When I planned to walk the Camino, I invited maybe 20 people to join me at some point along the way. A few were very keen but in the end it was Sue, my sister who prevailed and to be honest I couldn't have asked for a better walking companion.

There was injuries, blisters, sore bits, and sleepless nights.
There was also inspiration, determination, incredulation and revelations.

It is and will remain one of the best things I have ever done and strangely, as time goes by, it becomes more special. We hiked through some incredible scenery, met some amazing people, heard some inspirational stories & walked across a country. There is nothing you can't do if you put your mind to it.
---
The Frances Route of the Camino
The Frances route is by far the most popular and I would consider to be the most established as well. Initially I really wanted to avoid this route and was going to do the Via De La Plata, however the more I investigated it, the more the Frances seemed like a great way to see lots of the beauty of Spain.
My reasons for hiking the Camino weren't anything deep. I love walking, have hiked for years and I thought it would be a great way to see the real Spain. So nothing deep and meaningful, I just wanted to see as much of Spain as I could and being able to walk a good chunk of it seemed like a fantastic idea to me.
Choosing the Frances in the end came down to it being the most traditional route, the area's it passed through and the fact that at some point along the way I found out that there was a free wine fountain!
Starting in Saint-Jean-Pied-De-Port just inside France meant flying into Biarritz and getting a transfer from there to St Jean. I had posted on a forum that I had booked a van and ended up getting a few folks to share to lessen the cost which was awesome. I also ended up sharing a room for the two nights I stayed in St Jean which again was a great help. I stayed at the Pierre et Vacances Le Parc Arradoy which is just up the hill from the main town area and was actually 4 bunk beds in a self contained apartment. It was 160 Euro for two nights so between the 4 of us, only 40 euro each. Amazingly the other three who I was sharing with decided to leave the very next day so I got up for my day in St Jean with the apartment to myself. Score!
---
What I loved about the Camino Frances
As far as the actual walking and scenery there isn't much you can't love however these are the places I would advise you spend time in. We took 6 weeks to walk the Camino, primarily because we were determined to get the real feel of Spain and not just be crunching through incredible scenery and ageless cities. I'm so glad I decided that was how I wanted to walk it and would advise anyone doing it to do the same thing.
We met lots of poeple over the time we walked that were focused on walking and nothing else. This just didn't suit our style of Camino but I could appreciate that some people only had a month or had taken time off work so they had to get as far as they could in the time they had. Personally – I would recommend splitting it into multiple trips and actually smelling the roses along the way.
---
Saint-Jean-Pied-De-Port to Burgos – Places To See or Stop
Pamplona
Pamplona is worth at least one zero day. I spent a few days in Pamplona as I tore my plantar fasciitis hiking over the Pyrenees on the first day! This isn't something new to me so don't feel like that day is that terrible, its just something I deal with on a daily basis!
Why Pamplona?
The food in Pamplona is your first chance to get some real Spanish food that isn't pilgrim food. Pilgrim menu's are found the entire length of the camino and consist of salad, pasta, bread and a wine for around €7-10. Pamplona has very little of these and you can scoff Pinchos until your belly hurts! (Tapas is Pinchos in this area.)
Monasterio De Irache Wine Tap
The free wine tap at Monasterio De Irache (between Pamplona and Legrono). Most people stay in Estella so the wine tap will be early in the morning of your day leaving Estella.
This is really supposed to be drunk via your pilgrim shell however I took an extra water bottle that day and half filled it. It seemed like it was acceptable to do that so I didn't feel like I was taking advantage in any way.
Burgos
I loved Burgos and had two full days off here.
I hiked out to the Real Monasterio y Panteon Real Cartuja Miraflores which was about 4.5 km's from memory. You can walk a good chunk of it along the river which is lovely. I'm still not sure if they pipe the monks singing through the chapel or if monks were actually singing out of sight, but it is a wonderful sensation. To just stand and hear that incredible music was amazing.
Burgos Cathedral is lovely and if you can time your visit to Burgos with a Sunday, you will get your first experience of the Spanish church goers. Everyone goes to church and then flocks to the local restaurants for lunch. Its really something to experience. The Cathedral has an Audio tour but you can also do a guided tour of Burgos and the Cathedral. One of the main draws of Burgos is the amazing massage place "Mudán Masajes Orientales Burgos" just next to the river promenade. It is a place you can book online as well so a few days before you get to Burgos you can book and be sure you don't miss out. Click the link to book ahead. OMG – A Shiatsu Massage half way along the Camino is to die for.
Tours Of Burgos and The Cathedral
Guided tour of the historic centre of Burgos
Viator Traveler Rating: 5 Stars
From $150 AUD for a group up to 6
DOES NOT GO INSIDE THE CATHEDRAL
This is a tour of Burgos sites and while they do talk about the Cathedral, entrance is not part of this tour.
Cancellation up to 24 hours before departure with Viator.
Don't forget to walk up to the Castillo de Burgos and admire the view down over the city.
There is also a Decathlon at Burgos in case any of your gear isn't holding up well.
Accommodation in Burgos
If you do decide to stay for even 1 full day in Burgos, this is a great place to spend a night or two outside of the hostel. You can sleep in private, in the dark and the quiet and not have to worry about others getting up at 5am to walk.
---
Burgos to Leon – Places to see or stop
Burgos is the start of the Mesetta. Basically is a long flat week of not much to see so the small towns you stay in are a lifesaver at the end of the day. While its easy to get horribly bored on this leg, there are some great little villages and things to see along the way.
Villalcázar de Sirga
I wouldn't plan on spending an extra day here, but if you can tie your stay or walk in with getting into the church here it's a must do. It doesn't look like much from the outside but it is amazing inside. Such a surprise.
There wasn't a lot of accommodation here but we managed to find a great room for us both at Hostal Infanta Dona Leonor at only a little more than the price of two dorm beds.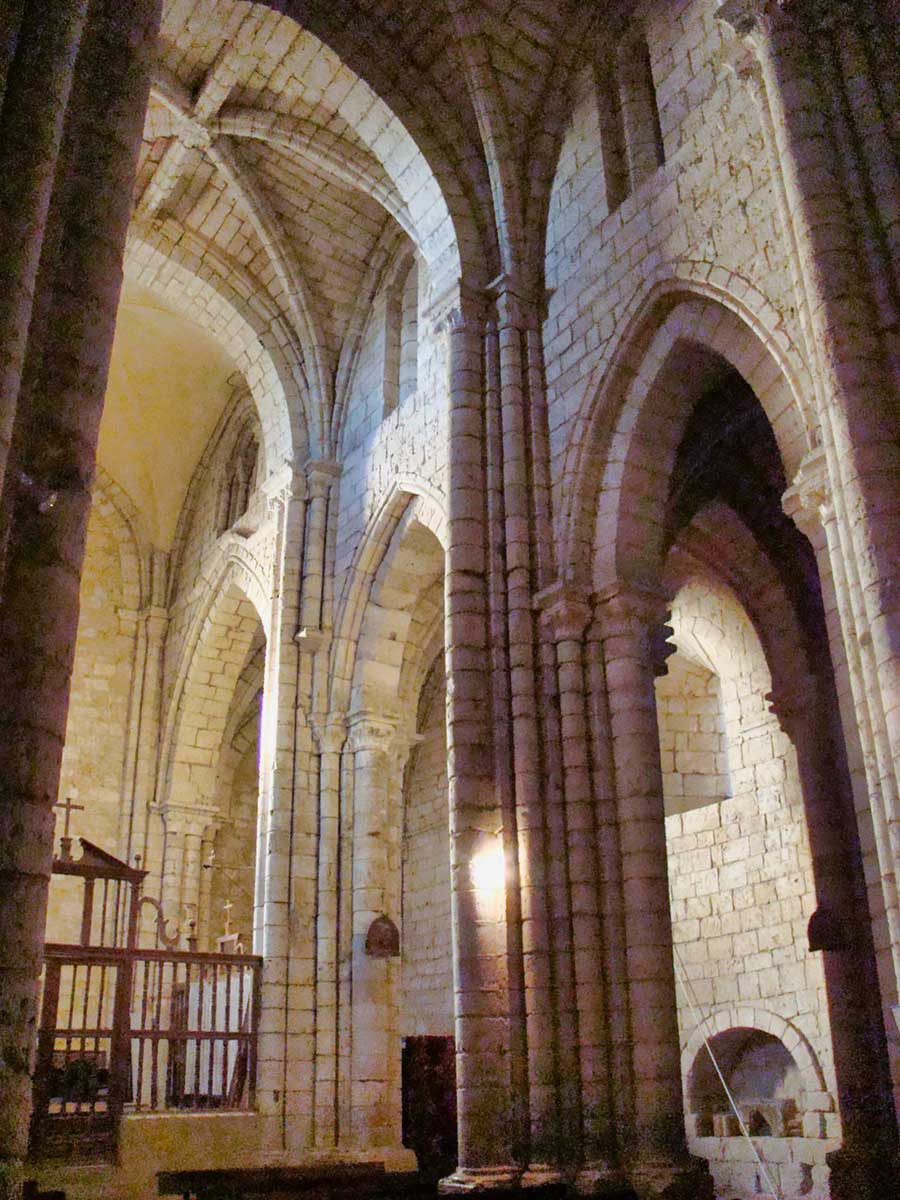 Also make sure you are out on the Mesetta before dawn at least one morning. The sunrises were amazing.
Leon
There is so much to see in Leon and a great place to stop for at least one full rest day. The city centre isn't really any more expensive than further out so you can manage to stay in close and experience the best of the city. We lashed out and got an apartment for 3 nights here and washed our clothes, cooked and relaxed.
We stayed at Suites Berrueta right near Plaza Major. It was a great location, excellent apartment and only around $70 per night at the time. I think it is around $100 now but if there are 2 of you that's only $50 each.
Leon Cathedral
Leon Cathedral is amazing and has a audio tour which is worth taking. The colors inside from the stained glass are really worth seeing.
Gaudi Tour Leon
Like other main cities in Spain, there is some Gaudi buildings in Leon. There is a tour that showcases these buildings and gives you some history of Gaudi in Spain in general as well.
San Isidoro Museum
The San Isidoro museum is something we still talk about today. It holds one of the holy grails (which looks like a squashed thunder egg!) , has 800 year old roman frescos that look like they were painted yesterday and so much more. Do the tour they offer which I think is on the hour as its really worth it. The cloisters are incredible.
---
Leon To Ponferrada – Places To Stop & Things To See and Do
This is some of the loveliest countryside you will walk through on the Camino. There are some beautiful parts after Sarria, but by then you have the hoards that walk only the 100km they have to for obtaining their Compostella certificate.
Astorga
This is your only chance (as far as I'm aware) to see a Gaudi building outside the major cities while walking the Camino. Gaudi's Palace is pretty unique too.
Schedule of Gaudi's Palace
From May to October, from Monday to Sunday, from 10:00 to 14:00
From May to October, from Monday to Sunday, from 16:00 a.m. to 20:00 p.m.
A visit is €5.00 and you can add a tablet for an extra €1.00. Or splurge on the guided tour for €8.00
Rabanal Del Camino
Ponferrada
Albergue de Peregrinos San Nicolás de Flue is a great Albergue. It's one of the donation driven Albergues on the Camino but typically you would expect to donate around 10 Euro's. They have a great kitchen and outside area and while it does fill fast it is one of the few places that you can get lucky and be put in smaller rooms. Our room was for 4 and luckily the other two women were a little older like us and very respectful.
Ponferrada Castillo
Castillo de los Templarios, Castillo de Ponferrada is a very cool Castle! It was €5 at the time but I believe it is now 6. It is really worth a visit and has a great view out over the area. Or you could do the guided tour below. I do feel you would get heaps more out of a guided tour and at around $20 AUD I would say its worth it.
---
Ponferrada To Sarria – Places To Stop and Things To See
Villafranca Del Beirzo
Albergue el Castillo OMG this was one of the very best Albergues we stayed in for the entire Camino. They had sheets! SHEETS and even towels for us. Goodness me I still get excited talking about it now. It is a very small Albergue and family run but it was one of the best nights sleep we had. SHEETS!!
O Cebreiro
This particular stop is just gorgeous but is also very popular. It's a long climb up the hill to get here and a lot of pilgrims then stay the night. We didn't stay at O Cebreiro but at Hospital which is about 5km past O Cebreiro.
You must head out behind the town in O Cebreiro for the views however. It is really beautiful.
Sarria
Not my favorite place on the Camino. Sarria has grown considerably due to its proximity to the 100km mark on the Frances route. You can start in Sarria and walk over 100km to get your Certificate so it is inundated with hikers who are only doing the last 100kms.
We didn't like Sarria much however we did find a great hostel that we stayed at for two nights. Brad was meeting us in Sarria so we had to wait for him. Alburgue O Durminento. We liked it and they were very friendly and we had a very nice dinner there.
The other main advantage is that it is on the street that heads out of town so you are already half way up the hill when you have to start walking.
---
Sarria To Santiago – Places To Stop & Things To See
Palas De Rei
Please stay at Albergue Outeiro if you can.
The story is below but this Albergue owner went way above and beyond helping us.
Brad left his passport on the bus on the way to Sarria. OMG what a drama that was. We had called with my very terrible Spanish and yes they had it. They agreed to send it to Santiago for us but the conversation wasn't exactly reassuring so we were trying to call again to give them our hotel name so the passport could be there when we arrived.
We had already booked Albergue Outerio and when we got there were trying to communicate with the bus company when the owner stepped in and took over. They were not being easy to get along with and he just refused to let them get rid of him. He was absolutely the only reason we managed to get Brad's passport back and apart from it being a great hostel, we will always remember the extra effort Manuel went to. If you can stay at this great Hostel and tell Manuel that you read it on a blog about him helping Brad (the stupid Australian) get his passport back.
A Coruna
We had deliberately offset ourselves from the Brierley Guide stops (a handbook with stages for the Camino that people follow like a damn cult!) so we found ourselves needing to stop at A Coruna. It is a tiny village and we found this apartment on Booking.com. It was around $180 AUD for the night but was two bedroom and four of us stayed so that was around $45 each per night. We had a sleep in and a late start the next morning to make the most of it. It is such a nice place, the beds were divine and it was right on the Camino path.
There was also this really great little bar called No Camino that served the best food we had had in ages. Pork ribs, chicken soup and the best coleslaw I might have ever eaten!
Santiago De Compostela
There is so much to see and do in Santiago but of course the Friday mass is a must. The gardens are lovely, there are some great historic sites and just walking around the city is a nice way to pass a few hours.
If you are there for Friday Mass you must get there very early. They do say that you shouldn't take photos or film but the actual priests were doing it the day we were there. We figured that mean that we were OK to film too.
---
Pros and Cons of walking the Camino
Pros:
Its just walking – anyone can do it and there is nothing like knowing you walked over the Pyrenees in a day! That first day out of Saint-Jean-Pied-De-Port isn't an easy one, its pretty much 26km of UP but when you get to Roncevalles you are so proud of yourself!
At least once a day you feel inspired by an amazing person you have just met.
You will get endless blister advice! Undersocks, dry socks, air your feet, vaseline, moleskin, pure wool – its endless but helpful.
At least once a week you need to remember you are in Spain. Avoid the pilgrims menu & order the incredible Spanish food.
Medicines, money & help are just randomly handed over to help others. You often see the very best of the Pay It Forward concept.
Apart from a few tools most people embrace the HYOH principle. (Hike your own hike). Its known as "your camino" for this hike though. It's perfectly acceptable to do it anyway you like.
Some of the scenery is stunning and did I mention the free wine tap??
You can and do make friendships that will last a lifetime.
Cons:
It's harder than you imagine, some days you struggle on the flat in the cool. There is no rhyme or reason why some days are so hard.
You meet some incredible dicks! Smile, nod and move on! They aren't frequent thank goodness but when you meet one they are usually a doozy!
You will get blisters. Its almost inevitable. No matter how well your shoes fit, walking 30kms/day for a month on end takes it's toll. Do not stick your head in the sand about them!
The food is plentiful but not often great. Soup, pasta, desert and wine/beer for 7-10 Euro's. You can't go wrong, its filling and its cheap but its not gourmet cuisine. Not that you care! Just make sure you avoid the Pilgrims menu at times and pay for the incredible Spanish food.
You will experience some horrific judgement from others with regard to how you do your camino. Smile, nod and move on. Again this isn't common, mostly everyone is happy for everyone else to do "their camino" but of course every now and again you meet some knob who has to criticize your every move.
The hoards after Sarria. This very nearly derailed me. We had been walking for over a month when we got to Sarria and while I knew it was where a lot of people started, I didn't realise how many or how the timing affects it. We were in October and there were maybe 30 school groups started from Sarria the day we left. I was in tears by about 5km and didn't want to continue. Unbeknownst to me – that's the feeling of many pilgrims and one of the guide books actually tells you to resist the sanctimonious judgement you can easily direct at those who haven't walked the "full camino" and realise that – yes you are right – everyone has the right to walk their own camino. A friend we had met on the trail pulled me into line at a coffee stop when I was really unimpressed with the crowds and told me to get myself together, get off my high horse and act a little more pilgrim like. I really needed that and when we got up and walked away from that coffee place the first people in front of us was a young couple of which the guy had quite severe Cerebral palsy. I cried some more, pulled myself together, shook both their hands and walked on. What we did do however was a long day that day and then didn't start until about 8:30 every morning after that. We missed most of the crowds and had a much better experience. Oh and we saw that young couple again in Santiago. LEGENDS!
It can be very hard to go back to your regular life. I saw an inteview with Shirley McLain a few years ago and she said that "your real Camino starts after your physical camino ends" and I've found those words to be incredibly true. I miss it every day and want to move to Europe for a year so I can just walk Camino's and take photos.
Santiago De Camino 2016 – It's A Wrap
It's brutal & it's gentle
It's stunning & it's mundane
It's inspiring & it's boring
It's warm & it's freezing
It's quiet & it's hectic
It's confronting & it's calming
It's all things and it's none but
It's your Camino & it's everything to you.
I would LOVE to hear your Camino story. Comment below your favourite story from your camino.
Check out my Spain Destination Page for all the info, posts & places to visit in Spain.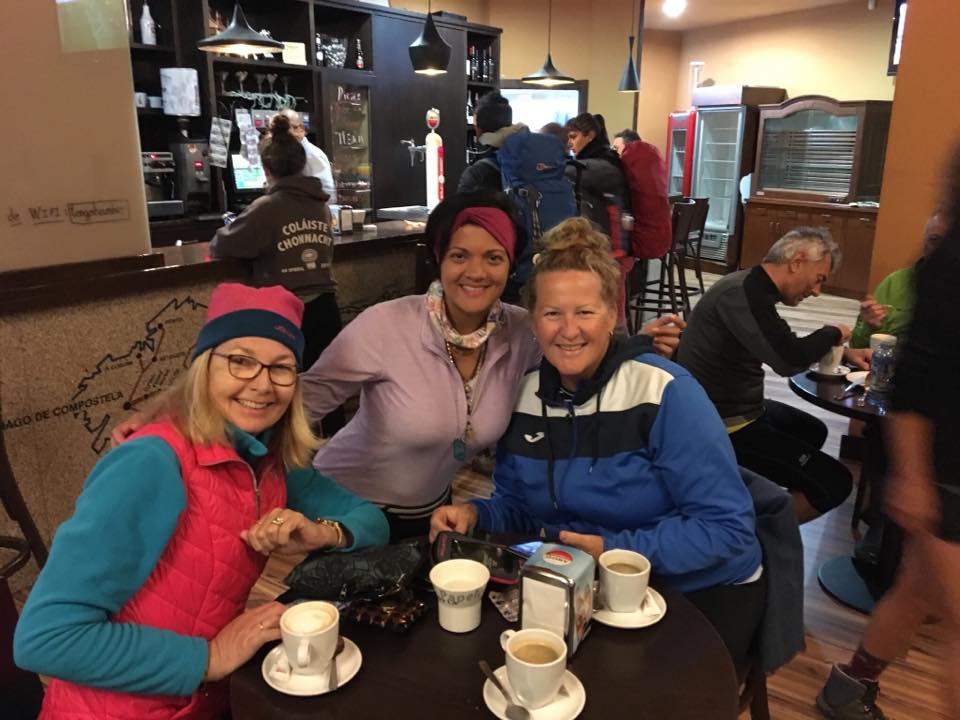 ---