Spend A Few Days Beachside in Peniscola Spain
Nestled on the stunning Costa del Azahar in the Valencia region of Spain, Peñiscola is a picturesque coastal town that truly captures the essence of Mediterranean charm. With its enchanting old town, magnificent castle, and beautiful beaches, Peñiscola offers visitors many things to do and see.

Learn all about the best best attractions, activities, and accommodations in Peñiscola, ensuring you have an unforgettable experience. This charming town offers an unforgettable experience for travellers seeking a perfect blend of relaxation and adventure.
Things to See and Do In Peñíscola
I would recommend you spend at least 2 days in Peñíscola. If you are looking for some RnR and would like to spend time sunning on the beaches, a week is probably what you need. From the amazing food that is served throughout the town to the cobbled streets of the old village there is plenty to see, do and eat in this beautiful little Spanish seaside location. Here's my recommendations for the best things to see and do in Peñíscola.
---
Peñíscola Castle
One of the most iconic landmarks in Peñíscola is its majestic castle, perched high on a rocky outcrop overlooking the azure waters of the Mediterranean Sea. Built by the Knights Templar in the 13th century, this formidable fortress offers a fascinating glimpse into the region's medieval past. This magnificent fortress later became a papal palace under the rule of Benedict XIII, also known as Pope Papa Luna.
While you might like to simply walk around the castle exterior you can enter and see the rooms where Papa Luna lived and wrote.
Opening Hours and Tickets for Peñíscola Castle
During the winter the Castle is open from 10:30am to 5:30 pm. Winter hours are from 16th October the Palm Sunday. Palm Sunday is the Sunday before the easter weekend.
Summer hours are longer (as are the daylight hours) and the castle is open from 09:30 am to 09:30 pm.
Entry is 5.00€ for adults, and 3.50€ for teachers, students, unemployed children (9-16), pensioners and for groups over 30 people. You do need to able to verify your status for any of these categories to get the discounted entry fee. Disabled visitors are free as are children under 9 years old.
You can buy tickets online via the Castle's website.
If you are keen to learn more and make the most of your visit to the castle, consider doing a walking tour. These can often give you stories you would otherwise never hear and of course way more info that you will research for yourself.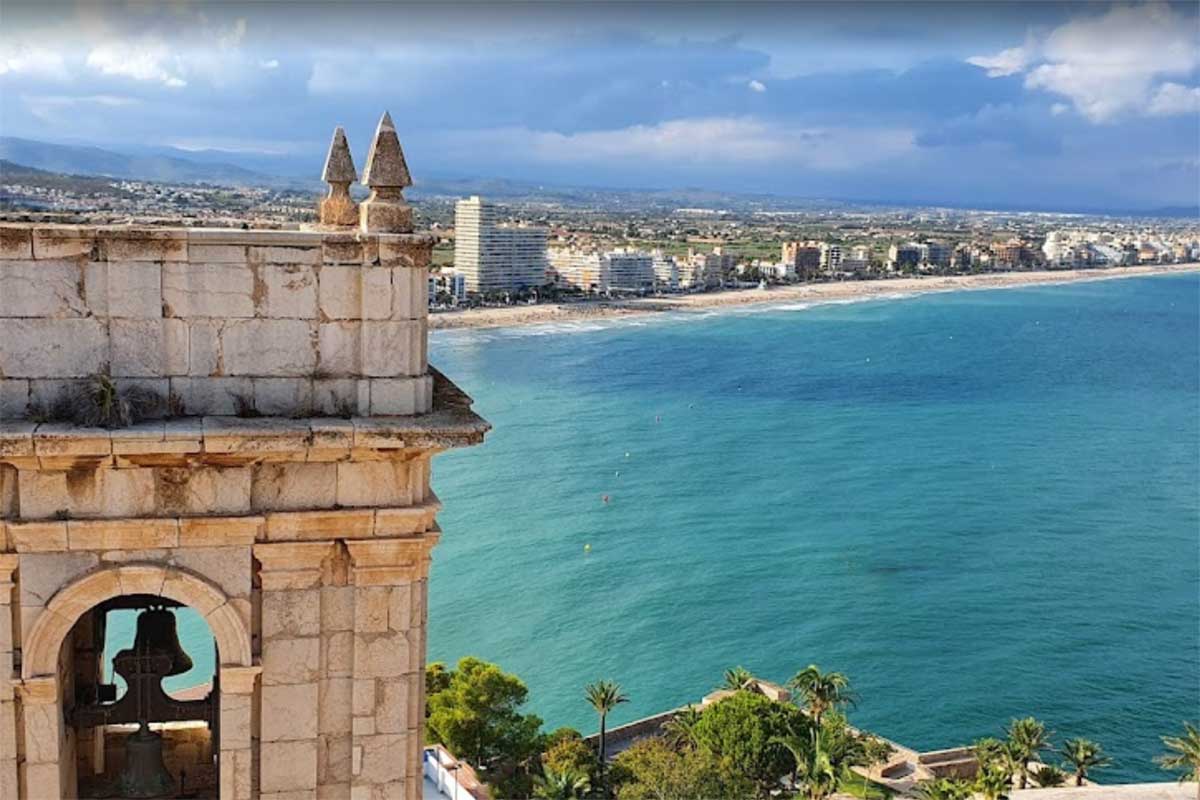 ---
The Old Town Of Peñíscola
Step into the enchanting realm of Peñíscola's Old Town, also known as the "City in the Sea," where medieval charm harmoniously coexists with modern culture. Lose yourself in a labyrinth of narrow cobbled streets, adorned with vibrant bougainvillea, and discover hidden plazas brimming with local life.
Most of the things to see and do in Peñíscola (that aren't the beach) are in or close to the old town area. I would suggest you plan out your walking tour of the old town to see everything you want to and still leaving time for a coffee or wine at one of the gorgeous little cafes and bars in the area.
Things To See In The Old Town of Peñíscola
Far de Peñíscola – The Lighthouse
While its not possible to enter the lighthouse it is worth including it on your walking route. This impressive building stands 32 meters tall dates back to the early 17th century. It does still light up at night but it is also a great spot for watching the sunset. There is a stone bench right under the main lighthouse dome that is perfect for sunset viewing.
---
Peñíscola Artillery Park
The Artillery Park situated below the Pensicola Castle hugs the coastline like you would expect from a forward battle location. The park has many outposts that host cannons and other armaments and while they are great to see, its the views out over the Mediterranean Sea that are most spectacular.
Your entry to Peñíscola Castle includes entry to the Artillery Park and it is worth a wander around. You do need to be able to navigate probably 50-60 stairs to get down to the park so it won't be possible for disabled travellers unfortunately. The Artillery Park is also showcased in Game of Thrones as the gardens of Meereen.
---
Librería La Templanza
This very cool little book based space is a must visit for any visitors to Peñíscola who love music or literature. It does seem to be open again and is really worth a visit. They have everything from poetry readings to jazz nights but their main focus is of course books. I believe they have reopened after COVID and you can find their weekly activities on their Facebook page. They do have a website but I have found that their FB is updated more frequently. And yes they do some of their events and readings in English.
---
La Casa del las Conchas Peñíscola
Completely covered in sea shells this 3 story home in the old town has a very unique history. In the 1950's Spain like a lot of European countries was floundering in the post WW2 downturn. Factories were closing, work was scarce and for people living in a seaside town like Peniscola, the outlook wasn't great.
A local woman Justa was working multiple jobs (as was her husband Timoteo) just to keep their family afloat. Justa noticed that while work was scarce, a few tourists were starting to discover the Peñíscola coast. Justa became Peñíscola's first tour guide and after working for some time the family had earned enough money to purchase a plot of land and build their family home. Paying homage to their love of their town and it's relationship to the ocean, they decided to cover the external walls of their home with shells. The house was finished in 1961 and Justa then opened a little souvenir shop right in the front of the house. The shop is long gone but the house and its shell covered walls remain.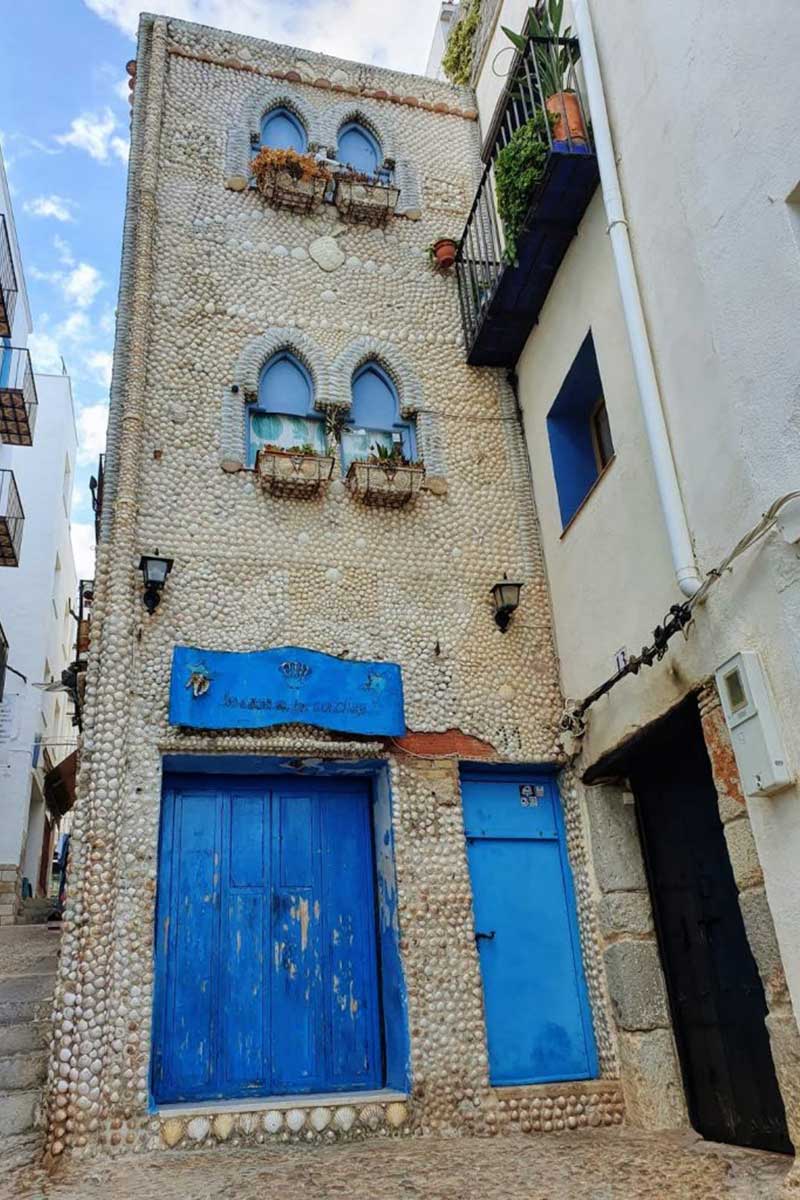 ---
El Bufador
El Bufador is kind of like a blow hole in the middle of the town. It is actually a tunnel that connects the opening you see with the ocean below. On quiet and calm days you can see the waves, but its mostly that you can hear the waves. When it is rough or on a big tide it can be very dramatic and a little unsafe.
There are little park benches to sit at and this is a great place to stop and rest your feet for a few minutes while you are walking around the old town, but just be very aware that if the ocean is rough this spot can be quite dangerous. Its rare but it does happen. Check out this YouTube video from To Do Pensicola
If it is calm (or at least not raging) sit on the little stone wall with your back to the hole and feel the breeze rush up your back. Its quite a cool sensation.
---
The Magic Museum of Peñíscola
Embark on a journey through centuries of magicians and magic at Yunke's Magic Museum. Along with a display of some of magic's most loved and feared props, the museum also hosts magic shows 4 days a week.
Join a tour of the Museum to learn the amazing secrets behind some of the most well know magic acts of all time. At only 8€ for a 40 minute tour it is well worth the small entrance fee. The tours operate throughout the day and while I'm not a magic fan I really enjoyed it!
Magic shows are also available with both Yunke and Angel Blanco doing regular shows. The shows are 16€ and operate Thursday, Friday and Saturday at 9 and 11pm.
They do also have visiting magicians on occasion so be sure to check their shows page for all the latest on what is coming up.
---
The Museo De La Mar – The Maritime Museum of Peñíscola
The Peñíscola Maritime Museum showcases historic stories, photographs, drawings, maps and artifacts based on Peñíscola's maritime history.
It is set out with three different areas which are Fishing, History and the ocean life. There are many quality pieces including bronze helmets, ships anchors, three aquariums and different audio visual media displays. I have been to so many Maritime Museums all over the world (Brad is a boat builder and ocean history nut) and while this one is small and doesn't have anything of amazing worldly significance it is a great place to learn about Peñíscola's fishing past.
---
Pristine Beaches and Outdoor Adventures In Peñíscola
Sunbake and Swim on the Beaches of Peñíscola
Peñíscola boasts a coastline blessed with kilometres of pristine beaches, catering to every sunseeker's dream. Whether you're seeking a peaceful spot to unwind or would rather a stretch of beach that has access to restaurants and bars, you will be able to find something in or around Peñíscola.
Playa Norte, the town's main beach, stretches for miles and offers golden sand, crystal-clear waters, and excellent amenities. Unlike a lot of Spanish beaches Peñíscola has a sand beach which makes it perfect for swimming and sunbaking. 
If you are after a bit of beach fun, the northern end of Playa Norte hosts "Parque Acuático Flotante" which is a fun blow up aquatic playground for kids and adults alike.
For a quieter escape, head to Playa Sur on the southern side of the old town. This beach is smaller and not quite as nice as the main beach, but it is quieter.
---
Find a hiking trail in Sierra de Irta National Park
Nature enthusiasts will find solace in the arid beauty of Sierra de Irta Natural Park, an unspoiled haven located just a stone's throw away from Peñíscola. Lace up your hiking boots and embark on a scenic trail that winds through rugged cliffs, aromatic pine forests, and panoramic viewpoints.
If you are a keen hiker and have a full day consider this 23km out and back trail that follows the coastline from the Old Town south through the national park. You don't have to go the full 11.5km out, you can turn around when you are ready so its ideal for most hikers. Its very flat and there is no elevation change to speak of at all.
Alternatively check out AllTrails for some other lesser hikes in the area.
---
How To Get To Peñíscola
Situated on the east coast of Spain about 220 kms south of Barcelona, there are multiple access points to Peñíscola.
Get to Peñíscola from Barcelona
From Barcelona you can catch a train direct to Benicarlo-Peñiscola in just over 2 hours. Rail Europe is the best place to book tickets. IC and Intercity both run trains along this route so you have multiple train options per day. In May 2023 these tickets were around 50€.
Get to Peñíscola from Valencia
Direct trains also run from Valencia in the south. These take about the same time as from Barcelona and again are available via Rail Europe.
Get to Peñíscola from Madrid
A longer journey of more than 5 hours and 1 change makes it a little more to get direct to Peñíscola from Madrid, but it is an easy trip and again you can sort out options via Rail Europe
Regardless of where you come from you will need to know that the train station is not in the center of town. You can get a local bus from Benicarlo-Peñiscola to the town center, however it is only 11-12 kms so an Uber or Taxi is probably your best bet.
---
Where to stay in Peñiscola
There are a wide variety of accommodation options in Peñiscola however the main thing to remember is if you want something with a pool, you will have to look along the main Playa Norte Beach section.
Accommodations in the Old Town will be really funky and cozy but very small. Personally considering the beach is so good I would take advantage of the different accommodations you will find in the Old Town. We stayed at La Casita de Peniscola and loved it. alternatively check out the map widget below to find something to suit your budget and taste.
NB: We did find that over the weekend a lot of the hotels and accommodation in Peñiscola had 2 night minimums so if you search for 1 night over a weekend in the map widget you may see a lot that are not available. Try changing it to 2 nights and see what shows up then.
What to Eat In Peñíscola
Food in Peñíscola is all about the local seafood. It is plentiful and great, however be a little careful when you get off the beaten track into the more local restaurants. I ordered "fish and chips" one day and got whole deep fried little fish. The menu was in Spanish so I fully accept responsibility however I couldn't eat them. I am terrible at eating anything that looks like it was once alive. A slice of salmon or a fillet of fish and I'm ready to go, but whole little baby fish – nope I couldn't eat them. I didn't want to upset the restaurant so I hid about half of it in my bag and went to the restroom and flushed them! They were such nice people and were so stoked that tourists had come to a local place and I just couldn't disappoint them.
We loved the following restaurants in Peniscola. I can't guarantee they are all still operating, but they were good food at reasonable prices. Breakfast can be hard to get so be sure to either hit up the supermarket if you are in self contained accommodations or book breakfast at your hotel.
Restaurant Xulos – Try the black Paella
Restaurant Perla Blanca – This is out the back of town and was recommended to us by a local shop keeper. It was amazing but its focus is MEAT! Try anything from the Grille.
Taverna De Sant Roc – In the old town and a small cozy restaurant but great food at good prices. Try the Empanadas.
---
---
Peñíscola – A Hidden Gem on the Spanish Coast
Peñíscola, Spain, is a destination that seamlessly blends history, natural beauty, gastronomy, and cultural richness. From the Peñíscola Castle to the idyllic beaches, from the flavors of traditional cuisine to the cozy accommodations, Peñíscola offers everything from relaxation, adventure, or a cultural escape.