The Best Tourist Attractions in Samoa – 31 Of Them!
Western Samoa is beautiful. Actually it's stunning. It's pristine clean, safe for all travellers and there is heaps to see and do. We were there over the Christmas New Year period, and even with three 18 year old boys we didn't have trouble filling our 14 days. It definitely helps if you are Ocean people, but even if you are not there are many options to fill your time in this gorgeous Pacific nation.

So if you are wondering what to do in Western Samoa, here are the top 10 activities and things to see in Samoa.
---
Things To Do On Upolu Samoa
What some people don't realise is that there are two main islands in Western Samoa. Upolu is actually the smallest island but has the largest population and is home to the capital city of Apia and Samoa's international airport. Neither island is very big and you can easily drive around Upolu in 4-5 hours. These are the best things to do on Upolu.
1: To Sua Ocean Trench
This enchanting, sapphire-blue swimming hole, surrounded by lush vegetation, offers a unique and unforgettable experience. You do have to descend a steep timber ladder to get into into the crystal-clear waters but as long as you are careful you will be fnie. To be swimming in this volcanic sinkhole is something else. If you have snorkel gear take it with you. There's not heaps to see on the bottom but it is worth putting your mask and flippers on and swimming freely from one end to the other. Located on the southeastern coast of Upolu, To-Sua is a must-visit attraction in Samoa.
Notes About To-Sua Ocean Trench:
There are cables that run from side to side for you to hang on to should you become tired. Be aware of the tide. When the tide is going out be aware of the possible currents at the ocean end of the pool. Check out my article on To-Sua Ocean Trench for more info.
---
2: The Giant Clam Sanctuary
We were so excited to discover that there was a place on Upolu where we could snorkel among giant clams. There are more than one giant clam beds in Samoa, however this is the only one you can snorkel at. Savaia Marine Protected Area is managed by the local communities, which in Samoa, means that there is usually someone sitting at the hut near the steps down into the water. You simply pay these friendly people and they will give you directions on how to swim out to the clam beds. These incredible creatures can reach over 4 feet in length and open or close when they detect they are threatened.
I have a more in-depth article on the Giant Clam Beds in Samoa that you can read to get more info on how to get here. This is something that we expected to be OK but was amazing so I thoroughly recommend doing this while on Upolu.
---
3: The Colored Fales of Lalomanu Beach
Lalomanu Beach, renowned for its pristine white sands and turquoise waters, offers visitors the chance to stay in traditional Samoan fales. These open-sided, brightly painted huts provide a unique and authentic accommodation experience. You can fall asleep to the sound of the waves and wake up to breath-taking ocean views.
You can just use a day Fale for your visit to the beach which will ensure you have shade and cool for the day. Or you could stay in one of the accommodations in the area.
If you are just visiting be sure to have a swim as this is a great swimming beach, and you can also have lunch and a drink in the little restaurant on site. There is a car parking fee if you are not going to hire a fale or are staying overnight but the restaurant will help you with that. It was 10 Thala when we were there.
The Fales are easy to get to from Upolu and there are a few accommodation options in the area if you did want to stay.
---
---
4: Piula Cave Pool
Nestled beneath the historic Methodist Theological College, the Piula Cave Pool offers a unique swimming spot. Where else can you swim in a cool, freshwater pool, which is fed by a natural spring, and is under a church?
The pool is open to the sky at the ocean side and has a cave that extends under the church through a cave with an opening at the other end. You can throw on your snorkel and goggles and swim through the cave under the limestone cliffs. I do feel I have to warn you there is at least on resident eel (eels freak me out!) but he keeps to himself and after a few short panicky breaths you realise you are in no danger and can swim on.
You do need to bring some kind of waterproof underwater light to make the most of this swim. Its not very far – I would estimate 20-30 meters – and you can see the light from the opening at the other end of the cave pool, but a torch will enable you to see the fishes and the eel in the dark.
Check out my post on Piula Cave Pool for more info.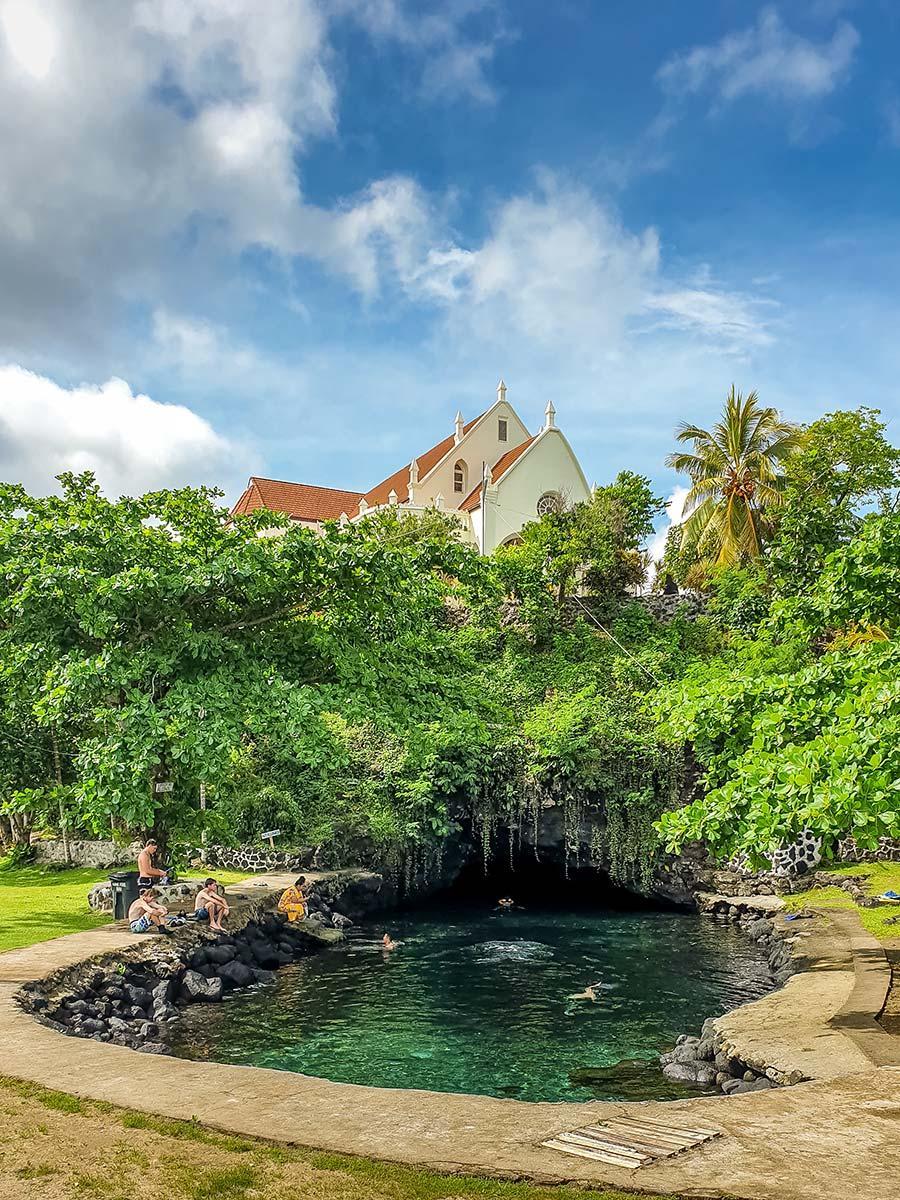 ---
5: Samoa Cultural Village
Delve into the rich Samoan culture and traditions at the Samoa Cultural Village on Beach Road in Apia. You can participate in interactive demonstrations, such as weaving, carving, and traditional cooking methods. Gain a deeper understanding of the island's vibrant heritage and maximise your experiences in Samoa.
The do on occasion feature traditional tattooing or 'tatau' demonstrations and there is ALWAYS dance. Dance is a big part of Samoan culture and is featured at the cultural centre. They do have limited opening hours (typically 10am to 1:30pm) so please check their website for the correct and current information.
!! Did you know there are more than 360 villages in Samoa that have a total of 1,800 matais or chiefs.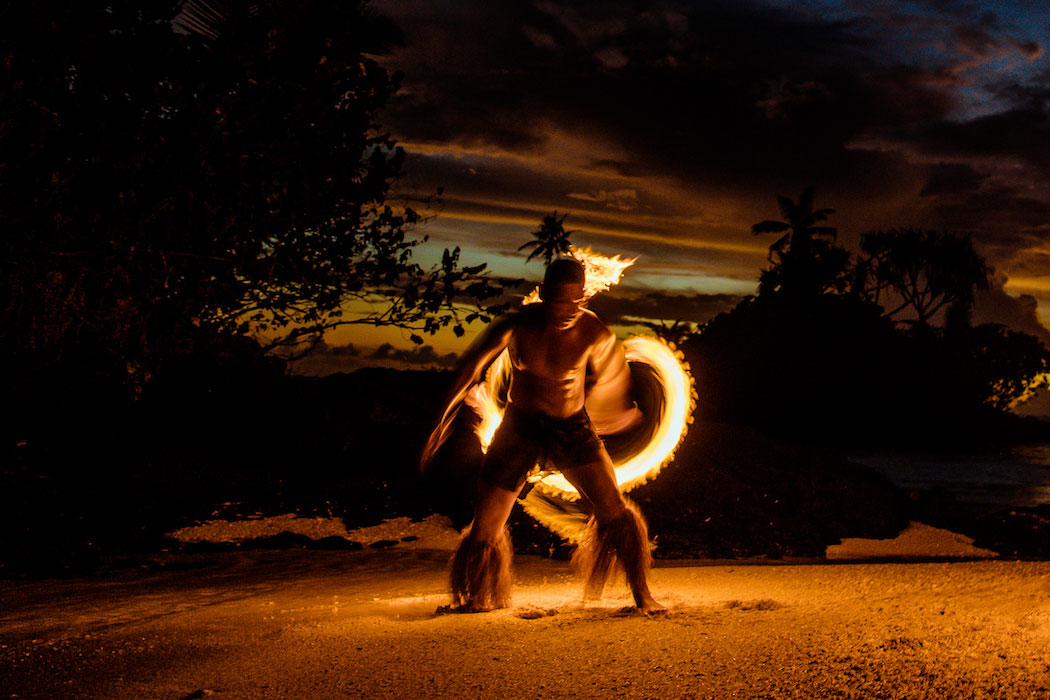 ---
---
6: A Samoan Church Service
Experience the soul-stirring harmonies and uplifting atmosphere of a Samoan church service. Regardless of your religious beliefs, attending a service offers a unique opportunity to witness the deep spirituality and community bonds that shape Samoan culture. We were fortunate enough to be in Samoa over Christmas so went to Christmas service and it was and will remain one of the best cultural experiences I've had.
The parishioners were so friendly and considerate. They made sure we had a front row seat which was so sweet of them and thanked us for coming profusely after the service. They all wear their white Sunday best which is amazing to see and the service is open, friendly and fun. REALLY FUN!
Dress modestly as they are a very conservative society but be sure to bring your camera or phone as it was clearly perfectly acceptable to film and take photos. I didn't take either because I was sure it wouldn't be appropriate but all the locals got up and snapped away so I am assuming it would be OK provided you asked and got permission.
The choir is mostly children and they are incredible. They all really get into it and I could relate it to a local Baptist church service we stumbled on in Louisiana once. It was amazing. Sorry no inside photos for this one.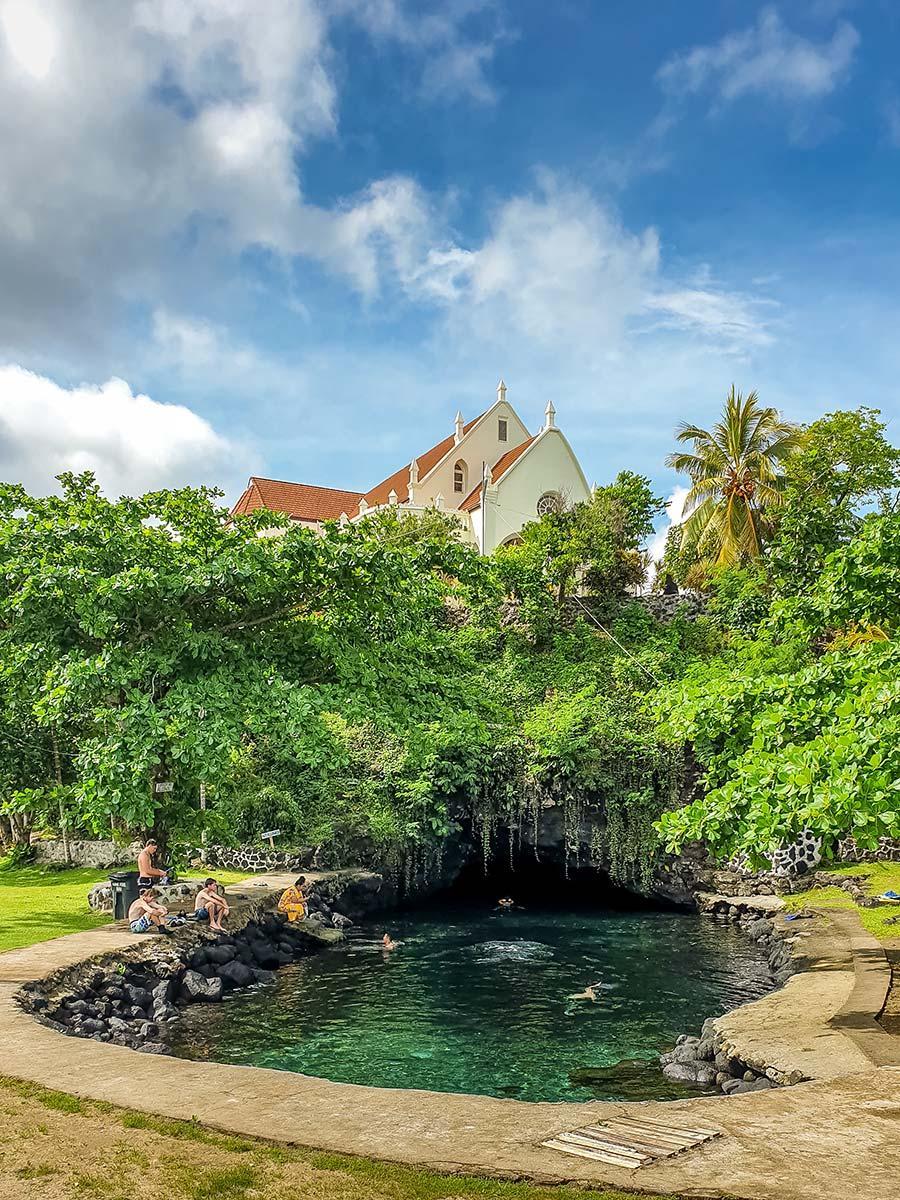 ---
7: Snorkel Palolo Deep Marine Reserve
Dive into the underwater wonderland of Palolo Deep Marine Reserve, just off the coast of Apia city. The deep is a coral reserve but the main feature is the drop off about 100 meters from shore. You can swim out over the coral to see the drop off into the blue hole. The edge of this area is teeming with a wide variety of colourful fish and we even saw some turtles.
There is a little parking area and some places to sit in and out of the sun. They have made a nice little beach area but to get into and out of the water you will need reef shoes.
It is $5 Thala to get in and they have change rooms, toilets and a little place to buy drinks and snacks.
Opening hours are 8am – 6pm every day, however I would check that they are open on Sundays as a lot of Samoa places close for church on Sunday.
Notes For Palolo Deep
You do need to go on high tide or risk getting cut by the coral on the swim out to the hole. If the tide is low there are places it is too shallow to cross. You will also need to be a decent swimmer as the current into or out of the beach can get strong once the tide turns. I would recommend going just before high tide when the tide is coming in. This way you are putting in all the effort on the swim out to the blue hole and on the way back you will be swimming with the incoming tide or at the high tide point where there isn't 'much current at all.
The coral you swim over to get to the hole is not good. It has had some bad Tsunami damage and years of less than capable swimmers standing on it so if you want to snorkel close to shore that is possible but there isn't much to see.
There are some of those little biting fish that nip you. They are tiny but its a bit alarming the first time it happens. They are usually just in specific areas of coral and once you've swum over that they disappear. I only got nipped once but everyone else did too.
---
8: Hike Up To Lake Lanoto'o
This might be one of the muddiest hikes you ever do. The hike isn't strenuous however it is VERY muddy and slippery and you will need to wear clothing that it is OK to get covered in red clay.
It's a beautiful walk through the bush up to the top of the hill, then down to the lake on the other side. Yes you can swim in the lake and there is a little platform to sit on and take a rest before you hike back out.
---
9: Papaseea Sliding Rocks
Just outside of Apia you can visit Papaseea sliding rocks. Depending on the water level you can position yourself to slide down the rocks into the pools below. This is a local hangout and even if you aren't intending on participating yourself, it is fun to watch the local kids going hard.
We visited Samoa during the wet season and there was heaps of water here, however the rocks aren't as slippery as you think they are going to be.
There are two levels, the top ones (just at the bottom of the stairs) are a much bigger drop and not suited to smaller children at all. The boys all jumped in and attempted the slide but you do have to get almost over the edge of the rock fall before you actually "slide" off. You need some decent upper body strength to hold yourself there until you get in position so be aware.
The lower cascades are a much easier option and all the boys could actually walk up these as well as slide down. Our boys were all 18 at the time and fit, so while they look pretty slim in the video below, they are all strong for their size and very capable.
---
10: Sleep overnight in a Fale
As you drive around Samoa you will see Fales everywhere. Usually you just have to pick one for the day and someone from the local community will wander down and collect your 10 Thala to use it for the day.
What you might like to do however is to sleep overnight in a Samoan Fale. The best place to do this in my personal opinion is Matareva Beach Fales on Upolu. Its a little budget resort with a wonderful swimming area, great snorkelling and is around $50AUD per night per person including breakfast and dinner. There is a 25 Thala fee to cross the community land to get into the resort but they will give you a voucher to use if you do want to come and go while you are staying there. Check out my post on staying at Matareva Beach Fales for more info.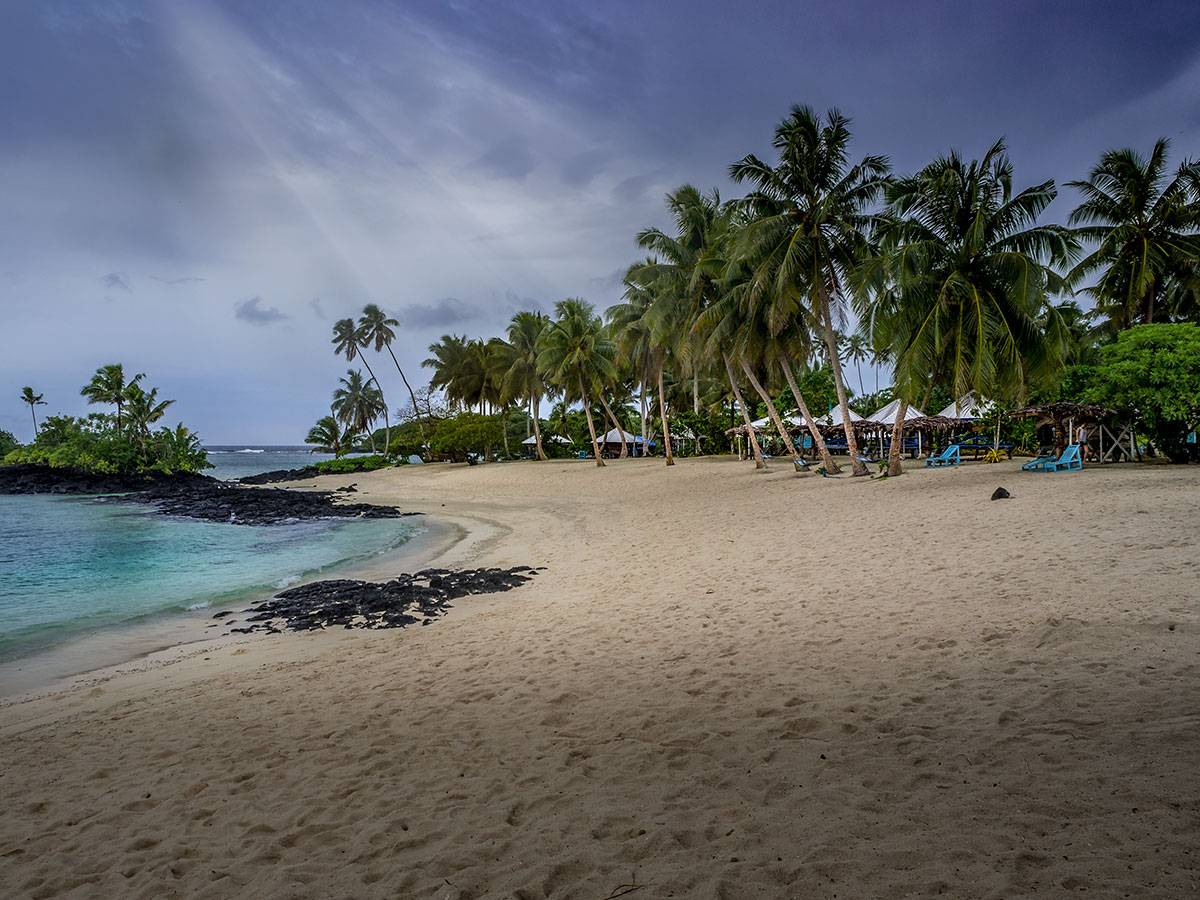 ---
11: Do the coastal walk
Part of O Le Pupu Pu'e National Park the coastal walk takes you along the cliffs of the south coast of Samoa's main island Upolu. From the car park its only about 5 mins walk to the first viewpoint.
Keep going past the first viewpoint through an amazing pandanus forest to the lava fields. There are a few viewpoints and some amazing view out over the crashing waves. The walk is easy to do but you will need walking shoes.
There are two natural bridge formations which are pretty impressive and overall the walk should take you around an hour allowing for photos and at a steady wandering pace.
Turn off the main road at this location and head down the gravel road to the carpark. There is a sign to follow at the carpark.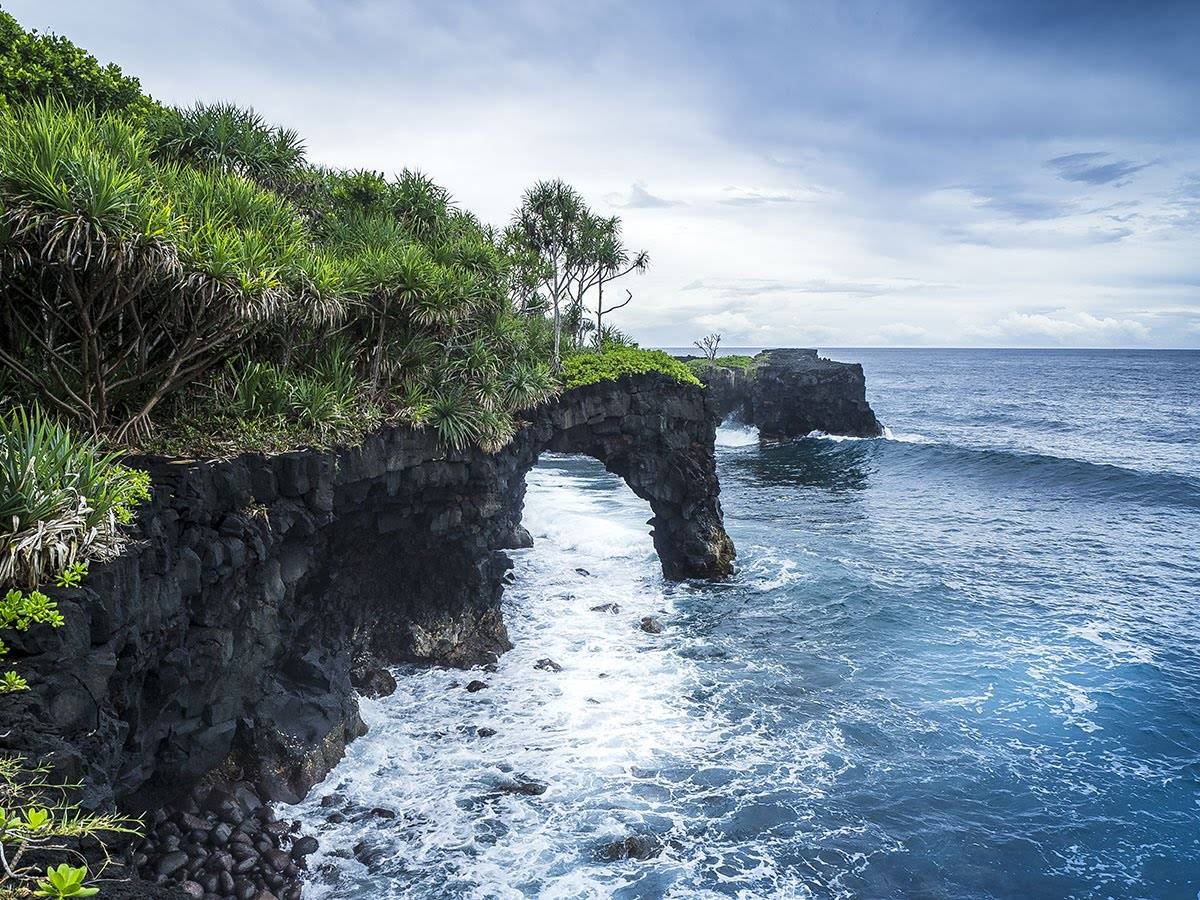 ---
13: Visit The Ma Tree
The Ma Tree on Upolu is worth the 700 metre walk in from the road. Its not a difficult walk at all so most people could do it easily and the tree itself is a great example of Samoa's rainforest foliage.
The roots are massive and spread out for metres all around. Its a great spot for a photo standing in among the roots and as it is just across the road from the entrance to the cliff top walk, its easy to combine both.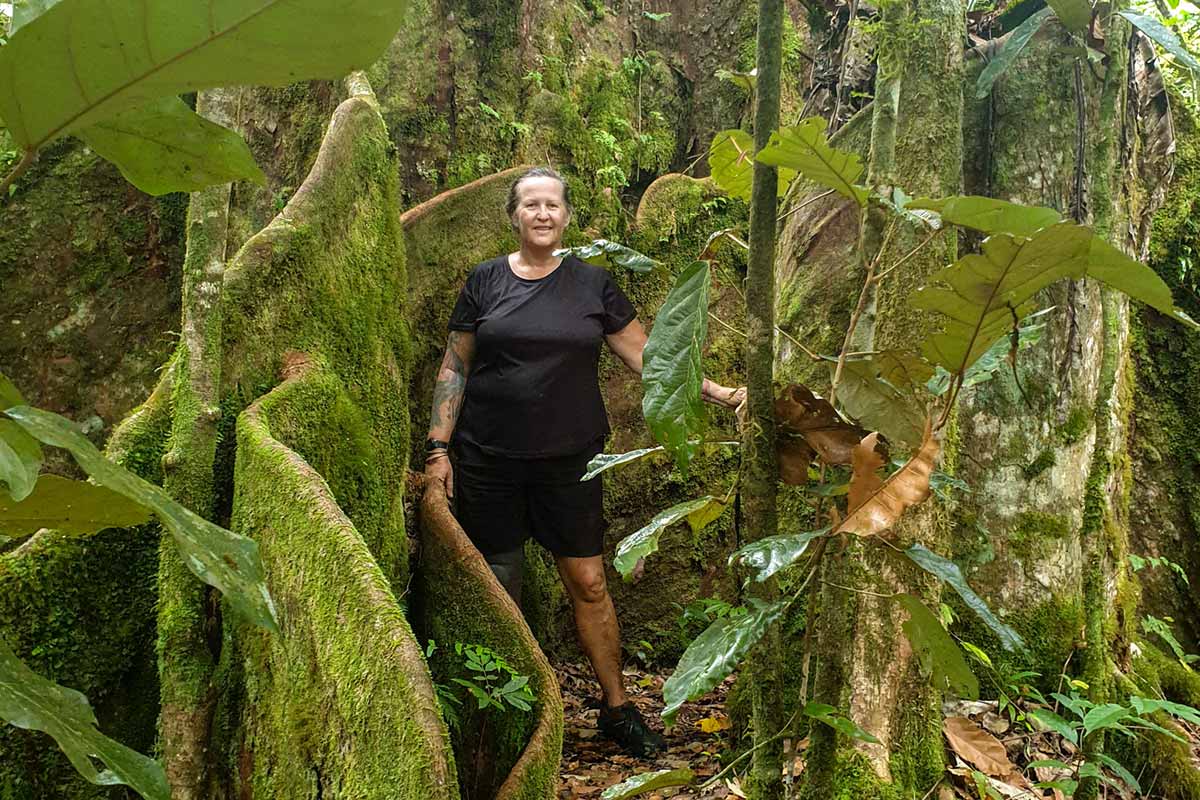 ---
14: Visit Robert Louis Stevenson Museum
Robert Louis Stevenson arrived in Samoa in 1890. He and his wife settled in Samoa where they lived until his death. I'm sure that if you haven't read you would have heard of both Treasure Island and Jekyll and Hyde, Stevenson's most famous novels.
The Museum just outside of Apia has some great artifacts and follows the life of the famous Scottish writer. Guides at the museum have great knowledge of the writer and tell some great stories that you would not otherwise know.
Did you know that Robert Louis Stevenson was actually a Lawyer! He discovered Samoa on an Oceanic cruise and purchased the land that the museum still stands on while on the cruise. They went on and finished the trip before coming back to Samoa where they built the home at Vailima.
The property has been well restored and contains many valuable and interesting items owned and written by RLS.
Stevenson was well known and liked in the Samoan community and on his death the local Samoans hacked out a path to the top of Mount Vaea overnight so he could be buried at the top.
Museum Opening Hours:
The Robert Louis Stevenson Museum is open from 9am to 3:30pm Monday to Friday. Saturday its 8am-12pm and Sunday it is closed.
---
15: Visit Namu'a Island and Snorkel With The Turtles
Namu'a Island just off the south east coast of Upolu is a wonderful place to spend a day. You can also stay overnight in their Fales if you have the time. The owners will pick you up from the mainland and drive you the 10-15 minutes it takes on the boat to the islnd.
The snorkelling is great, we saw multiple turtles and you would be hard pressed to find a more relaxing place to stay. The transfers were 50 Thala per person which was definitely worth it.
The boat leaves from Mutiatele Aleipata on the Main South Coast Road. There is a sign which says "Namu'a Island Fales" so its pretty easy to find. The best way to get in touch is via their Facebook. They list their numbers and all the info to get in touch. Alternatively ask your last accommodation to call them and book it for you.
---
16: Eat Pizza at Giordano's Pizzeria Apia
This was our most unexpected find in Apia. We stayed in a little AirBnB quite close to this restaurant and while Brad and I don't often eat western food when we are travelling in another country, we had the boys with us and one of them celebrated his 18th birthday while we were there.
They chose the restaurant and we were all very impressed. The pizzas are huge, they have a great flavour and both the restaurant and the servers were amazing.
Its on Cross Island Road about 1700 metres from Beach Road in Apia. Just be careful if you walk out as some sections have no footpath.
---
17: Kayak the Inlet to the Sea
On the south west coast of Upolu, there is a little Fale/Homestay that has kayaks you can use to paddle out through the mangroves to the ocean. They also have a natural clear water pool that you can swim in afterward to get all the salt water off.
The kayaks are decent, the paddle is nice and on the right tide you can walk over to a little offshore island. Vai Villas can also organise a cooking demonstration of a local Samoan delicacy Palusami which will cook in the coals while you are out kayaking.
When you get back you can enjoy your Palusami with lunch they can prepare at the Villas.
You can book the Villa's via Expedia or check them out on Google Maps for contact info.
---
18: Go Fishing In Samoa
I'm not a fisherperson myself, but the boys were keen and I found a good operator to take them out. Troppo Fishing Adventures have 2 boats that would allow almost any style of fisherman a great trip. Both leave from the wharf in Apia so its something that you would do while you are in the city.
Pure Indulgence, a 35 foot Bertram is suitable for sports and big game fishing. While they can cater for local offshore trips they can also go as far as American Samoa, Tonga and the Pascoe Banks.
The smaller boat "Get Er Done" is a stand up centre console suitable for fishing around the island and reefs. Brad and the boys spent a day out with Troppos and caught many fish and had a great time. Get in touch with Greg for more info.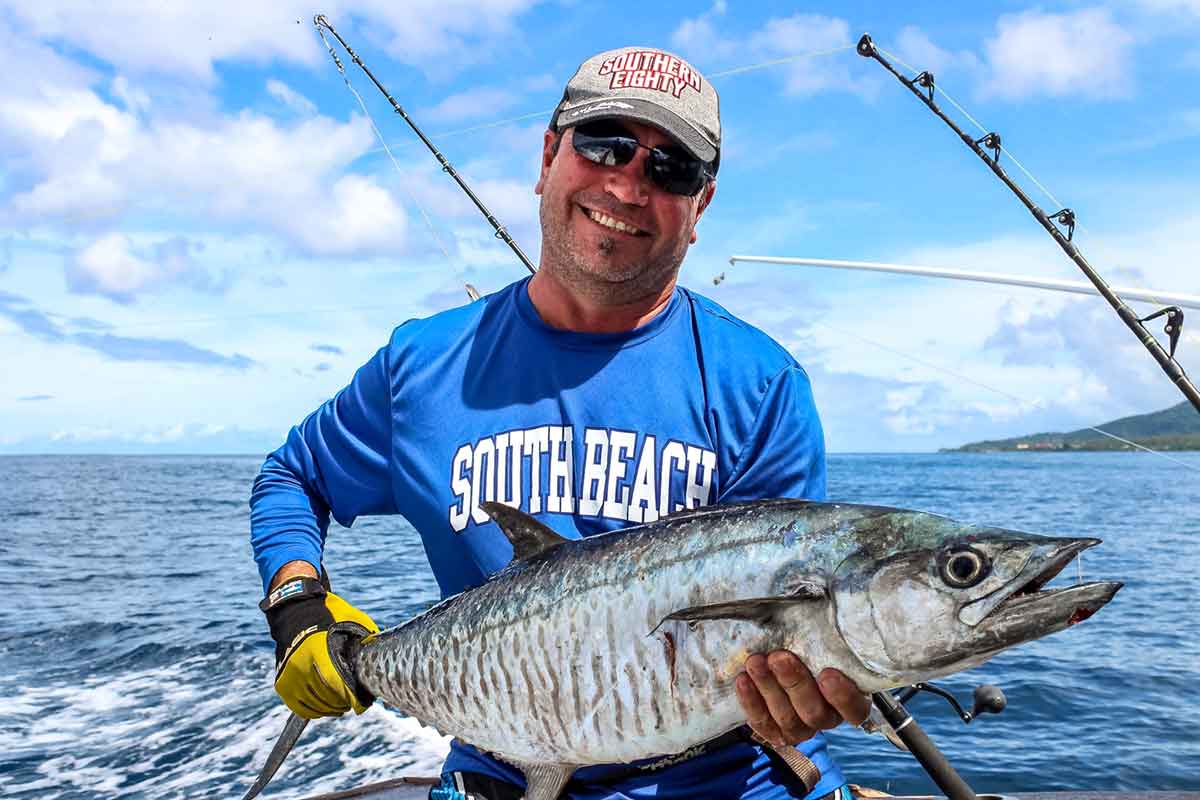 ---
19: Aganoa Black Sand Beach
Samoa has more than a few black sand beaches, due of course to the volcanic activity. Aganoa is probably the nicest one. Shaped in a giant crescent it is a beautiful beach and swimming here was a highlight of our Samoan trip.
Situated on the south side of Upolu, the beach is quite close to a few other of Samoa's attractions so its easy to combine a visit to the cliff walk or the Ma Tree with some time at the beach.
We were in Samoa in the aftermath of a measles epidemic so it was really quiet. Great for us but not great for Samoa. This was never more clear than during a few hours we spent at Aganoa Beach. We didn't see a single sole the entire time we were there.
The water is strangely blue, especially knowing that the sand under it is black, but it is a stunning spot for a walk and a swim.
---
20: Sea Kayak In Samoa
Ross and Frances from Outdoor Samoa have been running kayak trips since 2008. They offer many kayak experiences from day trips to kayak with the turtles, to overnight trips and even week long kayaking adventures.
Find the trips they do on their website and get out onto the ocean now.
Things to do on Savaii – Samoa's Other Main Island
Savaii, Samoa's less populated island is even more beautiful than Upolu. While it does have a town (Salelologa), it is more small communities and little pockets of 1 or 2 small resorts. This was our splurge for Samoa and we stayed at Le Lagoto Resort and Spa and loved it. It is a great place for a few days, there is a restaurant on site, a little pizza place across the road which is right next to a little store for snacks and drinks. Booking is direct through their website, or Savaii Lagoon Resort is just next door and they are on Booking.com if you would prefer to book with a larger company.
The box below shows the few 3 star and above hotels on Savaii. You can book any of the smaller hotels via their website (if they have one) but I would highly recommend either Amoa Resort which is closer to the main little town and ferry terminal or if Le Lagoto are booked out try Savaii Lagoon Resort which is right next door. Zoom in quite close to see that one.
---
21: Sale'aula Lava Fields
While Samoa has multiple lava fields, the most famous of these lava fields is the Sale'aula lava field, which is located on the north western coast of Savai'i. This area was once a thriving village, but it was destroyed by a volcanic eruption in the early 1900s. Today, visitors can explore the ruins of the old village, as well as the blackened lava rocks that surround it.
Witness the damage the powerful forces of nature can do at the Sale'aula Lava Fields. While we all think of Volcano's as being explosively destructive, you can see here just how damaging a lava flow can be. Visit the remains of the Sale'aula LMS church, a poignant reminder of the area's past. It's a stark reminder of the power of nature, and a humbling experience for anyone who visits.
Check out my full post on Visiting Sale'aula Lava Fields for more info.
22: Salelologa Markets
Feel like shopping? Samoa isn't known for its shopping and in fact it is very limited. However you can immerse yourself in the bustling atmosphere of the Salelologa Markets and shop for local hand crafts, gifts, clothing and food. Browse the colourful array of fresh fruits, vegetables, and local handicrafts, or sample traditional Samoan dishes.
The markets are just behind the main town of Salelologa and are very easy to find. The boys managed to find all sorts of Moana themed wood items and I bought a great quality T-shirt. Prices are marked so no haggling is required, however if you do have multiple items they will negotiate with you.
There is food here, however while we ate with no challenge it is the one place that doesn't seem tourist oriented. I liken it to a Thai locals food market. It has these little food stalls down the side of the market and while they seem clean enough its not the best smell.
---
23: Mu Pagoa Waterfall
Samoa could possibly be renamed "Land of the Waterfall" and both islands do have a few lovely places to swim under a waterfall, but Savaii has a waterfall into the ocean.
Its not a big waterfall or even that spectacular but considering the waterfall is actually where the local Lata River meets the ocean that's not usual. I would imagine that at some point the river did just make its way to the ocean unimpeded, however the volcanic lava fields now means that the water spills out over black sand into the ocean. It is a really nice place to swim as well when the tide is low.
The water is flowing much faster than it looks so before you step under the waterfall test just how powerful it is. The locals tell us that it doesn't always run and in the dry season it can stop flowing. Google Maps location for Mu Pagoa Waterfall
24: Agu Aau (Olemoe) Waterfall
Very close to Salelologa is Savaii's most well known waterfall Agu Aau. The waterfall here is a good size and very strong so please don't try and walk into it!
Along with the main waterfall there are often places along the edge where small waterfalls cascade into the pool. The freshwater swimming pool is beautiful but quite cold! It is also very deep in the middle but shallow enough that you can wade in around the edges. The waterfall drops straight out of the rainforest so it is very picturesque and popular with photographers.
This is the Google Maps location. The waterfall is about 600 meters down the small road and its $10 Thala to visit. There are toilets only about 100 metres away from the waterfall and pool.
---
25: Alofaaga Blowholes
The Alofaaga Blowholes are a natural wonder located on the southern coast of Savai'i. These blowholes are created by powerful waves that crash into the rocky coastline, forcing water and air through narrow channels in the rocks shooting spectacular geysers of water into the air.
The blowholes are at their most impressive during high tide, so make sure to check the tide charts before you go. You can stand just a few feet away and feel the spray of the water but be sure to not step too close. It's an exhilarating experience, and one that's not to be missed if you're visiting Samoa, but accidents happen every year so be careful and heed the warnings of the local guides to avoid your name in the newspaper.
Google Maps Location for Alofaaga Blowholes
---
26: Paia Dwarf's Cave
There is quite the legend behind this cave which I explain below. First however, I've used the term "dwarves and dwarf" here because it is how the story is told. I don't believe they are referring to what we now call little people, I understood the story to imply that the "dwarves" were more mythical and magical creatures.
A local man looking for his dog found this cave. Not only did he find the cave, he discovered a town of Dwarves. They asked him to keep their existence a secret which he did in return for blessings from the dwarves. He could ask for anything BUT in return he could not tell a soul about them. After a while the other villagers started to get resentful of his bounty and he ended up telling them about his discovery. His blessings stopped but no-one ever managed to find the dwarves again.
The cave entrance would be impossible to find if you don't know where it is, however if you follow the sign off Main North Coast Rd you will come to a blue fale. Stop there and wait and a local will come down and guide you to and through the caves.
The caves, which are actually lava tubes, are thought to go as far as American Samoa which is over 200km underground. Usually the guides will take you as far as a pool and back. I wasn't game to swim in the pool. It was so dark and I'm terrified of eels so I gave it a miss.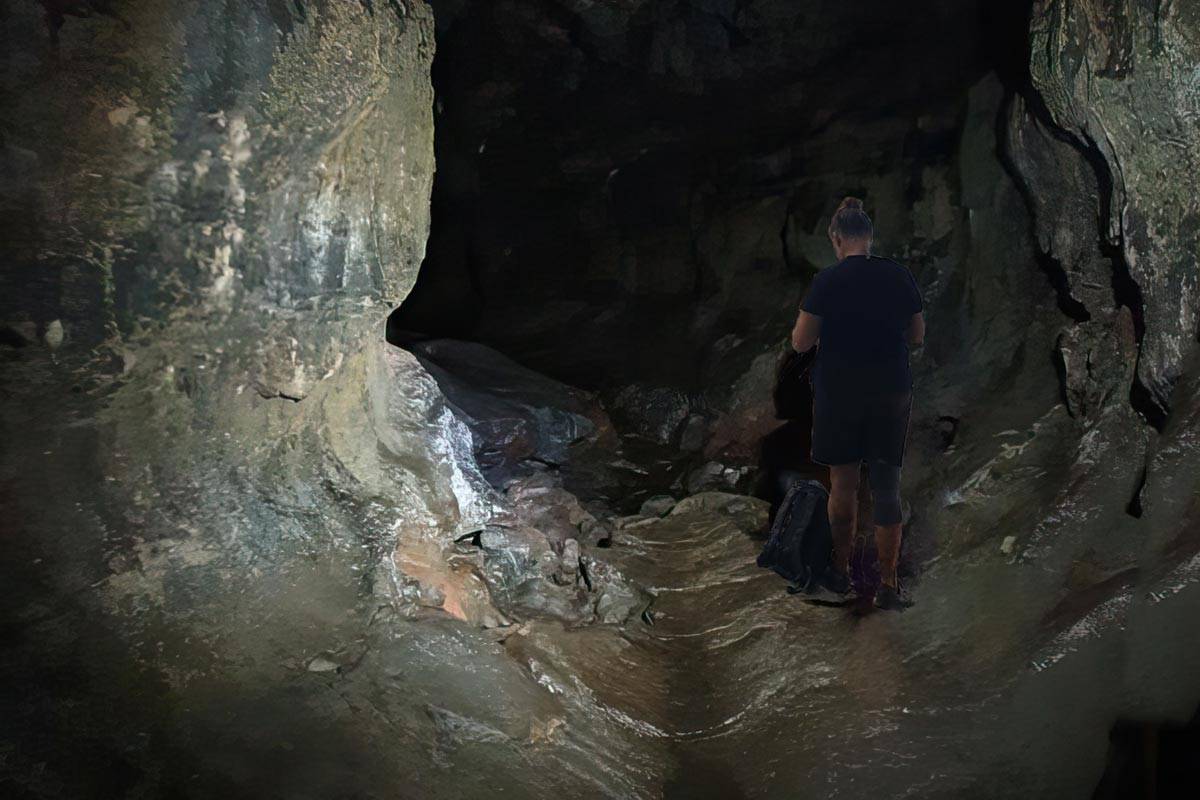 ---
27: Moso's Footprint
Very close to the now closed Canopy Walkway, Moso's Footprint is worth seeing if you are in the area. Legend has it that the footprint was made by the giant Moso when he stepped onto Samoa from Fiji.
Its a foot shaped depression in the surrounding basalt rock and it definitely looks like a footprint. Apparently there is a corresponding footprint in Fiji but I've not been able to find out where.
---
28: Spend a day at Lano beach
All around Samoa fales line the sandy beaches and reef coast. You can just grab a fale to yourself and someone from the village will come and collect a day fee from you.
Alternatively you could go somewhere like Joelan Beach Fales where they have facilities, a restaurant and staff to help you with directions to the best snorkelling places. They also offer sea canoes for hire and kite surfing in season. The beach here is beautiful and its a great way to spend one of your days in Samoa
Check out Joelan Beach Fales at Lano Beach in Savai'i.
---
29: Swim in the Asaga River Pool
Very close to Joelan's Fales at Lano Beach, you can find Asaga River Pool. This is an inlet that feeds into the ocean but the water is stunningly clear and if you go up far enough, is fresh water.
We found this quite by accident and it was a wonderful discovery. There is a rock created pool which means you can sit on the edge and not have to sit on the sand if you don't want to.
Find Asaga River Pool on Google Maps.
---
30: Go Surfing at Aganoa Beach
While its not known globally for its big surf, Samoa does have a few surf spots that offer excellent surfing. One of these Aganoa Beach is suitable for almost all levels of surfers. While some of the larger swells are reef breaks and very fast and powerful, Aganoa is more suitable to casual surfers.
It is also a reef break, but it should be manageable for most competent surfers.
The lodge is amazing with good quality accommodation, good social areas and is also suited to non surfers. Sitting on a deck chair next to the ocean, in the shade reading your book is one of my favouite things to do, and watching the surfers at the same time adds another level to it.
Get in touch with the lodge to find out about seasonal swell.
---
31: Snorkel the fantastic reefs of Samoa
Snorkelling is the main activity we did while in Samoa. There are reefs ringing both islands and you simply have to ask a local to find out the best one closest to where you are.
We saw turtles, sting rays, many MANY species of fish and even an eel. Just get in the water and start swimming. You will be sure to see something.
I do have to say that the coral isn't super colourful in Samoa. If you have lived on the Great Barrier Reef like I have, its nowhere near as bright as that, but the fish life is very healthy. We spent more than a few hours snorkelling at just random locations and were never disappointed.
---
Where to stay in Samoa
Most visitors stay on Upolu for most or all of the time they spend in Samoa. Upolu does have many of the main things to see and do in Samoa, however it is worth heading over to Savaii even if its just for a few days to get in some serious beach time.
Upolu Accommodation
Upolu is pretty small and you can drive around it in about 5 hours so I would suggest maybe 5 or 6 days in Apia simply for ease of access for any day tours you might do. After that I would find a beach resort on the coast for a few days rest. If you are happy to sleep beachside in a Fale, check out my Matereva Beach Fales post about our few days there. It is on Upolu but is very budget. If you love the beach, want to relax and eat great but simple food – this place is for you.
Savai'i Accommodation
As an alternative from Upolu, you could get the ferry to Savaii and stay over there for a few days. It is much less populated and I actually loved Savai'i more than Upolu.
The box below shows the few 3 star and above hotels on Savaii. You can book any of the smaller hotels via their website (if they have one) but I would highly recommend either Amoa Resort which is closer to the main little town and ferry terminal or if Le Lagoto are booked out try Savaii Lagoon Resort which is right next door. Zoom in quite close to see that one.
---
Day Tours In Samoa
There are limited companies doing day trips on Samoa but we stumbled across an amazing one. Samoan Highland Adventures. They are a local company and offer some great day tours. They will even custom make a tour for you and there is nothing they don't know about Samoa. I can highly recommend them. Get in touch and they will be glad to help you out.
In Conclusion – 31 Amazing places to see in Samoa
Samoa is so much more than you think its going to be. It is so clean, the people are lovely, the food is good and the scenery and snorkelling is amazing. I encourage everyone to go to Samoa before the hoards find it!
---
---