Best Things To See and Do In Laguna Beach
If you're looking for a place to experience some of the best art in Southern California, look no further than Laguna Beach. This coastal town is known as LA's art capital, and for a good reason. Numerous galleries and museums here showcase work from local and international artists. In addition to its art scene, Laguna Beach is also home to beautiful beaches, amazing restaurants, and plenty of shopping options.

We have been fortunate enough to have some great friends who's family lived at Laguna Beach for many many years. From 4th of July parties to family card games we have spent a significant amount of time in both Orange County and Laguna beach itself.
---
Hiking in or Around Laguna Beach
There are plenty of outdoor activities to enjoy in Laguna Beach, but hiking is one of the highlights. There are plenty of options when it comes to hiking trails, whether you're looking for something easy or a more challenging hike. For an easy hike, try the Treasure Island Trail. This short trail is only about 0.6 miles long and takes you through some beautiful scenery, including large trees and native plants.
One of my personal favourites is Moro Canyon which has trails starting from only 2.8 miles up to the full loop of almost 9 miles. This article on spending the day at Crystal Cove has a few links to maps and info about Moro Canyon hike. You will need a car to access most trailheads in the area but this one is great because you can park your car, go for a hike and come back and have a swim or something to eat at Crystal Cove State Park.
If you're looking for something a bit more challenging, head to the Aliso and Wood Canyons Wilderness Park. This park has over 20 miles of trails to explore, so there's something for everyone. No matter which hike you choose, you're sure to enjoy the beautiful California scenery.
AllTrails can help you choose your Laguna Beach hike based on distance and difficulty.
---
Hire a bike and cycle the Laguna Coast
Biking along the coast is one of the best things to do in Laguna Beach. With over eight miles of coastline, there are plenty of places to explore. The best part about biking is that you can go at your own pace and stop to enjoy the views whenever you want.
Several bike trails wind through the hills, offering a challenge for more experienced cyclists. And if you get tired, you can always take a break and enjoy a picnic on the beach. Additionally, there are several bike rental shops in Laguna Beach, so you can easily rent a bike for the day.
Visit Laguna Beach Cyclery to rent an eBike which can make your biking adventure way more enjoyable. Not having to push too hard up the hills is a dream. They are open 10am ~ 6pm Monday to Friday and 10~5 Saturday and Sunday. You can use the Laguna Beach Trolley to get to and from the cycle shop.
---
Spend time exploring the beaches & tide pools
There's no better way to enjoy Laguna Beach than by spending a day at one of its many gorgeous beaches. With over seven miles of coastline, you're sure to find the perfect spot to relax and soak up the California sun.
If you're feeling more adventurous, don't miss out on the opportunity to explore the tide pools. Rich with sea life, these natural pools offer a unique and up-close look at the creatures that call Laguna Beach home. Be sure to visit during low tide for the best experience. 
My personal favourite beach for tide pools and underwater life is Shaws Cove. We were fortunate enough to have private access to friends very own tide pools, but their home was also at the south end of Shaws Cove. This meant that we could explore the underwater life at the cove on low tide just a few steps away from the house. The cove is very popular with divers, however if you are a diver please talk to the local dive shops before you get in the water. The currents can be a lot stronger than they look and they can also advise you on the best spots. The cove is protected so you shouldn't get into too much trouble but the water can be very cold!
The Coastal trolley stops right at the steps down to Shaws Cove (location) so its easy to access. Just get off the trolley and walk down the stairs in between the houses on Cliff Drive.
---
Wander The Galleries In Town
Laguna Beach is home to many art galleries, making it the perfect place to spend an afternoon exploring. Many of the galleries are located in the historic downtown area, where you can also find a variety of shops and restaurants.
The galleries feature everything from contemporary art to traditional paintings, and they offer a great opportunity to purchase some souvenirs or gifts. Many of the galleries also offer free events and workshops, so you can learn something new while you're exploring. You'll definitely want to block off some time in your schedule to wander the galleries and take in all of Laguna Beach's creativity.
Yes some of the art is very expensive but not all. You can often find "popup shows" of new and emerging artists in the smaller galleries. I have found these artists to be quite affordable.
Check out the Public Art Installations
While Laguna Beach is best known for its stunning natural beauty, the city is also home to a number of impressive public art installations. One of the most popular is the bronze statue of surfing legend Duke Kahanamoku, which stands on Main Beach.
Other notable pieces include the sculptures at Heisler Park and the mosaic murals at the Forest & Ocean Gallery. Visitors can also enjoy a variety of art galleries and museums, such as the Laguna Art Museum and the Laguna Beach Artists Studio Tour.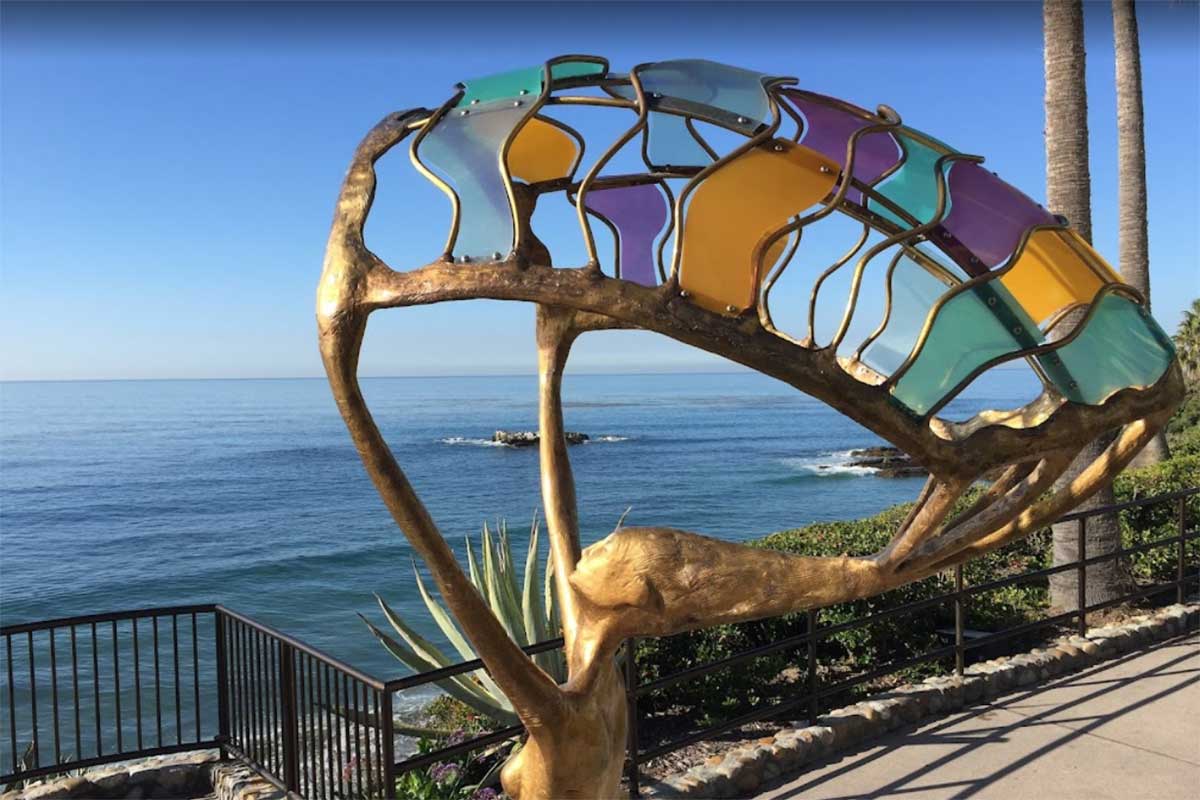 ---
Spend a day (or two) on Catalina Island
Catalina Island is one of the best things to do from Laguna Beach. Just a short ferry ride from the mainland, Catalina Island is a world unto itself, with crystal-clear waters, secluded coves, and hiking trails offering sweeping ocean views.
Avalon, the main town on Catalina is car free with golf buggies being the main form of transport around the town. From Laguna Beach you can head north to Newport beach to catch the ferry or south to Dana Point to jump on the ferry there.
You can snorkel or scuba dive in the clear waters, go on a glass-bottom boat tour to see the island's marine life, do the zipline adventure or simply relax on one of the many sandy beaches.
In addition, the island is home to various restaurants and shops, making it the perfect place to spend a day or two exploring.
If you are planning on just a day on Santa Catalina Island I would go to Avalon. Its a larger town and has more options for things to do, drink and eat. Two Harbors is lovely but for me, its more of a "getaway" style. You have access to food and drink and the town is lovely, however it is more focused on boating and relaxing. There is also a resident Bison herd on the island!
The Ferries run multiple times per day. You can get tickets through Get Your Guide or book direct with the ferry company. A round trip is currently $78 per person and they leave Newport Beach at 7:30, 11:45 and 6:45pm. Its a 75 min trip and while I've been when its been quite rough the ferry rides well.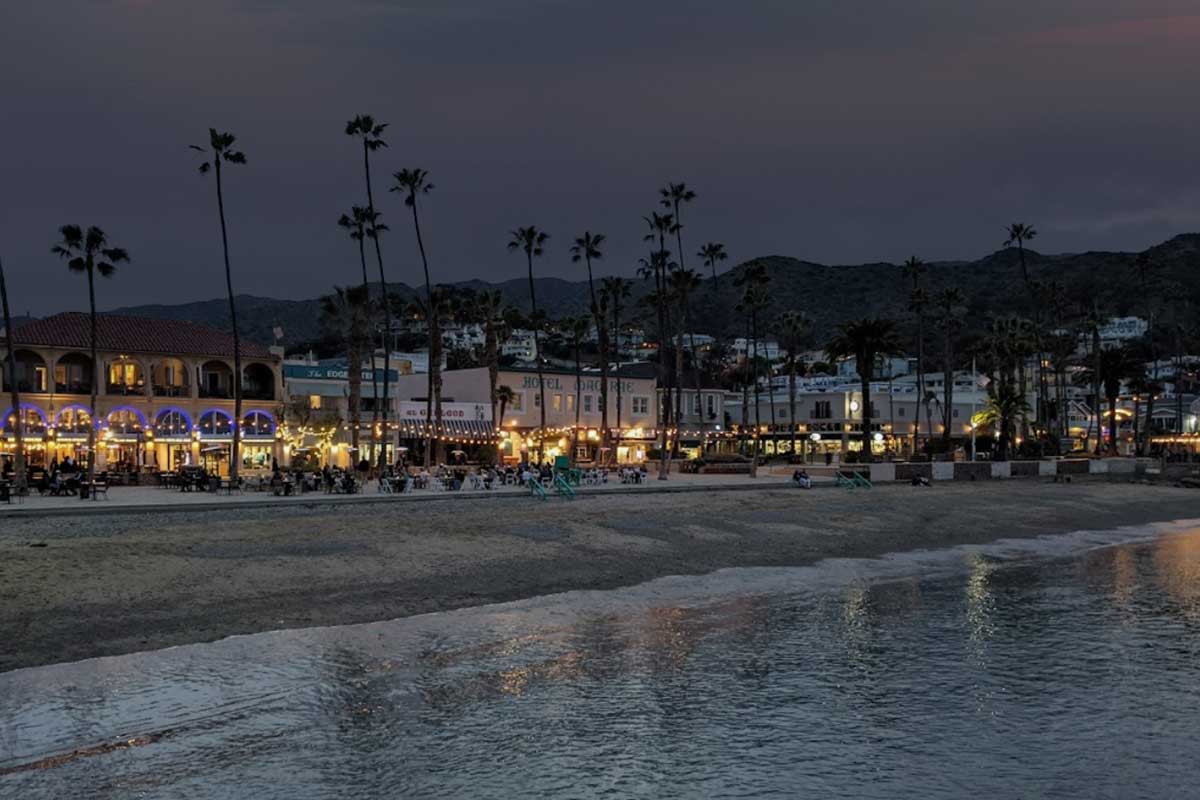 Tours on Catalina Island
---
Take A Whale Or Dolphin Tour from Dana Point
There are few things as thrilling as being out on the open ocean, and with a whale or dolphin tour in Laguna Beach, you can have that experience. These tours take you out into the water on a boat where you can see these incredible creatures up close. You might even get to see them breach or The tail slapping. These tours are led by knowledgeable guides who will tell you all about the different types of whales and dolphins you might see. They'll also teach you about their behaviours and how to protect them best. With a tour like this, you're sure to have an unforgettable experience.
Some of the whale watching operators guarantee a 96% success rate for spotting whales and dolphins and they do it year round. I was quite surprised as living where I do we have whales migrate past us for 4 months of the year. It was amazing to me that they do it year round. Unfortunately the day we were meant to go I was very unwell so I've not done this particular activity yet. I did however get to pat a wild whale in Western Australia once…. Still a life highlight!
Picnic At One Of The Parks
Laguna Beach has several beautiful parks to choose from if you're looking for a place to enjoy a picnic with family or friends. Heisler Park is a great option if you're hoping to take in stunning ocean views. The park also has a playground and plenty of green space for picnickers to enjoy. There is also the aptly named Picnic Cove which is a nice green space with access to the sandy beach below. This can be tide affected though so sometimes on a high tide there is no real beach to speak of.
Alternatively, Aliso & Wood Canyons Wilderness Park offers miles of hiking trails, making it the perfect spot for an active picnic.
---
Use The Free Trolleys To Sightsee
Laguna Beach offers a free trolley service that runs throughout the city, making it easy to get around and see all the sights. The summer schedule means the trolleys run every day from Memorial Day weekend through Labor Day weekend, and they make stops at popular attractions like Main Beach, Heisler Park, and the Laguna Art Museum. With the trolley, you can easily explore everything that Laguna Beach has to offer without having to worry about parking.
They also run from September through to June (off season) now however limited routes. Check their website for more info.
---
Sawdust Art Festival (At Right Time of Year)
The Sawdust Art Festival is an annual event that takes place in Laguna Beach. The festival features over 200 artists selling wares and offers demonstrations and workshops. Live music, food, and drink are also available, making it the perfect place to spend a day.
The festival usually starts in late June or early July and runs through the summer, so be sure to check the dates before you visit. Along with art works the festival has music and food on site. They also have a range of events during the summer which can be found on their website.
The festival operates Thursday through Sunday and is currently priced at $10 for Adults, $7 for seniors, $5 for children 6-12 and its free for kids 5 and under.

Opening Times:
Sunday – Thursday, 11am to 8pm
Friday and Saturday, 11am to 10pm
---
Celebrate 4th of July
Every year thousands of people descend on Laguna Beach for the annual Independence day celebrations. While is is VERY busy and people pack the beaches and headlands, its a great day and everyone is happy to be out celebrating the summer weather while waiting for the inevitable fireworks display.
We were fortunate enough to be able to celebrate with friends overlooking the town and beaches, spitting watermelon seeds, cheering for the annual "best sweets" competition and generally having a great time. Did I tell you I met Diane Keaton at one of the 4th of July parties?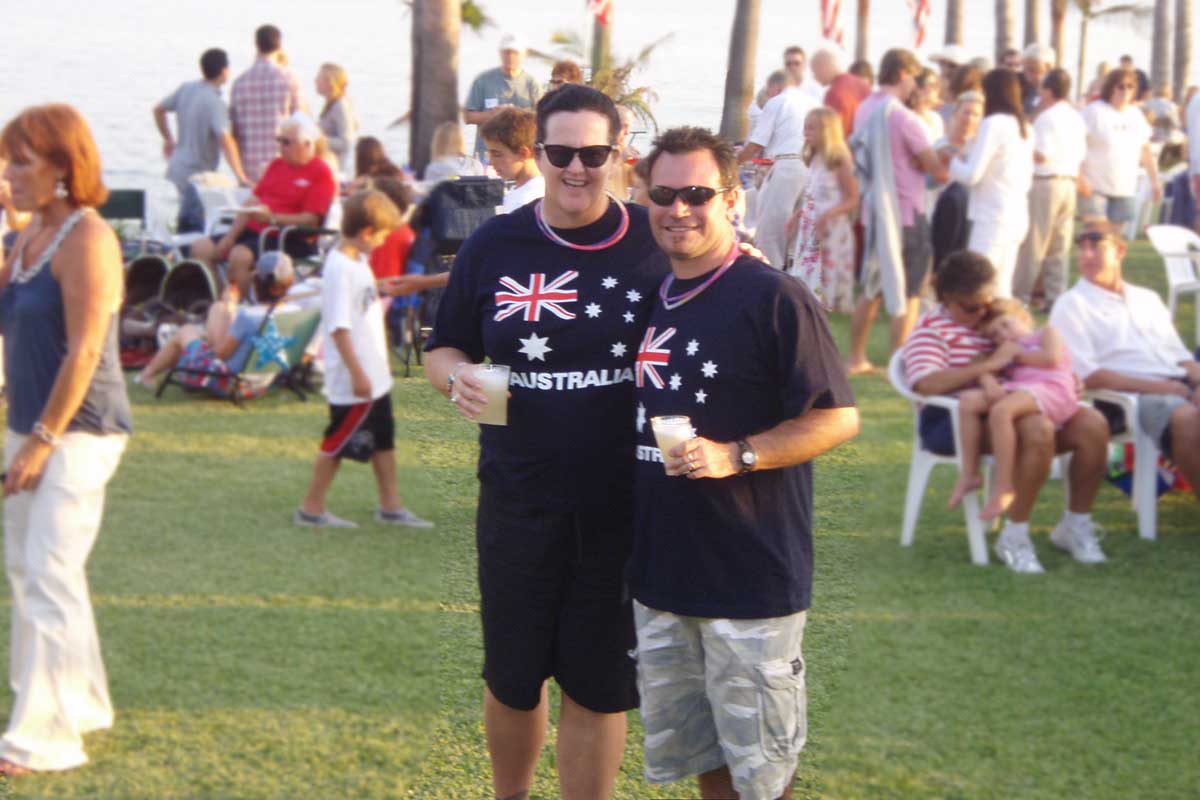 ---
Visit Mission San Juan Capistrano
Mission San Juan Capistrano is a historic mission located just a short drive from Laguna Beach. The mission was founded in 1775 and was one of the first in California. Today, the mission is a National Historic Landmark and is open to the public for tours.
Visitors can explore the grounds, visit the museum, and learn about the history of the mission. Mission San Juan Capistrano is a great place to visit if you're interested in learning more about California's history.
There are many options for food and drink in the area so you could combine the visit with a nice lunch or afternoon tea.
The Mission also hosts events, showcases and music so be sure to check their website prior to your holiday just in case there is something you might like to see.
---
Attend The Pageant Of The Masters
The Pageant of the Masters is an annual event that takes place in Laguna Beach. The pageant is a recreation of famous works of art using real people as models. The paintings are brought to life through the use of lighting and costuming, and they're often incredibly realistic. The pageant is a must-see for anyone visiting Laguna Beach, usually in July or August.
This year (2023) the Pageant of the Masters theme is "Art Colony: In the company of artists". Famous works of art will be re-created with living people posing in impressive sets. Inspired by the art colony established in Laguna Beach in the early 20th century, director Challis Davy is dedicated to presenting art work that has never before been represented on the Pageant stage. It promises to be a great one!
List of artworks to be presented this year is available on the Pageant of the Masters website.
---
Take the Kids to Orange County Great Park
Great park has been redeveloped on what was El Toro Marine Corp base. There will be over 1300 acres of parkland and community activities when the park is finished. For now, there is a giant orange balloon which rises up over the park. It is tethered and you just line up for a great view out over the area.
They have umbrella's and chairs for hire, there is a carousel for the kids, a playground focused on education about water conservation and the local ecology. There is now a massive sporting complex which is home to local tennis, soccer, volleyball and baseball teams. There's a giant chess set and of course walking and running paths.
Considering the locations history, they also have a hanger with over 10,000 square feet of aviation museum. They even have a farmers market every Sunday! Check their website for more goings on.
Watch The Sunset At Laguna Beach
One of the best things to do in Laguna Beach is to watch the sunset. The city is located on the coast, so you can enjoy beautiful sunsets over the ocean. There are a number of great spots to watch the sunset, but one of the most popular is Main Beach. You can also head up to Heisler Park for a sunset picnic or walk along the boardwalk at Crystal Cove State Park. Wherever you choose to watch the sunset, it's a great way to end your day.
If you are an early riser, don't discount the sunrise at Laguna, especially if its been an overcast evening.

---
Best Time To Visit Laguna Beach
While summer at the beach is always great, I personally think the best time to visit Laguna Beach is September through November. This is when the weather is the most temperate, and the crowds have thinned out after the summer season. The water is still warm enough for swimming, and there are plenty of activities to enjoy, from hiking and biking to kayaking and stand-up paddleboarding.
September is also a good month for whale watching, as grey whales migrate past Laguna Beach on their way to breeding in the waters off Mexico. Laguna Beach is the perfect place to enjoy some peace and relaxation if you're looking for a quiet getaway and even in winter it is still lovely. Cafe's are always open, the coffee is always good, food is plentiful and there is a wide variety of styles and restaurants and Laguna Beach is a great place for wandering the coastline and village.
Useful Tips For Visiting Laguna Beach:
Be sure to pack sunscreen, hats, and sunglasses, as the sun can be quite strong especially during the peak of summer
If you're visiting during the summer, be prepared for crowds. The best way to avoid them is to visit during the week or early in the morning.
Laguna Beach is a dog-friendly city, so feel free to bring your furry friend along. Just be sure to keep them on a leash and clean up after them.
There are a number of free parking areas in Laguna Beach, so you don't have to worry about finding (or paying for) a spot, however in the summer they can fill up fast.
If you're visiting for the first time, pick up a map of the city. This will help you navigate your way around and find all the best things to see and do.
Be aware that some areas of Laguna Beach are only accessible by stairs. If you have mobility issues, be sure to plan your trip accordingly.
Accommodation In Laguna Beach
No accommodation is cheap in Laguna Beach, however if you are planning on just 2 or 3 nights, try and do mid week for the best deals.
Search for Laguna Beach accommodation in the box below and I'm sure you will find something to suit your budget. Like I say though – don't expect to find anything cheap.
We've stayed at The Tides Laguna Beach and found that to be decent, and we've also stayed at the SCP Seven4One which was also good. I've also head that Laguna Beach Lodge on the south end is OK.
Laguna Beach FAQs
Is it safe to swim at Laguna Beach
Yes. Its actually one of the best beaches to swim in LA, mainly because of the cove structure of the coastline. If its a little rough in one bay, the next one is probably calmer. There are some great waves to body surf on but they aren't so big as to be terrifying. Laguna main beaches also have lifeguards on duty which is always a good thing.
Can I bring alcoholic drinks to Laguna Beach
No. Drinking in public spaces is not allowed, but there are plenty of bars along the beach and village for you to grab a beer or two once you have finished your day.
Is Laguna Beach easy to get around?
Yes it is. With the free trolleys and the miles of coastline its easy to walk, hire a bike and ride or jump on the trolley to get yourself from A to B.
How can I enjoy Laguna Beach without the crowds?
Laguna can get very busy especially over the weekends in the summer. Consider heading down on a week day, or if you can only visit on the weekend, find one of the lesser known beaches and throw out your towel.
What's the best beach at Laguna area?
That is such a hard question to answer. In my personal opinion, 1000 steps beach is great. Search for it on Google to find the best parking in the area but it is about 4 miles south of the main beach in Laguna. I'm going to let you find out for yourself but here is a cave! And its not 1000 steps down.
Laguna Beach is a city that has something for everyone. With art galleries, stunning ocean views, and plenty of outdoor activities to enjoy, there's no shortage of things to do in this SoCal hotspot. If you're looking for an unforgettable Southern California vacation spot, be sure to add Laguna Beach to your list!
---