Visit Jordan's Desert Wadi Rum
If you're looking for an adventure while you are in Jordan, then you need to check out Wadi Rum! This is a place where you can explore the desert landscape and enjoy some amazing views.

There are Bedouin camps all around, and it's one of the best places in the world to go star gazing. There are plenty of things to see and do in this area, so it's the perfect destination for anyone who wants to have an exciting vacation. This article will show you some of the best attractions in Wadi Rum. We'll also give you some tips on how to make the most of your visit. So, if you're ready to explore this amazing place, keep reading!
---
Stargazing In Wadi Rum
Wadi Rum is one of the best places in the world for stargazing. The clear night skies offer an unobstructed view of the stars, and the lack of light pollution means that you can see even the faintest stars with the naked eye. What's more, Wadi Rum is home to some of the world's largest telescopes, making it an ideal spot for amateur astronomers and astrophotographers alike.
If you want to get the most out of your stargazing experience, be sure to head to Wadi Rum during a new moon when the skies are at their darkest. Most of the Bedouin camps are set into valleys which means that they are often great places to view the stars. As they are lower in elevation from the surrounding mountains, light pollution from other camps isn't usually a challenge.
---
Sample Traditional Bedouin Meals And Tea
If you want to experience the traditional culture of the Bedouins, then you need to try their food! Traditional dishes include lamb and chicken and vegetarian options like falafel. The food is usually cooked in a clay oven known as a 'saj', and it's served with fresh bread and salad.

You can also try 'shark', a type of flatbread popular in the region. And, of course, no meal is complete without a cup of Bedouin tea. This is made with green tea leaves, mint, and lots of sugar, and it's sure to boost energy. I was a little concerned about the tea keeping me awake with the amount of sugar they add, but I didn't have a challenge.
See Um Frouth Arch or Rock Bridge
This natural rock arch is one of the most popular attractions in Wadi Rum. It's located in the southern part of the reserve and is a great spot for hiking and rock climbing. If you're lucky, you might even spot some desert wildlife like gazelles or ibexes. There are also a number of Bedouin camps located nearby, so you can enjoy some traditional hospitality after a long day of exploring.

Yes you can climb up on top of the rock bridge but you need shoes with great grip, a calm head and be prepared to slide down on your butt if necessary. The climb up can be quite slippery depending on the wind conditions. If its blowing from a certain direction the stone is covered in a fine layer of sand which is like glass on the rock. Be very careful and don't do it if you aren't confident.
---
Go Camel Riding
Camels are the go-to animal for transportation in the Wadi Rum. While Landcruisers have taken over the camel for the local tribespeople, there are still tours that enable you to see this stunning desert from on top of a camel.
While they can be cantankerous creatures, the trip operators know that they wouldn't have a business for long if the camels weren't well behaved. Because of this they select the camels that are well trained and easiest to get along with for these adventures. And an adventure it is. Once you are up its pretty easy going but I won't lie, when the camel gets up or down its a little hairy. I wouldn't have missed it for anything and it was one of the highlights of Wadi Rum for me.
Check out this Camel tour from Viator. They can do morning, afternoon or evening camel treks.
Go Sandboarding
One of the best things to do in Wadi Rum is go sandboarding. It's like snowboarding or surfing, but on sand instead of snow or water. Many companies offer sandboarding tours, and they'll provide you with all the equipment you need. The great thing about sandboarding is that anyone can do it, regardless of experience or skill level. Even if you've never surfed or snowboarded before, you'll be able to pick it up quickly and have a great time. And if you're an experienced boarder, there are some challenging dunes to test your skills on. So whether you're a beginner or an expert, sandboarding is a great activity for anyone visiting Wadi Rum.
If you want to spend more time than just one or two downward runs, you will have to find a local operator to help out. Most of the tours that you can book online offer Sandboarding as part of a larger days trip. This one offers a 4wd tour, with a camel ride and also sandboarding. That a fair bit to pack into one day.
---
Do a Jeep Tour
One of the best ways to explore Wadi Rum is by taking a jeep tour. This way, you can cover more ground and see more of the desert in a shorter amount of time. Many companies offer jeep tours, and they'll take you to all the best spots in Wadi Rum. You can even go on a night tour to see the desert in a whole new light. So if you're looking for an adventure, sign up for a jeep tour when you visit Wadi Rum.
A Jeep Tour is also great for when you have limited time. You can see a lot in a day from a jeep and the drivers and guides are super experienced with where to go and what to see.
Jeep Tours For Wadi Rum
---
Do an Overnight Stay At A Bedouin Camp
You have to stay overnight in Wadi Rum to make the most of the full experience. Many operators do overnight stays in Bedouin camps all over the desert which means you can almost always find something to suit your style and budget.
Staying overnight gives you the chance to star gaze, sample the local food and not be rushed seeing everything Wadi Rum has to offer.
Overnight Stays In Wadi Rum
---
Khazali Canyon
Khazali Canyon is one of the most popular tourist attractions in Wadi Rum. It's a narrow gorge with high walls, and it's full of ancient petroglyphs. The Nabateans carved the petroglyphs into the rock walls of the canyon, depicting a wide range of scenes, from hunting and war to daily life. If you're interested in learning more about the Nabateans, be sure to visit Khazali Canyon when you're in Wadi Rum.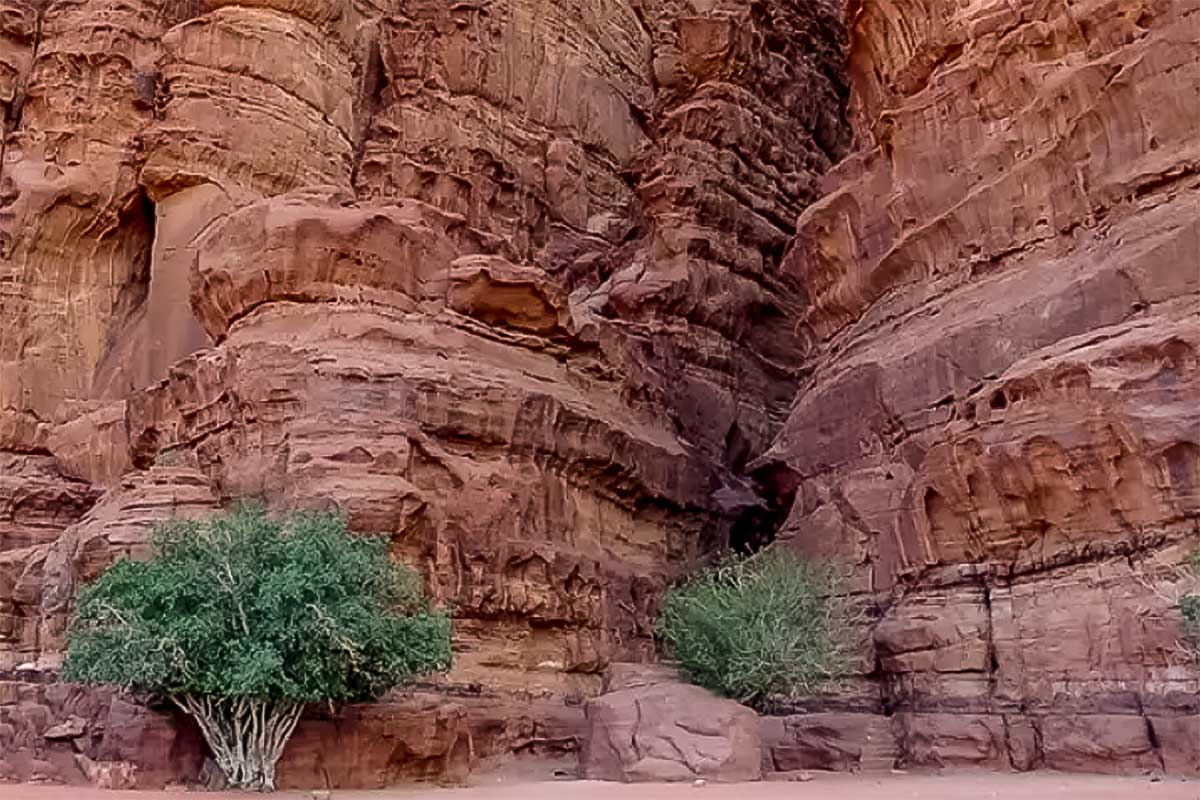 ---
Anfishiyyeh Rock Art
Wadi Rum is best known for its rock art, and the Anfishiyyeh site is one of the most important. The petroglyphs here date back over 7,000 years and depict a wide range of subjects, from hunting scenes to animals and geometric designs. The carvings were made by the Nabateans, an ancient civilization that once inhabited this area. Today, the Anfishiyyeh Rock Art site is a protected archaeological area, and visitors can explore it on foot or by camel.
Please ignore the horrible quality of the photo below. I've edited it to be very over processed so you can see the rock art. I got about 5 photos of this area but when I got home they are all not great. I should have taken some more closer ones but shoulda woulda coulda hey?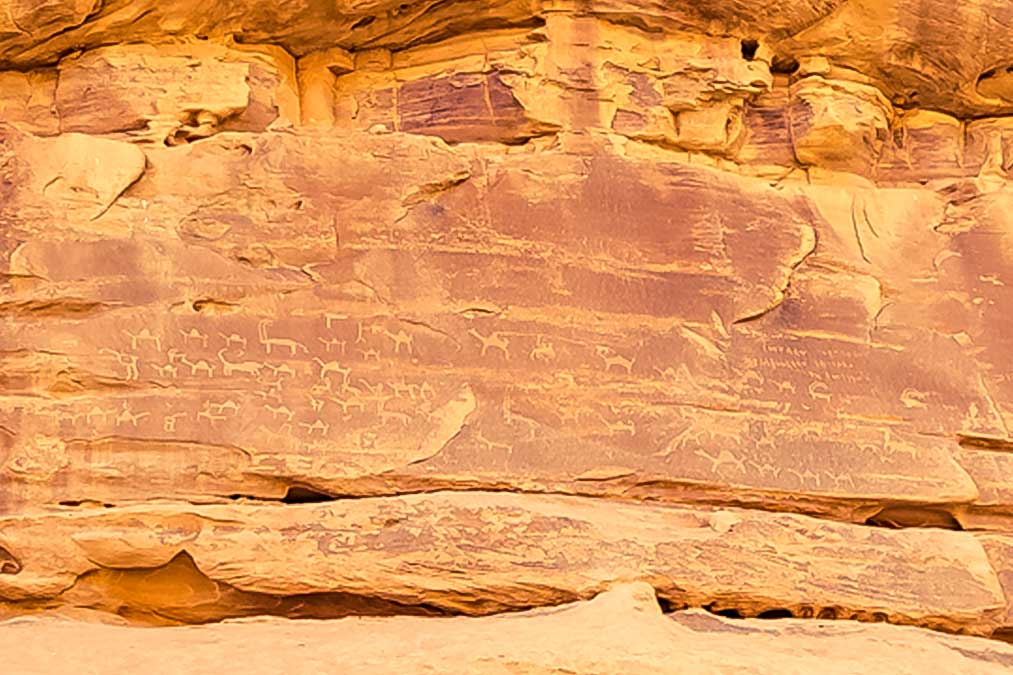 ---
Lawrence's Spring & The 7 Pillars Of Wisdom
Lawrence's Spring is a small oasis in the middle of the desert. Lawrence's Spring is named after the British adventurer T.E. Lawrence, better known as "Lawrence of Arabia." It was here that Lawrence rested and refilled his water bottles during his travels through the desert. The spring still flows today, and visitors can drink from its refreshing waters.
The spring is located in a small oasis surrounded by date palms and other vegetation. There are also several Bedouin tents in the area, where visitors can rest and enjoy traditional hospitality. The spring is also a good place to take photos. Visitors can get to Lawrence's Spring on foot, and it's a great place to rest if you're hiking through the desert.
While the 7 pillars of wisdom aren't near the spring, they are named in honour of Lawrence's book, which tells the story of his time in the desert and WW1 exploits. This large rock formation, with seven fluted turrets, is easy to see from the road near the Wadi Rum visitor centre, however you can only see 5 of the pillars from this angle. You will have to hike out to the pillars if you want to see the other 2 that are tucked behind the main view.
Do a Desert Hike
One of the best ways to explore Wadi Rum is on foot. Hiking through the desert gives you a chance to see some of the most beautiful landscapes on earth. You'll wind your way through canyons and pass by towering sandstone cliffs. And if you're lucky, you might even spot some wildlife along the way. Best of all, hiking is a great way to work up a sweat and escape the heat of the day. So, whether you're a seasoned hiker or just looking for a casual stroll, don't miss out on this quintessential Wadi Rum experience.
My biggest recommendation is NOT to do this on your own. I would seriously consider a guided hike to get the most out of your adventure and also to stay safe.
Hikes in and Around Wadi Rum
These hikes below should help you to see lots of the amazing scenery and also enjoy your hiking adventure through Jordan's premiere desert region.
About The Bedouin
The Bedouin are a people who have historically inhabited the desert regions of the Middle East. In recent years, many Bedouins have begun to settle in villages and towns, but some still live as nomads, moving their camps from place to place in search of pasture for their animals.
The Bedouin way of life is deeply rooted in their tradition and culture. They are known for their camel breeding, trading skills, generosity, and hospitality to strangers. The Bedouin are also renowned for their beautiful hand-crafted jewelry and textiles.
Today, the Bedouin people are an important part of Jordanian society and play a significant role in the country's economy and tourism industry. As you travel Jordan you can see Bedouin camps regularly in all corners of the country and its really nice to know this way of life is still celebrated.
---
Tips On How To Make The Most Of Your Visit
When visiting Jordan, there are a few things to remember to make the most of your trip.
Be sure to dress conservatively, especially if you're visiting religious sites.
Be aware of your surroundings, and don't take any risks that could put you in danger.
Make the most of your time by planning your days in advance.
Be respectful of local customs and traditions.
And finally, don't forget to enjoy everything Jordan offers!
---
FAQ's About Jordan
What's the best time to visit Jordan
The best time to visit Jordan depends on what you want to see and do. Jordan is a diverse country with a lot to offer, from historic sites and natural wonders to world-class cuisine and adventure activities. If you're interested in exploring Jordan's ancient history, the best time to visit is between October and April, when the weather is cooler and more pleasant. During this time of year, you can visit iconic sites like Petra and Jerash without having to deal with the summer heat.
What is the weather like in Jordan
The climate in Jordan is varied depending on the region. The cooler months are between October and April, while the hotter months are from May to September. In the capital city of Amman, temperatures can reach up to 30 degrees Celsius in summer and can drop to below freezing in winter. In Petra, temperatures are a bit cooler due to its location in the mountains. The weather in Wadi Rum is hot and dry, with temperatures often reaching over 40 degrees Celsius in summer. Rainfall is sporadic and usually occurs in winter. Nights can be cool year-round, so it's always a good idea to bring a jacket or sweater when traveling to Jordan.
Is it worth visiting Wadi Rum?
Yes most definitely. There are a great amount of things to see and do in Wadi Rum. It is way more than just red sand and the locals are very knowledgeable about both the area, the history and what to see and do.
How many days do you need in Wadi Rum?
I would say 2 days are ideal. This will give you time to see everything that Wadi Rum has to offer without being rushed. It will also mean that you get to stay overnight in a desert camp and get a chance to view the most amazing starry nights – something that Wadi Rum is famous for.
Can I do Wadi Rum on my own?
Technically yes if you have a car, but it would be difficult to find the locations you need to see and you would have to be a VERY experienced 4 wheel driver. It would be much more cost effective and a better experience to leave your car in the village and take a tour.
What clothes should you pack for Wadi Rum
You want light weight light coloured clothing for during the day and something warm for nights. If you are planning on hiking or climbing any of the rock arches, good quality trekking pants and shoes are a necessity. Simple day use sandshoes won't cut it for those climbs. You will need trekking shoes or boots with excellent grip. You should also have a hat with a decent brim to shade not just your face but your neck as well.
---