Visit Gyeongbokgung Palace and see the Changing Of The Guard
Why not visit Gyeongbokgung Palace while you are in Seoul? While the Palace is known for its Changing of the Guard Ceremony, there is much more to see and do inside the Palace grounds that you might not be aware of.

This was by far my favourite historic site in Seoul and I would encourage everyone to visit Gyeongbokgung Palace while you are in South Korea's capital.
---
About Gyeongbokgung Palace
The largest palace of the Five Grand Palaces constructed by the Joseon dynasty, Gyeongbokgung Palace in northern Seoul served as the main residence for the Kings' household. Built in 1395 with over 7700 rooms the palace stood until the late 1500s when it was destroyed by fire during the Imjin war.
The entire palace was restored in the 19th century only to again be systematically destroyed by the Imperial Japanese empire.

On January 21, 1963, it was finally designated a cultural property. The palace is gradually being restored to its full glory and today is regarded as one of the grandest of all the original 5 palaces. This is in my opinion the best royal palace Seoul has.
---
Why you need to visit Gyeongbokgung Palace
This is the most popular tourist attraction in South Korea, and with good reason. It's been around for over 600 years and despite many renovations and changes, it still retains its iconic status as one of Seoul's top places to visit.
Located in northern Seoul, Gyeongbokgung Palace is home to several museums (including a traditional Korean art museum) and holds regular concerts featuring traditional Korean music, dance shows from local schools of dance, and other cultural events.
Along with the temples and attractions inside the palace, they still run the changing of the guard twice per day an it is really worth seeing.
---
What's the best way to explore Gyeongbokgung Palace?
The first thing to do is decide whether you'd like a guided tour or a self-guided one. If you're looking for the best time to visit Gyeongbokgung Palace, it's worth noting that the palace is open every day except Tuesday.
Free guided tours are available at 11am starting in front of the Gyeongbokgung Palace Information Center just inside the Heungnyemun Gate. If you have a group of less than 10 people no reservation is required. Just head to the info centre and let them know you want to join the tour. Just be aware that during the popular seasons there can be a LOT of people on this free tour.
NB: check with the information centre if they are running the changing of the guards before you commit to the tour. Be sure that you have time to watch that ceremony as it is worth it.
The other way to do it is with a guided tour, which I would thoroughly recommend. You get way more information and you can ask anything you like at any time which I always feel is really valuable at a historic site.
Day Tours That Include Gyeongbokgung Palace
---
What To See Inside Gyeongbokgung Palace
There are multiple sites to visit while you are visiting the palace. A lot of people go for the Changing of the Guard ceremony however there are quite a few locations inside the palace walls that are worth visiting. If you are looking for what to do in Gyeongbokgung Palace, the sites listed below is a great place to start.
National Palace Museum of Korea
The National Palace Museum of Korea (Gyeonggugung) is a national museum that sits on the site of the former main palace of the Joseon Dynasty, Gyeongbokgung Palace. The museum looks at Korea's history through artifacts, art and cultural properties from ancient times to the late 19th century. It houses many treasured possessions of the Joseon Dynasty including King Sejong Daewang's diaries and Il-shinmun (the star almanac).
The highlight is perhaps its collection of royal seals used by kings throughout Korean history. Other treasures include handcrafted furniture and calligraphy that dates back centuries.
Geunjeongjeon Hall
Geunjeongjeon Hall was the main palace building and the highest state hall in Joseon Dynasty. It was used for coronation and enthronement ceremonies. The building has two floors and is 12 metres high. On the first floor there is a throne, with no chairs on either side as it symbolises the king's almightiness. According to some sources the palace is modelled after the king of Koguryo's palace in Pyongyang.
Geunjeongjeon Hall Throne
Gyeonghoeru Pavilion
Surrounded by a lake, Gyeonghoeru was built in 1412, the 12th year of King Taejo's reign, to celebrate victory in the Japanese invasion, however along with the rest of the buildings in Gyeongbokgung it burned to the ground in 1592. It was rebuilt in 1867 and is constructed from mainly stone and timber.
It was used for various events including royal banquets, national and local government examinations, and diplomatic meetings with neighbouring countries. Gyeonghoeru has 48 broad pillars of stone on the external structure of the building with the internal columns being cylindrical. This is said to represent Yin and Yang. It is very popular with local photographers at the right time of day when the shadow of the building reflects over the lake.
Gyeonghoeru Pavilion
National Folk Museum Of Korea
Hosting both permanent and special exhibitions, the Folk Museum focuses on how Korean life has evolved through the centuries. Items and activities that are still important to Koreans today may have been a part of Korean life for thousands of years. Along with being an educational centre, the Folk Museum also displays many high quality artefacts from multiple historic periods. There is also a childrens museum with focuses on educating children through tough and play.
Hyangwonjeong Pavilion
This must be probably the most photographed building in Gyeongbokgung Palace grounds. this beautiful Pagoda style building is a very small hexagonal construction built around 1875 by King Gojong. An artificial island was created to house it and the name of the pavilion and the bridge that connect it both have reference to fragrance. The pavilion name loosely translates to "Pavilion of Far Reaching Fragrance" while the bridge's name translates to "Bridge Intoxicated by Fragrance" .
Hyangwonjeong Pavilion
The Changing Of The Guard
Every day, twice per day the palace Changing of the Guard ceremony happens. The palace ropes off a section of the courtyard for visitors to stand behind and the guard change takes place right on time and with the military precision you would expect. It is very popular so if you are hoping to see it, be sure to arrive early to get a good place at the rope.
The changing of the guard ceremony is one of the most popular things to do in Gyeongbokgung Palace. The Gyeongbokgung Palace guard change time is very regimented and happens twice per day.
The changing of the guard happens at 11am and 2pm every day, and lasts about 30 minutes. It's free to watch!
If you want to see it live but don't have much time in your schedule, I recommend going early or later than usual—it's always best to be there when they start so that you can get a good spot before everyone else arrives.
A couple other details: The guards are dressed in traditional Korean uniforms, while their commander wears an elaborate hat with a horsehair topknot attached (the symbol of authority). There are also some women serving as assistants who carry flags bearing different colors and designs according to rank—these are known as gwanmumun (관문), which means 'palace maids.'
I would keep checking with the main Palace website for information.
The changing of the guard at Gyeongbokgung Palace, Seoul
---
How to get to Gyeongbokgung Palace
Gyeongbokgung Palace is located in northern Seoul, which makes it pretty easy to get to from anywhere in the city. You can take a taxi or subway—it's not too far from the Blue House, and traveling by subway takes about 15 minutes. If you are wondering how to go to Gyeongbokgung Palace, you will find details below.
To get to Gyeongbokgung Palace by subway:
The lines 3,5 & 1 go to Jongno 3 subway station at which point you can get off and change to the 3 heading north for 2 more stops getting off at Gyeongbokgung station. Once you get off the subway you will use the exit on your right (as you are facing the way the train is moving).
This will put you on the correct side of the road. Turn right and walk slightly around the corner to the crosswalk to cross over to the block that the Palace is on.
Gwanghwumun gate is about half way down the block.
From Seoul Station:
If you are new to Seoul and want directions from a central point, you have a few options. I've chosen this station as it is central and easy to find. I'm talking about Seoul Subway Station here – not the main railway station which is at the same location.
Get on the number 1 train heading north.
Get off at Jonggak Station and walk up to Gwanghwuman Gate (about 10 mins walk)
or
this Rome2Rio link will show you the walking path from Seoul Station. Walking distance is 2.7km so about half an hour.
Gyeongbokgung Palace Seoul
When is the best time of day to visit Gyeongbokgung Palace?
The Gyeongbokgung Palace best time to visit is in the morning, when it's quietest and before the changing of the guard happens at 11am. If you have time, try to arrive by 10 am just after the gates open. You'll be able to get a good spot for watching this ceremony as well as some great photos of the palace before other tourists arrive. Once this ceremony is over a lot of the visitors will leave and you will be able to wander the grounds freely.
Gyeongbokgung Palace Opening Hours
As I mentioned, the palace is open everyday except Tuesday. Opening hours for the different times of the year are below.
| | |
| --- | --- |
| January through February | 09:00~17:00(Final admission at 16:00) |
| March through May | 09:00~18:00(Final admission at 17:00) |
| June through August | 09:00~18:30(Final admission at 17:30) |
| September through October | 09:00~18:00(Final admission at 17:00) |
| November through December | 09:00~17:00(Final admission at 16:00) |
How much does is entry to Gyeongbokgung Palace?
When you're ready to visit, there are several options for buying tickets. You can purchase them at Gyeongbokgung Palace's ticketing counter, which is located just a few steps away from the main gate. Tickets are also available for purchase online through Interpark (in Korean only), and can be picked up at any convenience store that sells concert tickets in Seoul.
What tickets do I need?
You can choose between two types Gyeongbokgung palace tickets: general admission tickets or group tour tickets.
Gyeongbokgung palace entrance fees:
General admission is ₩3,000 per person or if you have 10 or more you can purchase group tickets for ₩2,400 per person.
Children ages from 7 to 18 are ₩1,500 and under 7 are free.
As at May 2022 ₩3,000 is around $3.50 AUD
---
What should I wear to Gyeongbokgung Palace?
You should wear comfortable clothes and shoes as you're going to be walking around the palace. You'll also want to plan ahead of time what to wear based on seasons and weather, so you don't end up being cold or sweating too much.
Try to avoid shorts and short skirts as they're not considered appropriate dress in Korea (that includes men too!), as well as anything that reveals bare shoulders or knees for both sexes.
When dressing for summertime at Gyeongbokgung Palace, think lightweight fabrics like cotton; spring and fall can be unpredictable so we suggest bringing along a jacket just in case it gets chilly. Winter weather is harsh here so if you're visiting during this season do your research about how cold it will be before planning out your outfit!
Be sure not to wear flip-flops or show off any skimpy workout gear—you'll definitely stand out from the crowd if you do and may attract the wrong kind of attention!
And remember: no hats allowed inside Gyeongbokgung Palace either.
If you would like to do the palace in traditional dress, check out this Hanbok Hire very close to the Palace. From only $17.50 AUD per person including entry to the palace this is a fun way to embrace the history of this really incredible tourist site in Seoul.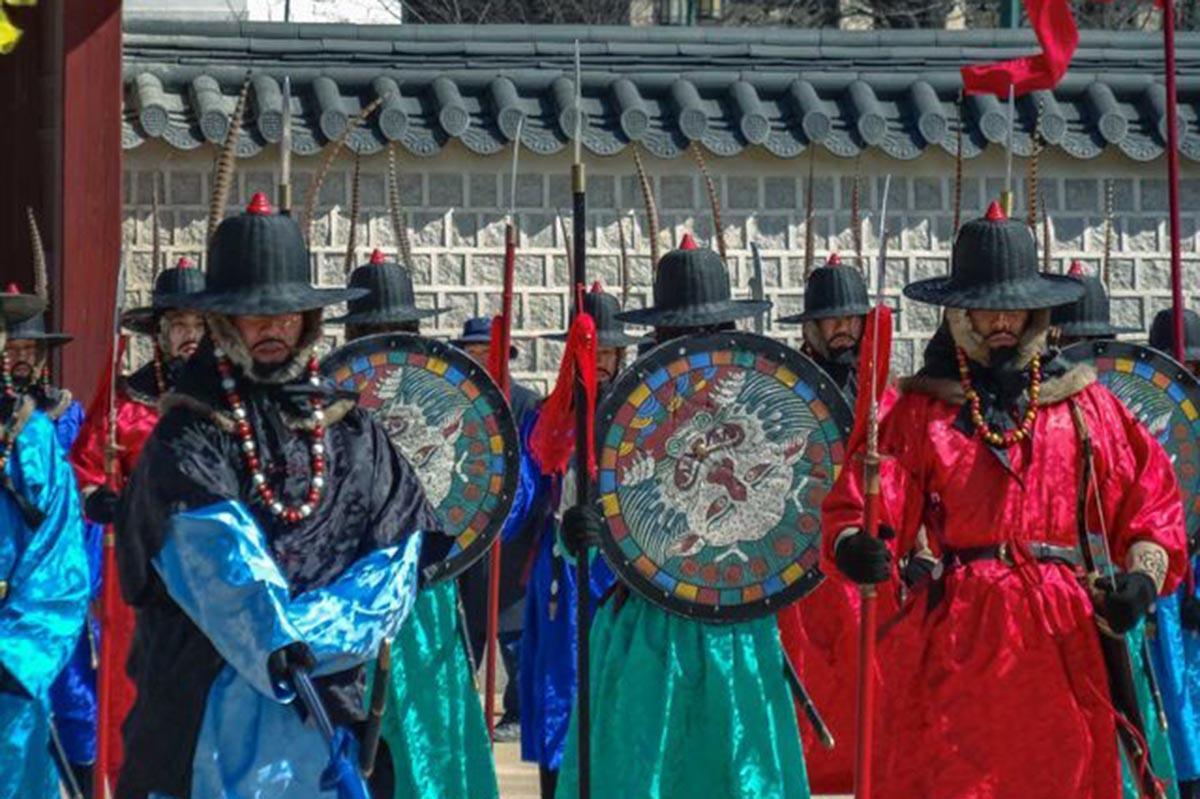 ---
---
Places to eat near Gyeongbokgung Palace.
There are many restaurants in the area, and you can find anything from traditional Korean food to international cuisine. If you are looking for a place to eat near Gyeongbokgung Palace that serves traditional Korean food, consider these options:
Hwangsaengga Kalguksu – This restaurant is very well known for its dumplings! The menu also has an English description and the food is amazing! Their bone broth noodles are around 9000 won as are a plate of dumplings. That's just under $10 AUD.
Italyjae – is an Italian restaurant very close to the palace. Follow the Google Link I've added and look for the green door. For Italian in Korea it's very good.
Sejong Village Food Street is just behind the palace near Gyeongbokgung Station. There is some good food here but it is street food so don't go expecting a gourmet meal. The link is the Google Maps location.
Apart from the ones I've included here, there are many places to eat in this area and you won't have trouble finding something close by.
Inside the walls of Gyeongbokgung Palace
---
More things to see and do in South Korea
---