10 Best Things To Do In And Around Seoul
Seoul, South Korea's capital city, is a hum of activity. From the centre of town to its outskirts, there's always something happening in this metropolitan area. Here are the 10 best things to do in Seoul:
Check Out the View From Seoul Tower
Seoul Tower, also known as Namsan Tower or simply the N Seoul Tower, is a communication and observation tower located on Namsan Mountain in central Seoul.
The tower is one of the most popular tourist destinations in South Korea and has also been featured in several popular movies, including Bong Joon-ho's 2003 film Memories of Murder.
The tower can be reached by cable car or elevator from street level. For those wanting to enjoy panoramic views of Seoul with a glass floor, there are two observation decks: The first looks at the city below while the second looks down at a terrace surrounding the building.
Information can be found on N Seoul Tower's website, it is open 365 days a year and is located in Namsan Park which is a no vehicle park. You can take the cable car up (location here) to the tower but there can be a wait during the busy times.
---
Walk Around Bukchon Hanok Traditional Village
Bukchon Hanok Village is a Korean traditional village in Seoul with a long history located on the top of a hill between Gyeongbok Palace, Changdeok Palace, and Jongmyo Shrine.
The Bukchon Hanok Village was built as an outpost town during the Joseon Dynasty period. It's considered one of Seoul's most scenic places to visit because it's filled with traditional Korean architecture and lots of pretty gardens. People do actually live here though so please be respectful of the residents when you are walking the streets of Bukchon Hanok Village.
It is very close to the Changdeokgug Palace so it is advisable to combine the two. This pin will put you in the area and as it is a neighbourhood there are no opening times.
---
Go out to the Korean Demilitarized Zone
The Korean Demilitarized Zone (DMZ) is a strip of land running across the Korean Peninsula that serves as a buffer zone between North and South Korea. It was created as part of the 1953 Armistice Agreement to establish a ceasefire between the two sides after three years of active hostilities in the Korean War. Despite its official name, it's one of the most heavily militarized zones in existence today: both sides have tanks stationed along its length, while there are over 2 million landmines buried underground. There's also a checkpoint at Imjingak where visitors can come face-to-face with soldiers from each side through bulletproof glass windows.
There are a lot of tours that take you out to the Demilitarized zone, however be sure to get the JSA area included in your tour. That is the Joint Security Area often referred to as "Truce Village" and is where North and South Korea actually meet. I managed to do it when I was there in 2016 however I've had friends since then that said the JSA wasn't possible. I'm sure it changes with the activity along the border.
Tours from Seoul To The DMZ
---
Walk along Cheonggyecheon Stream
The Cheonggyecheon Stream is an 11 km long, modern public recreation space in downtown Seoul, South Korea. The stream was designed with the help of renowned Dutch landscape architect Dr. Willem Dudok in the 1930s and built between 1953 and 1960.
It's a beautiful place to walk along, and depending on the time of year there are often exhibitions and outdoor art. It is also lit up with Christmas lights over the holiday season. There are stairs that access the stream at regular intervals and in summer it is very popular. If you walk from the Cheonggyecheon Museum toward Cheonggye Square that will give you a good slice of the stream and it is a very nice walk.
---
Visit Seodaemun Prison History Hall
Seodaemun Prison History Hall is located in front of Dongnimmun Station. This place shows the history of Korean Resistance Movement during Japanese Occupation, and also displays the prison that was used for political prisoners during this period. There are many museums within this building, but you can get a general idea about what it was like to be imprisoned for their beliefs by visiting the first floor exhibit hall. If you're interested in learning more about specific people or events from Korea's resistance movement (or just want to know how horrible prisons could really be), then take a look at some of the other exhibits on display here as well!
It sounds very dark but its actually very informative. I had no idea that there were so many Korean activists imprissoned and tortured and while that is awful, I actaully really enjoyed this museum.
Visit Korea's website has more info for you.
---
Visit Gyeongbokgung Palace
Gyeongbokgung, also known as Gyeongbokgung Palace or Gyeongbok Palace, was the main royal palace of the Joseon dynasty. It is located in northern Seoul, South Korea. The largest of the Five Grand Palaces built by the kings of Joseon, it covers 1.1 million square meters (about 110 acres) of land and contains 114 buildings with more than 2,700 rooms.
The Palace is visited for the changing of the guard ceremony, however there are multiple museums and buildings inside the walls that are worth seeing.
Check out my South Korea Destination page for all South Korea Posts
---
Stroll along Seoullo 7017
Seoullo 7017 is an elevated park built on top of a former highway overpass. It stretches from Hoehyeon Station to Hangangjin Station, crossing the Han River and connecting Seoul's main business district with Yeouido Island. Think of it as Seoul's answer to New York's Highline.
The Seoullo 7017 project was approved in April 2014 by Seoul City and constructed by RIGHTERA (Korea Land & Housing Corporation). The park is open 24 hours a day, 365 days a year, and offers plenty of space for relaxation and recreation. It's also home to many cultural events such as flea markets, art festivals, concerts and events for children.
---
See Banpo Bridge At Night

Banpo Bridge is one of the most popular places in Seoul to see a show of lights and water. Many people visit this bridge for a photo opportunity as it's located near Namsan Mountain, but there's also an awesome light show that takes place every night from 7-11pm (March-October). The show features colourful fountains that dance in sync with music, and it can be seen from any of the three levels of Daechi Park below. It's great fun to stroll around here on a clear day or night! Google maps location pin.
---
Shop for anything at Namdaemun Market
If you're looking for a place to go shopping in Seoul, look no further than Namdaemun Market. This street market has been around since the Joseon Dynasty and is one of the oldest traditional markets in Korea. Located near Dongdaemun station, it's just a short walk from Myeong-dong Street (if you're feeling energetic) or a quick subway ride away from it (less so).
Located in central Seoul, Namdaemun Market is an ideal spot for people who want to shop but aren't up for battling crowds at Hallyu Marts or department stores. You can get almost anything here and the store holders are always ready to help. I needed a zip to replace one that I'd broken on my puffer and I got not only a zip but directions to a tailer who could put it in for me. $7AUD for the lot. Perfect!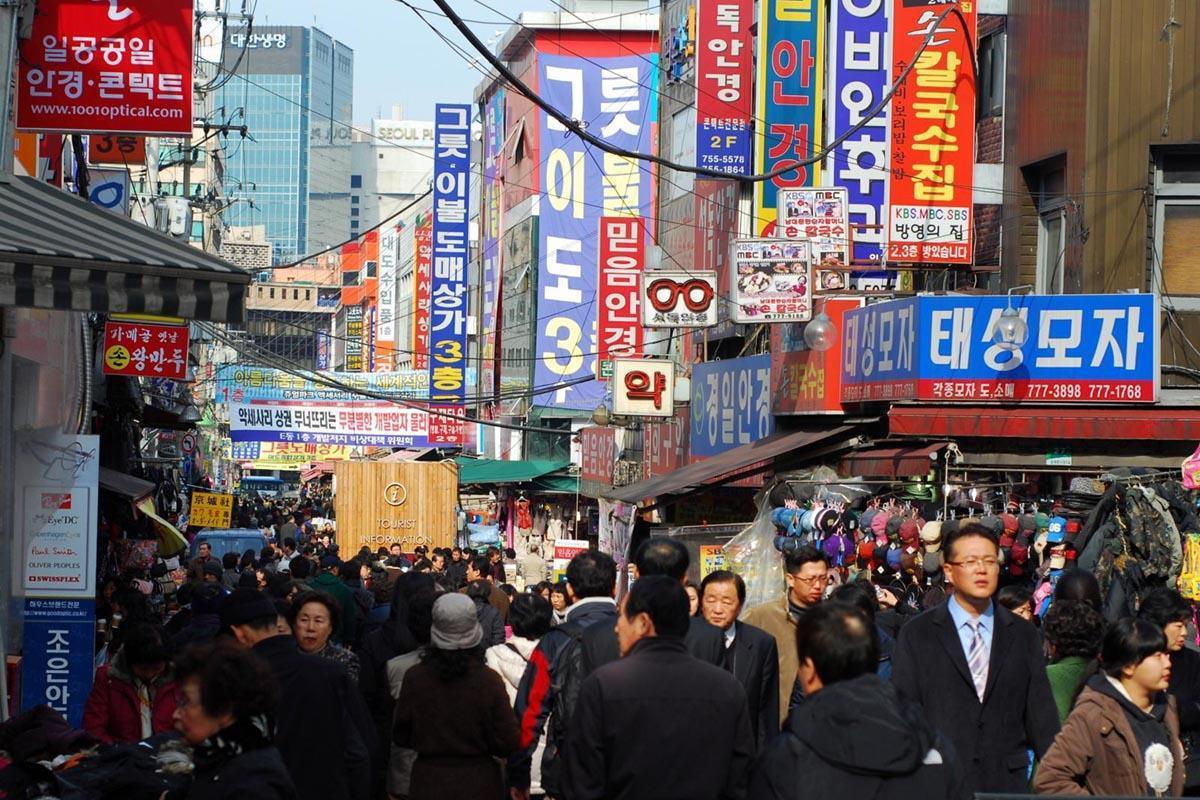 ---
Walk The Seoul City Walls In Naksan Park
Hike the Seoul City Wall section of the Naksan Mountain Trial. Its a 2.1 km path around and along the Seoul city walls in Naksan Park. Its a beautiful walk and the view is quite something in parts.
Naksan Park is right in the middle of Seoul close to Hansung University. Its a lovely park and the stroll (I can't call it a mountain trail) is very relaxing. You also get some great views from the top.
---
Bonus Seoul Destination – Common Ground
Common Ground is a recreational complex close to Konkuk University. Restaurants, food trucks, exhibitions and performances are always happening. Over 200 blue sea containers make up the complex, which have been transformed into shops, restaurants and galleries. The complex hosts a variety of events and performances throughout the year including concerts, cooking classes, art exhibitions and more!
While a lot of the stores do focus on the university students in the area, I had some of the best food I ate in Seoul here. And it's pretty cool just to see.
---
That is my top 10 things to see and do in Seoul
Seoul is a great city, easy to get around, mostly fairly flat & with a multitude of things to see and do. I'm sure you won't have trouble spending at least a few days in Seoul and hopefully this list has helped you to prioritise what you would like to see.