40 Travel Things To Do Before You Turn 40
Turning 40 doesn't have to mean that the Travel Bucket List you created in your 20's can't be achieved. They say 50 is the new 30 which puts me firmly in my early 30's, so even I have time based around that principle.
I have been so very fortunate to have ticked off so many of mine, however as you go, if you are anything like me, more and more items keep being added to that bucket list. Mine feels like one of those concertina files your mum or dad used to have to keep the accounts in!
Whether you dream of a balloon flight over the Serengeti, speeding down those Costa Rica Ziplines, or hiking the Inca Trail to Machu Picchu, there are so many adventures you can add to your "40 Before 40" travel list.
Some on my list are very specific and some are more conceptual but I'm sure you will find something to inspire you for 2022.
Here is my "40 Things To Do Before You Turn 40" List. Enjoy!
Animal Bucket List Experiences
Sit For An Hour With The Mountain Gorillas in Africa
There are three different locations you can visit to hike to see the Mountain Gorillas in Africa. These are the Bwindi Impenetrable forest in Uganda, the Democratic Republic of Congo or in Volcano's National Park Rwanda. Regardless of where you do it, you will not regret this incredible experience.
TIP: Book WAY early. The permits sell out asap so if you are looking to purchase a permit and get to the location yourself, you will have to be in early. I would go on a tour because most of these places aren't simple to get to. A tour will also enable you to book much later as they pre purchase their permits.
Maybe look at combining seeing some other animals into a group tour:
Rwanda 7 Day Gorillas, Chimps And Big Cats Tour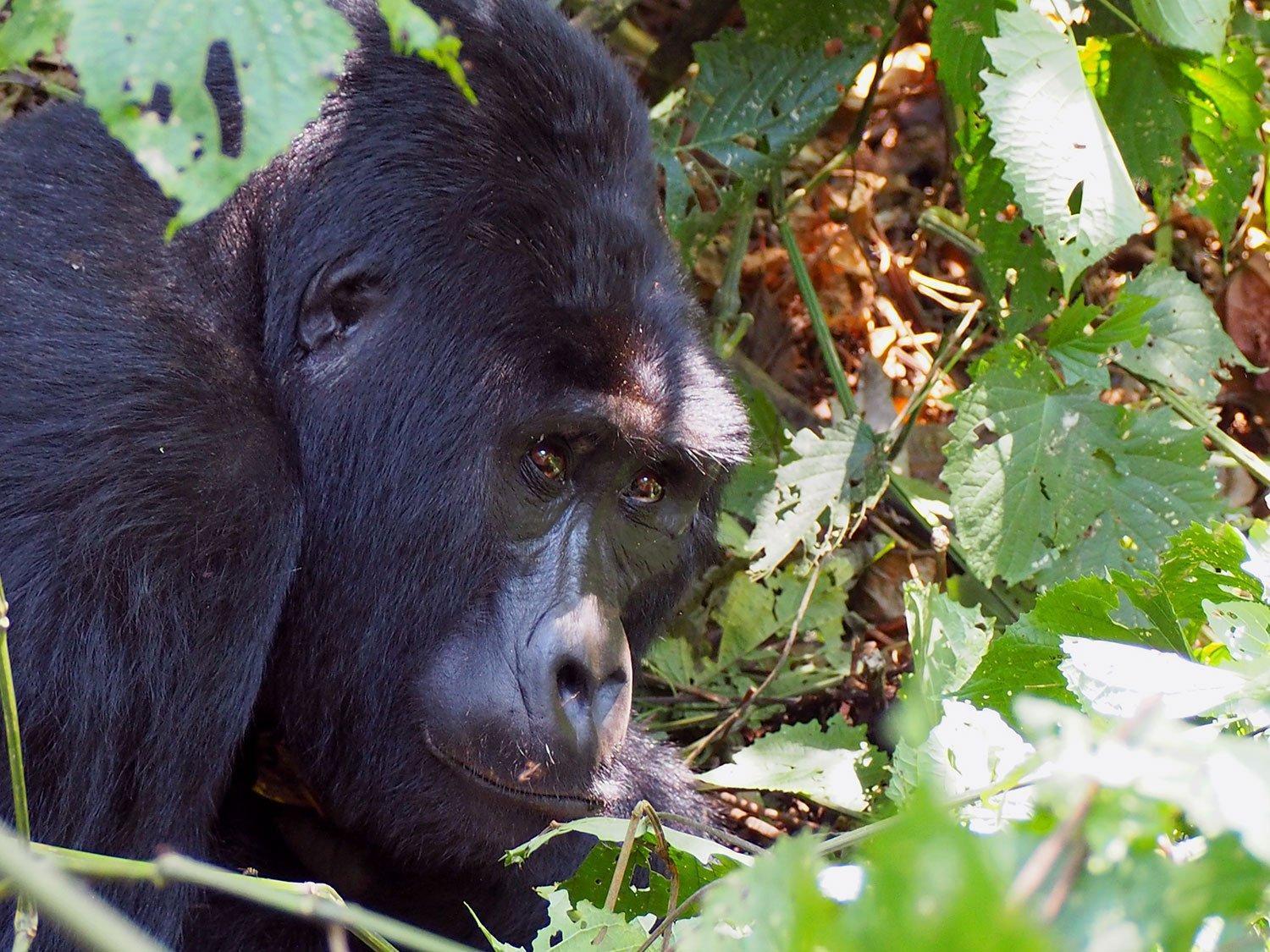 For more info, read my post about hiking to the Gorillas of Bwindi Impenetrable Forest in Ugunda
Some Ugandan Gorilla Tours
---
Learn to run your own Dog Sledding team
Learning to drive your own dog sled team (mushing) is not a 5 minute thing and even after a week or 10 days or running every day you will still be far from capable. Even though you could possibly not venture out on your own, learning to mush is one of the most fun weeks I ever had. Even despite an injury.
Check out my article on learning to mush at Sky High Ranch in the Yukon.
A Whitehorse Huskie Tour You Might Like
---
Snorkel or dive the Great Barrier Reef
I've always loved to snorkel, but after spending 12 years in Cairns on the Great Barrier Reef in Queensland, I have turned into quite the snorkelling snob. The Great Barrier Reef is made up of over 3000 reefs and even if you are not a great swimmer you will manage to find a trip to suit your skill set.
Check out my article about trips to the Great Barrier Reef from Cairns.
Great Barrier Reef Tours From Cairns
---
See The Big 5 in Africa
It can be hard to see the big 5 (Lions, Buffalos, Leopards, Rhinos & Elephants) especially if you are trying to put a time limit on it. However if you go with a decent time frame and a "go to" attitude, it is completely possible. I managed to see the Big 5 on my first ever safari in Kruger National Park.
This is "my leopard" below. I still grin like crazy when I think of him just stepping out in front of our jeep like it was nothing.
If you are interested in Lions, try Ngorongoro Crater and the Serengeti or head to Masai Mara. Lions abound in both these parks. You pretty much always do Ngorongoro Crater on the way out to the Serengeti but its not something you can do on a day trip. I would recommend at least 2 nights, preferably 3 which will give you a great chance to see some amazing wildlife.
Try this 4 day camping trip for aprox $1200 AUD (900 USD) or if you would like some luxury, consider this 2 day one from Arusha. You don't go down into the crater on this one ánd it is worth remembering that while this can seem like 2 massive days, you aren't driving so it's not that bad. It does give you luxury accommodation and 2 game drives in Serengeti.
Big 5 Safari Tours From Arusha Tanzania
---
The Wildebeast crossing Masai Mara
What an event and something that you have to have time for as just because they are all milling around the river doesn't mean they will cross anytime soon! It is truely amazing the numbers of Wildebeast that head north through Masai Mara.
Even without the Wildebeast Crossing, Masai Mara is so worth it. I've found 3 different ones all leaving from Nairobi.
3 Day Budget Tented Camp (the tent camps are usually permanent tents and are pretty decent)
2 Night Group Safari – also from Nairobi and a similar price to the first one.
This luxury one includes flights out to Masai Mara to avoid the drive and you are hosted in luxury tented camps.
Masai Mara Tours From Nairobi
---
Swim with the whale sharks
These HUGE creatures are simply stunning. Being in the water with these beasts isn't anywhere near as scary as you imagine. Their languid pace and serene manner instils a calm that you wouldn't think possible when you are swimming next to a 5 tonne truck! We did this in Oslob in the Philippines however despite reassurances that the whale sharks are just swimming past, we were all VERY disappointed to see that they chummed the waters. We wouldn't have done it if we had of known that, and as far as I know for sure, Coral Bay whale shark experience in Western Australia is the only place that doesn't do that. It is a very humbling experience.
Sea turtles in Borneo
Spending a few nights volunteering at Turtle Island Park, a sanctuary off the coast of Borneo was incredibly rewarding. While outdone a year later helping baby turtles out to sea (in Panama) helping to keep these breeding turtles and hatchlings safe is something everyone should do at least once.
Giant Tortoises of the Galapagos Islands
I've yet to see the Giant Tortoises of the Galapagos Islands but it is very high on my list of animal adventures to have in the next few years.
Multi Day Budget Galapagos Tours
---
See the Puffins of the Faroe Islands
Hopefully on the cards for 2022, being able to see the Atlantic Puffins of the Faroe Islands would be a rare treat. These gorgeous little black and white birds have been dimishing in numbers so please check out the Faroe Islands website for more info on how you can see them safely.
Snow Monkeys of Yamanouchi In Japan
I've always wondered if you went to see the snow monkeys of Japan in summer would they just be "monkeys" and not "snow monkeys"? Regardless, they are a treat to see preening and primping in the naturally occurring hot water pools of Yamanouchi. While I've heard stories of rangers herding them into the pools when the snow is light, I didn't see anything like that while I was there. It was one of my favourite days in Japan actually. Read more on my Snow Monkey experience.
Day Tours To Snow Monkey Park
---
Travel Achievements for Your Bucket List
Travel solo and love it
I'm not going to just say "travel solo", because the first few times you do it can be very stressful. As you do more of it though you learn to absolutely love it, and while I'm sure it's not for everyone it is a skill to be learned and one to be treasured once you have it. I feel that this is much easier now I'm over 30. I feel way more invisible now, people assume you have experience because you are older and I care WAY less what people think now than I did in my 20's.
Travel without a plan
This one is way harder as you get older. Travelling without any plan at all is wildly liberating but there are a few tricks to having a successful "fly by the seat of your pants" trip.
Try to stay outside of the most popular times,
know that at least once you will probably have to stay somewhere upmarket if all the budget accommodations are full &
it might be a few days before you can get on a day tour you wish to do.
It can cost you more money, but it is so much fun to have time to do more local things.
The Three Cities Malta – Brad and I spent squeezed 2 weeks in Malta with no plan at all and loved this tiny but mighty country.
Visit at least 10 Unesco World Heritage Sites
Here is 10 of the most popular ones, but there are hundreds. Some of the more out of the way or lesser known sites are incredible. Learn about all the World Heritage Sites.
Terra Cotta Warriors Xian
Ancient Kyoto Japan
Taj Mahal
The Great Wall Of China
Old Havana, Cuba
Volunteer your funds or services where it matters
Volunteer to build a well in Africa, or help with a harvest in Asia or commit some funds to a deserving project in central America. Check the fine print but do it. It is rewarding and helps to put your own spending habits into perspective. This is Collen who was my hiking guide in Chimanimani, Zimbabwe. I try to help Collen and his family out here and there whenever I can. Yes I also donate through various registered charities but Zimbabwe has nothing and Collen and his family live in a more remote area with no work opportunities. If you go to Zimbabwe, try to get to Chimanimani and go hiking with Collen for a few days. It is amazing country.
Hike the Camino de Santiago
Even if you are not a hiker, the Camino de Santiago is something I recommend to everyone. Whether you hike the full 800km or the 100km that is required to obtain your compostela (certificate of doing), walking the ancient pilgrims route across Spain is on my top 5 things I've ever done. I can't stress enough how amazing it is. There is a quote from Shirley McLain that says something along the lines of "your real Camino starts when the actual one finishes" and I've found that to be so very true. There is something pure about just walking every day with not a thought to anything else – unless you want those other thoughts!
Adventures To Add To Your Travel Bucket List
Zipline in Costa Rica
Don't let the young ones milling around put you off. Ziplining is so much fun and if you do it in Costa Rica you get to do a jungle hike at the same time. Sure it's not a remote jungle but it is still pretty impressive. I loved my Costa Rica Zipline Adventure.
Sail the remote islands of Palawan, The Philippines
Tao sailing is one of the most incredible entities that I've encountered in my travels. Despite the great work they do in and with the community, their expedition sailing in remote Palawan is how everyone should experience that part of the Philippines. Sailing from Coron to El Nido and staying in little camps every night is the absolute best way to see the Islands of Palawan. I did write a post about Tao's amazing philosophy, and another about the sailing trip itself.
Get your inner hippie on at a Music or Arts festival
If you are a music lover like me, Coachella Music and Arts festival or Glastonberry might be for you. Or possibly burning Man if music is not your main focus. Regardless of which one you do, one of the huge multi day festivals is hard to go past. Again – don't let being 40 put you off. Coachella was some of the best 3 days I spent on the road and I did it totally on my own at 50.
Spend a few days in the Okavango Delta
The Okavango Delta blew my mind. We have Kakadu wetlands here in Australia which are very impressive, however even Kakadu doesn't hold a candle to the Okavango Delta. There is truly something magical about walking through the grasses and seeing a herd of giraffes or elephants only a few hundred metres away. Poling through the endless water lily's in your Mokoro isn't too shabby either. Please Get In Touch if you are keen as I have a great contact from our trip there.
In my Mokoro leaving the village to head deep into the Okavango Delta
Spend New Years Eve in Times Square
Check off one of those bucket list items by watching the ball drop from Times Square in New York. It is pretty cool, however maybe read my 10 Tips for NYE In New York post about it to be aware of how easily you can get caught out! It is fun, but there are some things you should know.
Go Canyoning or Caving
Jumping off a rock ledge into rushing water you can't see into can be a little daunting, however when you do it with a company that does it every day and knows what they are doing, it's an absolute buzz! Unfortunately I was ill the day we did this in the Philippines but I did manage to do it in Nicaragua and again in Spain. So much fun!
Climb an active volcano
I've done this a few times now and loved every time, however – we were on White Island (Whakaari) in New Zealand only a few months before it erupted killing 22 people and injuring dozens more. It is a fine line between taking part in these adventure activites and pushing the envelope too far. Please make sure there is some kind of governing body that knows the risk level, learn about it yourself and make an informed decision. Getting too close to any volcano comes with risks so make sure you know what they are and be prepared to accept them yourself.
Despite a very dodgy guide, hiking up Volcano Pacaya in Guatemala was one of the best evenings I've ever had. We also did a volcano walk in Hawaii before they stopped those and again, there has been a few accidents even in Hawaii so don't go uninformed. I also slept next to a volcano in Ethiopia once which I thought would be terrifying, but I guess the 7 hours on a camel that day made me sleep easy!
Volcano Tours of Volcan Pacaya Guatemala
---
Hot Air Balloon over Cappadocia, Turkey
Do a hot air balloon trip over the spires of Cappadocia in Turkey. This is hopefully going to be me in August of 2022 so any tips will be gratefully received.
Balloon Tours Over Cappadocia
---
Do a glacier hike
Hiking across a glacier isn't just something you would strap on the cleats and do. Experience is necessary but there are more than a few places in the world where you can do this safely and affordably. Iceland, northern Canada, New Zealand and most of the far northern European countries have Glacier hiking of some description. As long as you have an experienced guide, it is way easier than you think and heaps more fun. We did this trip in Iceland and loved it.
Try these day trips:
The Canadian Rockies — Matanuska Glacier, Anchorage Alaska — Franz Josef Glacier New Zealand
Explore the waters of Raja Ampat in Indonesia
On my list for 2023, we recently returned from 2 weeks in Raja Ampat. In Indonesia, Raja Ampat isn't simple to get to which does seem to be saving this stunning area from over tourism. It's a fine line between wanting to see such a beautiful area and adding to stress levels for such a pristine environment, but I do think it's still possible. We spent a week on a boat over the Christmas New Year period and were stunned by how quiet it was. It is a stunning slice of the world and some of the very best snorkelling I've ever done. Check out Reny and Andreas from Raja Ampat Tours for an amazing week.
NB: While this is an amazing week, it is a grass roots level tour. You stay in homestays or camp on the beach and travel by speedboat each day. This is not a live aboard boat – its super mobile which allows you to get to the best locations but its snorkelling & swimming, not diving.
Do Carnival in Rio or Mardi Gras in New Orleans
OR do both in the same year! Carnival in Rio is days of endless partying and of course Mardi Gras in New Orleans is pretty much the same thing. The year we did both they were immediately after one another and if it wasn't for American Airlines acting like themselves and letting everyone down we would have done 4 days in Rio culminating with the Samba Parade, and then 3 Days in New Orleans culminating in Fat Tuesday. We did still do both but arrived in New Orleans the morning of Fat Tuesday instead of 3 days before but that's a story for another time.
Swim in Mexico's Cenotes
The Yucatan peninsula is world famous for its water filled underground caves that are often open to the sky through what is effectively a hole in their roof. Not all are open to the sky but many are open for you to swim in. It is something to behold.
Cenote Day Trips from Cancun or Tulum
---
Float down the Nile on a Felucca
When you visit Egypt, it would be easy to get sucked in to the posh river cruise but I beg you – RESIST! Sailing down the Nile on a traditional Feluca is divine. Usually its a family boat and some do have toilets on board but if they don't they tow a little toilet boat. You pull over on the banks every night and might even get to meet some local Nubian people and maybe even do a donkey race with them! You sleep on the deck of the boat, the food is really good, and I doubt you will ever be as relaxed as you end up by the time you get to Luxor. It was a highlight of our entire Egyptian trip.
Activities Way Outside Your Comfort Zone
Hike a multi day trail
While this is not an activity you can undertake without preparation, with the rise of Facebook groups, I'm sure you could find someone in your area (or where you wish to go) that would either hike with you or possibly lend you some gear to hike a few days with only the things you need on your back. There is something to be said for sleeping wild in your tiny tent for a few days while you walk point to point. You could start off with maybe The Inca Trail as a guided hike, and then morph into something more "do it yourself".
Consider The Otter Trail in South Africa (only 4-5 days long) or The Overland Track in Tasmania (also about 6 days) before you go more remote, but whatever you do I can assure you the sense of accomplishment when you have done it is remarkable. You start off hearing every single twig crack while you are lying in your tent on your own but in only a day or two you start to sleep soundly and really enjoy the solitude. Well I do anyway!
Hike the Inca Trail to Machu Picchu
---
Cage Dive with the sharks in South Africa
Now this is fun! It's not quite what I imagined it to be and I thought that you had to be able to scuba to do this but almost all the cage diving adventures I've seen (and the one I've done) don't require more than a snorkel. Do it – the adrenaline rush is insane.
This is a photo of cage diving in Hawaii. Sadly my USB of photos from my cage dive in Capetown never worked again. 🙁
Shark Cage Dives In South Africa
---
Eat a local delicacy that turns your stomach
My stomach immediately starts to churn when I write this one. I bit the bullet and ate one of these (called Balut) in the Philippines. OMG it was horrific and while I wouldn't recommend this particular delicacy, stepping outside your comfort zone is always a good thing. Would I do it again? Not these but yes I would try something else again. It's part of the adventure.
Get completely off the grid somewhere in the world.
At least once, whether it's on your own or with a few friends, get completely off the grid for at least 3 days. I did this in the Dominican Republic for a week and it was one of the best resets I've ever done. I was in a little cottage about 100m from a pristine beach and around 2km from the local village so it wasn't the hardest week I've ever spent. I did have mobile reception but I chose to turn my phone off for the week I was there. I bought all the food I needed the first day, learned where the local unattended honesty box fruit stall was and never saw another person for a week. Bliss!
Visit the Danakil Depression in Ethiopia
The Afar (or Danikil) depression is the lowest place on earth and probably one of the hottest. While you can do trips out there from Mek'ele in land rovers and other 4wds try and find one that does the last few days via camel. Your arse will curse you but the traditional style of plodding along on a camel can't be dismissed as the way to do it.
The salt flats of The Afar (or Danakil) Depression Ethiopia
Swim between the tectonic plates in Iceland
Clad in a full dry suit it is possible to swim in the Silfra fissure in Thingvellir National Park in Iceland which is a crack between two tectonic plates. Effectively you are swimming between North America and Europe! Unfortunately we only had a few days left in Iceland when we found this and we couldn't get in to do it but that's a great reason to go back!
Swim between two tectonic plates in Silfra Fissure, Iceland
Silfra Fissure Snorkeling Tours In Iceland
---
Climb Mount KIlimanjaro
While climbing Mt Kilimanjaro doesn't require any technical climbing skills, it's a tough hike. About 60% of hikers who attempt it each year don't make it. Longer hikes give you better acclimatisation and increase your chances so if you do attempt this one, don't try to race it. Pole Pole wins the race.
The only day of seeing Kili that it wasn't covered in cloud.
Group Tours To Climb Mount Kilimanjaro
---
Spend at least 72 hours somewhere that doesn't speak your language (At All!)
I've done this more than a few times and to say it is liberating is an understatement. Cities are the best because you have to communicate, so you have to learn some local words or rely on your gesturing skills. It is frustrating but fun.
The tropic of cancer in Mauritania
Camp in Antarctica
While there are more than a few vessels that take tourists to Antarctica now, this is the only company that I can find that actually camps there. Trips can cost more than the equity in your home, but you are camping in Antarctica! How can you put a price on that?? https://antarctic-logistics.com/
Dive Belize's Great Blue Hole
I don't scuba any more. I've had a collapsed lung and more than one case of pneumonia so my chances of scarring on my lungs is significant. The blue hole in Belize was the only time in the last 20 years that I really missed it. I did snorkel around the edges and it was stunning even from the top but descending down into the deep dark blue must be just stunning.
Scale half dome at Yosemite National Park
While this would be one of my pinnacle hikes, I know I'm never going to do it. Half dome is HELL steep and while going up takes some lungs, coming down takes everything you have. There is no way my dodgy knee would ever cope with it and the same dodgy knee not only won't hold me on steep downs it doesn't bend so I can't even sit on my arse and shuffle like some can. If you have both legs in good nick and a head for heights, this has to be one of the best hikes in the world.
Swim with jellyfish in Palawan, Philippines
Sailing in remote Palawan was in itself one of the best weeks I've ever had, but in contrast snorkelling through one of the jellyfish infested bays was heart thumpingly terrifying for me. We have some deadly jellyfish here in Australia so swimming in jellyfish soup had my heart doing about 140 beats a minute. I did calm down and kept telling myself that there were no box jellies or irikanjis which did help to drop the heart somewhat. The stings (the odd one you get) are nothing and others who don't have everything that tries to kill you like us Aussies do, handled it much better than I did. It is the strangest feeling though – almost claustrophobic I guess.
So there you have it.
My top 40 Travel Bucket List Ideas for before you turn 40!
Please let me know what you have done and any idea's to add to the list. I'm always looking for exciting things to do.