Lalibela and the famous stone churches – Everything you need to know
Touted as Ethiopia's Jerusalem and home to some of the finest UNESCO rock-hewn churches present in the world, Lalibela is a small rural village with a warm reasonably untainted culture. Nothing in Lalibela is orchestrated, it has grown simply because of the tourism for the churches at Lalibela. There are tour operators, accommodation options and cafes and restaurants, however there isn't much more to Lalibela than that. Lalibela is a genuine African town that just happens to have 11 rock hewn churches!
---
Where is Lalibela located?
Lalibela is located in the Lasta district and North Wollo Zone in the Amhara Region of Ethiopia and is around 810 km north of Addis Ababa. It has caught the attention of travellers worldwide who come to see the rock hewn stone churches.
How do you get to Lalibela?
Flying into Lalibela
There are two ways to reach Lalibela; heading south from Mekele or north from the capital, Addis Ababa. Direct flights operate to Lalibela from Addis Ababa most days. Lalibela airport is 23 km away from the main town so you will need to take a taxi or book a transfer for when you arrive. There was a small company flying direct from Mek'ele when I was there however I can no longer find them.
Driving From Addis Ababa
While Lalibela is almost dead north of Addis Ababa, if you were to drive you would take either the eastern route via the A2 through Kemise and Dessie, or head north west via the A3 which will take you through Bahir Dar the main city of the region. Both drives will be at least 12-14 hours and of course this is Africa and anything can happen to slow you down. 

Bahir Dar is situated on Lake Tana which is home to Dek Island, a small island housing 2 monasteries. If you can find a guide to take you to the island it is worth it. I really liked Bahir Dar and if you are doing a tour that drives from Addis, I would ask if you can take that route. The city itself is quite green with African Oil Palms lining the main road.   Stopping in Bahir Dar for a night will shorten your day from Addis Ababa to probably 8-10 hours. I actually stayed 2 nights because my guide's family lived here and they had me for dinner at their home. 
The drive from Bahir Dar to Lalibela is then only 300km. It's still probably 5 or 6 hours, but it is much easier to do this in two days than one massive one. If you take this route you could also visit Blue Nile Falls about 30 kms from Bahir Dar. The falls themselves are pretty impressive and there is an old Portuguese Bridge and a swing bridge to see as well.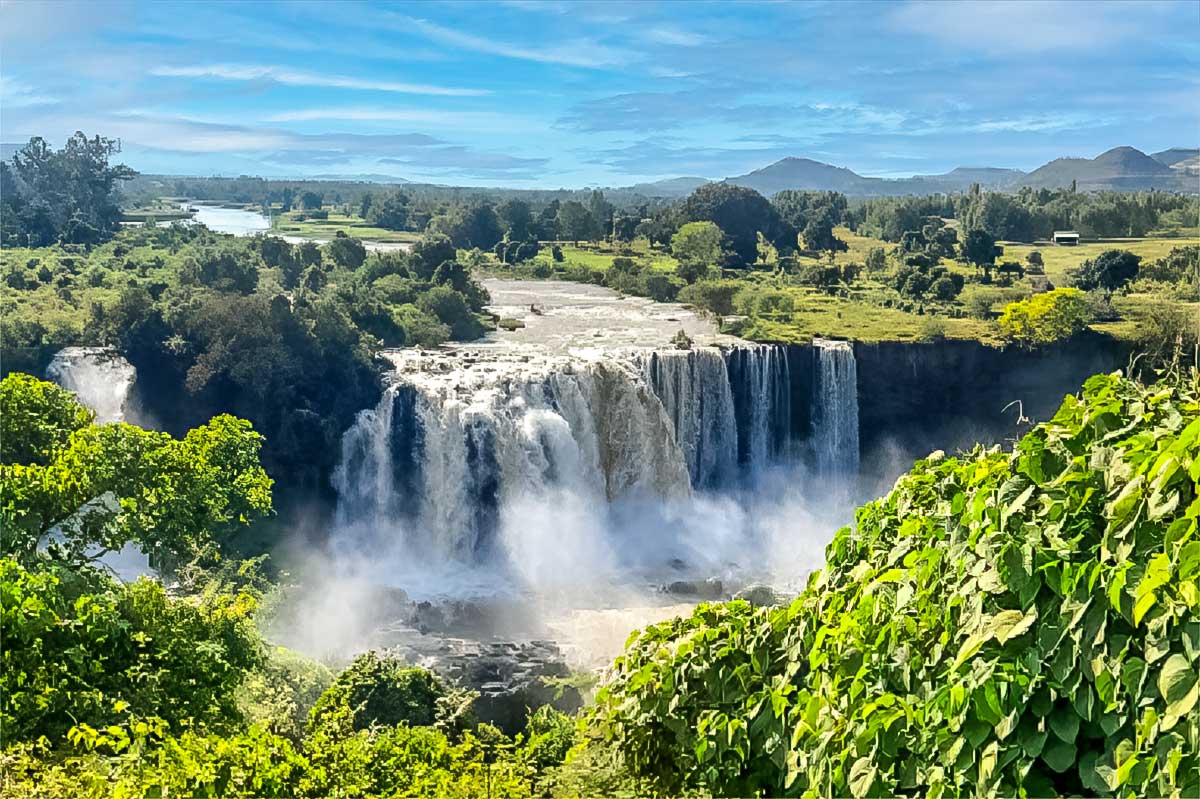 Driving from Mek'ele
The drive from Mek'ele is still about 7 hours drive, despite only being 310 km. Some of the tours I found do depart from Mek'ele as it is a much shorter drive that from Addis Ababa.
Buses from Addis Ababa Or Mek'ele
There are buses from Makele to Weldiya where you can get a local mini van to Lalibela. The drivers all wait at the bus station so as long as you don't arrive late at night there will be multiple vans and/or cars going to Lalibela. There is a direct bus from Weldiya to Lalibela but the timing often means you will need to stay in Weldiya overnight and catch the bus on to Lalibela the next morning.
I would not recommend a bus from Addis Ababa. A friend of mine did it a few months before I was there and said you were at the complete whim of the driver. A local woman gave him some very valuable advice with regard to the driving team that was on that trip and he told me he would have been left behind if it wasn't for her. They stopped for everyone to get food. The driver said half an hour. My friend got off the bus, ordered his food, went to the toilet and went straight back to the bus and the bus left about 10 minutes before it was supposed to! The woman who warned him had said they were notorious for doing it!
What is the best time to visit Lalibela?
The dry season from October to March is the best time to visit Lalibela or other parts of Ethiopia. I was there in August which can be very wet, however I was fortunate to get great weather. It was unique enough that the locals were all talking about how lucky I was so it seems it can get very wet.
Also if you can, plan to visit Lalibela over the weekend.
Why?
1. The great local market experience: Saturday is the big market day in Lalibela. In the middle of town vendors set up temporary stalls and sell everything from firewood and clothes to food and salt blocks. The sheer number of both shoppers and vendors together create a chaotic scene that is really something to see. You can pick up unique local handicrafts as souvenirs from the market, but don't expect anything too extravagant.
2. Sunday is the best church day: The rock-hewn churches are jam-packed on Sunday as the locals, clothed in their typical white robes, descend for mass. It is the best time to see the churches and how important they are to the community.
What is the Lalibela climate like?
If you visit Lalibela during the dry season, you will most likely experience warm temperatures around 24 degrees C and beautiful clear blue skies. It can get as high as 31 but that is very rare.
Please Note: Keep your warm clothes with you as Lalibela is elevated, so the evenings here can be chilly. The temperature drops down to around 10-12 degrees C. So, a hat and a jacket are a must.
Food In Lalibela
Don't think of Ethiopian cuisine as only the sour bread Injera. Ethiopian cuisine is very diverse and rich in flavors and does change from region to region. You can enjoy rich, spicy stews full of flavor or soft sourdough flatbread topped with a selection of delicious meat, vegetables, lentils & bean sauces.
Coffee in Ethiopia is the best you will find in Africa (in my humble opinion) and stand up coffee bars are everywhere.
Lalibela is dotted with a great selection of local restaurants where you can experience the hospitality and warmth of local culture. Make sure you try Tibs Fir Fir. That stuff is divine!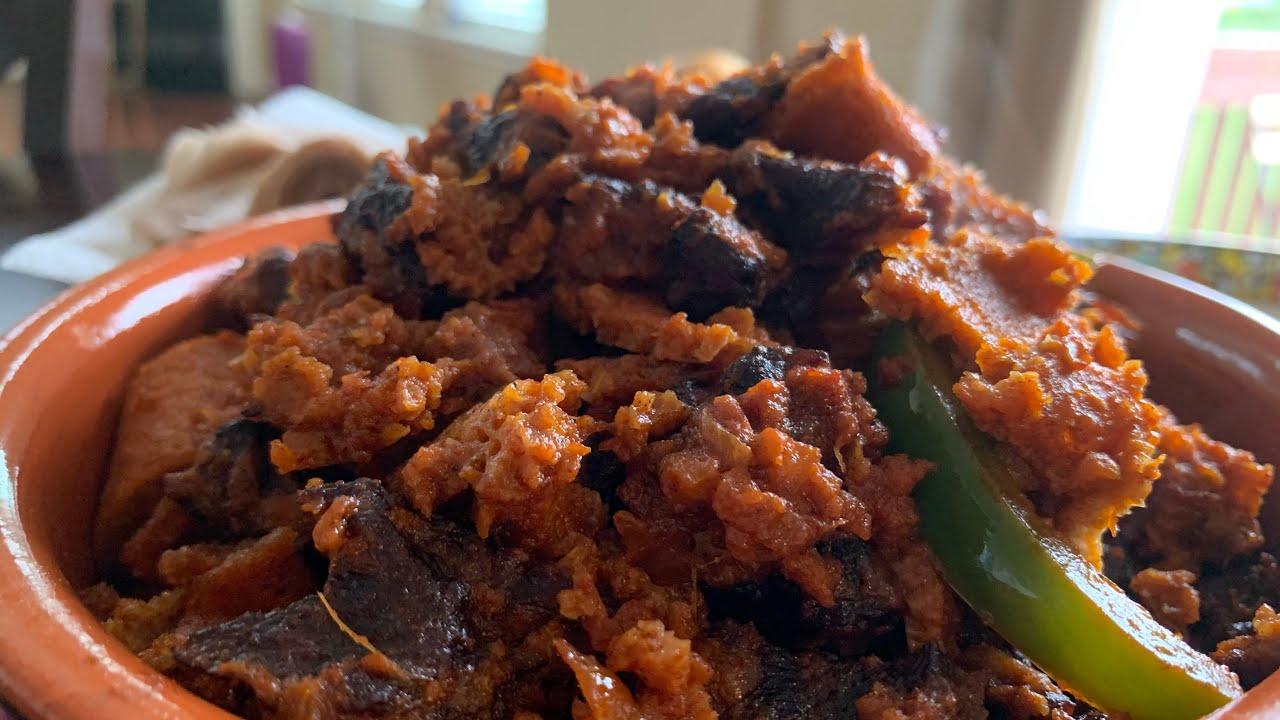 The eleven Rock-Hewn Churches of Lalibela
The rock churches of Lalibela are a group of 11 monolithic structures located in of course Lalibela, which is in the northern highlands of Ethiopia.
Carved entirely out of solid rock, these churches are a testament to the ingenuity and faith of the ancient Ethiopian people. Lalibela is often called the "New Jerusalem" because it is considered to be one of the holiest cities in Ethiopia. Shortlisted as a UNESCO World Heritage Site in 1978, these churches are also denoted as an 'African Wonder.' I'm not super sure what that actually means, but regardless they are in fact wondrous.
History and construction of the churches
It is still not fully clear who built the 11 rock-hewn churches of Lalibela. Although precise dating for the complex and its buildings don't exist, historians and archaeologists have agreed that the construction of churches happened in multiple stages between the seventh and thirteenth centuries. The construction of the entire complex is attributed to King Gebre Mesqel Lalibela. According to legend, King Lalibela was instructed by God to build a new Jerusalem in Ethiopia, as a holy site for Christian pilgrims. The king was said to have been given the blueprints for the churches by angels, and it is believed that the churches were built in just 24 years.
What's so different about these churches is that they are not built up out of bricks and sand. Instead, these are sculpted out of solid volcanic rock. The churches were thought to have been designed to resemble traditional Ethiopian houses, with thatched roofs and rounded walls. The churches are also decorated with intricate carvings and frescoes, depicting scenes from both the Bible and also scenes from Ethiopian history.
The unique complex of churches is dissected into two parts comprising ten of the churches, while the eleventh church stands apart from the two groups.
The northern portion of the complex houses Biete Golgotha Mikael, Biete Mariam, Biete Denagel, Biete Maskal, and Biete Medhani Alem.
The southern part houses Biete Lehem, Biete Gabriel Rafael, Biete Abba Libanos, Biete Amanuel, and Biete Qeddus Mercoreus.
Biete Ghiorgis, the final church, can be found west of the southern group. These churches are interconnected with pathways, long underground tunnels, and trenches. To date, the churches actively host daily worship and special ceremonies and receive pilgrims and of course visiting tourists.
The 3 most visited and popular stone churches
The Church of St. George
The Church of St. George is perhaps the most famous, and certainly the most iconic of the rock churches of Lalibela. It is carved in the shape of a cross, with the top of the cross standing level with the ground above with the building descending about 40 feet into the ground. The church is decorated with intricate carvings and frescoes and it is said that the hoof prints imprinted in the rocks surrounding the church are from the white stallion that St George rode on the day the church was finished. The church is still in use today, and is a popular site for Ethiopian Orthodox pilgrims.
The Church of Emmanuel
The Church of Emmanuel is one of the largest of the rock churches of Lalibela. It is said to have been built in just three days, with the help of angels (of course!). The church is decorated with intricate carvings and frescoes, and is home to many ancient artifacts. It is thought to have been the private chapel of the royal family, primarily because of the build quality and size. The church has been covered with a massive awning erected by UNESCO to protect the structure, however while I understand the need, it really takes away from the beauty of this particular church.
The Church of St. Mary
The Church of St. Mary is one of the most important of the rock churches of Lalibela. It is said to contain the oldest surviving Christian church in Ethiopia, and is home to many ancient artifacts and manuscripts. If you visit the Church of Emmanuel first and then go to St Mary's church the difference in the quality of construction is really clear. This feels more like a mud brick church than a lot of the other churches so I could really see how it might be the oldest church on the site.
How did the churches stand the test of time?
Standing for over 800 years, the region's geology has helped to ensure the stability of the churches. An ingenious construction, the rocky massif of the church complex combines two kinds of volcanic basalt. It is thought that workers deliberately constructed the churches at a depth that allowed for the ground to be only slightly flexible. Some locations in this area are prone to moving so much that the churches would have collapsed probably within 20-30 years of being built if they had been constructed using more traditional methods.
The builders carved the churches top-down from the sections of porous rock, and only when the exterior was completed, were the interiors carved out internally. The builders also mined drainage canals and trenches to prevent flooding from underground rivers and water tables. To promote further drainage, they carved the roofs of the four freestanding monolithic churches slope at the same angle.
The appearance of the churches
The Orthodox custom of placing a door at each western, northern, and southern side has been followed to the letter, the only exceptions being when alterations were necessary due to geological formations. Visitors can move upward into the churches through steep pedestals and steps lifting from carved pathways and trenches.
As for the interiors, the floors of churches are roughly-hewn and covered with rugs.
The Significance of the Churches of Lalibela
Universally loved, the rock churches of Lalibela are one of the most important sites in Ethiopia. They are a testament to the deep faith of the Ethiopian people, and their enduring commitment to their Christian heritage which hasn't always been easy to maintain.
Religious Significance
The churches are considered to be one of the most important holy sites in Ethiopia. They are a pilgrimage site for Ethiopian Orthodox Christians, and are visited by thousands of pilgrims each year.
Cultural Significance
The rock churches of Lalibela are also significant for their role in Ethiopian culture. They are a symbol of Ethiopia's rich cultural heritage, and are a source of pride for the Ethiopian people. They are also a popular tourist attraction, drawing visitors from all over the world who come to marvel at their beauty and significance. As you walk around or eat in Lalibela the conversation always turns to the churches and you are constantly asked if they are the best churches you have ever seen. The locals are very proud of these amazing buildings and I found myself answering "Yes" they are some of the best churches I've ever seen. Sure the Sagrada Familia is hard to go past but Gaudi didn't build that with his mates 800 years ago, so I did find myself comparing newer and more modern churches with these ancient ones.
Have they always been churches?
The functions and dedications of the churches have been varied since their inception. Biete Mercoreus and Biete Gabriel Rafael have also served as fortresses built for defense and royal palaces. Many of the older churches were also abandoned over the years due to structural collapse and flooding, but for the most part, yes they've always been churches.
How long does it take to explore the churches to the fullest?
You do need at least one full day however I would recommend trying to visit on a Friday if you can, followed by a day in Lalibela taking in the markets and the hubbub of town on the Saturday. Then return to the churches for early mass on Sunday where you can enter the churches and participate in the mass. After mass is over you are free to wander among the other buildings and see what you missed on Friday. Being involved in the mass is amazing and while I'm not Christian I do have a huge respect for anyone who chooses to live their life in complete faith so I really enjoyed the mass. Thanks to my guide Elan who suggested this plan of attack.
Tickets can be purchased for multiple days so once you have bought your ticket on Friday, you are good to go.
Guides are unnecessary, but it is one site where you will get way more info with a guide and also have access to areas you wouldn't otherwise find.
Is Lalibela safe for tourists?
Yes, Lalibela is considered to be a safe destination for tourists. However, it is always important to take basic safety precautions when traveling in any foreign country. Be sure to dress appropriately, don't flash jewelry or money and be extra respectful that this location is a spiritual one and you should take care to treat this as you would visiting the Vatican.
Carry plenty of water with you and a torch for tunnel sections.
In Conclusion: The Stone Churches of Lalibela
Centuries have passed, and Lalibela remains home to a large Ethiopian Orthodox community. The city continues its legacy as a well-known pilgrimage destination and a continued site of religious practice since the twelfth century. Visitors are increasing (as they are everywhere), and for the most part the locals are grateful for the income and support to their community. Please remember these are active religious sites and treat both the buildings and its worshipers with the respect they deserve.
---
Tours for the Stone Churches of Lalibela
I did a 5 day tour of this area including transfers from Addis Ababa and to Gondor (where I was going on to something else) but I would not recommend visiting the churches without a guide. You learn so much more and without one you are just kind of wandering aimlessly, so if you have the budget, grab a tour and make the most of local info.
---
Accommodation In Lalibela
There are a range of accommodation options in Lalibela to suit all budgets.
Budget Accommodation: Lalibela Hotel starts at around $65 AUD per night for a single room with your own bathroom.
Mid Range Accommodation: Honey Land Hotel has single rooms starting from $96 AUD and doubles for $137.00.
Top End Accommodation: Bete Serkie Lalibela has delux single rooms starting from $160.00 AUD including breakfast.
If you really want to lash out and do Lalibela in luxury, try Sora Lodge Lalibela who has double rooms starting at $314 AUD
Or check the map below to find something to suit your budget.
No matter what hotel you stay at, most of the accommodation is right in town and walking distance from almost everywhere. I hope you love the Rock-Hewn churches of Lalibela as much as I did and if you can manage it, do try and stay over the weekend to see the markets and attend mass with the locals.