What to do for 2 Days On Waiheke Island, Auckland
Waiheke Island is a must visit if you are spending any time in New Zealand's capital, Auckland. The first Māori name for Waiheke was Te Motu-arai-roa, which means "the long protecting island" and looking at the map for Waiheke Island that makes perfect sense. 
Waiheke is the second-biggest island found in the bay, after Great Barrier Island and is the most inhabited island accessible from Auckland.
Waiheke is a short ferry ride from the centre of Auckland and offers multiple activities for a day trip, a weekend or even a week long stay. While the wineries are the main attraction on Waiheke, a wide variety of restaurants, some beautiful beaches and great hiking will ensure there is something to do on Waiheke for all of you.
Wine Tasting and Fine Dining
Waiheke is eminent for its mind-boggling collection of wineries & vineyards. A large portion of them open at 11 am, so the afternoon and evening will be the best time for working your way through the cellar doors.
Waiheke Island has gotten known as New Zealand's 'Island of Wine' – home to a committed gathering of award-winning winegrowers who produce both white and red wines, some of which are New Zealand's best.
Batch Winery
Batch Winery is considered one of Waiheke's most innovative winery. Batch is situated on the central eastern coast of Waiheke on an elevated lot that has commanding views from Coromandel Peninsular to the Sky Tower in Auckland City. The Batch-wine portfolio incorporates
Syrah,
Flora,
Pinot-Gris,
Cabernet Sauvignon &
some amazing sparkling wine
If you catch the ferry into Matiatia bay you can make use of the "Batch Bus" for transfers to and from the ferry terminal. At $12 per person return, it makes things pretty easy. Book the Batch Bus here.
The restaurant at Batch specialises in simple food, well prepared that is meant to be shared. Their meals are created from local ingredients and have meat, seafood and vegetarian options.
Obsidian Vineyard
Also consider a visit to Obsidian Vineyard in Onetangi. It is a 17-hectare property that opened in 1993 and is small operation that creates beautiful wine. The cellar door is a simple setting of umbrella clad tables with the winemakers themselves often serving the tastings. While they do make white wines personally, I think Obsidian really stand out with their reds. The Mayor one of their signature wines is one of New Zealands best in my personal opinion.
Obsidians wines typically are a mix of Cabernet Sauvignon, Merlot, Cabernet Franc, and Malbec.
You can get to Obsidian by walking the wine trail over the hill from Stonyridge Vineyard, however if it is wet or there has been rain, you might be better to get on the bus around to Onetangi Bay and walk up from there. Its a nice walk to the northern end of the beach along the foreshore road and then up some decent stairs into the suburbs and through to Obsidian. It's a very nice walk and this photo was taken from the top of the stairs looking out over Onetangi Bay. Directions from Charley Farley's ( a local restaurant close to the bus stop) to Obsidian from Google Maps.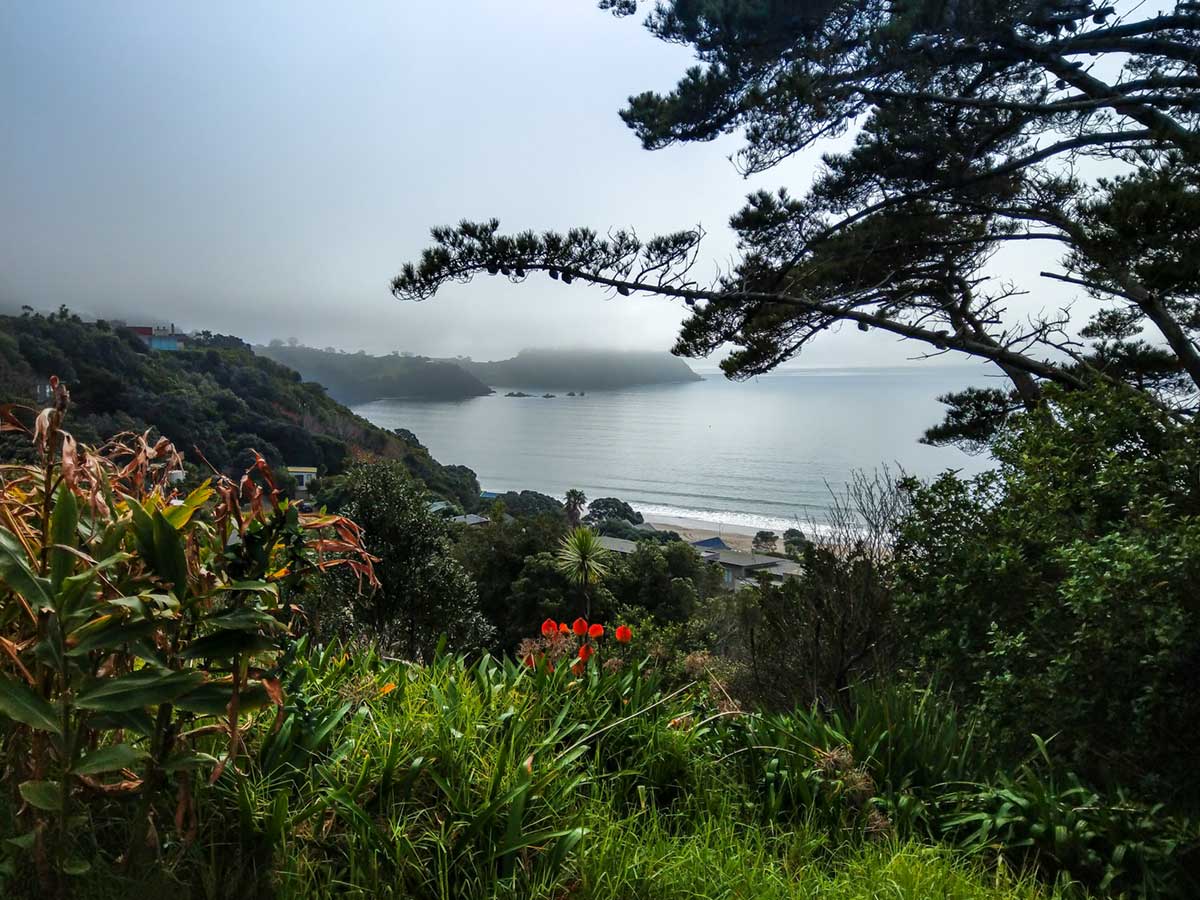 Mudbrick Vineyard
Mudbrick Vineyard is much more than just a cellar door. They have 2 restaurants, wine tasting (of course) and also some cottages, however they are around $600 per night to stay. The restaurants are very popular especially on the weekend so you will need to prebook. The Mudbrick Restaurant offers a wonderful view out over the bay while you dine on dishes created using local ingredients but that draw inspiration from all over the world. The food is divine however it is not cheap. Expect to pay $100 for a Wagyu or even around $40 for a pasta dish. It is very good but might be more suited to a special occasion.
The Bistro is a more casual environment, however at present Mudbrick's website is showing the same menu as for the more upscale Restaurant. I'm not sure if this is somehow COVID related but when we were there, the menu's were different I'm sure.
You can use the Waiheke Explorer Hop on Hop Off Bus to get to Mudbrick Vineyard. It is only 2.8km from the ferry terminal, however there are hills and you would be walking alongside the road, so don't attempt this unless you are suitably dressed.
Use this link to purchase Waiheke tickets for the ferry and explorer bus.
---
---
Eating on Waiheke Island
From various perspectives Waiheke is a microcosm of New Zealand itself, presenting great food, and populated by upbeat, inviting individuals.
There are a lot of good eateries around however a couple of my top choices are listed below. 
Oneroa is the main town on Waiheke and this is where you will find most of the food options outside the wineries. The other main location is Onetangi Bay.
Try The Oyster Inn which is a small hotel as well as the restaurant. They only have 3 rooms so you will have to get in quick. The location is great and the rooms very comfortable. Book early to ensure your room. The restaurant has a very beachy feel and isn't just oysters. They have a wide range of meals at an average cost of around $35-40 for a main (entre for you Americans).
Ki Maha in Onetangi is another fave which offers great food and a spectacular view of the seashore. The focus here is primarily seafood, however there are other meals and a section in the menu that has items cooked on the grille. Meals range between $35-45 NZD
For street food "I Love crepes" food truck is where you'll be served tasty crepes at respectable costs and right next door, the Island Gelato Company because fundamentally, frozen yogurt is a decent decision whenever of day.
Cable Bay Vineyards is as fine a spot as any, offering amazing perspectives from its two eateries, the Dining Room and the Vineyard. Both open onto a beanbag-dabbed verdant slope overlooking the water.
The Vineyard serves little nibbles, sharing plates, and wood-terminated pizzas. We pick the top-notch food option of the Dining Room: the food is, and the customer service is incredible.
---
Kayaking and Stand-Up Paddle-boarding Waiheke
Assuming you are into water sports kayaking as well as paddle boarding are readily available. The amazing ocean and island coves offer you easy access to take your kayak or paddleboard out. Kayak Waiheke hire  kayaks and Stand-Up Paddleboards and also offer sea kayaking adventures. They are situated right at the ferry terminal so you could plan your sea kayak adventure to coincide with your ferry departure or arrival. Be sure to check the weather conditions before hiring and do let the team know what your experience level is. They will advise you on whether conditions are right for you.
---
Electric Bike Hire on Waiheke
The Waiheke Bike shop offers mountain bike and e-bike rentals at day rates starting from $85 per bike per day. Waiheke is hilly so an ebike is a great option for getting out there without killing yourself on a standard bike. Bookings are essential and use this link to check Waiheke Bike Shop's website for more info.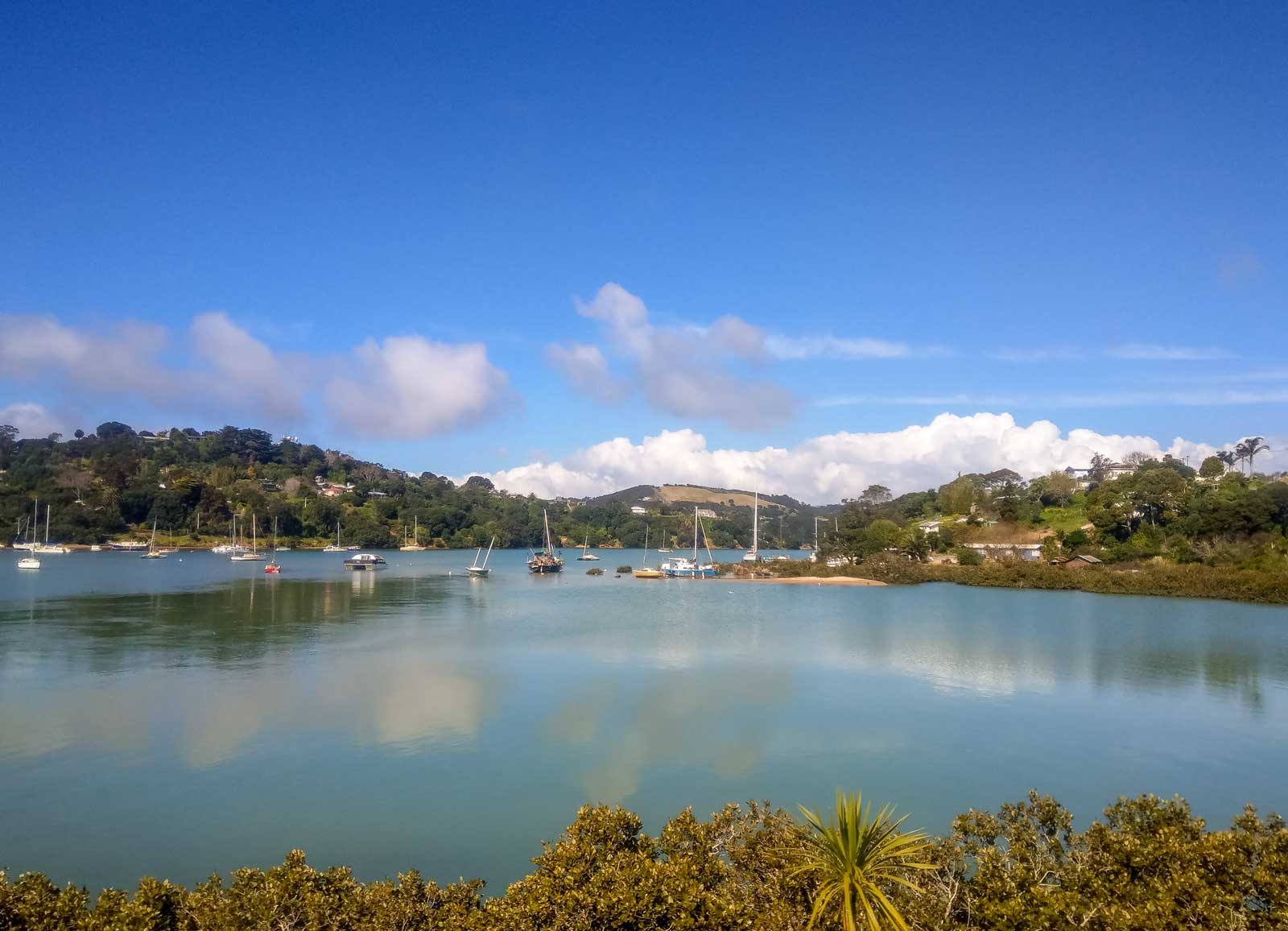 ---
Archery and Clay Shooting on Waiheke Island
Bows and arrows and mud shooting probably will not be the primary thing you consider with regards to Waiheke. It is something you can do anyway when visiting "Wild on Waiheke".
They are a winery and brewery, primarily with incredible food on their menu. The arrow-based weaponry and dirt shooting are extra exercises that that can be added that are great fun. It is a well-known setting for hen/stag-dos, squad building days, or only for fun with loved ones.
---
Cycling around Waiheke
Hire a bicycle (or even better, an e-bicycle) for an opportunity to sightsee a greater amount of the island. There are two bicycle trails of different obstacle courses; Rangihoua off-road bicycle trails, which are situated at the One-tangi Sports Park and in the Whakanewhea Regional Park.
---
Head To The Beach On Waiheke
Waiheke's way of life is to a great extent influenced by the way that it is encircled by water – there are various beaches, that offer a wide scope of exercises, for example, kite surfing, kayaking, stand-up paddleboarding, drifting, or simply swimming.
There are countless extraordinary beaches to visit like One-roa-Bay, Sandy-Bay, Enclosure-Bay, One-tangi Beach, the Palm-Beach, Man-O-War Bay, in addition to few others. Each has its own attributes however all are great spots to be, to relax and unwind on a warm day.
---
Explore the Waiheke Island Markets
At the point when you visit Waiheke at the end of the week, you can appreciate a morning at the Ostend Farmers Marketplace that takes place each Saturday between 8 am and 1 pm at the RSA-building and its reserve in Village of Ostend. You will discover loads of Waiheke luxurious cuisines to purchase as well as marvellous Waiheke workmanship and gems, apparel, books, plants, caps, tea towels… and so on!
---
Go Stargazing On Waiheke
Matariki Festival is a most loved activity throughout the cold weather months and Waiheke is an incredible spot to appreciate the stars! Matariki is a globally perceived star cluster that can be seen all over the world. The rise of Matariki winter skies above Aotearoa connotes the beginning of the Māori New Year. The Waiheke Community Art Gallery holds a Matariki festivity during late June and July for an evening occasion of stargazing, music, and fun.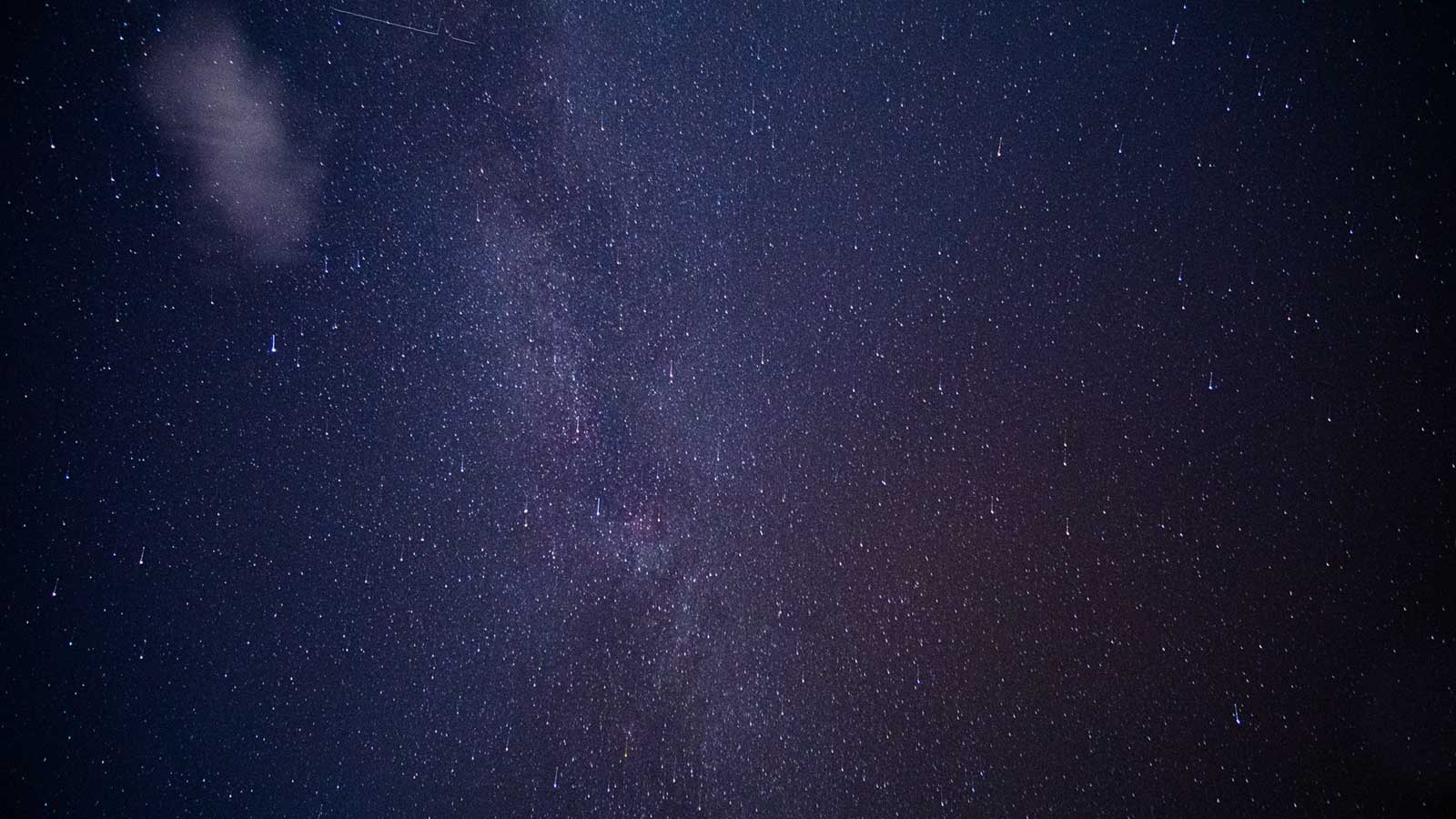 ---
Getting to Waiheke Island
Getting to Waiheke Island is simple, with a fast 40-minute ferry ride from downtown Auckland. The excursion will take you through the Hauraki-Gulf, cruising past the wide range of various islands in the harbour lastly arriving on the flawless shores of Waiheke.
There are two Ferry Services available for transportation namely:
2. Sea Link
Fullers operate services from Downtown Auckland to Waiheke's Matiatia wharf, with trips requiring roughly 40 minutes. Alternatively, SeaLink offers travellers, vehicle, and cargo services between Half Moon Bay in East Auckland and Waiheke's Kennedy Point, with trips taking around 50 minutes to 60 minutes. SeaLink also offers a traveller and vehicle "City Service" associating Kennedy Point with Auckland's Wynyard Quarter.
Flying to Waiheke
There is an airport situated on the island, Wai-heke Aerodrome that is serviced by a fixed wing airplane by Flight-Hauraki and by a special helicopter through several operators. Waiheke is also accessible through a regular seaplane service.
---
Transportation Around Waiheke
Waiheke has a solid and completely timetabled public transport system operated by Waiheke Bus Company.
Most routes run to and from the ship port at Matiatia and proceed outwards through the island past Palm Beach, Os-tend, Rocky Bay, and further on to One-tangi Beach. However, they do not have an open transport routes along the balance of the island as most of it is private property.
Routes Include:
50A – One-tangi Beach-West, Os-tend, Surf-dale, One-roa, Matiatia- Ferry Terminal
50B – One-tangi Beach East, Ostend, Surfdale, (Jelli-coe-Parade, down Wellington-Road), One-roa, Matiatia-Ferry-Terminal
Five Zero Two (502) – Ōmiha – the Rocky Bay, the Os-tend, Palm-Beach, Black-pool, One-roa, Matiatia-Ferry-Terminal
Five Zero Three (503) – Matiatia-Ferry-Terminal to One-roa (single direction summer administration)
Five Zero Four (504) – Waiheke Rd, One-tangi Rd, and Ostend
As the island is inside one passage zone, admissions are a flat rate no matter how far you go.
---
Looking for Accommodation on Waiheke?
Use the map box below to find accommodation on Waiheke Island.
---