Introduction to Singapore: A Vibrant City-State
Singapore, once known as a stop over city has come into its own as a great holiday destination. If you are looking at visiting Singapore soon, here are the best things to see and do in this vibrant city-state.

Singapore is home to many cultures, which influences its architecture, neighbourhoods and of course the food. Singapore is a city where you can eat $8 noodles or $300 Michelin star meals. From the famous Marina Bay Sands to the busy alleys of Chinatown and the lush greenery of the Gardens by the Bay, Singapore offers something for everyone.

These are the best things to see and do in Singapore for solo travellers, couples or families.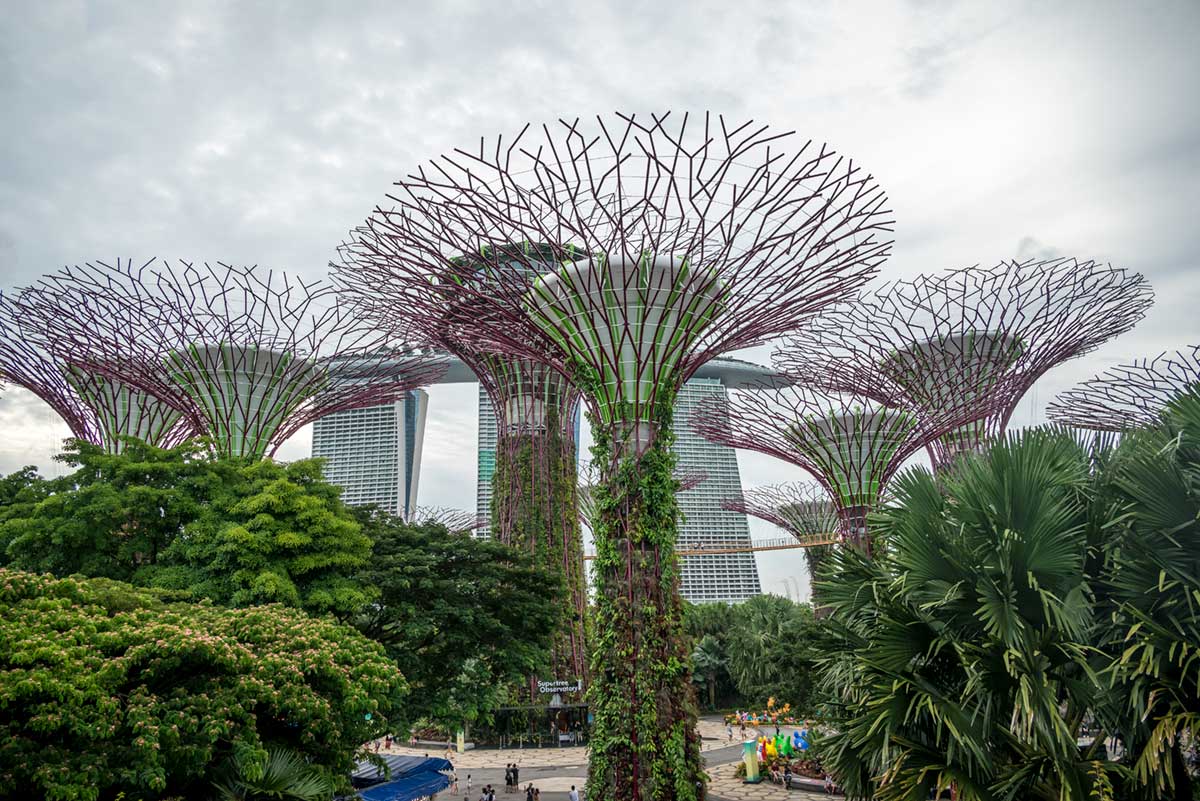 ---
Little India: A Cultural Experience especially for Foodies
Enter the thriving neighbourhood of Little India, where the sights, sounds, and aromas will take you to the centre of Indian culture in Singapore. Little India is a vibrant neighbourhood with bustling streets decorated with colourful shops, aromatic spice stores, and beautiful Hindu temples. It offers everything from cheap clothing & souvenirs to exotic gold shops and of course many amazing Indian restaurants.
Everything in Little India is within walking distance of each other so you can easily spend a few hours checking out the Hindu and Buddhist temples, browsing the market stalls, getting a henna tattoo or even shopping for that bright Indian gold.
What to see in Little India
Tekka Centre
Possibly the biggest food market in Singapore. From fresh seafood to curry pastes there isn't too much you can't get here. The upper level is also home to some stunning Indian fabrics and clothing. It is primarily a food market so while there are some souvenirs and other stalls it is mostly raw food, spices and vegetables.
Mustafa Centre
Claiming to have over 75,000 items for sale this department store is packed with products for sale. I purchased a great winter jacket here and Brad got some great shoes. It is very busy but even if you just go and wander around for 10 minutes is it worth it for the experience. Find it on Bukit Timar Road.
Sri Veeramakaliamman Temple
If you have a fondness for cultural and historical landmarks, then you absolutely cannot miss the vibrant and visually striking Sri Veeramakaliamman Temple. Located in the heart of Little India, this Hindu temple is a fantastic showcase of religious tradition & artistic splendour.
As you approach the temple, you can't miss its incredible architectural detail. The brightly coloured, delicate sculptures of Hindu deities on the entrance tower are just amazing. You can enter the temple as long as you are appropriately dressed (knees and shoulders covered) and you can take photos inside as long as you are respectful about it.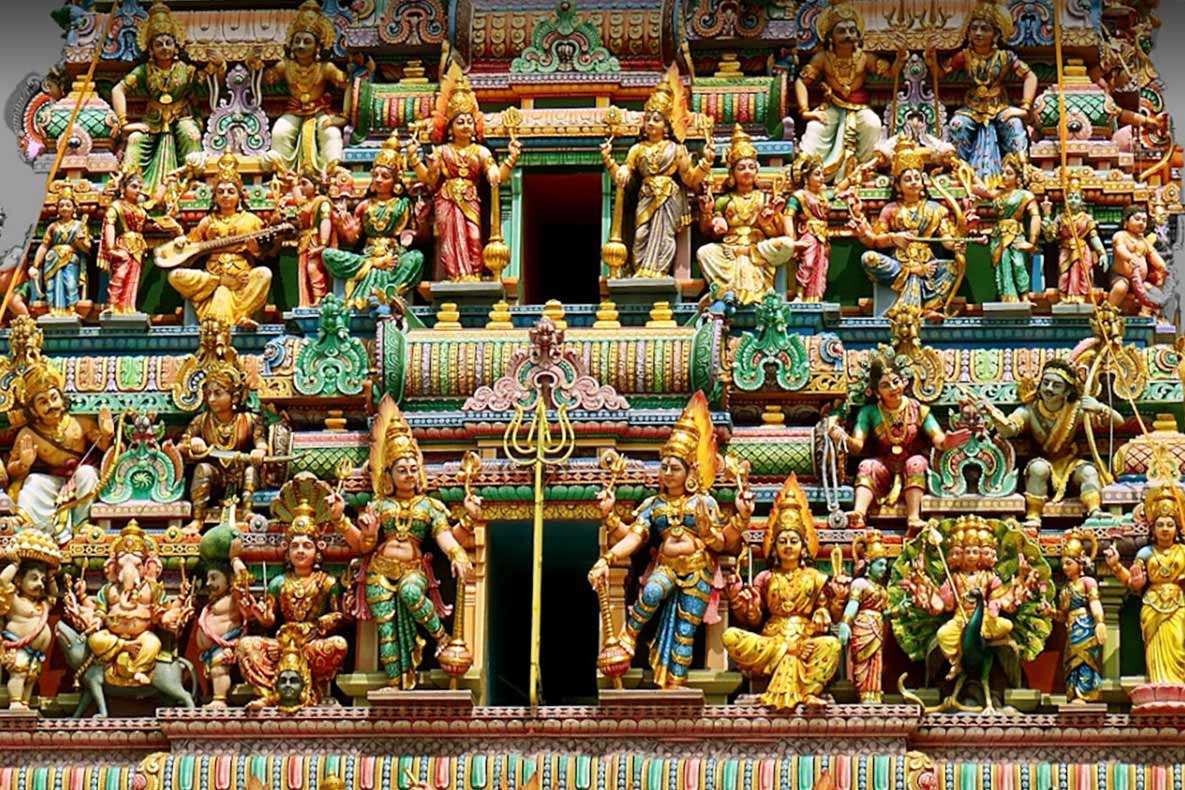 Meat Smith Restaurant
Obviously you will have to be a meat eater to visit this restaurant, but it is a fantastic spin on traditional American meat style dishes with an Indian twist. They have meals like Palak Barramundi, Tandoori Stuffed Wings or Sweet Marsala Pork Ribs.
Find them on Google Maps or check out their Menu
Banana Leaf Apolo
If you are after a more traditional Indian meal, check out this popular restaurant that is famous for serving meals on freshly cut banana leaves. Not for everyone, but the fish head soup is their signature dish. I couldn't do it but Brad embraced the fear and actually loved it. It is very close to the Sri Veeramakaliamman Temple too so you can visit the temple and then come for lunch.
Find Banana Leaf Apolo on Google Maps or check out their Menu
Tours that Visit Little India
Get the benefit of a local tour guide and do a tour that includes Little India. Most of these are either walking tours or food focused which is a great way to experience this part of Singapore.
---
Spend an afternoon Relaxing at Boat Quay
Experience a peaceful riverside escape at Boat Quay, where the Singapore River's quiet waters and the scenic backdrop of old shophouses combine to create a tourist location in the middle of the city.
Stroll down the promenade, lined with attractive outdoor cafés and eateries, and have a mouthwatering lunch while taking in the Singapore river views. The National Gallery of Singapore & The Asian Civilisations Museum are both in this area and are an easy 5 min walk from the main restaurant area.
The Merlion Jetty is also in this area, about a 10 min walk from the centre of Boat Quay. This popular half lion half fish statue that spouts water is an icon on the Singapore skyline. You will also have a great view of the Marina Bay Sands from the Merlion especially at dusk.
What to do at Boat Quay
Eat at one of the Riverside Restaurants
Many restaurants line Boat Quay and you can find almost any type of food here. Thai, Japanese and Malay are the most popular but there are many options to choose from.
If you aren't a fan of the heat and would like to eat inside, Havelock 2 centre has some good restaurants inside the mall. We loved Mikkame a Japanese restaurant on the 2nd or 3rd level (sorry I can't remember) of the Havelock2 Mall.

Their contact info will give you the address and this is their menu. Their Abburi bowls are amazing!
If you would like to have a cheaper meal, Market Street Hawker Centre is very close by just in behind Boat Quay. You can find heaps of options for much cheaper meals here. Last time we were in Singapore we ate a few meals here and loved it.
Sit and watch the sunset over Marina Bay Sands
A short walk from Boat Quay is a great view of the Marina Bay Sands. Head down in the evening to watch the sunset colours over this amazing building. There is a walkway bridge that gives you a great view and also concrete seats along the other side of the bay (just across the bridge) where you can sit and watch the sunset.
Stay At Boat Quay
Personally, this is my favourite area to stay in Singapore. We usually stay at the Park Regis, mostly because Brad visits Singapore for work quite regularly so I don't have to do the budget option that I do when I'm travelling on my own. When I have visited Singapore solo I've stayed at the Robertson Quay Hotel which is the most affordable option I have found in this area (with a pool).
Hotels in and around Boat Quay in Singapore
---
---
Trying Local Cuisine at Hawker Centres
Explore a world of flavours in Singapore's vibrant hawker centres, where you can get amazing food at really affordable prices. Once street side, most of Singapore's food centres are now inside and undercover which can make them a little hard to find. My favourites are below and their locations are shown to make it a little easier for you.
Maxwell Road hawker centre is famous for delicacies like Ah Tai's delectable oyster omelettes and Tian Tian's Hainanese Chicken Rice, noted for its fragrant rice and juicy chicken. Situated in China Town it is easy to find and always has great food.
Tanjong Pagar Plaza Market & Food Centre is another great hawker centre. It is smaller than some of the others but offers great food at reasonable prices. This centre is very popular with the locals so you know its good food!
My personal favourite is Lau Pa Sat which means "old market" in a Hokkien dialect. Lau Pa Sat is housed in the building that was Singapore's first "wet" market that was built over 150 years ago. The building can't be missed and today houses almost 100 food stalls specialising in a wide range of Asian cuisine.
Inside, you will find everything from Vegan, Vegetarian, Seafood and other popular Asian food stalls. Outside on Boon Tat Street side you will find "Satay Street" which is a whole street of meat sticks and satay. Boon Tat Street is only closed at night so during the day it won't have the same atmosphere. You sit on little stools and order as many meat sticks as you like which the stalls bring to you when they are cooked. It's quite an experience.
Lau Pa Sat is located in downtown but only about a 20 min walk from Boat Quay.
Do a street food hawker centre tour in Singapore
These tours of Singapore have a focus on street food and the amazing options in this great city. Consider doing a tour to learn what to eat and where.
---
Shopping at Orchard Road: A Shopaholic's Dream
Orchard Road, Singapore's prime shopping area, is the perfect place to indulge your inner shopaholic. Fashionistas and enthusiastic shoppers will love this busy strip of opulent shops, department stores, and modern fashion outlets.
Make sure to at least visit TANGS – Singapore's oldest department store. While they do stock well known brands, they are usually the more affordable options. This is where I discovered Mel & Co bags. I'm not a shopper at all so I have to be able to get in, find what I want and get out and I could do that at TANGS. I got a great little cross body bag for only $45 SD.
Explore renowned malls like ION Orchard, Ngee Ann City, and Paragon along Orchard Road as you embark on your shopping foray. These malls stock the most well known worldwide fashion names and designer labels that will tempt you for sure.
Orchard Road is also the place for fine dining and cocktails with many amazing restaurants in the vicinity. Try Les Amis, a 3 Michelin star restaurant for some incredible French cuisine. Their meals are usually served as 3 or 4 courses with multiple choices for each course. Lunch starts around $340 SD plus drinks. Bookings are of course essential.
Orchard Road provides a shopping experience like no other, with everything from the newest trends in clothing to magnificent jewellery and electronic gadgets. If your feet get tired, take a break from shopping and refuel at one of the chic cafés and fine dining establishments that line the Boulevard, or just take in the exciting ambiance of this shopper's paradise.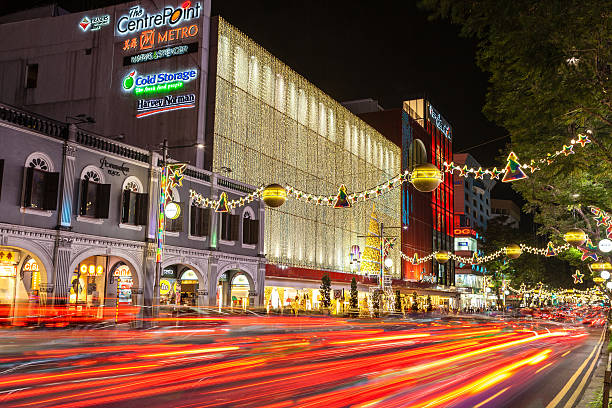 ---
The Iconic Marina Bay Sands: A Landmark of Luxury
The renowned Marina Bay Sands, a stunning architectural wonder that has taken over the Singapore skyline, offers everything from luxury accommodation to shops, restaurants, an Artscience Museum, a stunning observation deck and even Sampan rides.
So, if you're visiting Singapore, put Marina Bay Sands right at the top of your must-see list. And trust me, it's not just about gawking at the amazing design from the outside, there's a whole world of things to do waiting for you inside!
The Marina Bay Sands regularly hosts musicals and events and usually has a great range of festivals throughout the year.
Food is a focus of Marina Bay and you can find restaurants by famous chefs like Wolfgang Puck & Gordon Ramsy. Check out Lavo Italian Restaurant and try the Black Truffle Gnocchi. OMG – so good!
If you are looking to take some great photos of the Marina Bay Sands, head across the bay to the Merlion statue where you can set up your camera on the bridge and snap away. Dusk is the best time as the skyline starts to light up and the coloured lights on the Marina Bay towers create a great focal point.
Alternatively, this evening bike tour around Marina Bay is great. We did it last year and the guide was helpful, the pace wasn't super fast and we learned heaps.
---
---
Discovering Kampong Gelam: A Historic Malay Muslim District
Explore Singapore's colourful and culturally diverse Kampong Gelam (sometimes called Kampong Glam) which has a strong Malay Muslim presence. Kampong Gelam manages to combine a mix of cultures, blending history with hip boutiques, authentic eateries with stylish cafes, and heritage sites with street art.
What to see in Kampong Glam
The Sultan Mosque
The magnificent Sultan Mosque, an outstanding example of Islamic architecture and a centre of worship for the Muslim population, should be your first stop. Open from 9:30am-12pm and 2-4pm this amazing example of an operating mosque is really worth a visit. Of course you will need to be dressed appropriately with knees and shoulders covered.
Singapore Tours that visit the Sultan Mosque
Malay Heritage Centre
At the Malay Heritage Centre, you can learn all about the Malay influence on Singapore's development. There are many historical artefacts, displays and exhibits that showcase the history of the Malay people.
Haji Lane
Head to Haji Lane to explore all sorts of hip boutiques, street art and traditional shops. I purchased an amazing silk scarf at one of the fabric shops here about 15 years ago and I still wear it today. Consider this Haji Lane photography tour if you want great images of this area. If you have limited time, this 2 hour walking tour of Kampong Gelam will walk you through all the very best things to see and do in this neighbourhood while telling you some great stories of the area.
Gelam Gallery
Gelam Gallery is another must visit location in Kampong Glam. This can be done at any time of the day as it is actually a street art gallery with heaps of fantastic examples of art and installations by some very talented creators. There is one building that is covered in peacocks (my fave) and everything else from single colour line art to more traditional mandala inspired paintings.
Head to Muscat Street and walk the length to see everything on offer along Gelam Gallery walk. This website has info on each piece of art.
---
Wander through Singapore's Beautiful Botanic Gardens
Experience the Singapore Botanic Gardens, a calm oasis tucked away in the centre of the busy city. With many tropical gardens and displays it is somewhere you can easily spend a few hours hidden away from the hustle and bustle of the city. Singapore's first UNESCO site, the Botanic Gardens was established in 1859 and has been open ever since.
The National Orchid Garden has over 1000 species of orchids and seeing them in bloom is quite a treat. The Orchid Garden is open from 8:30am to 7pm daily with the last entry at 6pm. While entry to the Botanical Gardens is free you do need to purchase a ticket for the Orchid Garden. At only $15 for overseas visitors it is well worth it.
There is also a Ginger garden, a Wetlands and my personal favourite the Walk of Giants. This is an elevated boardwalk that is 8m in height allowing you to get closer to the canopy of the trees.
The gardens are a perfect option whether you're looking for a tranquil stroll, a picnic in the middle of nature, or a moment of calm introspection. Discover everything on offer at the Garden's Website.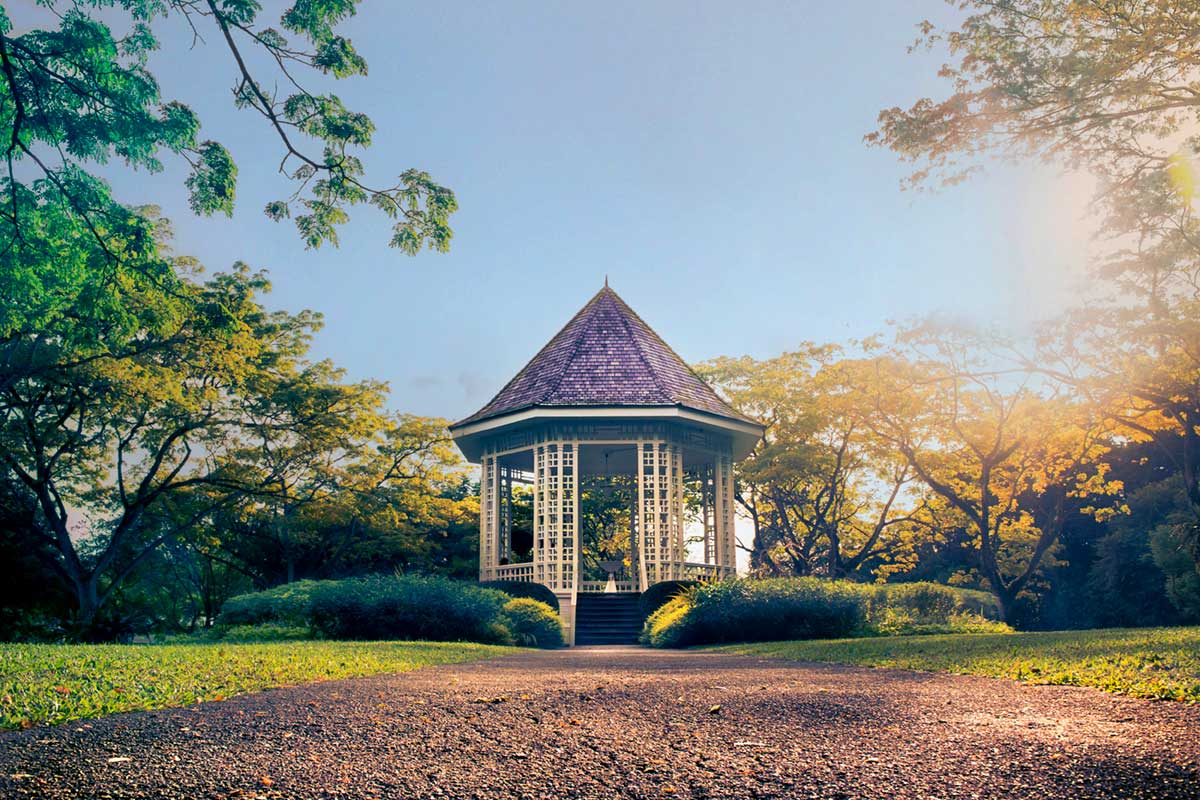 ---
Have an Adventure at Sentosa: Singapore's Island Resort
Whether you're a family with kids, a group of friends, a couple, or a solo traveller, Sentosa Island offers a great selection of attractions and activities.
Theme Parks at Sentosa
If you're a theme park lover, Universal Studios Singapore should be your first stop. With 28 thrilling rides and attractions, you can spend an entire day just exploring this great theme park. For those who appreciate the beauty of the underwater world, the S.E.A. Aquarium is a must-visit. It's one of the world's largest aquariums, with over 100,000 marine animals.
If you'd rather be in the water yourself, head over to Adventure Cove Waterpark for all the water based rides.
Beaches on Sentosa
Sentosa isn't all thrills and splashes. For a more serene experience, stroll along the sandy shores of Siloso or Tanjong Beach, or perhaps tee off at the Sentosa Golf Club, one of the world's best golfing destinations. Head to Palawan Beach which is the southernmost point of continental Asia.
History Sites and Museums on Sentosa
If you're a history buff, Fort Siloso will interest you with its fascinating exhibits of Singapore's wartime history.
For the younger fans, check out Madame Tussauds for all those celebrity selfie opportunities.
Getting to Sentosa Island is a breeze too, with options to take a cable car, a monorail, a bus, or even stroll in on foot via the Sentosa Boardwalk from Harbourfront.
Don't forget to book your tickets for all the Sentosa Attractions ahead of time. It gets very busy and fills up fast!
Places to stay on Sentosa
---
---
Dive into History at the National Museum of Singapore
At the National Museum of Singapore, fascinating exhibits and interactive displays take you on a journey through time as you learn more about Singapore's past. The landmark museum provides a fascinating look into the history and growth of the country via everything from ancient artefacts to contemporary multimedia works.
Originally the Raffles Library and Museum, the museum opened in 1849, moving to its current location in 1887. The museum has some great programmes for children and always offers some great local artists and exhibitions for the National Day Celebrations late July through early August.
There are a couple of cafes on site as well as the museum shop if you would like to purchase a souvenir.
---
Do a Singapore Duck Tour
For a quirky and unforgettable tour of Singapore, hop on the iconic Singapore Duck Tour! It's a revamped WWII amphibious Vietnamese war craft that cruises both on land and in water. You'll get to see and learn about famous landmarks like the Marina Bay Sands, Gardens by the Bay, and the Esplanade, all while quacking away in your duck-themed vessel.
It's a bit naff for sure, but also an entertaining way to experience Singapore's cityscape and history.
Book your Singapore Duck Tour
v
If you feel like the Duck tour might be a bit Naff for you, consider just doing a River Cruise instead.
---
Go Bargain Hunting at Bugis Street Market
Set off on a shopping trip in the thriving Bugis Street Market, a paradise for fashionistas and bargain seekers. This renowned street market provides a wide selection of clothing stores, accessories, gadgets, souvenirs, electronics and more at decent prices.
It is also the place where knock-offs abound so if that is what you are after, this is where you want to go. There are also quite a few nail salons and spas in this area. I'm not sure there is anything you can't buy here, but I didn't see a wet market. There are quite a few bakery type stalls which have some amazing sweets and of course many soup and noodle outlets.
Find the market at 3 New Bugis Street Singapore.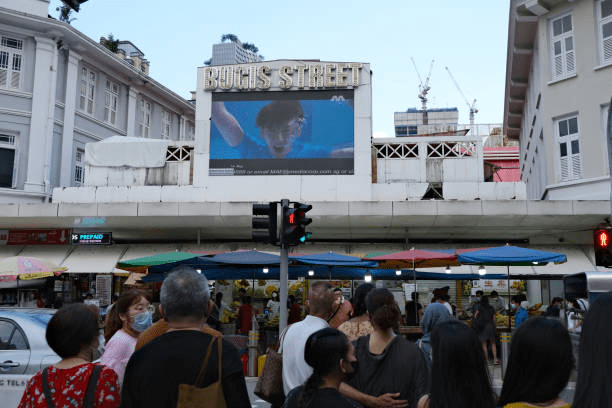 ---
Visit Gardens By The Bay
If you are planning on visiting Marina Bay Sands I would tie in a visit to Gardens By The Bay. I'm a garden nut so I loved this and I think almost anyone would.
Skyway Walk
The super large tree sculptures you see are the Skyway. You do have to book your tickets ahead of time and they come with a set time frame for you to enter. This is so the skyway doesn't get too busy and it is a great idea.
Tickets start at $5 for children and $12 for adults (non Singaporeans) and you have 15 minutes on the Skyway. Book on their website direct.
Cloud Forest
The Cloud Forest is a multi level indoor garden. It is quite amazing and something I wouldn't miss in Singapore. The displays do change from season to season but they also have some that are regularly on show. The Cactus garden is incredible. Again when you book you select a time frame for entry but it is a much wider window than the Skywalk.
The Flower Dome and Cloud Forest tickets are currently $40 for children and $53 for adults (non locals). Again the best way is to book direct on their website.
External Exhibitions
There are a few displays in the outdoor gardens that are worth visiting, especially with the kids. The World of Palms is pretty cool as is the Understory which showcases the organisms that decompose the forest floor leaves.
There are all sorts of art sculptures, some that make sense and some that don't. I'm not really sure what a giant white floating baby signifies but its pretty cool.
While it can seem strange to get excited about plants, this is an excellent facility and I would highly recommend it to all visitors in Singapore. Check out their website for more info on what's on when you are there.
The beautiful cactus gardens on show.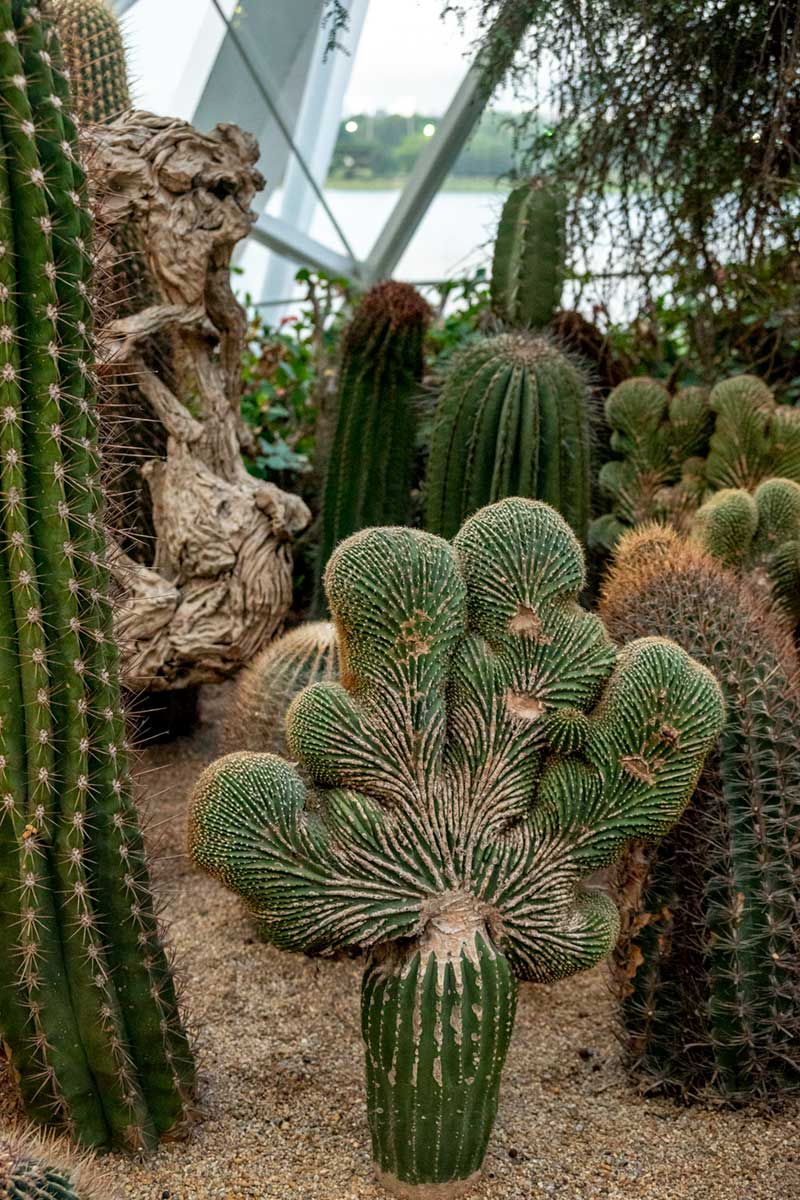 Its amazing how well they grow inside.
---
In conclusion, Singapore has moved way past its 90's stopover reputation. It is now a fully fledged holiday destination and you can easily spend a week or 10 days in Singapore.
Singapore has amazing food, heaps of things to see and do, great shopping and some amazing hotels if you are just up for some RnR.
Yes, Singapore is much more costly than some other Asian destinations but it is a bright clean city that offers services in comparison to many other western cities. English is spoken widely, the water is drinkable straight from the tap and the transport system is easy to use and affordable.
My biggest tip for Singapore is to make sure you book a hotel with a pool. While you might not be a lazing around the pool person, it is wonderful to take a dip in the evenings between your day's adventures and your night out.
Grab Singapore by the horns on a cycling tour of the city
Finally, Singapore is one city in the world where cycling is easy (its flat) and the bike tours are really good. While the traffic is pretty heavy, they are very considerate to cyclists so you don't have to fear for your life like you do in some other cities. Its a great way to get around the city, the guides are comfortable with even the most insecure cyclist and it is a fantastic way to see different parts of Singapore.
---