Hiking Trails Under 10km With Little or No Elevation
The Gold Coast, famed for its sandy beaches and vibrant nightlife, is also a fantastic place for walkers seeking leisurely hikes with picturesque views. Below are some of the best flat Gold Coast Hiking Trails under 10 kilometres, perfect for a family outing or a serene walk in nature. 
Where possible the links for these walks will take you to AllTrails which is a great hiking app that is amazingly easy to use. AllTrails has a great free version which is all most people will need, however the Pro Version which is around $36 USD per year, offers downloadable maps for out of range activities, you can search trails by distance from you and get alerts for when you make a wrong turn (such a life saver when you have a podcast in and aren't paying attention!).
I have the pro version but you won't need it unless you start doing bushwalks where phone signal may be weak and you need to download the maps. The best thing about AllTrails (free and pro versions) is that it has a very cool feature that gives you driving directions to the trail head or starting point via Google Maps.
---
Best Beach Side Walk Gold Coast: Federation Walk – The Spit
Starting at The Spit, Federation Walk is a 7.6km hike through the sand trails of the Spit. Gold Coast Spit is the sliver of land that extends out from Main Beach and is where SeaWorld is situated. This flat path meanders through the coastal vegetation, revealing glimpses of the beach and the ocean along the way. It's a great area for birdwatching, and if you're lucky, you might spot a whale during migration season.
You have 2 options for this walk. You can follow the dedicated Federation Trail as an out and back trail which is approximately 7.6km.
Alternatively you can do the Federation Reserve loop which is, as you would expect a loop. This does involve walking on the footpath along Sea World Drive for part of the trail but this still gives you a great view of the boat basin on the inland side of the spit.
The Federation Reserve Loop is only 3.7km so about half the distance. You park further out from the starting point for the main Federation Trail so make sure you go to the correct starting point if you do decide to do this one. 
All Trails Maps for Federation Trail & Loop
All Trails – Federation Trail
All Trails – Federation Trail Loop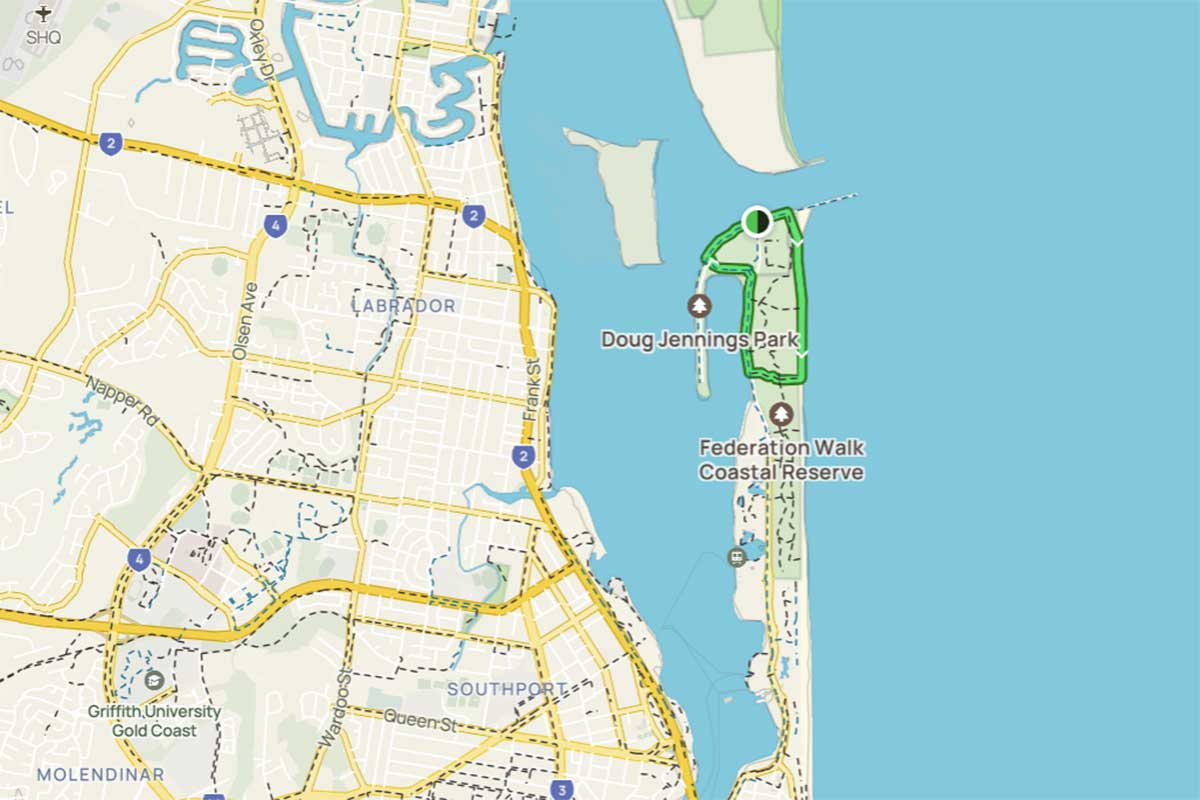 Information About Federation Trail
Suitable For: Nature Lovers, Families with older children.
Not Suitable For: Disabled Access or Prams. The trail is relatively compacted sandy gravel but there can be some sand over the trail at certain times of the year. It is far from soft sand but it wouldn't be wheelchair suitable.
Options: Take a backpack with your swim gear and cool off with a swim at some point along the trail. There are cut throughs to the beach regularly that you can make the most of, however it is advisable to wait until you reach Lifeguard Tower 45 at the northern end of the spit to stay safe in the water.
If the tide is low enough you could also walk out or back along the beach.
More Info: Federation Walk Website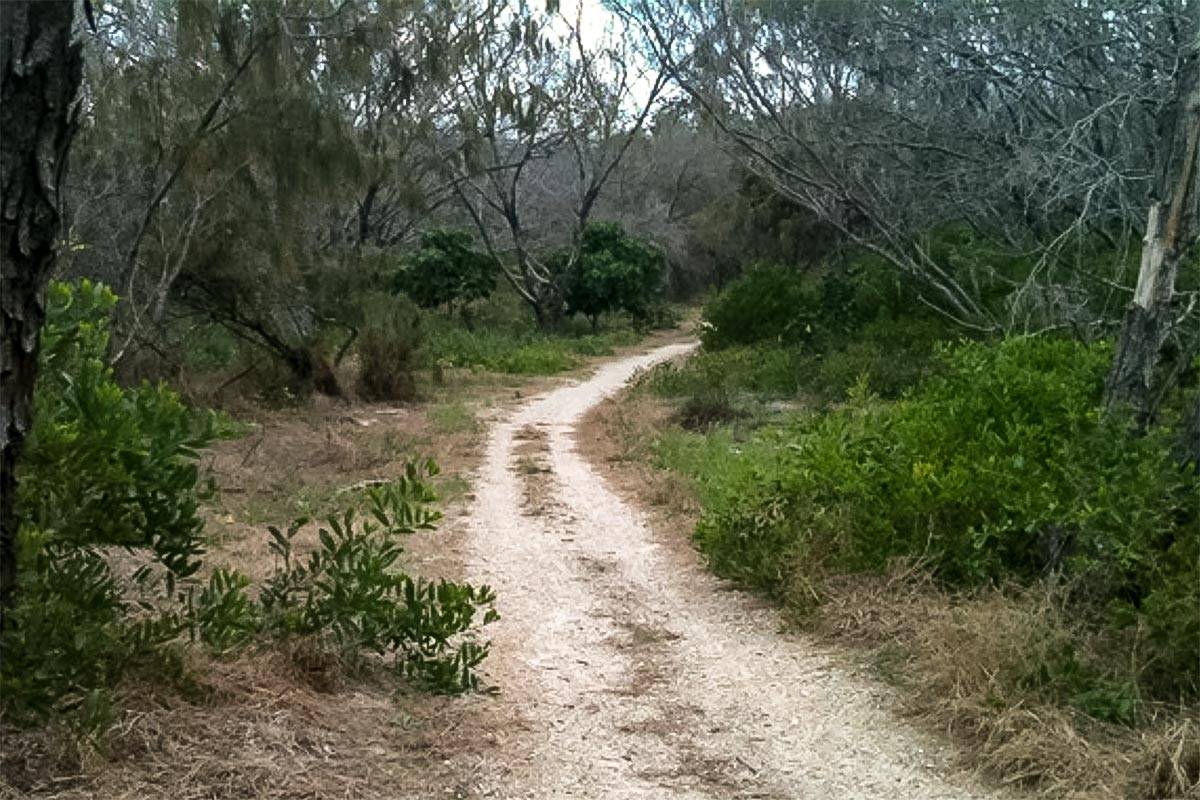 ---
Best Hike for Ocean Views: Burleigh Headland Oceanview & Rainforest Circuit
Situated in Burleigh Head National Park, the Oceanview Walk is a 2.4km track that delivers exactly what it promises: breathtaking ocean views. The trail is relatively flat (please see notes below) and winds its way around the headland, offering panoramic views of the Gold Coast skyline and out to sea.
This beautiful rainforest circuit takes you through lush rainforest, past small sandy beaches on Tallebudgera Creek and has a few lookouts you can visit. 
Keep an eye out for local wildlife like the water dragon, a small lizard that you will often see basking in the sunny spots and the local bush turkeys.
Be aware: Bush Turkeys can scare the bejeezus out of you just because of the noise they make. You can be walking along appreciating this beautiful nature walk and all of a sudden something starts rustling in the bushes behind you.
99.99% of the time it is a damn bush turkey.
They fossick around in the leaves and loose litter on the ground and I've had more than a few nauseating moments caused by a bush turkey. I don't even hear them anymore but the first time it happens it's hard not to panic. 
This is by far one of my favourite walks on the Gold Coast. I walk it most days and while I must already have 1589 photos of the view out to the city over the local surfers I always seem to take another.
Notes on this walk: If you are after a steady path with the least amount of elevation increase, you need to do the circuit clockwise from the starting gate. This will avoid the stairs up to the lookout. You do still have to do the stairs, but it will be on the way down so it will be easier if you have anyone who isn't keen for 200 stairs on the way up.
Once you are on the path:
You will follow the path around the ocean, down Tallebudgera Creek side until you see a right turn. You take this turn (it's the only right turn) and head back up through the national park.
After about 500 meters and a little switchback with 3 stone steps you will come to another junction. The main path keeps going straight but if you turn left here it is a much lesser gradient up the hill. This is where AllTrails will want you to keep going straight. If you want to make it easier, turn left here. Both paths join at the same place later anyway.
If you take the steeper path you will automatically pass the lookout at the top of the hill. If you don't take this path and use the less steep option, when you get to almost the top of the hill you will come around a bend and will have the option to continue straight or turn left to go down. Straight for about another 100 meters will get you to Tumgun lookout. If you do decide to head up to the lookout, the best way out is to turn around and come back to this point again and then take the path heading down the hill. It isn't necessary to visit this particular lookout as in my personal opinion you won't see anything you haven't already seen on the walk around past the ocean.
At one point a little way down, you turn a sharp left, however just 10 meters in front of you after the turn you will see a timber bench and a fantastic lookout over the city.
This Map below has the easier route added in light green.
All Trails – Oceanview and Rainforest Circuit Map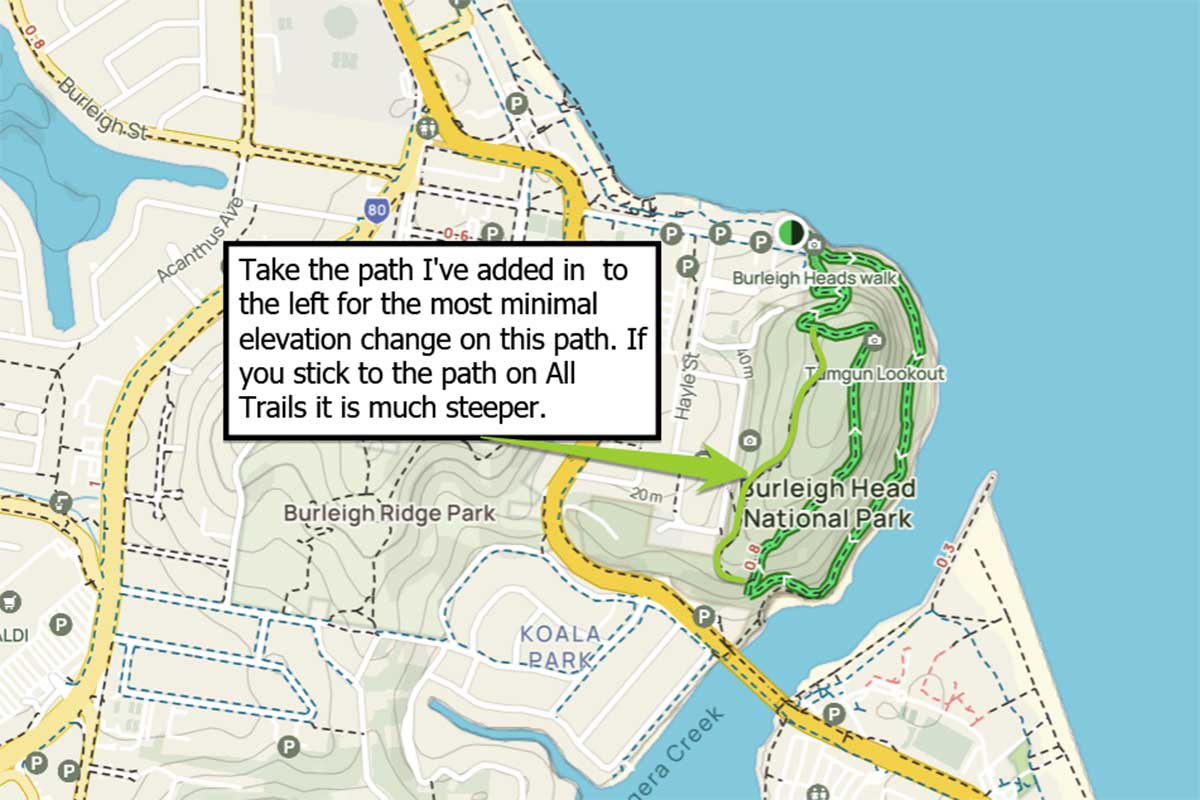 Information On Oceanview and Rainforest Circuit
Suitable For: Most people who are stable and like walking. Smaller children should be OK because its not a super long trail.
Not Suitable For: There is no disabled access for this trail and prams or strollers are not allowed. Dogs are not permitted on this trail as it is a national park. This isn't something to be treated lightly. Rangers are on the trail often and will give you a hefty fine. They will also not be super nice about it. Bacteria from domestic animals can wipe out our native species in just weeks so please be respectful and leave the dog at home or the kennel for the day.
Options: Take your swimming gear and stop at one of the beautiful coves along the way, or have a swim at the main Burleigh Beach after you are done. Toilets are next to the Pavilions Building at the bottom of the hill before you head up to the headland. Parking can be a real challenge on the weekend, so your best bet will be to use this paid carpark up between Swell and the town centre.
Rates are reasonable and you just need your registration number at the meter to purchase time. Gold Coast City Council page for this carpark can give you more info. Parking is paid between 9am and 5pm every day and free outside those times.
Parking prices at time of writing this post were $1.60 for an hour and $5.30 for the day.
---
Best Hike for Animals: Coombabah Lakelands Conservation Area
Explore a variety of ecosystems on a variety of trails through Coombabah Lakelands Conservation Area. This area offers some easy nature walks on the Gold Coast ranging from only 1km to just under 10km. These will take you through wetlands, melaleuca forests, and casuarina groves, providing ample opportunity to spot kangaroos, koalas, and a wide array of bird species.
The 3 main trails are shown on this AllTrails page, all leaving from the main trailhead. The shorter 1km Coombabah Reserve and Mangrove Walk starts from a little further around Shelter Rd and is a solid boardwalk and bitumen trail through the area. If you are after wildlife (there is almost always many many kangaroos) the longer trails are better, however you don't have to walk the entire trail.
Both Koala Track and Melaleuca Trail cover the same ground for the first 1.2km and you will see what's known as Kangaroo Field about 800 meters along the path. It is very obvious. It's a wide open grassy area usually with 40 to 50 Kangaroo's lazing around.
When the trail splits, if you continue ahead this becomes Koala Track and the next section offers you the best chance of seeing a Koala. They are very difficult to spot and while I have seen one here, I've probably walked this trail 5 or 6 times and I've only ever seen one!
Notes on this trail: Make sure you are wearing insect repellant as the mosquitos can be nasty!
All Trails Map – 3 Main Coombabah Walks
All Trails Map – Coombabah Reserve and Wetland Walk
Information on the Coombabah Wetlands Trails
Suitable For: Most walkers. The trails are hard compacted gravel with the exception of the Coombabah Reserve and Mangrove Walk which is bitumen and timber boardwalk.
Not Suitable For: Dogs are not allowed on these trails due to the amount of wildlife in the area.
Options: There are NO TOILETS at the trailhead here so if you are planning on the longer 9km route the closest public toilets are on the esplanade at Bayview Street, or at Harbour Town Shopping Centre.
---
Best Chance Of Seeing Koalas: Tallebudgera Creek Conservation Park
Tallebudgera Walk is a 3.2km out and back trail with minimal elevation, making it perfect for a leisurely hike. Meander alongside Tallebudgera Creek, take in the lush greenery, and enjoy the tranquillity of this beautiful conservation area. Starting at the David Fleay Conservation Park this trail follows Tallebudgera Inlet from the park through to Koala Park, the suburb directly behind Burleigh Headland.
There are a few ups and downs (but nothing major to speak of) and there is a small hill just before you come out onto the street but it's nothing really at all. Once you hit the street, this is where the trail technically ends. If you turn around now you will be walking just over 3km.
All Trails Map – Tallebudgera Creek Walk
If you would like you can cross the road and there are a set of stairs down through the bush to the next section of the road. Or you can just turn right at the street and follow it down and continue on to Burleigh Headland or Burleigh village for a coffee or breakfast. If you were to take this longer option by the time you got back to the car it would be around 10km (with a stop for breaky or lunch in there).
To add this extra on:
Follow the extra path I've marked around the foreshore to the bridge.
Cross under the bridge to keep going around Burleigh Headland OR
turn left and follow the side street of Djerral Ave behind the giant Koala (it will make sense) almost to the end of that street where it starts to veer left. You will see a set of stairs on the right leading up to Gold Coast Highway just before the bend. Follow the highway into Burleigh Village for a coffee or breakfast.
Information on Tallebudgera Creek Walk
Suitable For: Most walkers. If you only do the Tallebudgera section there is limited elevation change and its bitumen path the entire way. If you do decide to keep going as long as you stop in or around Burleigh for a drinks break it will be around 5km each way.
Not Suitable For: Dogs – its national park so no dogs allowed. The first part of the walk is accessible so prams and wheelchairs would be fine almost to the finish of the boardwalk. Wheelchair walkers could do this walk up to the road crossing but might need a hand up the smaller hills.
Options: As you walk past David Fleay's Conservation Centre on your left, keep an eye out for Koalas. I've seen a Koala inside the park every time I've done this walk and I actually saw a mum and baby cross the path in front of me once which was pretty spectacular.
---
Best Coastal Walk: Main Beach to Lands End Runaway Bay
Are you looking for a coastal walk instead? Then consider the Main Beach to Lands End walk starting in Main Beach. At just over 14km, this probably shouldn't really be on the list of walking trails under 10km in Gold Coast, but it can be done in shorter lengths if you would like.
Yes, this walk is more than just a morning stroll but it does meander along some of the Gold Coast Seaways best scenery. From the stunning stretch of Main Beach, you'll walk along the coastal path past Southport, ending at the very southern end of Runaway Bay, Lands End.
There are many cafes and restaurants along the way so it's easy to stop for a drink or some food. The path follows the coast along the broadwater and through to the inlet between Labrador and Runaway Bay.
There are water fountains and toilets are regular intervals and you can catch the bus back to your starting point when you are finished.
Make sure you turn around when you get to Lands End and check out the city view behind you.
Notes About This Walk: You can get the 704 Bus back from Labrador to Main Beach if you have parked there, however, you will have to walk back to the Marine Parade Bus stop from Lands End to get on the bus. That adds about 1.5km to your walk. The alternative is to stop when you get to Marine Parade Bus stop and just grab the bus from there. I can't remember if you will get as good a view of the city from this location as you will at Lands End, but if you have had enough its good to know you can stop here.
All Trails Map – Main Beach to Lands End
Information on the Main Beach to Lands End Walk
Suitable For: Keen walkers who are able to walk 15km. Dogs are welcome along this path but that's a long way for a dog to walk if they aren't used to it. You also won't be able to take the dog on the bus on the way back.
Not Suitable For: Leisurely walks, however as you do go past the Broadwater Parklands you could just go a short distance for a view back to Marine Mirage and SeaWorld from the Broadwater.
Options: Stop at Marine Parade Bus stop for the shortest version or continue on to Lands End and walk back to Marine Parade to make the walk around 16km. There are many restaurants and cafes along this walk so you can stop multiple times if you would like to.
---
Best Inner City Parks Walk: Emerald Lakes Circuit
This 6.3km loop is situated in Cararra just behind Broadbeach. Emerald lakes is a man made suburb that is based around a European lifestyle of townhouses and apartments centered around a local village. The AllTrails map shows you parking and start point along Nerang Broadbeach Road, and while this is the most easy area to park, I would recommend going into the village and parking in there. This will mean you can grab a coffee or a drink when you are done. Parking can be a little limited in this area but I've always managed to find something.
There are also carparks in different locations around the edge of this walk so that is also an option. This walk takes you past waterside homes, a few private schools and along some nice green sections surrounding the estate. As its only 6km long it is perfect for dogs. You will see locals running, walking and sometimes fishing off the bank. On the odd occasion you might see the local kayak club on a day out and while this is in the suburbs, the greenery, access to the village and its central location makes this one of the best short hikes in the Gold Coast.
Try Cabukee Specialty Coffee for a break. I've not eaten there but their coffee is always good.
There are toilets in the village but they aren't always open. You might have to buy a coffee to get the key, or alternatively head to Cararra Markets which are about 5 mins drive away and use the facilities there.
All Trails Map – Emerald Lakes Circuit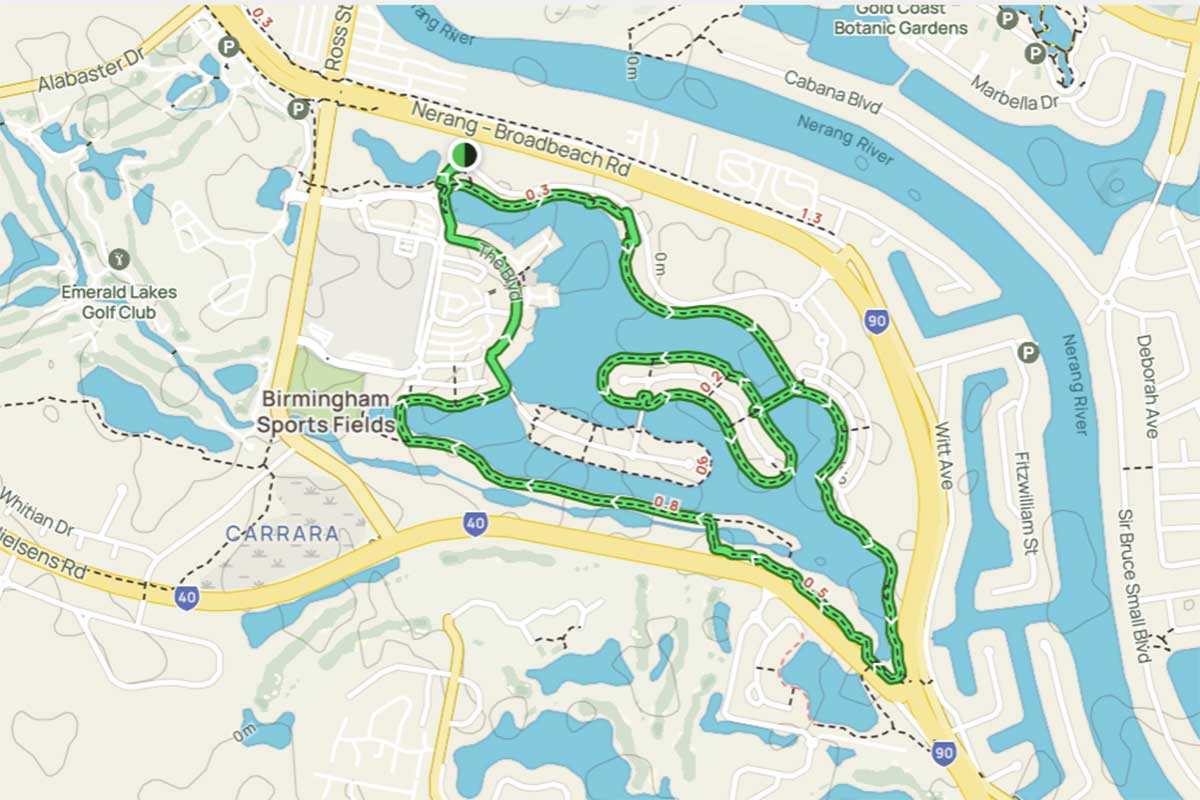 Information About Emerald Lakes Circuit
Suitable For: Everyone that can walk or roll 6km.
Not Suitable For: Small dogs that can't walk that far I guess.
Options: Start and end in the village for some lunch, a coffee or a beer after you have finished.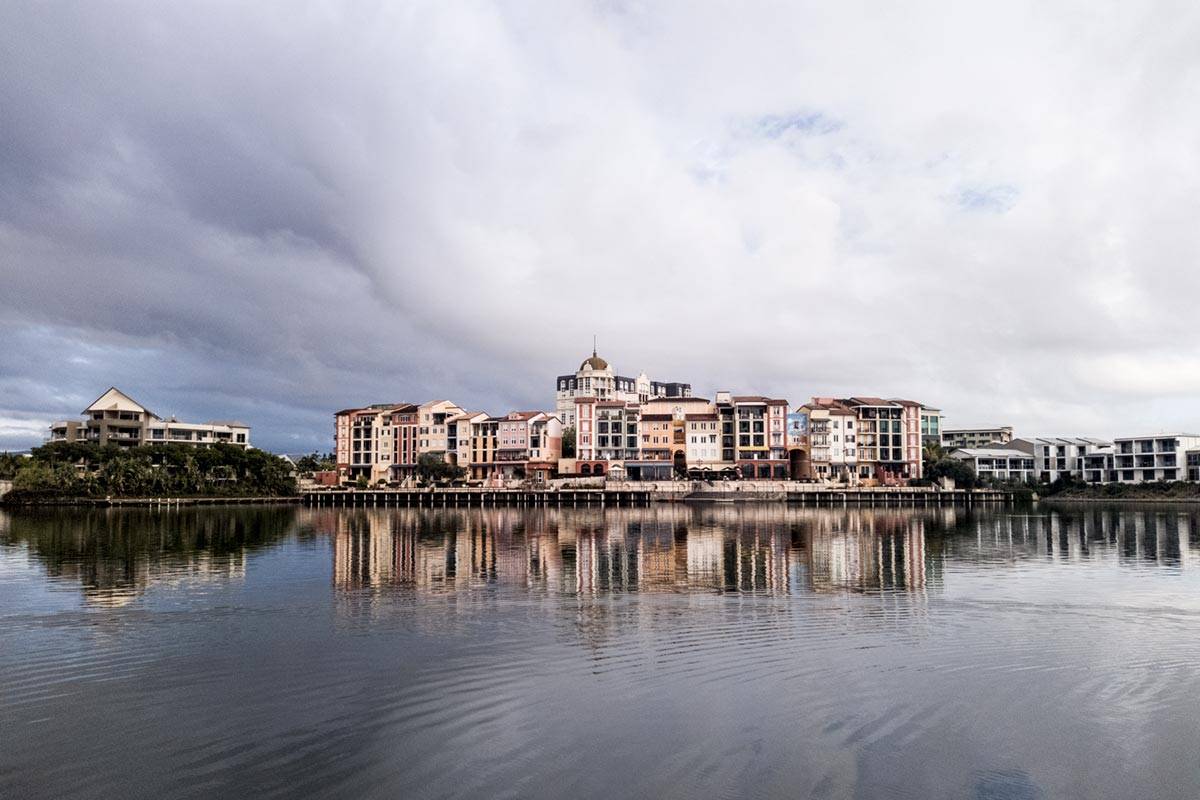 ---
Best Walk With Children: Gold Coast Botanic Garden Loop
Probably the easiest walk on this list, the Gold Coast Botanic Garden Loop is just under 4km long and as the name suggests is around and through the Botanical Gardens. Parking is off Ashmore Road and if you see the Cemetary don't be put off, you are going the right way. Once you park, head to the starting point and work your way around the route.
It's very pretty. There are lakes, fountains, green spaces and some great plants to see. It's accessible for everyone so strollers, dogs on leads and children are welcome.
Its a great spot for a picnic so bring your rug and some snacks and have a laze under a tree or spend some time enjoying the sun in the winter months. This is probably one of the best family-friendly hikes on the Gold Coast.
All Trails Map – Gold Coast Botanical Gardens Loop
Information About Gold Coast Botanic Gardens Walking Route
Suitable For: Everyone
Not Suitable For: This walk is for pretty much anyone – dogs are welcome on a lead.
Options: Bring a picnic to enjoy the gardens with the kids
---
Wrapping Up: Best Flat Hikes On The Gold Coast
Whether you're a casual walker or a seasoned hiker, these flat and short hiking trails on the Gold Coast offer something for everyone. Discover the natural beauty of the Gold Coast and experience the region's diverse flora and fauna on these easy and accessible hikes.
There are walkways along most of the coastline from Coolangatta up to Runaway Bay, so you can walk the entire length from the north to the south. I've walked from Paradise Point to the Queensland NSW Border once. It is around 38km and took me 2 full days, but I loved it! I'm a pretty dedicated walker though.
How to Get Around The Gold Coast
The buses and trams follow Gold Coast Highway up and down the coast so getting to and from a walk won't be too challenging. Translink has a Journey Planner to work out your trip there or back, and GoCards (which you need to use on the buses and trams) can be bought at almost any 7Eleven. They are reloadable at some larger stations (Broadbeach South or Surfers Paradise), online (you will need to create an account, or on the buses with cash.
Frequently Asked Questions About Flat Hiking Trails On The Gold Coast
1. Do I need any special equipment for these trails?
Most of these trails are well-maintained and don't require any special hiking equipment. However, comfortable walking shoes, sun protection, and plenty of water are always recommended.
2. Can I bring my dog on these trails
Rules vary depending on the trail. Some trails allow dogs on a leash, while others prohibit pets due to wildlife concerns. Always check the specific rules for each trail beforehand. I have tried to address dogs for each trail in that section as well.
3. Are these trails suitable for children?
Yes, these trails are generally flat and under 10km, making them suitable for families and children. Always supervise children near waterways or cliffs, and ensure they stay on marked paths.
4. Is there parking available at the trailheads?
Most trailheads have parking areas nearby. However, these can fill up quickly during peak times, so consider arriving early or using public transportation if available. Where applicable I've mentioned where to park.
5. Can I cycle on these trails?
While some trails may allow cycling, others are pedestrian-only. Check the specific guidelines for each trail to see if cycling is permitted.
6. Is there water fountains along these trails
The coastal trails I mention will have water fountains for both you and your dog quite regularly. The more forest and bush trails will most likely have a water fountain at the trail head, BUT DON'T RELY ON IT! Its always a good idea to bring enough water for each of you.
---
---
---