Visiting Historic St. Augustine Florida – What To see!
Spending a week on Tybee Island on the coast of Georgia near Savanah meant a decent drive from Miami. We had just spent 2 weeks sailing in the BVI's (British Virgin Islands) so were feeling exceedingly rested and refreshed and as Australians we aren't strangers to long drives. We figured that it might not be a road trip we do again, so we decided to take a couple of days and see what the coast between Jacksonville and Charleston had to offer.
St. Augustine is one of the most visited locations in the US. I was stunned by this, however the history packed town appeals to a wide range of tourists.
What is St. Augustine Florida known for?
While many people believe that St. Augustine is the oldest city in the United States, it is actually the oldest continuously occupied European settlement in the United States. Having been settled by Spaniard Don Juan Ponce de Leon in 1565, St. Augustine has over 450 years of European based history behind it.
Unfortunately I couldn't find any real information about what Native American groups may have been in the area prior to this. I would love to hear about that and if you can find something significant please let me know. From what I can see, the Guale were a Native American chiefdom of Mississippian culture that were located along this coastline. In the late 17th century the Guale population were decimated by diseases brought in by the Spanish settlers and a lot of their survivors ended up in the Spanish missions. Those who remained in their traditional lands later joined with other survivors, becoming known as the Yamasee.
About St Augustine
Throughout its long history, St. Augustine has been the site of many significant events, including battles, fires, and hurricanes, and has undergone periods of Spanish, British, and American rule.
During the late 19th and early 20th centuries, St. Augustine became a popular tourist destination, and many historic buildings were restored and preserved. In the mid-20th century, the city was also a focal point of the civil rights movement, with sit-ins, marches, and other protests taking place to challenge segregation and discrimination against Black Americans.
Today, St. Augustine is a thriving community with a rich cultural heritage, and its historic downtown area is a major attraction for visitors. The city is also home to numerous museums and cultural institutions, including the St. Augustine Lighthouse & Maritime Museum, the Lightner Museum, and the Castillo de San Marcos National Monument, which is a well-preserved 17th-century fortress and a major tourist attraction.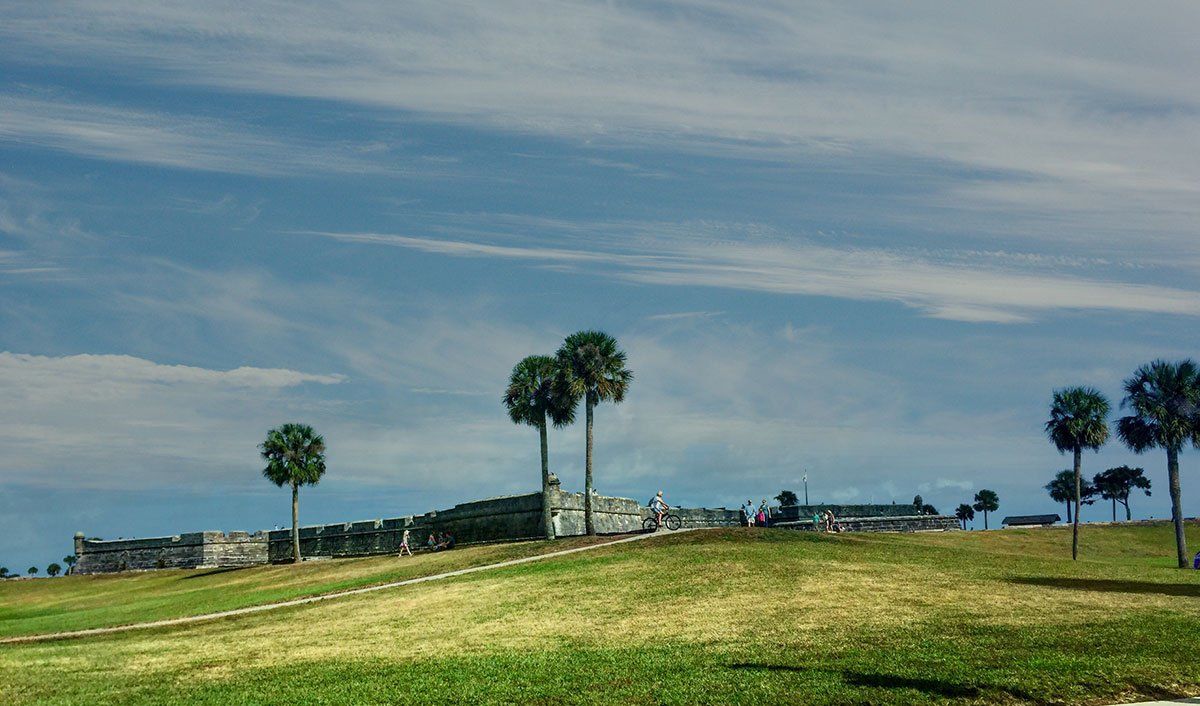 Where to Stay In St Augustine
St Augustine has many budget, mid range and luxury hotels so you should have no trouble finding something to suit your budget. My main recommendation would be to plan and book early. I would book your accommodation before your flight even just to be safe. Because of the weather, St Augustine is busy most of the year. Summer is probably a little quieter, but not too much.
We had left our run a little late and couldn't find any really affordable accommodation in St. Augustine itself, so we headed out to Vilano Beach. I was actually glad we had missed all the accommodation in town as the beach was lovely. We walked for miles in the mornings, went in to St. Augustine when we wanted to and ate at a few little local restaurants and bistros. Check out some accommodation in Vilano beach if you are planning to head there soon.
Vilano Beach is close to St. Augustine (about 3 miles) and is a lovely beach community. There are a lot of holiday homes but also motels and resorts. In the right season you can drive your 4×4 on Vilano Beach and you can bring dogs all year round. It is a wide sandy beach and parking and access is pretty easy. In the right weather there is sometimes surf right off the sand at Vilano Beach.
Check out Florida Beaches for more info.
---
Exploring historic St. Augustine
Parking can be a little challenging on a busy day in the city center, so consider parking a little further out and walking in. There is a paid car park close to the Castillo, however it is often full. We drove down through the historic district and parked in Lincolnville and walked the short distance back. There is parking along the main drag but it can be hard to get a park.
The historic district showcases almost everything you will want to see. A great place to start is the Castillo de San Marcos National Monument which is a Historic fort that was used to defend the city from ships attacking via Matanzas Bay. The fort was originally a timber construction, however after an attack where the town was burned to the ground it was rebuilt pretty much as you see it today.
From here, I would recommend getting on the Trolley. The Old Town Trolley 1 day ticket is around $40 and is a great way to get around the town. I would recommend doing the full route and then going back and getting off to what you would like to. They have a great map that enables you to see where you are and the tour is also fully narrated.
2 Day tickets are also available as is a Haunted Trolley Tour in the evenings!
What to Do and See in St. Augustine – My Recommendations
The Colonial Quarter
Situated on George Street in the Historic district, the colonial quarter is a great way to see how people lived in the 1700's. There are 4 areas to explore, all showcasing a particular time frame and colonial settlement. From one that shows what life was like in a British 14th Century colony to a fortified Spanish town. This is a great area to plan for just before or after lunch as there are a few restaurants where you can refuel for the afternoon ahead.
The Spanish Bakery and Cafe
You could also consider a visit to the Spanish Bakery and Cafe. This cafe serves sandwiches and light meals that have a very Spanish influence. The 1790 salad was amazing! It is funny because you immediately think of the food being influences by the US's southern neighbours but of course they got it from the Spanish.
Visit the St. Augustine Shipwreck Museum
Not usually a museum lover, I was really surprised at how much I enjoyed this treasure based museum. They have displays from some of the well known ship wrecks from not just the continental US but also China, The Mediterranean and even some Titanic treasures. It is worth a visit.
Wander George Street
Along with souvenir shops and art galleries, George Street is also home to quite a few chocolate and candy stores. I'm not usually a sweet eater but I did mow my way through some hand made caramels in just one afternoon. I'd like to say it was a really small bag but it wasn't! They were just divine. There are also more than a few taverns and bars to choose along this section and there is something very cool about drinking cocktails and watching the sunset from a roof top bar.
While you are on George Street, check out the oldest wooden schoolhouse. It won't take you long and its worth a look. You will be told about school life by an automated teacher which is strange but fun at the same time. The Panama Hat Shop is also a must visit on George Street. I bought one here and 7 years and about a million kilometres later its still going strong.
This gentleman below seems to represent a fair slice of the locals and tourists alike!
Don't forget to detour and check out The Golden Gypsy for any gifts or homewares. They have some very unique gifts and a lot are very reasonably priced. Everything from Candles to jewellery to paintings. Most of it is quite unique too. If you are coming down George Street from the Castillo, turn left into Cuna and it is in the second block on the right hand side. Google Maps Location
Check Out The Art At The Lightner Museum
The building itself is gorgeous but when you add in the fact that there are 3 levels of art, you can spend an hour or 2 wandering through this Spanish Renaissance Revival style building.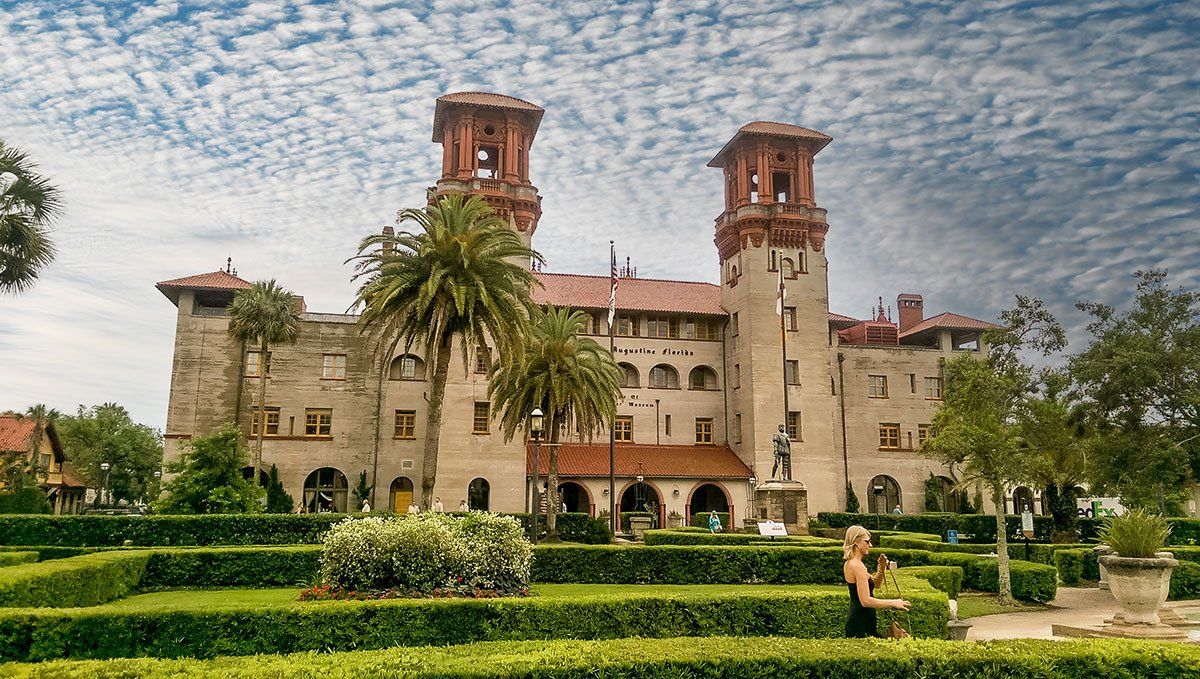 Visit the Saint Augustine Distillery
I've often wondered why this business uses the full "saint" and not the "st." that is from St. Augustine's name – but I didn't think about it at the time. If you know please tell me why that is! It's weird because the drums have St. Augustine but the business name seems to be Saint Augustine.
This is a tour worth doing. It runs about an hour and when we were there it was primarily a rum distillery. I've looked again recently and it seems Whisky is the order of the day now. It's a great tour, and the give shop that you have to walk through to get out is very hard to leave! We always intended on purchasing some rum but I didn't leave with just that. I usually have no challenge walking on through those gift shops but it was rum and I"m a rum drinker so I spent probably more than I should. Even if you just do the tour, it is well worth it.
Of course if you have the time, there are numerous boat tours you can do and there is the beach which is worth spending a few days on. No matter what your taste, I'm sure you will find something that peaks your interest in historic St. Augustine.
Boat Tours In And Around St Augustine
FAQ's about St. Augustine
Do I need a car in St. Augustine?
St. Augustine is easy to get around and with the Trolley simple to do longer distances if you are not a walker. Park your car up and walk it. It's not worth the hassle of parking. Of course this is assuming you are staying in town. If you are further afield, yes you might need a car, however we used Uber with no challenge from Vilano Beach.
How long do I need to spend in St. Augustine.
While everything is within a short walking distance (with the exception of the beach) I would say 2 days are better than 1. This will mean you don't have to squeeze everything into one day and of course if you stay longer you can add a beach day in there. If you are after a real RnR type experience a week would give you time to explore and sunbake.
Where are the best places to stay in St. Augustine?
With accommodation ranging from local inns to hotels in or close to the historic centre its not hard to find a level of accommodation to suit. I do recommend booking in advance though as it seems to be very popular.
What is the best time to visit St. Augustine
The climate in St. Augustine is sub tropical. This means hot summers and mild to brisk winters. I would say the cusp seasons of March to May and late Sept to Oct are the best times to visit. Keeping in mind it is not cold in the winter however they do typically have their rain in the winter months. Check out Shannon Lee's what to pack for your Florida trip to make sure you are ready for anything.
Where is St. Augustine Located?
St. Augustine is located around 40 miles south of Jackson ville and is an easy drive straight down the I-95 South. Alternatively it is about 53 miles north of Daytona Beach. Again, you just jump on the I-95 heading north. Either trip should take you between 50 mins and an hour.
How Long Should I Stay in St. Augustine?
If you are a real history nut and are going to want to see and check out everything on offer I would say you will need at least 2 full days. I'm not historically oriented at all, and we filled one full day and probably about 3-4 hours the next day. The worst that happens is that you book an extra night and spend some time at the beach. That's not to be sneezed at!
Day Tours Of St Augustine You Might Like
---
Accommodation Options for St. Augustine
Red Roof Inn
BUDGET:
From $195 AUD per night for a double room, this hotel does give you value for money in St. Augustine. This hotel IS NOT in town though.
Check Current Prices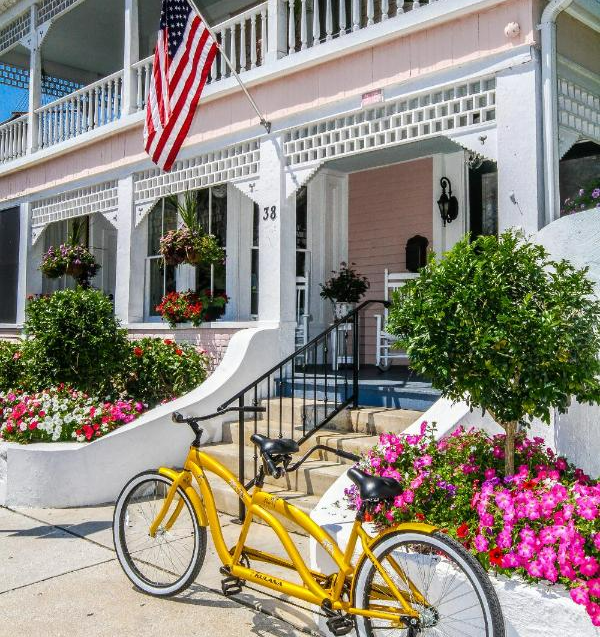 Kenwood Inn
MID RANGE:
Starting at $440AUD per night this is actually mid range for St. Augustine. At only 1km from the Castillo its in a great location. It also has a pool.
Check Current Prices
---
Conclusion: St Augustine Florida
Overall I was surprised at how much I enjoyed St. Augustine. Typically I'm not a history buff and get bored very easily, however I really enjoyed this Florida city. We spent one full day in the historic area and another few hours when we came back the next afternoon for the Distillery tour.
If you are a dedicated history nut I'm sure you will fill at least 2 days very easily.
---