My top 20 must do's in Spain
Spain is a country of stunning landscapes, lovely people and incredible food. Known for its historic buildings and fortified castles, Spain is much more than a historically based destination. From the small towns to the white sand beaches, here are my top 20 destinations to visit in Spain.
1. The Alhambra, Granada
The Alhambra is the most visited monument in Spain, and for good reason. It's a stunning mix of palaces, gardens and fortifications that were built as summer retreats by Muslim rulers who ruled Spain from the 8th to 15th centuries.
The Alhambra comes from Arabic words meaning "red" and "fortress." The original name was Al-qala'a al-hamra, which means "red castle." The name has been translated into many languages over the years, including English as the Red Fortress or Red Castle.
Alhambra means "the red one," referring to its red sandstone walls and towers. It took 800 years to build the Alhambra, starting with a fortress in 906 AD (when Spain was still under Arab rule). Though it was mostly destroyed during Spain's War of Independence in the early 18th century, King Charles III commissioned architects to restore it at the beginning of the 19th century and then again in 1901 (after another fire).
The Alhambra could end up being a full day as its a large site. My top recommendation is to get a guide. You learn so much and can ask questions along the way. Here is my full Alhambra Visitors Guide
Day Tours For Alhambra and Generalife
---
2. Sagrada Familia, Barcelona
The Sagrada Familia is without a doubt the most famous building in Barcelona. It's not an ordinary church, but a visionary project by Antoni Gaudi, who wanted to create the greatest church in the world. Construction began in 1882, and it is still unfinished (hoping to be done in 2026).
The church is a mix between Roman Catholic and Catalan traditional elements. The stained glass windows are beautiful and they help to illuminate the interior of this fascinating building.
The interior of the building is open for public viewing every day except some public holidays & Christmas Day. You do need to buy tickets – it isn't really a church per se, its a tourist attraction. The tickets start at €26.00 per person & €40.00 if you want to visit the towers. That does include an audio guide that works with the Sagrada Familia app (download necessary).
It is really something to see and tickets do sell out FAST! If you can't get a ticket, try a tour as they often will have availability right up to the day prior. Try this Sagrada Familia tour that includes the towers.
I expected this to be an amazing building but I was blown away at just how amazing it was. Not to be missed!
Day Tours For Sagrada Familia
---
3. Cathedral de Santiago de Compostela, Galicia
The Cathedral of Santiago de Compostela is the resting place of St. James, one of the apostles of Jesus Christ. It is located in the heart of Old Town and everyone should take some time during their visit to Galicia to go see it.
The cathedral was built during the 11th century and has been a religious site for pilgrims from all over Europe for centuries. The cathedral is massive, with three different entrances and dozens of elaborate decorations. The main entrance to the church is on the south side. This door features scenes and stories from the Bible that show the life of St. James.
The cathedral is also the finishing location for the thousands of pilgrims that walk Spain's Caminos. I can tell you that there are probably more tears of joy spent here than sadness.
A Day Tour Of The Santiago de Compostela Cathedral
---
4. Almeria, Andalusia
The Andalusian province of Almería is the driest in Europe, which means its arid landscape is usually not one associated with beautiful beaches and great weather. But what it lacks in rain, Almería makes up for in sun, and that's why it's become a popular destination for travelers looking to soak up the rays. Here are 3 reasons you should visit this vibrant region.
1) The Beaches: Almería has more than 100 kilometers of coastline along the Mediterranean Sea, making it an ideal spot to sunbathe and swim. One of the most popular destinations is Cabo de Gata-Níjar Natural Park, where visitors can enjoy long stretches of golden sand and sparkling blue waters.
2) The Climate: Because of its location on the southern coast of mainland Spain, Almería has a sunny climate year-round. It gets an average of 320 days of sunshine per year, which means you're almost guaranteed great weather whenever you visit.
3) The Food: Almería's cuisine is similar to that of other regions in Andalusia, but it has its own distinctive dishes as well. You won't want to miss out on local specialties like gurullos (fried pasta with rabbit),
---
5. Museo Guggenheim Bilbao, Basque Country
The Museo Guggenheim Bilbao is a museum of modern and contemporary art in Bilbao, Spain. It is located in the borough of Nervión, on the shores of the Nervión River, which was previously the mouth of the river. Designed by Canadian-American architect Frank Gehry, it opened on 19 October 1997.
The museum was designed by Canadian-American architect Frank Gehry. The building was constructed on time and within budget.
The museum's permanent collection includes works by Pablo Picasso, Joan Miró, Alexander Calder and Wassily Kandinsky, among others.
The museum had more than 1 million visitors in 2017 and more than 2 million visitors in 2018.
Museo Guggenheim Day Tours
---
6. Ibiza's Beaches and Nightlife
Ibiza is known as one of the most popular party islands in Europe. It is easy to see why, as the island has some of the best beaches in the world and an amazing nightlife scene.
The island is also famous for its clubs, bars and restaurants. You can find anything from small local shops to high end designer brands here. The variety makes it easy for you to find something that suits your taste and budget.
If you are looking for a relaxing holiday with plenty of time spent on the beach, then Ibiza might still be just what you are looking for! It isn't all party all the time and there are a lot of accommodations and beaches that embrace the RnR lifestyle.
---
7. Toledo's Gothic Cathedral & Alcazar, Castilla-La Mancha
Toledo's Gothic Cathedral is one of Spain's most important medieval buildings. It has been declared a World Heritage Site by UNESCO.
The cathedral was built on the site of a former mosque, which was converted into a church after Toledo was reconquered from the Moors in 1085. The building work on the cathedral began in 1227 and took over 50 years to complete.
The interior is covered with beautiful frescoes depicting scenes from the Bible and other religious stories. The choir stalls are made out of wood and carved with intricate designs.
The cathedral has an impressive facade with two towers at each end. The main entrance is guarded by two lions which were sculpted in the 15th century by sculptor Juan de Borgoña (known as Juanelo).
Alcazar, Castilla-La Mancha
Alcazar is a small village in the province of Toledo, which is located about 40 kilometres from Madrid, Spain. It is one of the most important tourist destinations in Spain because it has one of the most beautiful castles in Europe. The Alcazar Castle was built by the Moors during the 10th century and it has been used as a residence for kings since then.
The castle is surrounded by a deep moat that separates it from the town and its walls are so thick that they can be seen from far away. The walls were built with cut stone blocks that measure up to 1 meter wide and 2 meters high, which makes them very impressive. The castle has two entrances, one on each side of its walled enclosure. These entrances are protected by drawbridges made out of Moorish woodwork that was preserved during later renovations.
There are many buildings inside the Alcazar Castle complex including residential palaces, administrative buildings and even mosques! Some of these buildings have been converted into museums where visitors can learn more about their history while others have been restored back to their original state so visitors can see how they looked like when first built.
Toledo Cathedral and Walking Tours
---
8. The Balearic Islands
The Balearic Islands of Mallorca and Menorca are an archipelago located in the western Mediterranean Sea, 100 km east of the Spanish coast. The four largest islands are Majorca, Menorca, Ibiza and Formentera. The archipelago forms an autonomous community with its own government under the Spanish constitution. The official languages are Catalan and Spanish.
The islands have a Mediterranean climate with mild wet winters and hot summers, although low rainfall means that water resources are limited. Tourism is the main economic activity and accounts for more than 70% of GDP; followed by agriculture (wine production), fishing and food processing.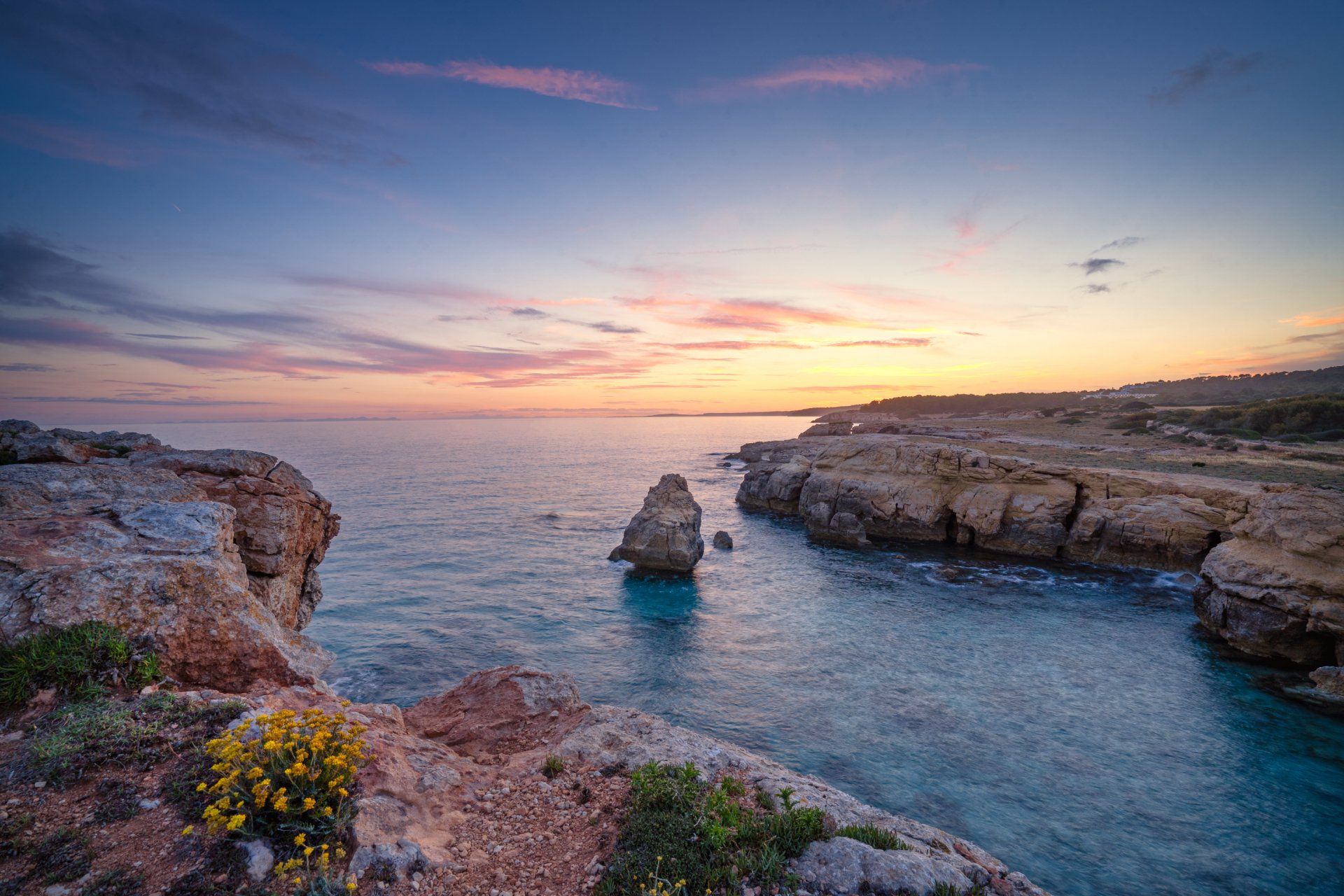 Some Tours from and around Menorca
---
9. Ronda Gorge, Andalusia
Ronda is a town located roughly 100km north of the city of Malaga in Spain. The Ronda Gorge is situated right in the center of the town, and it is a stunning natural wonder. From a distance, you can see the gorge sprawling several kilometers to the north and south while separating two major plateaus. The gorge was created by the river Guadalevín, which runs through it and makes its way to the sea.
The exact dimensions of Ronda Gorge aren't known for certain, but we do know that it spans on average about 600m in length and is roughly 100m deep. It's one of Spain's most popular tourist attractions, and it has been since at least the 18th century. To take full advantage of this magnificent sight, visitors can stop at Puente Nuevo (a bridge south of Ronda) or Puente Viejo (a bridge north of Ronda). The best time to visit is around midday when the sun is overhead and casting plenty of light into the gorge for optimal viewing conditions.
Visit Rhonda From Seville or Malaga
---
10. Valencia's Orange Groves and Beaches
The city of Valencia, Spain is known for its abundance of groves with orange trees. The oranges from the Valencia region are sweet and are used to make marmalade—and those trees make for a picturesque landscape. One ideal spot to see these groves is the Parc Natural de l'Albufera de València, which has Spanish-style wetlands and dunes with natural vegetation. In early spring, the park's delicate flowers come into bloom and draw in visitors who want to see the blossoms in their full splendor. Further south, you can find more groves along the coast at Playa de la Malvarrosa, where you can stroll among the trees while taking in views of the bay.
---
11. Montserrat
Montserrat Spain is a majestic place. It's a monastery, but it's also a mountain. There are many things to do here, and it's become a very popular tourist destination. Let me tell you more about it, and why you should visit.
Montserrat Spain is one of the most popular spots in Catalonia, Spain. It's located an hour from Barcelona and is easy to get to using public transportation. Its popularity is due to its stunning natural beauty, and religious significance. Located in the Montserrat Mountain Range, the monastery has been built into the side of the mountain and offers breathtaking views of Catalonia that can only be seen from such a high elevation.
Visiting Montserrat Spain gives tourists an opportunity to experience life in an active monastery—which is rare these days as most monasteries have shut down or have been turned into museums. The monks at Montserrat live off of donations and make their living by making religious artefacts (like rosaries), selling books and music, and other crafts they've made by hand. Tourists are free to attend daily prayer services with the monks and partake in their traditions like lighting candles at the altar or going to church on Sunday morning. Montserrat even has their own boys choir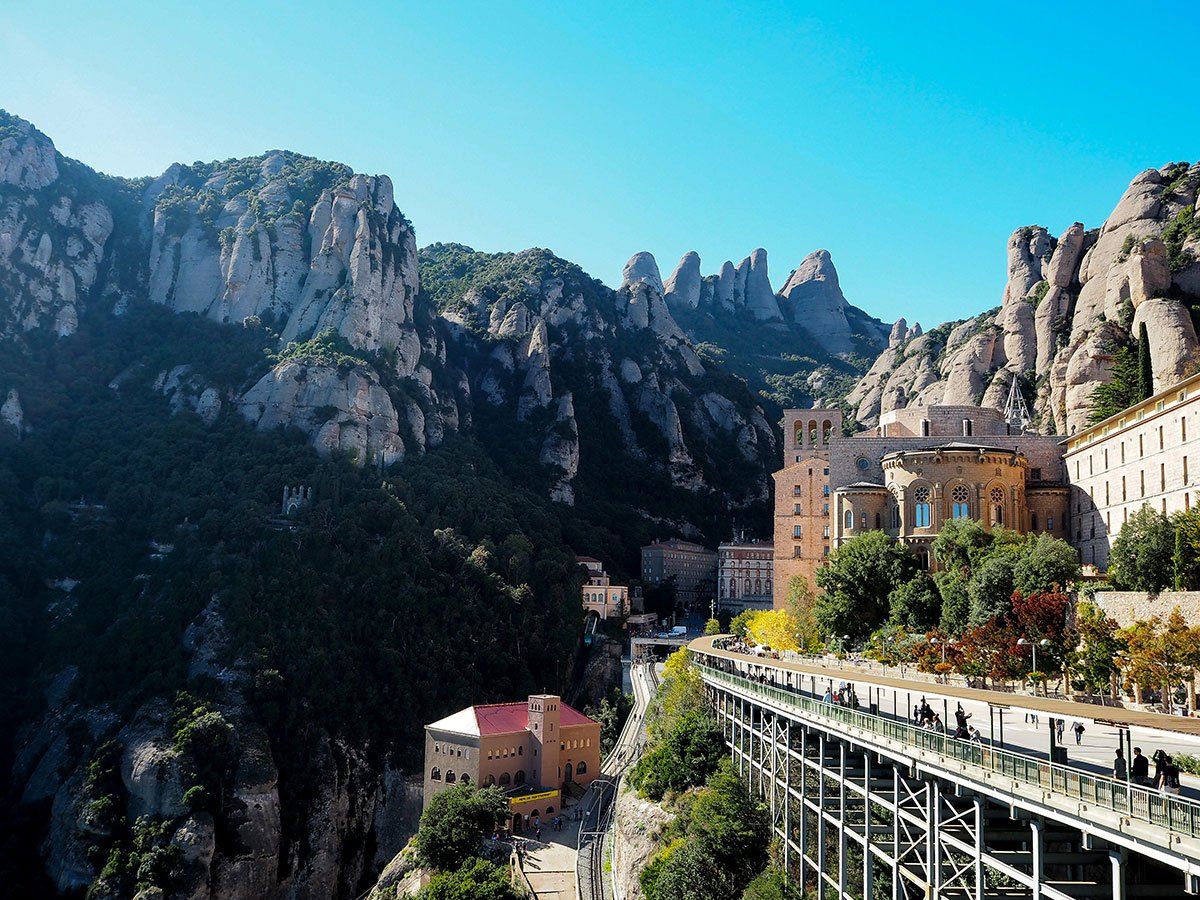 Day Tours That Visit Montserrat
---
12. Costa Brava
The Costa Brava is a coastal region in Catalonia, Spain. It's known for its beaches and beautiful coastline.
The Costa Brava stretches from Blanes and Lloret de Mar in the east to Tossa de Mar in the west, a distance of about 70 miles (110 km). The area around Begur, including Sant Elm and Torre de Begur, is also sometimes included in this region.
The Costa Brava has a mild climate with hot summers and mild winters. It attracts many tourists all year round; however, it's most popular during summer when Europeans come to enjoy its beaches and relax.
There are many things to do in Costa Brava besides swimming and sunbathing on the beach. You can go hiking along the rugged coastline or go wine tasting at one of many local vineyards that produce excellent wines like cava and sparkling wine (cava).
If you want to avoid the crowds, stay at one of the little towns or villages slightly inland. As long as you have a car, you can get to the coast whenever you want in a few minutes.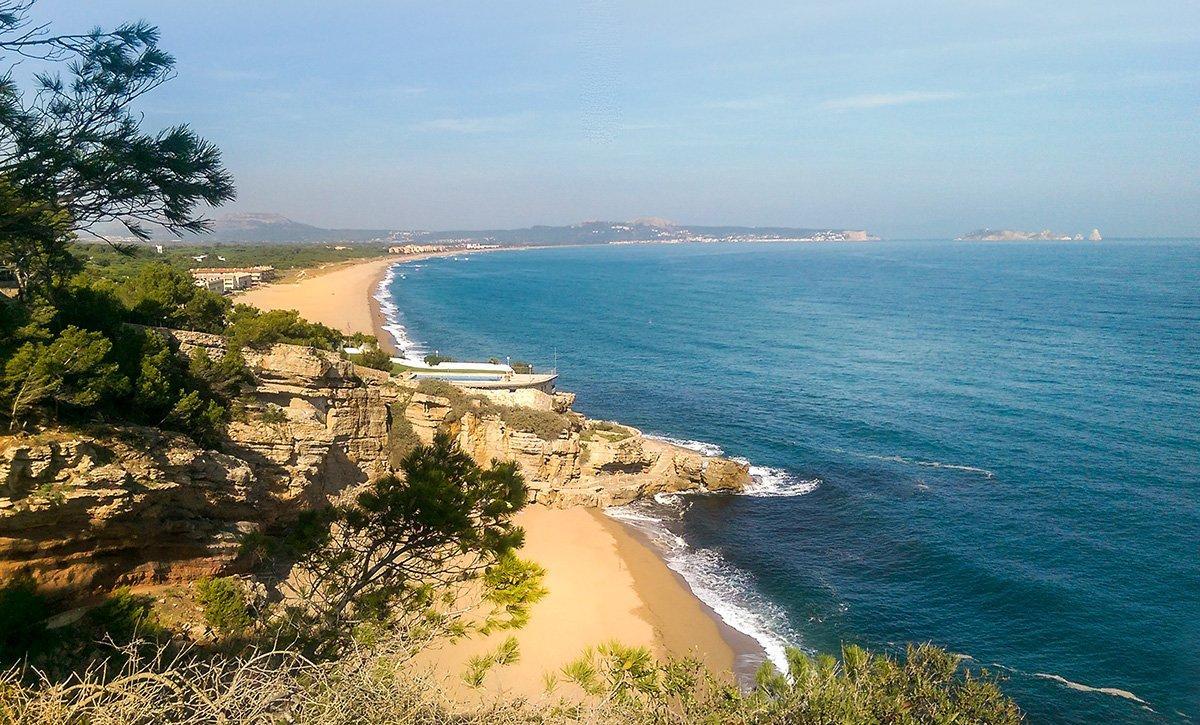 ---
13. Segovia and the Roman aqueduct
If you've never been to Segovia, you are missing out. This ancient city is located just under 100 kilometers northwest of Madrid, surrounded by the foothills of the Sierra de Guadarrama (mountains) and the Rio Eresma and Rio Clamores (rivers). It's a picture-perfect setting for exploring a vast range of historical architecture, from the Roman Aqueduct to the Gothic Cathedral to the Alcazar.
The Roman Aqueduct is one of Segovia's most notable landmarks. It is unlike any other aqueduct in Europe, standing tall with a double row of arches that stretch across nearly 1,000 feet. It was built in the first century AD without mortar—only stones—and it acted as an open conduit for clean water traveling from Fria via Toledo into Segovia. The aqueduct supplied water to the city for nearly a thousand years before falling out of use in the 1800s. Now it stands as an emblem for Segovia's rich history and culture, representing both its Roman origins and its prominence in modern times. You can walk underneath it or see if from atop one of its arches. Make sure to visit at night when it's all lit if you are staying overnight.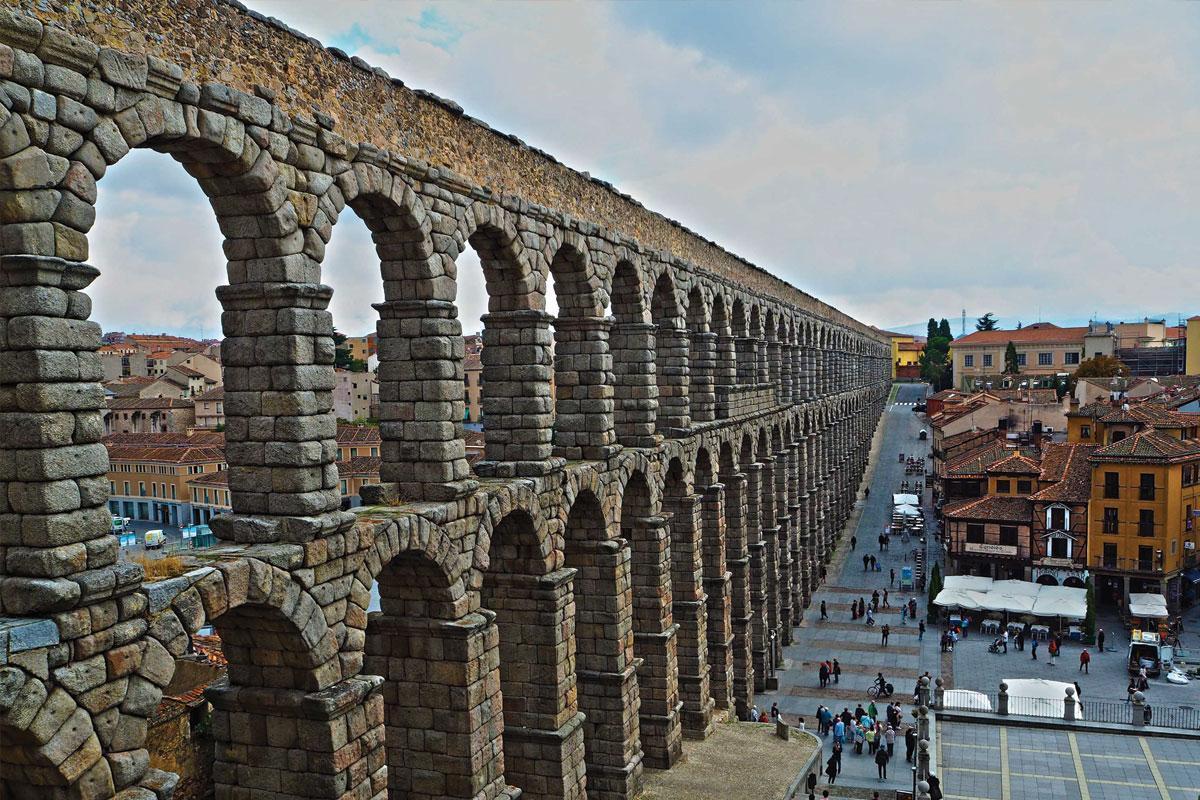 Day Trips That Visit Segovia From Madrid
---
14. Gibraltar
Gibraltar is a British Overseas Territory located in the southernmost part of Spain on the Iberian Peninsula. It borders with Spain to the north and west, while the coasts are surrounded by the Mediterranean Sea to the south and east.
I know this isn't technically Spain, but if you have a passport that lets you into British Territory without a pre done visa, it is worth a visit.
The Rock of Gibraltar is a monolithic limestone promontory that stands above sea level, overlooking the Strait of Gibraltar. The Rock is connected to mainland Europe by means of an artificial land-fill known as "The Line". This crossing under the Bay of Gibraltar is one of the most important land routes in northern Africa.
It's also an important tourist destination, with attractions including a Moorish castle, a cable car that takes visitors up to an aerial walkway across the top of the Rock, and other features such as a zoo and aquarium.
Walking into Gibraltar from Spain you often have to wait at the edge of the runway for the planes to land before crossing over. It's pretty cool but loud!
Gibraltar Day Trips
Click through to see full day trips to Gibraltar from Costa Del Sol, Malaga and Seville
---
15. Burgos
Burgos is a beautiful city in northern Spain, located in the Castile and León region. It's known for its picturesque old centre, as well as its many monuments, including the Cathedral of Santa María de la Sede.
The city has a population of around 200,000 people and it is the capital of the province of Burgos. As well as being home to one of Spain's oldest universities (the University of Burgos), it's also famous for its tapas bars.
The cathedral was built between 1221 and 1493 by King Alfonso IX and his wife Berenguela I. It is considered one of the most important examples of Spanish Gothic architecture in Europe. The original plans were drawn up by architect Diego de Siloé who later died during construction (probably due to an accident). His son Juan de Badajoz took over until completion in 1493.
The cathedral contains some stunning examples of medieval art including a magnificent altarpiece by Juan de Junítez depicting scenes from Christ's passion. There are also sculptures by Berruguete, who was also responsible for much work on the cathedral itself.
It is a great walking city and the 4km walk out to the Cartuja de Miraflores is a nice walk that leads to a great Monastery. You walk along the river for about 2km before you turn off and walk up some roads through the countryside to the Monastery. I got really lucky and arrived in time for prayer and managed to hear to monks singing. Wow – it was amazing.
---
16. Pamplona
We've all heard of the Running of the Bulls, but there's so much more to Pamplona! I'm an animal lover so I don't think I could ever be there for the bull run but I was very impressed with Pamplona.
And I'm not just talking about Basque cuisine. For centuries, this city in Northern Spain has been a huge hub for artists and writers, from Ernest Hemingway to Federico Garcia Lorca. With beautiful architecture dating back to Roman times, delightful slices of local life like the annual San Fermin festival, and a huge selection of art galleries and museums, Pamplona has enough to keep you entertained and full for days on end.
Walk the city walls for a nice day out and see the pilgrims coming in on their first big city on the Camino Frances.
Consider a winery tour or a city tour of Pamplona
---
17. Tenerife's hiking trails
Tenerife is one of the seven Canary Islands off the coast of Morocco. It's known for its beautiful beaches and volcanic mountains, and it's a fantastic place to go hiking. On Tenerife you'll find a trail for all types of hikers, including family-friendly trails, easy hikes with incredible ocean views, day hikes for the more adventurous, and longer treks for experienced backpackers. Tenerife's trails are also unexpected delights of culture and history, taking visitors through lush cloud forests and along ancient indigenous trade routes. In this post we'll take a look at some of Tenerife's most famous hiking trails.
Check out the 10 Best Hiking trips on Tour Radar. Starting rom only $920 AUD for 8 days!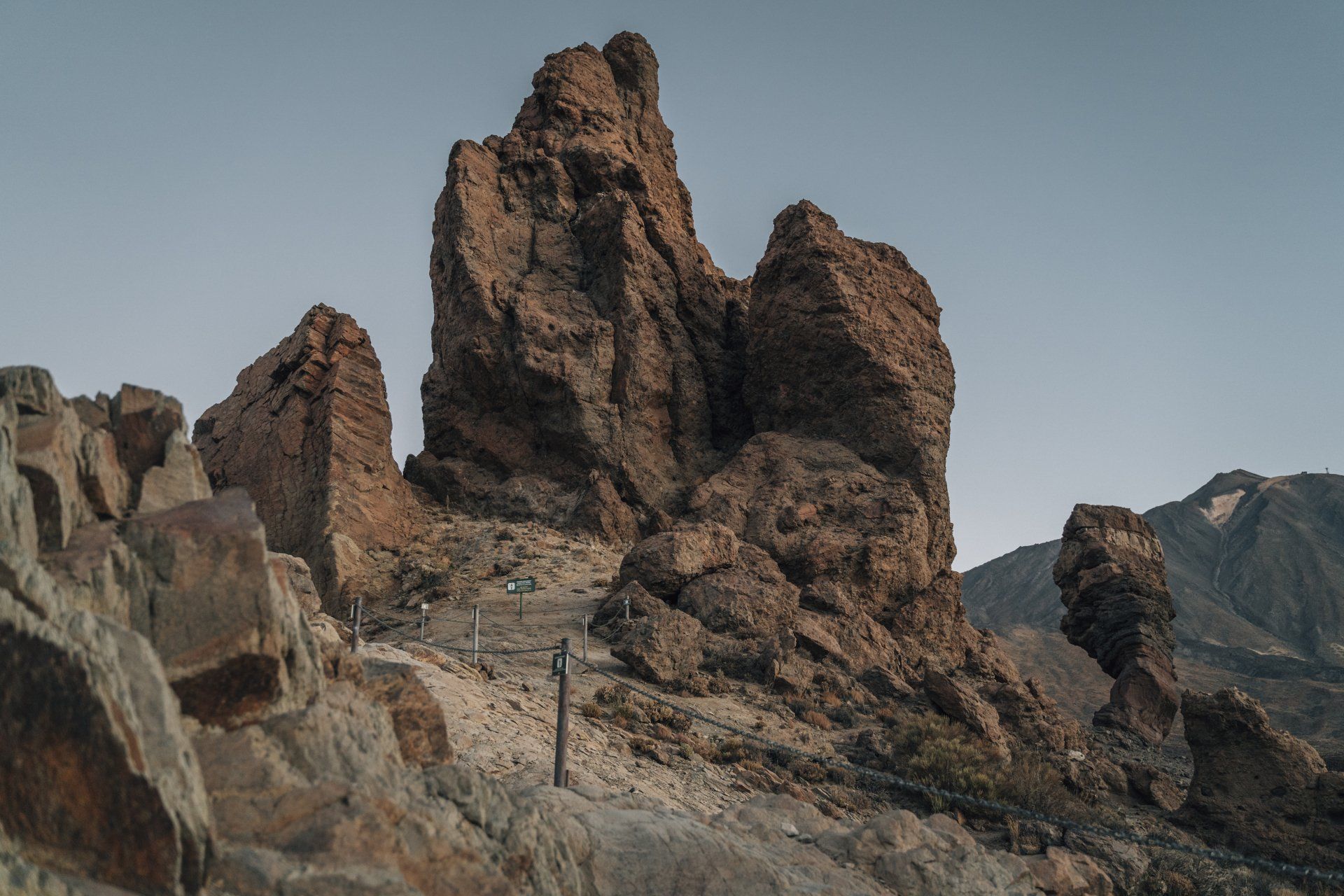 Adventure Trips on Tenerife
---
18. Peratallada
Peratallada is a charming village in the heart of Catalonia. It's located at the foot of a mountain range, where you'll find some lovely trails to hike on and see some spectacular views. It is also close to Figueres, famous for its Dali museum.
Peratallada has its own medieval quarter, with narrow streets and houses with beautiful facades painted in red, yellow and white. The town hall is particularly impressive; it was built in 1581 and designed by Francesc de Castellví i Barrau as a palace for the count of Ampurias.
There are several different festivals held throughout the year in Peratallada, including one dedicated to seafood which attracts visitors from all over Spain. The town also hosts an annual medieval fair called Festa Major de Sant Martí (Saint Martin's Festival) which takes place every November 24th.
Paratallada is a great place to stay while visiting the Costa Brava. There are a lot of walking trails in the area and its only about 15 mins drive to the beach. It is a beautiful village and I would highly recommend a few days here.
---
19. Basílica de San Isidoro, Leon
The Basílica de San Isidoro is a beautiful, ancient cathedral located in Leon, Spain. Its history dates back to the year 566, when King Ordoño I of Asturias ordered its construction. The church was built on the site of a former Roman cemetery and was dedicated to San Isidore of Seville, who was the patron saint of León at the time.
The cathedral has been renovated over the years and has several styles represented in its architecture. From the outside, you can see the heavy Romanesque elements of the building's structure; however, inside you'll find more Baroque and Renaissance details. Both the interior and exterior are complete with intricate sculptures and stained glass windows that are worth checking out on your own or with a tour guide. You don't want to miss out on this beautiful piece of historical architecture while you're in León!
The 700 year old alfrescos are stunning! I couldn't believe how amazed I was by them. They are very protected and the visit to the underground chambers to see them is worth the entry alone.
They also have one of the Chalices of Christ – which you may have heard of referred to as the holy grail. It was kind of weird and felt like a cross between a repurposed crown base and a thunder egg – but it was good to see.
Check out the Basilica's website for more info and tours
---
20. The Walls of Avila Spain
Avila is a walled city in central Spain. It was founded as a Roman military outpost in the year 25 BC. Its city walls were built during the 10th century and are in great condition to this day, making it one of the best-preserved medieval towns in all of Europe.
The city's architecture is largely Romanesque and Gothic, with some beautiful Mudejar and Renaissance influences sprinkled throughout. The city itself is a UNESCO World Heritage Site, but its most famous attraction is the Basilica de San Vicente.
It is pretty amazing driving into Avila and seeing these walls in the distance. They are massive and from what I understand fully intact. This really is worth seeing. You can lose yourself in the old town inside the walls for hours!
Guided City Tours Of The Walls Of Avila
---
Looking for accommodation in Spain?
Simple enter the town or city you are looking for in the search box below and find all levels of accommodation from booking.com
---
My top 20 things to see in Spain
While Spain is widely known for its remarkable architecture, there are a number of other things you should see during your time here. Although there are tons to do and see, the one thing you don't want to miss out on is the history. From grand buildings to medieval castles, Spain offers everything from gastronomy to art and music. So start planning your Spanish adventure today!