A Guide To Malta's Top Attractions
If you're looking for an island escape with plenty of attractions to keep you busy, Malta is the place for you. With so many things to do on the island, it can be hard to know where to start. That's why we've put together a list of the 17 best things to do in Malta based on our own personal experiences.

From exploring ancient temples and fortresses to swimming in crystal-clear seas and sipping cocktails on sandy beaches, there's something for everyone on this Mediterranean island. So what are you waiting for? Start planning your trip now!

Don't forget to grab your Hop On Hop Off bus ticket early so you get the days you want.
---
20 Best Things to Do in Malta: Malta Top Tourist Attractions
1: Upper Barrakka Gardens:
Upper Barrakka Gardens offer breathtaking panoramic views of the historic city of Valletta and its harbour. The gardens are also a great place to learn about the history of Malta. They are home to several monuments, including an artillery battery from the Great Siege of 1565. Visitors can also enjoy the gardens' tranquil atmosphere, relax on one of the benches, or stroll through the lush vegetation. Upper Barrakka Gardens are one of the best places to experience Maltese culture and history. So whether you're looking to relax or explore, be sure to add the Upper Barrakka Gardens to your list of things to do in Malta.
Upper Barrakka Gardens
---
2: Saint John's Co-Cathedral:
St John's Co-Cathedral is one of Malta's most important religious sites. The cathedral is home to two of Caravaggio's world-famous paintings: 'The Beheading of Saint John the Baptist and 'The Crucifixion of Saint Peter'. The cathedral also boasts many other beautiful works of art, including a stunning marble floor and gold ceiling. Visitors can explore the catacombs containing the remains of over 8,000 knights and nobles.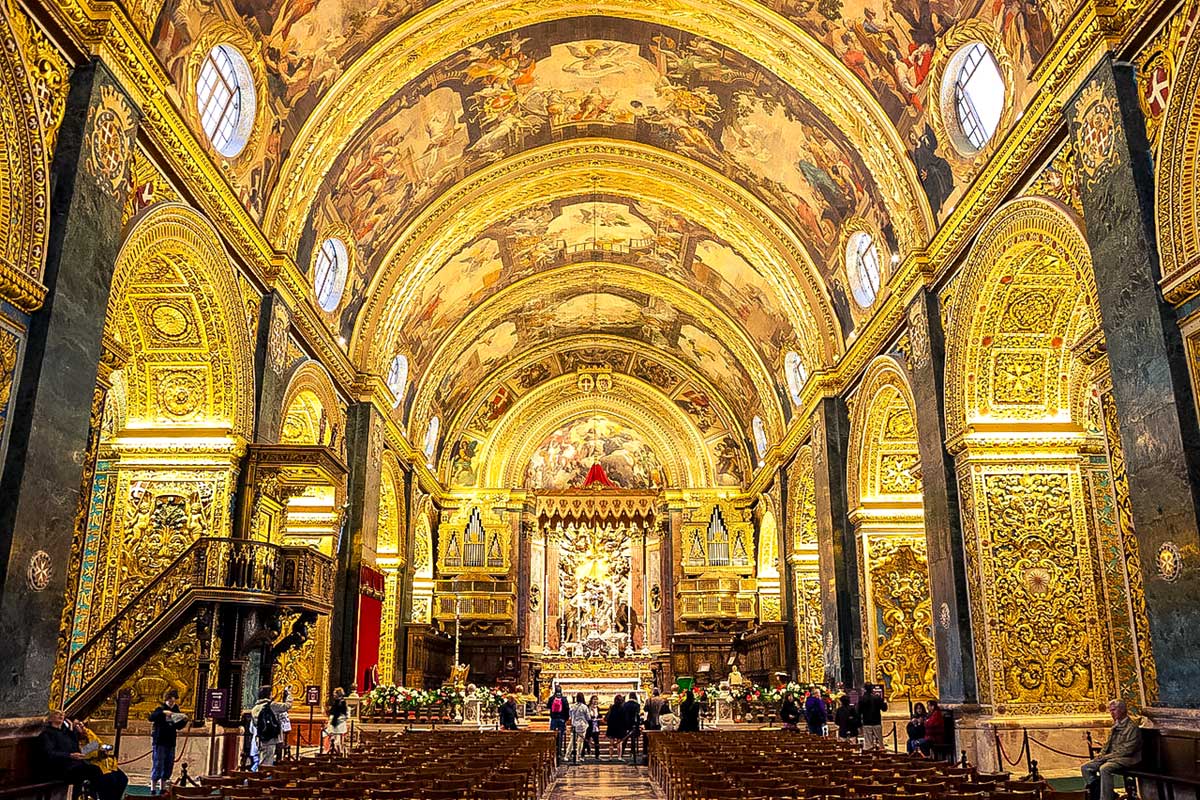 Interior of Saint John's Co-Cathedral Malta
Valletta Tours that visit Saint Johns Cathedral
---
3: Lascaris War Rooms
Lascaris War Rooms are a top choice for tourists interested in World War II history. It is a historical site used as a command centre during World War 2. The war rooms are located in an underground complex and have been preserved to look like they did during the war. Visitors can learn about the war rooms' history and how they were used during the war. There are also interactive exhibits that show what life was like for the people who worked in the war rooms. Lascaris War Rooms is a unique and fascinating place to visit, and it is one of the best things to do in Malta.
Lascaris War Rooms Malta
---
4: Fort St Elmo
Fort St Elmo is one of the best things to do in Malta. The fort is a great place to learn about Maltese history and culture. The fort was built in the 15th century and has been used as a military base, a prison, and a hospital. Today, the fort is open to the public and is a popular tourist destination. Visitors can explore the fort's many rooms and corridors and enjoy city views from its walls. Fort St Elmo is also home to a museum, which houses a collection of artifacts from Maltese history. The museum is a great place to learn about Malta's past, and it is also one of the best things to do in Malta.
Fort St Elmo from Valletta
---
5 Days of Day Tours in Malta
If you are staying in Malta for 5 days or more this multiple day tour option would be amazing. It is effectively 5 full or half day tours from your hotel (so you don't have to move) that covers most of Malta. You get to be picked up every day and whisked away to a different day or half day tour around Malta for only $399 per person.
It Includes:
Gozo
Marsaxlokk
The 3 Cities
Rabat, St Pauls Catacombs and the Mdina
Valletta including: St John's Co-Cathedral, the Upper Barraka Gardens, and Grand Harbour.
---
5: Mosta Dome
The Mosta Dome is one of the most popular tourist attractions in Malta. The cathedral is famous for its large circular dome, which is said to be the third largest in Europe. The dome is also notable for its unique design, which the Pantheon inspired in Rome. Visitors to the cathedral can explore the dome's interior and the rest of the church. The Mosta Dome is also popular for weddings and other special events.
The Mosta Dome
---
6: The Blue Grotto
The Blue Grotto is a must-see for any visitor to Malta. The cave is located on the small island of Comino and can only be reached by boat. Once inside, visitors will be mesmerized by the stunning blue waters. The light that filters through the water creates an ethereal atmosphere that is truly unforgettable. Visitors can swim in the Blue Grotto, but it is recommended to wear a life jacket as the currents can be strong.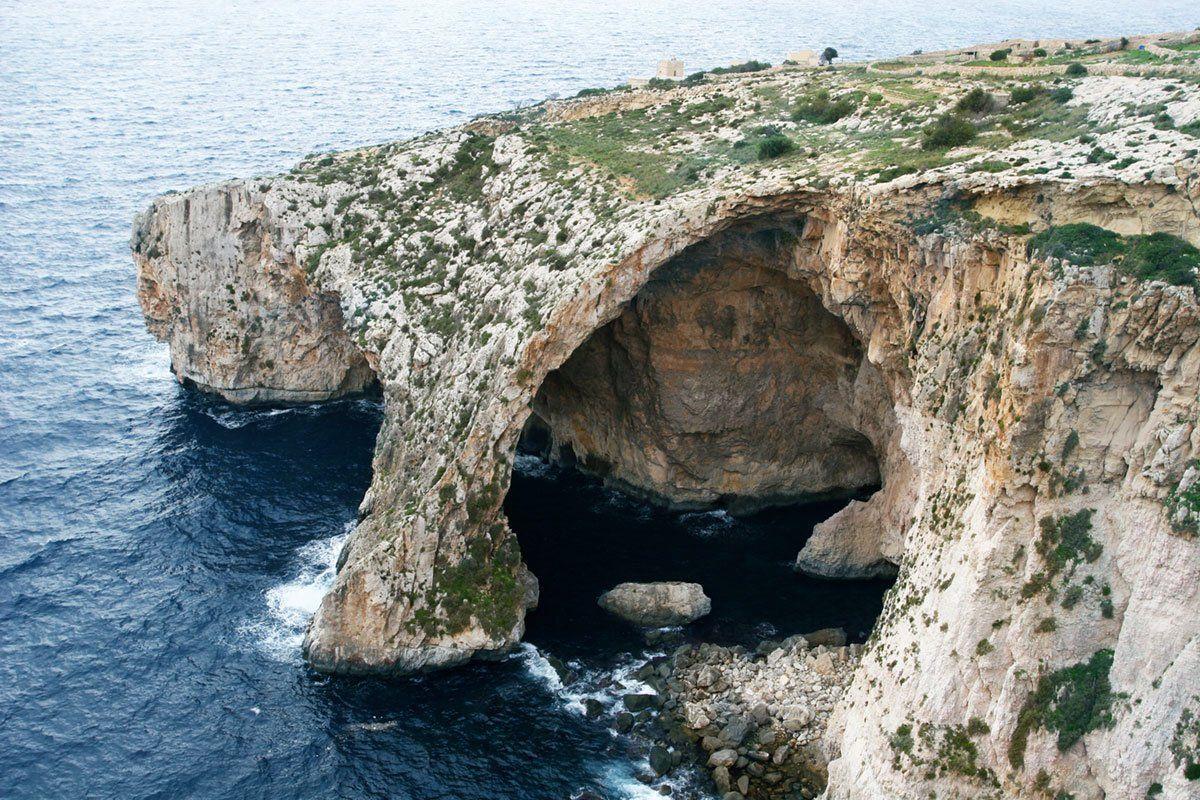 The Blue Grotto Malta
Tours that visit the Blue Grotto Malta
---
7: Visit The Mdina in Rabat
Mdina is a beautiful walled city that was once the capital of Malta. The city is home to a number of historic buildings, including the Mdina Cathedral and Palace. Visitors can explore the narrow streets and alleyways and enjoy views of the surrounding countryside from one of Mdina's many vantage points.
Mdina is also home to many museums and art galleries, making it a perfect destination for culture lovers. Additionally, Mdina is a great place to shop for souvenirs and Maltese crafts or have a great meal or cocktail watching the sunset. This full day tour visits the Mdina in Rabat and also the Mosta Church I mention below.
---
8: The Tarxien Temples
The Tarxien Temples are a complex of three temples located in Tarxien, Malta. They are some of the oldest surviving temples on the island, providing a fascinating glimpse into the religious beliefs of the ancient Maltese people. The temples were built between 3150 and 2500 BC, and they feature a number of unique features, including animal carvings and spiral designs. The Tarxien Temples are a UNESCO World Heritage Site, and they are well worth a visit for anyone interested in Maltese history or archaeology. Visitors can explore the temples at their own pace or take a guided tour. Either way, the Tarxien Temples are a must-see for anyone interested in Maltese history or archaeology.
Tours that visit the Ancient Temples of Malta
---
9: Grandmasters Palace Malta
The Palace of the Grand Master is one of Malta's most popular tourist attractions. The imposing structure was built in the 7th century and served as the residence of the Grand Master of the Knights of Malta. Today, it houses a museum with exhibits on the history of Malta and the Order of Malta. Visitors can also explore the beautiful gardens and enjoy stunning views of Mdina, one of Malta's most picturesque towns.
Interior of the Grandmasters Palace Malta
---
10: Explore Valletta on Foot
Malta's capital city, Valletta, is a prime example of the country's rich history and culture. The city is filled with narrow streets and alleys, lined with colourful buildings and adorned with intricate works of art. While there are plenty of tourist attractions to be found in Valletta, the best way to explore the city is simply to wander its streets on foot. This way, you can take your time to admire the architecture, stop to chat with the friendly locals, and find hidden treasures that you may have otherwise missed. And if you get tired of walking, you can always hop on one of Valletta's double-decker buses for a tour of the city from a different perspective.
The colourful windows of Valetta city
Guided Walking Tours of Valletta
---
11: Trig Ghar Dalam Cave
Trig Ghar Dalam Cave is one of the best things to do in Malta. The cave is home to a unique collection of fossils, and it provides an insight into the island's geological history. Visitors can explore the cave's chambers and see the remains of animals that lived on Malta over 5,000 years ago. The cave is also home to a Museum of Natural History, which houses a range of exhibits on the island's natural history and ecology. Ghar Dalam Cave is a must-visit for anyone interested in geology or natural history.
Trig Ghar Dalam Cave Malta
---
12: Do A Tour of The Three Cities
The Three Cities are a group of three fortified towns located across the Grand Harbour from Valletta. The Three Cities were once home to the Order of St. John and the Knights of Malta, and they played an important role in the history of the island. Today, they are a popular tourist destination, and visitors can explore their winding streets, fortified walls, and historic buildings. There are a number of guided tours available, or you can explore the Three Cities at your own pace. Either way, the Three Cities are a must-see for anyone interested in Maltese history or architecture. We did a Golf Cart tour with Rolling Geeks that we both loved. It is a guided tour that you do on your own following the map to see everything in the 3 cities. Or alternatively check out the tour below where you don't have to do anything!
The 3 Cities Malta
A Guided Tour Of the 3 Cities
---
13: Take A Boat Trip To Gozo
Gozo is the smaller island on the north coast of Malta, and it is well worth a visit. The island is home to a number of beautiful beaches, as well as the Ġgantija Temples, a UNESCO World Heritage Site. Visitors can explore the island at their own pace or take a guided tour. Either way, a trip to Gozo is a great way to relax and enjoy the Mediterranean lifestyle.
The cliffs of Gozo Malta
Gozo Adventure Tours
These tours visit Gozo and take all the headaches out of getting there and getting around.
---
14: Visit Ħaġar Qim & The Mnajdra Temples at Qrendi
Ħaġar Qim is one of the best things to see in Malta. Ħaġar Qim is one of the top attractions Malta has to offer and is the most popular of all the prehistoric sites in Malta.
Ħaġar Qim (a UNESCO World Heritage Site) is constructed on a hilltop overlooking the ocean near a small village called Qrendi. From above its throught that this site resembles a womans body and could possibly have been a site of worship. At over 3200 years old Ħaġar Qim is remarkably well preserved and definitely worth a visit.
On the other side of the hill, lie the equally as impressive Temples of Mnajdra. One of the temples at Mnajdra has an incredible stone slab and on the first day of every season, the sunrise aligns with holes in the slab to create these amazing light rays. It is said that this may symbolise the fertility of each season.
The quality of construction at each of these sites strongly reminded me of the Incan buildings in Peru.
The amazingly laid blocks of Ħaġar Qim
Tours that visit Malta's prehistoric sites
---
15: Hike the Xemxija Heritage Walk (The Roman Road)
If you want to get away from the hustle and bustle of Malta's larger cities, head to Xemxija Hill for a peaceful and rejuvenating hike. The heritage walk will take you through some of the most stunning scenery on the island, including old farmhouses, forests, and rocky cliffs. Along the way, you'll also learn about the history and culture of Malta and even see an ancient bee harvesting buildling. Be sure to bring your camera, as there are plenty of photo ops! You'll be rewarded with breathtaking panoramic views when you reach the top of the hill and at only 9km its not too challenging.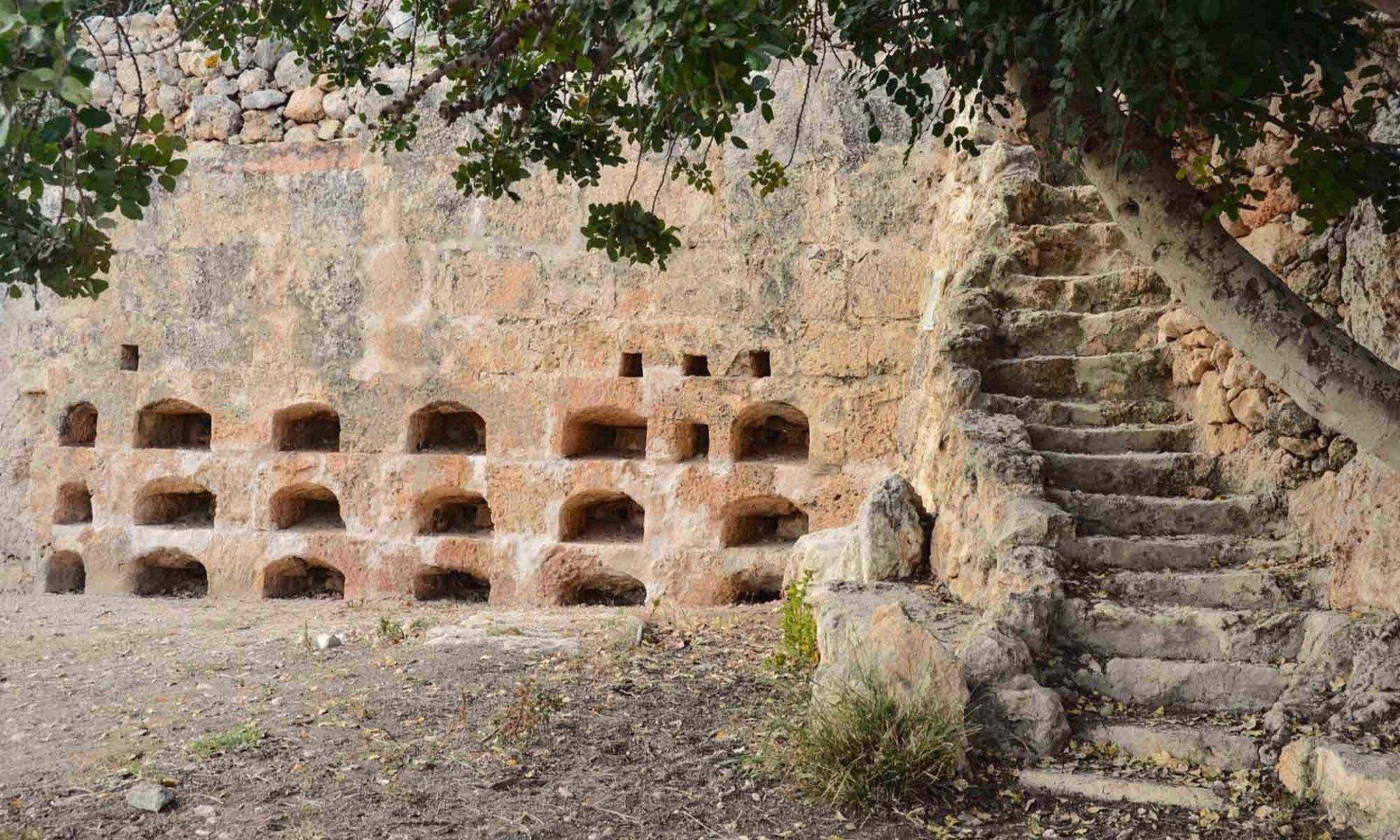 An old bee keepers place on Xemxija Heritage Walk
---
16: Visit Popeye Village
Popeye Village is a must-see for any fan of the classic cartoon character. The village was originally built as a set for the 1980 musical film Popeye, and it has since been converted into a tourist attraction. Visitors can explore the buildings and grounds, which have been well-preserved or take a boat ride around the surrounding bay. There are also a number of restaurants and shops on-site, making it the perfect place to spend a day or two. Popeye Village is one of Malta's most popular tourist attractions, and it's easy to see why. Make sure you stop at the viewpoint to see it from above. Check out my full post on visiting Popeye Village in Malta
Popeye Village Malta
---
17: Swim At Paradise Bay Beach
Paradise Bay Beach is one of the most beautiful beaches in Malta. This stunning secluded beach is located on the island's north coast and has a parking location nearby. The clear turquoise waters and sandy shores make it a perfect place to take a dip, and there are also plenty of rocks to sunbathe on. You might even spot some turtles swimming in the bay if you're lucky. Just remember to take all your rubbish with you when you leave, as this is a protected area. It can get really busy so I would recommend going early to avoid the crowds. Maybe on your way to the ferry terminal for the boat to Gozo as that is very close by. Or finish up your day when you get back from Gozo with a swim here.
Swim at Paradise Bay Beach Malta
---
18: St Pauls Catacombs
A short walk from the Mdina in Rabat, St Paul's Catacombs served as a burial ground for- the Roman, Punic & Byzantine eras. It represents the earliest example of Christianity in Malta and the name comes from the story that the catacombs were once connected with St Paul's grotto. While this has never been proven, the catacombs remain intact to this day and are well worth the visit. They are underground and while there are great quality mesh walkways you do have to spend a fair bit of time hunched over.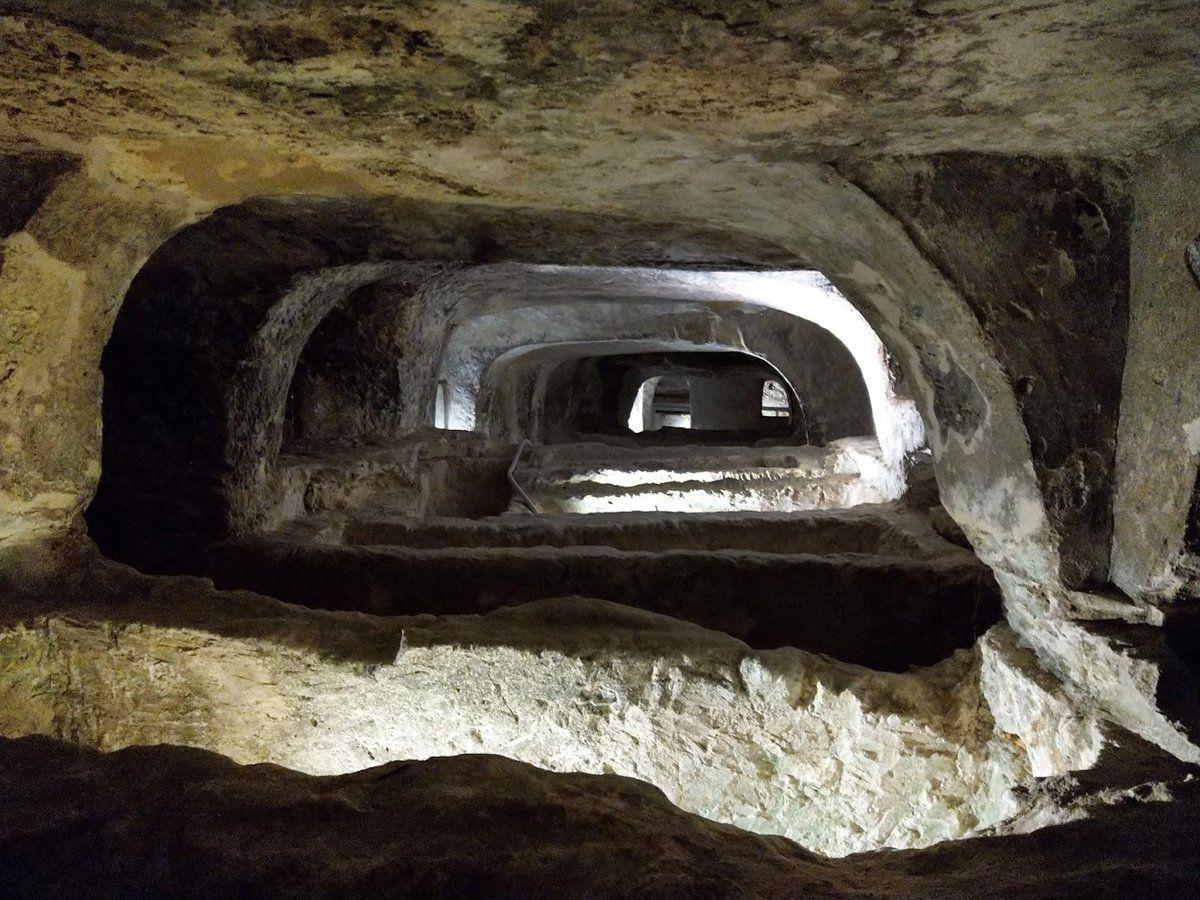 Inside the catacombs in Malta
---
19: Marsaxlokk Fishing Village
Marsaxlokk on the south east coast of Malta's main island is known for its brightly coloured fishing boats and beautiful esplanade and is one of the most popular Malta attractions. Visitors to this lovely little town usually come for the fish markets or for the seafood restaurants that line the foreshore. The vibrant fishing boats stand out against the historic stone buildings giving Marsaxlokk a bright and lively feel. Sunday is very popular after church so if you are heading to this seaside village for a meal be sure to book. Tours to the Blue Grotto often leave from Marsaxlokk so you could combing the two.
The gorgeous fishing village of Marsaxlokk in Malta
---
20: Visit Comino & The Blue Lagoon
Comino (Kemmuna) is a small island that is quite easy to get to that lies between the main island of Malta and Gozo. Comino is a nature and bird reserve however is one of Malta's most visited locations. It is easy to get the ferry from Cirkewwa and because it is only a few kilometres across its easy to walk everywhere. The Blue Lagoon is just beautiful and everyone who visits Malta should take a dip there. It does get very busy so again, go early or maybe on one of the day trips listed below that have kayaks and paddle boards for use.
The azure waters of Malta's coast.
Tours that visit Comino and The Blue Lagoon
---
Useful Tips For Visiting Malta:
If you're planning on doing a lot of sightseeing, consider buying a Heritage Card. This card gives you free entry to a number of museums and historic sites, as well as discounts on other attractions.
When visiting the temples, be sure to wear comfortable shoes and clothing. Some of the temples require climbing stairs or walking on uneven surfaces.
Malta is a very Catholic country, so be respectful of religious sites and ceremonies.
The summer months (June to September) are the busiest time for tourism in Malta. If you're looking to avoid the crowds, plan your trip for shoulder season (April to May or October to November).
Malta is a small island, so it's easy to get around by public transportation. Bus tickets can be bought at most news stands or directly from the driver. Taxis are also readily available, but they are more expensive.
English is the official language in Malta, but you'll still hear Maltese being spoken by locals. Don't be afraid to try out a few phrases yourself!
Conclusion
So, whether you're looking for a bit of history and culture, some relaxation by the beach, or an adrenaline rush from some extreme sports, Malta has something to offer everyone. With so much to see and do on the island, it's no wonder that Malta is such a popular tourist destination. Have you had a chance to check out any of Malta's top attractions? If not, be sure to add these things to do in island of Malta to your list for your next trip!