Top 20 Beach Hotels Australia
If you're looking for a place to stay near the ocean and relax, Australia has some of the best beach hotels in the world. Whether you want to be right on the beach or close to it with a pool, Australia has something for everyone. Here are 20 of our favourite hotels that have been selected from our list of over 100 exclusive properties and resorts around Australia:
Elysium The Beach Club, Palm Cove, Queensland
Beach Club Palm Cove By Peppers is located in Palm Cove, Queensland.
This hotel features a private beach style pool, wellness spa and gym along with airport transfers and .
Elysium Beach Club Palm Cove is also ideal for couples who want to enjoy the beautiful views of the ocean while dining at one of its restaurants or lounging by the poolside during their stay in Cairns. Situated on Williams Esplanade, Elysium is the perfect location for browsing the shops, grabbing a coffee or eating at any one of the many top quality restaurants in Palm Cove.
---
The Pullman Port Douglas Sea Temple Resort & Spa, Queensland
The Pullman Port Douglas is situated on the Esplanade, a short stroll to the beach and about 6km to Port Douglas town centre. This boutique hotel offers free WiFi, free parking and a 3000m2 lagoon pool. .
The hotel is fitted with modern facilities including an HDTV in each room with cable channels, a private balcony or terrace with outdoor furniture and views of the ocean or garden area. The bathrooms include modern fittings such as rainfall showerheads and heated towel rails. Some rooms have direct access to the pool and there are also private pool villas if you wish to splash out (pun intended!)
Guests can relax in the cosy lounge area which has comfy sofas whilst enjoying drinks from the bar menu or dining at Aluco restaurant & bar where they serve meals all day. The hotel can of course help you organise tours to see the best beaches in the region, do a day tour to the Atherton Tablelands or visit the Daintree rainforest.
---
Shangri-La The Marina, Cairns, Queensland
The Shangri-La The Marina Cairns is a highly recommended hotel for travellers who want to explore the sights and sounds of far north Queensland. This resort offers ocean and inlet views from most of the rooms, some looking out over the Coral Sea. The resort's location in Cairns provides easy access to restaurants and shops along the Esplanade.
The property features 255 guest rooms and suites with king-sized beds or two queen beds, LCD televisions with cable channels, tea/coffee making facilities, an en suite bathroom with bathtub/shower combination or shower only; hair dryer; WiFi internet access, The Backyard Restaurant, a tour booking desk and even a foreign exchange
---
Tusan Villa Little Manly, New South Wales
With stunning views out over Manly Bay, this beautiful villa is located in a great part of Manly and is ideal if you have a larger group. Accommodating up to 9 people the higher price tag is well warranted. Stylishly furnished, this 4 bedroom home has everything you would need including:
a fully equipped kitchen,
flat screen tv with cable channels,
luxury towels and linen,
a private pool &
easy access to great restaurants, cafes and everything Manly has to offer.
---
Seahaven Beachfront Resort Noosa
Located on the northern end of Noosa's Hastings Street, this beachfront resort is a good choice for travellers who want to stay close to the action. It has an outdoor pool, restaurant and bar, private spa treatment room and even a sunbathing area with cabanas available for rent.
Inside you'll find elegant decor with soft tones and fabrics. There are 55 rooms total at Seahaven Beachfront Resort Noosa; some have balconies overlooking the ocean while others offer private gardens as part of their design. The buildings also spread out over several acres to create more privacy between each unit too!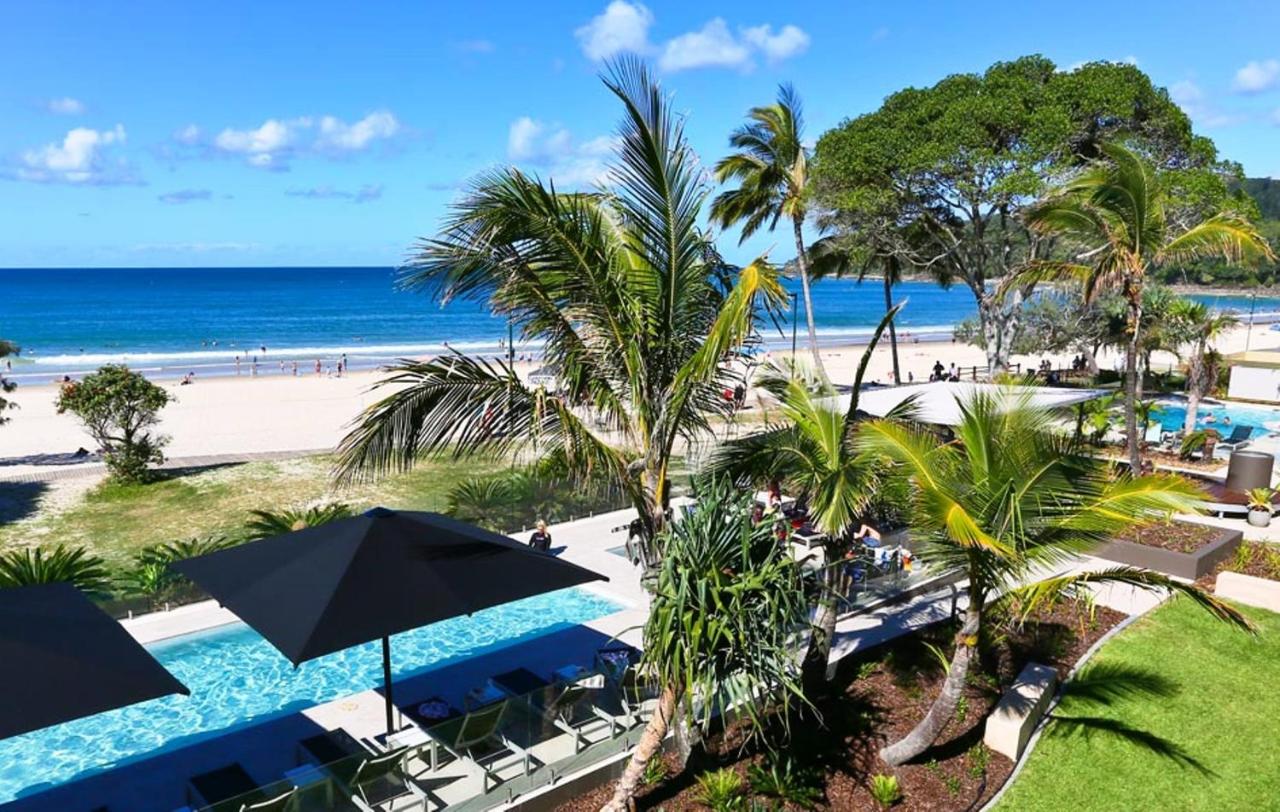 ---
Tamarama Apartments, Sydney, New South Wales
Overlooking the beautiful cove of Mackenzies Bay, these apartments have a modern style, are stunningly furnished and situated between Bondi and Bronte allows you access to this popular slice of Australian coastline. As an apartment instead of a beach hotel Australia, you will have a higher level of independence than a hotel room will offer. The bathrooms are finished in luxurious marble which is also reflected in the kitchen materials.
The infinity edge swimming pool allows you a gorgeous view over Mackenzies Bay with Bronte only 350m away and Bondi around 800 walk. Choose from a 3 bedroom apartment or upgrade to the Penthouse. With floor to ceiling windows you can sit and gaze out at the beautiful Sydney coastline from Bondi to Bronte.
---
Saffire Freycinet
Saffire Freycinet is a luxury resort on the Freycinet Peninsula, in Tasmania, Australia. It is located within a former winery that was established by the French 19th century wine magnate Louis Bernard Meneau. The hotel was initially named L'Auberge Sainte Claire de la Mer and opened in December 1911.
Saffire Freycinet is part of the Leading Hotels of the World group and as such has been awarded 5 stars by Forbes Travel Guide for every year since 2010. They do have a minimum 2 night stay, however with everything this area has to offer 3 or 4 nights would be an excellent stay.
---
Watsons Bay Boutique Hotel, Watsons Bay, New South Wales
Only 2 minutes stroll from the beach, Watsons Bay Boutique Hotel is one of Australia's boutique beach hotels. Watsons Bay is a short 20 minute ferry ride from Sydney's Circular Quay and also only 30 minutes from Sydney airport.
Furnished in a comfortable beach style, Watsons Bay Boutique Hotel manages to maintain a luxury feel. Balconies can look back toward Sydney city and after the sun goes down, Watsons Bay tourists all leave and the quiet returns. There are 3 or 4 great quality restaurants within 2 mins walk however there is no pool. A calm sandy beach is less than a minute's walk away so swimming is still possible from one of Sydney's luxury beach resorts.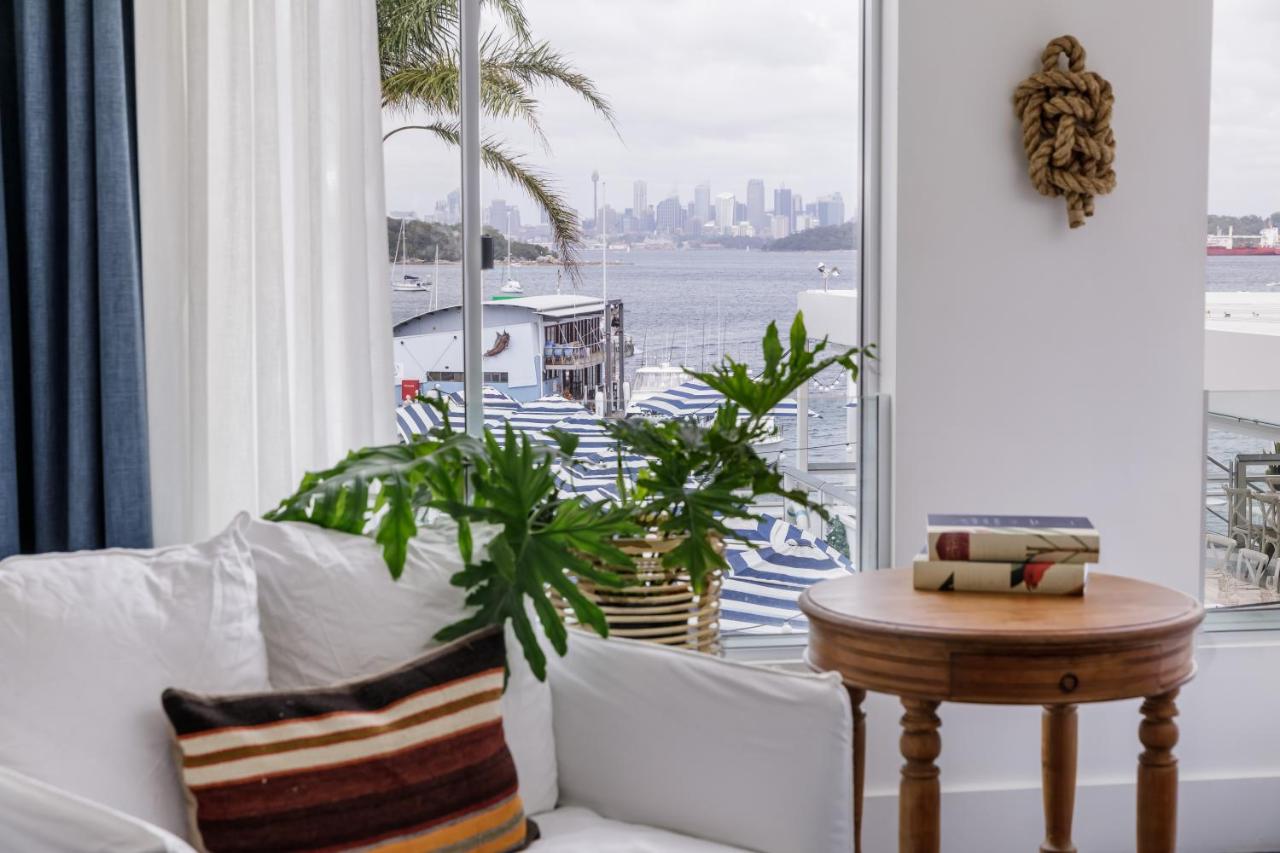 ---
The Cove Tasmania
If you're looking for a luxurious, beachfront getaway with views of the Tasman Sea, look no further than The Cove Tasmania. This boutique resort is located in Devonport in Tasmania's north.
The focus of The Cove is as a getaway and as a chance to rest and recharge. With a variety of accommodation choices, The Cove offers a true escape from reality – and where else can you watch the penguins at dusk?? With a communal lounge, fully equipped kitchen and options from a fully self contained villa, ensuited cliffside chalets, A Frames with toilets (and use of the shower rooms), or even Hillside Cabins as a glamping experience.
The focus of The Cove is an escape and when you see the stunning location only 10 mins from Devonport you can understand why this is the perfect place to do just that.
---
QT Bondi Hotel Sydney Australia
The QT Bondi Hotel is located in the heart of Sydney's beachside suburb, Bondi. The hotel has a total of 218 rooms, including studios and suites.
The hotel offers an outdoor pool, sauna and steam room as well as an indoor pool with a retractable roof that can be used year round. Guests can also enjoy free WiFi throughout their stay (when it's available).
There are plenty of dining options on site including a restaurant serving Australian cuisine at its finest. If you're looking for something more casual then try out one of the bars where you'll find fresh cocktails served at the bar or on your balcony overlooking the sea. You can even enjoy drinks by the pool with live music from Thursday to Sunday each week during summer (October-April).
The QT Bondi Spa offers both male and female massage therapists who offer facials using natural products such as seaweed masks as well as aromatherapy massages using essential oils sourced from around Australia like sandalwood, patchouli and bergamot orange to name just a few! Rates start from $95 per person per hour depending on what treatment is being offered so book now before they become unavailable again due to high demand!
---
Sheraton Grande Mirage Resort & Spa Gold Coast, Queensland
The Sheraton Mirage Resort & Spa Gold Coast, Queensland is situated on the northern end of Australia's Gold Coast.
The resort offers guests access to two pools, one with an infinity edge and another that offers direct ocean views, while there are also two outdoor spas available for use. The hotel offers daily yoga classes and onsite massage services as well as a private stretch of beach located steps away from the hotel entrance so you can enjoy swimming, snorkelling or simply relaxing in the sun.
A short drive from Main Beach and Surfers Paradise means that you have access to a wide variety of food, bars and beaches in a matter of minutes.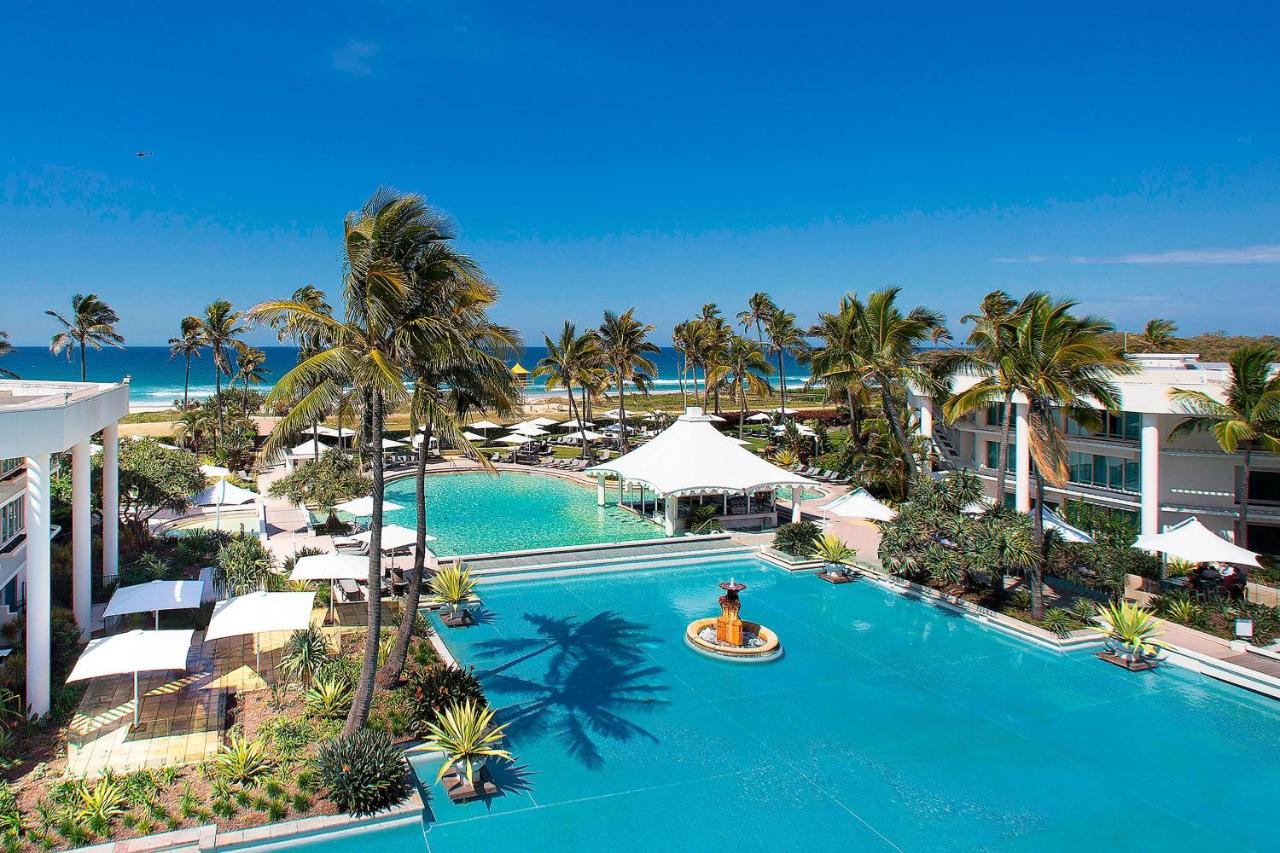 ---
Beach Holiday Apartments, Rye, Victoria
Located in Rye, a popular beachside suburb approximately 100 km from Melbourne CBD, Beach Holiday Apartments are an affordable self contained option as far as a beach hotel in Australia goes. Situated near the opening of Port Phillip bay, Beach Holiday Apartments are only 5 minutes drive from the Peninsular Hot Springs and within walking distance to shops, cafes & bars.
Perfect for a beach getaway or as accommodation for a winery trip, each apartment has a small kitchen, some have their own private hot tub and priced from about $175 AUD per night are a great choice for this popular location. Their 2 bed holiday apartment would be perfect for a family beach holiday in Victoria.
---
Shades Of Blue Eco Retreat, Calca, South Australia
If you would like to break up the famous Australian Nullarbor Plain road trip, Shades Of Blue Eco Retreat is for you. Situated about 700km from Adelaide, Calca is a small community primarily used by surfers, however it would be an ideal stop for your first day of the Nullarbor. Spending a few days here would be supremely relaxing and the house can comfortably sleep 12 across its 5 bedrooms.
The house is equipped with everything you need for a great getaway and is furnished well replicating the beach scenery that surrounds it. There is a hot tub, direct beach access, Wi-Fi, linen, outdoor BBQ, iPod dock and all the standard inclusions you would expect from this beachfront Australian vacation rental. A perfect retreat from the long Nullarbor stretches, you might choose to stay a few days.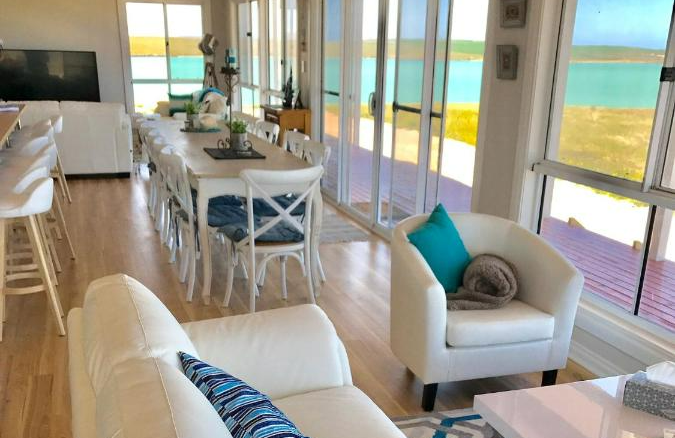 ---
Stamford Grand Adelaide
The Stamford Grand Adelaide is located on the banks of the Torrens River in Glenelg, South Australia. This beach resort offers 220 spacious rooms, with some offering balconies overlooking the river and city skyline. The hotel's spa has 6 treatment rooms, including a couple's suite with heated stone massage beds. You can also enjoy hot tubs and saunas at this luxury accommodation.
The hotel features 3 restaurants: The Dining Room; Seasonal Tastes; and Ola Cafe & Bar (open from breakfast). There are 2 pools as well as 2 spas at Stamford Grand Adelaide – one indoor pool and one outdoor pool with waterfalls! Other facilities include an exercise room and entertainment options such as casino games or live music every night!
Stamford Grand Adelaide also includes free Wi-Fi throughout the property, plus 24-hour reception service, Kids Club (08:00am – 10:00pm) and stunning views of Glenelg Beach from some rooms. If you are looking for a beach hotel in Australia, don't discount Adelaide. It is a great city with lovely beaches.
---
Hamilton Island Qualia
Qualia is a luxury resort located on Hamilton Island, a private island off mainland Australia. It's approximately 500 kilometres from Brisbane, the state capital of Queensland. The island itself is known for its pristine beaches and coral reefs that are frequented by humpback whales during their annual migration season.
Qualia offers accommodation in many types of villas with varying amenities depending on the number of bedrooms in each unit: there are six-bedroom villas, three-bedroom villas, two-bedroom villas, one bedroom bungalows and one bedroom cottages. All units have ocean views and private verandahs where guests can enjoy spectacular vistas over Admiralty Bay or out toward Magnetic Island to the west.
If you are considering possibly the best beach hotel Australia has to offer – Qualia is for you.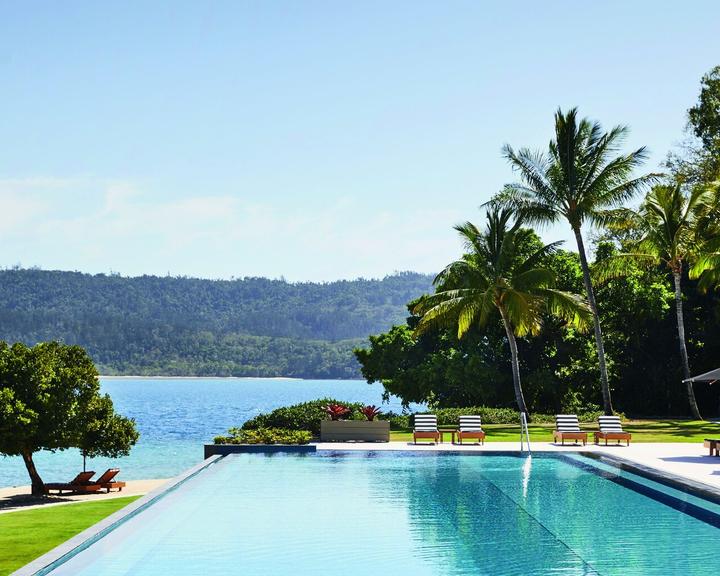 ---
The Seahorse Inn Eden
The Seahorse Inn is located in Eden, Australia. A seaside town located at the southern tip of New South Wales, Eden's beaches are not only popular with tourists but also with surfers and other water sports enthusiasts.
The Seahorse Inn offers a range of room types including poolside rooms, deluxe rooms and suites (some with balconies). All rooms are tastefully decorated with modern furnishings and offer views over the ocean or pool area. The hotel has a great on site restaurant serving a wide variety of international cuisines as well as some amazing local seafood. You can watch the sunset while enjoying a drink on one of their many outdoor seating areas overlooking the ocean or pools.
The Seahorse Inn is easily accessible by car thanks to its proximity to both Sydney (3 hours drive) and Brisbane (5 hours drive), which makes it an ideal stopover on your Australian holiday if you want to explore some of Australia's best beach hotels!
---
The Pearl Of Cable Beach, Broome
The Pearle of Cable Beach in Westren Australia is only a short 15 minute walk to the golden sands and turquoise waters of Broome's famous Cable Beach. Designed in an Asian style, the resort offers double hotel style rooms along with 1, 2 & 3 bedroom villas complete with a private pool.
Broome has a very busy tourist season over Australia's winter (May ~ Sept) however is very quiet over the summer months. If you are looking for a great hotel at a discounted rate, look to book outside the school holidays between October and March and you should get a great deal. It will be HOT HOT HOT, but with your own private pool I'm sure you will be able to cope.
Direct flights to and from Broome operate from Perth and Melbourne, and flights with 1 stop from most Australian capital cities.
---
Hamilton Island Reef View Hotel
Hamilton Island Reef View Hotel is a five-star resort located on the Great Barrier Reef. This luxury resort is a beachfront property with a private island feel and offers breathtaking views of the sea, which makes it one of our top picks for the best beach hotels in Australia.
With its location in Whitsunday Islands, you can expect striking views of the ocean from every room at Hamilton Island Reef View Hotel. In addition to this, there are many activities available such as snorkelling, scuba diving and bird watching tours on offer as well!
The rooms are beautifully furnished offering comfort and convenience while you're away on vacation with friends or family members! They have air conditioning units so that you don't get too hot during summertime heat waves when temperatures rise up over 32 degrees Celsius during daytime hours.
---
Seashells Mandurah
Seashells hotel is located in Mandurah, a small town on the coast of Western Australia. It's a short drive from the city of Perth and an hour away from the Bunbury airport. The resort has an infinity pool, gym and spa services available to guests. As the rooms are self-contained there is no restaurant on site, however there are many cafes, bars and restaurants only a short walk away. The rooms are luxurious with modern decor that gives off a tropical vibe with bright colours like yellow and coral accents throughout each space and are often listed at a very reasonable price.
Step directly on to the sand from your room in this beachfront hotel. You may not use the full tennis court and may instead spend your time walking the beach, looking out over the Indian ocean, swimming & whale spotting in season.
Seashells beach hotel has 1, 2 and 3 bedroom apartments available.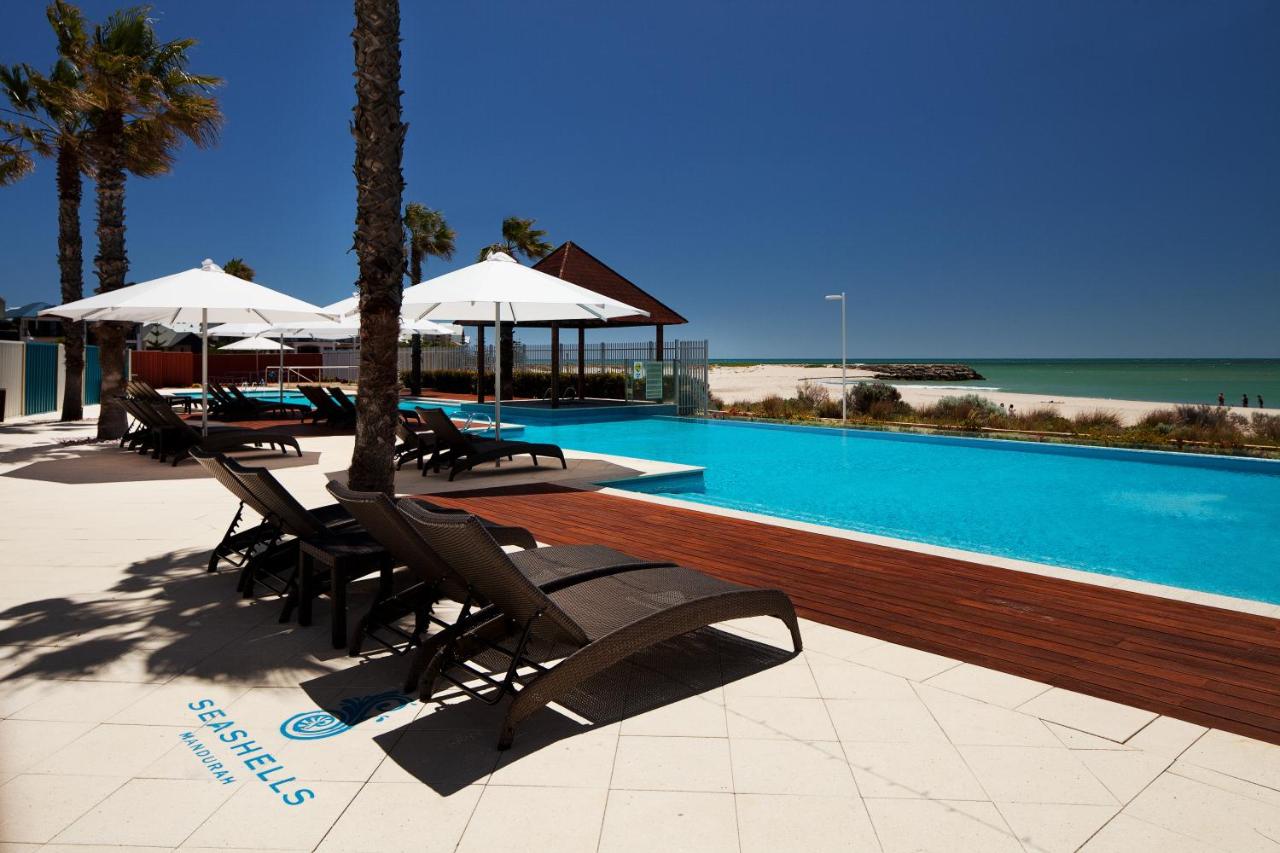 ---
Smiths Beach Resort, Yallingup, West Australia
Smiths Beach Resort is located in the small village of Yallingup in Western Australia's Margaret River region. The resort has a stunning beachfront location and offers guests access to all the facilities you would expect from a luxury resort, including a cafe, restaurant and of course a lounge bar.
Located on Smiths Beach, this resort is perfect for couples looking to relax in style during their Australian vacation. With its distinctive architecture and modern design, it is also suitable for families or groups who want some extra space while they are on holiday.
From one bedroom beach shacks to 4 bedroom luxury villas, Smiths Beach Resort has some great self contained accommodation right on the Cape to Cape walking track.
---
Australia's 20 Best Beach Hotels
Australia has many beautiful beaches, but you don't have to travel far from home to find a relaxing beach resort. Our list of the best beach hotels in Australia includes locations that are perfect for your next vacation. These hotels are very popular with tourists and provide guests with everything they need for a fun-filled vacation on the coast.
The beaches of Australia are located in different parts of the country, including tropical islands and large cities such as Sydney and Melbourne. There are many popular tourist destinations where you can stay at one of these hotels while enjoying all that each area has to offer!
The beach is an ideal place for a holiday, and in Australia there are plenty of hotels near the water. From affordable rooms to luxury resorts, there's something for everyone. If you're looking for an affordable option near the beach but don't want to sacrifice quality or service, we recommend checking out one of these 20 best beach hotels Australia (2023). You won't regret it!