Rainbow Beach is a small coastal community in south east Queensland Australia. While Rainbow Beach has grown significantly over the last 20 years, it has retained its small beachside town feel.

If you are heading to Rainbow Beach and looking for where to go for Breakfast, Lunch, drinks or dinner here is our list of the best places to eat in Rainbow Beach.

Most of Rainbow Beach's eating places are along Rainbow Beach Road so its not hard to find a great place to dine here.
---
Somewhere Over Coffee: Best Rainbow Beach Café for A Vegan Breakfast
There are a few really great quality cafe's and coffee places in Rainbow Beach. Breakfast is a big deal in Australia and it isn't unusual for locals and visitors alike to eat Breakfast out and have dinner at home. Vegan food can be hard to find in smaller towns, however Rainbow has a few great options for a Vegan Breakfast
This great little coffee shop has a good Vegan menu offering more than just the standard Avo on toast as a Vegan option. Their vegan menu has items like Miso Scrambled Tofu, Chick Pea and Lentil Burger, Tofu Burritos and a Vegan Burger.
Their coffee is excellent and they also have a decent menu for those of you who are not Vegan.
Opening Hours:
Somewhere Over Coffee is open daily from 6am to 2pm and also have a great cabinet with lots of muffins and cakes as well.
Location:
Somewhere Over Coffee is located on the corner of Rainbow Beach Road and Clarkson Drive. Parking is available along Rainbow Beach Road.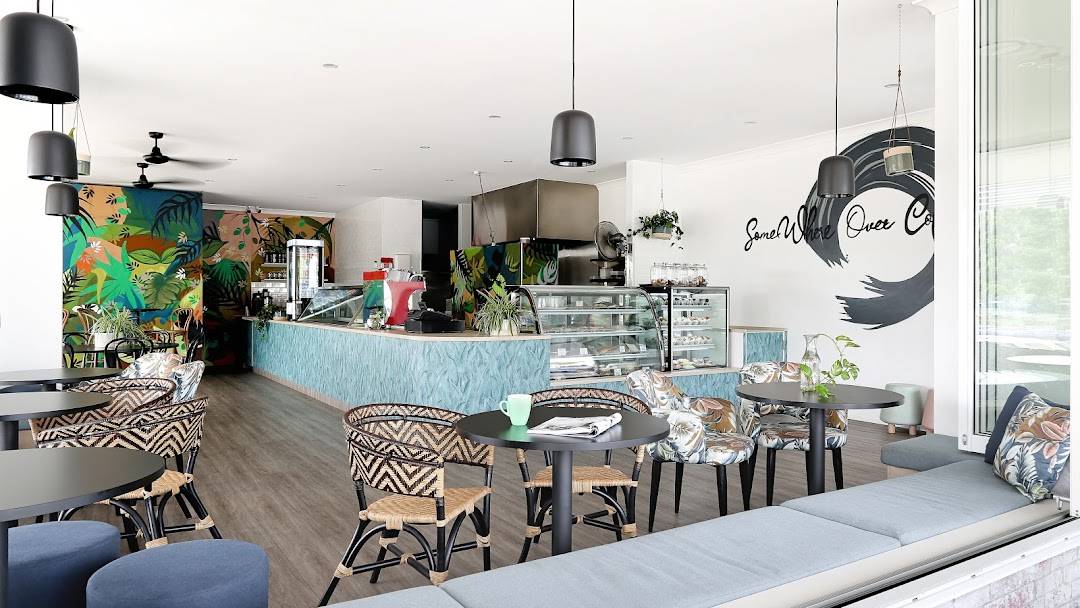 ---
Little Parliament: Best Rainbow Beach Café for All Day Breakfast
Little Parliament is a great open space that offers breakfast all day from 6:30 am. Their menu is quite in-depth and offers vegetarian and vegan options as well as more traditional breakfast options.
The waffles are to die for and their Bircher Muesli is worth ordering just to see how it comes out. You should know that after 11am all eggs will be fried so if you would like to choose options for how you like your eggs, you will have to visit before 11am.
They are not just for breakfast either. Their lunch menu is extensive and the food is really REALLY good! Try the Pulled Pork Nacho's or its Vegan equivalent for lunch.
Opening Hours:
Little Parliament is open from 6am to 3pm daily.
Menu:
Their menu is available online here.
Location:
Little Parliament is on Rainbow Beach Road in the main shopping block
---
Ed's Beach Bakery: Best Place for Pies and Sausage Rolls in Rainbow Beach
Situated in the Shell Service Station complex on Rainbow Beach Road, Ed's Beach Bakery is a popular haunt with locals and visitors alike.
While they very much embrace their bakery culture and you will always find a great range of pies, pasties and sausage rolls, they do also have some more modern options, some great sandwiches and wraps and even some vegetarian pie choices.
The chicken schnitzel and slaw wrap is really good. Personally I think they should change the name to a "Schnitie Wrap", but regardless it is really nice. Their chunky steak pies are a favourite with Brad and my new favourite was the Cauliflower and Broccoli pie.
If you are an international tourist to Australia, make sure you try the Caramel Tarts here. These beautiful sweet treats are a Queensland icon but it is hard to get one that has heaps of flavour and isn't just WAY too sugary. Ed's Beach Bakery has (in my personal opinion) some of the best Caramel tarts I've ever eaten.
Opening Times:
Ed's Beach Bakery is open from 4am to 4pm so great news for all you fisherman who are getting an early start. It's also a great spot if you are doing the early Rainbow Beach to Fraser Island barge, as you have time to grab something for breaky and still make the 6am barge.
Location:
Ed's is located in the Shell Service Station complex on Rainbow Beach Road.
---
Brent's Burgers: Best Restaurant in Rainbow Beach for Burgers
While they do offer both vegetarian and vegan options, if you are a meat eater, Brent's Burgers is for you!
They have a great menu with classics like everyone's favourite Cheeseburgers or Steak burgers, but where they really shine is their more modern menu options. The Barra Burger is really good and the Cajun Cauli burger with southern fried cauliflower is amazing.
Along with burgers they also have fish and chips, hot dogs, wings, loaded fries and salads.
They serve alcoholic beverages as well and their drinks are not too badly priced. You can get a variety of beer and wine along with about a dozen cocktails. The Grapefruit Fusion is really good!
Opening Hours:
Brent's Burgers don't open until 12 so it is a lunch or dinner place.
Location:
They are right on Rainbow Beach Road in the main shopping area.
Menu:
Check out their Facebook page for their menu options.
---
The Deck @ Sea Salt: Best Place In Rainbow Beach for Lunch
While they do open for dinner from Wednesday to Saturday, I loved The Deck for lunch. They have lighter options like Thai Beef Salad or Ramen, or if you are feeling hungry you could partake in a burger or one of their main meals.
However – personally I think their Tapas Menu is their real asset. Items like Pork Belly Bites, Bug Rolls, Taquitos and Thai Fish Cakes will mean you can assault your taste buds with a variety of choices between you and your friends.
Their grazing board is a great way to snack over a cocktail while watching the sunset, which The Deck is also a great spot for.
Try the Zulu Pizza for a real experience. I'm not usually a lover of pizza that isn't super traditionally Italian, but this was amazing. The mix of the rib sauce with the caramelised pineapple was divine.
Opening Hours:
Sunday to Tuesday from 8am to 5pm
Wednesday to Saturday from 8am to Late (depending on how busy they are)
Menu:
Check out their menu on their website.
Location:
The Deck is located right at the beach end of Rainbow Beach Drive.
---
Rainbow Beach Surf Club: Best Place in Rainbow Beach for Dinner at Sunset
Sunset over Rainbow Beach is best in the summer months when the long days mean you can combine both dinner and the end of the day. While sunset in winter can often be amazing colours and is worth watching, the summer offers a longer dusk period and being able to eat and watch the great sunsets over the Australian coast is a real treat.
The restaurant at Rainbow Beach Surf Club has a wonderful deck that sits out over the dunes and allows you to make the most of the evening.
The club has fairly traditional surf club menu (all the Aussie favourites) including steads, seafood and of course pizza. There are a few vegetarian options but not too many vegan choices.
The draw card is open air deck and the view and while the food is great and the servings very generous, if its a great sunset it's the view that absorbs your time.
Clubs are a popular haunt for meals in Australia, primarily because if you are a member they are very reasonably priced. If you are not from Australia and you see the NM and M prices next to the menu, these stand for Non Member and Member prices. The non member prices are still usually more affordable than other restaurants with similar meals too.
Opening Hours:
Lunch everyday from 11:30am – 2:30pm
Dinner everyday from 5:00pm – 8:30pm
Menu:
The bistro and bar menu is located on the Surf Clubs website.
Location:
The Rainbow Beach Surf Lifesaving Club is located at the very end of Rainbow Beach road overlooking the beach.
---
Arcobaleno On The Beach: The Best Place for a Seafood Dinner in Rainbow Beach
Arcobaleno is (as the name suggests) an Italian Restaurant, however their seafood options are amazing.
The location of the restaurant does seem a little off-putting, but it is great food and very reasonably priced. Don't let the façade of the building deter you from eating here. It is some of the best seafood pasta I've had in years.
The Salmon Ravioli is worth WAY more than the $30 price tag. Somehow I didn't read it properly and when it arrived with prawns as well I thought they had brought me the wrong meal. That wasn't the case at all and honestly while I would have felt very unwell I could have almost eaten a second serve. ALMOST!
Other seafood pasta options include Seafood Linguine, Spaghetti Prawn (which is what I'm having next time) and of course Seafood Risotto.
If you don't feel like pasta they have an amazing looking seafood platter for 2 for only $75. A couple next to us ordered this and it looked divine. It comes with grilled Salmon, prawns, squid, mussels along with chips and salad. It is very unusual to get a seafood platter these days for under $150 so it was great value for money.
Opening Hours:
They are only open for dinner from 5pm Friday through Monday and are closed Wednesday and Thursday.
Menu:
Their facebook page has their most current menu.
Location:
Head down the little alleyway between the pub and the apartment block next to it. There is an Australia Post red post box right there and also arrows pointing you down the walkway to Australia Post shop. You can't miss it from there. Google Maps Location.
---
Rainbow Beach Hotel: Best Pub Food & Steaks In Rainbow Beach
While it is the only pub in town, sometimes that doesn't mean you get great food. In this case however the meals at the Rainbow Beach pub are great, especially the steaks.
A steak dinner can set you back at least $45 these days, so I was pleasantly surprised to get a 300g Rib Fillet for $38. Of course I added the surf and turf topper for another $12 but at $50 it was a beautiful steak, the prawns were HUGE and very tasty, and they actually served it rare like I asked.
Granted this isn't a cheap dinner, but for Australian prices this was pretty decent. They have the usual pub menu with Salads, Burgers, Pizza and Pasta options but I think the steak is where they really shine. I don't eat a lot of meat but when I do I want it to impress me and this definitely did.
The Rainbow Beach Hotel is also a very traditional style hotel with wide timber floors and open verandas and has a really comfortable feel.
Opening Hours:
Lunch is served from 11:30 to 2pm
Dinner starts at 5pm with last orders usually taken at 8pm.
Menu:
Their menu can be found on their website, however I did have one browser it wouldn't work with. PDF version here.
Location:
They are located right in the middle of the main street and are pretty hard to miss.
---
Where To Eat In Rainbow Beach
Even though its a small town, Rainbow Beach has some great dining options. From good coffee to quality seafood dinners, there is something for every budget and taste.
If you are a vegetarian, don't forget to try those Cauliflower and Broccoli pies at Ed's Bakery. That was so good.
---
---