12 Sites to see and things to do in Kathmandu
Kathmandu is a city that offers something for everyone. This incredible city is home to some of Asia's most impressive temples and shrines. There's also plenty of nightlife and culture to be found here, making it the perfect place to visit, no matter your interests.

Whether you are interested in history, culture, or nature, there is something to see and do in this vibrant city. This blog post will give you an overview of the best things to see and do in Kathmandu. So, whether you are planning a trip to Nepal or are just curious about what Kathmandu has to offer, read on for the inside scoop!
---
Pashupatinath Temple
No trip to Kathmandu is complete without a visit to the Pashupatinath Temple, one of the most sacred Hindu temples in the world. The temple is located on the banks of the Bagmati River, and visitors can often see people bathing in the river or performing cremation ceremonies. Non-Hindus are not allowed inside the main temple, but there is plenty to see from outside.
Pashupatinath temple complex is also home to a number of shrines and statues, making it a place of great religious importance. While non-Hindus are not allowed inside the main temple, there are plenty of other things to see and do in the complex. The temple complex is large and beautiful, and it's definitely worth a visit.
Day Tours That Visit Pashupatinath Temple
---
Swayambhunath (Monkey Temple)
If you're looking for a truly unique experience, a visit to Swayambhunath is a must. This ancient Buddhist site is located atop a hill in the centre of Kathmandu. Also known as the Monkey Temple, it is home to a large number of monkeys who are often seen playing in the trees or begging for food from visitors.
The temple complex itself is incredibly beautiful, with a golden stupa and magnificent views over the city. Visitors can also enjoy exploring the many shrines and statues dotted around the complex.
The main attraction is the stupa, a large white dome that is surrounded by prayer flags and adorned with the mystical eye of Buddha. But there is much more to see, including temples, shrines, and statues. Be sure to allow plenty of time to explore this fascinating site.
TIP for the Monkey Temple
The monkeys can be quite aggressive so be sure that you don't have any food whatsoever on you before you visit Swayambhunath. They are loud, some are huge and trust me when I say you don't want these monkeys jumping on you or trying to grab your bag. No food = less interested monkeys.
Kathmandu Day Tours That Visit The Monkey Temple
---
Boudhanath Stupa
Boudhanath is one of the largest stupas in Nepal and one of the holiest sites for Tibetan Buddhists. The stupa is surrounded by prayer wheels and has four entrances that symbolize the four points of the compass. Inside, you'll find paintings and statues depicting scenes from Buddha's life. A circular walkway surrounds the stupa, and there are many small temples and shops selling Buddhist items such as prayer beads and thangkas.
Visitors can also enjoy watching the monks praying and spinning prayer wheels. Some great restaurants around the complex offer Tibetan and Nepali food. The stupa is an impressive sight, and it's definitely worth a visit.
---
Tours in Kathmandu that Visit The Main Unesco Sites In Kathmandu
There are many tours that take in the main sites in Kathmandu. Pashupatinath Temple, Boudhanath Stupa, Durbar Square & Swayambhunath (Monkey temple). Check out these below and of course if you don't see anything that suits your time frame and budget just click through for many many more Kathmandu tours.
---
Hanuman Dhoka (Durbar Square)
Hanuman Dhoka is one of the best locations to visit in Kathmandu. The Durbar Square is a UNESCO World Heritage Site and home to many of the city's most important temples and palaces. The square is named after Hanuman, the Hindu god of strength and courage, and it is said that he once guarded the entrance to the city.
Today, the square is a popular gathering place for locals and tourists alike, and it is the perfect place to sample some of Nepal's traditional cuisine. Many shops also sell souvenirs and handicrafts, so it is the ideal place to pick up a few bargains. There are more than a few roof top restaurants that can give you a great view of the area and surrounds.
---
Chandragiri Cable Car
If you're looking for something a little different, the Chandragiri Cable Car is definitely worth a visit.
The cable car takes you up to 2,500 meters above the city, providing stunning views of the Himalayas, the cityscape, and the surrounding countryside. The trip up is also a great opportunity to spot wildlife such as eagles, kites, and vultures.
Once at the top, there are several hiking trails to explore, as well as a restaurant, a temple, and a viewpoint. Whether you're looking for amazing views or a chance to get away from the hustle and bustle of the city, the Chandragiri Cable Car is a great option. The entrance to the cable car is about 13 kilometers from Thamal in Kathmandu, so a tour is often a great way to do it. You get transfers, entrance is sorted and the guide will point out all the best things to see from the cable car.
Chandragiri Cable Car Tours
---
Asan Tole Bazaar
If you want to experience a truly Nepali market, Asan Tole Bazaar is the place to go. This large open-air market is located in the centre of Kathmandu and sells everything from fruit and vegetables to spices and clothes.
A vibrant marketplace, it is the perfect place to stock up on souvenirs, try local Nepali cuisine, and bargain for good deals. The market is open every day from early morning until late at night, so you'll never have trouble finding something to do. Asan Bazaar is more of an area of market stalls and shops than a particular market square. There is a lot in the area and it gets very busy so make sure you have your phone and decent service so you can get back to the central hub.
Be sure to haggle with the vendors; it's all part of the fun! You can also enjoy traditional music and dance performances while browsing the market stalls. With its lively atmosphere and abundance of things to see and do, Asan Tole Bazaar is a must-visit for anyone travelling to Kathmandu.
---
Visit the Garden of Dreams
The Garden of Dreams is a haven of peace and beauty in the midst of the bustling city of Kathmandu. The walled garden was designed by Kishore Narshingh and features pavilions, ponds, fountains, and sculptures.
Visitors can stroll through the well-manicured gardens, relax on the Victorian-style benches, or take a nap around the tranquil lotus pond. The garden is also home to a variety of birds and butterflies, making it a perfect spot for nature lovers.
In addition to its peaceful atmosphere, the Garden of Dreams also offers an insight into Nepal's rich history and culture. The Nepalese textiles and architecture on display give visitors a taste of traditional Nepali life, while the sculptures and other artwork offer a glimpse into the country's artistic heritage.
There is also a café in the gardens, which is a great place to enjoy a cup of tea or coffee. Garden of Dreams is definitely one of the best places to see in Kathmandu, especially if you are sick of the hustle and bustle.
The Garden of Dreams is right in Thamel so very easy to walk to if you are staying here.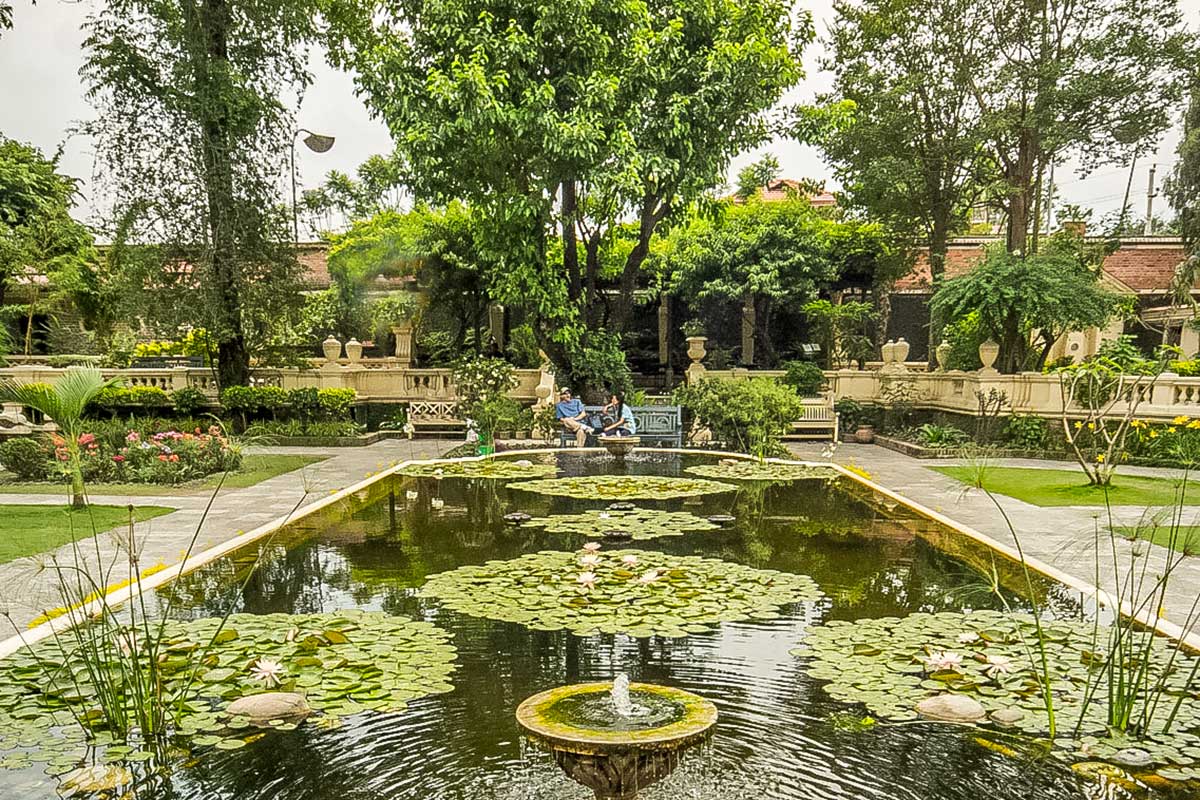 Take a Cooking Class
One of the best ways to experience Nepali culture is through its food. And what better way to learn about Nepali cuisine than by taking a cooking class? You'll not only learn how to cook traditional Nepali dishes, but you'll also get to eat what you've cooked!
Many cooking schools around Kathmandu offer classes for all levels, from beginner to expert. Some classes even include a trip to the market to buy ingredients. You can learn how to make traditional Nepali dishes like momos (dumplings), thali (a rice and curry plate), and chai (tea).
So if you're interested in learning more about Nepali culture and cuisine, be sure to sign up for a cooking class during your stay.
Nepali Cooking Classes in Kathmandu
---
Shop For Hiking Gear In Thamal
In Kathmandu, one of the best things to do is go shopping for hiking gear in Thamal. This is because Thamal is home to a number of different stores that sell high-quality gear at reasonable prices.
In addition, Thamal is also a popular tourist area and home to multiple different restaurants and cafes, making it the perfect place to take a break after a long day of shopping. Whether you're looking for new hiking gear or just want to explore one of the most scenic parts of Kathmandu, be sure to check out Thamal.
Notes on Shopping in Thamal
You can purchase a lot of branded gear in Thamal. From North Face puffer Jackets to Sea to Summit sleeping bags, Thamal is known for the place to shop for last minute items before your Nepali hiking trip. However – I can't say for sure that the gear is actually the brand it appears to be, or if it's a decent quality knock off. I have purchased great hiking pants, a rain jacket and socks in Thamal and they have stood the test of time, but I can't guarantee that the gear you will buy won't be a knock off. Decide for yourself.
---
The Taragaon Museum (behind Hyatt Regency)
The Taragaon Museum is a must-see for anyone interested in the history and culture of Nepal. The museum is located behind the Hyatt Regency and houses a collection of artifacts dating back to the 12th century. Once a hostel this very unusual building houses both resident and guest exhibitions.
Taragaon museum is divided into three sections: the Stone Age Gallery, the Bronze Age Gallery, and the Malla Period Gallery. Each section contains a wealth of information about the respective period, and the exhibits are very well-preserved.
Check out the Museum's website for all the latest info.
The museum also has a café and a shop, making it the perfect place to spend an afternoon. If you're looking to learn more about Nepal, the Taragaon Museum is definitely the place to go.
---
Visit Kopan Monastery
Kopan Monastery is one of the most popular tourist attractions in Kathmandu. The monastery is located just north of the city centre and is home to over 500 monks. Along with being a stunning building, its elevation means that you can also get a wonderful view of Kathmandu, provided of course it isn't couldy.
Visitors are welcome to attend morning and evening rituals and participate in meditation classes. The monastery also has a beautiful garden that is perfect for walks or picnics. In addition, there area several shops selling traditional Tibetan crafts and souvenirs.
Day Tours That Visit Kopan Monastery Kathmandu
Here are a few day tours that take in Kopan Monastery.
Kopan Monastery and Boudhanath Stupa Day Tour
Full Day Hike from Boudhanath to Kopan Monastery
Kathmandu Monasteries Sightseeing Day Tour
---
Shivapuri Nagarjun National Park
Shivapuri Nagarjun National Park is one of the best places to see in Kathmandu if you want to get away from the hustle and bustle of the city. The park offers a variety of hiking trails, and you can even camp overnight if you want to really immerse yourself in nature.
There are also several temples and monasteries within the park, so you can take a break from hiking to explore some of Nepal's religious history. Shivapuri Nagarjun National Park is a great place to come if you want to enjoy some time in nature without having to travel too far from Kathmandu.
There are quite a few companies that offer both single day and multiday hiking trips inside Shivapuri National Park from Kathmandu. Starting from around $75 for a one day trip up to $300-450 for a 2 to 3 day hiking adventure.
Day and Multi Day Tours to Shivapuri National Park from Kathmandu
---
How to Get To Kathmandu
The best and by far the simplest way to get to Kathmandu is to fly. Yes you can overland from India but the buses are erratic and hard to negotiate with for departure times. You also have to handle the border crossing yourself if you go on the bus and that is a disaster waiting to happen. You can do it (we did), but it is very hard to find your bus again after the border so if you do it this way be sure to take a photo of your bus and the numberplate so you can find it again.
If you do choose to fly,
from Australia: Kuala Lumpur or Singapore have direct flights multiple times a day to and from Kathmandu.
from the US: Emirates and Qatar Airways fly to and from LAX/Kathmandu with one stop in the UAE or Qatar. Likewise from the east coast.
from Europe: Qatar flies via Doha from London and Emirates with Fly Dubai fly via Dubai from Hamburg.
Find a flight to Kathmandu
---
Where to stay in Kathmandu
Kathmandu has a wide range of accommodation options from small guesthouses to large 5 star hotels. There is quite a lot of budget accommodation in Kathmandu, however it can be great value or it can be an unsafe roach infested room. Most guesthouses or smaller hotels are great and you get what you pay for, however I would recommend either reading the reviews or asking to see the room before you accept it.
We stayed in a great little place once that was very nice, the owners were amazing, they served breakfast for free, however – our room door didn't lock. They didn't think it was a challenge, but we weren't the only ones staying there so I was forced to carry my camera backpack with me everywhere we went so it didn't get stolen. I found it very hard to insist they fix it as they clearly thought we were implying that they might steal stuff, and I just couldn't seem to make them understand it was the other guests that concerned me.
Thamel
Thamel is the backpacker and traveler centre of Kathmandu. There are many little cafes and restaurants, lots of small and medium sized guest houses and hotels and it is a great budget area to stay. Hostels and guest houses range from $45 – $80 per night on average with a few higher rated hotels in the area as well.
Lazimpat
Right next to Thamel, Lazimpat is home to larger hotels, quieter streets and a little more expensive food options. Typically hotels in Lazimpat range from $140 – $220 AUD per night.
Bhaktapur & Patan
While these are both area's you will undoubtedly visit, I personally don't feel they are the best places to stay in Kathmandu. Yes the old town feel is great, but you will find yourself doing day tours for anywhere you want to visit in Kathmandu and the tours will pick you up anywhere really.
---
Wrapping Up: 12 Amazing Adventures to have in Kathmandu
Kathmandu is a city that offers something for everyone. Whether you are looking to see ancient temples and palaces or explore the great outdoors, plenty of activities keep you busy during your time in Nepal's capital city.
I hope this traveller's guide has given you some ideas about what to see and do in Kathmandu.
---
---