Everything you need to visit the Alhambra in Spain
If you are visiting The Alhambra for the first time, I would recommend that you take a tour.
The Alhambra is a popular tourist attraction, so you'll want to arrive as early or late as possible to avoid the crowds. This is especially important if you are not taking an official tour of the site.
It's not only about getting around quickly and finding your way – it's also about getting the most out of your experience by making sure you have an expert guide along with you. As I mentioned before, I highly recommend a guide or tour. We did this Alhambra Tour and our guide was professional, funny (he made us laugh several times), and very knowledgeable. We were able to learn so much more because he was there to guide us through our visit. It was around $70 AUD which I was more than happy to pay.
The Alhambra's History
The Alhambra (pronounced "al-HAM-bra"), located in Granada, Spain, is a palace complex that was constructed by the Nasrid dynasty. It was built as a small fortress in 889 by the Moors, (who were Muslims from Africa) on the remains of Roman fortifications and then largely ignored until its ruins were renovated and rebuilt in the mid-13th century by Mohammed ben Al-Ahmar of the Emirate of Granada, who built its current palace and walls. Then, Yusuf I (1333–1354) and Muhammed V (1354–1391), Sultan of Granada, built the Comares Palace along with other additions. By 1391, the palace had taken on its current look.
The complex was designed with Islamic influences from North Africa to Andalusia. It's a beautiful blend of cultures and architectural styles that include Moorish architecture, Mudéjar architecture (a blend of Islamic and Christian styles), and Renaissance architecture.
The name "Alhambra" means "red castle," and was named so because of the reddish walls of the fortress. The original fort included only three towers, one large tower and two smaller ones, and had very little decoration. The fortress was made of limestone with an outer wall of red clay bricks.
The structure is often referred to as a "palace," but this isn't really accurate—the Alhambra began as a fortress and then evolved into a palace over time. In fact, the first major addition to the original fortress wasn't constructed until the 11th century, when it was converted into a military outpost during the Moorish rule of Spain.
This new addition included new outbuildings like stables, servants' quarters, and storerooms.
While the complex was designed with Islamic influences from North Africa to Andalusia, today it's a beautiful blend of cultures and architectural styles that include Moorish architecture, Mudéjar architecture (a blend of Islamic and Christian styles), and Renaissance architecture.
Visiting The Alhambra
How to buy Alhambra tickets in advance
If you do a tour, the tickets are mostly included in the tour price and you can possibly still purchase a tour when the Alhambra tickets are sold out. I didn't realise it was so very popular and tried to get tickets a few days before with zero success. So I ended up booking the tour and was so very glad I did.
To avoid ticket lines and ensure entry, it's best to purchase tickets in advance. Tickets can be purchased online or directly at the ticket office and are released 3-6 months prior to your intended visit date. They sell out quickly, so keep a close eye on the release dates. If you miss one batch of tickets, don't lose hope; another batch will be released a month later. This is the website link for purchasing them.
You can buy your tickets from the ticket office if there are any available on the day of your visit; however, these tend to sell out quickly during busy periods such as summer and holidays like Christmas Day so it's best to plan ahead!
If all else fails, the Alhambra has a standby queue that allows visitors who didn't get an advance ticket (or whose plans changed) access to the Nasrid Palaces without having booked online first – usually within 30 minutes or less!
Alhambra Ticket Prices (at April 2022)
| Ticket Type | Adults | Minors (12-15) | Children Under 12 | Seniors (65+) |
| --- | --- | --- | --- | --- |
| General Entry | 14.85 € | 8.48 € | 00.00 € | 9.54 € |
| Gardens & Gernallife | 7.42 € | 6.36 € | 00.00 € | Not listed |
| Night Visit Palaces | 8.46 € | 6.36 € | 00.00 € | Not Listed |
The website for purchasing tickets is a little clunky but you do get there in the end. There are other ticket options that I've not mentioned as well.
Important Info About Tickets!
It is mandatory to present and ID card or passport to access the monumental complex&
You need to have the ticket on you in either digital or physical format, including children.
Visiting The Alhambra Without A Tour
It is of course completely possible to visit the Alhambra without a tour. They do have Audio Guides available in Spanish, English, French, Italian, German, Dutch, Portuguese and the local Spanish languages of Gallego, Catalán & Euskera.
How do tours of the Alhambra work?
A tour should include tickets, transportation (if you need to be picked up from your hotel), and sometimes a snack or drink at the end of your visit. You'll have a tour guide that will take you around and explain some of the history of the site.
Tours of the Alhambra are generally offered in the morning and afternoon, and often last from 2 to 6 hours.
Tour companies typically sell out their tours early, especially for visits during July and August. In order to secure spots on these tours, it's advisable to book in advance through an online booking service like Get Your Guide or Viator, which has secure payments and reservations systems in place to make sure that they can guarantee these popular slots. If you want an intimate experience with just yourself and friends/family as part of a small group tour rather than among hundreds of people in a large group tour setting, consider spending more money for smaller groups as well as having a private guide if possible.
How to spend your day in the Alhambra
Now that you have your tickets, it's time to have a fantastic day at the Alhambra! Here are some tips for how to spend your time there.
How long should you spend in the Alhambra?
You will likely want at least 4 hours to experience the Alhambra. If you want an in-depth experience, plan for 6-8 hours. There are a lot of things to see and do here and having more time will enhance your experience. Even with a tour, you will want free time to explore after the tour ends.
What should you see and do in the Alhambra?
There are many palaces, patios, gardens and other sights worth seeing in the Alhambra. The following is a list of not-to-be-missed spots:
The Palace of Charles V (also called Comares Palace) with its beautiful views of Grenada city center;
Palace of the Lions;
Generalife Gardens;
Patio de los Leones (lion patio)
Where can you eat while visiting the Alhambra?
Bring snacks or purchase them inside if you're hungry as there is no restaurant facility within the complex. You may also dine outside of the entrance during entry breaks if needed.
Visitor Information For The Alhambra
Your ticket states the time you can enter the Nasrid Palaces and this is not negotiable. If you miss your time you will not be granted entry.
If you want to drink from the fountains, you need to fill your water bottle. You cannot drink directly from the fountains.
Opening Times:
General Day Visit
From 1st April to 14th October

Monday to Sunday: 8.30 a.m. to 8 p.m.

From 15th October to 31st March

Monday to Sunday: 8.30 a.m. to 6 p.m.
Nasrid Palaces Night Visit
From 1st April to 14th October

Tuesday to Saturday: 10 p.m. to 11.30 p.m.

From 15th October to 31st March

Friday and Saturday: 8 p.m. to 9.30 p.m.
The ticket office is generally open half an hour before the site opens.
Wheelchairs can be provided and there is a modified tour of the Nasrid Palaces, Generalife and in zones in which it is possible.
Toilets are located in the following locations
Entrance pavilion (including a disabled toilet).
Next to the Gate of Wine (Puerta del Vino) in the Pavilion of Services (also disabled facilities).
Lower gardens of the Generalife.
Sultana's Court (Patio de la Sultana) in the Generalife.
Bags larger than 40cm x 40cm are not allowed and will have to be left in the cloakroom. Its easier to just not take large bags. The cloakroom is near the ticket office.
As I mentioned above there is no restaurant or café at The Alhambra. There are vending machines in the following locations:
Entrance pavilion.
Pavilion of Services next to the Gate of Wine (Puerta del Vino).
Car park
You cannot take strollers or prams in to the facility either. They will keep your pram or stroller for free and offer baby carriers for use for children up to 12kg. This does seem strict until you enter the palaces and then it becomes clear how much damage a stroller could do in the hands of those less careful.
Accommodation Close To The Alhambra
As always, I've included a more budget version, mid range and upper range options for your stay in Granada. All of these hotels and apartments are centrally located and close to The Alhambra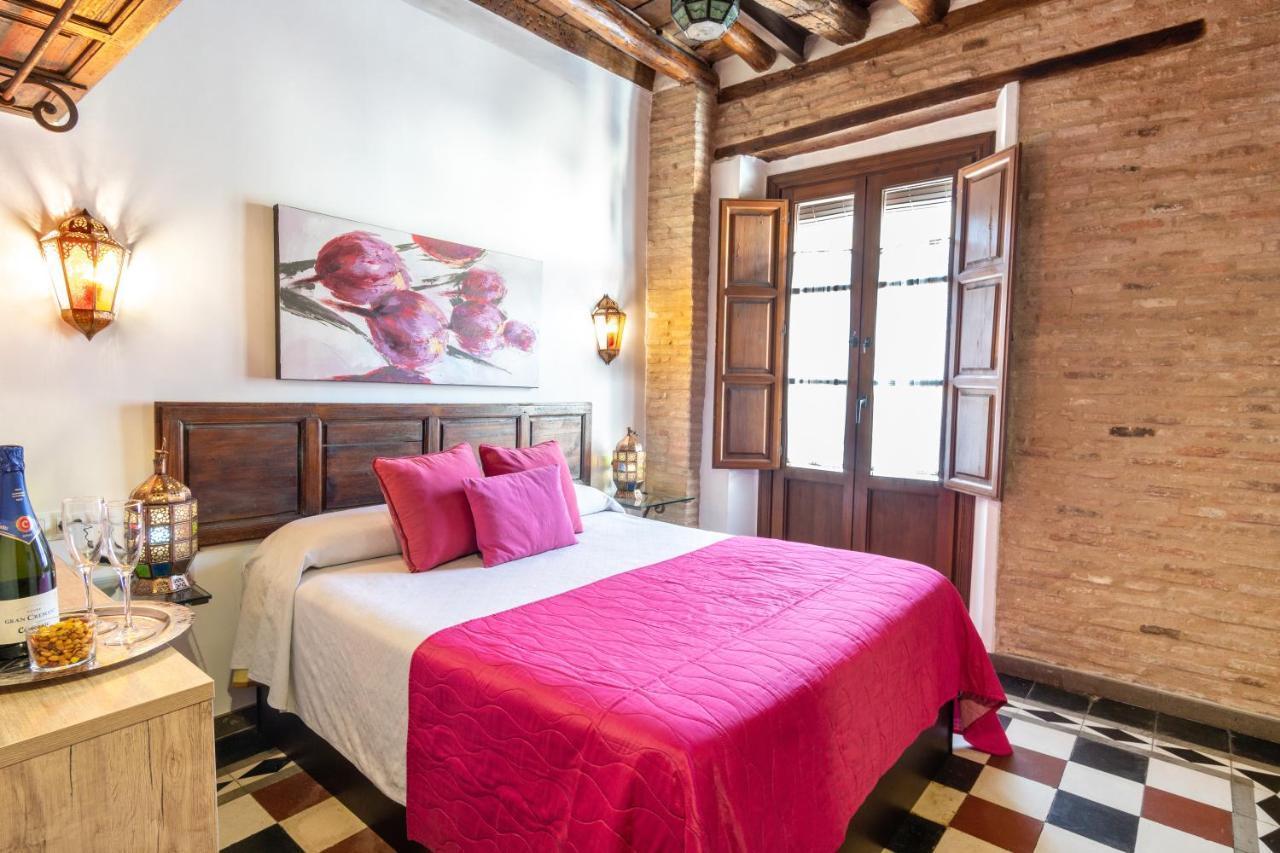 Casa de Federico Boutique
BUDGET:
From $75 AUD per night for a private room in a great location this small hotel is a great deal.
Mirador del Zenete Apt
MID RANGE:
Great value from only $160 per night, these 1 bedroom apartments are central to all the main Granada activities.
Aurea Washington Irving
UPPER RANGE:
$300 AUD (aprox) per night will enable you to see the Alhambra walls from your balcony! Affordable luxury and also with a pool.

Check Prices