Visiting Vietnam's War Remnants Museum
I'm not going to try and talk you into going to the War Remnants Museum in Ho Chi Minh, however, I will say that despite the horrors of this very turbulent war (I'm not going to buy into the "military action" description – if there are two sides and guns, its a war to me) I do feel that its a necessary visit if you are in Vietnam.
If you are coming through from Cambodia it's easy to feel a little less focused on Vietnam's war considering you have been following the genocide in Cambodia for a few weeks, however the Vietnamese deserve the same level of attention that you showed through Cambodia, so we always intended on going to the War Remnants Museum in Saigon.
If you don't know anything about me, I don't cope with anything that is really intense. I would never avoid going to pay my respects at a historical site or museum, but I do have to build myself up for it.
I couldn't go the first day we were there. Or the second. We headed out to the Mekong Delta for a few days instead.
Finally after the delta I decided I needed to suck it up, stop being a big cry baby and go and pay my respects.
Now I have to say, I don't regret going as I do honestly believe you need to see and be exposed to this kind of content if only to maybe at some level stop it happening again, but I do feel I went a little unprepared. Somehow I had in my head that because it involved the US that a lot of the info and images would have been supressed, but fortunately for society, they were not.
Most of you reading this know me. I suck at these things. I am constantly amazed at the depravity that human beings can show toward each other. I can't stand any of the "ism's", will step in anywhere if necessary, and will defend my friends with sometimes a downright nasty attitude, but worst of all, war traumatizes me. Horribly. But – sometimes a traumatic experience to me, would be Christmas day to the people who actually went through it. So I declared myself "unprincesslike" and off we went.
Brad was nervous from the start – but packed extra tissues bless his cotton socks – and followed me around the entire place with his hand in the small of my back. I couldn't have made it without him.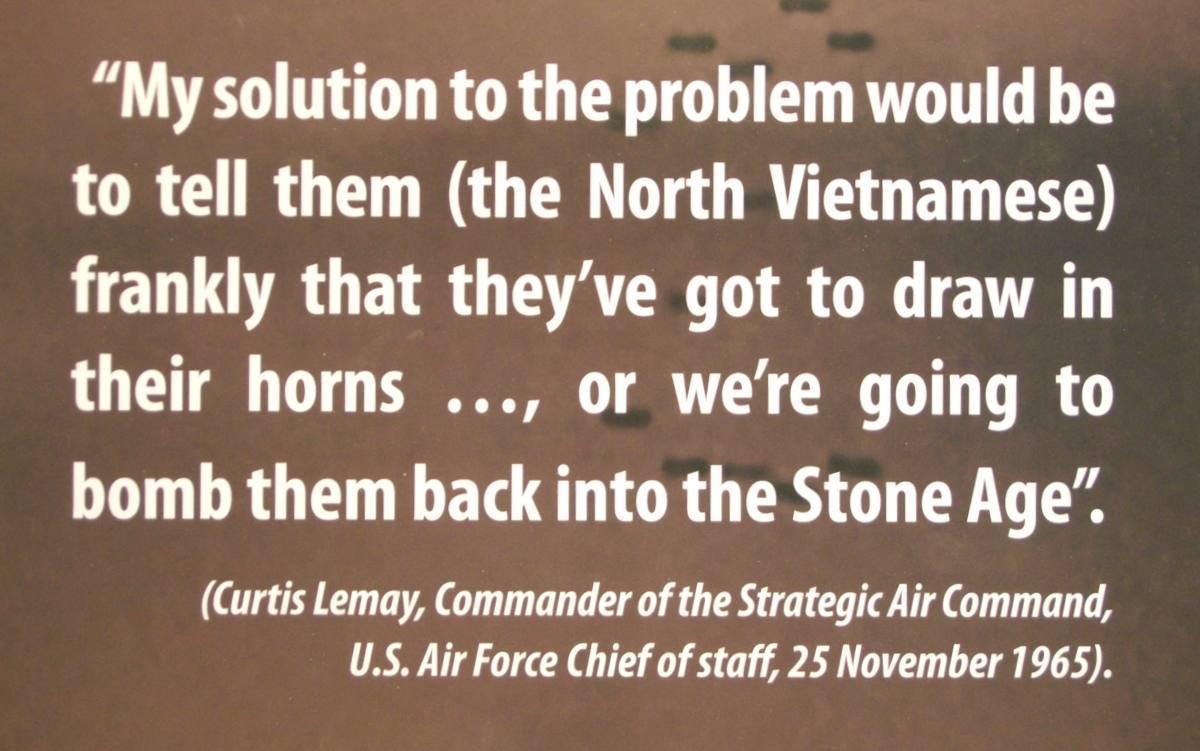 A statement made by Curtis Lemay, Commander of the Strategic Air Command, U.S. Air Force Chief Of Staff, 25 November 1065.
---
What is inside the War Remnants Museum
There are a few big halls that showcase stories and information abou the war, and outside there are a large number of military vehicles and hardware. The tanks and misiles don't really appeal to me at all so we headed inside to start.
The main hall is mostly differing photo exhibitions. Photo journalist's images, quotes from US leaders, things like that. The horror however is undefinable.
Politics aside, How? How? How? have both sides never been held accountable for actions that have possibly been some the worst actions taken of any war. Anywhere, to date.
We see war tribunals all the time, about this Nazi commander, or that Iraqi dictator, or some other perverted idiot. But somehow (to my knowledge) apart from the odd tearful apology from some 60 year old American senator for things he was "aware of" in the Vietnam war, I don't think anyone from either side has every been held fully accountable. I spent most of the 3 hours in tears. I wasn't the only one, and for once no-one tried to hide anything. I was standing in front of images, tears streaming down my face and would turn to the next one to see someone else next to me squatting down with their head in their hands.
Paige and Laura went the same day we did, and at one point we walked out of one hall to head to another, and Paige was sitting on a bench looking distraught and neither of us had to speak. We just nodded and walked on. Words just don't work there.
As with most photo exhibitions, there is one or two images that stick with you.
It wasn't the Agent Orange photos.
It wasn't the piles of dead and tortured bodies.
It wasn't the total devastation of acres and acres of land.
It was an American solder. It was actually 3 images. It was an all too familiar story.
"Pete" was a Captain in the American Forces. He had been in the army for 14 years at this point. I have no doubt that he would have done whatever he was told. He was a soldier. It was his career and I suspect his life.
Photo 1: "Pete" is in what looks to be a briefing room, talking to his helicopter crews explaining the mission they were undertaking that day.
Photo 2: After loosing 3 choppers and having taken heavy fire, Pete was hanging out the side of his helicopter shooting his pistol, holding an injured countryman with his other hand trying to keep him alive.
Photo 3: He is back at camp. In the bathroom. On one knee, head in his hands, sobbing.
How many lives were ruined I can't begin to imagine and all I can hope for is that none of us ever have to see that kind of human depravity again.
Days later I am still in tears as I type here, but my very heavy heart was lightened considerably when Thong, our Vietnamese guide explained to me only last night, after I asked him why there has never been any kind of tribunal over this war, that the Vietnamese people all realise that nobody won. In his words "We think both sides did things. Both sides suffered very badly and what good would it do".
I'm not going to describe what you need to see or explain how the museum is laid out. My only advice is go and take tissues. Its a must do but it won't be easy.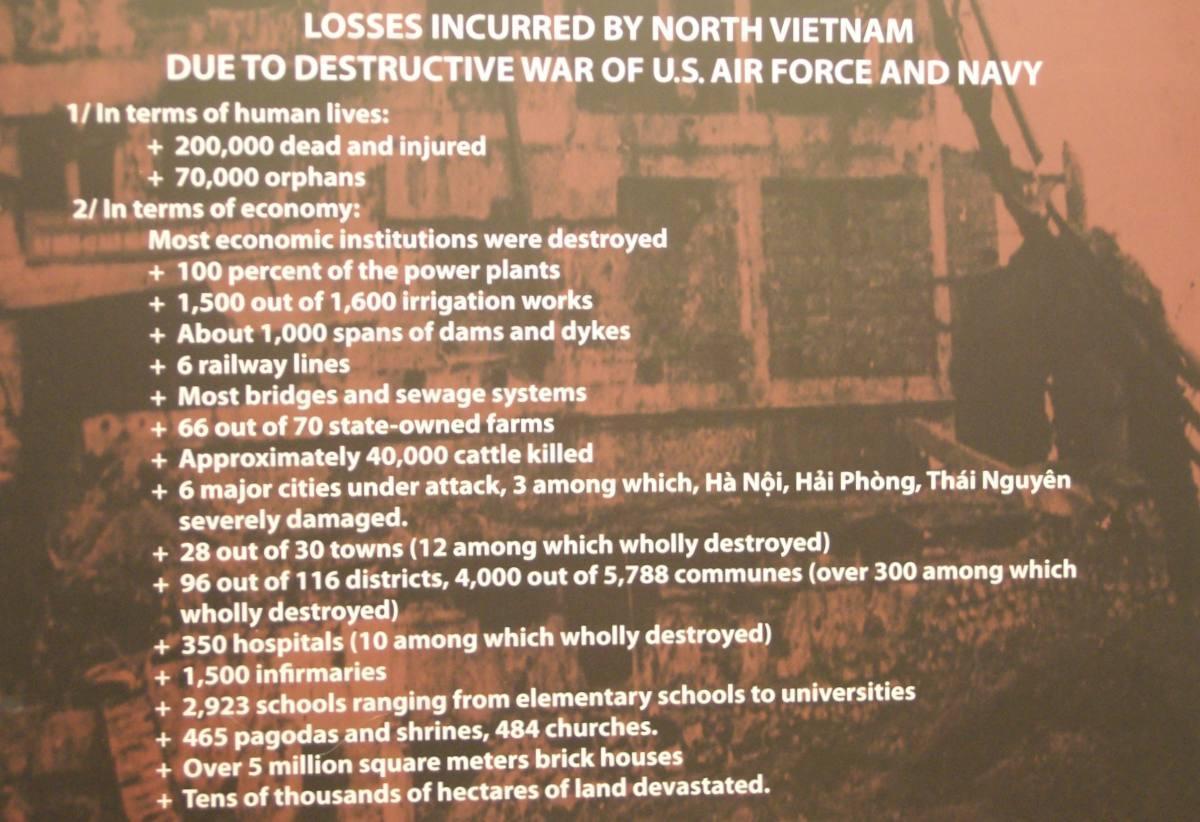 ---
Do You Need A Guide For the War Remnants Museum?
If you are looking at doing just the museum, you could do it without a guide very easily, however I do imagine you would get much more from the exhibition if you did have a guide. A lot of travellers combine the war museum with the Chu Chi Tunnels which is a good use of a day.
---
Day Tours That Visit The War Remnants Museum
---
Would I recommend the War Remnants Museum
While is it tough, I do recommend you do this while in Ho Chi Minh City. It's just too hard to tell someone to go and experience that, but how can we not repeat these mistakes if we don't see the horror of it. I do have some recommendations though if you do choose to go on your own and not with a tour.
Only go with someone you love and trust.
An endless supply of tissues will help.
Be respectful of others reactions
Don't plan anything for a few hours afterward. You may just need to sit for a while. If you do a day tour that does this museum first, you will appreciate the time in traffic to get to your next location to have a little quiet time.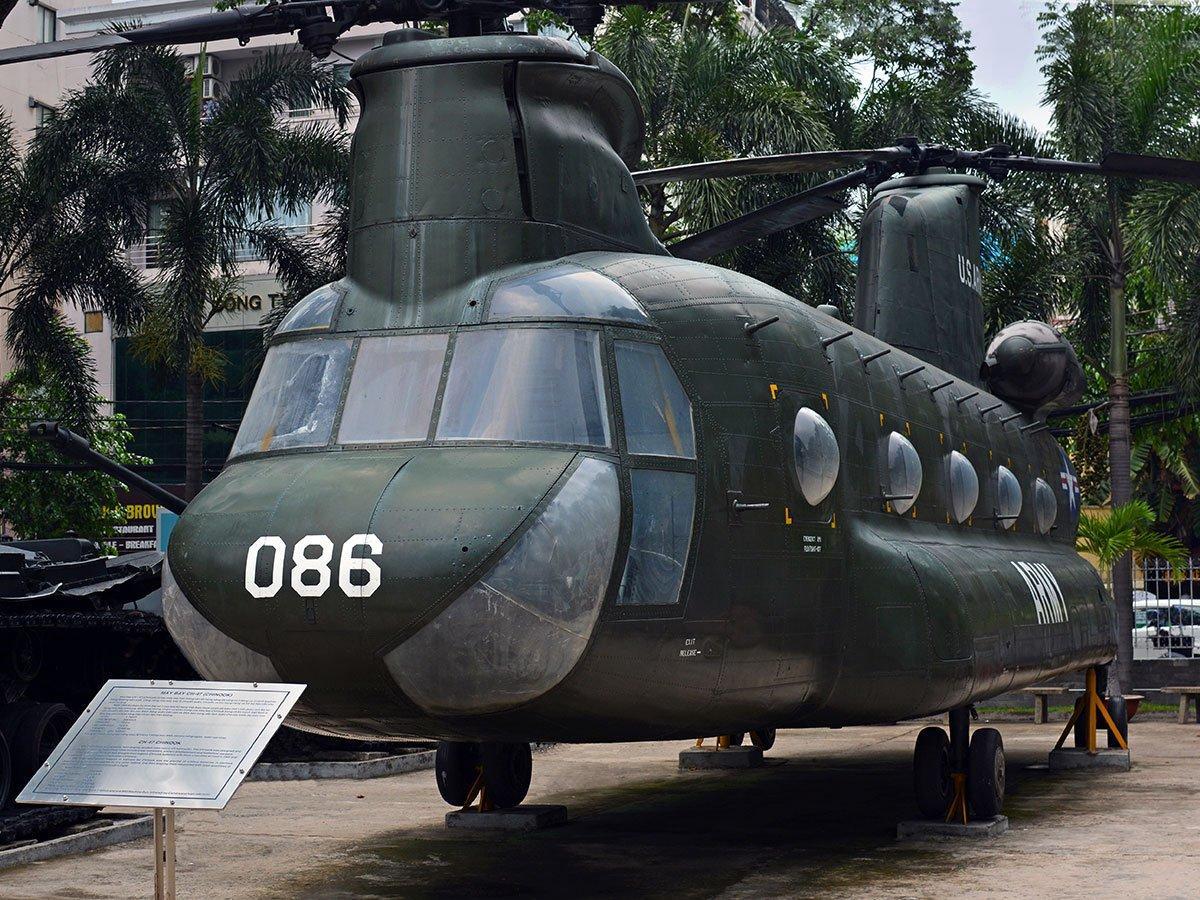 For the hardware nuts – there are heaps of high quality pieces of military equipment on display. 
---
In Summary:
Before you say those angry words, take a breath, and think of how easily things can escalate. It all starts somewhere.
Lets be a bit nicer, a bit more tolerant and in the words of the ultimate peace keeper, Ghandi, lets "Be the change you want to see in the world. "
Peace & Love,
Jn
---
Check out my Vietnam Destination Page for all the info, posts & places to visit in Vietnam.
---