Visiting Jigokudani Snow Monkey Park – Yamanouchi Japan
Apart from being a beautiful Onsen town, Shibu (or Yamanouchi) is a jump off point for the Snow Monkey Park. The Snow Monkeys of Yamanouchi have become quite famous over the last decade or so. These are the monkeys that sit in hot springs surrounded by snow. You see images everywhere especially when you start researching to visit Japan.
---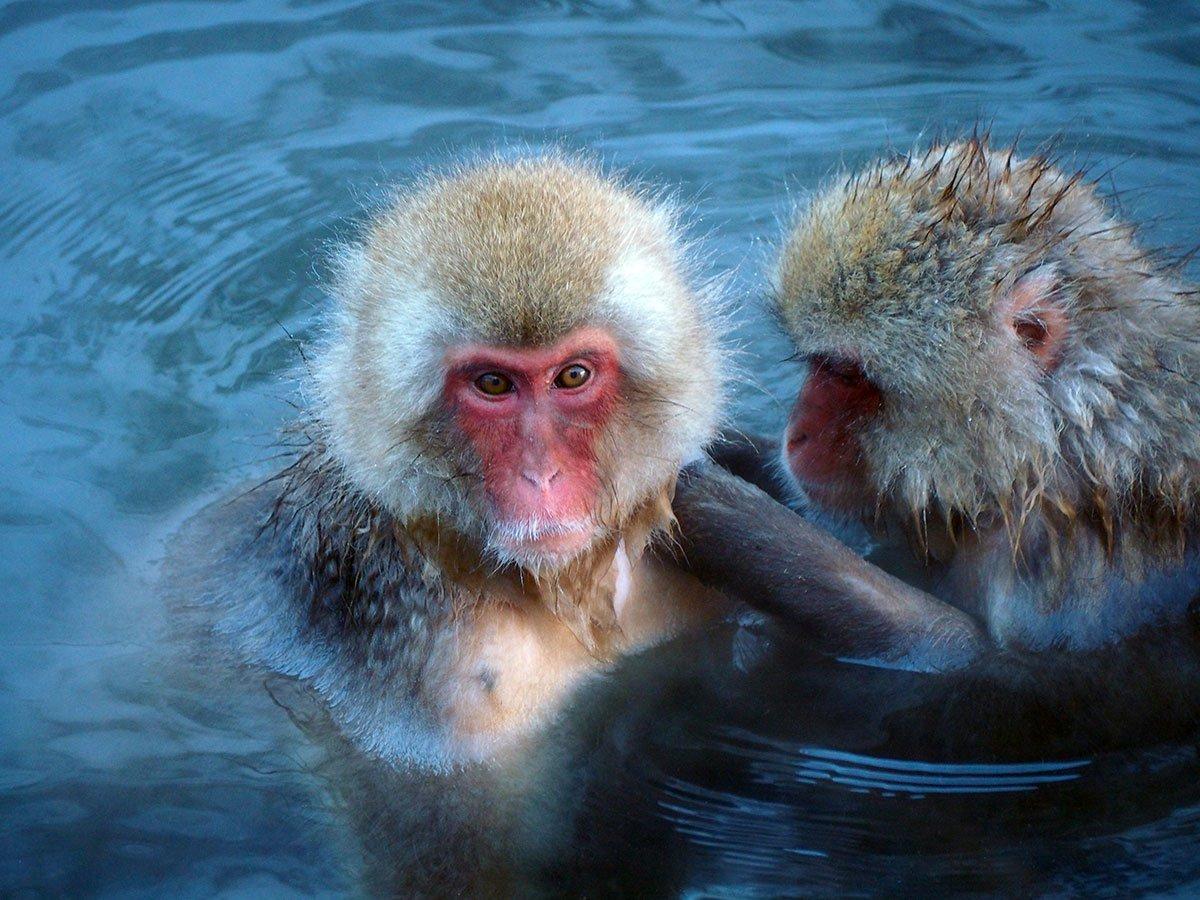 What type of monkeys are the snow monkeys of Japan?
The famous Snow Monkeys Japan has in the Yamanouchi area are Japanese macaques. You can find Macaques the world over however its my understanding that these particular monkeys are native to only Japan. They are extremely intelligent and usually live in what is called troops. Troops can consist of groups of over 100.

Macaques use what is considered to be Matrilineal societies, which basically means that the female monkeys stay in the group (or troop) to which they were born, where as the males leave the group when they reach sexual maturity. These monkeys can cope with temperatures as low as -20 degrees Celsius and their fur gets thicker as the temperature drops.
---
When is the best time to visit Jigokudani Snow Monkey Park?
While the monkeys do live in the forest here, they mostly come down to bathe in the man made hot spa (yes its man made) over the colder months of December to March. They are of course very photographic, however if you want to ensure that you have a real "snow monkey" photo, the best time to visit is January or February as these are the months that you are almost guaranteed snow.
Monthly Chance of Seeing the Yamanouchi Snow Monkeys
| Month | Snow Possibility |
| --- | --- |
| January | Definitely snowy |
| February | Definitely snowy |
| March | Very high probability |
| April | Slim chance of snow |
| May | Very slim |
| June | None |
| July | None |
| August | None |
| September | None |
| October | Very slim |
| November | Slim |
| December | Good chance of snow |
---
How To Get To The Snow Monkey Park From Shibu Onsen
Public Transport to the Snow Monkey Park (Jigokudani Monkey Park)
There are quite a few possibilities to get there.
Coming from Nagano, you can get the bus to the Snow Monkey Park stop and then walk into the park. You are looking for the buses on the "Kyuko Shiga Onsen" Line. The fare is around $25 AUD (1500 yen) and it takes around 50 mins. You need to catch the bus from the East Exit of the Nagano Train station. The JR Railway have a good station map on their website.
The bus website is in Japanese, however this looks to be their winter schedule for this run as at February 2022
Bus Timetable from Nagano to The Snow Monkey Park
| Station | Departure Time | Departure Time | Departure Time | Departure Time | Departure Time | Departure Time |
| --- | --- | --- | --- | --- | --- | --- |
| Nagano East | 09:10 | 10:20 | 11:15 | 12:15 | 13:15 | 14:15 |
| Apple City | 09:42 | 10:53 | 11:48 | 12:48 | 13:48 | 14:48 |
| AEON Nakanoten | 09:47 | 10:57 | 11:52 | 12:52 | 13:52 | 14:52 |
| Michinoeki Yamanouchi | 09:51 | 11:01 | 11:56 | 12:52 | 13:52 | 14:52 |
| Snow Monkey Park | 09:57 | 11:07 | 12:02 | 13:02 | 14:02 | 15:02 |
If you are driving there is a paid parking lot higher up the hill however that road is often closed in winter due to snow. You would be better to park in the village and catch the bus.
Walking to the Monkey Park from Shibu Onsen
The other alternative (and what I did) is walk from Shibu Onsen. I would say it took me just under an hour all up from my accommodation to the actual hot springs. Half of that was to the Jigokudani Valley point at which point the trail to the hot springs starts. The actual trail inside the park isn't that long but of course the weather and ice on the path really slows you down.
I followed the path Google suggested from Onsenji Temple to Jigokudani Monkey Park with no problem. At some point you cross over Yamanouchi Creek and that's where the path to the snow monkey hot springs starts. The walk from town in February was no challenge, but the path up from the entrance and parking are to the hot springs was very slippery.
---
Getting A Day Tour To The Snow Monkey Park
There are tours to the Snow Monkeys from Tokyo which considering Japan's fast trains is only about 2½ hours each way. I would say that a day trip from Nagano would be better than Tokyo though. It would be a huge day from Tokyo and only an hour or so each way from Nagano.
Get Your Guide has quite a few options that might help if you don't wish to stay at one of the Onsen's for a few days or consider Viator if you would prefer to book with them.
Day Tours to The Snow Monkeys
---
My Time With The Snow Monkeys
It was a cold day but very clear so a great walk to the entrance of the park. However when you get to the park – BE CAREFUL – the trail from the entrance to the hot pools is very icy in the winter and it slopes toward the downhill which means that everyone tries to hug the inside of the path.
Wearing good gripping boots or shoes is essential. Do not skim on the boots and if you have crampons use them. It was downright scary in parts. The path is flat and easy but we'd had snow the day before which turned into ice over night and as I was early in the morning it had yet to be broken up by the foot traffic.
So I slip and slide my way up to the pools where the monkeys hang out and managed to arrive unscathed. I deliberately went really early so it wouldn't be too busy, and I am rewarded with very few people and lots of monkeys!
Every time I think about the snow monkeys I always remember that old phrase about Chinese food in China just being food. It always makes me wonder if you go to the snow monkeys in summer are they still snow monkeys or just monkeys??
Anyway I digress….
The monkeys are much bigger than I expected them to be which always seems to be the case with me and monkeys. I'm a little scared of monkeys if I'm honest so I think in my mind I like to think of them as less threatening than they actually are. They are constantly preening each other which was another thing I wondered about. How does anything survive in that hot water but whether its fleas or some variation of mites, they do constantly pick and preen at each other.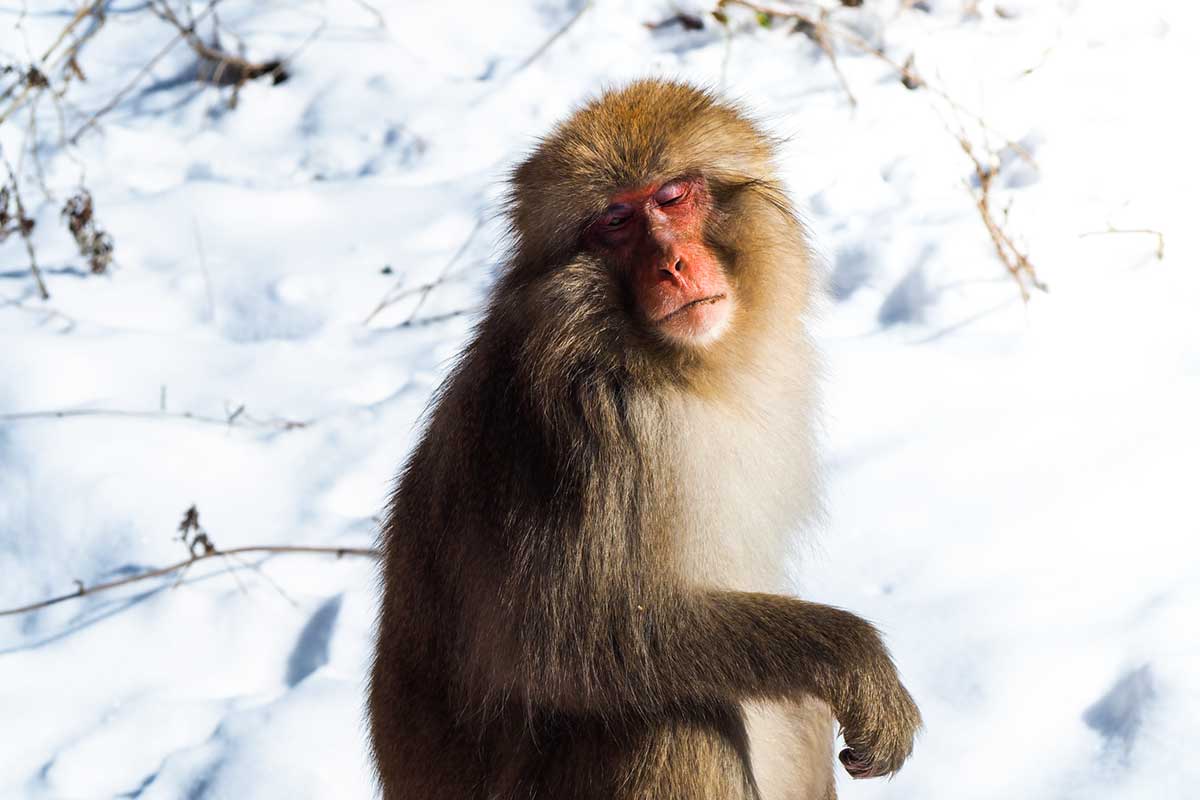 So I'm at the snow monkeys watching their antics and loving it when I notice that there are all these guys with camera's so I'm chatting away to them and the woman with them (who was very nice and very chatty) when this English girl screams and insists on having her photo taken with the woman. OMG tourists hey? Then I have a closer look and it's at this point that I realise the woman is Joanna Lumley.
Fabulous Darling!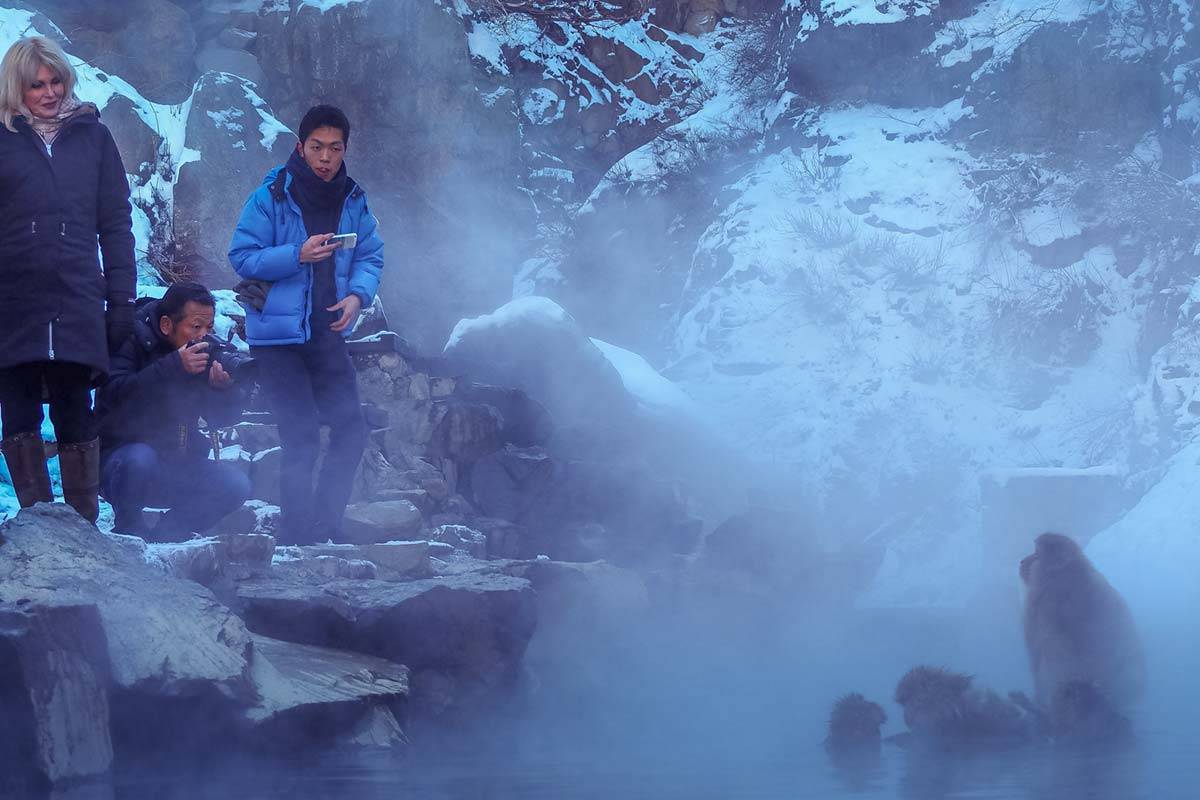 ---
There is a down side to the Jigokudani Monkey Park
If you go in the winter and early in the morning you will see the monkeys just lazing about, preening each other in the hot springs & foraging for food. It is easy to believe that it is a park where the monkeys live wild and you have the chance to observe them in this pristine environment.
Sadly that is not always the case.
I've talked to others who have arrived later in the season, and later in the day when the snow is melted, and the staff are desperately trying to get the monkeys into the hot springs by throwing food at them and chasing them back toward the water. That sounds like a less than ideal experience and couple that with hundreds of people lining the viewing platform – hmmm I'm not sure I would go for that. I think the park people need to just leave the monkeys be and accept that the tourism window is Winter and early morning.
My recommendations for the Snow Monkey Experience:
While of course if there are paying tourists in the park the staff are going to try and keep the monkeys in the water, it is still a refuge for the monkeys so remember that.
Go in the winter and in the morning first thing. I was out of the park by 11 and there were hoards of people heading up the path. There were maybe 7-10 people there during my visit but only an hour later I'm sure it would be at least 40 or 50.
I believe that you can usually hire crampons at the entrance kiosk but it wasn't open when I was there. It was the dead of winter and very early and it does sometimes close for a period when they expect little traffic
If you are coming from Tokyo take the earliest train you can to connect in Nagano so that you are there for the park opening and then enjoy the walk back to Shibu Onsen, have some lunch and start your way back early afternoon.
---
Photography Tip for The Snow Monkeys In Japan
Fabulous famous people aside, the snow monkeys are very cool, however its quite hard to get a really good photo. The steam that's constantly rising makes it hard for your camera to focus so you have to wait for a slight breeze to disperse the steam so you can focus on their faces. It's quite the art actually.
I ended up having to set my shutter speed to quite fast to account for the little time I had with the dissipating steam. That meant that probably 60% of my photos were a little blurry as the damn monkeys move! Why can't they just sit there for you? Oh yes – they are wild animals.
Just keep snapping away and when you get home I'm sure you will have a few good photos.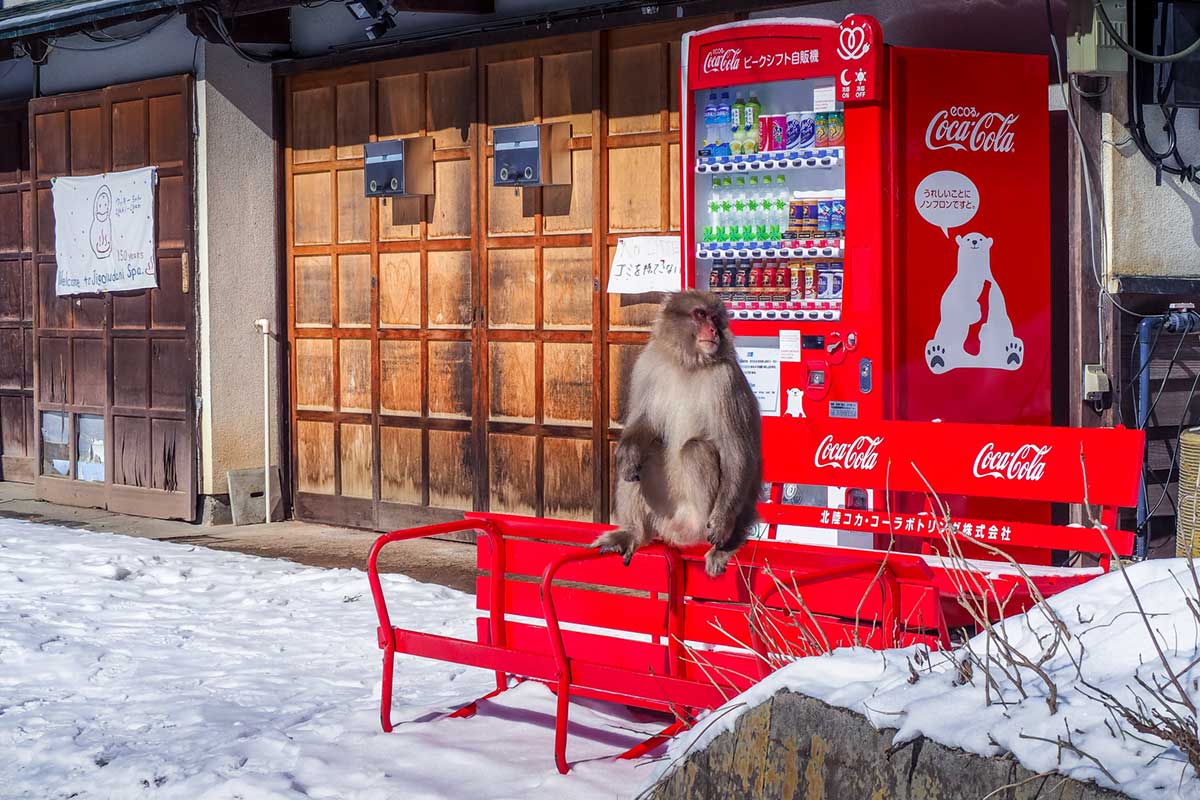 ---
Are You Visiting Japan Soon?
Consider a JR Rail Pass. Available in 7, 14 or 21 day options, you can save up to 50% on your train tickets. They do have to be ordered prior to your trip and delivered to your home country, however you can activate them on your arrival in Japan starting from a set date so if you are going to be in and around Tokyo for the first 5 days you can set your JR Rail Pass to start on day 5 when you will start traveling.

---
---
---