Viewing The Aurora Borealis (Northern Lights) in Iceland
Have you ever wanted to see the Northern Lights? Iceland can be one of the best places to see this amazing phenomenon, mostly due to the fact that it isn't hard to get away from light pollution and into a super dark sky in Iceland.

After a failed attempt in Canada in 2016 we visited Iceland in November of 2018 and considering we were there at the right time of year, I attempted to see the Aurora Borealis in all its glory. In this post I'm going to let you know how to view the Northern Lights while you are in Iceland.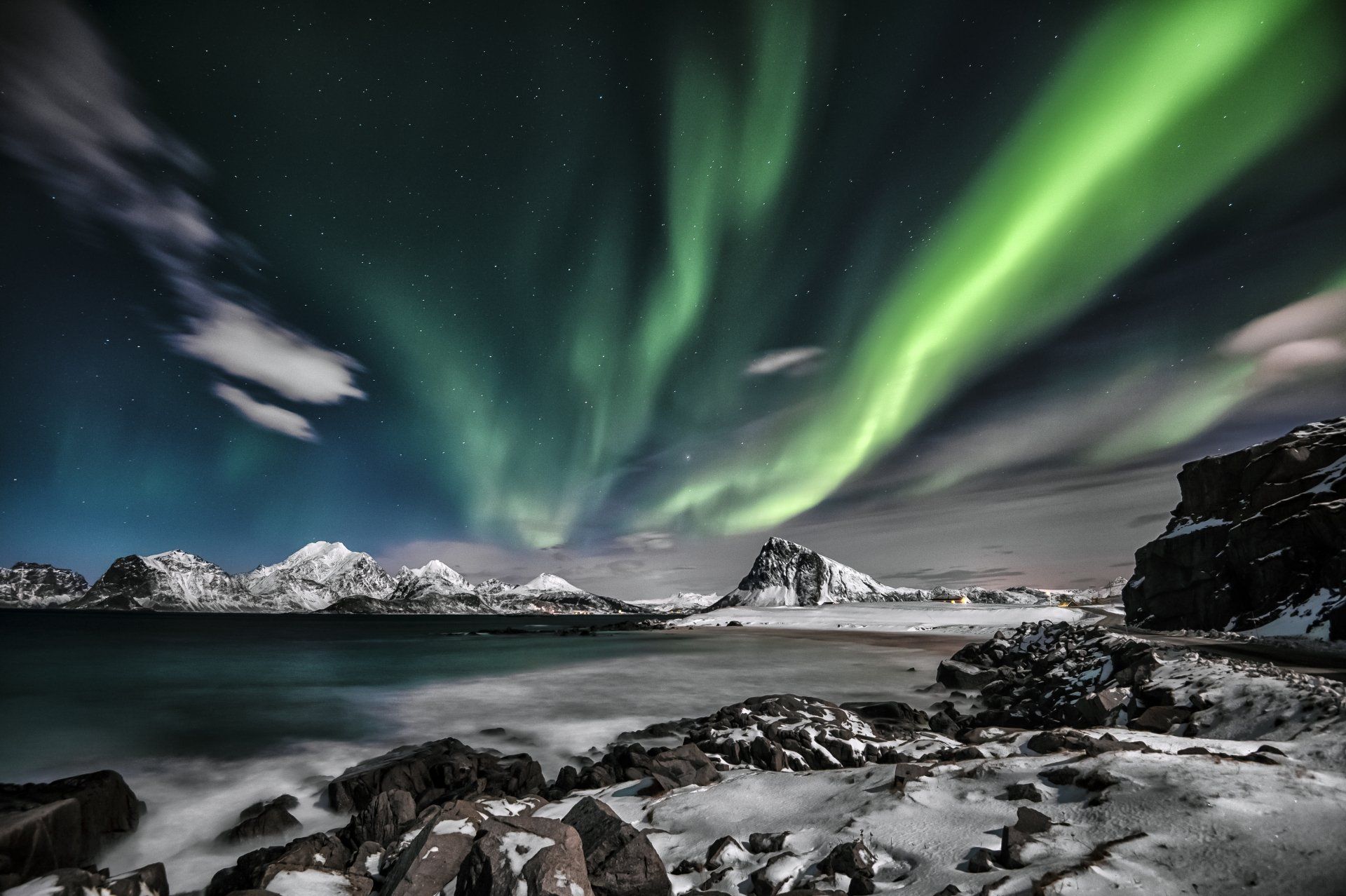 ---
What Is The Aurora Borealis?
Every day tiny particles of air become energised by the sun and slam into earth at astonishing speeds of up to 45 million miles per hour! Yes that MILLION miles per hour. That is just not comprehendible to me. Anything over 110km/hr (the fastest speed you can drive in Australia) all seems like light speed to me, so to be able to put that kind of speed into perspective just isn't in my realm of comprehension. Lets just say its super fast.
The earths magnetic field protects us from this barrage of attacking air particles, but as they are reflected toward the north pole, the process transforms them into the light show you can see. I like to think of them as a giant glitter storm that moves too fast for us to see until they are blown sideways and then BOOM! Sparkles!
Incredibly, there is a cave painting in France depicting what can only be the northern lights which is thought be be at least 30,000 years old. Early astronomers also mention this phenomenon as does early Chinese records.
What you might not know is that this also occurs in the southern hemisphere and can be seem from Tasmania in Australia as well. This one is knows as Aurora Australis.
---
Why does the Aurora Borealis have different colours?
The colours we see are governed by the chemical composition of earths atmosphere. At different locations the colours you will see from the Northern Lights are based on the makeup of that area's chemicals, minerals and trace elements.
Red is typically produced by Nitrogen molecules and the green by oxygen molecules. The purple is a combination of both. So the green is the most common colour simply because Oxygen is usually the highest chemical that is in the air.
---
When can you see the Aurora Borealis?
Winter, when the nights are long and dark is the best time to see the northern lights. The darker the space the better, and in recent years the best times have become quite predictable. Because of this knowledge you can plan to see the Northern Lights with a reasonable degree of accuracy. There are of course still times where you might not see them, but if you can plan to travel at the best times, you should stand a great chance of being able to experience this amazing light show.
---
Seeing the Northern Lights In Iceland
Iceland is one of the best locations to view the northern lights. This is primarily as you can escape the light pollution from developed areas quite easily in Iceland.
The auroras only appear near the Earth's magnetic poles which are higher than 60 degrees of latitude in the north and lower than 60 degrees of latitude in the south. Iceland sits right on this latitude making it one of the best developed locations to view the Aurora.
Tours That Include The Northern Lights
If you are going to be in Iceland it makes sense to see more than just the Aurora so I would strongly recommend that you do a tour that includes the chance to see this extraordinary light show.
Why A Tour Of Iceland?
The Northern Lights are visible over Iceland's winter period and for a lot of that time its just not possible to drive yourself around the country. For this reason, it is a great idea to jump on a tour and let someone else who has experience handle the icy conditions.
Multi Day Iceland Tours Dedicated To A Great Northern Lights Experience
These tours are all available through Tour Radar. I like to use them so that I have a company that will support me should I have any challenges. I had more than a few tours cancelled because of COVID and knowing that Tour Radar were holding my deposit on behalf of the tour company meant I managed to cancel some and postpone some very easily. I managed to either get refunds or use my tours at a later date. That is just invaluable to me.
8-Days Northern Lights Exploration
Dedicated Aurora Borealis trip with a Northern Lights academy included
Vist Kirkjubæjarklaustur in the Vatnajökull National Park for the darkness to enable the best photography
See Icelands other tourism spots
Get expert tips on photographing and information about the Aurora
Tours to See The Northern Lights From Reykjavik
If you would prefer to travel Iceland yourself and would like to do a tour from Reykjavik for the sole purpose of seeing the northern lights, there are many options available. These tours from Get Your Guide offer different times and pricing, and again – I usually book through GYG as if I have any challenges they are there to support me.
Bus Trips to See The Aurora Borealis From Reykjavik
Reykjavik Northern Lights Photography Tours
If you are a photographer and would like the time to take your own personal photos of the Northern Lights, consider this dedicated photographic tour from Reykjavik.
Reykjavik Northern Lights Boat Tours and Cruises
One of the alternate ways to see the Aurora Borealis from Reykjavik is to do a boat cruise. While a trip out into the dark wilderness will probably give you a better experience of the lights, a boat cruise is a great way to see the Northern Lights if you have limited time in Reykjavik. This is the way we ended up seeing the lights. We got our departure flight changed to a day before we were due to leave and this was the only chance we had. We did end up seeing the lights too – which I explain for you below.
---
Our Trip From Reykjavik To See The Aurora Borealis
This trip was part of a larger work trip and we only had 4 days in Iceland unfortunately. We spent one day doing a Golden Circle tour, 2 days working and then only had 1 night left to try to see the northern lights. Our flight out got changed and ended up being the next morning at 6:40am. As it was an international flight, we weren't able to do the bus trip out to nowhere as there was a risk we would get back to late to get to the airport the 3 hours early our airline had requested. So we booked the boat tour instead.
We were fully aware that our chance of seeing the lights from just outside Reykjavik and in the harbour were slim but it seemed like a nice way to spend the evening anyway so off we went.
There is a very real chance that I've never actually been that cold! OMG – even with the full cold suit they give you I was still bloody frozen. The boat is large enough for you all to fit inside and I would estimate there was around 20-25 people. The tour was very well run, we had wine and met some great people but the whole idea was really trying to see the lights.
We headed out to an outer island in the bay, circled around that slowly and turned back up the inlet.
Still not a skerick of light.
We cruised very slowly back along the peninsular toward Reykjavik, the speed governed by the "next night guarantee" that they offer you with your ticket. Basically if you don't see the Aurora on the boat trip that night they would offer you the same boat trip later in the week. That wasn't an option for us so I had everything crossed.
As we edged closer to Reykjavik the lights of the city started to be very noticeable and it was at this point that Brad went inside. We had been in and out all night, mostly as it was just too cold for us to stay out and I almost went with him. Almost….
I would estimate that we were probably no more than 10-15 mins from steaming into port when a bit of a shimmer appeared on the horizon. It wasn't much but I was beyond excited. The Northern Lights! They do exist!
Being as quick as I could I ran down to get Brad who emerged without his Eskimo suit determined to see them before they disappeared. The boat slowed almost to a crawl and everyone waited with baited breath.
2 or 3 minutes went by and nothing.
5 mins went by and there was some kind of glimmer on the horizon but nothing more. People started to chat, the boat still crawled along and it felt like that was it. A tiny glimmer was going to be our Northern Lights experience.
About half of the boat's passengers disappeared into the warm (and who could blame them) but I was determined to see out the night just in case. Our guide came over and insisted that we would see at least a little more to which I responded "that would be awesome but I really want them to come out and dance like Kylie". He smiled (well smirked if I'm honest) and said "lets hope they show up in those tiny gold shorts". We both giggled and I swear our laughter triggered the fun. Within a minute electric swirls of green and pink were spinning overhead and I was screaming with amazement. The guide called downstairs and people came pouring out onto the deck. The lights seemed to listen to that encouragement and just enthralled us for the next 15 minutes.
Now in the scheme of things, it wasn't an amazing example of what you can experience in Iceland, but for us it was the best aurora experience Reykjavik had to offer. The boat was moving so decent photos were impossible to get but:
Third time's a charm and I saw the northern lights!
Below are my very terrible photos but I just don't care!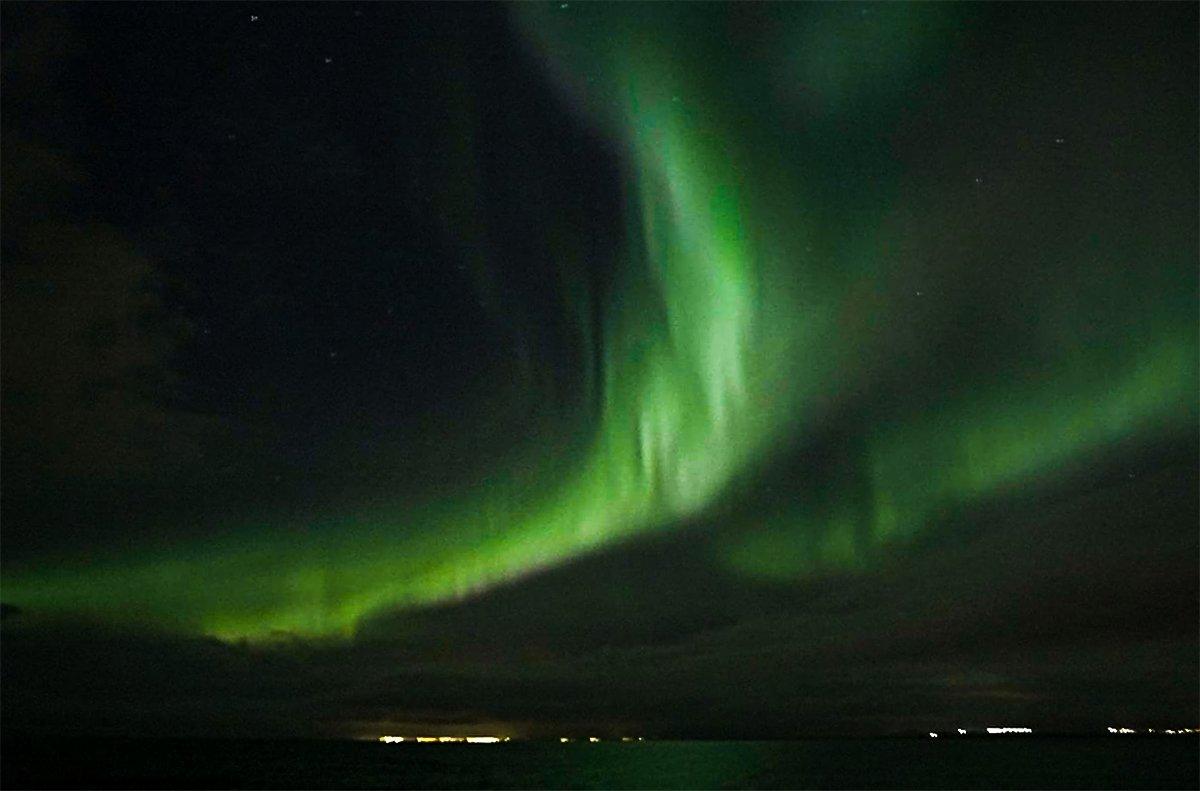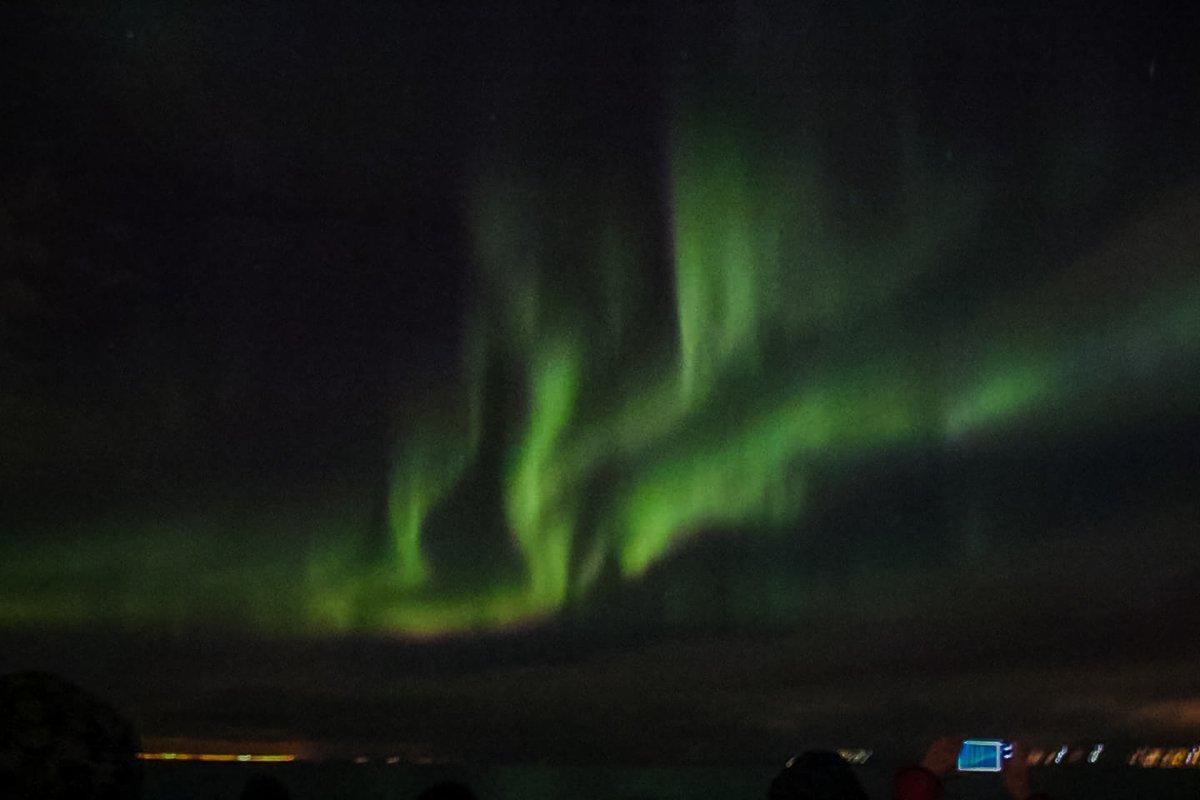 ---
---
FAQ's About The Aurora Borealis (Northern Lights) in Iceland
What Is the best time to see aurora borealis Iceland
The northern lights season runs from September to March, however the colder months from November to the end of February do seem to offer you a better chance.
What area of Iceland is best for Northern Lights?
For the best experience it is essential to get away from the lights of the cities and towns. Because of this, the best places are the small communities in the northern areas of Iceland. Te small fishing village of Siglufjörður is a very popular destination to view the lights, however it can be extremely difficult to get there. A lot of tourists head south to the black sand beaches around Vik to view the Aurora.
Are The Northern Lights Visible from Reykjavik
YES! While the purists will tell you that the lights from the city will interfere with viewings, it is 100% possible to view the Aurora Borealis from Reykjavik.
How Can I Increase My Chances of Seeing The Northern Lights
The best way is to be sure to have a few spare nights up your sleeve during your Iceland trip. A lot of the night tours for the northern lights have "guarantees" that offer you a trip the next night if you don't see the lights. The other way is to make your way to a darker location and spend a few nights committed to light hunting. Places like Vik offer decent accommodation, things to see and do in the area and are perfect for Aurora spotting.
How Long Do The Northern Lights Last?
They don't usually exhibit for long. Typically its minutes, however that doesn't mean that is the only time during the night that you will see them. As atmospheric conditions change, the lights come and go so while you may see some for only 10-15 minutes, in an hour they might be back. –
Is Reykjavik Iceland Expensive?
Yes Iceland in general is very expensive. Electricity is thermally generated so that is pretty much free, however everything else is brought into Iceland. The shipping costs alone mean that almost everything is very expensive in Iceland. Even food from the supermarket is costly and I'm Australian!
---
---