How To Spend 3 Days In The Hamptons In Winter
While everyone is aware of how beautiful The Hamptons is in summer, when the weather cools off and winter arrives there are still many places in The Hamptons worth visiting and more to see and do than you might think.

If you are thinking about a Hamptons winter escape but aren't sure if it's worth, read on for all the info on where to stay, what to do and how very relaxing it is!
---
Is the Hamptons in the winter worth it?
Yes absolutely the Hamptons in winter is worth it. It isn't the same as a visit in the summer monthly obviously, but if you are after a nice few days of RnR you will love it.
It is worth mentioning that a few people tried to talk us out of heading up to the Hamptons in January saying that everything would be shut for the winter, but not to be swayed we booked our Jitney tickets and chose East Hampton as our destination.
Which Hampton's Town Should You Choose?
Where should you stay? Choosing between East Hampton, West Hampton, South Hampton, Montauk, Amagansett, Water Mill, Bridgehampton, Sagaponack, and Sag Harbor – OMG that is just too much choice! After an hour or research I was more confused than when I started so we simply decided to make East Hampton as our base.
East Hampton seemed to be the most central town which would enable us to visit Montauk and or Sag Harbor easily and only having 3 days we were keen to get some relaxing around the fire evenings, and not be trying to see absolutely everything. We also found a great winter special at The Hunting Inn that was too good to resist.
I have since found a good description of the towns however unfortunately I can't find the website I read it on. Here's what they described the different Hamptons area's to be. Please keep in mind this is their description, not mine!
West Hampton
This town is considered to be more party oriented with heaps of larger homes rented for the summer to 15-20 people
Southampton
City dwellers with money who come out to the area in the summer. Lots of money but lots of people that want to be "seen".
East Hampton
Known to be the place where old money and the super rich hangout. Not as much concern about being in the thick of things and less busy beaches. We didn't find any challenges with feeling like the poor cousins here, but again in winter things are a little different.
Sag Harbor
Sag Harbor is known for sailors, boaties and a more local east coast fishing village feel. There is no beach at Sag Harbor which does seem to keep it small and local.
Montauk
Is for those who are prepared to drive the length of the peninsular which usually collates to weatlhy families or those with money who want a quieter vacation. There are known to be some great smaller beachside homes for vactions at Montauk and in the winter it would be a great get away.
---
How to get to East Hampton
You can of course drive, however we wanted a fully relaxed weekend so we jumped on the bus. The Hampton Jitney takes about three and a half hours from the Upper East side of Manhattan to East Hampton and the bus is well equipped and comfortable. It's also pretty cheap at around $40 per ticket if you pre-purchase and $47 if you pay on board.
You could also hire a car if you are comfortable driving. This would give you more flexibility obviously, but a much higher cost. Rental Cars Connect always seem to have the best deals for me.
If you aren't super confident driving in the city, make your way out to Queens on the subway and pick up the car there. That way you can get on the freeway easily and not have the headache of trying to navigate your way out of Manhattan.
Currently (March 2023) smaller cars are around $280 AUD for 3 days hire. That's about $190 USD. Not bad!
Where to Stay In East Hampton
Accommodation costs are very different from season to season in the Hamptons so be sure to check the actual dates of your stay for the accurate room prices. Check for deals below:
The special we found at The Huntting Inn was two nights accommodation with a meal in their restaurant included in the price. It was a great deal and less than one nights accommodation in the summer!
---
Where to Eat In East Hampton
There are a few great eating places in East Hampton. Not all are as expensive as you might think.
Pizza – try Fierros for a good pie (that is so weird to say as an Australian)
Italian – try Cittanuova on Newtown Lane
Breakfast – John Papa's Cafe was outstanding! It's American comfort food and is well prices with typically American HUGE servings. Try the pancakes!!
We arrived just before lunch so we dropped our bags and headed into the main area of town for lunch. We found this place called Rowdy Hall and settled in for some amazing chowder as an appetizer. Thank goodness we shared it because Brad's main meal (Lamb from memory) was HUGE.
We always forget the size of the meals in the US. I ordered a Croques Monsieur which is the toastie of all toasties. It's like a traditional ham and cheese toastie, but the whole sandwich is grilled. OMG so good and this one came with a fried egg on top which I've since learned is a "Croques Madam".
So bellies full we decided to walk back along the beach back to The Huntting. What we didn't realise though is that unlike beaches in Australia where access is pretty well defined, it was really hard to see where the access points were so we ended up walking way further than we really needed to. After a few turns we did finally make it back.
---
Dinner At The Palm
There was only a few people staying at the Inn however the staff were still there in force and nothing was ever too much of a challenge. We headed down for a drink before dinner and the bar waiter very happily gave us a complimentary cocktail he had been working on. Free drinks?? YES PLEASE!
Our dinner consisted of a few different choices for both entree and main meal (appetizer and entree if you are American) and of course we both had steak. It was absolutely perfectly cooked which is usually a challenge for me. I love my steak Rare and Blue is better than med-rare for me, but for some reason, I almost never get an actually rare steak. This one was cooked to perfection and even had the sides included. We aren't used to paying for sides as Australians.
Our steaks are usually served with your sides included so to have to pay an extra $14 for vegetables is something we aren't used to. Being a deal, I expected this to be the case, but no everything was included which was great.
Carrying on the high level of service, our waiter corked and prepped another bottle of wine for us to share in our room after dinner and it was waiting for us when we got upstairs.
Our room was very cosy and warm and there are also quite a few public area's around the property where you can sit and socialise. The rocking chairs on the front porch are a great touch and we actually spent an afternoon out there with a nice red! I don't recall any dogs but I've since read that the property is dog friendly with even walking and grooming services available.
---
East Hampton Town
The Inn is a nice stroll from the main village and I loved the main street feel of it. Even during mid week in winter there was a decent amount of cafes and restaurants open and everyone was very friendly. The shops aren't just upscale either. Brad bought a nice winter shirt and some new sunglasses for what we would pay at home which was a nice surprise.
Try Khanh Sports for swimwear, sunglasses, boards and bikes. The balance of the stores we saw are mostly stocked with high end labels, as you would expect, so no shopping for us.
The boardwalks along the beaches were still easy to use and not too slippery and of course we spent a few hours wandering around the beachfront mansions staring in awe!
---
Our Sag Harbor Winter Experience
We got a taxi over to Sag Harbor for what turned out to be a bitterly cold afternoon.

We walked around for a few hours, had lunch in the pub and listened to the locals all tell us that it should have showed by now. About 3 degrees ago was the consensus. The cold was biting and we were so excited to hear that it would snow overnight for sure.

While Sag Harbor is the centre of all things boating and sailing in the summer, in the winter the marina was empty and there were not many people around. We loved this because it meant that the only people we met were locals who were keen to impart their knowledge about what we should do or see.
Sadly there didn't seem to be too much to see in Sag Harbor itself, however there are a few decent walking trails in the area.
Sag Harbor Walking Trails
Sag Harbor in winter isn't super exciting, however there are more than a few good trails to walk. You will see a lot of the locals and their dogs on the shorter trails and there is even one that takes you over to East Hampton. It is a long one but check it out and see if its something you might like to do.
Shorter Walks In Sag Harbor:
Longer Walks In Sag Harbor
There is a very good whaling and historical museum however of course it shuts in October so that was out. There is also an Old Whalers Church which again was closed but we did go see it and take the obligatory photo. While we did enjoy this few hours in Sag Harbor this was the day when we realised that unless you visit in the summer, there isn't really anything open in Sag Harbor over the winter.
Sag Harbor in the winter would be perfect for a getaway if you were focused on relaxing, catching up with any Netflix shows you have missed and just eating at the local establishments. It would mean you could really relax and get in some decent RnR.
---
Things To Do on a Day Trip to Montauk in Winter
The woman taxi driver we had for our visit to Sag Harbor (Suzie) offered her services for a full day the next day to drive us to Montauk and around the area for $120 USD. We jumped at the chance (the exchange rate was about 97c at that point) and spent the day with her driving us to spots we can't imagine you would ever find on your own.
Deserted beaches, great walking boardwalks, an amazing oyster place for lunch that Brad still talks about, and of course a visit to the lighthouse and Navy Beach pier. If you have a look at Navy Beach's website you can see what it looks like in the summer. Almost everything was closed in the winter but there were a few restaurants and cafe's open across the town.
There are more than a few state parks in Montauk, however we hadn't realise we could have done some walks so weren't suitably dressed for hiking in slippery winter conditions. We did still manage to fill more than a few hours walking the village, taking photos and of course eating!
On the way home Suzie too us for a tiki tour around the beachfront mansions. It was a great last day in East Hampton and because we loved it so much the night before, we ate at The Palm restaurant at our Inn again.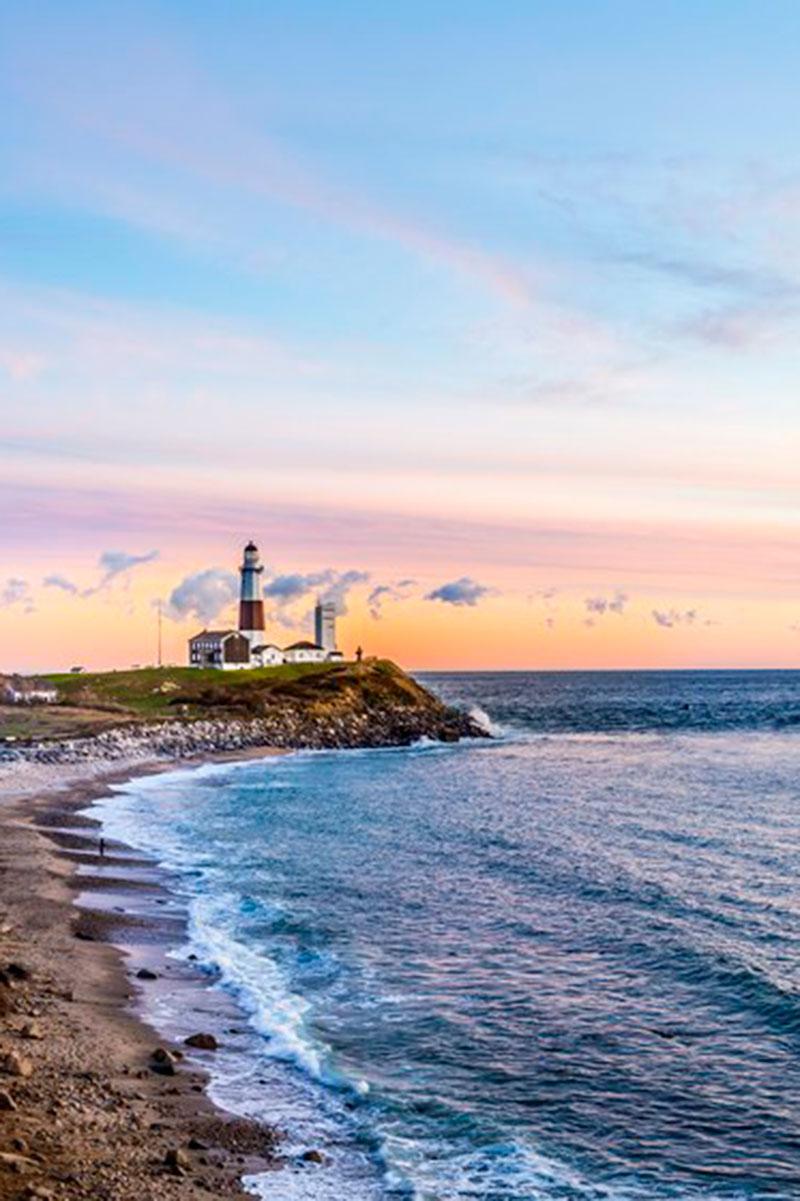 ---
Would I recommend the Hamptons in Winter?
Absolutely! As long as you are happy to spend some time sitting drinking hot cider, reading, playing cards or just chilling, you won't be disappointed. I was very surprised at the amount of cafe's and restaurants that were open and just how beautiful the area is in winter. Even though the trees are mostly bare and it was pretty cold, it was still amazing walking the beaches and wandering the villages.
The best thing was choosing East Hampton as our place to stay. It had far more open and operating than the other towns we visited so that would be my choice for accommodation in winter.
It is also so much cheaper in the winter and while I'm sure the summer must be amazing, I loved that it was quiet and we really got to mix with the locals which both of us always love.
We really enjoyed our three days in East Hampton and headed back into Manhattan knowing we had seen a little slice of The Hampton's and now knew why this area is so popular. If you are wondering if the Hamptons during winter is worth it – I say a resounding YES!
However you do have to consider the time your spend during winter in the Hamptons to be a weekend of reading your book, sitting by the fire, doing some small hikes & drinking mulled wine! Of course the beach is lovely to walk on too. Our East Hampton Winter long weekend was lovely and even though I'm sure its amazing in summer, for an Australian couple who don't get this kind of weather it was wonderful.
It never did snow!
Some East Hampton Accommodation
From what I see, The Huntting Inn is the affordable side of mid range in East Hampton. I couldn't recommend it enough. Great staff, lovely cosy rooms and The Palm restaurant was amazing.
East Hampton House Resort looks to be the only real budget accommodation available in East Hampton but they look like nice big rooms and it looks very affordable.
At the top end of the price range is The Maidstone Inn. It looks very nice and it seems that they cater to your every whim. In summer you get parking passes and it is even dog friendly.
Search for more Accommodation Options
More USA Posts You Might Like
10 Tips for Spending Christmas In New York
The Best Sushi In Brooklyn
---