Although Namibia is situated just north of much visited South Africa, Namibia has far less tourism even though it has many incredible natural sights and attractions to explore. Are you looking to visit Namibia and are wondering what to see and do while you are there? Our list of the very best places to go in Namibia will help you to plan your trip.

From the Cheetah Conservation Fund in Windhoek to the dunes of Sossusvlei, there is something for everyone to experience in this vibrant African destination. So, if you're planning a trip to Namibia, read on.
---
Introduction to Namibia
Namibia is a land of contrasts, with its diverse landscapes ranging from vast deserts to wild coastlines and some stunning scenery. I would recommend combining your trip to South Africa with a visit to Namibia as well. Once you factor in the costs of getting to South Africa or Namibia it makes sense to continue on and visit both countries in one trip.
Windhoek or Swakopmund are the main points of entry for most tourists and Swakopmund in particular offers an easy to get around city that you can use as your base for your visit to Namibia.
4WDs are easy to hire in Namibia but they can run out of stock so its always recommended to book your car well in advance. A full size SUV will be around $150-$160 AUD per day on average. Of course supply levels and seasons can change prices. Don't forget to get your Rental Cover to reduce your excess (deductible) to zero. Buying it from Rental Cover is about a third of the price of doing at the rental desk.
They drive on the left in Namibia so if you are from the UK, Australia or New Zealand driving will be automatic.
Navigating around Namibia is pretty easy. The B1 main highway travels north south through the middle of the country. You can travel pretty quickly on the highway, however a lot of other roads the branch off to the coastal towns are smaller and cut your driving time down significantly.
If you are driving in a large SUV I would recommend purchasing a jerry can (extra fuel container) and keeping it full just in case. While fuel stations are relatively frequent, its not unusual for them to be closed so be aware of your fuel levels at all times.
---
Best Things To Do In Namibia
If you are looking for what to see and do while in Namibia there is plenty on offer. From marine life to large animal safaris, you should be able to see Elephants, Lions and in season Whales fairly easily.
Apart from the animals, the towns of Windhoek and Swakopmund are worth a day or so in each. You could visit a local tribe and of course climb the world famous dunes. There is lots of places to visit in Namibia.
---
1. Go Quadbiking or 4WDing in Swakopmund Sand Dunes.
Whether you would like to go sandboarding, quad biking or 4wding they are all possible in the dunes surrounding Swakopmund, There are multiple companies offering these types of trips from a few hours to a full day. Some tours below offer shorter days or combinations of some of these activities.
---
2. Go Skydiving in Namibia
Swakopmund is the centre of skydiving in Namibia. The weather conditions in and around Swakopmund make it the perfect location for skydiving. With jumps from 10,000 ft or even up to 15,000 feet, Ground Rush Namibia is the premiere sky diving company in Swakopmund. Be sure to ask all the questions you like and ensure you are comfortable with both the company and your actual tandem instructor.
Book Your Namibian Skydive
---
3. Visit The Snake Park in Swakopmund
If you are a reptile lover, consider visiting The Snake Park in Swakopmund. Situated right in the middle of the city, ideal for children and adults alike, they have a wide variety of snakes and reptiles and all the animals look to be very well looked after.
Entry is $100 Namibian dollars for adults and $50 for children. If you would like to take a photo with a snake its $60 ND
Be sure and try and find a Gabon viper. I've stood at the enclosure for these extremely venomous snakes and not been able to see even 1. There were 3 in there but their camouflage is so good they are impossible to spot!
---
4. Go on a Dolphin Spotting Cruise in Walvis Bay
There is something about dolphins. As much as seeing any wild animal or sea creature is always such a thrill, dolphins somehow seem even more exciting. Why not do a dolphin spotting boat trip while you are in Namibia?
---
5. Visit Sossusvlei – The Largest Dunes In The World and See Dead Vlei
One of the most popular attractions in Namibia is the Sossusvlei dunes. The dunes are located in the Namib Desert and are among the highest in the world. The dunes are a popular sunrise spot with many visitors to Namibia with Dune 45 the main sunrise viewing point.
Sossusvlei is also home to the famous Dead Vlei, an ancient salt pan that is now a dried-out clay pan. You can visit both the Dunes and Dead Vlei with a two wheel drive vehicle, however you will have to take advantage of the transfers to and from the car park at DeadVlei.
If you're looking for adventure, then a visit to the Sossusvlei dunes is a must. However, due to its location it is almost impossible to get a day tour to Sossusvlei. You could have to get yourself to Sesriem and find a day tour from there. Alternatively Viator has a few 3-4 day Sossusvlei trips that visit Dead Vlei.
The budget 3 day camping safari starts at $630 AUD per person.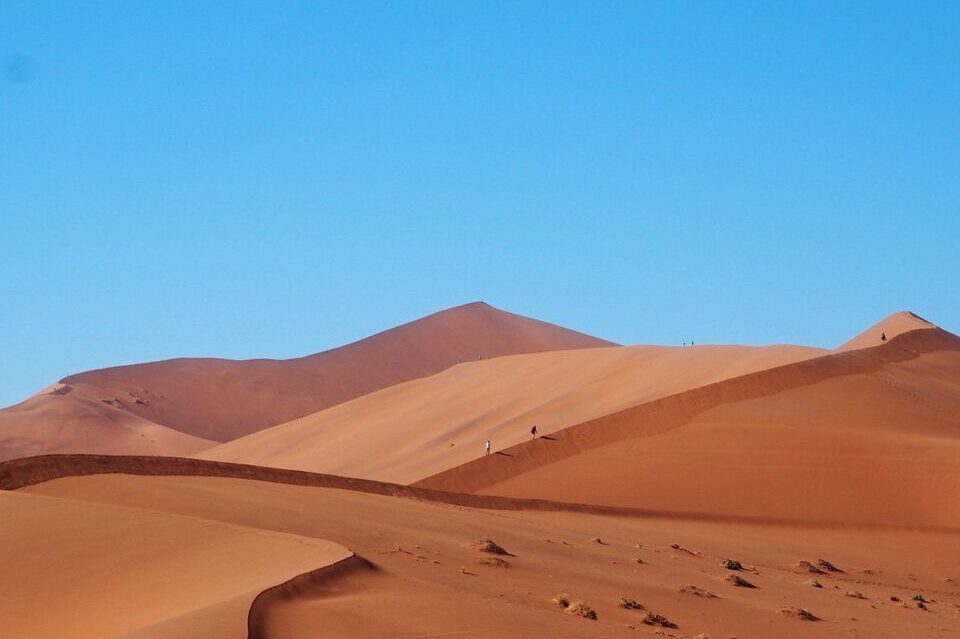 ---
6. Visit The Cheetah Conservation Fund
The Cheetah Conservation Fund (CCF) is located about 3 hours north of Windhoek, Namibia's capital. It is dedicated to conserving cheetah populations and their habitats. At CCF, visitors can learn about cheetahs and their behaviour, and even have the chance to interact with them.
Visitors can also join a game drive to observe cheetahs in their natural habitat and view the feeding process. They also have a number of cheetah's that are not able to be ever introduced back into the wild and a few of these live in the home compound. You can interact with the cheetahs here, patting them and getting your photo taken with these semi-tame cheetahs.
The CCF also works with local communities to promote conservation, and offers educational programs for school-aged children. Visiting the CCF is a great way to learn more about cheetahs and their plight in Namibia. It is also a great opportunity to support conservation efforts in the country. If you're looking for a unique experience, then the CCF is definitely worth a visit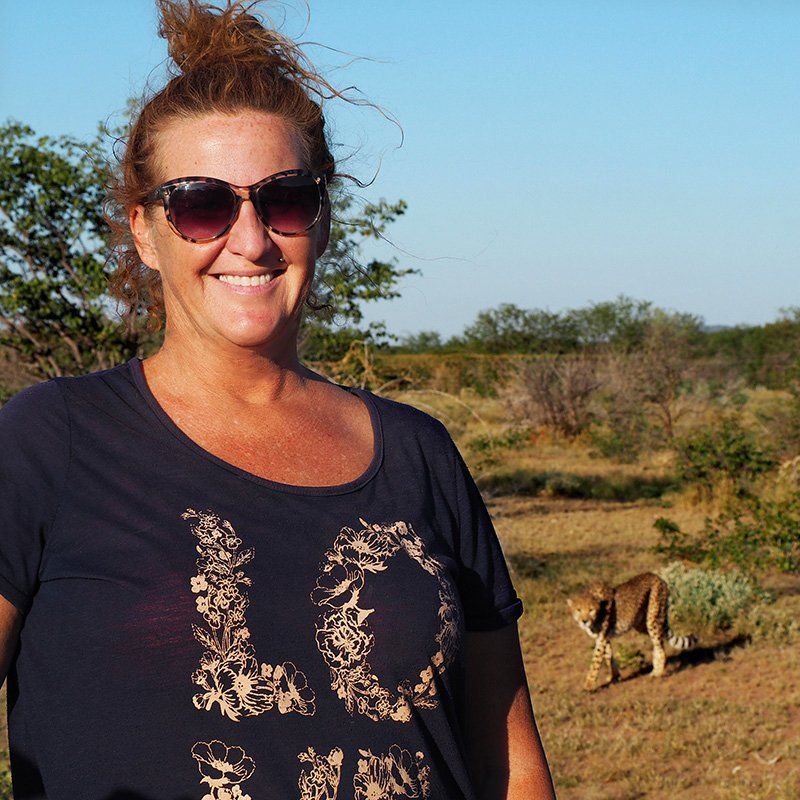 ---
7. See The Skeleton Coast
The Skeleton Coast is a rugged stretch of coastline in northern Namibia. It is home to a number of unique attractions, including shipwrecks, desert wildlife, and seal colonies.
A visit to the Skeleton Coast is a great way to explore the wilds of Namibia. You can explore the coast on foot or take a 4×4 adventure. While there are no longer the multitude of shipwrecks that this coastline is known for, it is still worth a visit. If you are an experienced ocean swimmer you might like to take a quick dip. The water is much colder than you think it's going to be and be sure to study the swell for rips before you commit to a swim.
The beaches are long and wide so if you aren't sure about swimming where you are, just move up or down the beach a bit and find a safe place to wade in.
Whatever activity you choose, the Skeleton Coast will certainly make for an unforgettable experience.
---
8. Cape Cross Seal Colony Tour
The seal colony at Cape Cross is something to see! I would never have beleived that so many seals lived in one spot until I saw this. The noise is astounding, as is the smell, but it is really worth seeing. They are constantly in and out of the water, sunbaking, fighting, sleeping and sometimes it feels like they are stalking you. I'm sure they are not but I kept my eyes open that's for sure.
Check out this Cape Cross Seal Colony Tour from Swakopmund if you do decide to see these noisy creatures!
---
9. Go Whale Watching In Season
Whale Watching in Namibia has evolved over the last decade. About 70 years ago, whales near Swakopmund and Walvis Bay in Namibia were almost hunted out. Experts believed they might be gone from the Namibian coast for good.
However, these awesome sea giants are making a comeback! Nowadays, if you're visiting, you can hop on a tour and see these beauties up close. Whale watching is such a thrill and something you should definitely do if you get the opportunity.
If you're looking for the best time to see whales, plan your trip between July and November. That's when they're heading north to warmer waters past the Namibian coastline. In the past few years, folks have seen Humpback whales and Southern Right whales all along the Skeleton Coast.
With the way things are going, more whales might be hanging out near Walvis Bay soon. And the folks at the Namibian Dolphin Project, who keep an eye on whales, think their numbers are going to skyrocket. It could be like going back in time to when Walvis Bay was called "the Bay of Whales".
It can be hard to find whale watching tours in the offseason as they seem to all disappear of the tour websites. I would just google "whale watching" + the location you will be visiting as it gets closer to July and go from there.
You never know what can happen, like the time I patted a wild whale off the coast of Dunsborough in Western Australia.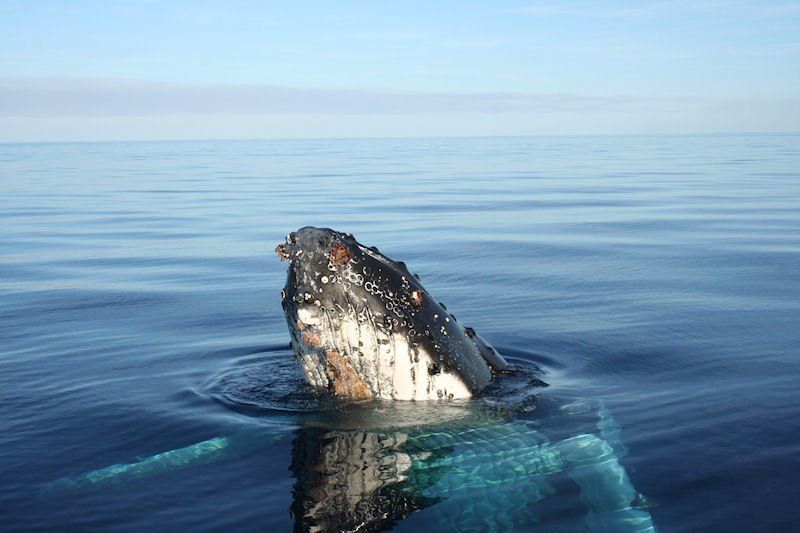 ---
10. Kayak With the Dolphins
Jump on a boat in Walvis Bay, and as you cruise towards Pelican Point, keep your eyes peeled for different types of dolphins that call the area home. Heaveside, Dusky, and Bottlenose dolphins are common in the waters around Walvis bay and being super smart and playful, so don't be surprised if they come close to the boat.
In Namibia, these dolphins are well-looked after, largely thanks to the Namibian Dolphin Project.
The Namibian Dolphin Project is this amazing team of scientists working with the Namibia Nature Foundation and marine tour operators. They're all about researching and looking after the dolphin populations in Namibia. All the info they gather helps make sure we can enjoy these dolphins in a sustainable way for years to come.
---
About the author
Meet Jenny, a passionate Australian travel blogger who has explored 103 countries to date. With over 30 years of travel experience, Jenny has a wealth of knowledge to share with her readers about the cultures, landscapes, and people she has encountered on her journeys. She's always battling unfashionably frizzy hair and you will never catch Jenny in anything but comfortable shoes. Learn more about Jenny and her travels.
---
11. Mondesa Township Tour
Visit Mondesa township and do a tour of the area. Learn about the local culture, history and community arts and crafts on this full day tour from Walvis Bay.
Travel by bike visiting a local school, market and chat with the locals before heading off to your private cooking school. You will prep and cook your own lunch before eating together as one giant family. This is also the region where the people who talk using the clicking sounds can be found.
This is a great way to experience some local culture while in Namibia.
---
12. Visit The Himba Tribe
As you travel through northern Namibia on the odd occasion you will see a young woman dressed in leather with the most amazing intricate hair encased in clay. She is probably a Himba woman.
The Himba are a nomadic pastoralist tribe found around Kunene in northern Namibia. If you visit a town Opuwo, there are a few campsites and lodges that will organise day trips to visit a Himba settlements. Try Kunene River Camp, Epupa Camp or Opuwo Country Lodge.
A visit \to a Himba village will enable you to see and learn about these flamboyant people. It will be unusual to see any men in the village as they will be out looking after the cattle, but the women and children are very welcoming and keen to show you their way of life.
They also create small beaded jewellery items which are very cheap and pretty cool. I also purchased a clay elephant from the Himba woman and he still sits on my desk today.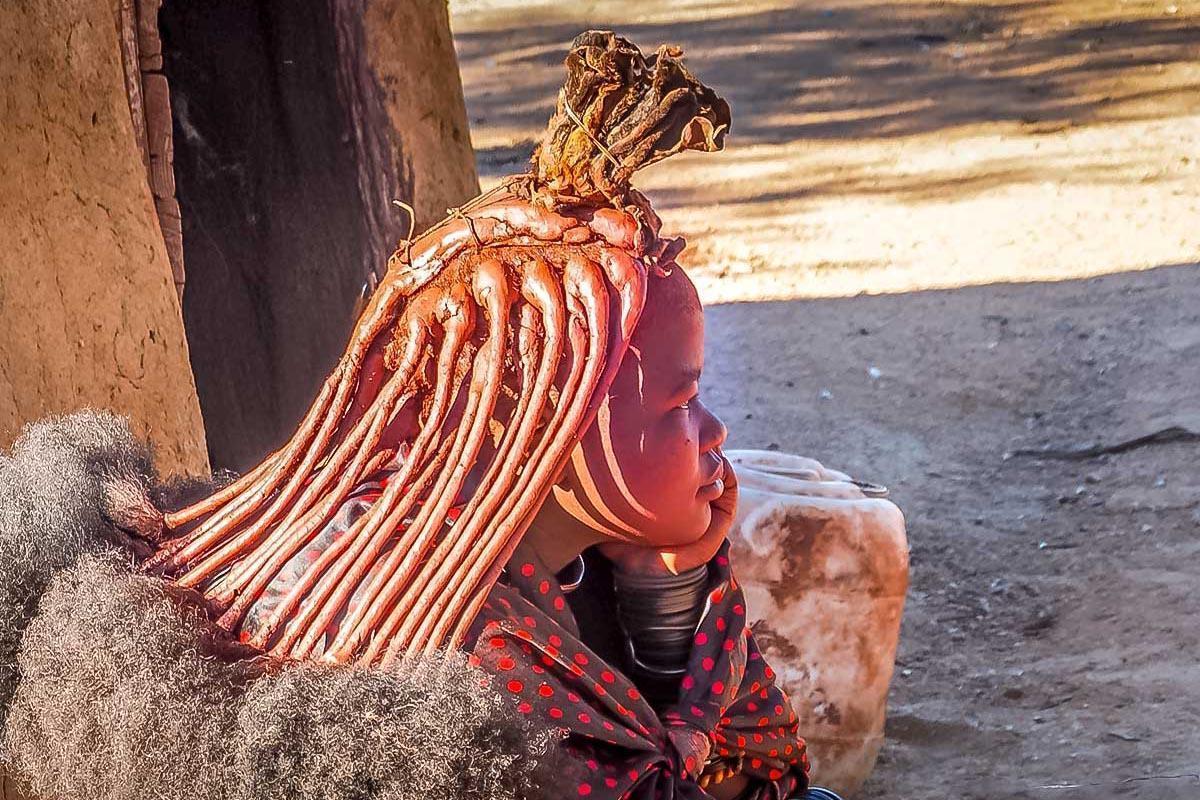 ---
13. See Windhoek – Namibia's Capital
Windhoek is the capital and largest city of Namibia. It is a vibrant and modern city, with its lively nightlife, and numerous museums and galleries. The city is home to a number of historical monuments, including the Alte Feste, a 19th-century German fort. Windhoek is also a great place to shop, with its bustling markets and lively street vendors.
There are plenty of things to do in Windhoek, from exploring the city's historical sites to sampling the local cuisine. The city is also home to a number of cultural festivals, making it a great destination for culture lovers. Whether you're looking for adventure or relaxation, Windhoek is the perfect place to experience Namibia.
Windhoek has more to see than you might think and its worth doing a guided tour of the city.
---
14. Spend the day scrambling the rocks of Spitzkoppe
I wasn't sure what to expect from Spitzkoppe but it is a really unusual landscape. Weather beaten rocks abound most of which are worn smooth and curved from the wind. It was quite still the day we were there but apparantly its the wind that has given the landscape its harsh curved look.
There is easy to spot lizards, birds and I even saw some kind of antelope. A swim in one of the rock pools is not to be missed. The bushman paintings are best done with a guide to explain the intricacies of the images.
I found myself scrambling up and down rock bridges, swimming in rock pools and trying to stay safe in the very hot sun. It is a great day and worth a visit if you find yourself in the area.
Tours to Spitzkoppe from Swakopmund and Walvis Bay
---
15. See Fish River Canyon
Only 145 kilometres from the Namibia South African border lies the second most visited location in Namibia.
The Fish River, stretching 800 kilometres, holds the title of Namibia's longest river. Its journey begins in the Naukluft Mountains and after about 200 km, it feeds into the Hardap Dam. This dam is Namibia's biggest water tank, boasting a 30 km circumference and covering an area of 28 km².
The river doesn't flow all year round. It really comes alive during the rainy season, but in drier times, only a few scattered pools remain, quenching the thirst of local wildlife.
Starting at Seeheim, the Fish River carves out the impressive Fish River Canyon. This massive canyon spans 161 km in length, reaches 27 km in width, and dives as deep as 550m. The canyon wraps up at Ai Ais, after which the river merges with the Orange River, marking the boundary with South Africa.
You need to report in at the entrance to the Park and then proceed the 10 kilometres to the well-known Hell`s Bend view point.
The sheer size of the canyon is stunning and I think blew me away more than the grand canyon.
---
16. Visit the Quiver Trees
This destination is hard to recommend. I loved it because I'm a cactus and succulent NUT but I'd heard that the process to get there was pretty bad. I expected not much, so was blown away by the actual trees, however people were right – the process to see them isn't simple.
You have to pay N$100 to pick up a key to the gate at the Super Spar in Außenkehr. DO NOT LEAVE HERE without getting serious directions for how to find the trees. Your car won't make it to the treed landscape so you have to park and walk about a kilometre I would say.
There are no signs and it would be very easy to not know where to go and call it quits. I had heard that it could be tricky so we had a printed map that we made the store clerk mark for us where the actual trees were. If we hadn't done that we never would have found them.
Don't plan on camping there the night as the facilities were horrific! I seriously doubt anyone maintains them at all.
The trees are just stunning especially at sunrise or sunset but I wouldn't go out of your way to visit. If you have crossed the border from South Africa and are heading to Fish River Canyon, its not that much of a detour, but I wouldn't recommend you go out of your way to do this one.
---
17. See The Flamingos of Walvis Bay Lagoon
If you find yourself in Walvis Bay at the right time of the year you can see literally thousands of migrating sea birds. The most popular are the lesser and greater flamingo. In past years the flamingos have gathered enmasse in an incredible show of strength, however the numbers do vary from year to years.
The best time to see the flamingos in particular is during the winter months. While sometimes there are good numbers at other times of the year, between December and March is the best time to see them in numbers.
When we were in Swakopmund a few friends went down the first day we were there and saw 5. Yes 5 flamingos. I went a week later on our way back through Walvis Bay and saw probably hundreds at least. I don't know whether they were unlucky and I got very lucky but that's how fickle nature can be I guess.
You can walk out around the lagoon edge yourself or take one of the many tours available to be booked in town.
---
18. Relax and Regroup in Swakopmund City
Swakopmund is full of history, with its German-style architecture and colonial buildings. The city also has a decent nightlife with some great bars & restaurants.
Swakopmund has also embraced the coffee culture with some small and larger cafe's around for those of you after the best brew. I was actually amazed at the quality of the cafes in Swakopmund. My personal faves were the Village Cafe which has wonderfully bright and funky decor and incredible food.
Travelling through Africa can be hard and I found Swakopmund to be a great place to relax and regroup for a few days. I got washing done, I bought a new sleeping bag, I chilled out in the coffee shops and in just 48 hours I was ready to go again.
Whether you're looking for adventure, relaxation, or sightseeing, there is something for everyone to do in and around Swakopmund.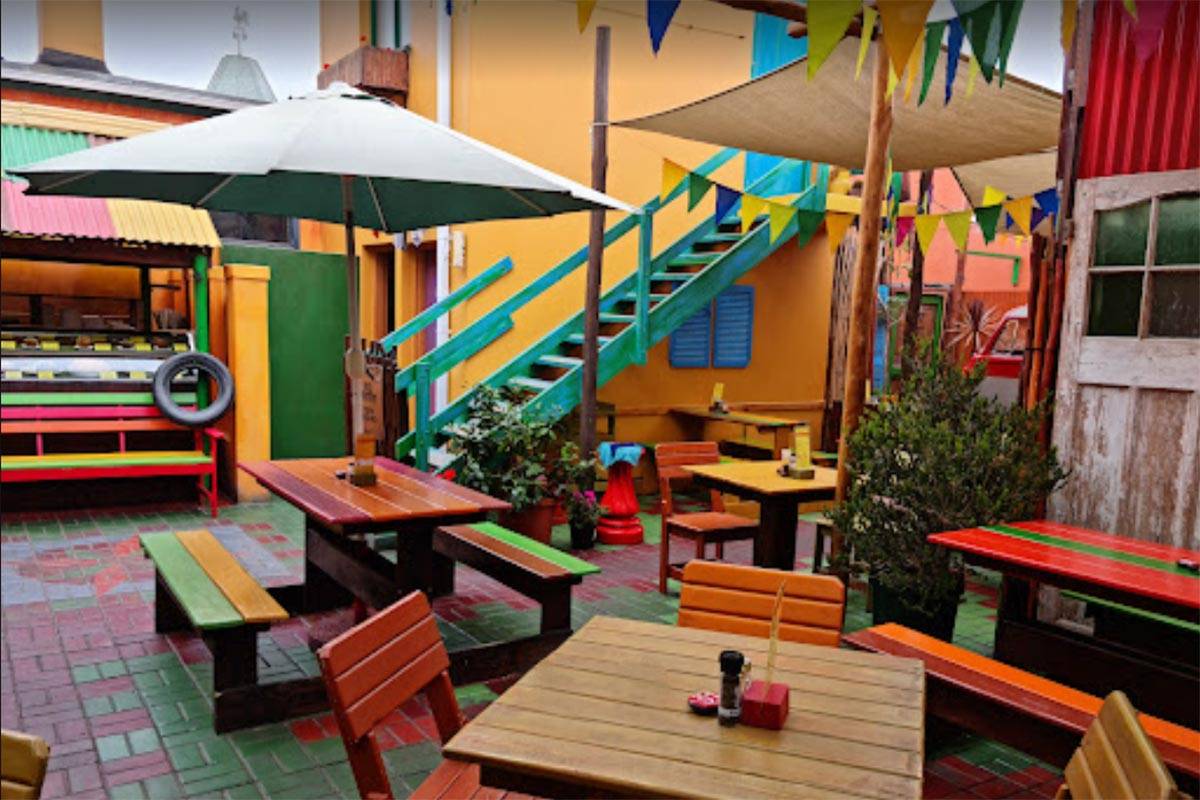 ---
19. Go on a Game Drive in Etosha National Park
Etosha National Park is one of the most popular attractions in Namibia. Located in the north of the country, it is home to a variety of wildlife, including lions, giraffes, zebras, and elephants. The park also has a number of salt pans, which attract a variety of birds and those who are trying to get that perfect 3D style salt pan photo.
A visit to Etosha National Park can be quite surprising. After crossing some very barren landscapes it is a little difficult to believe the sheer numbers of animals you might see. We were not even 2km into the park and came across a family of lions sleeping off the midday lull.
You can explore the park in your own vehicle or join a game drive to get up close and personal with the wildlife. There are many campsites and lodges to accommodate you and don't forget, you can also visit the nearby waterholes, where you can observe the animals in their natural habitat coming in for water at night.
Whether you're looking for adventure or relaxation, Etosha National Park is definitely worth a visit. Consider adding in an overnight stay to view the animals come in to the waterhole at Moringa or another camp in Etosha National Park.
You can find everything from single day Safaris to multi day adventures. Check out what GetYourGuide has to offer for Etosha.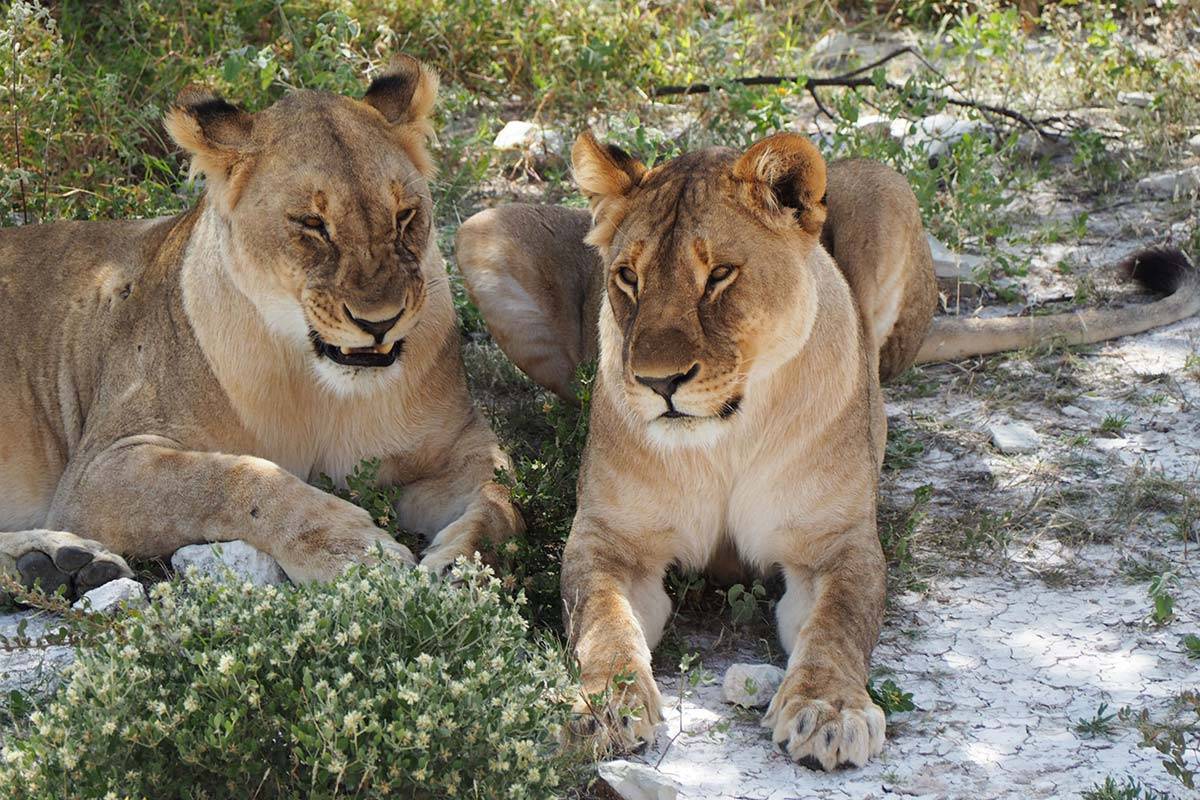 Lions in Etosha National Park.
It feels so cool to be watching these HUGE cats so close. However, when one of the fixes you with "that" look, mmmm… not quite so calming!
Tours for Etosha National Park
---
20. Visit the Cafe And Car Wrecks of Solitaire
As you head north from Sossusvlei up the C14 highway you will come across a lodge, service station, cafe and some very funky car wrecks. Its called Solitaire Lodge and Car Wrecks.
It is worth stopping for a quick coffee and some photos. The wrecks have been carefully laid out in amongst cacti and other funky items so it feels more like an outdoor museum than a pit stop.
I'm a cactus and vintage freak so I loved it! Others were a little non plussed but it was worth stopping for. Oh and the carrot cake!! Yumm!
---
21. See The Giant Baobab Tree
Around 70km north east of Grootfontein there is a giant Baobab tree. It has a split trunk and is aboslutely massive.
While you do see a lot of Baobab trees in specific locales in Africa, this one is the only one I saw with either a split trunk, or, two trees growing out of the same root system.
Is it worth diverting for? Probably not, but it is pretty impressive.
---
22. Etosha Salt Pans
The salt pans of Etosha are pretty incredible. The Etosha Pan is this massive, flat stretch of sparklingy white, taking up nearly a quarter of Etosha National Park at almost 4,800km² in size.
Measuring 130 km long and sometimes as wide as 50 km, it's hands-down the biggest salt pan in Africa. You can even spot this standout feature of the park from outer space! This area used to be a lake, but shifts in the earth's climate made its feeding rivers reroute to the Atlantic Ocean. Now, if you're trying to spot where the lake used to be, all you'd find are the traces of dry, hardened clay.
While so many people manage to get these fantastic photos, I just couldn't seem to make it work. It is a phenomenon worth seeing and if you have friends you can get them to take those surreal photos you see.
---
23. Nunda River Lodge
While Botswana is the place to see the Okavango Delta, just north of the border there are a few lodges on the Namibian side. I stayed at the Nunda River Lodge and really enjoyed it.
We were camping but there are rooms that look pretty nice and a restaurant of course. It would be a nice place for a rest for a day or two, but the real reason you visit is to do an early morning or evening river cruise for wildlife spotting. There is a huge deck to sit on and watch the sunset and they can be sunsets to die for!
The sunsets over the river are incredible but the sheer number of hippos was amazing. This was before I had been into Botswana and this was (at this point) the most hippos I'd seen in one place. In hindsight there was probably 30 in the group, but to this Aussie whose largest national animal is a kangaroo, this was pretty thrilling for me.
They have camp sites, glamping tents and bungalows. They aren't showing prices so you will have to check their website for more info.
---
23 Of The Best Things To See And Do In Namibia
Namibia is far more than sand and rocks. It is a vibrant and exciting country with heaps on offer. From the Cheetah Conservation fund in Windhoek to the dunes of Sossusvlei, there is something for everyone to experience in this stunning African destination.
So, if you're planning a trip to Namibia, make sure to check out the top sightseeing spots in Swakopmund and experience the magic of this vibrant country.
---
---