Where to eat Sushi in Brooklyn
Brooklyn is fast becoming a foodie haven and great sushi or sashimi restaurants are all over Brooklyn. From Park Slope to Brighton Beach, these are a selection of Japanese restaurants serving sushi in this popular New York borough.
---
Best Sushi and Sashimi Restaurants in Park Slope.
Park slope is known for its two popular food streets, 5th Avenue and 7th avenue and you will find that Japanese restaurants are plentiful along both these avenues

Sushi Katsuei

Sushi Katsuei's original restaurant opened in Park Slope in 2014. They now have another store in the West Village that you can also visit to enjoy their quality sushi bar. Their food isn't a budget sushi option in Brooklyn, however they are known for their excellent sashimi created with fresh fish that is flown in from the Tsukiji Fish Market in Tokyo. Their sushi is created in the Edo-mae style which is from the Edo period in Japan. Both traditional and more modern creations are available.
Their menu is very clear as to what you get for your money and along with their very popular sashimi, they offer traditional favourite's like Karaage Chicken, Tempura and salmon skin rolls. This is one of the best restaurants in Brooklyn serving both sushi and sashimi. The Chefs tasting menu at Sushi Katsuei is worth it for a monthly splurge.
Sushi Katsuei Menu
Address: 210 7th Ave, Brooklyn, NY 11215, United States
Google Maps Location
Order from Sushi Katsuei Online
---
Sushi Yu
Sushi Yu is a very small restaurant on Prospect Park West. Known as a local "hole in the wall" Suhi Yu is one of the best sushi spots in Park Slope. Their main business is delivery orders but don't let that stop you from visiting Sushi Yu for some great food. They have around 6 tables for dining and usually have just one wait person but they are quick, have excellent service and the food is good.
Their prices are affordable with Miso Soup starting at only $3 and their most expensive item being the Love Boat at $88 which will easily feed 3 people and is a collection of
twenty-four pieces of sashimi,
fourteen pieces of sushi,
one dragon roll,
one rainbow roll and
one spicy tuna roll.
They have a good collection of vegetarian options and of course favourites like California Rolls & Karaage Chicken along with some awesome creations like the Mango Tango roll which you should definitely try. Their Bento boxes are very popular and usually under $20.
Sushi Yu Address: 214 Prospect Park West, Brooklyn, NY 11215, USA
---
Mura Japanese Fusion Sushi
Adopting a more cutting edge style of Japanese food, Mura has a large menu with soups, seafood dishes, sushi, sashimi and their very popular lunch bento boxes. Mura has very reasonable prices and offers a wide variety of selections and menu options.
You will find some traditional dishes (their sashimi platters are great) however their chef has taken some artistic license with their specialty rolls. Two of my faves are:
The "5 Avenue" named after their location in Park Slope, is divine. Made with Tuna & avocado, it is topped with yellowtail & jalapenos. Somehow it is spicy but not too spicy (which is always the mark of great food in my opinion) &

The "Park Slope" which has Shrimp tempura & avocado, topped with spicy tuna & fresh chives.
Their Bento boxes for lunch start at only $12.95, are made with quality ingredients and won't leave you hungry.
Mura Japanese Address: 370 5th Ave. Brooklyn, NY 11215

Order Online from Mura Japanese Fusion. They do take out orders

via this menu

.
---
Best Brighton Beach Sushi Restaurants
Even though Brighton Beach is known for its Russian cuisine, there are a few Japanese restaurants in this area that have great sushi and sashimi. There are 2 great ones on Brighton Beach Ave, however Sheepshead Bay Road between Shore Parkway and Jerome Ave has 3 good value Japanese eating houses in only 2 blocks. This makes it easy if you are just wandering the area around Brighton Beach and have a hankering for delicious Japanese cuisine.
Masuta Japanese Fusion
Not to be confused with Mura Japanese Fusion listed above, Masuta (formerly called Mitoushi) offers some great dishes based on authentic Japanese cuisine but with a modern spin. Of course they do offer sashimi and a variety of sushi rolls, however if you are feeling adventurous try some of their slightly edgier rolls like their Black Ninja Roll with salmon, eel and mesclun, or their Caribbean Roll with coconut shrimp. Their food doesn't stray too far from the traditional Japanese fare you would expect, however their sushi chef has created a few great options for you to try.
Their dishes are served looking almost too good to eat (I said almost!) and I would suggest booking well in advance. It is a larger restaurant but they are very popular especially on the busy weekend periods, so if you ae looking at a great Japanese restaurant in New York city jump online and book now.
Masuta is open daily from 11:30 am and from 12pm on Sundays.
Masuta Japanese Address: 1712-1714 Sheepshead Bay Rd, Brooklyn, NY 11235, United States
---
Masakari Japanese Fusion
Masakari Japanese on Sheepshead Bay Rd serves beautiful Japanese food at an affordable price in a simply styled restaurant. With their focus on the meals, their restaurant initially looks a little understated, but you are there for the food, not the surroundings and this is one of the best places for Japanese in Brighton Beach. They are wheelchair accessible and will happily accommodate most accessibility requests. Be sure to book and let them know your requirements as the restaurant is long and narrow so asking for a table near the entrance will work best for you.
This is another restaurant that is known for its excellent presentation so it is really worth dining in, however if you would like to use the delivery service, they are available on Doordash, ubereats, grubhub and delivery.com.
Masakari has a great selection of Saki and the servers are quite knowledgeable on the subject so this is an ideal restaurant to have your first Saki experience.
They are known for their seafood and while they do have vegetarian options they are slightly limited. They do have some of the best spicy tuna rolls you will ever eat though!
Masakari is open daily from 11am Monday to Friday and from 12pm on Saturday and Sunday. During the week they close at 11pm and on Friday and Saturday they are open until 12 midnight.
Masakari's menu link is not working at present.

Masakari Japanese location: 1631 Sheepshead Bay Rd, Brooklyn, NY 11235, United States
---
Williamsburg Sushi Restaurants you should visit
Sumo Teriyaki & Sushi
While Sumo Teriyaki & Sushi does focus on take-away and delivery, they do have 2 tables inside their restaurant where you can sit and eat. Booking is not possible but if you are after a quick bite on the way home or the way out, Sumo Teriyaki is a great place for a quick drop in meal.
Their menu has traditional Japanese dishes like
Seaweed salad
Miso soup
Katsu chicken curry
Okonomiyaki &
Tuna and Salmon Tataki
They also offer more modern versions of some traditional Japanese favorite's like Jalapeno Yellowtail and the Williamsburg roll which consists of spicy scallops, avocado, crab meat topped with spicy mayo, eel sauce and Tobiko. They do have vegan options and is the perfect place for good food with a quick delivery time.
Their sushi and sashimi for 2 is a great deal at $47 and includes
20 pcs sashimi,
10 pcs sushi,
Dragon roll &
California roll.
Don't forget to try their namesake Teriyaki dishes while you are there.
Sumo Teriyaki Address: 139 Havemeyer St, Brooklyn, NY 11211, United States
---
Ako Sushi
Ako Sushi on Bedford Avenue is a great place for dining with friends. Their undercover outdoor area is set with timber tables and chairs and caters for group from 1 to 6-8 easily. Decorated with traditional style Japanese art not only will you love your meal at Ako Sushi, but their artwork might mean you are tempted to get that Japanese style tattoo you have been thinking about!
Nick Wang, Ako's head chef is an accomplished Japanese trained sushi and sashimi chef and the food at Ako is excellent. If you are after somewhere to meet frields that has good sushi prepared with fresh ingredients, Ako Sushi is for you.
Ako Sushi also have some wonderful cocktails that are based around more traditional cocktails with a Japanese spin. Try the Sake Sangria or the Ako Matcha which is divine. It does seem a little strange to be drinking a cocktail with oat milk but do be careful because they go down very easily!
Their spicy scallop rolls are a popular option as is their mable trio roll with tuna, salmon and yellowtail and do not miss their deserts. The Green Tea Tiramisu is divine!.
They are open every day.
Friday and Saturday from 12 lunch to 11pm and to 10 pm from Sunday to Thursday.
Ako Sushi Address: 205 Bedford Ave, Brooklyn, NY 11211, United States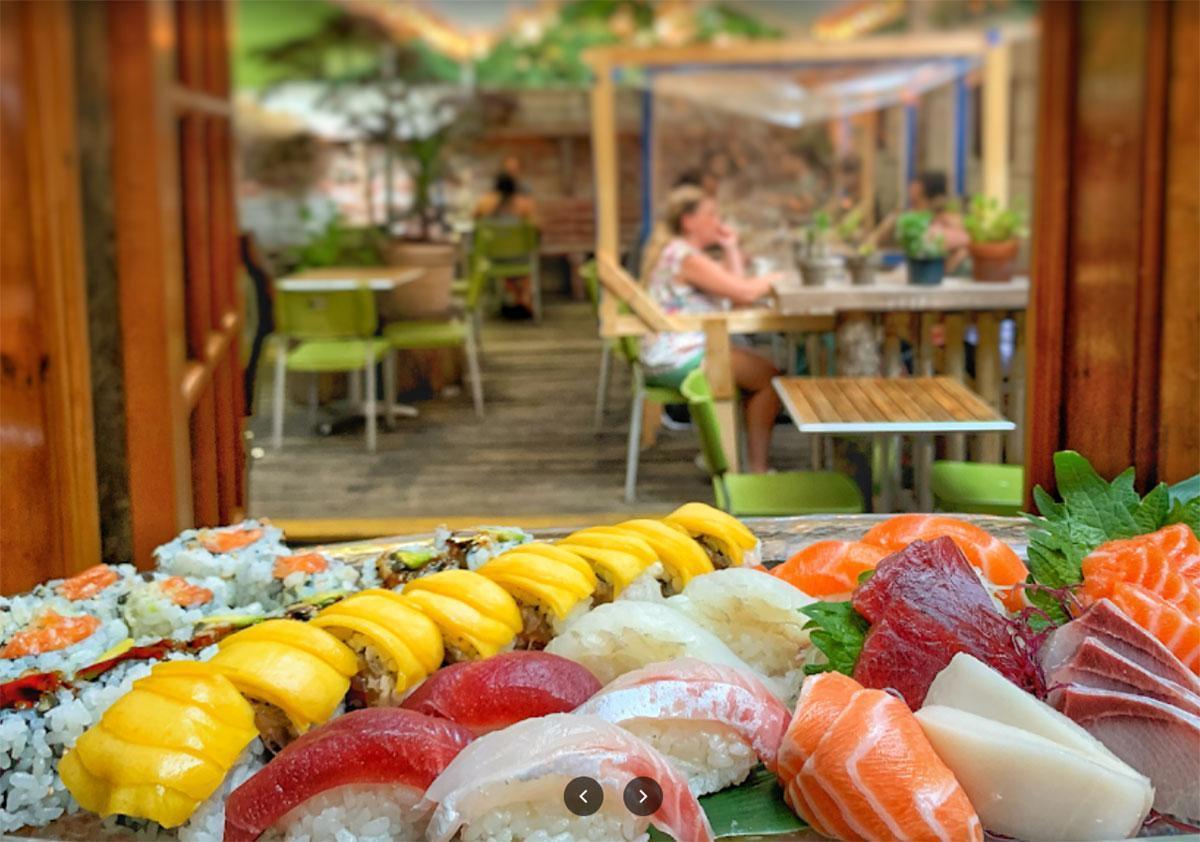 ---
Aburi Sushi
Open every day except Monday, Aburi Sushi offers a small restaurant along with take-away and delivery orders. Delivery is free however they do only deliver within a 1.2 mile radius so if you are out of that zone, you may have to try elsewhere. Aburi Sushi's menu is diverse with a lot of options at very affordable. 6 pieces of Gyoza starts at $5.95, their lobster roll is only $6.25 and their Tuna Sashimi is priced from $2.75 per piece.
They also have set party platters you can order if you are looking at feeding a few friends with the largest sushi platter containing 60 pieces.
32 pieces sushi,
1 rainbow roll,
1 salmon avocado roll,
1 California roll and
1 shrimp tempura roll.
You will find their opening hours below:
Monday: Closed
Tue – Sat: 11:00 AM – 10:30 PM
Sunday: 12:00 PM – 10:30 PM
Aburi Sushi Address: 769 Grand St, Brooklyn, NY 11211, United States
---
Get Delicious Sushi in Prospect Heights
It is very easy to find great sushi and sashimi restaurants along with Flatbush Ave on the blocks between the Grand Army Plaza and Atlantic Avenue. There are also a few great Japanese eating houses along Vanderbilt Ave as in Prospect Heights as well. While there aren't as many as you will find in downtown Brooklyn, there are more than a few that serve fresh sushi and have friendly staff.
Inaka Japanese Cuisine
Along with quality sushi and sashimi, Inaka specialize in Tempura and Hibachi meals too. Situated on Vanderbilt Avenue they are easy to find and like almost all restaurants in Brooklyn offer an online ordering and delivery service.
Their veg Tempura is a great price at $8.75 for 8 pieces and their 9 pieces of sashimi for $13.50 makes it an affordable option for your next Japanese meal.
Inaka also offer some great options if sushi or sashimi is not for you. Their basil mango shrimp fried rice is a great option for seafood eaters and their Vegetable and Tofu noodle dish is perfect for the vegetarians among you.
Their chicken Hibachi is a popular choice however Hibachi food is best eaten straight from the grille.
Did you know there are etiquette rules for eating Hibachi?
It is polite to not talk or engage in conversation while the chef is cooking and you should also avoid reaching into or over the grille to get your food. You should wait until the chef delivers your food to you. Reaching for it implies that he or she does not have the skills to know when the food is cooked perfectly and is considered very impolite for this style of dining.
Inaka Asian Address: 597 Vanderbilt Ave, Brooklyn, NY 11238, United States
---
Koto Sushi
With around 8-10 tables Koto Sushi on Flatbush Ave in Prospect Heights can cater for groups of 1-4 easily. If you have a larger group you would be best to contact them to be sure that they have the capability of hosting you.
A popular local Japanese Restaurant, Koto Sushi has all the usual Japanese dishes you would expect along with some you might not. Their diverse menu includes Harmuaki which are Japanese spring rolls and are worth trying if you've never had them. They cater well for vegetarians with dishes like:
Their high-quality sushi and fresh seafood sashimi menu has a lot of options along with one of my favorite's, Tuna and Salmon Tartar.
Their bento dinner box includes miso soup, salad, shumai, rice, a California roll and your choice of 2 entre options. You can choose from dishes like 6 pieces of sashimi, Fish teriyaki, chicken katsu or shrimp tempura.
Koto Sushi Address:263 Flatbush Ave, Brooklyn, NY 11217, United States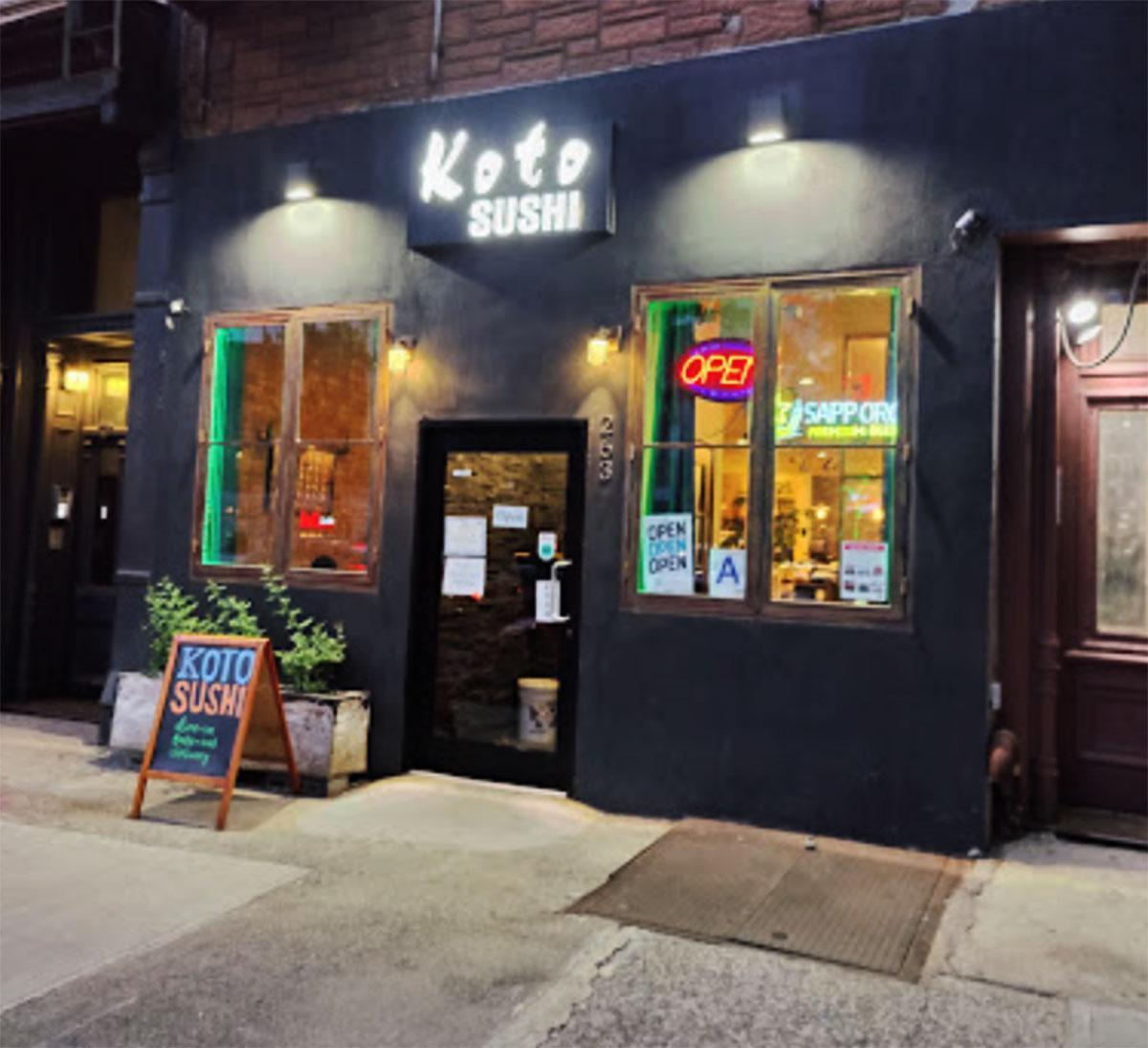 ---
Geido
Some of the best Okonomiyaki I've eaten outside of Japan was at Geido in Brooklyn. This is a small restaurant with a very casual vibe, however the food is affordable and is great quality. The Gyoza is excellent as is their Ramen (noodle soup). They offer a variety of Tempura, amazingly tasty curry bowls & a variety of sushi and sashimi platters for all budgets. It is an ideal place for just yourself, or with family or friends. They offer some excellent food for vegetarians and vegans. Be sure to try the Yam and Pumpkin Tempura or the Okra ponzu.
They open from Wednesday to Sunday from 5pm to 10pm and do get very busy so plan your visit well!
Geido Address: 331 Flatbush Ave, Brooklyn, NY 11217, United States

Order Online: (718) 638 8866. They do deliveries Wed, Thursday and Sunday however their online ordering link is not yet working.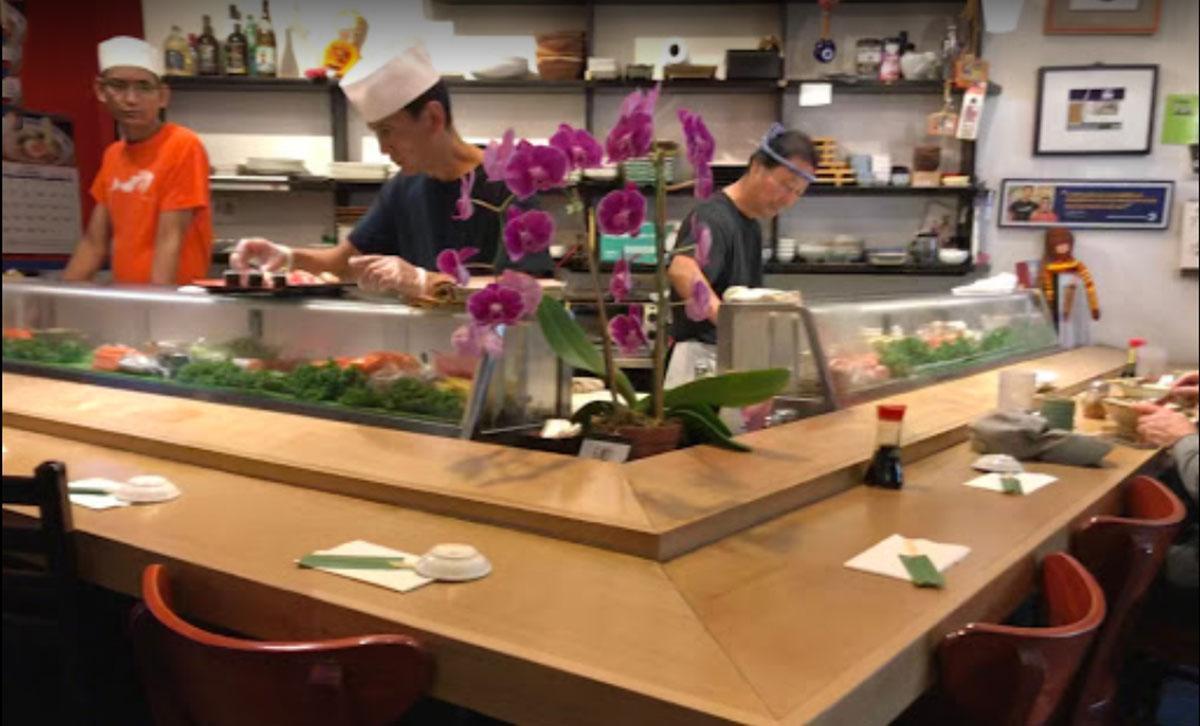 ---
Conclusion: Best Sushi and Sashimi In Brooklyn
I'm sure you won't have any trouble finding other great sushi restaurants in Brooklyn (or other parts of New York City) but I hope this enables you to possibly try some you may have overlooked.
Bon Appetit!
---
---
---