10 Top Day Trips From Reykjavik, Iceland
Let me start by saying that Iceland is expensive! REALLY expensive, so if you are travelling on your own day trips might be the best option for you. None of them will be cheap, however if you are a solo traveler Iceland is one place where I found that you can easily book a single seat on most day trips.

Reykjavik is a great place to base yourself as it is close to a lot of the country's top sites like The Blue Lagoon, The Golden Circle and Gullfoss waterfall. If you are after day trips out of Reykjavik, read on for a great list.
---
Most of these day trips will run for the spring, summer and autumn and some of them do run year around. Iceland is still worth visiting in the winter so don't assume it is only a summer destination. The Ring Road won't be able to be done in the dead of winter, however there are plenty of other options that will still be open.
Read More: Why Iceland In Winter Is Still Worth Visiting
The Golden Circle
A full day tour from Reykjavik will cover some of the most well known tourist sites in Iceland. The Golden Circle is a 300km drive that heads out from Reykjavik early morning and will cover a full day of driving and visiting locations like Geysir, Gullfoss Waterfall and Thingveller National Park.
Considerations:
Check out what is covered in the tour. I managed to get a tour that did everything I wanted to see, however when I look now, it seems that most of the tours miss something. I managed to see all the the sites listed below and you can check out my full post on The Golden Circle for more info. Sites on the Golden Circle that are worth seeing:
The Geothermal Energy Exhibition
Kerid Crater
Faxi Waterfall
Bruarfoss Waterfall (a last minute add in as there were only 4 of us on the tour)
Thingveller National Park
Gullfoss Waterfall &
Geysir
A few of the Golden Circle tours will also include the Blue Lagoon which I would suggest is not the best idea. I would do the Blue Lagoon independantly of the Golden Circle so you manage to get in as many locations on the day trip. If you do Blue Lagoon with the Golden Circle tour, you will miss out on something else worth seeing and your trip to the lagoon will be shorter than it should be as well. If you have limited time, you might want to include the lagoon on this day trip.
Day Tours for the Golden Circle
---
South Coast, Black Beach and Waterfalls
A visit to the south coast will mean a big day, but it is worth it. Both Skogafoss and Seljalandsfoss waterfall are worth seeing as is the very cute town of Vik. Reynisfjara Beach & rocks is very surreal and while I haven't personally seen it has been compared with the Giant's Causeway in Ireland. This is doable in a hire car and you could expect to spend 5-6 hours driving, depending on the road conditions and the parking situation. We visited in November so it was cold and there were much fewer cars on the road and at the parking locations. I have heard that in the summer some of the carparks fill qickly and you can spend an extra 10-15 minutes walking at each location dependant on how far away you have to park. It would be a good thing to stretch your legs so I wouldn't be too concerned about this.
If you would rather let someone else do the driving, some South Coast tour options are below. Viator also has a raft of day trips to Iceland's South Coast from Reykjavik.
Tours That Do The South Coast of Iceland
---
A Glacier Hike Tour
Ice hiking is commonplace in Iceland and there are plenty of day trips that will do a anything from an hour to a full days glacier hiking. There are a few glaciers where you can do a hike, however if you are basedin Reykjavik I would suggest Sólheimajökull glacier. You have a choice whether to meet at the glacier or take a day tour from Reykjavik that will transfer you to and from the glacier.
You can't just go hiking on your own however you do need to join a hiking group tour. If you don't have a car you can get a bus from Reykjavik to Skógar and then its only a 5 min taxi ride from there. Rome2Rio can help you find the best bus time to suit.
Glacier Hike Day Trips & Tours
---
Visit Landmannalaugar for a day
About 300km from Reykjavik lies Icelands Landmannalaugar. Famous for its colorful mountains and amazing hiking, Landmannalaugar is primarily accessed in the summer months. Winter sees the colorful rainbow mountains covered in snow and while you can't access it on your own some tour operators do still take visitors to Landmannalaugar in the winter. Extreme Iceland is one company who does this trip in the winter and I couldn't recommend them highly enough. Their "super jeeps" make easy work of the snow and to be in that surreal landscape in the dead of winter is quite something.
Summer is the time to do it if you would like to see the amazing colored hills and also if you would like to do more than a few hours hiking. The hot springs are incredible in winter, however it is a little bit of a challenge to get out and get dressed without your teeth chattering like two old gossips.
Tours for Hiking Landmannalaugar
---
The Blue Lagoon
This is one of Icelands most popular tourism destinations. The Blue Lagoon is about 45 mins drive from Reykjavik and is VERY popular. You will have to book at least days or sometimes weeks over the summer months in advance. Despite what most people believe, The Blue Lagoon is not a natural hot spring. It is filled with run off from the Geothermal plant next door! Don't panic – its perfectly safe.
There is way more there than you think there is going to be with a couple of restaurants, a spa and even accommodation. Transfers from Reykjavik are commonplace however you can take the bus to Grindavíkurafleggjari and then a taxi from there for the last 5 minutes. Rome2Rio can give you bus times and routes.
!! As you do have to shower prior to going in the lagoon men and women are dispatched to separate change rooms and you come out to the lagoon at different levels. Be sure to arrange a meeting place after your shower or you will wonder what on earth is going on and where your partner got to.
I wouldn't visit the Blue Lagoon as part of a tour. I would book direct with them www.bluelagoon.com and make your own way out there. The options on the tours are usually combined with a south coast tour and don't give you enough time I don't think. I would head out early if you really don't want to share, otherwise I would probably take your time, get there mid morning, float around in the lagoon for an hour or so, head to one of the restaurants for lunch and then head back to Reykjavik when you are ready. I think this is one destination that you need time.
If you would prefer to have the transfers and entrance taken care of, these tours will give you a good amount of time at the hot springs.
Blue Lagoon Tours From Reykjavik
---
Hike Myrdalsjokull Glacier
If you love hiking, you will love Myrdalsjokull Galcier. It is Iceland's 4th largest glacier and while you should always go with a guide, it is pretty easy and is doable for most people even if you have minimal fitness. It isn't as popular as some of the other glaciers so Get Your Guide only has a few options.
Adventure Iceland has some great tours for Myrdalsjokull, however you do need to make your way from Reykjavik. They can help you with how to do that. The best way is to get to Vik (a beautiful little town on the south coast) and they can get you from there. Vik is about 4 and a half hours on the bus from Reykjavik so you will need to stay over night. Some booking options via Booking.com here.
Tours That Go To Myrdalsjokull
---
Bruarfoss Waterfall
This waterfall is almost never included on any Golden Circle tour, mostly because its a 3.5 km hike in and then again out. You will have to hire a car and drive yourself from Reykjavik to do this waterfall.
It is a really nice walk along the edge and over a small creek, and you also pass 2 other waterfalls along the way. It is really a summer walk, however we did do it in November, but we were very fortunate that our day tour of the Golden Circle only had 4 of us and our driver added this in on the spur of the moment. We are also lucky that this was on one of the first few days we were in Iceland and the snow had yet to set in.
!! Don't put Bruarfoss Waterfall in Google maps or you won't get there. Enter the Burarfoss Waterfall Parking area (Google Maps link) to get you to the carpark and follow the signs from there.
---
Snorkelling Silfra Fissure
When you do your Golden Circle day tour, you will find out about the Silfra Fissure when you visit Þingvellir (Thingvellir) National Park. This fissure is a water filled gap between two tectonic plates that you can snorkel in! YES – you can snorkel in Silfra Fissure. What you need to do however, is book this tour a while in advance. There are only a few companies that offer it and it fills up quickly. I had no idea about it until we did our Golden Circle tour and then we couldn't get in to do the snorkeling and I was devastated.
This looks absolutely AMAZING and I imagine at some point I will go back to Iceland just to do this. Please let me know in the comments if you have done this as I would LOVE to hear all about it.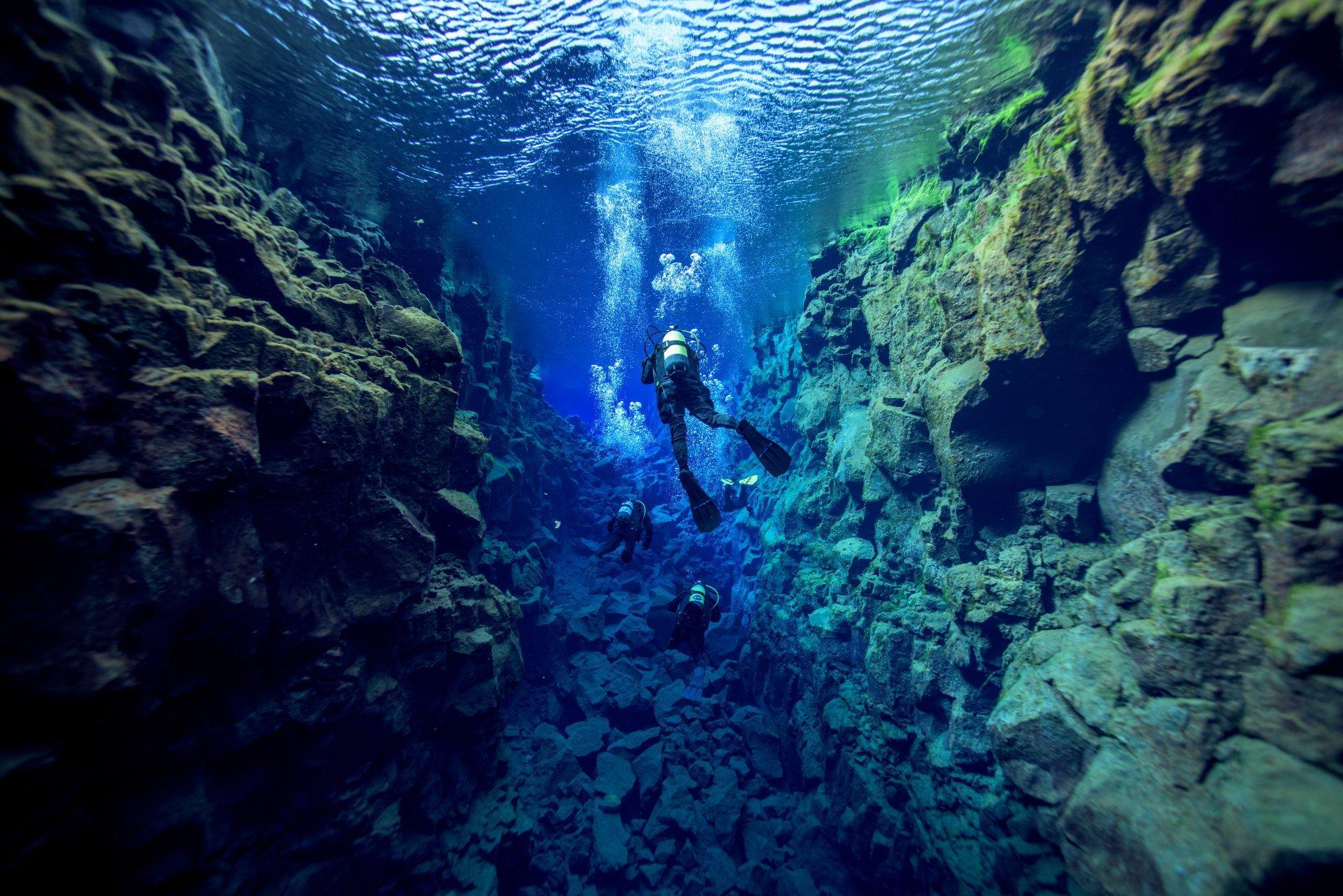 Snorkeling & diving Tours Of Silfra Fissure
---
Whale Watching From Reykjavik
Whale watching in Iceland is of course the same as anywhere else in the world, it is seasonal. While whales do stay in Icelandic waters year round, your best chance is over the summer season. Humpbacks, Minke whales, dolphins and porpoises are commonly sighted and close to your boat. the best whale watching is from Dalvik in the north, however Reykjavik also has some great opportunities. Dalvik does have whales out of season where as from Reykjavik it is more common to have great results over the summer.
Whale Watching Tours From Reykjavik
---
The Northern Lights
Because of its high latitude, Iceland is a great spot for trying to spot the Aurora Borealis, or Northern Lights. The prime season of from late September to early March, primarily as it can be dark from as early as 6pm which greatly increases your chances. When I went to book our Northern Lights tour I could only get the bus tour which goes right out from Reykjavik into the dark, the night before we were due to leave. That would have mean we were getting home at 1am and getting up for our flight at 4am and I just didn't have it in me. We ended up doing a boat cruise out to see the lights which we didn't hold out more than the smallest chance of seeing them, however almost back into Reykjavik harbour – out they came and danced like Kylie. It was amazing, however I would do the bus out into the darker area's to get the best experience.
The boat trip was great and we enjoyed it, however I think we were pretty lucky to get such a good showing in such a well lit area. If you have the time, I would do the bus tour out to the darker location.
Northern LIghts Tours From Reykjavik
---
10 Day Tours From Reykjavik
I hope I've helped your find some things to see and do from Reykjavik. Don't forget to spend a day or two in the city itself as it is a great place to wander, drink coffee or hot cider, visit the church or the port. I really enjoyed Reykjavik, especially as it started snowing on our third day there, which was pretty special for us hot weather Aussies.
Accommodation Options In Reykjavik
This map will help you with accommodation in Reykjavik. I've set the parameters to be a max of $150 USD per night so you should be able to find something affordable for your Iceland stay.