Travelling In South Korea
WAY more than the DMZ
My visit to South Korea was one where I'd planned almost nothing. I knew I wanted to spend a few days in Seoul and that was about all I had actually thought of.
I was so surprised by how much there was to do in and around Seoul that I ended up there for a week before moving on to Gengneung-si, Busan and then over to Jeju Island. Both Seoul and Jeju are very easy to get around and most of the main tourist destinations are signed in English. Busan a little less so and Gengneung-si almost none at all. However, the people are so very keen to help you and despite getting turned around multiple times per day I loved the 6 weeks I spent in South Korea. The Korean people have a refreshingly positive attitude and the scenery of some of their national parks is stunning.
My Fave Photo From South Korea
I spent a week hiking some of the Jeju Olle which is a walking path that circumnavigates Jeju Island, South Korea. My second day I stopped about 5km into my 20ish kilometre walk to have a coffee and some breakfast at a little cafe. There was this cute dog loitering around and I just assumed he belonged to the cafe's owner. So many dogs on Jeju all look identical but he had a decorative collar and seemed really at ease around the cafe. I finished my breakfast and left and after around a kilometre I realised he was following me. It's a longer story that you can read here, but the condensed version is this. This fluffball is Bombo – a dog who walked one of my Jeju Olle legs with me and who to this day I think of and smile.
Dogs are the best!
All About South Korea
---
Must Have Info About South Korea
South Korea is very green. Its also very mountainous and their national parks are diverse and pretty incredible.
The South Korean people are very supportive of the North and South reuniting. Many have family in the north that they don't know anything about, but they desparately want to be reunited and become "Korea". I'm pretty sure they don't want the North to take over, but for the most part – they do want reconcilliation.
There are some really nice beaches in South Korea. Busan has Haeundai Beach, Gangneung-si has some beautiful stretches of sand and Jeju Island has some lovely beaches too.
If you can, you HAVE to go to a K-Pop Concert. Those party goers are crazier than Britney Fans! Its so much fun.
Everywhere accepts cards in South Korea. Even street stalls – cards and almost always accepted for payment.
Facts & Figures About South Korea
Seoul City itself has just over 3 million people, however over 7 million live in the surrounding areas and flood into the city every day to work. Over 25 million live in the area.
When you are born you are automatically 1 year old in Korea. So if someone is 28 years old, they would be 27 in the west.
South Korea has superfast internet. The data on their phone cards is so speedy and can easily be used for hotspotting.
There is over 4000 islands in South Korea
It can of course get very cold in areas but also very warm over the summer months, especially in the south near Busan. Seoul can experience -5 degrees C in the winter while Busan will sit at around 5-7 degrees. Summer is more uniform and you can expect highs of 28-30 C
South Korea is the plastic surgery capital of the world. It is estimated that 1 in 3.5 women have had at least 1 cosmetic surgery procedure.
---
Recent South Korea Articles
Read all about what to see and do in Seoul, the Garden of Morning Calm and of course Bombo the Jeju Olle hiking dog.  
Learn what to see and do in your time in Seoul. From Seoul Tower to hiking the city walls, there is heaps to see and do in this amazing city.
Uncover the secrets of Seoul's royal history by visiting Gyeongbokgung Palace, a majestic symbol of Korea's past. Our blog post provides insider tips, stunning visuals, and a detailed guide to help you make the most of your visit.
The Garden of Morning Calm is a must visit winter destination from Seoul. Over a billion (yes that's a billion) fairy lights illuminate this garden and attract visitors from all over not just South Korea but the world as well.
View All South Korea Stories and Articles
---
3 Must Do's For South Korea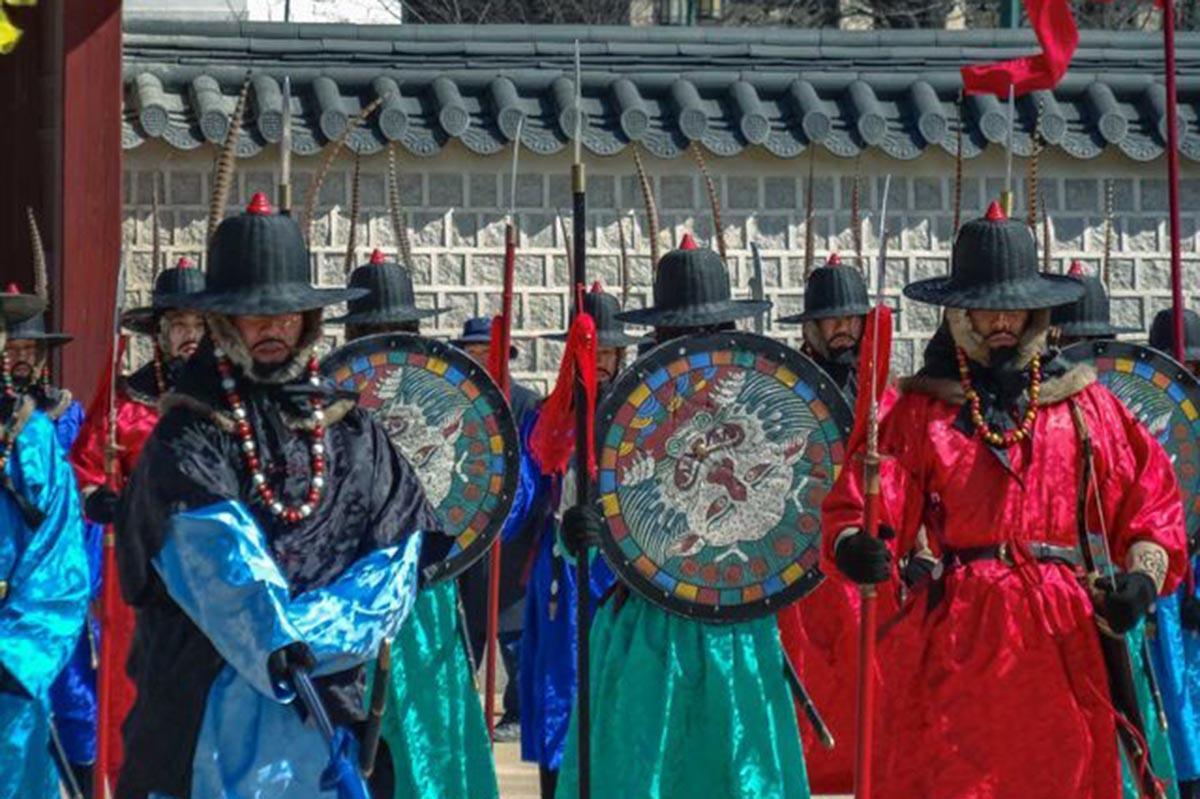 The Changing Of The Guard at Gyeongbokgung Palace is really worth seeing. It only takes about half an hour to watch but it is worth timing your visit for. You can read my guide to Gyeongbokgung Palace by clicking this image.
Chowing Down On Korean Food
You will get so sick of Korean BBQ. Everywhere you go they try and force you into the BBQ. Get out into the streets and eat some of the street food. They have some of the best street seafood I've ever eaten.
Get Out Of Seoul
Its tempting to spend all your time in Seoul but get out into the less touristy areas and experience some of South Korea's stunning natural beauty. Busan is lovely as is Jeju Island.
---
More Things To Do In South Korea
While you can see and do heaps of activities and adventures in and around Seoul, there is much more to South Korean than just its capital. Venture further afield for a great taste of South Korea
Walk the streets of Bukchon Hanok Village and see the traditional homes
Visit the DMZ. You could also visit the JSA (Joint Security Area) when I was there but I can't find that on any tours at present. If you can try to add that into your DMZ visit – its the no mans land between north and south and worth seeing.
Seoul Tower – it's naff but its worth a visit.
Walk the 18.6km ring around the walls of Seoul. I can't find the map on AllTrails but The Hiking Project has it. 
Get to Jeju for some great trekking or just a sample of a different Korean lifestyle.
Spend a few days in Busan. This is a nice city with a great beach and is worth 2-3 days.
Head out to Bukhansan National Park from Seoul city. You can get the bus to the fortress entrance and walk the 2km from there or a taxi to the gate for about $25 from the center of the city.
Wander Namdaemun Market for some local treats and nic naks.