How To Make Your Vacation One Of The Best Trips To Australia Ever
Australia is a huge country and to get to Australia means a long flight from almost anywhere. While it is on a lot of travellers bucket list, the cost to get here and the shear size of Australia, means that you have to make the most of your time in this beautiful country. Use this article as a way of planning your trip and getting the most from it.
Why you should visit Australia
Australia is one of the most beautiful places on Earth, and it's no wonder so many people visit every year. The country has a lot more to offer than what you might expect: from nature walks to city adventures, there are plenty of reasons why it's great place to visit all year round. If you are planning an Australia vacation, having an idea of what you would like to see and how you would like to spend your time is key.
Australia is the perfect place for both city lovers and nature goers.
Whether you love hiking and getting into the outdoors or love sitting at a cafe sipping coffee or wine and people watching, Australia has something for you. You could easily spend a few weeks in each of Australia's main tourism cities of Sydney & Melbourne, so it will be important that you think about what you would like to see. Sydney is very well known and has some famous sites like the Opera House, Bondi Beach and The Rocks, but Melbourne also has a few great beaches, arguably the best food in Australia & lots of near by winery's and hiking areas.
Of course while you are here you shouldn't miss the Great Barrier Reef, one of the seven wonders of the natural world and one of Australia's most popular tourist attractions. Located in northeastern Queensland, it's home to more than 2,900 coral reefs and 1,500 islands. You can spend hours, a full day or even multiple days in the warm waters of the Great Barrier Reef swimming, snorkeling and diving. While you are in North Qld you should also add The Daintree one of Australia's best tropical rainforests onto your must see list.
Uluru-kata tjuta National Park is another major attraction for nature lovers and one of the most famous rock formations in the world. The distinctive red sandstone monolith Uluru (previously known as Ayers Rock) towers over the desert plains of the central Australian outback. You haven't seem sunset until you've seen the changing colors of Uluru over the hour long dusk.
While it is over 500km from Alice Springs, you can take a day trip to Uluru and Kata Tjuta (previously known as The Olgas) and manage to spend a good amount of time at both locations. The park has some great indigenous guides now that will walk you around the rock and explain a lot of the aboriginal culture associated with this amazing place.
Sydney Or Melbourne? Which Aussie City Should You Visit?
Both of these iconic Australian cities have a lot to offer, however if you have the time I would recommend visiting both. If you have to choose only one I would choose Sydney. While Melbourne is a fantastic city, almost no-one wants to visit Australia without seeing the Sydney Opera House or The Harbour Bridge so leaving Sydney off for Melboune is something I personally think you will regret.
Sydney does have better weather.
Melbourne has better food
Sydney has those iconic places to see like the Opera House, Manly and Bondi Beach
Melbourne has more local experiences (Pizza on Lygon Street for example)
Sydney has so many amazing beaches its hard to choose just one
Melbourne has sporting events all year round like the Austrlian Open and the Grand Prix
Why you should visit Sydney
Sydney is a multicultural metropolis & arguably Australia's most popular city.
Sydney, known as the harbour city, offers everything from beaches to bush, with plenty in between. See iconic attractions like the Sydney Opera House or the Sydney Harbour Bridge, grab some fish and chips on Bondi Beach or visit one of Australia's most popular museums at Powerhouse Museum in Darling Harbour.
Head over to Chinatown for some delicious Asian cuisine or take an evening stroll along Oxford Street in Paddington (the city's night quarter).
If you like to walk you could spend 14 days hiking Sydney's Great Coastal Walk or if you only have an afternoon do the Bondi to Bronte walk. Sydney also has some great nature reserves in and around the city and beaches and of course you shouldn't miss the Blue Mountains west of Sydney. Doing Sydney's Great Coastal Walk will show you how the beach suburbs of Sydney are nothing but one individual small town after another.
The Blue Mountains is also just a day trip away from Sydney and offers you the chance to see some of Australia's most iconic bush landscape.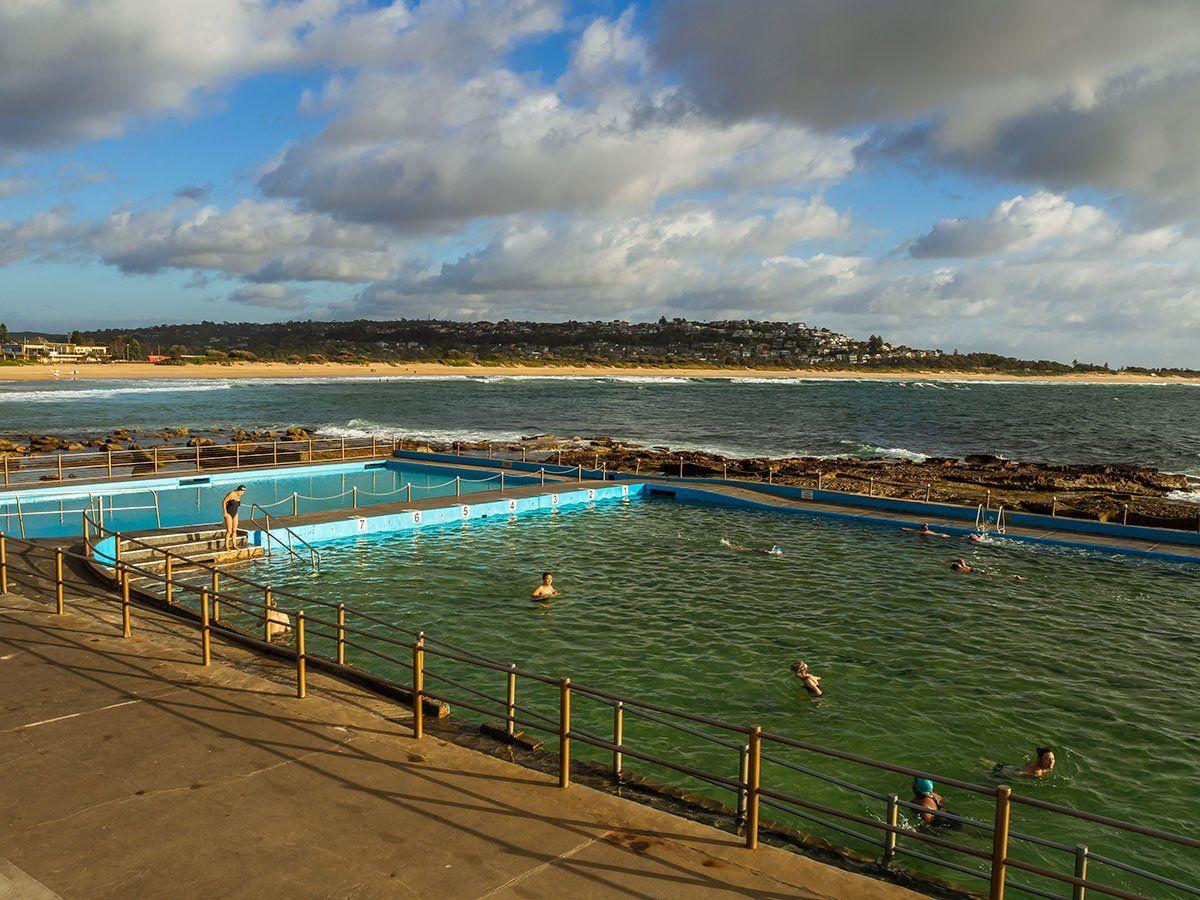 Dee Why Ocean Pool – one of the iconic things about Sydney's beaches.
See Sydney From The Harbour
One of the best ways to see Sydney is from the harbour. You can catch a ferry from Circular Quay to Manly and see most of what is on offer but it can be hard to get good photos. Consider taking a dedicated Sydney Harbour Cruise for the best views.
---
Why You Should Visit Melbourne
A lot of visitors to Australia have to squeeze as much as they can into a 3 or 4 week trip and Melbourne is often left out. Melbourne has arguably some of Australia's best food. It is known as a foodie city and is also the jump off point to Geelong, Mornington Peninsular, The Yarra Valley & even the ferry to Tasmania.
If you are visiting Melbourne though you need to be prepared as Melbourne is well known for having all 4 seasons in one day. The summer can be blisteringly hot one day and raining and cold the next so you need to keep all weather gear handy.
Melbourne is a beautiful place with a great botanic gardens, lovely parks, riverside relaxing and dining areas and some of the best shopping and markets in the country. You can browse the vintage shops in St Kilda or check out the bars in the inner city suburbs for your next favourite music artist. The Arts Centre in Melbourne has ever changing shows and exhibitions so see what's on during your visit.
Head out to the Yarra Valley for a few days of wine tasting if you have the time.
Melbourne's Albert Park is also home to our Grand Prix, The Australian Open runs through January, and of course if you are into horse racing the spring racing calendar starts at the end of October culminating in the "race that stops a nation" The Melbourne Cup on the first Tuesday in November.
My fave resource is Visit Melbourne's website.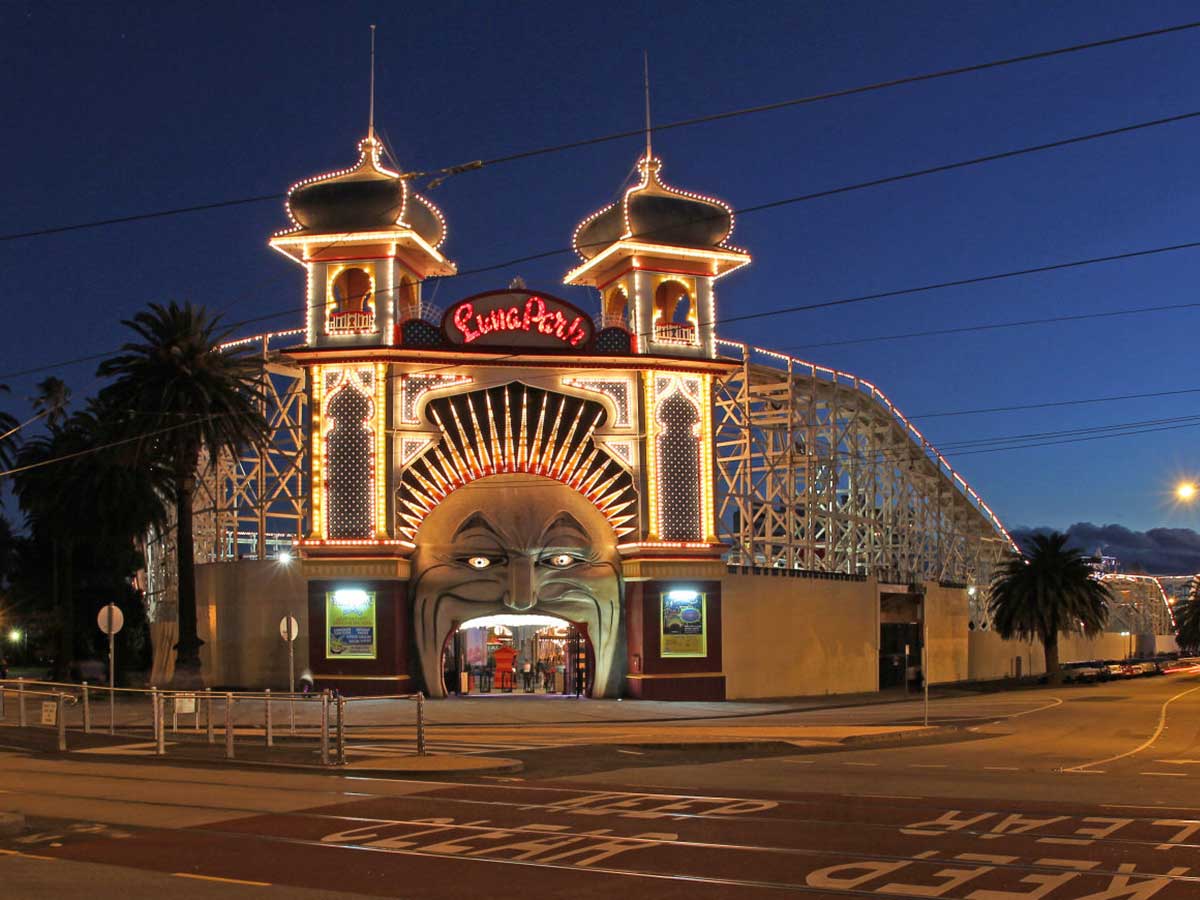 St Kilda's famous Luna Park entrance.
Melbourne River Cruises
Melbourne is on the Yarra River and again, one of the best ways to see the city is from the river. Or of course head out to the Yarra Valley on a wine tour (one of my personal faves)
---
Australia's other state capitals to visit
Why you should visit Brisbane
Brisbane has a laid-back vibe and is considered by a lot of older Australian's to be more of a large country town than Queensland's capital city. Brisbane is known as "Brisvegas" by the locals primarily because it's home to the thousands of pokie machines clattering away in many of the pubs and clubs in the area. The Star casino complex hosed in what was Queensland's treasury building features more than 1 million square feet (93 thousand square meters) of gaming space and is one of the largest casinos in Australia!
If you're looking for something less glitzy but still fun there are plenty of affordable things do here too – from
visiting Suncorp Stadium where international sporting events are held regularly
catching up on some shopping at Queen Street Mall
discovering secret laneways around South Bank Parklands area where you'll find cafes worth trying out
getting up close & personal with wildlife at Lone Pine Koala Sanctuary or e
ating delicious Asian food in Sunnybank. Try the corner of McCullough Street and Mains road for a variety of options.
Cities Around Brisbane
Only 1 hour south of Brisbane is Australia's beach playground of the Gold Coast (my home) where you can surf, swim, eat, drink and generally be merry. The Gold Coast is home to some of Australia's best weather and a popular holiday destination.
An hour and a half north of Brisbane is the Sunshine coast which is another stunning array of beaches, hinterland and holiday hotels, apartments and campsites.
A little further north of Brisbane is K'Gari (formerly known as Fraser Island) which is the largest sand island in the world and somewhere every visitor to Australia should go. From the inland lakes to the surf beaches, hiking trails and yes dingo's, K'Gari is simply stunning and should not be missed.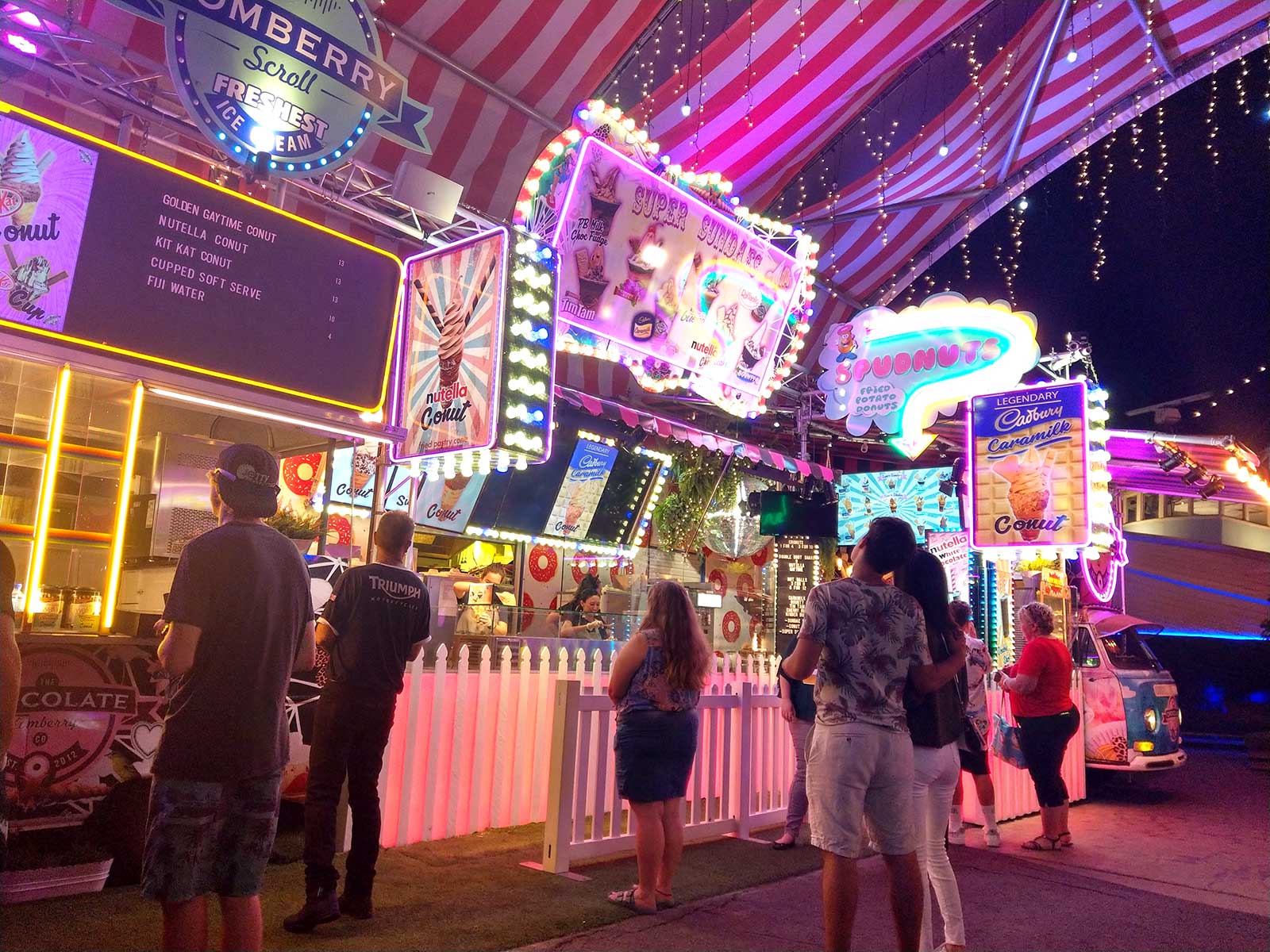 Eat Street Northshore, one of Brisbane's premiere street food markets
Visit Stunning Morton Island and Tangalooma From Brisbane
Morton Island is something that a lot of visitors to Brisbane miss out on. It is something you should definately add to your list for Queensland's capital. Snorkelling the wrecks or doing a Tangalooma dolphin experience is one of my top recommendations for Bris Vegas.
---
Why you should visit Adelaide
Adelaide is known for its arts scene and while it is one of the lesser visited Australian state Capitols it is a beautiful city with mountains, wineries and beaches with a reasonable drive of the city center. Take a walk out the Glenelg Pier into the Indian Ocean, visit Penfolds Winery or visit On Kangaroo Island where you can see wild kangaroos and koalas up close. The Koala's on Kangaroo Island are HUGE!
The Barrossa Valley, McLarenvale, Coonawarra & the Clare Valley are some of Australia's best wine regions. Day trips from Adelaide are easy to find and well worth the expense.
The Eyre Peninsular just over 620 km's from Adelaide is one of the best places to experience Australia's fishing & whaling towns (no whaling has been done for around a century now though). Check out Sensation Beach just past Coffin Bay for one of Australia's best remote beaches.
Wine Tours and Kangaroo Island From Adelaide
Adelaide is ALL about the wine so consider doing a winery day tour from Adelaide. Alternatively head to Kangaroo Island which is also really worth seeing and from the water gives you a great look at the coastline as well.
---
Why You Should Visit Darwin
For something completely different, visit Darwin and get up close with a croc. Or if you are feeling not quite that adventurous get a tour out to Kakadu or Litchfield National Parks, both of which are stunning and home to some of our Indigenous culture's most sacred sites. Darwin is a great place to visit in Australia's winter as are the remote areas of Kakadu National Park & LItchfield.
While the summer typically isn't recommended because of the heat and the chance of being rained in, if you are travelling around Australia and have the time, Kakadu and Litchfield can be at their most spectacular in the summer with the water levels high. I wouldn't recommend making a dedicated trip to Darwin in the summer (it is VERY hot and can be extremely wet), but if you are travelling and have the time, the best I've ever seen both Kakadu and Litchfield was in February after some rain.
Jim Jim Falls, Kakadu National Park
Kakadu and Litchfield National Park Day Tours From Darwin
---
Why You Should Visit Hobart
Hobart is an excellent city to spend some time and there are a lot of things to see and do out of Hobart. Visit the Tasmanian devils sanctuary, Port Arthur historic site, the village of Richmond or many other day trip options.
Mona – Hobarts modern art gallery is very popular, however you should be warned that the terminology they use and some of the art displays may be considered a little risqué to some. If you have more time there are many hikes close to Hobart and some of the best hikes in the world a few hours further afield. Maybe consider participating in a 4 day Wukalina walk focused on indigenous culture and run by local aboriginal people.
The Overland Track one of Tasmania's premiere hikes. You can do the first day to Cradle Mountain as a day hike if you don't have the week or the gear to do the full hike.
Port Arthur, Tasman Peninsular Coastline or Bruny Island Day Tours from Hobart
---
Why You Should Visit Perth
Perth the capital of Western Australia is a lovely city with heaps close by (more wine of course) with the now famous Rottness Island (Rotto to the locals) easy to visit for a day or overnight trip.
Perth has some beautiful beaches with miles and miles of coastline. Check out Scarborough Beach, Trigg or Cottesloe but be warned the water can be very cold compared to the east coast. Kings Park in the centre of the city is a great place to people watch with a wonderful view over the city and the Swan River.
Only 3 hours south of Perth lies Bussleton, Dunsborough and Margaret River which is home to some of the best wine Australia produces not to mention one of the most popular surf beaches.
The beautiful waters of Rottnest Island off the coast of Perth
Day Tours To Help You See The Best Perth Has To Offer
---
Visit Australia for The Beaches
You'll find beaches and islands in every state, from the sunny Gold Coast and the Great Barrier Reef in Queensland to the famed Bondi Beach in New South Wales.
Australia's beaches are the most popular tourist attraction in the country, and for good reason. There are more than 8,000 miles of coast to explore! You'll find beaches and islands in every state, from the always popular Bondi to 8 mile beach in Port Douglas.
If you are planning a busy trip around Australia, I would consider spending your last few days at the beach to rest and relax before you leave. This will usually mean Sydney as that's were a lot of visitors fly into and out of, however if you are leaving from Brisbane, The Gold Coast or Sunshine Coast would be the best bet. If you are leaving from Melbourne, consider St Kilda or Mornington Penninsular.
BEACH TIP: Australia's beaches are amazing but often dangerous. If you aren't experienced don't swim where there isn't a life guard or flags. Our rips are severe and the swell never looks as big as it actually is from the beach.
Also remember that the beaches in the north are nowhere near as nice as they are in the middle part of Australias coastline. The Whitsundays have some stunning beaches and islands but anywhere north of there the sand gets darker, coarser and you have to start being aware of stingers and in the far north crocs!
Some Beaches I Recommend That You Might Not Have Heard Of
If you are wanting to make the most of Australia's beautiful beaches but aren't onboard with the crowds – swap out these beaches as per my list below.
Instead of Main beach at Byron Bay – Try Pottsville Beach about half an hour north of Byron
Instead of Bondi Beach – Try Coogee Beach about 5km south of Bondi
Instead of Scarborough Beach in Perth – Try North Beach (at the end of Hale Street) which is small but protected by a reef and a great snorkelling spot for in the city.
Instead of Prevely Beach (Margaret River) – Try Kilcarnup Beach about 10 km to the north of Margaret River
Instead of Surfers Paradise Beach on the Gold Coast – try the broadwater side of the spit. It doesn't have a name but it is a great beach with heaps of parking. Use the link for the location.
Instead of Whitehaven Beach in the Whitsunday Islands – nope sorry. Everyone should walk along and swim at Whitehaven Beach at least once. This is a must do.
Whether you're looking for remote and secluded spots like those on Ningaloo Reef or a more urban destination like Surfers Paradise on Australia's east coast, there's something for everyone.
Swimming in the rock pools along the Dunsborough Coast, WA
---
Australia has some of the world's most beautiful hikes.
Head to Tasmania for a hike around Cradle Mountain-Lake St Clair National Park or if you're looking for a hike that's as beautiful as it is challenging, consider the Overland Track. This 65-kilometer walk takes you along Tasmania's rugged alpine region, through areas of rain forest and past glacial lakes. If you're up for some decent physical exertion and don't mind sharing your hike with other travellers, this is the one for you.
Instead of just enjoying the views of the Twelve Apostles on Victoria's Great Ocean Road there are walks of varying lengths along this stretch of Australia's coast. Try Hiking The Great Ocean Road to see some of the best coastline Australia has to offer.
The Blue Mountains west of Sydney are a great hiking destination and if you are a serious hiker, consider the 220 km Larapinta trail in the Northern Territory. If you are after just a taste of Larapinta (3-6 days instead of the whole length) check Tour Radar for options.
I have just found a new adventure in the north west of Western Australia that does a multi day hiking trip through Karajini National Park and then moves over to do Ningaloo Reef. Both of these are in my personal opinion some of the best landscapes (and seascapes) Australia has to offer. Karjini is stunning and Ningaloo Reef is just amazing. Walk WA's Karajini & Swim Ningaloo tour.
Alternatively in the south of WA you can find the 1000km long Bibbulmun trail.
Day hikes from the Gold Coast and Brisbane are plentiful and well maintained. Head to Lamington National Park or Binna Burra National Park for multiple options from just a few kilometers to around 22kms.
If you are feeling really fit (and a little brave) you could hike up Mount Wellington in Hobart, however make sure you book your bus back down and don't underestimate the time it will take. There are a few rockfalls along the way that will slow you down and it turns into rock hopping close to the top. Its about 17km from the Cascade Brewery and almost 1200 meters in elevation so isn't a hike to be sneezed at. If you are concerned about making it in time for a transfer back down, book the bus up and walk back. You can get on the public bus at the Cascade Brewery or simply call an Uber. Be sure to have a map as there are multiple trails and it can get very confusing. Check out this Mount Wellington one that I did on AllTrails.
No matter where you are, there are bushwalks, city paths and beach side strolls everywhere all over Australia.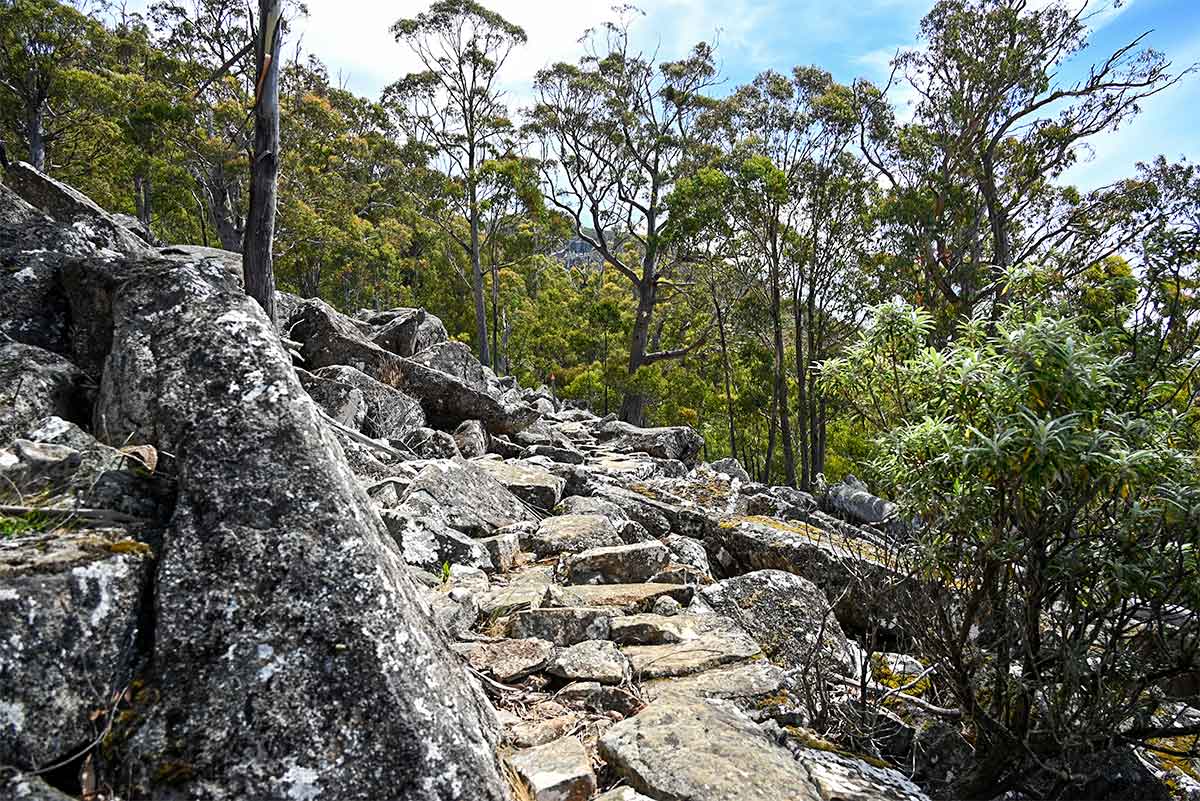 One of the rockfalls you have to cross on the hike up Mount Wellington
---
Australia's best Remote Experiences
In Western Australia, you can explore the Outback areas of the Pilbara and Kimberly with a 4WD or try your hand at camel riding along Cable Beach in Broome. You can swim with the whale sharks in Coral Bay or head to the state's southern coast for the stunning white-sand beaches around Albany and Esperance.
West of Rockhampton you will find a few station stays that give you a taste of remote living and some will even allow you to work alongside their crew for a real taste of fencing in the hot sun! You will also find Carnarvon Gorge west of Rockhampton which is well worth a visit, but only during the winter months. It is way too hot out there in the summer and all the services will be closed. It is worth a few days (there are multiple campsites close by) and the walks are wonderful. From the Moss Gardens to the Art Gallery of Indigenous art it is a beautiful part of Australia for sure. You don't need a 4wd to get out there but you must have a vehicle with decent ground clearance.
If you're not into road trips, there are plenty of other ways to experience Australia's natural beauty: visit Daintree Rainforest in Queensland for some of the best wildlife viewing opportunities in the world or go diving with sharks off the Great Barrier Reef (make sure to book ahead).
!! Be aware of where you are in the north or central of Australia and stay on top of weather forecasts. A big storm could see the dirt road turn to sludge in no time at all and leave you stuck until it dries out. Always have much more water than you think you might need, be sure your car is up to it and don't leave your vehicle if you break down. Make sure someone knows where you are going and when you expect to arrive and make sure that they are prepared to contact authorities if you don't arrive when you say you will.
Do A Road Trip In Australia
Australia is very large and a little intimidating for some visitors with regard to driving such long distances, however almost every state in Australia has a road trip worth considering and it can be the best way to see Australia's small towns. If you plan well, ensure your car is well maintained and you know how to change a tyre should you need to, you can partake in one of the many great road trips Australia has to offer.
Australia's Most Popular Road Trips
An Australian Road Trip can mean following the coast or driving across a 4wd crossing for 2000 kilometers across the countries red centre. These are 3 of the most popular road trips in Australia.
Sydney to Cairns
This is a well worn route that many backpackers to Australia participate in. Some visitors have discounted this route mostly because its popular, but it does in fact have some of the best things to see and do in Australia and it is by far one of the most if not the most scenic route.
Driving from Sydney to Cairns will mean that you can
drive across the Sydney harbour bridge,
get to visit and spend time in a small coastal town such as: South West Rocks, Nambucca Heads, Yamba or Byron Bay
visit the wrecks of Tangalooma
swim at Noosa Beach on the Sunshine Coast
go 4wding along Rainbow beach,
visit the sand island of K'gari (previously known as Fraser Island) and swim in the stunning freshwater lakes
park up at Airlie beach and spend a few days in the Whitsunday Islands. Consider splashing out on a holiday on Hamilton or Hayman Island.
and finish in Cairns ready to visit the lush rainforests of the far north and the Great Barrier Reef.
One of the locals crossing the creek at Carnarvon Gorge
Adelaide to Perth
The Nullabor isn't a road trip that many tourists would do. Granted it is miles and miles and miles of nothing, but it is an experience in itself and if you like getting out on the open road, this drive is for you. There is a great debate as to the start and end points of the Nullabor road trip but from someone who's done it multiple times I feel that Port Augusta in the east and Norseman in the West are the start and end points for the Nullabor Plain. Assuming you are driving East to West, here are some locations worth stopping for.
Streaky Bay has some beautiful coastline – however the water is very cold and the rips can be strong so swim at your own risk and don't go in the water if you aren't supremely confident in your abilities and have someone on the beach. Streaky Bay town has a great website and there is also this visitors guide to download.
Bunda Cliffs near Eucla are worth stopping for.
Koonalda Cave is worth seeing and the turn off for this will be just before you get to Bunda Cliffs.
Make sure that at least one night on the Nullabor you try to just lie back and look up at the stars. It is one of the best places in Australia to view the Milky Way in all its glory
Once you get to Norseman in the west you can turn right and head north to Kalgoorlie or Coolgardie or left and south to Esperance.
In 1995 Brad and I got stuck on the Nullabor for about 5 days when it flooded during roadworks (that's the back of our car and the boat). Others were stuck for weeks and it shut Western Australia down.
Perth To Broome
While definitely a trip that takes time this is one of my most favourite regions in the world. You will need a 4wd and experience driving it to see the more remote places but you can see heaps in a regular all wheel drive or 2 wheel drive car. I would recommend 6-8 weeks to get the most out of this trip but you might choose to skip some sections and get a sampling of the stunning west Australian coast instead of hitting up every point. Before you leave Perth make sure to visit Rottnest Island and meet a quokka!
Take the coastal road from Perth the Geraldton. This takes you through past old cray fishing camps, through gorgeous little towns like Green Head, Jurian Bay & Cliff Head. Make sure you stop at Cervantes and see The Pinnacles. You will join the major highway again at Dongara and drive another 45 mins to Geraldton.
While in Geraltdon take a flight to the Abrolhos Islands for the day which is worth the money. You can also see the pink lake in Port Gregory as a fly over on the way home.
From Geraldton you can go into Kalbarri on the Murchison River (and a great beach and surf spot) where you can hike through the gorges or do the Kalbarri Skywalk.
After leaving Kalbarri you can visit Denham, Shark Bay, Hamlin Pool and Monkey Mia for the dolphin experience.
I would skip Carnarvon (unless you need repairs) and head into Coral Bay for a few days RnR. Why don't you swim with the Whale Sharks while you are here?
Ningaloo marine park is a collection of barrier reefs that hug the coast and are home to an immense amount of marine life including Australia's own Dugongs. You can see almost every thing you need to just by snorkelling but if you are into scuba diving you will find places to hire gear or fill tanks.
Cape Range National Park is home to Turquoise bay which you may find hard to leave with the peninsular ending with the small fishing and mining town of Exmouth.
Consider visiting Millstream Chicester or Karijini National Parks, before making your way up to Broome.
See what I mean? There is heaps to see and do on this West Coast road trop and as you get further north everything gets further apart so you do need to dedicate time to the white sand beaches and sand dunes of this stunning coastline.
Karajini National Park
Visiting Australia in all seasons
There isn't really a best or worst time to visit Australia however consider the following:
Summer in Australia is best for anywhere Hervey Bay and south. North of here it gets really hot and Cairns in the summer isn't really somewhere you want to be.
Autumn in Australia (Fall for you Americans out there) is considered our "shoulder season" and a good time to travel to most places. Tassie might be very cold (but parts can be in summer as well) and the far north will be still warm but overall its a good time to travel.
Winter in Australia is perfect for travelling to any of our northern zones. In fact it's the only time you should consider visiting central or northern Australia. Sydney will be mostly very cool but not cold like Canada or the UK in winter. You can expect highs of 16-19 during the day (celsius) and lows of 8-9 overnight. Melbourne will be cold and possibly wet and Tassie will have snow in certain areas. Hobart itself will be cold but not friggid, but any hiking in Tasmania in winter should be ONLY done by experienced winter hikers.
Spring in Australia – our other "shoulder season" is a great time to travel. Ideally start in the north and head south so as it gets hotter, you will be moving into the cooler parts of the country.
Scarborough Beach in Perth is a great place to cool off in the summer. Perth can have weeks of temperatures above 38 degrees but usually there is no humidity so it is bearable in the shade.
Some out of the way places to add to your Australian Itinerary
Spending a good amount of time in Australia is the perfect way to explore this diverse country, which has so much to offer. In fact, these are just some of the reasons why we love Australian holidays so much! Apart from everything I've mentioned above you might also consider visiting:
Hunter Valley or Barossa Valley for wineries

the Kauri pines of south west WA

the wildflowers west of Geraldton in Western Australia in the spring

Cooper Pedy in South Australia (Australia's underground town)

Eden and Murimbulah – NSW's fishing towns

do the Bathhurst 1000 – Australia's premiere V8 supercar round. It is a right of passage for every rev head Aussie come October.

Kosciuszko National Park – and climb Australia's highest mountain.

visit Canberra the nationals Capital

check out Longreach, the home of Qantas

Visit Phillip Island – maybe for the superbike racing in February 2023

If you are in the far north of WA or Darwin, check out the natural wonders of the Bungle Bungles a unesco world heritage site in

Purnululu National Park

The Blue Mountains only a few hours drive from Sydney is also a must do if you have the time.
The "beehives" of the Bungle Bungle ranges in the north west of Western Australia
Australia has a lot more to offer than what you might expect!
Australia is a big country and it has a lot to offer. There are many different types of places to visit, from cities to islands to national parks. While Australia can be expensive with great food, wine and very friendly peopl, if you budget well and don't try and spread yourself too thin, you should be able to manage a decent stay.
Australia has some amazing world heritage sites, and from the top end to the capital cities it is worth the very long flight.
Conclusion
I hope that this article has inspired you to visit Australia. It really is the perfect place for almost all types of travellers. Australia has great services and facilities and if you are an English speaker you should find it very easy to communicate and get around.
I would love to hear about your own adventures travelling around the country in the comments below.
Check out my Australia Destination Page for all the info, posts & places to visit in Australia.