Nelson Mandela's Capture Site In KwaZulu-Natal
Everybody knows who Nelson Mandela is. I would assume 90% of people on earth who have access to any kind of media know who Nelson Mandela is.
What I think a lot of us don't know well however, is how he started his activism as a very angry young man. I personally had no idea until I visted the Nelson Mandella Capture site in South Africa.
What Is the Nelson Mandela Capture Site?
It is exactly what it sounds like. It is the location in KwaZulu Natal where Nelson Mandela was captured and arrested. On the 5th of August 1962, apartheid police stopped a car in which Nelson Mandela was passing himself off as the chauffeur. He had been on the run from authorities for over 17 months and had just left ANC president Albert Luthuli's home in Groutville. The capture site originally had a small stone plaque, however after purchasing more land the site as you see it today was developed.
While Nelson Mandela was to be imprisoned in one way or another for the next 27 years entering society as the ultimate champion of peace, he was at the time of his capture on his way to convince others in the movement that a call to arms against the oppressive apartheid was what was required.
During the early Africanism movement, in the face of their actions having little or no effect on the establishment, Mandela became very pro violence. He believed that it was the only way forward despite being discouraged by his close friends and comrades. After visiting The Nelson Mandela Capture site today and learning more about the early years of his life, I can't help but wonder, should he not have been captured, convicted and imprisoned, if a spiral of violence would have ensued creating a very different outcome for the South African people,
​While his 27 year incarceration was in itself a crime against humanity, it is worth mentioning that others convicted of the same crime did their time on Robbin Island for the entire period of their sentence, while Mandela spent a good chunk of his prison term housed in much more generous surroundings. Behind razor wire for sure, but definitely in a much better situation than most of his fellow colleagues.
His refusal to negotiate as a man who was denied his freedom was, in my opinion, one of his most incredible achievements, however I have to wonder if without that period of self reflection, without that period for pure thought, without the time to consider all possible outcomes and without time and maturity, if he would have achieved such outstanding successes in the fight for equality for ALL South Africans.
I don't believe for a minute that he should have spent 27 years of his life behind bars, but I do wonder what his actions might have been should he have proceeded down the path he was walking.
Walking to freedom, the long way will remain a definitive quality of his life, but ultimately did his capture save his life??
Would he have been here to help in the advances of the cause or would he have been a victim of the violence he so virulently supported?
Can you imagine a world without Nelson Mandela?
The Sculpture At The Capture Site
Created to acknowledge the 50th anniversary of Nelson Mandela's capture, the sculpture is one of the cleverest things I've ever seen. From the road you can't possibly discern what it is and it just looks like a mess of 50 weirdly shaped steel poles.
From the visitors center inside the site, you walk down a long path which represents Nelson Mandela's long walk to freedom. About half way down the path your perspective changes and the image starts to come into focus. An image that is clearly Nelson Mandela. It is so very clever and if memory serves me correctly was opened on the day of the 50th anniversary of his capture.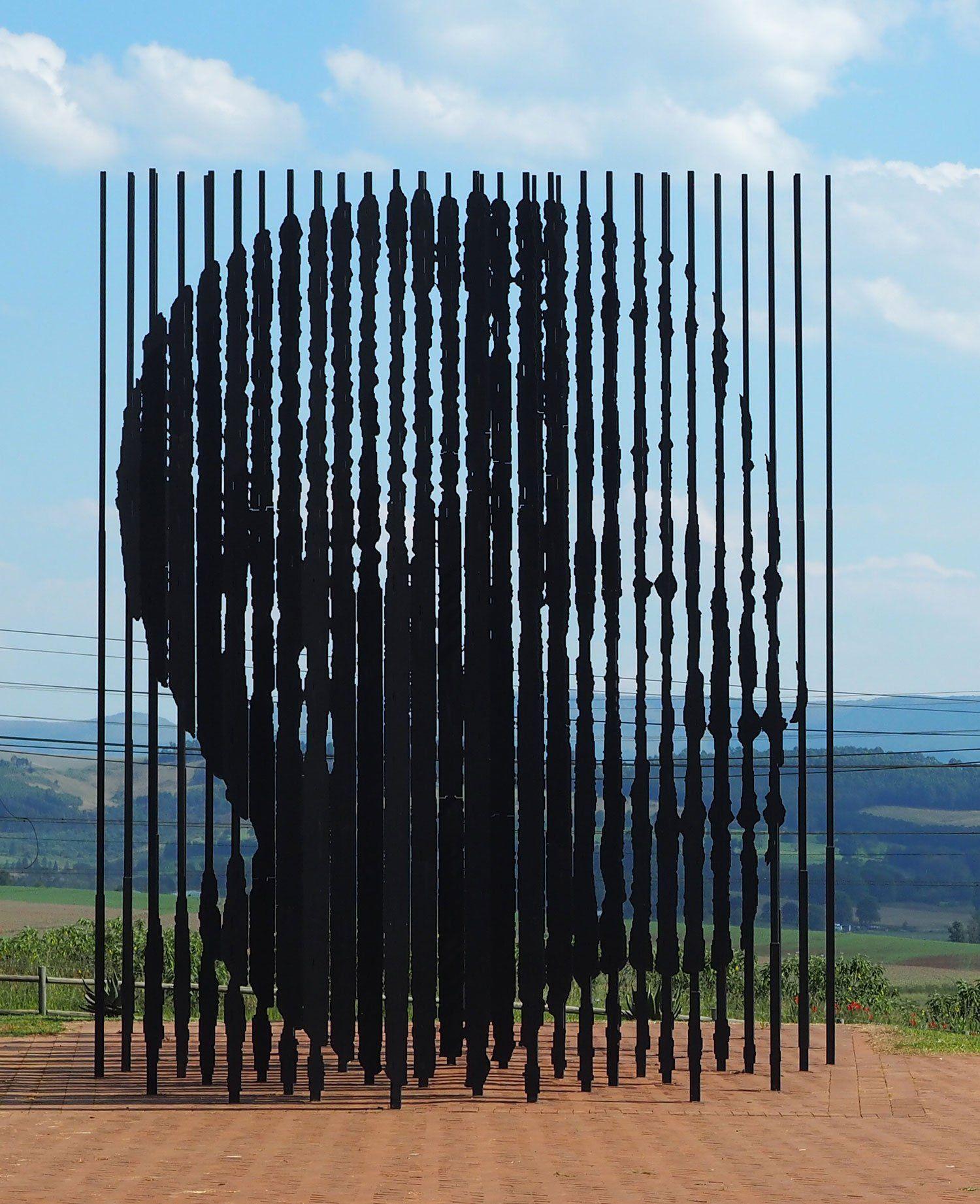 Getting To The Capture Site
If you have a car, it is only about an hour and 15 mins outside Durban. Get Your Guide has tours from Durban (shown below), however they are part of a full day trip visiting the Drakensberg mountains as well. I highly recommend visiting Drakensberg to see the rock art and do some hiking so it might be something that you can justify anyway.
Of course you could look at a rental car and just drive out yourself if you didn't want to spent the full day on a tour.
Tours That Visit The Nelson Mandela Capture Site
---
Check out my South Africa Destination Page for all the info, posts & places to visit in South Africa.