There is a lot of information out there on traveling in Vietnam, and I'm sure you are well aware of the amazing sights and scenery you will discover in this amazing South East Asian country. But what are the absolute must know tips for making the most of your visit to Vietnam?

Read on to get my top tips for visiting Vietnam. I know you will love this gorgeous Asian destination.
---
My top 7 tips for visiting Vietnam aren't necessarily destination based, but more about timing and/or local activities that you should consider doing during your time in Vietnam.
These tips include visiting some destinations during the best season, finding the best food with no MSG or even listening to the locals about the Vietnam War. You will come away with a much greater understanding of who Vietnam and its people really are.
1. Visit Halong Bay In The Spring or Summer
Ha Long Bay would be the one location that ALL visitors to Vietnam will visit. It is however vastly different from season to season.
We visited Ha Long Bay in December of 2010 and while it was still amazing scenery, I wouldn't choose to visit at that time of year again. One one hand it was so quiet and we had days we didn't see another boat for hours, but on the other hand a lot of my photo's look like this: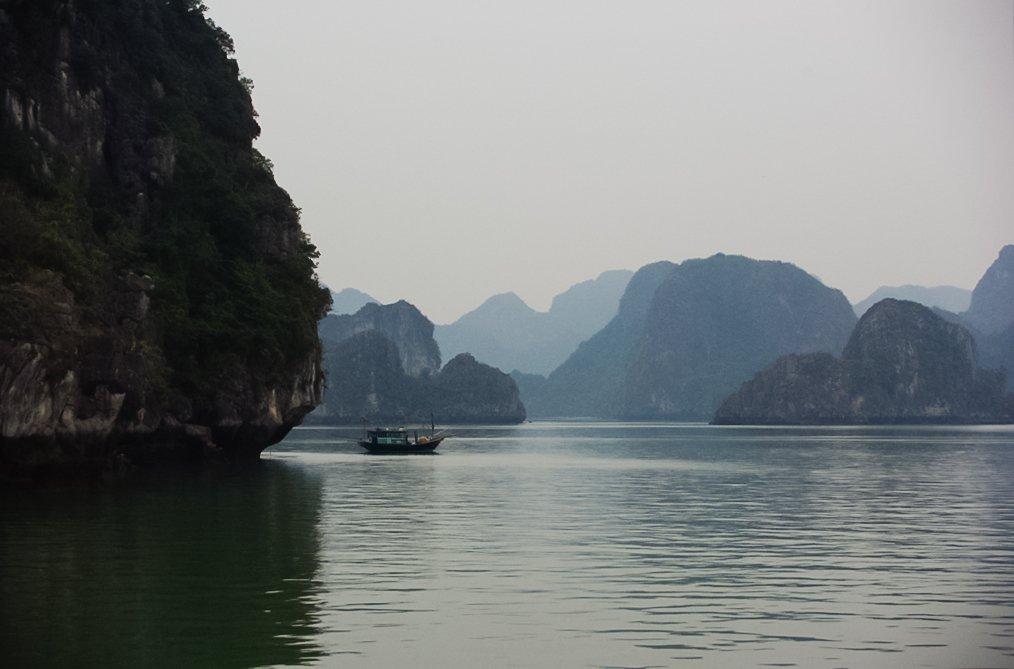 You can see its really foggy and hazy and this is one of the better ones. A lot of my photos of Halong Bay in winter are just fog with mountains in the background.
It's also really COLD in northern Vietnam in the winter.
Like hats and scarves cold!
There is no way you could swim in these waters during the winter months, and you spend your days huddled in scarves and jackets mostly inside the boat. It's probably not the best time to spend a few days sailing in Halong Bay, but it is stunningly beautiful and if you have to visit in the winter you should absolutely still do it, so don't miss it just because it's cold. A visit in summer or even spring would be better though.
So you have a choice:
Visit in the winter and have it mostly to yourself, or
Visit in the summer and get images like this one from Unsplash below.
Accommodation Options In Halong Bay
Halong Bay is worth an overnight stay. If you book an overnight boat that would be ideal but they do fill up quickly and they are more expensive than staying on one of the islands overnight.
Tours to Halong Bay from Hanoi
I would say the best way to do Halong Bay is with a tour. If you don't do a tour you have to get there yourself (which isn't the easiest thing to do), try and get on a boat either for an overnight or day trip and also find somewhere to stay. Sometimes tours are better!
---
2. Embrace the Coffee!
I drink black coffee at home so it took me a few weeks to cave to Brad's insistence that I try the Vietnamese coffee. It has its own particular style and has a very heavy French influence. You do sometimes just get the coffee pre-done in a cup, however if you go to a smaller more local café, your cup will arrive with a strange looking filter on the top.
The beans go into the filter and then the water slowly trickles down into the cup in the same process as a drip filter, but the filter is specifically made for the cup. Once the coffee is ready you add sweetened condensed milk (yup that's right!) and drink.
This was the part that I hesitated over for so long. I'm lactose intolerant and it manifests itself quickly and with great vengeance, so I was not keen at all to put condensed milk in my coffee! I first tried it one morning when I knew I would be hanging around the hotel and the local markets mostly so I wouldn't be too far from a loo should the need arise.
It never seemed to have any ill effects and it is SO GOOD! It does change as you go up and down the coast but it is universally AMAZING! If you get a chance try the Yoghurt coffee!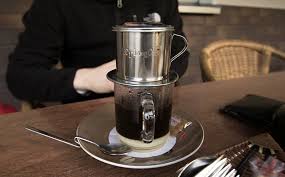 ---
3. Same, Same but Different is ALWAYS different
Hoi Ann is the place of choice for most travelers and tourists to get some new shoes made, or a new suit, or that mother of the bride dress you have in mind. Unfortunately this is where you will hear the common Vietnamese saying of "Same same but different" used the most.
Effectively this is supposed to mean – "yes it will be the same except [insert small and not even noticeable change here]". That is, in a lot of cases, not even CLOSE to the truth. Same same but different could mean – Yes your picture is brown and the jacket is brown, but nothing else is remotely within cooee of what you asked for. ( within cooee is an Australian term for close to or similar).
Brad decided he wanted a new coat and had two or three pics that had different components that he wanted in the coat so off he went to the tailor to get his coat made.
It was supposed to be a heavy winter coat, with fleece lining, that crossed completely in the front, with the toggle type buttons and have a collar that was a continuation of the front, not a separate collar like formal jackets have.
Now, I went with him and I have to say, he did an excellent job of drawing out the jacket and explaining it. He also made them draw up their interpretation of what he was asking for, and it was exactly as he wanted it.
HOWEVER – what came back was something similar to a Russian army coat in pooh brown that was single breasted, had a suit collar, wasn't lined and wasn't warm. We argued and argued and refused to pay the balance and couldn't get our money back. We didn't have time for them to remake it and in the end they threw the existing coat at us and escorted us from the shop.
Now…. I would usually be appalled at being thrown out of a shop, however sitting in the cafe across the road it became clear that their actual business plan involved taking your 50% deposit, making something shoddy as hell and then throwing you out on your ear if you argued. We saw them do it to 5 other people.
So we got scammed, however even others who were happy with their purchases all made a comment that it wasn't exactly like what they asked for, it was ALWAYS slightly different in some way. So scammers aside, unless you ask for something that is IDENTICAL to the picture you have, you don't really have a leg to stand on. Be prepared!
Same same but different = different!
Here Brad is wearing it below.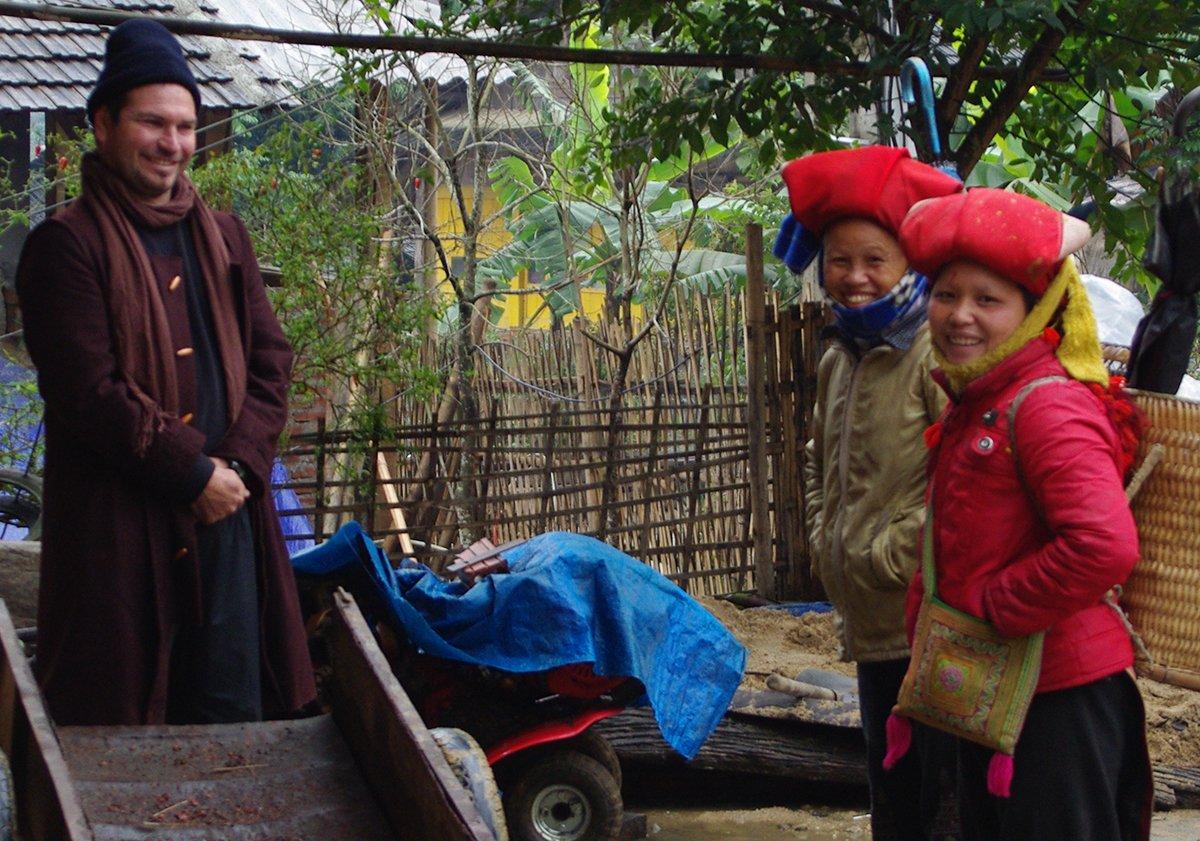 ---
4. Mind the MSG
We took my niece Paige and her girlfriend Laura to Vietnam and while we all had a fantastic time, Laura was plagued with random headaches and stomach pain. Not the "bali belly" kind of stomach pain, it was cramps and spasming.
She had told us up front she wasn't a very adventurous eater, however even at times when we had chicken soup, she would be struck down. It wasn't all the time so it was hard to pin down so we just made sure she kept her water intake up and watched her for further signs.
We did Vietnam south to north, so we spent time in Sapa last, just prior to going home. We were doing our 5 day hilltribe trek and the second night, Laura and Paige were helping out somewhere and Brad and I were helping cook dinner.
Half way through the spring rolls being fried, this big plastic container came out and was VERY liberally tipped into the wok with our dinner. Brad who enjoys cooking and is always looking for tips, asked what it was. Our homestay mum replied what we interpreted to mean salt and considering the amount she'd used, Brad asked if he could look at the container. It was MSG. And she had just put maybe 10 tablespoons worth into our dinner.
Headaches solved! So be careful – they don't really understand the dangers (or they didn't 10 years ago) so very nicely just ask for your dinner with no extra salt!
Hue Cooking Class with Bike Village Tour
If you would like to learn how to cook some Vietnamese food, consider this cooking class in Hue
---
5. Really listen to their side of the war
Firstly I'd like to say – don't just bring up the Vietnam war willy nilly. Wait until you know someone a little and ask them a roundabout question. Like, did they loose any older relatives in the war? You will instantly know from their response if they are open to talking about it and if they are, start a curious conversation with them.
I talked to maybe half a dozen Vietnamese citizens about the war and they all had pretty much the same comments. They believe that both sides did something wrong and that dwelling on it won't get them anywhere. They would prefer to learn from the experience and move on.
I'm not naïve enough to believe that war is ever that simple, but it was a refreshing view of an ugly war and it defined the Vietnamese people somewhat to me. That was their motto – can't help it, move on and make the best of things. What a great mantra for life.
Visiting the War Remnants Museum in Ho Chi Minh City is also a must and if you are a military buff, check out my post on the best historical sites to visit in Vietnam.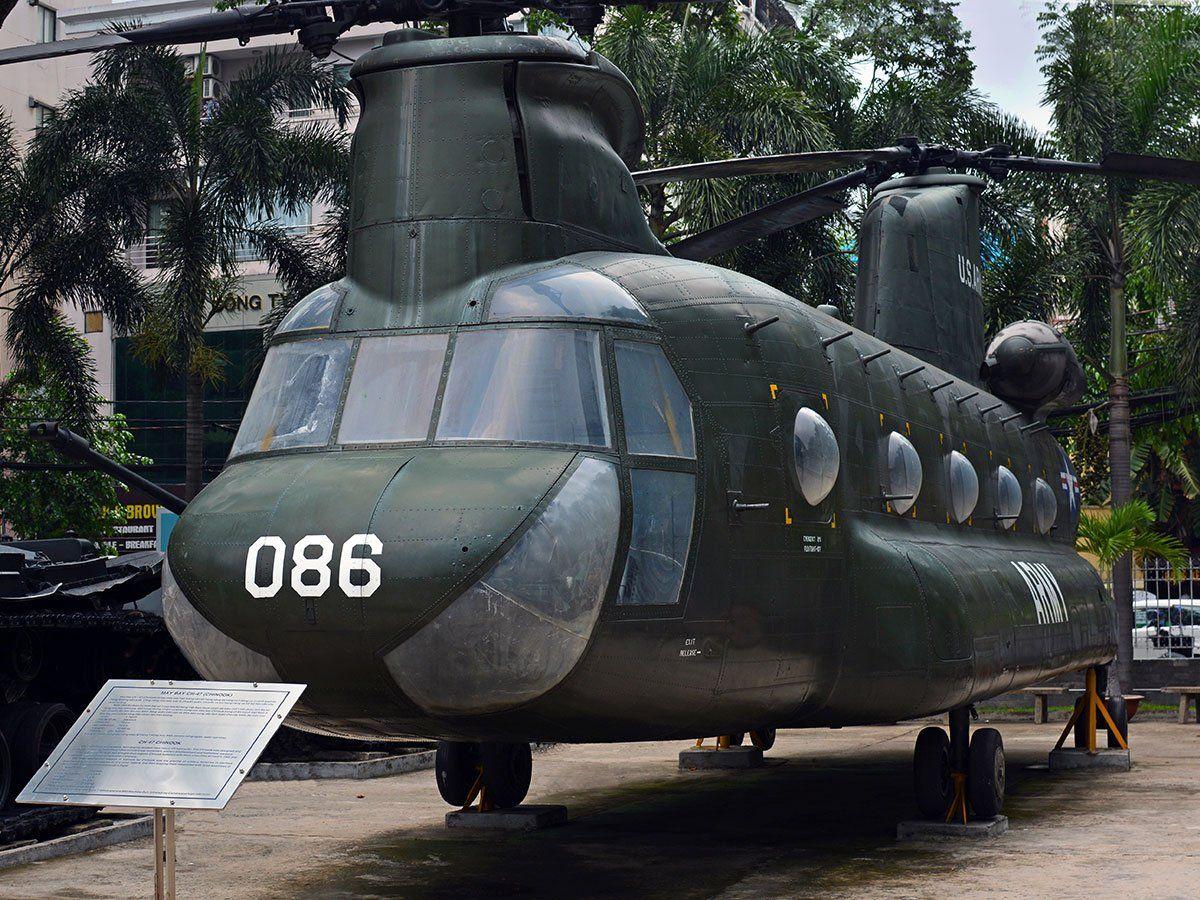 ---
6. Don't barter as hard as you do in Bali
Bartering is slightly different in Vietnam and it is important to know how they carry out the process. If you have visited Bali you will know that the time of the day, and even the time of the month can affect how much you pay for items, but that's not how it works in Vietnam.
Ensure you have VND AND you have a mix of smaller notes. Trying to barter something down to 140,000 dong and then trying to pay with two 100,000 dong notes isn't the best practice. Try to have as close as you can to the amount you are willing to pay in your pocket ready to go.
Please remember that most Vietnamese people earn 150-200 USD per month so the $2 you are haggling over is important to them. Don't get robbed by all means however paying 1 or 2 dollars more for something probably isn't going to break you, but might mean them being able to pay their childs school fees at the end of the month.
ALWAYS do it with a smile on your face and with respect. I have seen the worst of human behaviour in markets. Be nice. ALWAYS
Don't assume that you should pay a percentage of the initial price regardless of what it is. I purchased a doona cover (comforter for you non Aussies out there) for $35 in the markets in Hanoi which I am using to this day. I think (if my very bad memory serves me correctly) she started at about $50. I also purchased a few TShirts for about $7USD which started at $20. I knew the $20 was way too much and I probably should have paid about $5 for them but they were great quality, they fitted me and they were the colors I wanted. Worth it for $2 each more than I would have paid elsewhere.
Remember that shopping at the big tourist markets probably means you are dealing with a company and possibly not even a Vietnamese owned one! The workers in these big markets are often just working on the stand and don't own it. I had heard that there are more than a few big Chinese corporations that buy up swathes of these market stalls and the workers get paid a pittance. Try and purchase from the smaller markets and road side stalls if you can
Always thank the owner and if you feel like they are up for it, shake their hand after the deal. They will really appreciate it.
NEVER walk away unless you intend to walk away. Doing the "I'll walk away and you will chase me" thing is not how its done. If you don't want to pay what they are asking, smile, thank them for their time, tell them you don't want to pay that much and actually walk away. Never do it as a bargaining tool. Its disrespectful.
OMG – Do not tell anyone you are a "poor student/apprentice/single parent" or anything vaguely like that. You might not want to spend what they are asking, and you might have saved for 5 years to get to Vietnam, but compared to the local people you are not poor. You are travelling outside of your own country which so many of them may never get to do. I usually say, "thank you but that's more than I want to pay", smile, thank them for their time, and move on.
Like Bali, Vietnam has areas that are famous for different art works. Carving or needlework or even hats are usually inherint to a specific area. Buying these items in that zone will greatly affect the prices. It will also ensure that the money stays with local artisans. Check out the article on Nha Trang for some pics of amazing tapestry.
---
7. Spend Christmas Eve or Night in Saigon (Ho Chi Minh City)
We had a complete visa stuff up coming over the border from Cambodia to Vietnam and arrived into Saigon (Ho Chi Minh City) after dark on Christmas Night. It was the absolute best travelling mistake I've ever made. Well to be honest it wasn't my mistake, but I did fail to notice that our visas had the wrong year for our exit date, so somewhat my fault.
The bus was just gridlocked in the middle of hundreds of thousands of motorcycles and in the end we got off and walked to our hostel through all the madness. We dumped our bags and wandered out into what can only be described as Christmas overload. It was insane and one of the best nights we have ever had. Everyone, their dog, their second cousin and his best friend was out in the city for the evening celebrating like they had just won the world cup.
I would say it is a must do if you will be in Vietnam over the December January holidays.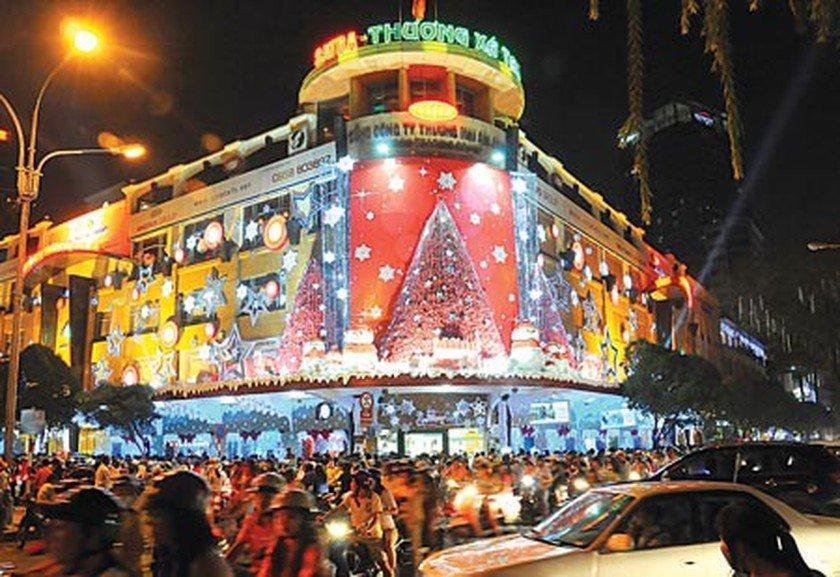 ---
7 Vietnam tips – Conclusion
While we did love Vietnam, you do have to remember that you are in a tourist driven economy. After 3 weeks I had perfected my travel face again and we weren't bothered as much. The girls sadly were young and the peak target market for all the touts. They also go very good at their travel faces by the end of the trip.
My biggest recommendation for Vietnam is to go here before you head to Malaysia, or Thailand or Bali. It is a great place to start your Asia travel adventures and is somewhat "softer" than these other places.
---