Travelling In Jordan
All shades of red!
Jordan is only small so its easy to see a lot of the country in a short space of time. From little Petra the original trading post, to The Treasury & The Monastery at the main Petra site to lying back in Wadi Rum, staring at a billion stars, Jordan is full of history and culture and not a country to be missed.
My Fave Photo From Jordan
I had never heard of "Little Petra" before we actually got to Petra. We had a guide for Petra and thought that was it, however he pretty much insisted that we shouldn't do Petra without first visiting Little Petra.
Little Petra was the original trading market in the canyons just out of where the town of Petra now sits. So much of the original site is still there today. Little Petra was such an unexpected surprise along with learning how advanced this ancient trading post actually was. There are aquafers that drain the waste out of the city, they manage the rainfall with carved rain gutters in the stone, the buildings are designed to only get the morning sun and entry and exit to the canyon is restricted for safety.
There was no-one else at Little Petra this day so we got to take images with not another person in them. It was one of the best days we had in Jordan and it was solely because we trusted our guide and started at the beginning. I've used that principle so many times since then. That is why this is my fave pic from Jordan. It represents how much I learned about Jordan's history.
The small sometimes outdoes the large!
---
Must Have Info About Jordan
Jordan is expensive. I was stunned at how expensive it is. It is only small but unless you get out of Amman and any other tourist area (which pretty much everywhere you go is) it is crazy expensive.
While it is a small country public transport is almost non existent. There are vans and drivers to take you most places or a tourist bus of course.
I hated the Dead Sea. You judge for yourself but it was oily, it stunk, it burned and I just generally didn't like it at all. Eew!
Before you visit Petra you MUST visit little Petra. This is the original trading post location and a guide who knows his or her stuff is really worth it for little Petra. The Aqueducts, the cooling systems and even the roman fresco's can be missed if you don't have a good guide.
Make sure you get a GREAT guide for Petra and get all the way to the back, climb up to the Monastery and then work your way back through to the entrance. Things will make more sense and you will have got those stairs out of the way first!
Facts and Figures About Jordan
Jordan is an Arab country bordering Saudi Arabia, Iraq, Syria Palestine & Israel.
97% of the population in Sunni Muslim with a tiny percentage of Greek Orthodox and less than 0.6% of any other religion.
Jordan only has around 26 miles of ocean frontage!
Jordan has an amazing hiking trail, "The Jordan Trail" which covers the 402 miles between Um Qais in the north and Aqaba. I so want to do this!
It's estimated that over a third of the population are refugees. Something for all countries to aspire to.
Average temps range from an average of 8-26C in Amman in the north to an average high of 35C in the southern desert areas.
It's capital Amman was once named Philadelphia!
---
All About Jordan
Recent Jordan Articles
Jordan was the original trading centre for this entire area and it shows in their ancient cities. Where else can you see buildings carved from earth that have stood the test of time for centuries. Actually maybe the Stone Churches in Lalibela in Ethiopia. Despite leaving with red dirt everywhere, I would visit Jordan again in a heartbeat and you should too.
Discover the Otherworldly Beauty of Wadi Rum: A Must-Visit Destination for Adventurers and Nature Lovers! Immerse Yourself in the Majestic Desert Landscape.
Petra After Dark Jordan's Ancient City of Petra is like Disneyland for anyone with the slightest Indiana Jones fetish. The buildings …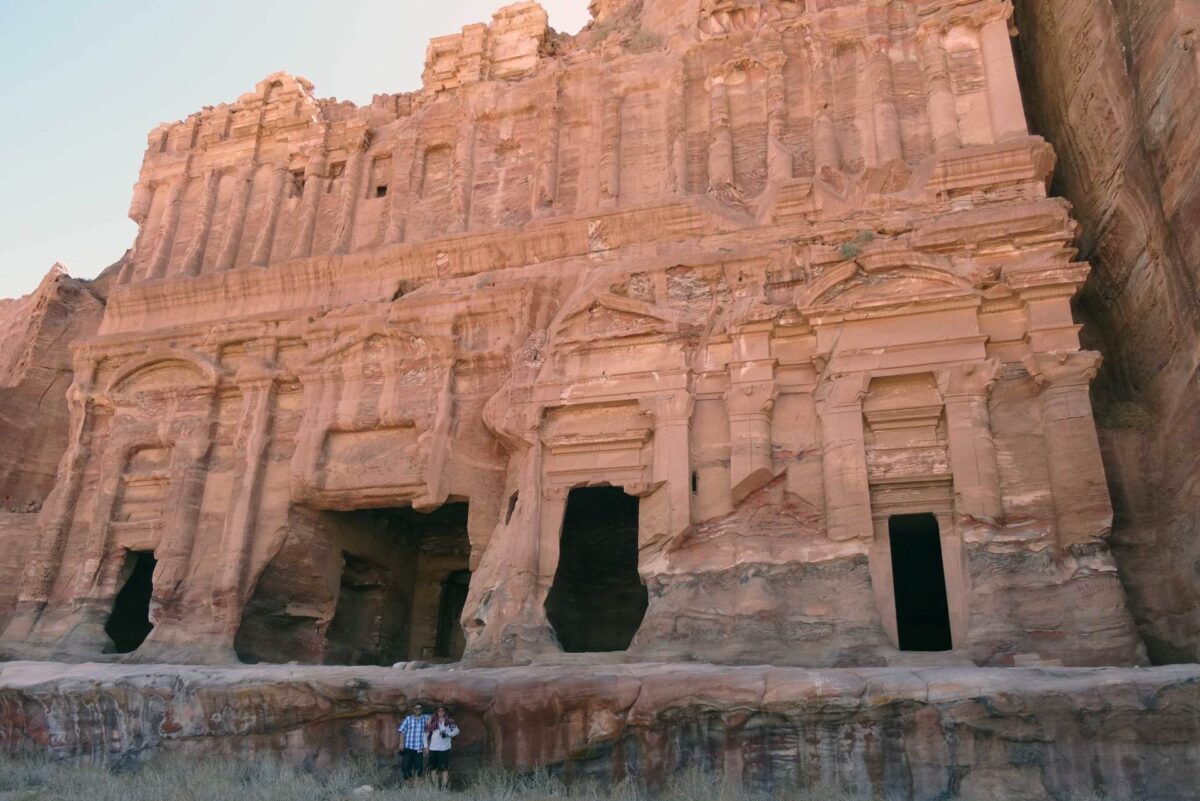 Petra Jordan's ancient capital is an incredible example of some stunning architecture and building skills. Did you know the buildings in Petra had earthquake protection? Read on for more info on how to visit this pearl in Jordan's crown.
View All Jordan Stories and Articles
---
3 Must Do's For Jordan
Stargazing in Wadi Rum
Spend a night in Wadi Rum and lay out star gazing. Apart from Central Australia, I've never see stars like it. The camps have these colorful rugs and ottomans to lounge on so make the most of it, lie back and star gaze the night away.
Start in Little Petra
Make sure you do little Petra and if you can, do it before main Petra. The story of little Petra is great, the facility itself is very cool to wander around and when you get to the main Petra site, it means so much more. It's also much quieter than Petra Major so you will have time to learn from your guide.
Get Local
Get away from the tourist areas. This is harder than you think in Jordan. We walked for ages to a supermarket at the back of Petra and still found prices expensive, however we stayed at Madaba for a few days when we were leaving from Amman and BINGO! Nothing there for tourists and finally things were affordable.
More Things To Do In Jordan
The Main Petra Site for a full day
If you have time hike the Jordan Trail. 402 miles between Um Qais in the north and Aqaba. This looks amazing.
Petra After Dark – it is naff but worth it.
Ma'in Hot Springs

For Amman (The capital city)
The Citadel
The Roman Theatre
The Souk
Visit Jerash. Grab a mini bus from Amman. It's worth the visit.
Visit St George's Church in Madaba to see the mosaics
Float in the dead sea. It's ewww but a must do.
Drive the Kings Highway
Mount Nebo
!! Tips for Jordan
Don't do Petra or even little Petra without a guide. You will learn heaps more with a guide and enjoy your day much better. Head down to the gate at Petra later in the afternoon to find a guide for the next day. You will find only the most dedicated guides at that time. The balance all head home by lunch if they haven't secured a tour. Be sure to ask the total price for the number of people you have, ask if little Petra can be included (on a separate day or early the day you do Petra) and make sure he/she can organise transport to little Petra.