The Hassan II Mosque Casablanca
When you travel to Morocco, the Hassan II Mosque in Casablanca is one of the must-see places. I wasn't super impressed with Casablanca itself and didn't feel like it had much to offer, but I really wanted to visit the Hassan II Mosque and I was very happy I did.

If you are thinking about visiting this, the most famous mosque in Morocco, read on for all the info to help.
About Hassan II Mosque
The Hassan II Mosque in Casablanca was completed in 1993 and is majestic not only in size but in the quality of the buildling. The result is one of the largest and most beautiful mosques in the world after the Masjid Al-Haram (Great Mosque) in Mecca and Al-Masjid Al-Nabawi (Mosque of the Prophet) in Medina.
At 210 meters, the minaret is the tallest structure in Morocco and the tallest minaret in the world. Above the minaret, laser beams can be seen pointing towards Mecca and helping believers position themselves more accurately during prayers. A maximum of 105,000 believers can gather for prayer: up to 25,000 believers can be accommodated in the prayer hall, while 80,000 people can be accommodated on the esplanade. The enormous expense used to create the mosque is a stark contrast to the rest of Casablanca.
The mosque is very photogenic, especially at sunset! The marble, wood carvings, and mosaics are very impressive, especially after rain when they glisten in the sunlight. While Casablanca doesn't deserve a place high up on your to-do list, the mosque is a sight in itself – and one of the few mosques in Morocco that you can visit as a tourist.
---
History behind the Hassan II Mosque in Casablanca
On his birthday, July 9, 1980, the Moroccan king (King Hassan II) declared that the great Hassan II Mosque was to be commissioned and built giving Casablanca a unique monument.
The construction of the Hassan II Mosque, designed by French architect Michel Pinseau, began in July 1986 on reclaimed land (with no compensation for former residents) in a dilapidated area near the ocean front. The target for the completion of The Mosque was the 60th birthday of King Hassan II in 1989 but it was not completed until August 30, 1993.
The whole building project was calculated to have cost an estimated $800 million, and it was recorded that funds were remarkably raised entirely through a public subscription. International reports suggest that there was a high level of local resentment of the project and that there were quite a few less than voluntary donations to the project. Now that it is build however, Moroccans seem really proud of their memorial.
Almost all of the materials in the Hassan II Mosque come from Morocco, except for the imported white granite columns and glass chandeliers (from Murano near Venice). The cedar comes from the Middle Atlas, and the granite from Tafraoute.
Over 6,000 Moroccan masters and artisans were employed to work these local materials into the intricate decorations that embellish the entire structure. When construction ended in the early 1990s, 1,400 men worked days and 1,000 men worked nights to complete the major project.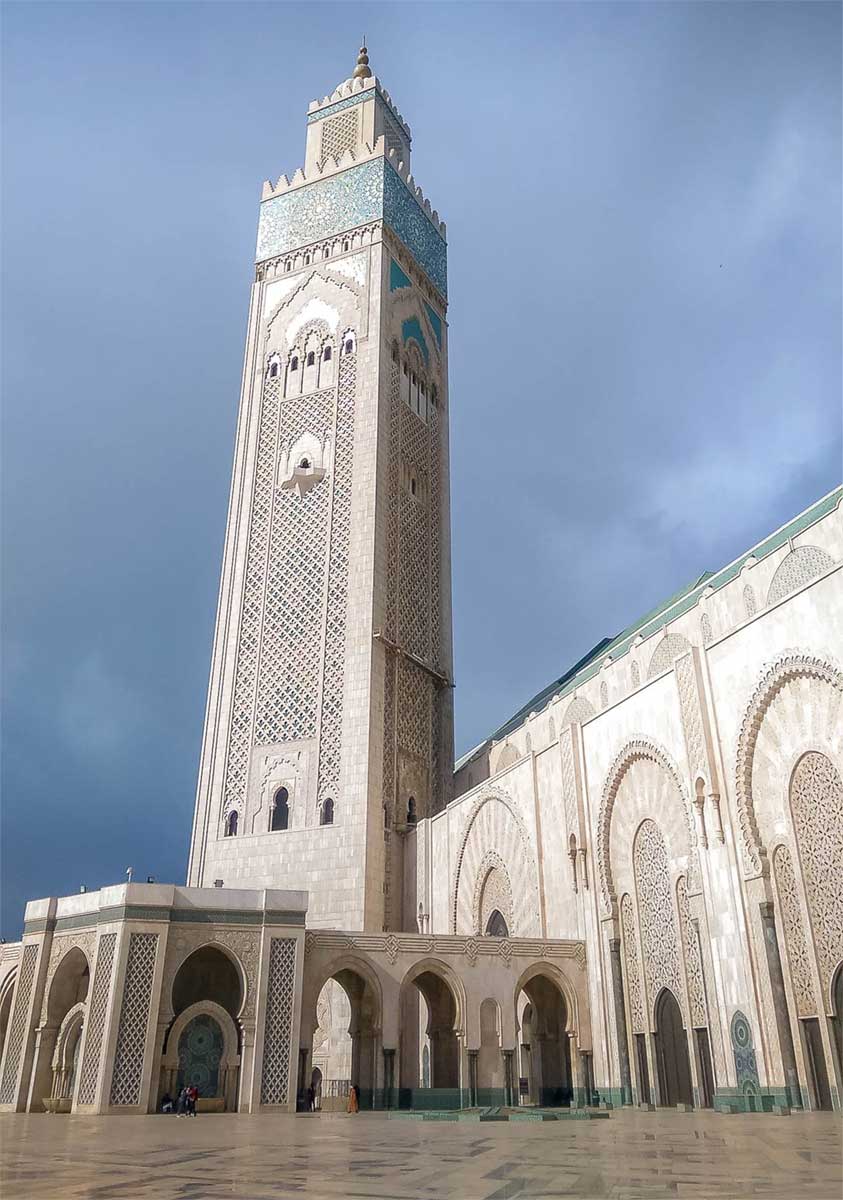 ---
Tours That Visit The Hassan II Mosque
---
What to See at Hassan II Mosque in Casablanca?
The Hassan II Mosque is open to all Muslims during daily prayer times and for special Friday services. Non-Muslim visitors can enter the mosque on tours that are held in English several times a day.
The most distinctive feature of the Hassan II Mosque is its spectacular location on a platform above the Atlantic. What is unique is that part of the mosque floor is made of glass, so that worshipers can kneel right above the sea. Unfortunately, this wonderful feature is primarily intended for royal use and is not accessible to visitors.
Above, an automatic sunroof (on special occasions) opens to the sky. So the believers of Casablanca can actually look at the sky and ocean of God as per Hassan's wishes. The building was designed to be earthquake-proof and has underfloor heating and electric doors.
The style of the Hassan II Mosque shows strong Moorish influences reminiscent of the Alhambra and Mezquita in Spain. Horseshoe arches are common both outside and inside, and the walls and pillars of the interior are finely carved in a variety of intricate patterns. There is a huge women's gallery to the right as you turn towards the prayer area, which is beautifully carved out of dark wood. The prayer area on the back is spacious and lined in red. On the ground floor, there are Turkish style baths and fountains for washing.
---
Visiting as a non-Muslim
The Hassan II Mosque in Casablanca is usually opened to Muslims during each daily prayer times and also for special Friday prayers/services. The mosque is one of the few mosques that are open to non-Muslims. However, guided tours are the only way for non-Muslims to enter the mosque at certain times. These tours run several times a day in English. There is no outside entry, but if you want to see the interior of the Hassan II Mosque with a guide, there is an entry fee. Apart from the mosque run tours, you could consider this Get Your Guide tour which is the one I did. The mosque run tours seemed to be quite erratic, however it was a busy time so they may have been full and the woman was telling me that and I didn't understand.
Children under 12 and Moroccan students pay 30 MAD
Children under 6 years (accompanied by their parents) – free entry
VIP Tour (private tour for more than 20 people) 2200 MAD
Groups of more than 100 people receive a 50% discount on admission to the Hassan II Mosque in Casablanca.
It's best to take a guided tour early in the morning before the sightseeing buses filled with tourists arrive.
2022 Update: I've been unable to verify the mosque tour prices since COVID so they may have changed slightly since I wrote this article.
---
Hassan II Mosque Tour Schedule and Working Hours for Guiding Tours of Interior of the Mosque
It is only possible to visit the mosque with a guided tour outside of prayer times. Opening times vary throughout the year and there are no afternoon tours during the holy month of Ramadan. The Hassan ii mosque opening hours are usually divided into winter, summer and Ramadan hours.
Winter Time Tour Schedule in Hassan Mosque.
Tours are usually open from Saturday to Thursday in the mornings and one tour in afternoon:
Saturday – Thursday: at 9AM, 10 AM, 11 AM and 2 PM in the afternoon.
Friday: 9AM and 10 AM in the early hours and 2 PM.
Summer Time Tour Schedule in Hassan Mosque.
In Summer GMT +1-time, the schedule is similar to winter time, except for additional tour at noon. Afternoon tours start at 3 PM, additional tour is added at 4 PM
Tours are open from Saturday to Thursday in the mornings and two tour in afternoon:
Saturday – Thursday: at 9AM, 10 AM, 11 AM, Noon, and 2 PM in the afternoon.
Friday: 9AM and 10 AM in the morning and 3 PM and 4 PM local time
Working Hours During Ramadan.
During Ramadan, guided tours are open only in morning hours:
Saturday – Thursday: at 9AM, 10 AM, 11 AM,
Friday: 9AM
Tourists cannot book or purchase their Hassan ii mosque tickets online, you have to do it at the ticket office on the front side of the complex in front of the large parking lot. The tours take about 40 to 45 minutes.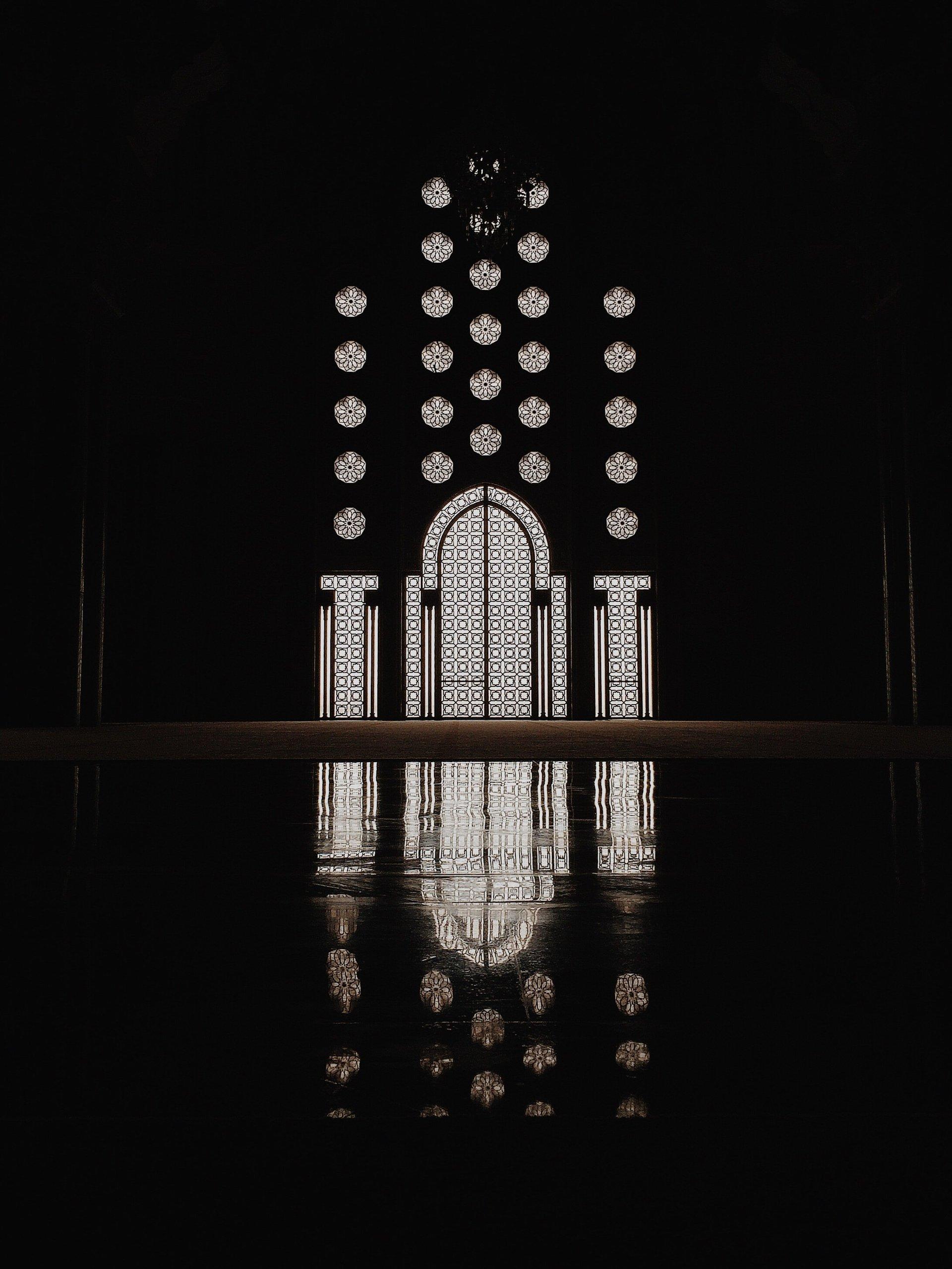 ---
Independent Tours of the Hassan II Mosque
While the mosque itself does run tours (more info below about that), you can also choose to do an independent Casablanca mosque tour. There are a few that only take in the mosque but there are also some who do a half or full day in Casablanca which includes the mosque. This does mean that you don't have to stick to the mosque timetable and will almost always be in there with fewer people and also having the advantage of being able to ask your guide questions you may not ask otherwise.
---
Guided Tour to Hassan II Mosque
What will you be seeing in the guided tour? The tour is divided in four sections and lasts about 40 minutes. You will see:
Prayer Hall,
Minaret,
Ablution Hall,
Hammams and swimming pools.
Languages & Costs
The tours are conducted in English, French, German or Spanish and you must indicate which language you would like the tour in. Tours can also be offered in other languages. Just ask if you'd prefer one that's not listed here.
Guided tours cost 120 DH or about 11 € or 12.50 US $.
---
Dress code for tourist and expected etiquette in the Hassan II Mosque
Women don't have to cover their hair. however, both men and women should wear clothing that covers their shoulders and chest and is long enough to cover their knees. it would be respectful to cover your hair however and I did.
Shorts and short shirts are prohibited. It is also forbidden to smoke, eat, or drink while visiting the mosque.
Before entering the mosque, take off your shoes and take them with you. The do have large tote style bags available for tourists at the entrance of the mosquen so you can carry your shoes and belongings with you. To make life easier for the guides, please keep to the schedules and stay with your group during the visit.
For safety reasons, do not go beyond the chains surrounding the Séguia and do not use video cameras or other electronic devices without permission inside the mosque.
---
Other things you should know
The mosque is 2 km from the Casa Port train station along the boulevard Sidi Mohammed Ben Abdellah. If you take a red cab in Casablanca, a short-shared cab ride shouldn't cost more than MAD 15-20. Most likely you will be charged MAD 50 if you don't haggle. Or of course you could walk from the train station. Its a safe and easy walk along the boulevard and there are a few restaurants and eating houses along the way.
If you are looking for a hotel near the Casablanca mosque, the Melliber Hotel is the closest at around $90 AUD per night. It is a very nice apartment hotel so you have a small kitchenette as well. Most of the other hotels are focused around the city centre a kilometer or so away from the coast.
---
FAQs About Hassan II Mosque
Can non Muslims visit Hassan II Mosque?
Yes you can and it is fairly easy to do however you do have to take a guided tour to visit as a non-Muslim. Tours are easy to find and cost effective so check the tours shown above for something to suit your time frame and budget.
Is Hassan II Mosque worth it to visit?
Absolutely yes! It's not until you get close to the mosque that you realize just how impressive it is in both size and quality. Inside is just as beautiful as the outside and considering the affordable price of tours, yes it is definitely worth visiting.
Why is Hassan II Mosque Famous?
The Hassan Mosque claims to have the tallest minaret in any mosque in the world. The minaret is also topped with a light that faces east toward Mecca illuminating the path to the most holy of Islamic cities. It is only the 7th largest mosque in the world, but it is one of the most beautiful too.
Can you take photos inside Hassan II Mosque?
Yes you can. The tours run outside of worship times so it is usually primarily tourists inside. Of course be aware of taking photos with other tour participants in them, but yes photos are possible and encouraged. Try to take at least some images with yourself or others in them for a sense of scale.
---
Accommodation Options in Casablanca
---
Looking to see more of Morocco?
Morocco is one of the most diverse countries in Africa and seeing more of this great country than just Casablanca is easy and affordable. The tours shown below are a small example of the many many tours on offer from various companies throughout Morocco. They are all available to people of all ages and some are often discounted for close or last minute departures.
Best Of Morocco
15 Days.
From Casablanca to Marrakesh
$1260 USD
Including:
14 breakfasts, 2 lunches, 4 dinners
11 Destinations in Morocco &
an experienced guide for the full trip.
Highlights Of Morocco
15 Days.
From Casablanca to Marrakesh
$1249 USD
Including:
14 breakfasts, 1 lunch, 3 dinners
7 Destinations in Morocco so less than the
first trip but more time in each location.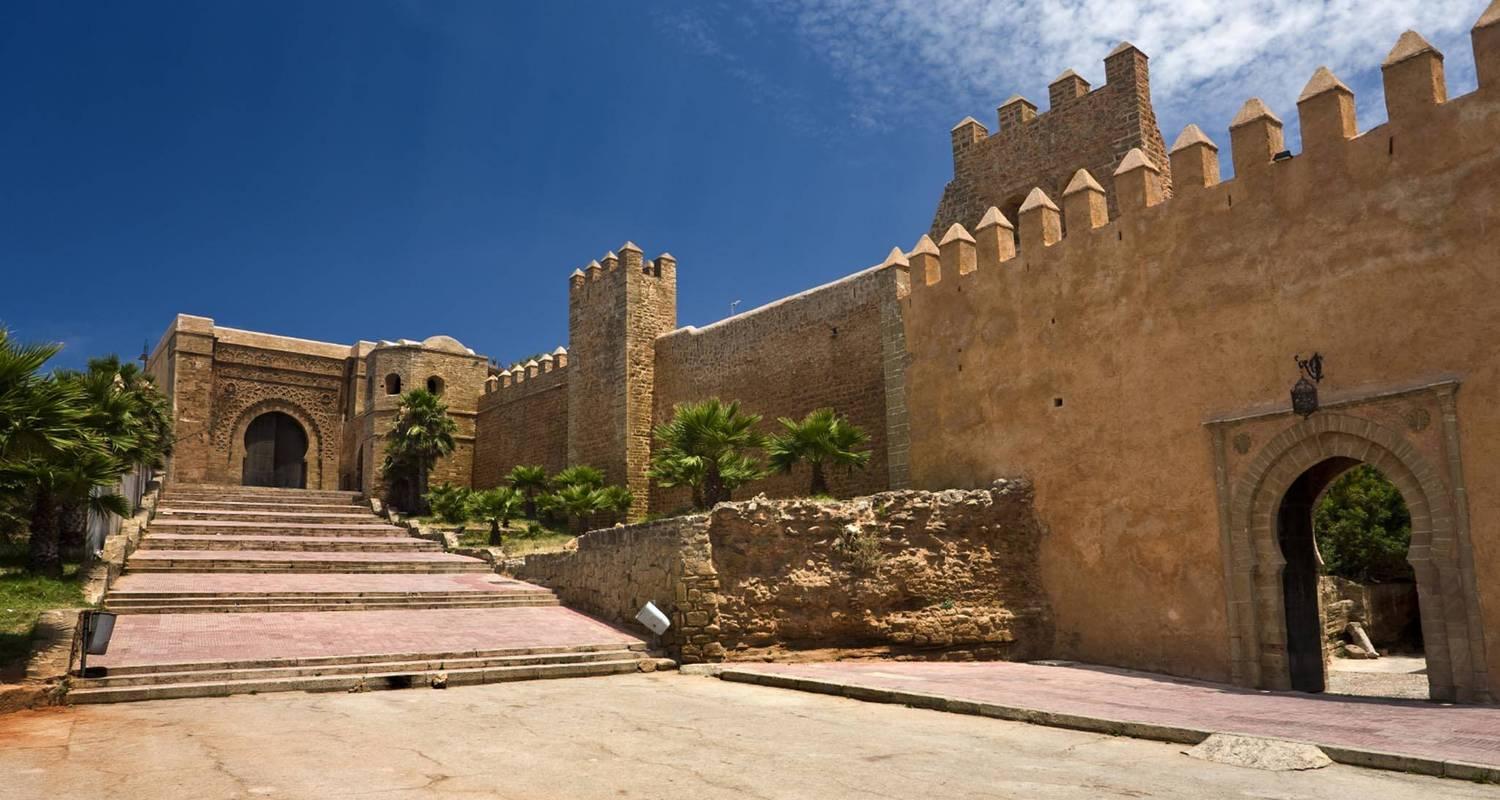 Cities & Sahara Discovery
10 Days.
Starts and ends in Marrakesh
$690 USD
Including:
Daily Breakfast, Kasbah Stay in Boulmane Dades, Merzouga Desert Private Tent on HB basis, 13 Destinations in Morocco
Check out my Morocco Destination Page for all the info, posts & places to visit in Morocco.
---
I hope this article gives you heaps of info about the Casablanca Hassan ii Mosque and you get to visit this amazing building. While is has such great value as a spiritual centre, its also amazing just for it's architectural presence. I'm sure you will enjoy visiting Hassan ii Mosque.
More Morocco Articles
How To Spend A Day In The Mdina In Fez
Chefchaouen – The Blue Town Morocco