How To NOT Cross The Cambodian Vietnamese Border
Our border crossing from Cambodia to Vietnam didn't go quite as planned.
I checked our Visa's when I got them back from the Vietnamese embassy.
I checked them again prior to departure.
Brad checked them,
Paige said she thought something was strange but didn't know what and when we got on the bus to head to the border we soon found out what.
The dates were wrong!
The start date was fine but the finish date which should have been 25 Jan 2011 was in fact dated 2010. So we were allowed to enter in December and then timewarp back to January to leave. Hmmm…
Luckily when you cross the border you have to have an agent so all the buses have guys that the first thing they do is get everyone's passport and do their organisation thing. LUCKILY!! So off we get, tuktuk back to the bus station, liaise with the agent dudes mate, give up our passports to be motorbiked away to get new visas…
Oh and did I mention this was xmas day!!
So 5 hours, $65 each, a pool party (girls met some people within 10 mins and were off to a backpackers xmas pool party at one of the hotels), a very boring morning for us waiting in the ice cream shop for our visa's to materialise, and we were back on the bus.
It actually turned out to be one of the best mistakes we've ever made. We arrived in Saigon on dusk when all the Christmas lights were just coming on,
Christmas Night In Ho Chi Minh
Christmas night and EVERY single Saigon resident was out with their families. None of us expected it to be so metropolitan. It was like we'd skipped countries and were in Tokyo. 1hr and 15 mins later and we'd gone 17 kms from the outskirts to our hotel corner. And while in most situations being stuck in a traffic jam is less than ideal after a long day – in this situation its was really really fun. The sheer volume of mopeds/motorbikes and or 2 wheeled vehicles was overwhelming, but to see that amount of traffic and know we were actually moving was actually quite motivating. LA should come and learn a few things!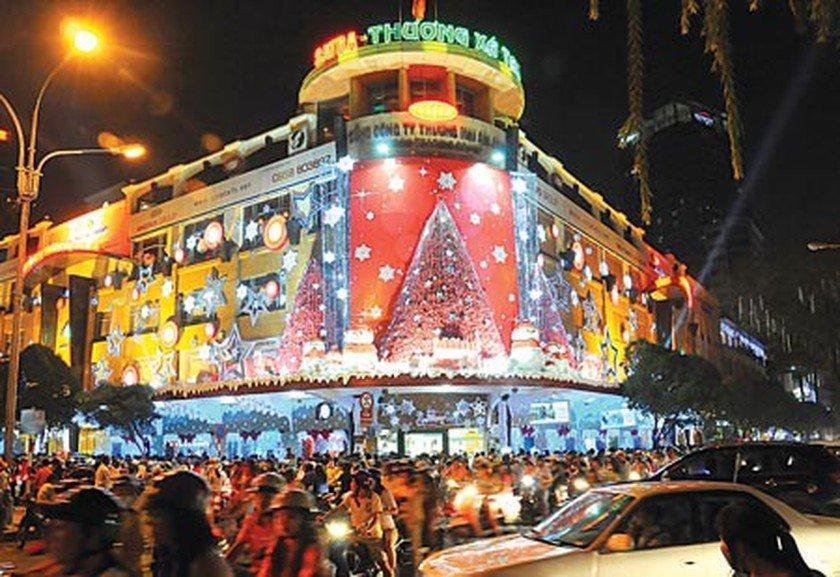 After realising that it would be quicker to walk, we jumped out of the bus with our gear and started making our wayt through the crowd to our accommodation. We arrived at our hotel with our backpacks intact, feeling pretty cruddy after a long day of waiting and travelling but grinning like clowns from the street-side experience. Straight away the hotel staff made us feel so welcome and immediately recommended a place for dinner. We met up with the rest of our group and headed over to the restaurant. The noise inside was deafening, but it was the "everyone celebrating" type of noise and after a long day on the bus it was really welcoming. Like most restaurants hotels recommend, it was a bit western for us but we really appreciated their intent so we stayed.
After Dinner Stroll Through Ho Chi Minh City
Dinner was forgettable (sadly) and everyone decided to head back to the hotel after we had eaten. Brad and I decided to walk back the long way and wandered the streets this Christmas night. There were people everywhere. Families, couples, westerners and Vietnamese alike. Everywhere you looked little old men were selling glow sticks from carts, street food was everywhere (damn it!), there were balloons and lights and laughter in spades.
The walk that should have taken us 20 mins lasted 4 hours. It was so much fun and while we don't celebrate Christmas, it was so great to see it celebrated en-mass in what must be the truest sense.
I will always remember coming into Saigon on dusk with the lights coming on, and the millions of scooters with families and friends out to celebrate. It was like driving over the hill and seeing Vegas for the first time. Very Inspiring.
Now before everyone does the whole "its Ho Chi Minh City" thing, the locals still call it Saigon. Not to the policeman, or where they may be overheard but Saigon it is.
In this era of Facebook, Internet, Pay TV and Video Games, we could all learn a thing or two about getting out onto the street, with your neighbors and friends and actually celebrating holidays together. While I'm not christian, it was one of the best evenings I've ever had. The spirit of communication and community was overwhelming.
Tips for A Vietnamese Christmas
Check your visa dates. Turns out you can't timewarp.
Get out on the street. Walk among the crowd. Get into the feel of it.
You need to still be aware of pickpockets. Sadly they love the holidays and everyone's faith in humanity.
In Saigon the traffic is so busy you can't wait to cross a street, you have to just step out. The trick is to start walking and maintain the same pace and direction. The scooters will just zoom around you, but you MUST keep going at the same pace in a straight line. It is really nerve racking at first, but you get the hang of it pretty quick.
Talk to people. We just kept asking if people spoke English. We soon had a crowd following us practicing their English and telling us about their families. They love to communicate and the key is letting them know its OK to do that.
Find a tour that suits your travel style. We usually do Intrepid trips and if its available always the basix style. That means we travel on local transport, to out of the way places and when you get to each location, options for the area are presented to you and you decide what you want to do and how much you want to spend on it. Tour Radar also has great local experiences as well as Vietnam tours
Talk to the locals. Get off the main drag and into the little local cafe's and shops. You will be stunned at how often locals are happy to just sit and chat.
You travel to be outside your comfort zone, but you actually have to do it when you are out there too. I've had times where I've been on the road for months and would kill for Vegemite toast some days but you don't know if you don't try. Spiders are actually not bad.
---
Check out my Vietnam Destination Page for all the info, posts & places to visit in Vietnam.
---