Hiking The Otter Trail – All You Need To Know
If you are wanting to walk one of South Africa's greatest multiday hikes, The Otter Trail is for you. While it can seem daunting to organise a hike in Africa, the South Africa National Parks organisation makes it relatively easy. The toughest challenge will be getting a permit on short notice as it is a very popular trail. However, if you are happy to plan in advance Hiking The Otter Trail is not only doable but very enjoyable.
What Is The Otter Trail?
The Otter Trail is a 42 kilometre long trail hugging the cliffs along South Africa's Garden Route. It starts from Storms River Rest Camp and is usually hiked in 4-5 days. There are well built huts along the route that offer shelter from the weather and while none of the days are over 13km, there are a lot of ascents and descents so it does take way longer than you expect for the miles you are actually going. Most people walk it over 5 days / 4 nights as there are 4 huts along the way. It is considered a remote trail so you do need to be not just experienced but in good health.
How do you hike the Otter Trail?
You usually have to book up to a year in advance, however if you arrive in South Africa and decide you would like to do it, keep an eye on the website daily as you sometimes can get a spot due to cancellation. This SANParks page will allow you to check availability. There are only 12 people per day permitted to hike the trail and it is an end-to-end hike in one direction.
Reservations for The Otter Trail
Reservations can be made through SAN Parks:
Telephone: +27 (0) 12 426 5111
E-mail: [email protected] or via their website.
Requirements for Hiking the Otter Trail
SAN parks now have a medical form that you must complete and bring with you when you check in for the hike. A phone or digital copy will not be accepted. You must have a printed version of the medial for you have complete. This is non negotiable.
I had been unable to secure a spot through SANParks , but due to a local forum, I managed to get in with a group that had a person pull out. It was amazing timing as I'd logged into the forum and when something wouldn't work I refreshed the page there was their message offering a space to someone who wanted to join them for the trail. I was so fortunate not not only to get in with them, but I also didn't have to do anything.
They had organised the whole thing so I just had to arrive with my money and gear and it was all go. This was the first time I had considered doing a supported hike. While this wasn't technically an organised hike, it was so simple, just showing up with my stuff and walking and I would definitely think about doing a supported hike now.
My camp mattress was deflating daily, so a quick trip to Port Elizabeth to get a new sleeping pad and some camp food and I was all set. While this seems very lackadaisical, it is a serious hike so don't do it unprepared. The only reason I seem to have done nothing was that I was already set up camp wise and had done a few multi day hikes before so knew how to prepare quickly.
How Do You Get To The Trail?
As I was traveling South Africa at the time, I relied on transfers with Gecko Travel & Tours from Port Elizabeth to Storms River. They were very generous and contacted a group they were transferring already and asked if I might join them. That dropped my transfer costs from R2000 to R340 which was great. Trail Transfers also do transfers and you can find out more info from their website.
If you are driving you could leave your car at Storms River and get transfers back or alternatively at Natures Valley and get a transfer to the start of the trail. Car hire is available in Cape Town or Port Elizabeth but some won't cover you for insurance if you leave the car parked for too long, so you should check that before you book.
A lot of the accommodation at either end will allow you to park your car if you stay with them pre or post your hike.
Where do you stay on the trail?
There are SANPark managed huts at each camp. They typically sleep 6 people and there are 2 huts per campsite. The huts have:
bunk beds with mattresses
a water tank for filling your water bottles
a cold water shower
a bin for rubbish (which was a treat -I thought we would have to carry rubbish out)
there is a toilet at each camp &
a BBQ area (called a braai in South Africa)
How Much Does It Cost To Hike The Otter Trail
With the exception of the SANParks fee, these prices are USD.
SANParks charged a fee of $1150 Rand per person in 2017 however their website tells me that in 2020 is it now R1450 per person.
You will need to add in your food costs which will be:
4 breakfasts – I brought cereal for breakfast which I had with water at a cost of around $2 per day
5 lunches & snacks – I carried tuna sachets, some of those foil packed long life cheeses & flat wraps for my lunch. I had Muesli bars & M&M's for snacks and I did bring an orange per day. Everyone laughed at my oranges but I love fruit and figured the extra weight was worth it for the fruit. While they all laughed, they were very jealous of my mid morning orange. I would say I spent around $35-45 on lunches and snacks.
4 dinners – I purchases some trail dinners and cold soaked them (I didn't have a stove with me and didn't want to buy one just for 4 days) at a cost of around $40 ($10 each)
Airport transfers I mention above and of course you have to get to and from Cape Town, George or Port Elizabeth.
Water on the trail
Each hut has a rainwater tank and there are a lot of streams and rivers along the way. Don't drink water from the larger rivers unless you are treating it as it will most likely be exposed to either humans or animals at some point before it gets to you.
Don't drink water from Lottering, Kleinbos, Elandsbos or Bloukrans rivers unless you have a treatment system. When you check-in for the hike they tell you all the info about water sources before you start. I did refill at a few streams along the way most days however I probably didn't really have to.
I have a drink system with a life straw so I wasn't concerned about filling my water up at most points. I drink a lot of water so I always err on the side of caution and typically carry at least 2L at all times. Others refilled their bottles at camp every morning and didn't need any more. Don't be tempted from Bloukrans River even if you have purification as its very salty.
You can get a Lifestraw water bottle from Anaconda in Australia.
Pre and Post Accommodation Options
Tsitsikamma Village is the best place to stay prior to your hike. It is often referred to as Stormsriver (one word) on booking sites, but it is one and the same. It is a very quant little village with heaps to do so you might want to book a few days after your hike to get in some activities.
These accommodation options range from Budget to Mid Range to a Splurge (left to right). I stayed at Tsitsikamma Village Inn when I came back to Tsitsikamma and it was very nice. On the way to my walk I stayed at the backpackers as it was only one night and that's how I roll! The backpackers has a range of accommodation starting from $19 for a bed in a female dorm.
Nature's Valley is beautiful but is very small so it has only a few options and you could choose from the affordable Four Fields Farm or if you feel like a splurge, Hideaway in the Forest or Kamma-Otter
Tsitsikamma Accommodation options below.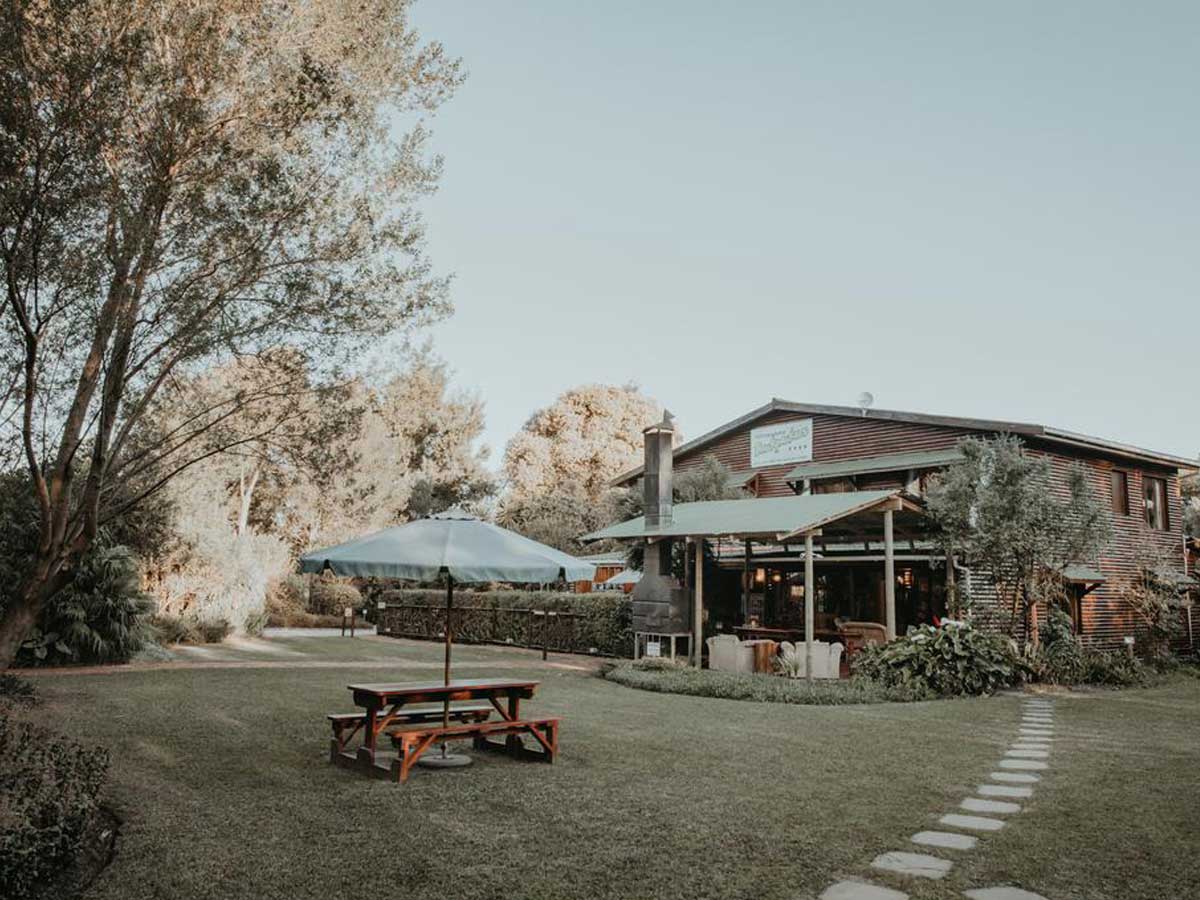 Tsitsikamma Backpackers
BUDGET LEVEL:
Large clean rooms with a view out of almost every room's window. Central Cusco location. From $63.50 per night for 2 guests
Tsitsikamma Village Inn
MID RANGE:
Great value from only $105 per night. I stayed a few nights here and wa very comfortable. There is a cafe and restaurant on site as well.
Swallows Nest Country Cottages
UPPER RANGE:
$270 AUD (aprox) per night will enable 6 of you to stay in one of these gorgeous cottages. A small single cottage starts at $72 AUD / night.
---

Hiking The Otter Trail – Day By Day
Day 1 – Trailhead to Nigubu Hut 4.7 km
My fellow hikers were driving in from Graaf Reinet which is almost 400km away and didn't want to start the hike tired so we arranged to meet at the Rest Camp at 12pm. The first day is very easy going although there is a lot of rock hopping involved. We stopped at the Tsitsikamma Waterfall for a snack and then kept hiking to Nigubu Hut which isn't far past the waterfall.
There are some great rock pools at the beach near Nigubu Hut which are wonderful for a protected swim and there were also heaps of starfish. The sunset from here was beautiful, however it was also very stormy and cloudy which always makes for a great sunset. Stupidly I forgot a power bank for my phone so I only managed to get minimal photos each day to conserve the battery should any emergency arise.
We took 3.5 hours to do this stretch but we had the sprained ankle to deal with (which I mention later) and we stopped at the waterfall for a while as well. I would imagine you could do it comfortably in 2 hours.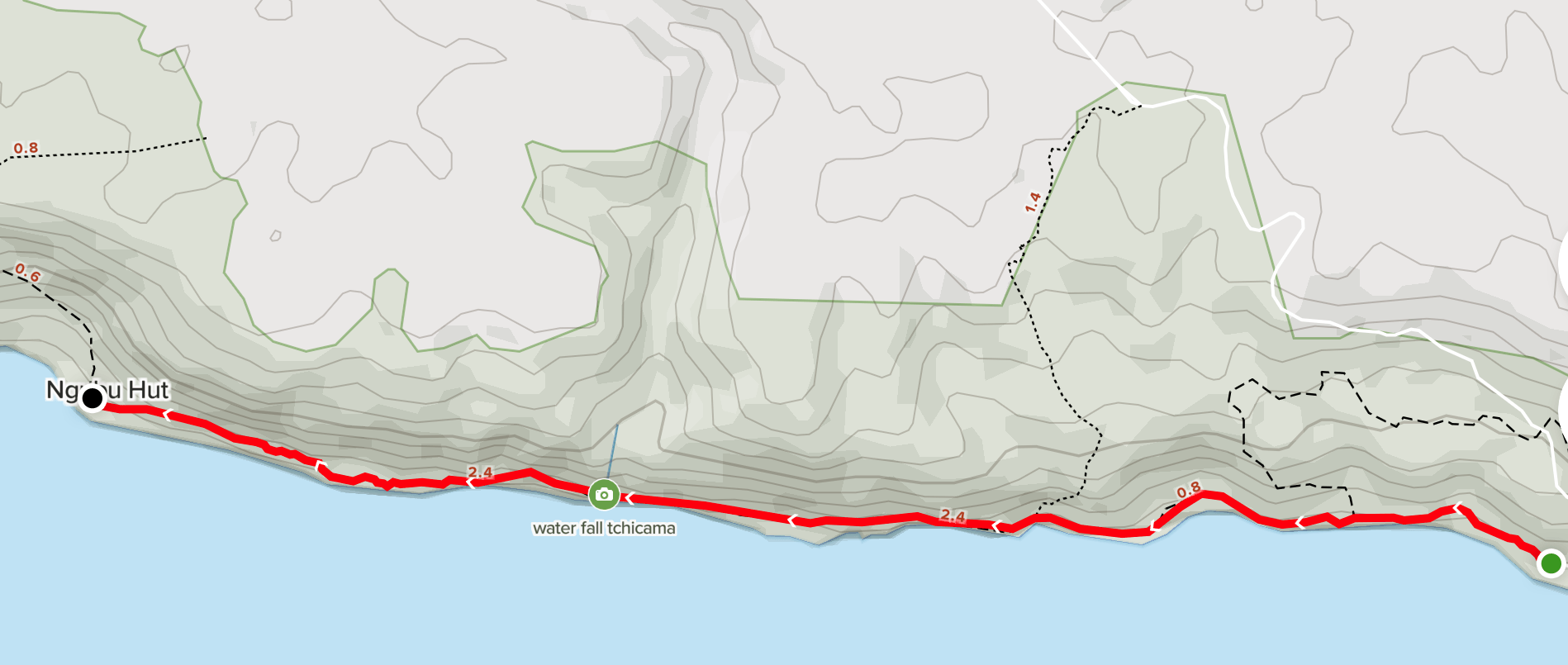 Day 2 – Nigubu Hut to Scotts Hut – 7.9km
This day produced the widest variety in the scenery on the trail. You head up a steep section almost straight out of camp to get to the top of the cliffs, then walk through a gorgeous forest before you get to the detour to see Skilderkrans, a massive outcrop of quartz. It doesn't sound like much however since you are doing relatively short days, it is worth the detour.
You then head down to the Kleinbosh River and while its not very wide the tide can play a decent factor here. We arrived about an hour before high tide and I was very keen to cross then while the tide was coming in, however some of our group wanted to wait until after high tide. I said I was going to cross now and would wait on the other side.
Wow I got scolded BIG TIME by the one know-it-all every group has, and it wasn't until another group member came to my aid and allowed me to explain why I wanted to cross on the incoming tide that he finally shut his cake hole.
While he was clearly an experienced hiker, he obviously had no knowledge at all about river crossing or ocean swims. Once I managed to explain that if we crossed while the tide was coming in, we had way less chance of getting swept out to sea, he grudgingly agreed and we all crossed. It was pretty funny to hear him explaining it to someone else at the pub after we finished our hike, but at least he had listened and learned for next time.
We took the detour down to Blue Bay for a swim which was lovely but taking this would depend on if you've had to wait for tides for the river crossing. It was worth the extra elevation loss and gain for sure.
Our hike today took us about 5 hours including the detours and swims. Today is a lot of up and down and there is an endless amount of wide stairs. I don't mind stairs because it is easier for me than having my rebuilt Achilles scream at me the entire length of a steep climb, but almost everyone was glad when we got to the hut and the stairs were done. Someone said that there were 7000 stairs on today's hike!
Day 3 – Scotts Hut to Oakhurst Hut 7.7km
Today has two river crossings but they are both reasonably easy. We hit Elandsbos river right at high tide and waited about 40 minutes before we crossed. The water was just above my knee and the river bed was sandy so it was a simple crossing.
Once you cross the river you have a steep up section and then of course have to go down to cross the next river. Loitering River was also pretty simple to cross as we were now a good few hours after high tide. It was about the same height (just over my knees) and the bottom is sandy in the middle but there are some decent sized boulders under the water as you get to the shore.
Be careful and if you use the shuffling technique you should be fine. Oakhurst hut is only 10-15 mins walk from this second river crossing.
By "Shuffling Technique" I mean that you don't really lift your feet as you walk. You slide your feet so as to feel any obstacles under the water. This allows you to not put your foot down on a slippery rock or a round boulder. Doing that can end really badly as you can easily fall or roll your ankle because you are putting all the weight of your next step into terrain that you can't see. Shuffle along and you can feel the rocks, get a good foot hold and feel with your other foot where you can step.
This was what I considered to be the hardest day. Everyone else said day 2 was harder but I do get a little stressed about crossing rivers, so I think looking back that was the cause of me thinking that today was tough. There was some beautiful swimming pools which we enjoyed and the shorter distance today made us slow down, take notice of our surroundings and the beauty of the area.
Day 4 Map Oakhurst Hut to Andre Hut
Today was the day I knew we would be crossing the Bloukrans River.
While it had been misty and we had showers here and there over the past few days, we hadn't had any major rain, nor had the inland areas that feed the river. This probably doesn't make that much difference, however seeing how much can change in such a short space of time in the rivers in New Zealand, I would be lying if I didn't say I was a little nervous about today.
We timed our arrival at Bloukrans River early morning at low tide which meant a 3am start. It was pretty hard to haul my butt out of bed but getting to the river at around 8am meant that we were right smack bang on the best time to cross.
Even though it was low tide it was still mostly around knee deep, however it wasn't difficult to cross once we had started. You do have to have your pack in a dry bag for this crossing however I didn't end up doing that. The water was low and I had a waterproof pack liner inside my pack anyway so I opted to carry my pack rather than try and haul it in a dry bag.
I just made sure everything in an outside pocket was immune to getting wet. I also knew we would have heaps of time at camp that afternoon and it was a beautiful day so I wasn't worried about drying out my pack.
The actual crossing was very simple, however I could really see how you could get into trouble especially at either side of the low tide with the current ripping through. Fortunately we had a Goldilocks crossing (the tide was just right) and everyone was very relieved once we all had our feet firmly on the other side.
We debated about having breakfast all squeezed onto the bank or climbing up the boulders and rope chains and then having breaky at the top. We opted for climbing out first which ended up being a great decision. At about an from Andre Hut we decided to cook our breakfast and take a rest. This was at the top of the climb out of Bloukrans River and we ended up hanging out there for around 2 hours. We then leisurely descended down to Andre Hut and set up our camp for that night.
Day 5 Map – Andre Hut to Trailhead
Day 5 means there are no more rivers to cross which made me a little sad actually. While technically I knew how to cross rivers I'd really only done 3 or 4 reasonable river crossings before I started this hike, so I was really glad to have found an experienced group to do this with.
Your final day starts with walking across a rocky beach and then there is a climb up to the top of the hill. Once you are up there the trail is easy winding along with some stunning views of the coastline.
Once you are down onto the beach, you have about another 4km to De Vasselot Rest Camp which is the end of your hike. You can get a certificate here which none of us actually did (I don't know why – I think we were thinking about beers), but we did all pat ourselves on the back for completing the Otter Trail.
There is a restaurant in Nature Valley where most people go to celebrate a successful trail hike. I say most people – there is only 12 people per day allowed to do the trail so its not like the last day on the Inca trail, but it was good to have some great food and a few drinks for sure!
Sadly, we didn't see a single Otter!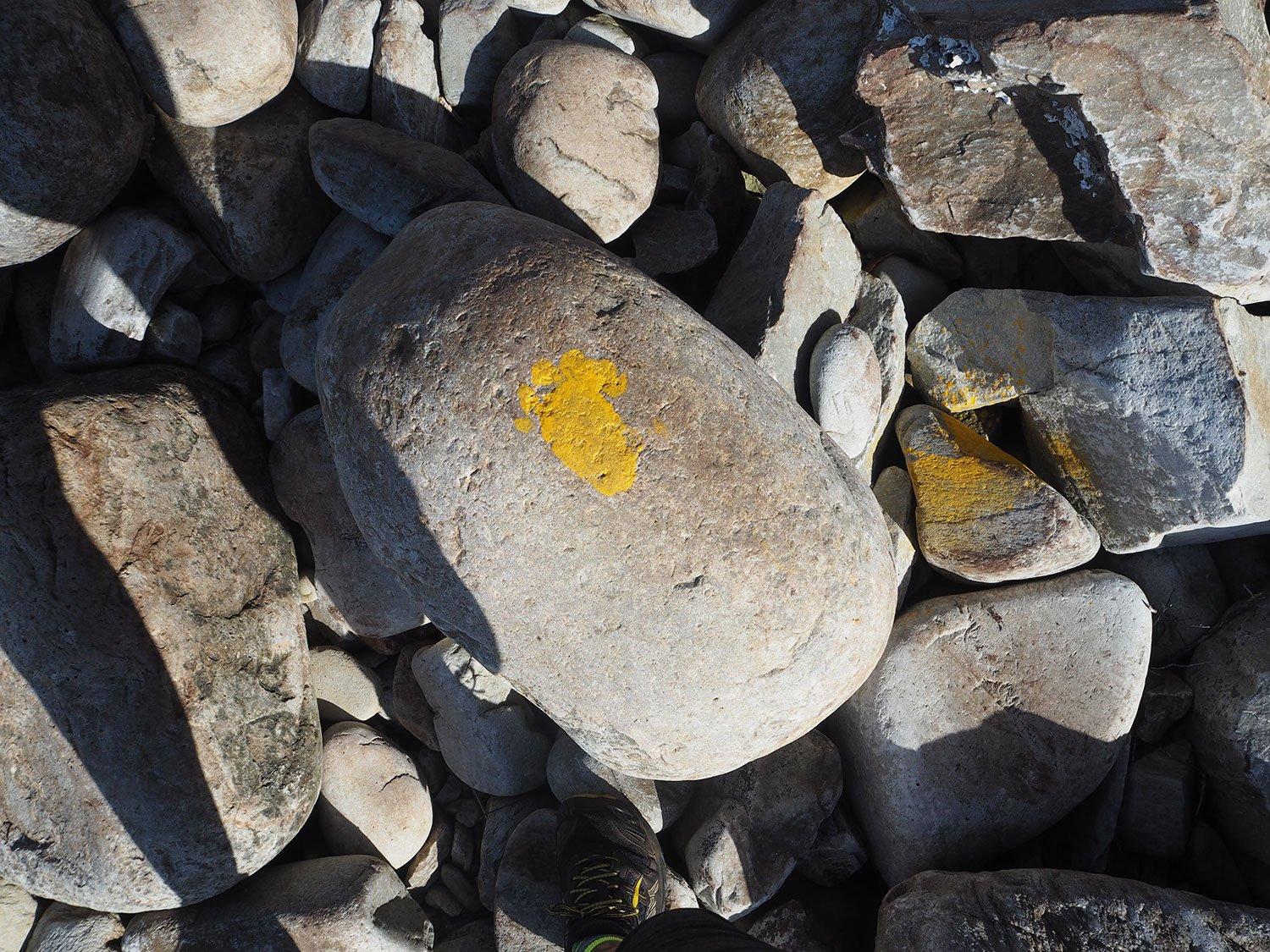 Things To Note About The Otter Trail
Considerations:
I don't wear hiking boots, I hike in Altra trail runners, and this seemed to be a bit of a concern for a few of my group. I think they thought I didn't have any real hiking experience and if you combine that with the fact that I'm not exactly a lightweight, they were clearly worried that they would be ushering me along and protecting me from falling.
I was (as I always am) supremely grateful for my non slip Altras the first day across the rocks. A couple in boots had a few slips and one twisted his ankle quite badly. We strapped it up and he continued on but it was very swollen and sore for the next few days. He should really have gone back but it would have been very challenging to get back over the rocks on his own and he was insistent he was fine, but he clearly wasn't.
My Altra's having a flexible sole meant I could get 40-60% more grip on the sharp, slippery, weirdly shaped rocks than those in boots, and thaT did convert a few boot devotees to Altras before the hike was over. So if you are a boot aficionado, make sure they have amazing soles and aren't worn or you could find yourself in serious trouble crossing those rocks.
Some dry bags leaked very badly on the river crossings. I would seriously reconsider any expensive camera gear unless you have excellent well tested dry bags and/or waterproof housings. I didn't take my camera as it was in for repair in Port Elizabeth and I'm glad I didn't. A GoPro would be ideal. Small and waterproof would be perfect.
On the down side though I came away not realising I don't have a single photo of myself on the trail. No-one else thought to take them and my phone was very low on juice for the last day or so.
You don't need a GPS the trail is well marked but I wouldn't do it without a PLB. I didn't have one as I was traveling but I did check that someone did before I agreed to join my group. The weather is known for changing very quickly and there are places you are going up rope climbs so a fall could leave you very isolated.
Be aware of tide times or be prepared to wait. There are some fast flowing rivers to cross and if you are not experienced, wait until the tide is low before attempting the crossing.
The Bloukrans River in particular can develop a really strong current just before or just after low tide. While this is the best time to cross, if you can be there just after low tide the current is at least coming into the river. The Bloukrans does have an "escape path" which the people at the starting point will explain to you. TAKE THE DAMN thing rather than try and cross that river close to high tide.
The kilometres you do have no relevance to the toughness of the hike. I had been travelling for a year and while I walked everywhere and tried to do my exercises most days, I hadn't done any real hills for about 4-5 months before this and I really noticed it. It isn't really technical (apart from the rope climb) but it's not an easy hike.
PACK LIGHT – I didn't take food that needed heating – I cold soaked my foot. I took one clean set of sleeping clothes and kept the same day clothes for the full hike. When we went swimming I would rinse out my clothes and hang them on rocks or trees to dry and I was fine.
I was a little concerned that I hadn't hiked for more than a few months (I finished the Camino mid October and this was the following April) so I packed super light. I had maybe 5-7kg including 2L of water and it wasn't that hard. We had a few in our group that were hauling full size hiking packs loaded to the hilt and the inclines and crossings were very challenging for them.
My Otter Trail Packing List
My trusty Altra Lone Peaks.
3 pairs of underwear (wearing 1, carrying 2). I took 3 as I knew we were coming into a rainy period. Usually I would only have 2 for 5 days.
3 pairs of hiking socks (wearing 1 and carrying 2 – dry socks are very important to me). I use these Injinjis Mini Crew toe socks. I don't feel I need toe socks for less than 20km days, however the ankle length of these I love AND the top doesn't have a hard edge so even if your feet and ankles swell, you don't get that horrid elastic band when you take them off. That link is for Backcountry, however if you are in Australia, try Wild Earth. Backcountry's intl shipping is daylight robbery!
1 set hiking clothes (which I wore every day)

1 pair athletic shorts
1 long sleeved hiking shirt
1 wire free sports bra

1 pair leggings for sleeping
1 singlet for sleeping
1 ultralight puffer for the cold (which I did wear). I have this North Face Thermoball. It has no down so is OK if I get wet.
1 pair of gloves. Mine are winter gloves and have grips on the palms. I found them online.
Sleeping Pad – There are so many but lightweight is better. I have this Sea to Summit Ultralight one.
Ultralight Quilt – This is from HangTightShop on Etsy and I LOVE this thing! You do need a insulated pad for a quilt however.
HTC U11 phone
Kobo eReader (everyone slags me for carrying my reader but it saves my sanity)
1 Chammi for a towelx – I learned a long time ago that a chammix is the perfect hiking towel.
Sunscreen
Tiger Balm – which I also use for insect repellent
Strapping tape
Backpack – I had a North Face Banchee 50L on this trip. I'm waiting for it to die so I can get an Aarn pack but it just won't! They are very hard to get now. The Osprey Exos 48 (mens pack) or the Eja 48 in the womens are very similar to my North Face.
Rain cover
Head lamp
Dry bag that can fit your pack and is actually dry!
Duct tape for an extra layer of waterproof around the neck of my dry bag
Plastic bowl / dry soak container. I took a container I got from a hostel the week prior. It was one of those meal replacement tubs with a screw on lid. It was perfect in the end.
Plastic cup – I didn't plan on hot coffee as I didn't have a stove, however one of my group very kindly gave me water for coffee every day.
My multi use spork!
Toilet Paper
My trusty Cactus Hat! Its just a trucker cap that has cacti all over it.
I didn't bring:
Camp shoes – I wanted to stay light and I only had thongs (flip flops – keep your mind out of the gutter!) at the time so I just didn't take any.
Stove – I didn't want to buy one for 5 days so I just cold soaked my food. Turns out Butter Chicken is OK cold.
Trekking Poles – Again I was travelling and didn't have mine. I didn't want to spend $300 on trekking poles for 5 days so I didn't take them. Did I wish I had them? Oh yes – but it wasn't a deal breaker. They are always good but you can do it without them in a push. I would never recommend doing this hike without poles if you usually use them though. I found it really tough without my poles.
---
How long is the Otter Trail?
The hike is 44km usually hiked over 5 days. The trail has around 2600 meters of elevation change which doesn't sound like much, however there are a few haul yourself up scrambles that are harder than the elevation sounds. The best thing is that while you are going up and down all day every day, the up's don't last too long. Its not like the first day of the Camino Frances where you go up for 26km.
What's the best time to hike the Otter Trail
The spring is the best time to hike the trail, however summer is also a good time. Between October and April is when most hikers complete the trail as its warm enough to swim (however the water is VERY cold) and if you get the right season, the wildflowers are amazing in the spring.
What size backpack do you need for the Otter Trail
If you are an experienced multi-day ultralight hiker, you could get away with a 50L pack. Most hikers would benefit from a 60-70L pack to be sure. You don't have to fill your pack but it is good to have room.
Is the Otter Trail hard?
It isn't supremely difficult and isn't considered a technical hike, but there are areas where you have to scramble or pull yourself up over rocks with chains. These are skills you do tend to develop over time as a hiker, however you could do it if its your first time as long as you have good quality shoes with excellent grip and a fellow hiker to help you should you need it.
Can you do the Otter Trail in less time.
No that is not a good idea. The huts sleep the number of people on the trail and if you were to skip a hut and move forward in your hike, you would risk not having a bed for the night. SAN Parks are very firm in their instructions NOT to hike further than the hut you are supposed to be in for that night. It is very similar to the Overland Track in Tasmania.
Are there sharks in the waters along the Otter Trail
I have been asked this question so many times I think primarily as you are on the south coast of South Africa and the water is cold. Cold water means big sharks normally, and while I don't have a shark phobia (I'm Australian and an ocean lover so you kind of get a little blasé about it), I am assuming that yes of course there are sharks. I swum most days and didn't even think of it but the last day one of our group told us that was why he hadn't swum. Make an informed decision yourself.
Where does the Otter Trail start?
The Otter Trail starts at Storms River Mouth National park and ends at Nature's Valley (De Vasselot Rest Camp).
Where can I get an Otter Trail Map?
All Trails is the best place to view the map and elevation profile for the Otter Trail. If you pay the small annual fee you can download the map to your phone to have it offline during your hike. All Trails does have the Otter Trail length at 35.7 but it is more like the 44km that is advertised.
Tsitsikamma Adventure Tours
Tsitsikamma is worth staying a few days before your hike. There are many options for adventure activities in the area and it is a beautiful little town.