Hiking The Inca Trail – 4 Days to Machu Picchu
One of the most well known hikes in the world, The Inca Trail is a 40km hike from just outside Ollantaytambo to the spiritual city of the Inca's, Machu Picchu. You could simply hop on the train from Cusco to see Machu Picchu (one of the seven wonders of the modern world), but where's the fun in that??
The Inca Trail was the first multi-day hike I ever did and it sticks in my mind as the comparison point for all hikes that have followed. Now 20 something years later I ask myself if it really was that amazing, or if my love of hiking was born on this trek through the Peruvian highlands and that's why I hold this particular hike so close to my heart.
It almost didn't happen.
I've updated this post as at November 2020 which is now more than 20 years since we did the hike. I feel like I need to go back for an aniversary trip!
About Our Inca Trail Hike
We hiked sometime in the 90's. I know I should know the exact year, however, I am just rubbish with time frames. We did a few months in South American a few years apart but at the same time of year, so now I struggle to remember if 98 was the year we hiked the Inca Trail or was that the year we did Carnival in Rio? At the end of the day, whether it was 97, 99 or 2000 – who cares – I've hiked the Inca Trail!
I had booked our hike with a major operator, however the day before we arrived in Peru, Brad had his backpack stolen in Chile with our travel insurance docs inside. I figured it wouldn't matter as I had copies on my desk at home, however as an added drama, it was Friday afternoon in Australia and so no-one I knew could get into my office to fax me another copy. Our business partner had gone to Perth for the long weekend and no-one else had a key so there was absolutely nothing I could do for 72 hours. These were the days of faxes and printed everything. I didn't have a copy sitting in my email like I would today and our hike was leaving first thing the next morning. The company wouldn't take us without those docs and for about 12 hours it looked like we wouldn't be doing the Inca Trail at all. There were tears and tantrums but they stuck to their guns and would not take us without the Insurance documents. I fully understood their position and they were happy to refund us but I wanted to hike the Inca Trail – NOT get my money back.
Amazingly, at our little hotel the receptionist enquired as to why I was so very upset and between sobs I managed to tell him. He was so sweet and gave me a big hug and told me it would all work out. At this point, I had zero faith in that statement.
A few hours later, he knocked at our door with another gentleman in tow and said he had found someone to take us on the trail. I have to admit I was a little concerned that this wasn't some kind of shakedown, however, this guide turned out to be a lifesaver. He was starting a group early the next morning and had two people not show up. IF they were still missing at 6am we could take their spot, but we would have to have the money in cash and we would have to promise him that I could get someone to fax the insurance details through to his office ASAP the Monday morning. Our current company was going to refund our money and I was sure they would, but for the next few weeks, I would be out of pocket for this new trip holding my breath that I was going to get our refund from the one we had been denied access to.
I was pretty stressed.
We had to run all over Cusco cashing traveler's cheques and withdrawing money from ATMs to get it all together, but we did, and it ended up being $150USD less than our planned hike had been. I called my sister and asked if she could fax the insurance certificate to Maoru's office, called our business partner to get him to let my sister into my office on a public holiday night, and packed for a 6am start. I still remember that those 2 phone calls cost me 5c less than $30 USD which was about $60 AUD at the time.
At 6am we were outside our hotel in the cold thinking that there was no way this was going to work out when around the corner trundles a little van packed to the rafters with hikers (there was probably 8-10 really). It pulled up, Maoru jumped out, acted like we were always supposed to be there, threw our bags up to the top of the van, they got tied down, we got in and, you guessed it – we were Hiking The Inca Trail!
* There is a reason that I've not named the tour companies that we were supposed to go with and the one we actually did. Mainly, the first one were sticking to their rules and while it was devestating, I very much understood why. The second one is because all this time later, I'm sure Maoru still guides and I don't want to get him into trouble for taking us without having our insurance docs in his hand.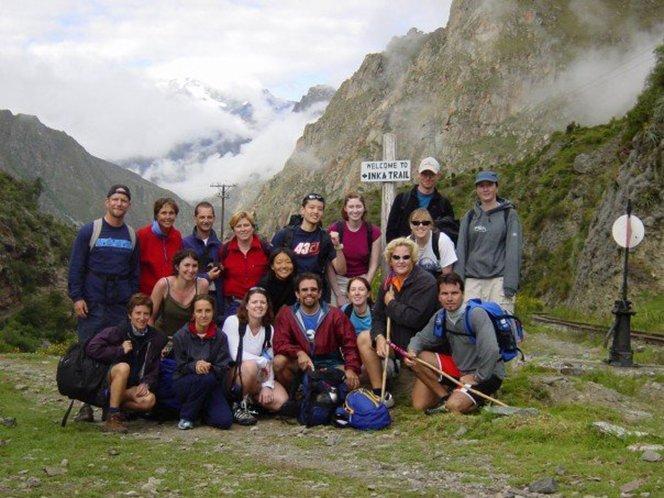 What To Expect From the Inca Trail Trek
Inca Trail: Distance and Altitude
Because of the extra day spent in Santiago after Brad got robbed, we ended up arriving in Cusco only 24 hours before our hike was to start. I would not recommend this. I had trained really hard but found breathing in Cusco difficult so was a little worried about the altitude to come.
At 40 km it's not a long hike, but the altitude is significant, so if you can arrive a few days prior to the start of your hike, I most definitely would. That extra acclimatization should help any altitude effects you might experience. Cusco sits at 3400 m and your starting point for the hike is only 2750 so you drop 650 before you even start. This makes Cusco a great place for acclimatizing.
Hiking The Inca Trail With A Group
You can't do the trail as an independent hiker. There are only so many permits granted each year to protect numbers on the trail and they are all purchased by companies that run the hikes. While you might have hiked the Appalacian Trail or maybe Australia's Larapinta trail independantly, that won't be the case with the Inca Trail. Accept it and know that you will be doing this one easy (as in the porters carry your main gear and you walk with just a day pack).
Booking You Hike Ahead Of Time
Early booking is essential especially if you are wanting to hike during the peak season of June to August. We hiked at the end of January and it was still very cold and should have been very wet. I'm not sure there was a limit to the numbers when we hiked but there most definitely are now. We didn't notice massive numbers on the trail, however the last night before your 4am start for the sungate with everyone at the same camp did seem very crowded. I'm sure the facilities are better now but one toilet for each sex was just hideous in the morning. Like I say I'm sure it is much better now.
How much does it cost to hike the Inca Trail?
In November 2022 It seems to hover as an average around $1500 AUD for a 6 day trip.
Please remember that a lot of the Inca Trail trips also include a few days in Cusco with one or two "warm up" hikes around the area. Often the Sacred Valley is included as is your pre and post-accommodation.
I have since done quite a few trips with Intrepid Travel and that's who I would probably choose to do the hike with. I've also heard good things about G Adventures and they both seem to offer similar trips at similar prices.
Intrepid have
this 7 day trip that is the same cost to hike either the Inca Trail or the Quarry Trail. It includes 2 nights before, 1 night post in Cusco and a full day out in the Sacred Valley. Priced at $1770 AUD
this 6 day trip doesn't include a day at the Sacred Valley and is only a nights accommodation prior to the hike and one after. At $13500 AUD it is simply the Inca Trail with pre and post accommodation. If you were planning on staying in Cusco for 2 days prior to acclimatize, and you wanted to just do the hike, this is the trip I would choose. Simply add 2 nights pre trip accom in when you book your tour. If you wanted to add in the Sacred Valley you could book a day tour from Cusco to do that.
G Adventures have:
this 7 day trip that includes 2 nights before, 1 night post in Cusco and a full day out in the Sacred Valley. At $1350 AUD
this 4 day trip that is ONLY the Inca trail. You would be responsible for pre & post accommodation here. Priced at $1050 AUD or
this 5 day version which includes one nights accomodation in Cusco the night before the trek. This seems expensive for one night's stay as its $1160 AUD so an extra $110 for just the extra night.
Tourradar can show you a raft of options with some companies only offering the hike for as little as $1100 AUD, however, to properly compare I would make sure you filter the days down to 5-6 days to get trips that do just the hike. Both Intrepid and G Adventures do the hike as part of longer trips which is also an option.
Is hiking the Inca Trail hard?
Oh goodness I don't know. It's not a walk in the park, let me say that and you should have a good level of fitness to make it enjoyable. You will probably, at some point, find yourself heaving for breath, your heard pounding and at some point wishing for the stairs to end. You could also have some altitude sickness that affects you which makes it feel harder than it is. It is considered to be a grade 4 hike so like I say, its not a walk in the park.
!! I find it very hard to tell someone how hard a hike is. I can turn my legs over for days with no problem and stairs aren't too much of a challenge for me. I just slow it down and keep going. Steep hills with no stairs are a massive challenge for me. I have very short calves and hamstrings so walking a steep uphill is just torture. I usually depend on the Australian hiking grading system and prepare myself accordingly. If I get there and it is easier than I thought it would be – that's just perfect.
I did get reasonable altitude sickness in Cusco, which made the first day quite challenging. Weirdly the second day up to Dead Woman's Pass didn't feel too bad, but that afternoon was the biggest challenge for me. By that time I hadn't eaten really for a few days. I just couldn't put food into my mouth. I tried but that awful swimming sensation meant that I felt like I was seasick constantly. People talk of the awful headache of altitude sickness but I never got that, I just felt like everything was moving around and my vision felt weird. Physically if you prepare with a lot of stairs, lots of squats and a reasonable amount of cardio, it will put you in good stead to enjoy the trek. We had people in our group that did nothing in the lead up and made it OK.
Your fitness level will not stop you getting altitude sickness however, which is worth knowing. I initially was beating myself up and thinking of all those times I could have gone harder or longer and been fitter, when Maoru told me that the last hike they had to have a Japanese guy helicoptered out because he was that ill. He also told me that he was a marathon runner and had just run some famous marathon finishing in the top 20. I never found out if that was a story or it was true but it made me feel better. Brad as usual did no prep at all and walked it fine.
I found the biggest thing for me was the day after we got back to Cusco, my calves were horribly sore. The stairs down beat me up way more than the stairs up.
Inca Trail Itinerary – Day By Day:
DAY 1: We did about 8 miles or 12.5km
We took a collectivos from Ollantaytambo to km 82 where we started walking.
The first hour or so was along the bank of the Urubamba river and was a beautiful walk passing farms and tiny villages. We mostly walked slightly downhill for this leg and then had lunch near some ruins at about the 5km point.
We then started to climb for a few hours but it wasn't super steep today. We camped somewhere near Huayllabamba. That was around 2950 meters which is important. Good hiking guides will always make sure you camp lower than your highest point for the day, and while we had climbed during our hike, we started in Cusco at 3400 meters so we were heaps lower than that.
Notes from Day 1
We were both amazed at how good the food was! Well Brad was amazed with the taste, I ate almost nothing but was very impressed with both the size and style of the meals. Today was the day we started learning about the Quechan people.
!! – Did you know that the term Inca refers to the royal family only. The common people are called Quechan just as they are today.
We were also surprised at how little distance we did. We were all set up in camp by around 3pm and hadn't started until at least 10 so it felt like a really easy day.
DAY 2: We hiked about 10 miles or just over 16 km
While you wake early (or are still awake if you are me) your morning is far from rushed. The porters left hot water outside our tent and a coffee for us both which was a great start to the day.
You then pack up your personal items and head to the food tent for breakfast. It was really cold this morning I remember and having had almost no sleep again I just couldn't really eat anything more than a few spoons of porridge.
Maoru warned us that today would be difficult and as we were ready, Brad and I set off about 40 minutes before everyone else so I could go slow and not make myself any sicker. I'd like to say they didn't catch us until after Warmiwañuscaca, but they caught up about half way up the climb. Warmiwañusca is Dead Woman Pass.
We didn't start until around 8am and I deliberately had removed my watch so I wasn't thinking about times and distances. We had lunch just after cresting Dead Woman Pass and then started the down. OMG I frigging hate down. We were originally going to stop to camp only a few kilometers past the pass, but after seeing how well everyone did that day before Maoru decided we would go to the next campsite to give us a sleep in on day 3.
Notes on Day 2
It was so foggy when we left camp and the first hour was very surreal. The porters ran past us at about the 2 hour mark (which made me want to trip one!) which was when the clouds cleared and we felt like we could see for miles. We started learning about the Quechans that would have hiked this trail and the process that they took in preparation for arriving in Machu Picchu, their most spiritual city. This was effectively their Camino and a walk that every Quechan aspired to do at least once in their life. After the others had passed us, Willy, one of the guides stayed back and walked a little slower with us. He was feeding me cocoa leaves which are supposed to help with altitude sickness and at that point I would have eaten cow poop if someone told me it worked, so I was chewing those bad boys like a cow with my cud. He played his wooden flute here and there and I can't tell you how magical it was to be hauling my feet (which seemed to be encased in cement shoes) up each and every step all the while being serenaded by the pan pipes.
DAY 3: I have no idea how many miles we did today but it wasn't heaps
Our extra kilometers from the day before had worked well. We had a chance to stretch out those sore legs from the major climb and descent before we got to camp that afternoon, and then because we had done a good day the day before, had a 9am start today.
Down was the order of the day which while others were happy, I was not. I have a horrible knee and very short muscles so down is just nasty to me.
Today we got into camp really early and all agreed to take the side trip to Winay Wayna. This was to me the most beautiful ruins of the hike. Winay Wayna is to this day just stunning to me. Against my better judgment Brad and I agreed to head on an extra hike to a waterfall just past the ruins, however, despite the guides all trying to talk us into it, none of us went for a swim. Man that water felt like it was about 3 degrees C.
Notes from Day 3.
After three days of feeling like absolute rubbish I ditched the cocoa leaves about mid day the day before. While the altitude was really making me feel dodgy, I was sure that the cocoa was what was messing with my vision and just decided to stop. It turned out after about 12 hours off the cocoa leaves, that's what was causing most of my symptoms. I still had altitude sickness for sure, but the combination of the drop in elevation and ditching those damn leaves, meant that I actually felt semi decent by tonight. This was also when both Maoru and Willy said "Oh yes the cocoa leaves don't work for everyone and make some people sick!" Hmm – you think!
Sadly the camp on our last night was awful. Our porters had secured us the farthest campsite from the main social area, which meant we would be the first bgroup on the trail the next morning. The added benefit to that was that we were quite a distance from the camp where people were just going stupid. We had been learning of the intense spiritual nature this hike would have been for the Quechan people and then the night before we get to the Sun gate 70% of the hikers in camp were being absolute tools. Drunk, loud, obnoxious and totally not appropriate. That is of course my personal opinion and I was very grateful to Maoru when he acted as translator between us and the porters for a fireside chat away from the frenzy.
​DAY 4: The Final Push
We were up at 3am to be hiking by 3:50 (Maoru was insistent that this 10 minutes would give us a good start on the rest of the hikers). Unfortunately, when we got to the sun gate it was under a heavy cloud of fog so no amazing view for us.
We continued down into Machu Picchu all pretty impressed with ourselves at this point. Sadly at the entrance to the site, the guards take your cane trekking stick away from you which broke my heart. I know it was a stupid little stick but it had got me up and down Dead Woman Pass and I wanted to take it home. I wouldn't have gotten it back into Australia I'm sure, but nonetheless I was sad.
Those first few hours inside Machu Picchu before the train and buses arrive is gold. At one point a massive storm came over and people ran for shelter, but Brad and I just sat leaning against a stone wall looking out over the valley in our rain gear and appreciating being in such an incredible location. Brad wondered out loud whether there were any other sites out there that had yet to be discovered. The jungle is so thick as far as you can see and it's not out of the realm of possibility that could be the case.
We had done it and now that we were sitting inside Machu PIcchu, it wasn't the hike that was forefront in our mind, it was that we had followed a path that thousands of local people had walked to reach the ultimate temple of their faith. Even now, over 20 years later, it still brings a tear to my eye.
Notes on the final day
After we got the train back to Cusco, and we were heading for the shower, I put the news on the TV and low and behold, that very day another Incan site had been discovered right across the valley from where we sat. I've never thought of Brad as being any kind of psychic but that day I did wonder….
Items you should check before booking:
Find out if you are responsible for your sleeping gear. Some tours include it, some do not, so be sure to know if you should have your own sleeping bag and/or liner as I am pretty sure you will need your own sleeping bag now. I have moved to a quilt which I was a little dubious about but I'm loving this thing! A quilt does mean you have to have an insulated sleeping pad though. It's hand made and available via Etsy.
Be aware that your sleeping bag will count into your 6 or 7 kg you are allowed to take. Make sure its warm enough but consider that if you carry a massive down bag, that will severly limit how much else you can take.
You don't need boots – good trekking shoes will be fine. HOWEVER – don't try it in Nikes. The stone steps can be wicked slippery and you will need the appropriate grip that hiking shoes will give you. I use Altra Lone Peaks or Altra Timps. They are not for everyone but I LOVE them. The Lone Peak is my go to hiking shoe, however the Timps have a slightly thicker sole and are better if you are going to be walking or running on smaller rocks.
Keep it light. I had a set of hiking clothes, a fleece, an ultralight puffer, and a set of sleeping clothes as did Brad. We each had a spare shirt in case we got drowned but I only had one pair of hiking pants. I'm the master of making do mostly because I have a bad back myself so I'm always trying to carry as little as possible. When we tipped our porters they all communicated through Maoru that they loved us and our light packs. You are hiking in the mountains, it's not a fashion show.
Take quality rain gear. We hiked in the rainy season and were lucky not to get too much heavy rain, however you just end up wet from the humidity so decent rain gear will protect you from the cold once you are damp. The Inca trail was my first multi-day hike so while I had gear, I didn't have good gear and that makes so much difference in the cold and/or wet.

A good gortex Jacket – these are super expensive there is no getting around it but are they worth it? A resounding YES. A good gortex jacket will keep you dry without making you feel like you're wrapped in a garbage bag. I don't know how they do it but a qulity goretex jacket does breathe and you won't end up a horrible sweaty mess. Cotswold Outdoors have a good selection of different prices and brands.
As an alternative: Before I could afford a good jacket, I bought a simple waterproof and a Marmot Aerobora LS Mens Shirt. I got the shirt from Wild Earth in Australia and it is available from Backcountry in the US, but their shipping to Australia is prohibitive. It is a collared shirt with long sleeves but the material is perforated. You can't see through it and it's amazing in the sun, but if you hold it up to the light you can see all the tiny holes. They are great hiking or fishing shirts and I would wear the shirt with the waterproof over the top. This really helped with not having sticky plastic against your skin and gave me a quick dry layer under my waterproof should I get all sweaty. That worked for me for years but since I've had my good North Face Gore Tex Jacket I wish I had spent the money earlier. The jacket I bought was very expensive and I tortured myself for about a year before I bought one but I've had it for years now and don't regret the purchase at all. A very similar model is this Northface one or you could look at a cheaper option via Cottswold Outdoors. They currently have some on sale for as little as $190 AUD
Waterproof pants are heaps cheaper and again Cottswold Outdoors has them from only $16. I do feel you can be less concerned about your pants being full Gore Tex Waterproof but that is of course your decision. I would recommend getting some that have the zips at the bottom of the legs so you can get your feet out without having to take your shoes off.

Extras On the Gear Front –

A good head torch is essential,
Toilet paper in a plastic sealable bag (you don't need a whole roll though),
Sunscreen that can double as moisturiser or hand cream (minimal remember),
Your basic bathroom items,
A good hat that covers your neck or a collared shirt and a cap,
Non cotton socks. If anything is going to give you blisters its cotton socks. Avoid them like the plague.
A 3-4 meter piece of lightweight chord (smaller than rope) and a few clothes pegs. This will weight nothing but you can string it up and dry out our sweaty clothes in the breeze at camp.

Check that you have time to acclimate in Cusco and if pre and post days are not included check that you can add them. It is a right royal pain in the butt to move accommodation the night before your hike. Try and stay in the same place for the duration of your Cusco stay.
Take trekking poles if you have them. The steep up and down of the Inca Trail was made for trekking poles. Flat in Peruvian is still up and down, it just has no stairs. So beware when your guide tells you it's going to be flat for a while, he might just mean there are no steps. If you've never used them before, trekkking poles are the bomb! They take the pressure off your knees on the down and help you haul your fat arse up on the steps. I have good quality folding ones but that isn't necessary. Any that work well will suffice. NB: Be sure that they will support your weight going down. Set them up and in a safe environment put all your weight through the pole and make sure they don't slide or bend. Carbon Fibre are more brittle than aluminiuim and can snap. They are also way more expensive.
Remember Cusco is the base for many hikes in the region and you can get almost anything you need there. Don't be stressed if you forget something as you can most likely get it in Cusco.
Have Fun! This seems like a given but it is easy to get so focused on the uphill that you forget where you are. You are hiking the Inca Trail! Embrace it.
So let me know all about your Inca Trail hike. What you loved, who you went with and everything that you felt along the trail.
Tours That Do The Inca Trail With No Extras
These tours do the 4 day hike on the traditional Inca Trail with no extra days either side. This is a great way to do just the hike and avoid extra expenses.