Gold Coast Hinterland Hikes – Ships Stern Circuit
Ships Stern Circuit is a 19km circuit that goes from and returns to the Binna Burra section of Lamington National Park in South East Queensland.
Ship's Stern Circuit is approximately 19km in length and while rated a moderate grade, it doesn't have any steep climbs or descents. All Trails puts it at 17km but my GPS/Phone/Steps always says it is a smidge over 19. There are some great views out over the valley on the outer section of the trail. It's a great activity if you are planning a full days walk and if you get back to the trail head early, you can always take on another track in the national park.
You can walk it in either direction, however if you are a little concerned about walking uphill, doing it in an anticlockwise direction will give you the shortest uphill walk out. I personally don't notice the difference and having done it both ways, yes clockwise does give you a longer uphill walk, but it's 500m in elevation change over 9.4km, whereas anti clockwise its 380m of elevation change over 5.4 km. So it's probably slightly less steep in the clockwise direction, but you are going uphill for almost twice as far.
While this trail does say it goes to and from the Binna Burra trail head, you do actually come out about 500m from the teahouse. If you start the track from the teahouse trailhead, when you finish you need to turn left and hike up the hill toward the teahouse when you are done. It's pretty plain to see.
How to get to Ships Stern Circuit
Ships Stern Circuit goes from Binna Burra trail in Lamington National Park. The trail head is accessible from either Brisbane or the Gold Coast and is a popular spot for locals and tourists alike. An easy hour's drive from the central Gold Coast or about an hour and a half drive from central Brisbane, the Binna Burra trail head does have quite a few hikes of varying intensity that start from here.
Most Queensland National Parks have very well maintained tracks, however remember that we do get a lot of rain on occassion which can mean the trail maintenance crew has been unable to access certain trails at certain times.
How To Get To Binna Burra Trailhead, Lamington National Park?
The easiest way to get to Binna Burra trailhead is to drive to Binna Burra Lodge & Campsite. The trailhead is at the end of the culdesac only meters past the lodge and teahouse. This Google Map link will show you where the Lodge is and you just have to get directions from wherever you are. The drive up through the farming land and forest to get to Binna Burra is really nice drive, however it is on smaller roads as you get close so please pay attention.
To Walk Ships Stern Circuit Clockwise:
From the front of the Teahouse (facing toward the road) turn right and walk down past the campground, around a slight bend and when you see the big grassy area on your right, you will see the trailhead in the bottom right corner of the grass. It is on the edge of the trees but is easy to spot.
Once you are on the track keep following the signs for Ship's Stern Circuit. To be completely transparent here, I would recommend having a trail map on your phone simply because there are a few options where you could take a more direct turn straight back to Binna Burra so it would be easier to have a map just to confirm your location and where you should go. You can't really get lost, however you could accidently take the shortcut back to Binna Burra and not do the whole track. If you keep an eye out for Davies Creek signs that will keep you on the main Ship's Stern track.
Upper Ballanjui Falls offshoot is at around 42.km into your walk and Lower Ballanjui Falls Offshoot is at around 12.5kms.
To Walk Ships Stern Circuit Anti-Clockwise:
Walk left from the visitors centre/teahouse (facing the road turn left) and head to the main trail head. Follow the Daves Creek / Ships Stern Circuit signs and then keep walking past the Daves Creek sign when you get there. You can also do Davies creek but it will add 5km to your day so be prepared to crack 25km for the day before you commit to Daves Creek. If you do choose to do Daves Creek, the climb up to the top of Surprise Rock is worth it but it is a scramble in parts and can be slippery depending on the weather. I have found the Daves Creek track to be very overgrown on more than one occasion too. Gaters might be an idea if you intend to do that part as well.
Upper Ballanjui Falls offshoot is at around 5km into your walk and Lower Ballanjui Falls Offshoot is at around 13-13.5kms.
What Is There To See On Ship's Stern Hike?
This circuit is a lovely walk through sub tropical rainforest past multiple waterfalls and creeks and if you are lucky you will see some Australian animals. I almost always see at least one Pottaroo and frequently hear and or see Cockatoos and Rosellas. I've heard of people seeing the odd snake but I usually only do these trails in winter so I've never seen one. There are usually some banskias flowering over the winter and some of these can be pretty large. Mostly you will see the Birthday Candles version which usually can be seen as a collection of flowers on one bush.
There is what feels like an obvious view point, and it is often the only real place to stop for a snack or lunch. There is a sign at Gorooburra Lookout so that is what you are looking for. There isn't an actual "Ship's Stern View Point" its the sign for Gorooburra Lookout you are looking for.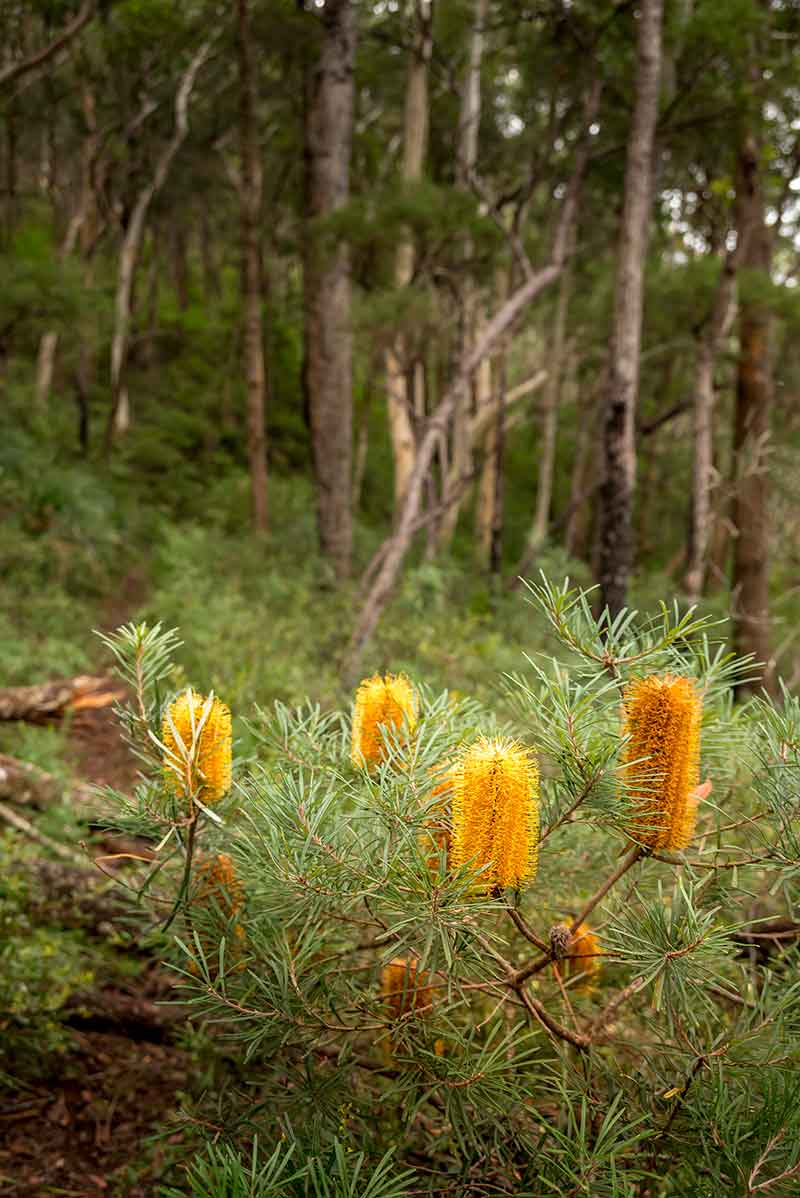 How Long Does It Take To Hike Ship's Stern Circuit?
The information centre at Binna Burra says to allow 5-7 hours to do this trail, however I usually manage it in around 5 very easily. The last time I did it (only a few weeks ago) it was 5hrs and 45 minutes but I had my camera and was taking photos of waterfalls and creeks. I estimate I would have spent a good 45 minutes on photos. In case you don't know, I'm 55 and while I'm a very keen bushwalker I don't break any speed records.
You could also branch off and hike to Upper Ballanjui falls from this track. The falls are well signposted and this would add about 1.5 kms to your walk (around 700m in and back out again). Further along the trail you can also visit Lower Ballanjui Falls and this will only add about 1km to your walk in total. Both Upper and Lower Ballanjui Falls are close together however Upper Ballanjui falls is accessed from the souther side of Ships Stern Circuit and Lower Ballanjui Falls is accessed from the northern side.
Is Ship's Stern Circuit suitable for children?
I'm going to say no. Teenages certainly, but it can be very slippery in parts and often has trees down you have to scramble over. If you have experienced bush walkers for children that will listen and not stand on rocks or roots, possibly. However – I'm not under exagerating how slippery it can be and as the creek crossings are rocky, one slip could really hurt. It is not a technical or tough hike by any means, but there are more than a few sections that are roots and rocks that can be like glass to step on.
Is there somewhere to stay near Ship's Stern Circuit?
The Binna Burra Lodge is right at the trailhead. They offer accommodation options from unpowered tent sites, through to powered sites, safari tents and even units. The Teahouse is open from 7:30 am through to 7:30 pm Sunday to Thursday and through to 8:30 pm Friday and Saturday nights. They serve breakfast, lunch and dinner and the food is very good.
Things To Be Aware Of Hiking Ship's Stern Circuit
Make sure you go into the lodge to check out the board that shows which of these trails are open and which are closed. Because the main trailhead is access to a few hiking trails, there isn't a barrier or gate that they close if some of the trails are not open. The staff in the reception at the teahouse can help you but there is usually a board that shows which trails are open and which are closed. I accidently did Ships Stern Circuit last year not realising it was closed and had a very gnarly patch of downed trees, land slide and slippery clay to climb up about three quarters of the way round. Check the boards before you start, or call the day before if you are starting early.
Please ensure you take enough water. Even in the winter months you can sweat out a lot more than you imagine you will, so be sure to have enough water.
Consider taking a rain jacket or waterproof. This might help you stay warm if the weather changes
This trail is almost all shade, however an application of sun screen before you leave should put you in good stead if it does heat up.
Some snacks or lunch would be a good idea.
Runners or gym shoes won't cut it. Trail shoes or boots (if you are a boot wearer) would be my recommendation for this hike. It can get really slippery so your walking around town shoes won't cut it.
Avoid rocks and roots. Rocks that are totally submerged are usually OK, however take care. Rocks that are on the trail and just wet could be like ice so avoid them wherever you can. Tree roots can be even more slippery than the wet rocks so I try to avoid them at all costs.
Consider adding some Hydralight to your water bottle if you are prone to cramping and don't usually walk this distance. This is totally up to you but its something I always do for anything over 15km and find it to be quite advantageous.
If you are not from Australia, please avoid all our snakes. The snakes you will see in this wet area aren't usually the agressive type, however our poisonous snake bites have to be handled very differently to most snakes in the USA for example. Our snakes aren't vipers so you can't walk out to get help. If an Australian snake bites you – do not move. Movement will push the venom through your body. STAY STILL AND SEND OR PHONE FOR HELP! Our emergency number is 000 in Australia. You should have service for most of the trail on this particular trail, however if you are going to be hiking a lot, consider purchasing a PLB. This is the QLD governments snake bike recommendations. Please read it prior to any bush walking in Australia.
---