My Top 10 Places For Solo Travel Series – Costa Rica
This is the second installment in my "Best Places To Travel If You Are A Solo Female Traveler" series. Costa Rica is a small but mighty country in Central America that is cost effective and for the most part safe to travel. I do mention some more concerning area's at the bottom of this post but they are simply places you should not walk around after dark alone. Costa Rica overall is very safe, however like so many countries there is the odd spot you need to be very careful.
Costa Rica has been the adventure playground for many central and northern American based travelers for a lot of years. It is to the US and Canada that New Zealand is to Australia. While the flora and fauna are the biggest draw, Costa Rica has evolved to be one of the primary adventure locations world wide. While most visitors come for Costa Rica's amazing ecology, most (if not all) will also partake in some kind of adventure activity while in Costa Rica.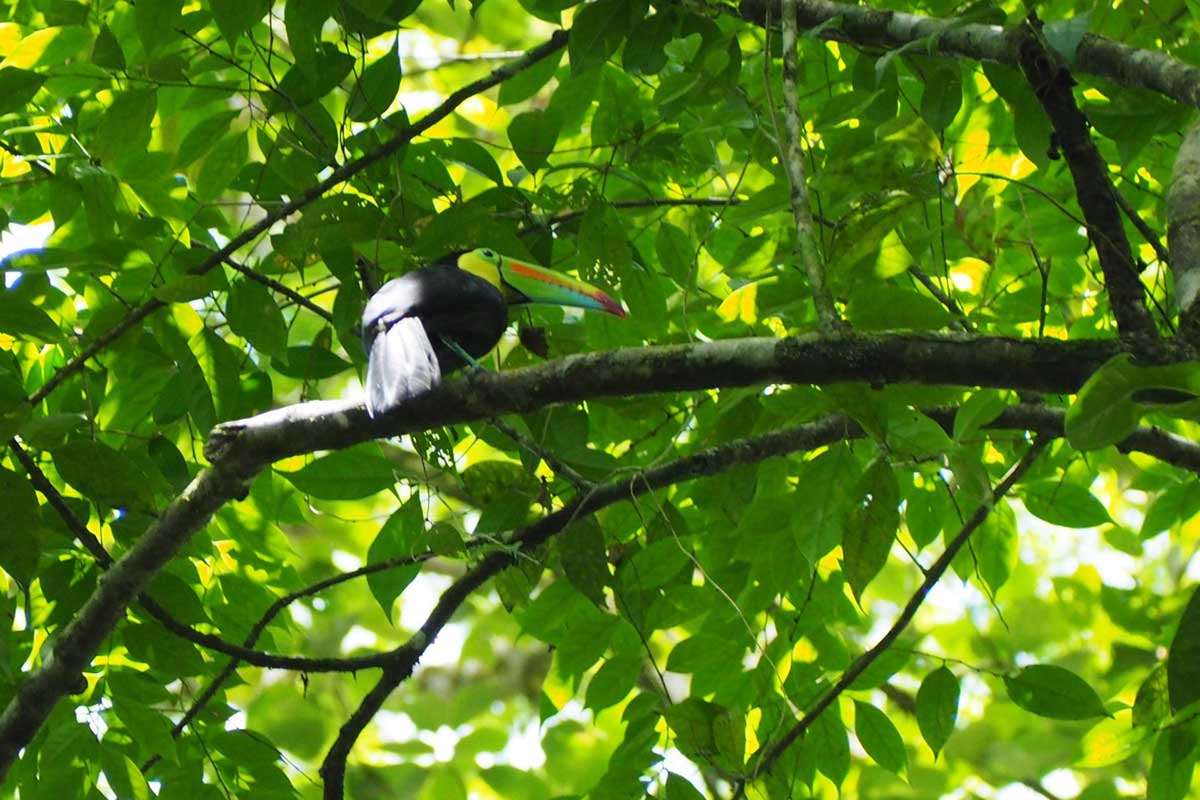 ---
Is Costa Rica Safe For Women Travelling Alone?
Being such a small country with very established tourism destinations, Costa Rica is definately safe for solo female travelers. It would be my recommendation for your first Latin American country. Even with zero Spanish you can get by in Costa Rica easily. I do have a few notes here however:
San Jose the capital city is not safe at night. Never walk home after dusk or be on your own at night in San Jose. I do explain this better in the "Cons" section below. READ IT!
Use your usual steps to make sure you are safe. Just because I say Costa Rica is safe (and it is) anything and everything can happen anywhere so take the steps you would always take to keep your self and your belongings safe.
Why Travel Solo to Costa Rica?
Having seen tourism from the US and Canada for many years, Costa Rica is now very easy to travel through and around and also very affordable. There are options for transport, accommodation, tours and activities to suit almost every style and budget.
Costa Rica has great travel infrastructure.
From flights to buses to mini vans, there is almost always a simple and easy way to get to and from any destination in Costa Rica. Even in the most remote locations, you won't be the only person in the van or on the bus and there are well worn tourism routes that will take you to the most popular destinations with ease.
Costa Rica caters to a range of budgets and tastes
Whether you want to stay at a hostel or a 5 star spa, there is usually an option for every price range in most locations in Costa Rica. From $12 per night hostels to $700 per night spa's, you will always be able to find services or accommodation for your budget in Costa Rica.
Costa Rica caters for solo travellers well
A lot of what you will do in Costa Rica (apart from lazy beach days) will be via an activity or day tour. Solo travelers have been coming to Costa Rica for years, so its super easy to get yourself onto a day tour or activity. Your accommodation can book almost anything for you, you could book online before you come or use on of the many tour booking services on the main street in any Costa Rican town. Whether its Ziplining, hiking or even horse riding, almost everything can be booked with one person and if that isn't feasable they will offer your a different activity or a different day when they have other tourists also doing that tour.
Don't forget that the popular activities and locations are popular for a reason. Don't get hung up on trying to "avoid the crowds" and miss something amazing. Yes the Ziplining is massively popular – because it's awesome fun.
---
Pros for traveling Costa Rica as a single woman:
While the language is indeed Spanish, English is spoken widely. Even in places where it isn't, the locals make such a huge effort to assist that anything can be overcome.
At this point in time, the Canadian's and American's have been visiting Costa Rica for decades. Because of this there is good infrastructure in place for transfers between locations both internally and internationally. Flying into Costa Rica can be done via almost all of the US states. Flying from Australia is best through Houston however be careful of the connection times. They seem to be either a full day or just 1hr 55min. I make it my rule never to go inside a 3 hours international connection. Espeicially into the US. While it could be a transfer, on occasion they've made me go in and out of customs for a connection which has cut things incredibly tight.
Costa Rica is small but you can easily spend a few weeks there. Between the Pacific side, the interior and the Caribbean side, there is heaps to see and do. Whether you are a beach lover or wanting to hike, or are just on a "spot the sloth" junket, Costa Rica has something for you.
There are a myriad of tours that cover Costa Rica, from self drive, to independent tours to fully guided tours. You can run the gamut of how to do it. Hire cars are easy to get and affordable, however again – watch the insurance. Some companies that operate in Costa Rica are: Intrepid Travel, Toucan, G Adventures & La Bamba (read about this company in the cons before you book). Intrepid doesn't have a trip that is solely Costa Rica and touches everywhere I would recommend and the others have so many that personally I would start at Tour Radar putting in your time frame, days and budget and working it out from there.
There is a fairly well worn route in Costa Rica that goes between San Jose, La Fortuna, Monteverde and Tortuguero on the Caribbean coast. Because of this, transport is easy and safe to grab. Sometimes a mini bus is your best option and sometimes a bigger public bus, but there is always decent transport between these major hubs. While the towns can be small they are well trafficked so communication is easy.
Because Costa Rica has been dealing with tourism for some time the local tour booking agencies are very helpful. Some places seem to have almost no public transport options, however if you find a local booking agency they will always know of some little van that is doing that trip. They have fully embraced the minivan transfers so as a single person you can almost always get a seat in the next day or so.
There are westerners in most tourism locations so if you have any challenges there is almost always someone who can communicate with you in English. The locals are friendly and helpful and aren't the slightest bit weirded out by a woman traveling alone.
PLEASE READ MY CONS AS A FOLLOW UP FOR SAFETY!
---
Cons for traveling Costa Rica on your own:
Some transport options between more remote locations are just impossible to find online. Don't let that disuade you, there are probably little vans that do run those routes but you won't find them online. Ask a local tour agent and they will almost 100% of the time know how to get from a to b.
It can be really wet. Obivously in the forest there is a good amount of rain, however if you go in the green season which is May through November it can rain for days on end.
December and January are VERY busy months. Everyone is escaping the snow in the northern park of the continent and combine that with Christmas holidays and it being the "dry" season and you can pay a hefty premium for summer tours and day trips. I've seen some tours go up as much as 30% in the peak season.
NB – This one you need to pay attention to! San Jose isn't a safe city. I try not to say that about any city but it is true for San Jose. In the day time in the city centre if there is a group of you, as women you should be fine, but don't walk anywhere after dark even if its a group of 4 or 5 of you. If you have a few guys, maybe, but I was with a guy friend and we were walking home at about 8:30pm to our hotel just on the edge of the city centre and we were robbed at gunpoint. Fortunately he is a native Spanish speaker and we just handed over whatever cash we had and the guy took off but I hate to think what might have happened if it had been a few of us who didn't speak Spanish. I lost about $45 USD and I was stoked to hand if over and see him bolt. San Jose is NOT SAFE at night! We wandered around for a day with about 4 or 5 women in a group and never felt even vaguely uncomfortable, but do not risk it at night. Taxi's are cheap and plentiful. On my way back through I stayed at a different hostel which was more out of town and the next morning there were 3 English guys laying in the living room beaten badly. They had in a drunken state decided that as there were 3 of them, they could walk home with no worries, only to have been robbed and beaten reasonably seriously. Phones, money, wallets (idiots had their wallets on them!) and it would have been their passports too except the girl at reception had forgotten to give those back to them that afternoon.
As a specific note, La Bamba is everywhere in Costa Rica and their self guided tour option seems great. I had booked one of their tours after my hiking trip and by the time I got to Monteverde I just ditched them. The principle is they book your accommodation and transfers and you do whatever you want in the meantime at each destination.

They dropped me at a hostel in San Jose that didn't have my booking,

then they didn't answer the phone,
the hostel was booked up so I had to get to another hostel to stay and then get back to that one the next morning at 6am for the pickup because they didn't answer any form of communication.
I got up at 5am to get a taxi back over there for my pickup, and – you guessed it – they didn't show.
I was livid but the hostel had a direct contact for them so I finally had someone to call. He organised a van for later in the day so I had to hang out at this hostel and wait. Finally the guy came and picked me up only to drive like a loonatic, crashed the van about half way there which left us sitting on the side of the road for 4 hours and then when we got to Monteverde, La Bamba hadn't paid him and he tried to get money from us!
This was 2016 so they may have picked their act up by now but it wasn't good.
---
My Recommendations For Costa Rica
While even the frequently visited destinations in Costa Rica are still not done to death, if you can get off the beaten tourist path it is much nicer. The local people are so wonderful and so keen to chat to you, but if you can get down to Cahuita for example you will get a more local experience. It is still a little beachside holiday spot but way less western than Santa Elena in Monteverde as an example.
These are my recommendations for visiting Costa Rica, whether you are a solo traveler or a group.
The G Adventures Hidden Costa Rica trip. I drove myself crazy over booking this trip mostly because at $1800 AUD for 12 days it seemed expensive for Costa Rica. However – it was so worth the money. I loved it and would highly recommend it. I did this trip first and then got myself around the balance of Costa Rica on my own.
Monteverde – when you get the bus to Monteverde from San Jose, you are actually going to the little town of Santa Elena. The bus usually goes via Puntarenas and don't listen to people who tell you to get off and spend a few days there. Its not very nice. Its about 2 hours to Puntarenas and then another 2-3 to Santa Elena and it costs all of about $15. Monteverde is the jump off point for the cloud forest, hiking and animal sightings. The Extremo Zipline Park is very popular and as well as having a fun few hours, you are also getting in a bit of a hike between the zip lines. Make sure to do the night walking tour for spotting sloths, snakes and other animals. It's OK – you are looking for tree snakes primarily and the guides are great about warning you.
La Fortuna. Arenal volcano is the primary reason most people head to La Fortuna however there is quite a bit in the area. I loved the hike to Tenorio National Park and the blue river. It's not a hard hike (7-8 kms if I had to guess) and its a great day. My second day I did a hike with some local crew which was god damn brutal. It was great fun and I booked it through a local tour desk but it was almost as hard as my Samoan hike. Not physically super challenging but it was muddy and slippery and coming down was very hard. I can't remember the name of the tour company but it was between a backpackers and a restaurant on the main street of La Fortuna and was red and green in color.
The hot springs in La Fortuna are nothing like what I expected. The day after my big hike I did an afternoon tour that was the hike around Arenal Volcano (which is super easy) and 4 hours at the hot springs including dinner. I must admit the dinner seemed weird but the hot springs is like a hotel. Actually it is a hotel with these massive pools that consist of hot spring water. OMG – it was such a treat after my very sore legs from the previous day and floating in the pool watching the sunset above me was just devine! The tour I did used Baldi Hot Springs hotel but I think there are a few along that stretch that have similar pools. My entry was included in my tour, but I'm assuming you just pay an entrance fee to use the pools. Dinner wasn't terrible but it was a buffet style thing which I usually detest. I"m just not a fan of food sitting in trays for hours on end but I just watched and only ate the new food they brought out. The tour was about $60 AUD including dinner. I might have had a few cocktails at the hot springs which might have been very good!
Tortuguero National Park. This is a great spot. The town is so on top of being sustainable which is amazing and the whole point of this national park is that you stay in lodges along the river and then venture out in canoe's or electic boats on wildlife spotting trips. There isn't a particular bus/boat route to Tortuguero, however local tour operators will know of buses to El Progreso and then usually the lodge you stay at can arrange transfers from there. You do have to go the final stage on a boat however so if you get to this big holding area and nothing seems to be happening, you aren't there yet. They will put you on a boat from there to the town where the lodge people will be waiting for you. You can expect to see Sloths, Macaws, Toucans, Jesus Lizards and more. I would say plan for 2 full days there so 3 nights. This website has info about transfers
Cahuita south of Tortuguero is a great little spot. It has a black sand beach, Playa Negra, which is blacker at different times of the year. I wanted to head down there but couldn't find any transport, however I met 2 couples at Tortuguero who were keen so we got the resort to book a van for us from Limon. Cahuita is a great little town for just having a few days off at the beach and that is pretty much all we did. If it's still there hit the Reggae Bar for afternoon drinks. We stayed at Playa Negra Guesthouse which was affordable, clean, had a pool and was just across the road from the beach.
The National Museum of Costa Rica was actually pretty good. I'm not a museum lover but I had met a couple of other women at the hotel and we all stuck together for the day in San Jose. They wanted to hit the museum so we did and I was very surprised at the quality of the exhibitions and how informative it was. I really enjoyed it.
One thing I did find was that there is a zip line in La Fortuna that is wheelchair capable. I met a young Swedish girl in a wheelchair at the hotsprings and she was showing me photos of her day which was doing ziplining in her wheelchair. So cool!
---
Want to just get on a tour to Costa Rica?
These tours are a small sample of what is available for Costa Rica. As most go to and from San Jose and there are very few that do the whole country, usually you will have to combine two tours with a few days in San Jose in between.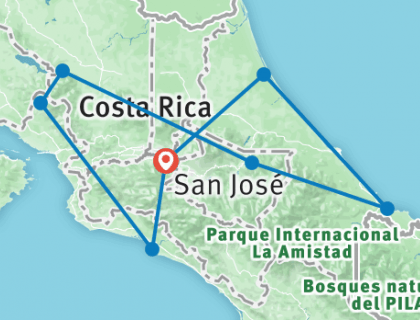 The Best Of Costa Rica
This 13 day trip available from Green World Travel (booked via Tour Radar} hits all the key points and activities. At $4089 AUD it's not cheap but if you get to see everything and don't have the stress of driving yourself, that's not a terrible price.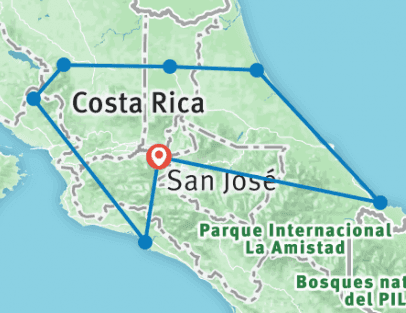 Costa Rica Adventure
At $1657 AUD for 16 days and hitting all the major parts of Costa Rica, this seems to be great value. G Adventures are a reputable tour company and while this link is via Tour Radar, I would seriously consider this one.
---