Visit Western Australia's Capital City Of Perth
Welcome to Perth, the sunniest capital city in Australia! I am excited to share with you my comprehensive travel guide to this beautiful city. Whether you are a nature enthusiast or a city dweller, there is something here for everyone. From its beaches to its hiking trails and its vibrant nightlife, Perth is a city like no other.

Having lived in Perth for a few years, I have a real soft spot for this great Australian city. I actually met my husband in Western Australia and we find ourselves in Perth frequently visiting family and friends.
If you haven't yet visited Perth – Its time!
---
Introduction to Perth
Perth is the capital and largest city of Western Australia. Located on the Swan River, the city is home to a population of over two million people (80% of WA's population) and is known for its vibrant culture and relaxed lifestyle.
With its mostly pleasant climate and diverse landscapes, Perth is the perfect destination for a holiday or business trip. I say mostly pleasant because it can on the rare occasion get really hot. I've spent summers in Perth with multiple days over 40 degrees, and while it doesn't happen often it can so be aware.
The city is renowned for its beautiful beaches, which are a popular destination for both locals and tourists alike. From its white sands and turquoise waters to its picturesque sunsets, Perth's beaches offer something for everyone. Not to mention, the surrounding area is also home to some of Australia's best hiking trails, allowing you to explore the great outdoors.
---
Weather and Seasons In Perth
Summer In Perth
Perth endures warm and arid summers with little or no rainfall.
Average summer temperatures fluctuate between 17.5 and 30 degrees Celsius. February typically emerges as the warmest month, boasting an average high of 31.6 degrees Celsius.
As the capital city of WA, Perth often experiences strong afternoon breezes, known as the Fremantle Doctor on clear summer days, which can cause the sea to become quite turbulent. The wind can get very strong so beaches should be visited early in the morning before the doctor arrives.
The sea temperature over the summer months varies from 20.9 to 22.8 degrees Celsius and hits its highest average of 23.4 degrees Celsius in March, so the ocean does stay quite cool.
On average, there are 25.8 days per year with temperatures exceeding 35°C, and 3.6 days per year with temperatures exceeding 40°C.
Winter In Perth
In Perth, winter temperatures are variable, but typically, July is the chilliest month, with an average high of 18.4 degrees Celsius.
Winter temperature variations are narrower than in summer, with highs generally between 16 degrees Celsius and 22 degrees Celsius, with lows between 3 degrees Celsius and 13 degrees Celsius.
Perth's wet season is also in winter which as a Queenslander was really hard for me to get my head around. It seemed really unfair to have the rain and the cold in the same season, but really the rain usually comes for a few days at a time and then disappears. Its not set in for weeks like some cities.
Spring and Autumn In Perth
Spring and Autumn typically have the same temperatures with Spring warming up and Autumn cooling off. You can expect temps in the middle of spring or autumn (fall) to be around 18-20 degrees C with much cooler nights.
It can still get down to 8-10 degrees at night at the start of spring but will move into the double digits before too long.
Likewise Autumn can still be warm until at least April with Easter typically being the last great weather before it really starts to cool down.
With an average daily sunshine duration of 8.8 hours, Perth enjoys approximately 3,200 hours of sunshine each year and has 138.7 days of clear skies on average, claiming the title of Australia's most sun-drenched capital city.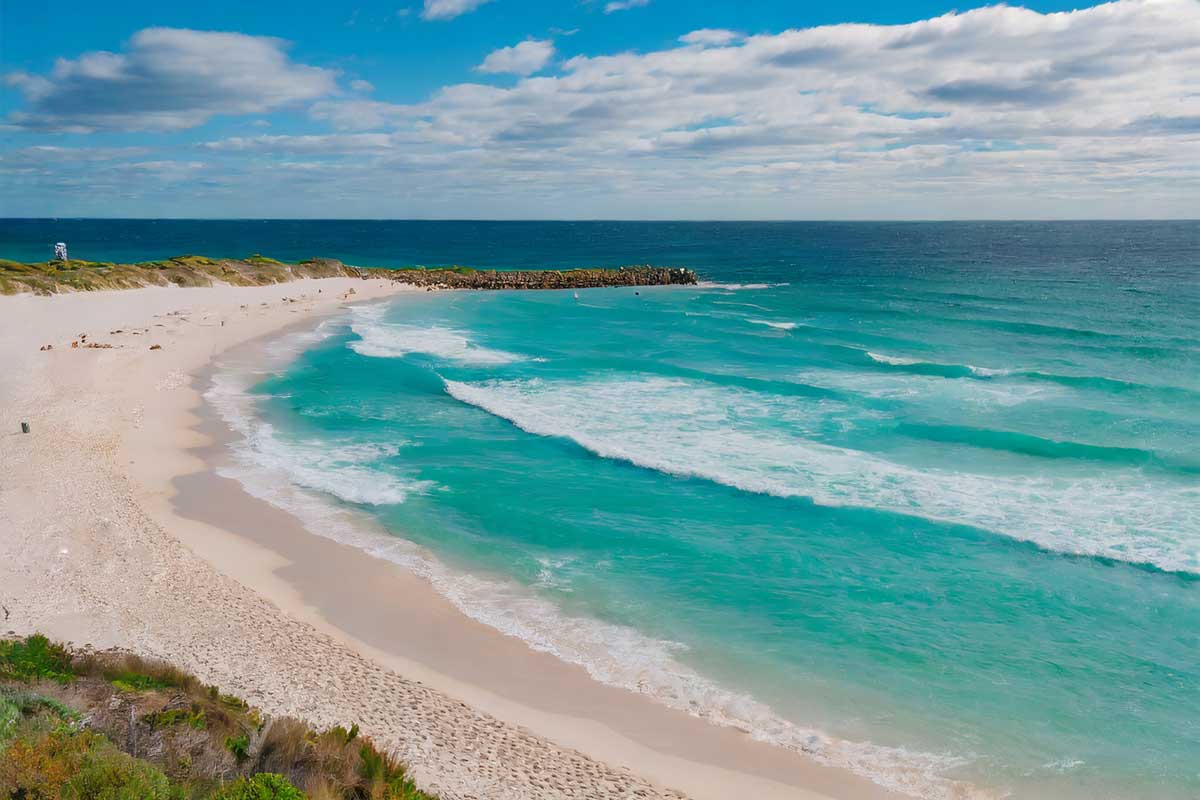 ---
What to See in Perth
When it comes to sightseeing in Perth, there are plenty of attractions to explore. From its colonial architecture to its world-class museums, the city has something for everyone. Here are some of the top attractions you must visit:
Kings Park and Elizabeth Quay
Kings Park is a 400.6-hectare (990-acre) park located on Mount Eliza in Perth, Western Australia. It is one of the world's largest inner-city parks, and is home to a diverse range of plants and animals, including over 3,000 species of native plants. The park also offers stunning views of the Swan River and the Perth skyline.
What to do at Kings Park
There are many things to see and do at Kings Park, including:
Visit the Western Australian Botanic Garden: The Botanic Garden is home to a wide variety of Western Australian plants, including wildflowers, trees, and shrubs.
Take a walk or hike: Kings Park has a network of walking and hiking trails, ranging from easy to challenging.
Visit the Lotterywest Federation Walkway: This elevated walkway offers stunning views of the park and the city skyline.
Visit the Aspects of Kings Park: This interactive visitor center tells the story of Kings Park through exhibits, films, and hands-on activities.
Have a picnic: Kings Park has many picnic areas, perfect for enjoying a meal with family and friends.
Climb DNA Tower – The spiral tower offers a great view out over the park and Perth city and is an easy climb.
See Gija Jumulu (The Giant Boab) – Thought to be over 750 years old this giant Baob (yes Boab and not Baobab) was a gift from the Gija people of Warmun in the East Kimberley region of far north WA. The tree was trucked down to Perth where trees were trimmed, power lines dropped and parking cleared for its journey through the inner city.
Kings Park War Memorial: This memorial is dedicated to the fallen soldiers of World War I and II. It is a poignant reminder of the sacrifices made in the name of freedom
The WA Government has a great website the showcases everything to see and do in Kings Park.
---
Elizabeth Quay
Elizabeth Quay is a waterfront precinct in Perth, Western Australia. It is located on the Swan River, and is home to a variety of restaurants, bars, shops, and attractions. This modern development is designed to connect the city with the river, offering locals and visitors alike a multifaceted area where leisure, entertainment, and natural beauty converge.
The Elizabeth Quay Bridge offers a scenic vantage point for photographs, and the public art installations scattered throughout the area add a touch of cultural sophistication.
What to do at Elizabeth Quay
There are many things to see and do at Elizabeth Quay, including:
Visit the Bell Tower: The Bell Tower is a 33-meter-tall tower that offers stunning views of Perth and the Swan River.
Take a ferry: There are a number of ferry services that operate from Elizabeth Quay, including ferries to South Perth, Fremantle, and Rottnest Island.
Visit the Swan Bells: The Swan Bells are a set of 18 bells that are housed in the Bell Tower. The bells are played every day at 12:15pm and 6:15pm.
Visit the Elizabeth Quay Visitor Centre: The Visitor Centre provides information on Elizabeth Quay and the surrounding area.
Have a meal or drink at one of the many restaurants and bars: Elizabeth Quay has a wide variety of restaurants and bars, catering to all tastes and budgets.
If you're visiting with children, be sure to check out the Elizabeth Quay Playground and BHP Water Park.
If you're interested in art, be sure to visit the Elizabeth Quay Art Gallery.
If you're looking for a unique souvenir, be sure to check out the Elizabeth Quay Markets.
If you're visiting in the evening, be sure to catch one of the many live music performances that are held at Elizabeth Quay.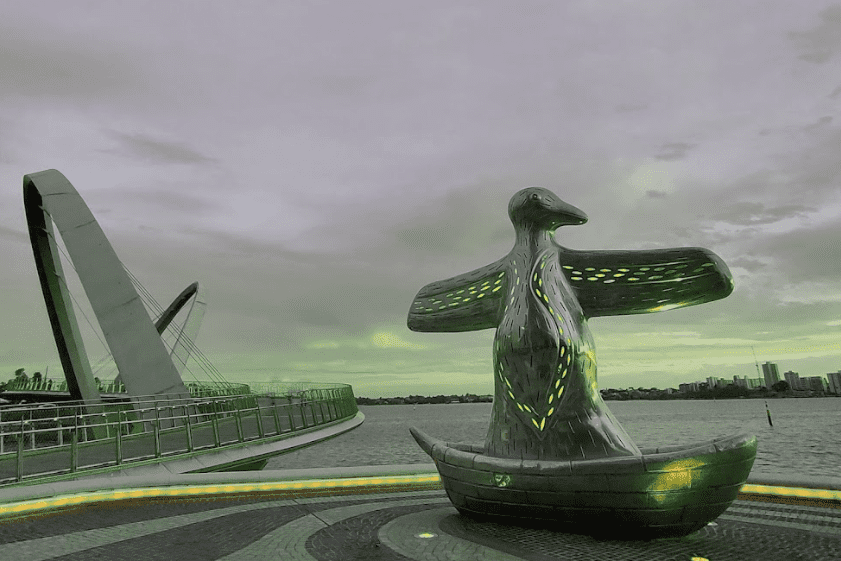 ---
The Museum Of Perth
While I am not always a massive fan of Museums, the Museum of Perth does a great job of chronicling the social, cultural, political, and architectural history of Perth, Western Australia.
Situated in the heart of the city, the museum serves as a reflective lens into the past, offering visitors a way of understanding of the city's evolution from its early days to the present.
The museum's exhibits feature a collection of photographs, maps, historical documents, and multimedia displays that bring the stories of Perth's people, places, and events to life.
The photographic collections are particularly compelling, offering a visual journey through the changing face of Perth's streetscapes and landmarks. The museum also houses a collection of oral histories, providing personal narratives that add depth and texture to the visitor's understanding of the city's development.
There is a great exhibition currently on display curated by the West Australian cycle club which showcases the first crossing of the Nullabor on a bike, which was done by Arthur Richardson in 1896. If you've every driven the Nullabor you can appreciate just how challenging this must have been!
---
Art Gallery of WA
The Art Gallery of WA is a great way to see some of the best art Western Australia produces. They have displays that are traditional paint and more interactive showcases as well.
From Indigenous artworks to contemporary award winners, the gallery has a wide range of art to see. They hold regular events and also have a wonderful store where you can purchase clothing, accessories and even fake nails designed by local artists.
I bought a lovely blouse about 3 years ago that I still wear today. Before you get to Perth you might want to purchase a first nations book to help you learn all about the local indigenous culture. The Noongar Bush Tucker book is really good.
The Gallery does rotate through different installations and displays so its best to check their website for what's currently on.
---
Fremantle Prison
Fremantle Prison is a UNESCO World Heritage Site and the largest convict-built building in the Southern Hemisphere. It was built between 1855 and 1865, and operated as a convict prison until 1991. Today, Fremantle Prison is a popular tourist attraction, offering a variety of tours and exhibits that tell the story of the prison and its inmates.
What to do at Fremantle Prison
There are a number of different tours and exhibits available at Fremantle Prison, including:
Behind Bars: This tour takes visitors through the main cell block and exercise yards, and provides insights into the daily lives of prisoners.
True Crime: This tour focuses on some of the most notorious criminals who were incarcerated at Fremantle Prison, including Moondyne Joe and Martha Rendell.
Tunnels Tour: This tour takes visitors underground to explore the network of tunnels that were built by prisoners in the 1860s.
Torchlight Tour: This evening tour takes visitors through the prison's darkest corners and tells stories of ghosts and hauntings.
Convict Prison: This exhibit explores the lives of convicts and ticket-of-leavers in Western Australia, and the role that Fremantle Prison played in their lives.
Tickets are available on the Prison website however you can't purchase all tours online. Check out this page for the info and number for the ticket office.
It is recommended you either purchase or book your tours during the busy times which is usually over the summer break or school holidays.
---
Visit Perth's Beaches
No visit to Perth would be complete without visiting its stunning beaches. From Scarborough Beach to Cottesloe Beach, the city has something for everyone. Here are some of the best beaches to explore:
Scarborough Beach
Located in the northern suburbs of Perth, Scarborough Beach is a popular destination for beachgoers and surfers alike. It features white sand and crystal-clear waters, and is the perfect spot to relax and soak up the sun.
I lived in Scarborough Beach for a few years and worked at Club Atlantis which was the nightclub at Observation City Hotel. It was a great few years and I have really fond memories of Scarborough Beach in particular.
Cottesloe Beach
This beach is situated slightly south west of Perth city. It is known for its calm waters and picturesque views of the Indian Ocean. Cottesloe Beach also has a photogenic bathing pavilion that shows up in almost all photos of Cottesloe.
Parking is notoriously challenging at Cottesloe Beach so consider taking public transport from the city or getting there early to secure a park.
If you are someone who would like to get a more "all around tan" there is a beach suited to you just north of Cottesloe. Swanbourne beach "all around tanning area" is at the north end of Swanbourne beach.
Coogee Beach
This beach is located in the city of Fremantle and is the perfect spot for a day trip if you are staying in the southern suburbs. It features a large grassy area, perfect for picnics, and is a wide long sandy beach. Woodman point recreation reserve is here which has a selection of good spots for your picnic lunch or BBQ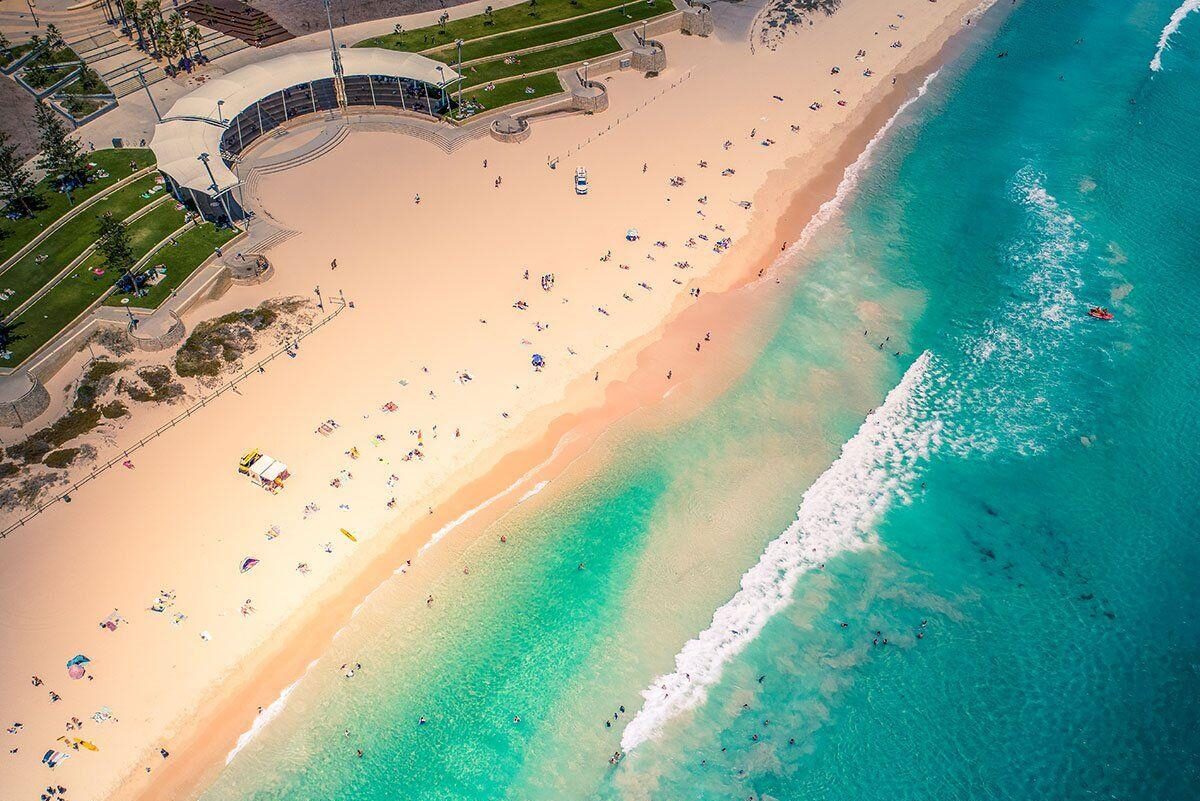 ---
About the author
Meet Jenny, a passionate Australian travel blogger who has explored 103 countries to date. With over 30 years of travel experience, Jenny has a wealth of knowledge to share with her readers about the cultures, landscapes, and people she has encountered on her journeys. She's always battling unfashionably frizzy hair and you will never catch Jenny in anything but comfortable shoes. Learn more about Jenny and her travels.
---
Rottnest Island
Rottnest Island, affectionately known as 'Rotto' by the locals, is a stunning island getaway just off the coast of Perth in Western Australia. Known for its tranquil turquoise waters, white sandy beaches, and the adorable Quokka, a small marsupial found nowhere else on earth, the island is a popular destination for both tourists and Perth residents looking to escape the bustle of city life.
One of the island's main attractions is its unique ecosystem. Visitors can enjoy a range of outdoor activities such as snorkeling in the crystal-clear waters, where they'll find a variety of marine life in the coral reefs.
Diving is also a popular pursuit, with shipwrecks around the island providing fascinating underwater exploration. Beware however that the waters off Rottnest are never warm. They might not be freezing but I've never swum on Rotto without having a few seconds of "whoa this isn't particularly warm".
The island is also a haven for beach lovers, with some of the most beautiful and secluded beaches in the world. The Basin, Geordie Bay, and Pinky Beach are just a few of the spots where one can relax on the soft sand or swim in the warm waters.
Getting to Rottnest Island is easy with ferries regularly departing from Fremantle, Hillarys Boat Harbour, and the city's own Barrack Street Jetty. The trip offers stunning coastal views and, if you're lucky, you might spot some dolphins along the way.
Remember that while the island is only 25kms offshore, the water can get rough particularly on the way home. Once the afternoon wind comes in it can be very choppy. If you are prone to sea sickness checking the conditions and taking some medication might be the best thing.
Once on the island, bicycles are the transport mode of choice, though there are also bus tours available for those who prefer a guided experience.
Rottnest Island is not just a day trip destination; it also offers accommodation options ranging from camping to premium lodging. However the accommodation is limited and getting a room during any school holidays, but particularly the summer break can be very challenging. Book as early as you can to secure it.
Tours for Rottnest Island
Sometimes it's just easier to do a tour. These options will allow you to have someone else organise your day on Rotto. See if there is something that suits your style and budget.
---
Hiking and Nature Walks in Perth
Perth is home to some of the most beautiful nature walks and hiking trails in Australia. From the King's Park Nature Trail to the Bibbulmun Track, there is something for everyone. Here are some of the best trails to explore:
King's Park Art In The Park Walk
This easy-to-moderate trail offers stunning views of the city skyline and the Swan River. It is a popular destination for hikers, birdwatchers, and nature lovers alike. At only 2.6km it takes about half an hour plus photo time of course. This is the AllTrails link and if you would like something longer you could try Kings Park Perimiter trail.
Rocky Pool Walk
A short 4.8km loop trail in Kalamunda has a great rocky creek swimming hole for a cool down. It has only 200m of elevation change so suitable for most people. Find it on AllTrails here.
Perth Foreshore Trail
If you are visiting Elizabeth Quay, you could combine it with a 10km walk around Perth Foreshore. It is a loop trail means that you start and end at the same point and at 10km long its only a few hours. The trail takes you over both Perth city bridges, along the foreshore on the city side and then along the river on the Southern side. Its a great walk with plenty of facilities along the way.
---
Cricket at the WACA
The Western Australian Cricket Association (WACA) is the home of cricket in Perth. It is home to a number of state and domestic matches, and is the perfect spot for cricket fans to catch a game. It also offers a number of activities, such as tours of the ground and lessons for aspiring cricketers.
The WACA used to be the home of Cricket in WA, however since it's redevelopment and reduction to 20,000 seats, all large international games are now played at Optus Stadium.
Aussie Rules football also used to play a lot of matches at the WACA however after the last redevelopment the ground was too small. It's been increased in size recently and there are a few football matches slated for next year (2024).
Other Sports and Sporting Events in Perth
If you are a soccer fan, consider heading down to the Fremantle city football club to watch a high level mens Soccer game. The season for soccer is winter in Australia so they will start games around the end of February. The club plays across different grounds so check out the schedule and location of the field.
Why do I suggest Fremantle City Football Club? Fremantle area has a large number of European origin families who settled in the area. Soccer (or football) is more popular in this area and the skill level is in my personal opinion the highest in this region.
AFL is played during the winter season and both Perth Teams, The West Coast Eagles and Fremantle's Dockers are fairly competitive (for the most part). An AFL game will leave you completely confused if you've never seen it before but it can be very exciting that's for sure.
I watched heaps of AFL during my 20's as a close friend played, but I'm not up on it at all now. However – I always watch the finals series as I find that outside of American football I find AFL can be really heart stoppingly thrilling. My personal love is NRL or American football but I never miss the AFL finals season.
The West Coast Eagles play at Optus Stadium as do The Fremantle Dockers.
The Big Bash League of Cricket is played also at Optus Stadium and pending touring commitments you might be lucky enough to catch the Australian team playing a test during the summer.
The Perth Fever Netball team play at RAC Arena during the winter months. Netball is a super fast and very quick game to watch. If you've never seen a game, check out the Fever's website for their home game schedule.
---
Swan Valley Wineries
Perth wineries are some of the best in the world. The Swan Valley wineries are particularly renowned for their quality and selection of wines. Swan Valley is home to some of the most prestigious wineries in Western Australia. Sandalford, for example, is one of the region's oldest and most renowned wineries. It has been producing premium wines since 1880, and is renowned for its range of award-winning wines.
The Sandalford Estate is a picturesque place to visit, as it is set amongst rolling hills and vineyards. Visitors can appreciate the history of the estate and enjoy a range of activities, from wine tastings and tours of the estate, to al fresco dining and unique experiences.
The Mandoon Estate is another renowned Swan Valley winery. It has a rich history and has been producing premium wines for over a century. The estate is home to a range of wineries, including a cellar door, a restaurant, and an amphitheatre.
Visitors can enjoy wine tastings, tours of the estate, and unique events and experiences. Mandoon Estate is renowned for its range of award-winning wines, including sparkling wines, sauvignon blancs, and shiraz.
The Swan Valley wineries offer visitors the chance to sample some of the best wines in the world. Whether you are looking for a relaxing day out, or an unforgettable experience, Perth wineries are sure to satisfy. Swan Valley wineries are renowned for their quality and selection of wines, so come and experience what Perth has to offer for yourself.
Swan Valley Wine Tours and Tastings
Its always best to leave the car at home when you are doing a winery tour. Here are some great options from Perth city for full and half day winery tours.
---
Venture out of Perth City
There are many things to see and do just outside of Perth city. You might like to swim with the wild dolphins, or Rockingham for a boat trip to the Shoalwater Islands or even do a tour of the Pinnacles with some stargazing thrown in.
Pinnacles Tour From Perth
---
Conclusion: Getting The Best From Your Perth Vacation
Perth is a vibrant city with something for everyone. Whether you're a nature enthusiast or a city dweller, the city has something for you. From its iconic architecture to its world-class museums and its stunning beaches, Perth is a city like no other. I hope this comprehensive travel guide has inspired you to explore the beauty of Perth and its surrounding areas.
---
---