How To Visit Deadvlei & the Sandunes of Namibia
I'm not sure if it's the contrast of black against white or the desolate landscape that makes Deadvlei so fascinating, but this area is unlike anything I've ever seen. It's a truly unique place, but there are also some simple things you can do to make sure your visit is as good as it can be. I really loved my visit to Deadvlei and with this guide, I will take you through everything you need to know. From finding your way around Namibia to selecting accommodation and activities when visiting Deadvlei and Sossusvlei National Park!
What Is Sossusvlei and Deadvlei Namibia?
Deadvlei is a salt and clay pan, and part of the Sossusvlei dunes in the Namib Desert, inside Namib-Naukluft National Park. The area around Deadvlei is known as "the valley of death" because it was once covered with vegetation and trees that were destroyed by the shifting sand dunes. The dead trees are now black stumps sitting in the contrasting white salt pan. Another question I get asked is about if it is Dead Vlei, Namibia, or Deadvlei. It is one word, but you won't have trouble finding information on it if you split it into two words. Google's smart like that!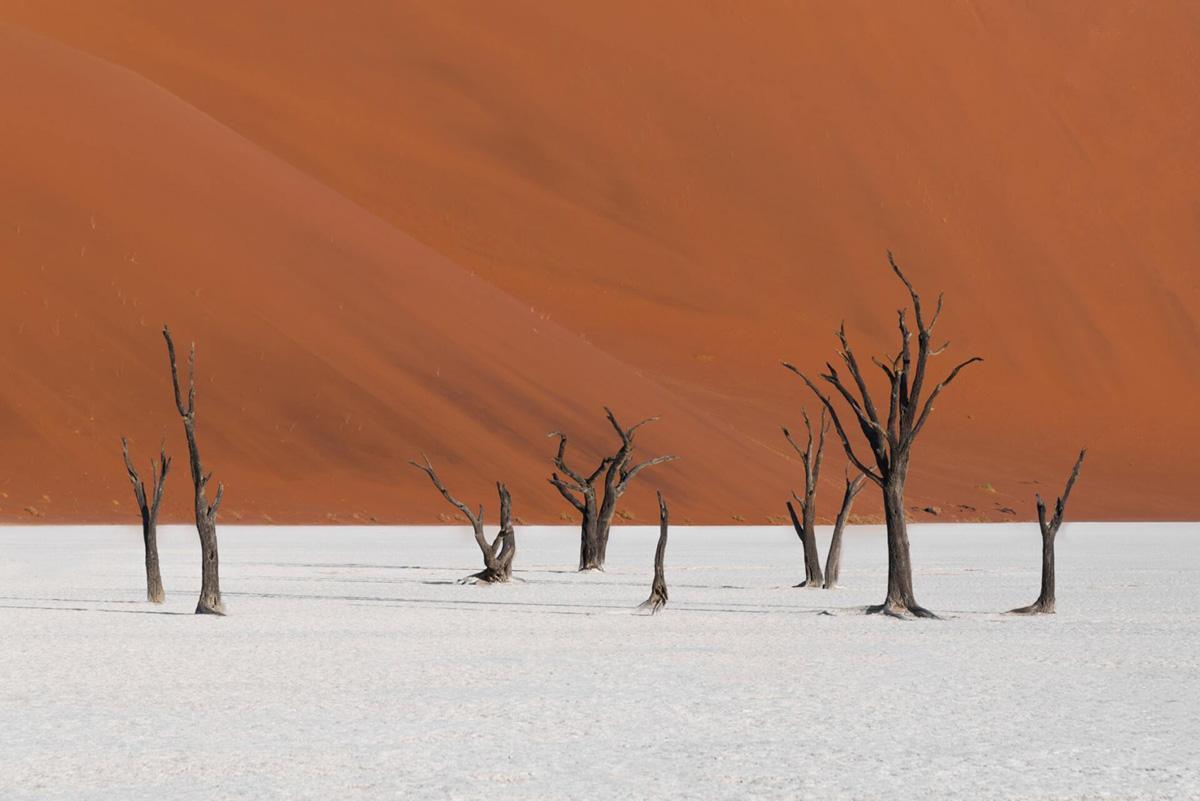 Where Is Deadvlei National Park?
Deadvlei, home to the ghost trees of Namibia, is in the Namib-Naukluft Park in Namibia. Also written as DeadVlei or Dead Vlei, its name means "dead marsh". Located on Namibia's desolate western coridor, Deadvlei and the Sossusvlei sand dunes are about 370km south of Windhoek and over 450 km from Swakopmund. If you are heading up the Namibian coast toward Etosha National park, Hammerstein or Sesrium would be the locations to stay for a visit to this amazing national park.
What Happened To The Trees At Deadvlei?
If you've never seen a photo of Deadvlei, where have you been hiding?? It is a contrasting pan of white salt basin, red sand dunes, bright blue sky (this is Namibia after all) and the black trunks of the long-dead Camel Thorn trees.
Almost 1000 years ago the Tsauchab river flooded which resulted in the death of much of the area's vegetation allowing these Camel Thorn trees to grow. They grew strongly for some time, however when the river dried up and the area returned to the desert it is, the trees died and turned this into the surreal tree graveyard that you see today.
The tree trunks haven't deteriorated at all which is due to the dry humidity-free climate. They are very much like petrified wood, extremely tough and weirdly smooth to the touch. A photographer's dream, Dead Vlei is very popular with all tourists that visit Namibia,however, it can be hard to get that perfect shot if you don't visit at dawn or dusk. The bitingly strong overhead sun doesn't make for great photo opportunities but it is something that everyone should see.
When To Visit Deadvlei & Sossusvlei In Namibia
You'll want to go during the dry season, which is May through October. The rainy season runs from November to April and is not a good time for any type of Namibia trip.
How Long You Need At Deadvlei?
Driving from the gate to Deadvlei is about 20 minutes or 4km and should not be attempted in anything that isn't a 4wd.
Walking around the salt pan takes about an hour. You can also take a horse ride or camel, both of which are available at a small fee next to the parking lot.
Of course if you decide to climb any of the sand dunes you can add hours into your day.
If you decide to walk from the gate into Deadvlei, be prepared for soft sand and of course heat!
Getting Around Deadvlei Site
There are jeeps that transfer you in from the carpark and its easy to organise. I would recommend this course of action unless it isn't a super hot day as I walked in and it did start to get pretty warm. I was glad I walked and I got some great photos, however returning out is the main challenge as by that time, it's close to midday or even early afternoon. The transfer isn't a lot of money, so I would even consider paying for the return trip, walking in, and then getting the jeep back. The trail in is knows as the "Deadvlei Hiking Trail" but its really just the walk in from the carpark.
Once you are in to the basin you can walk freely through most areas.
My post on Dune 45 at Sossusvlei has info on seeing the Sossusvlei dunes which are very close to Deadvlei and are worth combining into your day trip.
How to get to Deadvlei Sossusvlei
Driving To Deadvlei
The easiest way to get to Deadvlei is to drive. Deadvlei is located on the western corridor of Namibia inside Namib-Naukluft National Park with drive time from Swakopmund or Windhoek sitting at around 5 hours. Because of the distance from either major town, I would highly recommend a 2 night stay in or around Sesriem to make the most of your visit to Deadvlei. This will enable you to do a sunrise hike up Dune 45 and spend a good amount of time at Deadvlei as well. Rental Cars Connect has hire cars from $120 USD for 2 days from Windhoek airport. These will be only suitable for the highways. If you intend to go offroad, 4wd hire will have to be done locally.
Driving from Windhoek to Deadvlei is pretty easy on mostly good roads so if there are a few of you and you can distribute the cost of a rental, I would definitely consider that.
Public Transport to Deadvlei
There are no public transport options between Windhoek or Swakopmund and Deadvlei so driving or making the most of an organised tour is the way to go.
Flights to Deadvlei
Flights from Swakopmond to Sesriem operate daily and take around 40 mins operated by Westair Aviation. You can search for flights using the Fly Namibia website. This is a small operator so their flights usually won't appear on Skyscanner, Momondo or Google Flights. From Sesriem a 5 hour tour runs from Sossusvlei Lodge and pending departure times you may be able to visit in one day.
Flights are currently around $530 USD return from Swakopmond with the times as below.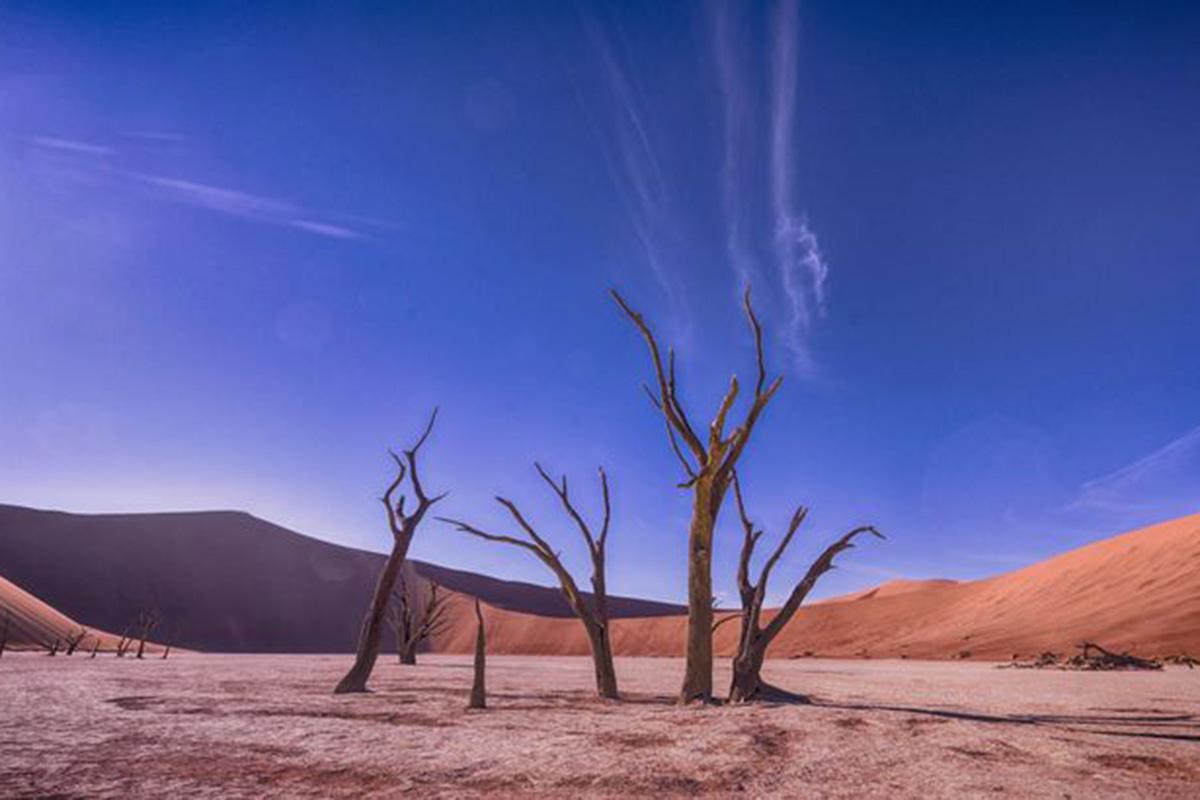 Where To Stay At Deadvlei Sossusvlei Namibia
With Deadvlei being a 4 hour drive from either Swokopmund or Windhoek, you are better to stay close by at either Sesrium or Hammerstein. There are quite a few options for accommodation around Sesrium, and along either the C27 or the C19 highways that travel south from Sesrium. Accommodation in and around Sesrium is only an hour drive from Deadvlei and will also enable you to see the sunrise from the Dune 45 lookout. Check out the accommodation widget below, search for Sesrium and remember to zoom out to see more options. You should see current prices and changing the date to reflect your expected visiting time will mean you will get more accurate rates.
Accommodation Around Sesrium
Tours That Include Deadvlei
Most multi day tours of Namibia will include Deadvlei however these 2 and 3 day tours may be more suitable if you find yourself after a more dedicated area tour.
Multi Day Namibia Tours
Alternatively Viator has a few 9-12 day full Namibia tours that include Deadvlei Sossusvlei (shown below) and Travel Talk have a great 11 day Camping tour for only $1905 AUD. If your camping days are behind you, they have an accommodation option for around $3600 AUD
Things To See Near Deadvlei
The Sossusvlei Dunes are a must-see for any visitor to the Namib Desert. These towering sand dunes are some of the most famous in the world, and one of the reasons Deadvlei is so popular as well. Don't miss out on seeing these natural wonders while visiting the area!
Below is a list of all the dunes near Deadvlei that you can visit while on your trip through this unique part of Namibia:
Sossusvlei Dunes – This is where you will find Deadvlei, but there are many other dunes nearby that can be explored as well. They will likely be different colors than those found at Deadvlei due to their distance from each other and other factors like sunlight or winds at different times during day/night cycles. Many people enjoy climbing up onto these large sand mounds when visiting Namibia because it gives them a better perspective on how difficult life may have been before humans came along with all our modern conveniences such as electricity!
Dune 45 – This particular mound may look familiar as it is very popular for sunrise viewing. Check out my Dune 45 post for more info on this massive dune.
I don't think I would be alone in saying that Deadvlei is really beautiful and definately somewhere you should visit while you are in Namibia.
Notes For Over 40 Travellers to Deadvlei
Most of you will combine the Dune 45 sunrise with a visit to Deadvlei Sossusvlei on the same day. While the hike up the ridge of the dune to see the sunrise isn't awful it is soft sand and I found myself huffing and puffing by the time I got to the top. I ended up coming back down about half way and sitting there as there were a few chatters at the top and I wanted to sit in silence. It is worth noting that I had been on an overland truck for months at this point so my fitness was attrocious but I did find myself in the company of some other 40+ travelers in my little "half way up spot" so I'm assuming that I wasn't the only one that found the going to the top tough.
Shoes are of course a must for the full day however I would recommend stopping periodically and emptying out the sand to avoid the chance of blisters.
Walking into Deadvlei from the carpark is really worth doing and if you aren't on a time crunch, walk back out as well. However – there wasn't anywhere to top up with water when I was there so you need to ensure you have litres of water if you intend to walk in and out.
The path in is mostly tracks that the jeeps drive but it is soft for a lot of the walk so despite it being flat, it isn't a stroll. You do find yourself wishing that the soft sand would stop.
If you want to walk in and get the jeeps out – spring for the two way ticket so you can get on a jeep coming back. If you haven't purchased a ticket before you go in you can't to get out and while mostly they will just let you pay at the car park when you arrive, it does depend on the person manning the loading area so to be safe and not have to walk out in the heat of the day grab a jeep transfer before you walk in.
Conclusion: Visiting Deadvlei Namibia
No matter whether you go on a tour or drive yourself, Deadvlei is one of Namibia's most visited destinations. It is really worth seeing but make sure you take the following items for your day out in the sun.
What do I need to take to Deadvlei?
You can't do Deadvlei and Dune 45 without the following items:
Hat – preferably with a good brim. A cap won't cut it here
Sunscreen that you reapply. Try to avoid your eyes as you will sweat and it will run.
WATER and heaps of it. I would take 4-5 litres of water per person, especially if you are going to walk in from the car park. You don't need to carry all that obivously, but if you climb the dune before you get to Deadvlei you will already have consumed the best part of a litre and you can't ever have too much water.
4WD car IF you plan on driving into Deadvlei. Alternatively you can pay for a transfer from the carpark in and out or walk.
CASH to pay for the transfers from the carpark
Good walking shoes. Boots are not required and may in fact be hotter than standard sports shoes.
Your phone or a camera for photos. Don't forget to get at least one photo with a person. I took many with no people and you just can't get the sense of scale you can with people in the image.
---
Some More Namibia Posts You Might Like
These posts might help you particularly if you are interested in both the Sossusvlei dunes & Deadvlei Namibia
Climbing the dunes at Sossusvlei Namibia
Watching the wildlife at Moringa Waterhole Etosha National Park