Zimbabwe: What to See And Do In This Small But Mighty Country
From Lake Kariba, to the Great Zimbabwe Ruins, there is a lot to see and do in Zimbabwe. I really enjoyed the country and made more than one local friend.

If you are wondering what there is to see in Zimbabwe, besides Vic Falls, read on to learn what Zimbabwe has to offer. Zimbabwe was one of the countries I loved the most in Africa and fingers crossed you will too.
---
1. Victoria Falls
When you visit Victoria Falls, you are immediately struck by the overwhelming size of one of the seven natural wonders of the world. The largest waterfall in the world and known as "the smoke that thunders", Victoria Falls is majestic.
Located on the border of both Zimbabwe & Zambia, this UNESCO world heritage site can be visited any time during the year, however it is ideal to visit during a full moon or between May and August when there is the most water flowing over it.
As one of Africa's greatest attractions, visiting Victoria Falls will still amaze you even though you would know about it and possibly researched it before you get to Zimbabwe. I just couldn't believe the sheer size of it. Check out my Ultimate Guide to Vic Falls for more info
---
Some Amazing Extra Activities to do at Victoria Falls
---
2. Chimanimani National Park
Chimanimani National Park is one of the most beautiful parts of Zimbabwe. It is a remote wilderness in the east of the country sharing a border with Mozambique. It is a great place for hiking and climbing (the name Chimanimani means "big mountains") and there are caves you can sleep in or a hikers hut at the top of the range. The park is also a birdwatcher's paradise, with over 400 species of birds recorded, including some rare species such as African Finfoot and Livingstone's Flycatcher.
With an experienced guide you can hike up to Skeleton Pass which gives you an awesome view down into the Mozambique side of the border. If you are interested in doing a hike in Chimanimani, please get in touch with my friend Collen via his website. There are also some lovely waterfalls and a spring that the locals believe is holy water.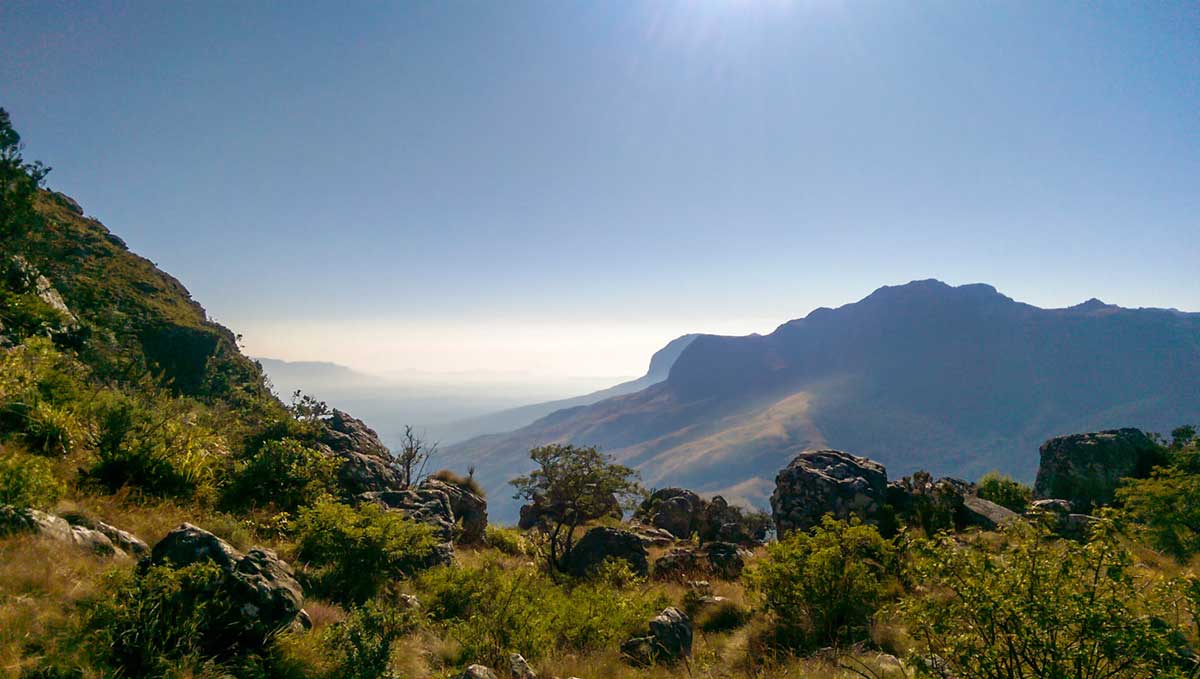 ---
3. Visit The Attractions Around Bulawayo
Bulawayo, the second-largest city in Zimbabwe, is unique in that it's the oldest city in the country. Although it's not as modernized or bustling as its northern neighbour Harare, Bulawayo offers visitors a look into Zimbabwe's fascinating history. Some of the historical sites worth visiting here include:
Rhodes Estate
Khami Ruins (further down this page)
Mzilikazi Art and Craft Centre
Zimbabwe's National History Museum
Bulawayo also boasts a thriving economy and industrial centre. During your visit, you can spend time exploring some of the city's key industries.
Railway Junction is a major railway junction and transport hub, and an excellent place to observe how goods are distributed throughout the country. There is a Railway Museum at the station however some of the older steam engines have been rebuilt and returned to service after a severe shortage. You can still see Cecil Rhodes personal carriage which is a little weird if I'm honest. The level of decadence seems at odds with how severely the locals would have struggled to even put food on their tables.
I have to make note that Bulawayo is not a pretty town. It's a decent size and there are some great local cafes and small restaurants but its dry, dusty and very run down. There are little stall holders that set up around the central city that you can buy small souvenirs and art works from, but again, while I liked it, its not a pretty city.
---
4. Chinhoyi Caves
Were you wondering what is the famous tourist attraction just outside the city of Chinhoyi? It's Chinhoyi Caves. I had heard of Chinhoyi before my African Overlanding trip and had put it in my notes for Zimbabwe. Unfortunately I couldn't remember why until I started asking when I crossed the border.
The Chinhoyi Caves are a highlight of any trip to Zimbabwe. Located in the Mashonaland West Province, this local natural attraction boasts gorgeous chambers of stalactites and stalagmites, which have been created by the slow dripping of minerals over millions of years.
Ancient rock paintings can also be found on the walls at Chinhoyi Caves, some are pre-colonial, and some date back to more recent times! These caves are also considered to be one of the most sacred places in Zimbabwe. Shona consider this a significant site because it is where their most religious community member has or did communicate with their ancestors.
The caves are open to all visitors every day except Wednesday (when they're closed for cleaning).
If you are driving from Harare to Lake Kariba, you can find Chinhoyi Caves about 130km out of the city. While Zimbabwe was really suffering when I was there I believe that you could possibly get tours from Harare now.
Multi Day Tours That Visit Chinhoyi Caves
I could only find one multi day tour that visits Chinjoyi Caves and it does also include a few nights on a houseboat on Lake Kariba.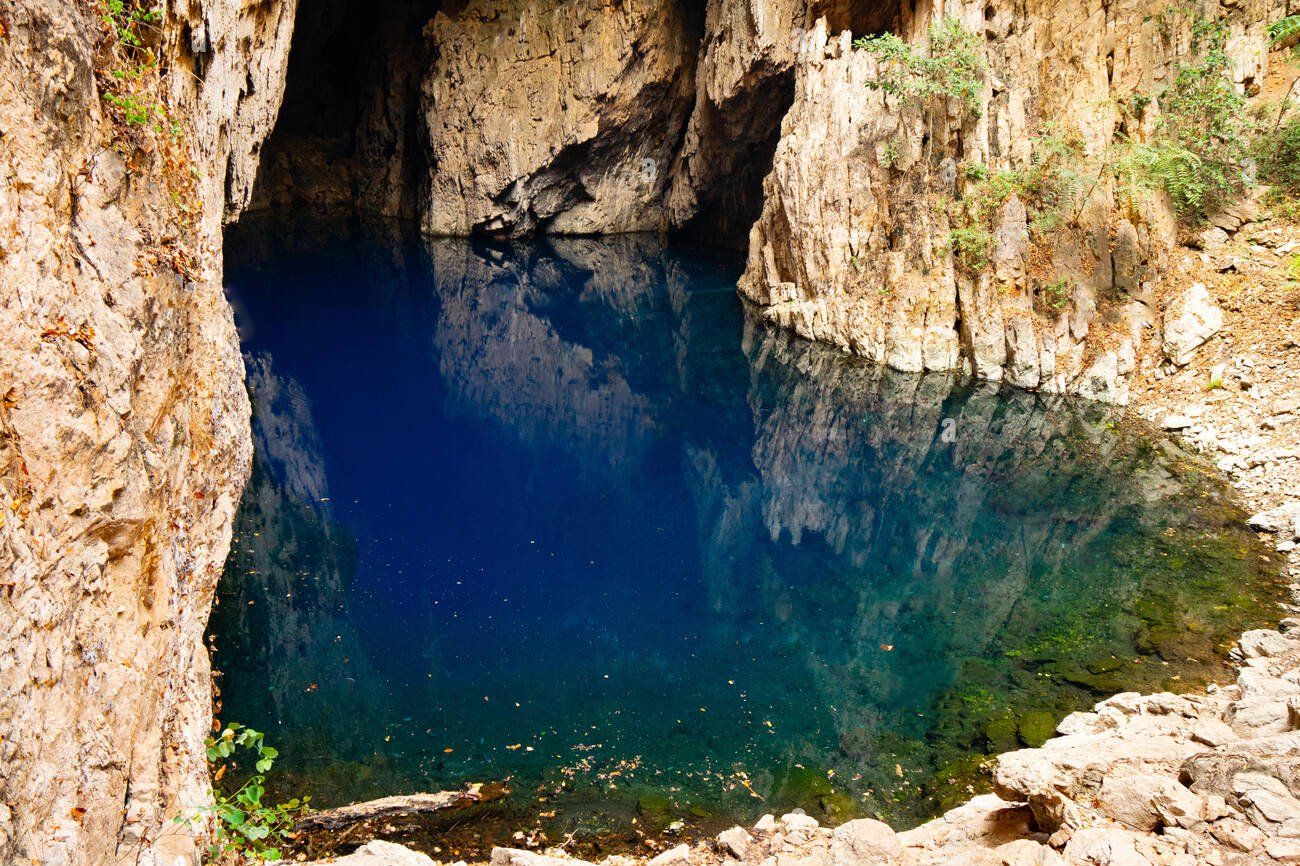 It's hard to get good pictures of Chinhoyi Caves. You end up quite close to the water to really appreciate the blue so photo's aren't great. I also didn't want to edit them to look bluer so unfortunately this is what mine look like.
---
5. Lake Kariba
Lake Kariba is a man-made lake located in the heart of Zimbabwe. Created when the Zambezi River was dammed, it sits on the border between Zimbabwe and Zambia. With a surface area of 5,580 square kilometres (2,150 sq mi) and length of over 150 kilometres (93 mi), it is the largest man-made reservoir in Africa and second largest in the world. The lake provides an important source for fishing, protection from floods, electricity generation and tourism.
The lake is also home to abundant wildlife including hippos, crocodiles and elephants; its shoreline is dotted with busy resorts as well as numerous game preserves such as Matusadona National Park. Sunset over Lake Kariba is a nice way to finish your day and almost any accommodation in the area can organise a sunset cruise for you.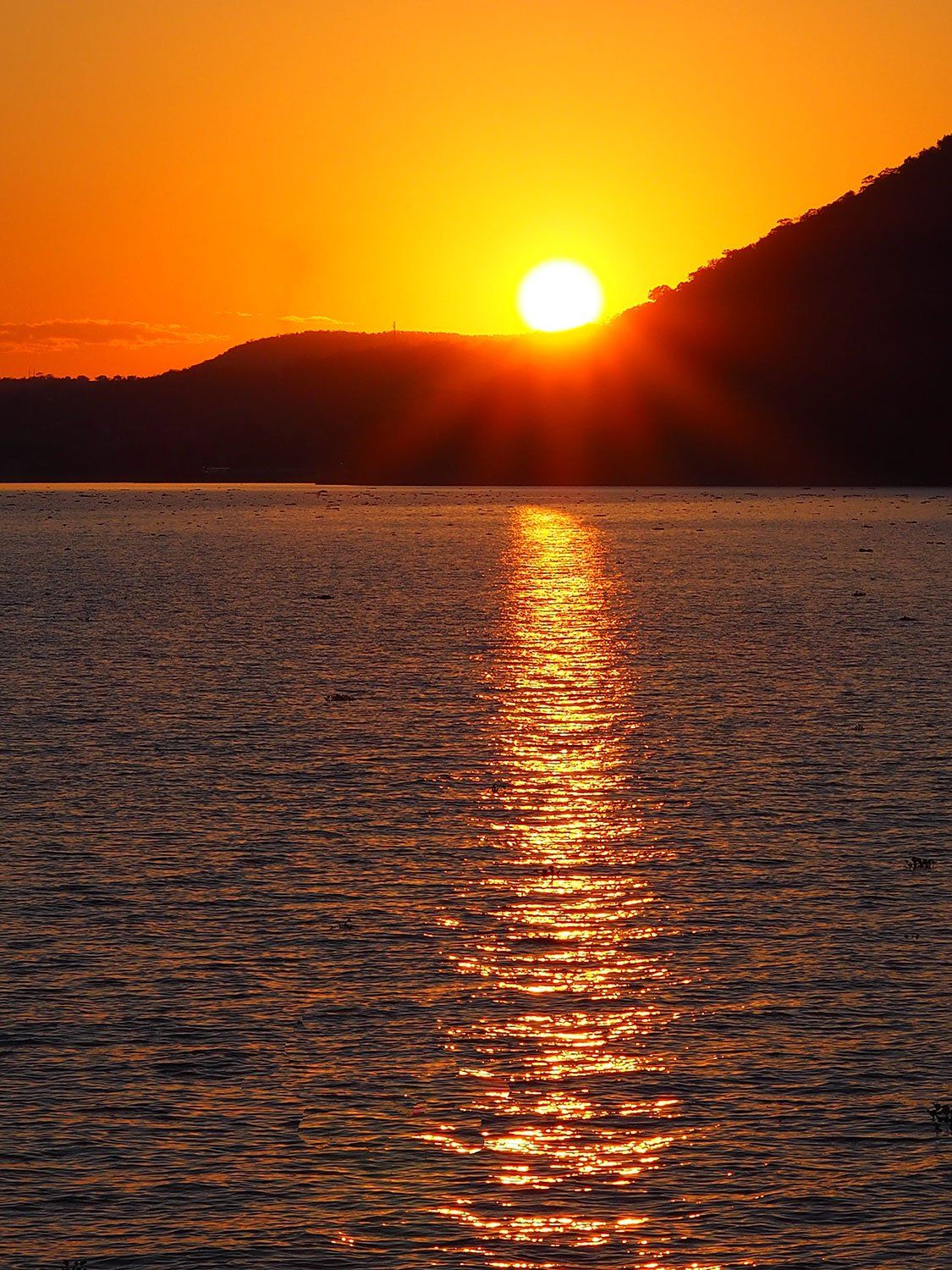 ---
6. Visit Harare
Harare is the capital city of Zimbabwe, located in the northeast part of the country. The city has a population of 1.6 million people, making it one of the largest cities in Zimbabwe and Southern Africa as a whole.
In addition to its history and cultural significance, Harare is an important centre for commerce with a large stock exchange and manufacturing sectors. Its financial district is home to various institutions including banks and insurance companies that offer services to both domestic and international clients.
Harare also has a number of parks for recreation including Prince Edward Park which hosts sporting events such as football (soccer). The Natural Sciences museum is worth a visit, as is the granite hill of Kopje that has a great view out over the city. The Shona Sculpture Gallery is great and the balancing rocks just out of town are pretty cool. Harare is more of a jump off point to surrounding attractions than a place to spend an extended period of time.
NB: The dentistry is great in Harare, so if you are planning a trip – pre book any dental work you need. I got a full clean, 2 fillings and my teeth whitened for just over $210 AUD!
Day Tours And Trips In Harare
The Harare City Tour which includes Balancing Rocks, Mbare Township and the Bushman's cave is the one I would choose. I didn't get to do the township and being able to do a city tour with both the Balancing Rocks and the Bushmans cave would really be worth it.
I had to get a driver for the day from my hotel which I think cost me around the same and it was only to see the rocks and the bushman's cave. The Balancing Rocks are one of the best known major landforms in Zimbabwe and are definitely worth seeing.
---
7. The Khami Ruins
The Khami Ruins are the oldest ruins in Zimbabwe. They were once a capital city and were built by the Torwa dynasty, who ruled in Zimbabwe from 1450 to 1683. The ruins were considered to be a great center of power during their heyday and were also the seat of government for the Torwa Kingdom.
If you love UNESCO World Heritage Sites, then this is definitely a must-see for you!
You can get an English speaking guide at the gate entrance and the day I was there she was great. Like many places in Zimbabwe, the entrance does look a little forlorn, but the guide was great and there are a few things to see here.
Khami Ruins are only 20k from Bulawayo, so I would visit this site while you are staying in Bulawayo.
Check out my Zimbabwe Destination page for all Zimbabwe Posts
---
8. Explore the Matobo Hills.
Tucked away in the southwest corner of Zimbabwe lies the Matobo Hills, a series of hills that are dotted with granite outcrops, remnants of ancient volcanoes. These hills have been declared a UNESCO World Heritage Site and are home to more than 600 species of flora and fauna. The hills also offer stunning views over the surrounding landscape, and within their rocky sides they contain innumerable caves that were used by Bushmen for many centuries as homes and living spaces. There is much to explore here, including dramatic monoliths, giant boulders, grassy plains and forested slopes as well as San rock art sites (the San people lived in this area for thousands of years).
The best way to explore the Matobo Hills is by foot or on horseback. There are numerous hiking trails that wind up through the hills. This is also one of Zimbabwe's top areas for bird watching: over 240 species have been recorded here including eagles, vultures and warblers. You will also be able to see large mammals roaming through the bushveldt: rhinos, giraffes and zebras along with a variety of antelope species.
If you fancy something a little more unusual then you can visit some of the nearby caves which hold rock-art paintings from thousands of years ago or try your hand at caving with an organised tour group.
---
9. Hwange National Park
Hwange National Park is the largest game reserve in Zimbabwe. Like a lot of other public spaces and parks in Zimbabwe, Hwange has suffered from lack of government support, however the safari camps have ensured that this is by far the best managed national park in Zimbabwe. On the Botswanan border, Hwange is best visited between May and November mostly because it is the dry season so game is far easier to see.
It is very hard to see what is operating at the moment (COVID status is uncertain), however there are a few lodges around the park.
Just be aware fully inclusive safari lodges can be VERY expensive and it can be hard to find the cheaper bush camps online. While they are all inclusive, 3 nights (for 2 full days of safaris) can start at $3500 AUD! Because of this a lot of visitors choose to do a trip from Vic Falls with one of the smaller day trip operators.
This 2 day trip will set you back around $700 AUD per person, or you could even consider a day trip. It is only around 120km to the edge of the park, however I'm not 100% sure that you can take your own car in so a day trip might be a better option.
Hwange National Park Trips From Vic Falls
---
10. The Great Zimbabwe Ruins
The Great Zimbabawe ruins are the remains of a massive walled city in Zimbabwe and are a UNESCO World Heritage Site. I had previously thought that UNESCO had 10 heritage sites in Zimbabwe, however there is only 5. Great Zimbabwe is probably the most well know of all these historical sites and its for good reason.
The remains of a sprawling stone city — known as the Great Zimbabwe Ruins — are located in Southern Africa. Known as a World Heritage Site and spanning more than 1,800 acres, the archaeological site was built by ancestors of the Shona people who once called it home.
Although no one knows exactly when they were built, it's estimated that construction began around 1200 AD and ended in 1450 AD. The Great Zimbabwe Ruins still stand today, but researchers have various theories about when they were erected and why.
It's believed that the early Shona people built Great Zimbabwe Ruins to accommodate their growing population. When Portuguese traders arrived on what is now known as Mozambique Island off present-day Mozambique between 1498 and 1500, they spread news of the legendary settlement throughout Europe.
European settlers then began expanding closer to Great Zimbabwe, where diamonds were discovered in 1888. Today you can visit the ruins with an official guide who will walk you through the various sites inside its walls.
I found a weird similarity in how the Great Zimbabwe city was just abandoned compared to so many Mayan sites also just weirdly abandoned. It was a totally different time period, but it was also strange to me that a community build such amazing strongholds only to just disappear.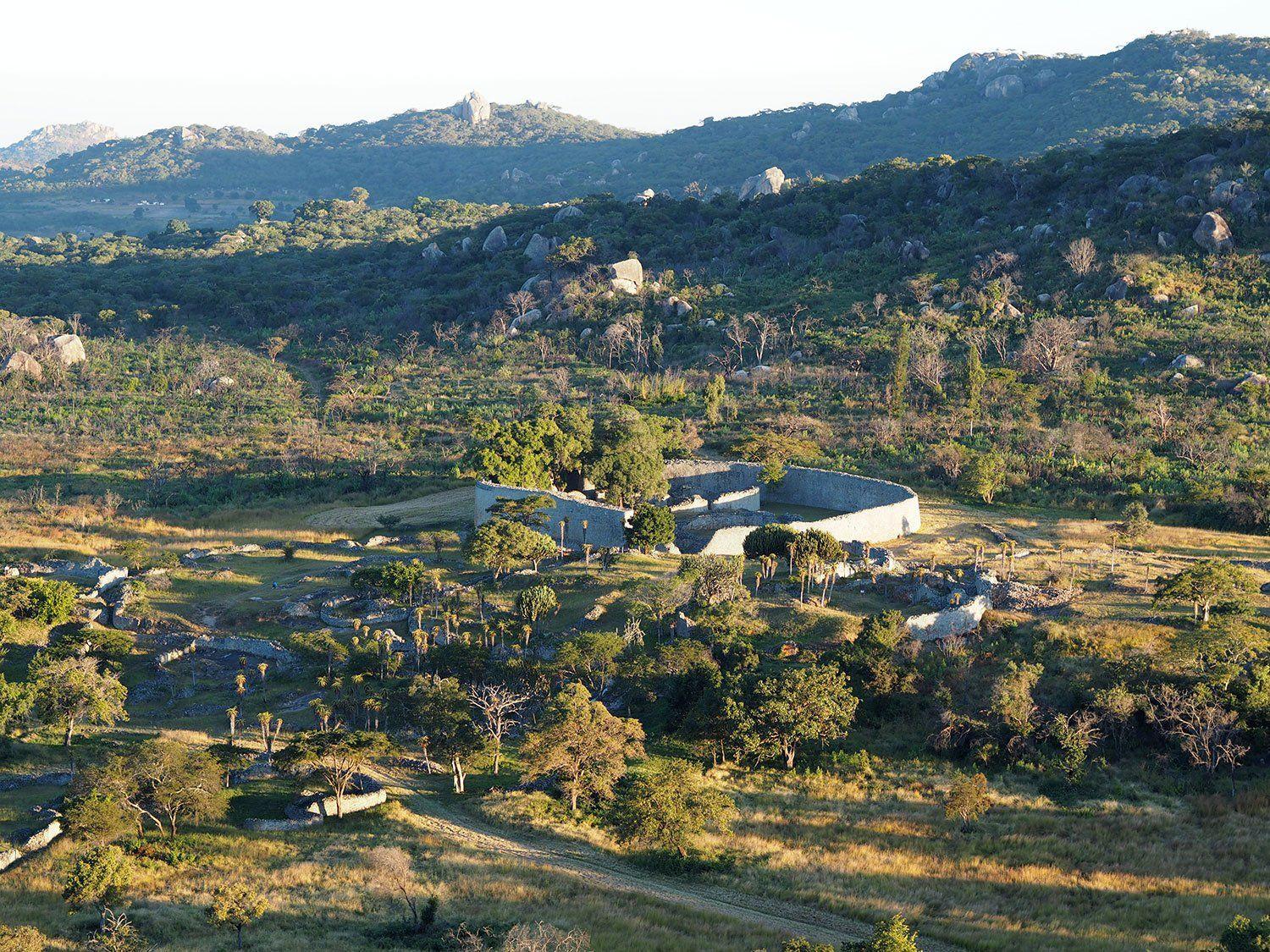 Check out my Zimbabwe Destination page for all Zimbabwe Posts
---
Discovering Zimbabwe's gems is a great way to see the real Africa
Zimbabwe is a beautiful country, filled with dramatic landscapes and friendly people. It is an ideal eco-tourism destination for those who want to enjoy all the pleasures of an African adventure without the high cost that accompanies a lot of other African countries. Zimbabwe's diverse scenery offers opportunities for adventurers of all stripes as well.
It is a little harder to travel than South Africa for example, but it is possible and not super difficult, you just have to have time on your side.