If you are looking to visit Morocco and have both Marrakech and Fes on your itinerary list, why not take a desert tour between the two cities? This is a great way to get the desert experience everyone wants to have in Morocco and also serves as your transport between these popular Moroccan tourism locations.

There is lots to see in both these cities (Fes was my personal favourite of the two) and moving from one to the other via the desert is really an incredible experience.

This Marrakech to Fes Desert Tour might be the best way for you to achieve both seeing the Sahara and getting to Fes from Marrakech.

The specific tour I talk about below is the one that I went on. There are others that visit slightly different locations but most are over 3 days and very similar in where they visit and stay. The alternative tours are listed at the bottom of the info about this tour.
Marrakech to Fes Desert Tour Overview
3 Days | Marrakech Desert Tour to Fes
From: $320 AUD
A 3 day trip departing from Marrakech and going to Fes via the Atlas Mountains, Sahara Desert and some of the best scenery in Morocco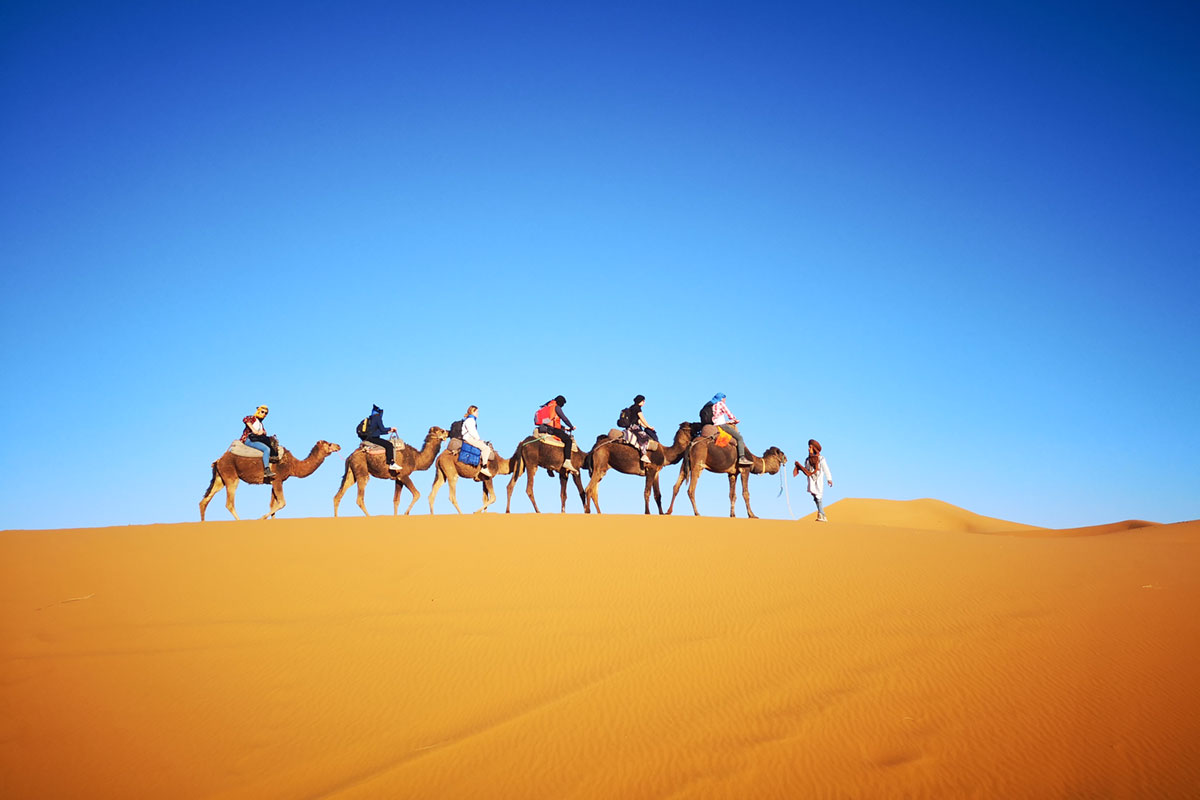 This tour enables you to have quite a few Moroccan sightseeing experiences at a relaxed pace within a 3 day itinerary.
You can expect to be picked up from your hotel or Riad in Marrakech and then travel in an air conditioned vehicle with a local expert guide who speaks English, French & Arabic. If you are staying in a Riad in an area which a vehicle cannot access, the company will give you an alternate meeting spot close by.
Over 3 days you will drive over the Tizi n'Tichka mountain pass into the Atlas Mountains. Tizi n'Tichka literally means "Difficult mountain" and once you start driving the many MANY switchbacks you will realise how it got this name. It must have been extremely challenging before the bitumen road was constructed.
You will visit Kasbah Aït Benhaddou, home to around a dozen families which is one of the most well known and photographed Kasbahs in Morocco. Your guide will show you around and explain everything you need to know about this amazing site. It is really hard to believe that it has been there since the 11th century, with the current buildings thought to have been constructed around the 17th century. Wikipedia has some great info if you would like to research the site before you visit.
Driving along the Dades River you head to Dades Valley for the night in a hotel that is very traditionally styled.
---
Day 2 sees you visit an Oasis on the road of 1001 Kasbahs where you can spend time at the oasis and walk up to the Todgha Gorge. After lunch you take a camel safari through the dunes of Erg Chebbi. Don't panic – it's easier than you think, however the camel getting up and down is a little nerve wracking. I had to keep telling myself "they do this every day" over and over but once you are up, it's smooth cameling.
You will get to experience a Moroccan desert sunset which is just stunning before a local themed Moroccan dinner after which you will settle into your desert camp for the night.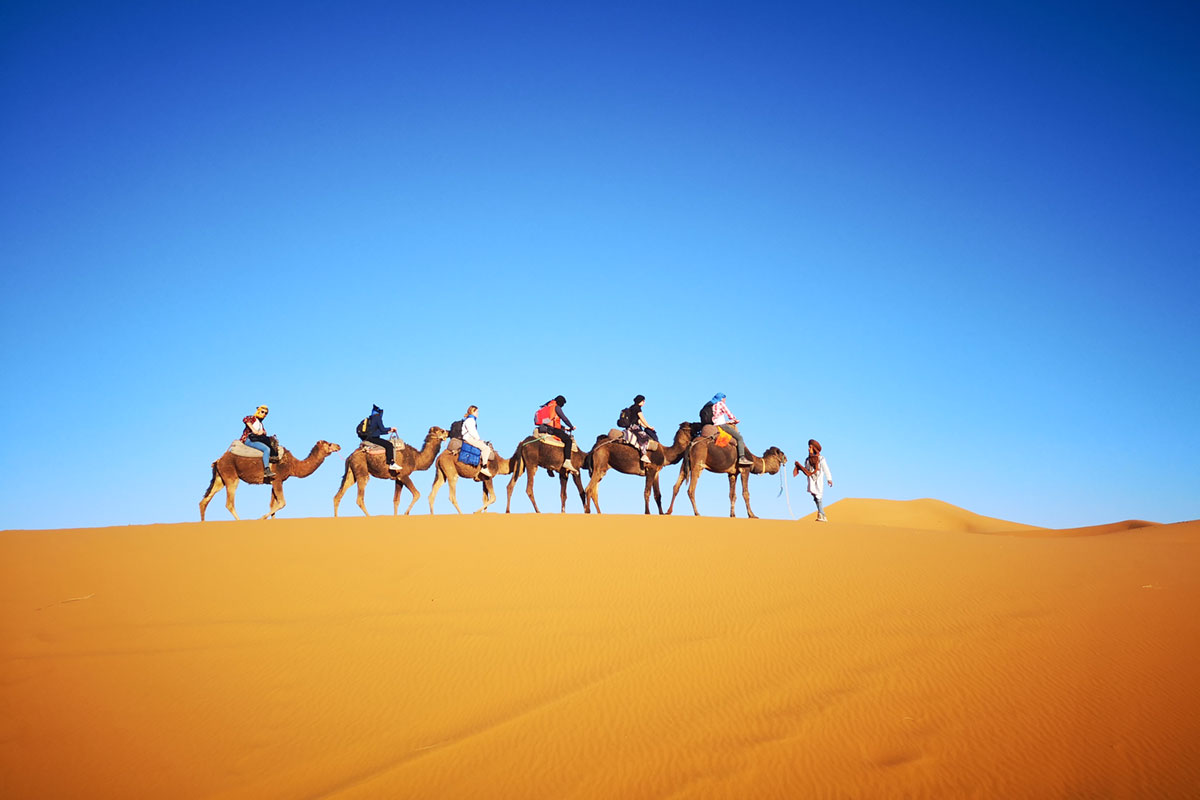 ---
Day 3 offers a drive along the Ziz river where you will see some amazing palm lined oasis pass by. There are also more than a few fortified castles (ksours) in varying states of repair on this drive. Lunch in Midelt is followed by the drive to Fes. It is at this point that you really feel like you are in the Moroccan mountains. The landscape becomes much less harsh, trees start to appear and the snow capped mountains are really something to see.
Your driver will drop you to your accommodation in Fes today and your tour is over.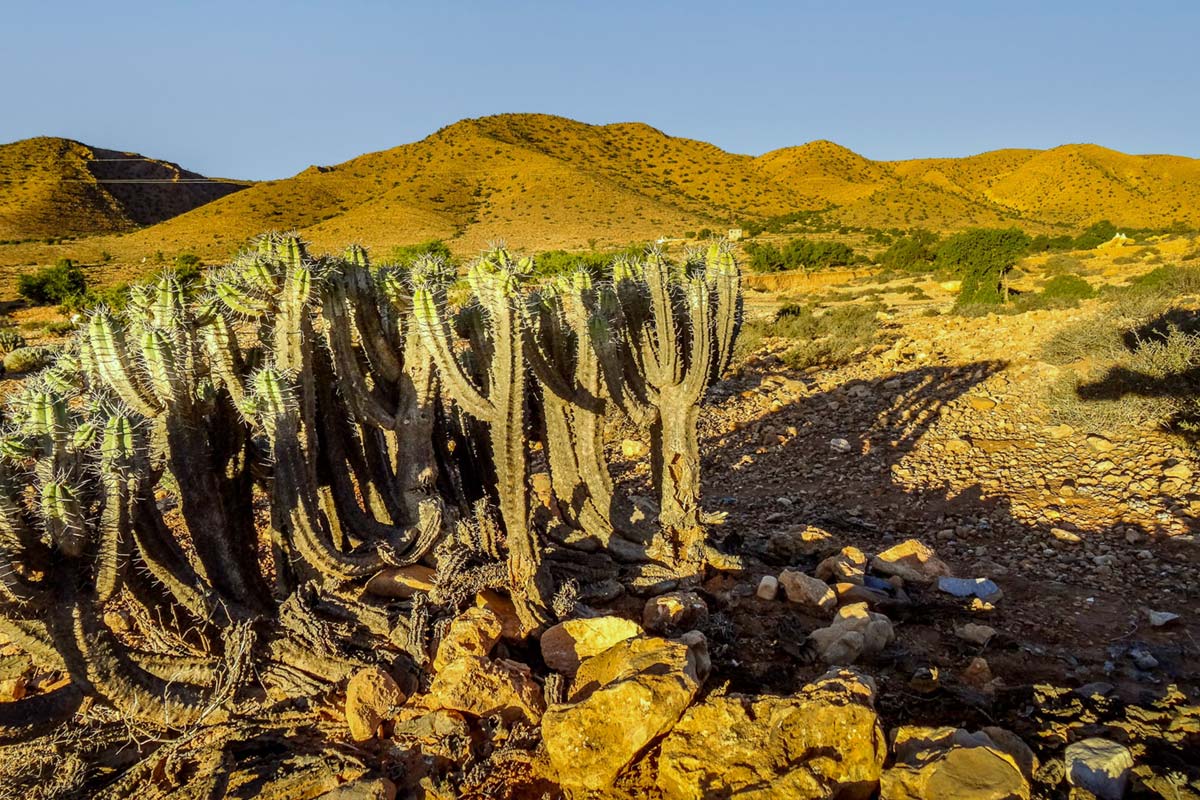 ---
Marrakech to Fes Desert Tour Features
This tour is very comprehensive while not packing too much in. The drives are very scenic and for the most part are roads you might not otherwise travel as as tourist in Morocco.
You will see:
Ait Benhaddou Kasbah
Boumalne Dades
Tinghir
Camel Ride in Erg Chebbi
A Safari Desert Camp at Merzouga
A visit to Midelt
Desert sunsets (and if you wish sunrises)
Atlas Mountains and travel through Tizi n'Tichka pass
The Tour Includes:
Collection from your hotel or Riad in Marrakech
All driven routes in a modern air conditioned vehicle
A guide who speaks English, French and Arabic
One night in a locally designed hotel (ensuite room)
One night at a Sahara desert camp (option to upgrade to a luxury tent)
Camel trekking in the Sahara Desert (bucket list item anyone?)
Drop off at your hotel in Fes.
You will need to pay for your own lunches and drinks or any souvenirs you choose to purchase and it is worth noting that if you do this tour in the middle of winter the Tizi n'Tichka pass might not be open. If this is the case an alternate route will be taken that will incur an extra fee of 10€ per person.
Alternative Marrakech to Fes Desert Tours
There are a few companies that do similar versions of this tour. Most of these have an almost identical itinerary with the exception being a visit to Ouarzazate which is where Atlas Studios, the largest and most famous film studio in all of Africa is. They have filmed more than 200 movies & TV programmes here including Ben Hur, Gladiator, The Mummy, Passion of Christ, Black Hawk Down and even some Game of Thrones episodes.

If looking at Atlas Studios in Ouarzazate interests you, check out the 3rd one on the list below that mentions going via Erg Chebbi.
---
The Best Marrakech to Fes Desert Tour – Wrap Up
This is an excellent way to get from Marrakech to Fes and it also means you can do and see many of the things that Morocco is known for without having to do day tours for each. I loved this trip and found it to be great value as well.
Whatever you decide to do I hope you love Morocco, Marrakech and Fes and of course once you get to Fes don't forget to visit the Fes Mdina (not before ensuring your sim card works though so you can get out!).
---
Pre-Tour Accommodation In Marrakech
Marrakech has a wide range of accommodation, primarily as it is one of the most visited cities in Morocco. There are three options listed below, a budget, mid range and luxury level of accommodation.
Hotel Central Paris Marrakech
BUDGET LEVEL:
Large clean rooms with great roof deck and courtyard. This is the discounted price but they often show this discount. From $80 per night for 2 guests
Hotel Racine Central Marrakech
MID RANGE:
Great value from only $200 per night. Has a hairdresser, a Hammam, & a spa on site. Great outdoor pool & airport transfers are also possible for a fee
Jemaa ElFna Square Riad Marrakech
UPPER RANGE:
$250 AUD (aprox) per night but this is one of those Riads you see on Instagram. It is beautiful, has a pool, is centrally located and just stunning!
---
Post-Tour Accommodation in Fes
You will need at least a few nights in Fes to see everything that this great town has to offer. Consider these hotels which are all centrally located in Fes city. Get Your Guide also has some great day tours from Fes if you are after things to do.
Dar Milouda RCIF Fes
BUDGET LEVEL:
I stayed here for 2 nights to get a break from the truck and loved it. Its family owned, they are amazingly helpful and both the stay and the food was fantastic. From $45 per night for 2 guests
Riad Diamant De Fes
MID RANGE:
Great value from only $90 per night. Rooms have little balconies and private bathrooms. There are vegetarian, vegan or halal options available for breakfast.
Chaq Chaq Fes
UPPER RANGE:
$280 AUD (aprox) per night gets you a lovely small hotel with a sauna and spa and a fantastic roof deck with comfy seats overlooking all of Fes. Rated 9.5 on Booking dot com .
---
Fes also has some amazing things to do if you are looking to fill your days. Don't miss a tour of the Mdina. You think you can do it on your own, but you won't find the best places to see or eat so be sure to grab a tour. You can always come back another time on your own. Don't do it without working service on your phone because you will never find your way out again. If you don't want to do the tanneries (they are pretty confronting) you can just not go in for that part of the tour.
---
---