Find A Farmer's Market On The Gold Coast
The Gold Coast is surrounded by some amazing farmland which grows everything from avocados to leafy greens. No matter where you live or are staying on the Gold Coast you won't be too far from a farmers market.

Our list should help you to find organic fruits and vegetables, fresh produce and even coffee to keep you fuelled for the week ahead. Read on for the best farmers and fresh produce markets that I love on the Gold Coast.
---
Gold Coast Organic Farmer's Market
Open every Sunday, Merrimac High School in Mermaid Waters is home to the Gold Coast Organic Farmer's Market. Held weekly throughout the year, this fresh food market has stalls supplying farm fresh organic fruit and vegetables.
Picked yesterday fruits and vegetables which are Certified Organic
Seasonal herbs and greens such as kale, radish and dandelions
Freshly brewed coffee, teas and chai
Gluten free breads and grain products
Breakfasts to tempt your taste buds
Eggs, honey, home made jams, vinegars and nut based butters,
Freshly prepared juices & even
A massage therapist
Opening Hours
Sunday 6:00 am to 11:30 am
Parking Location:
There is a car park off Dunlop Avenue (Google Maps Link) and you can follow the main entrance to the market location.
Alternatively you can walk in from Volante Cres.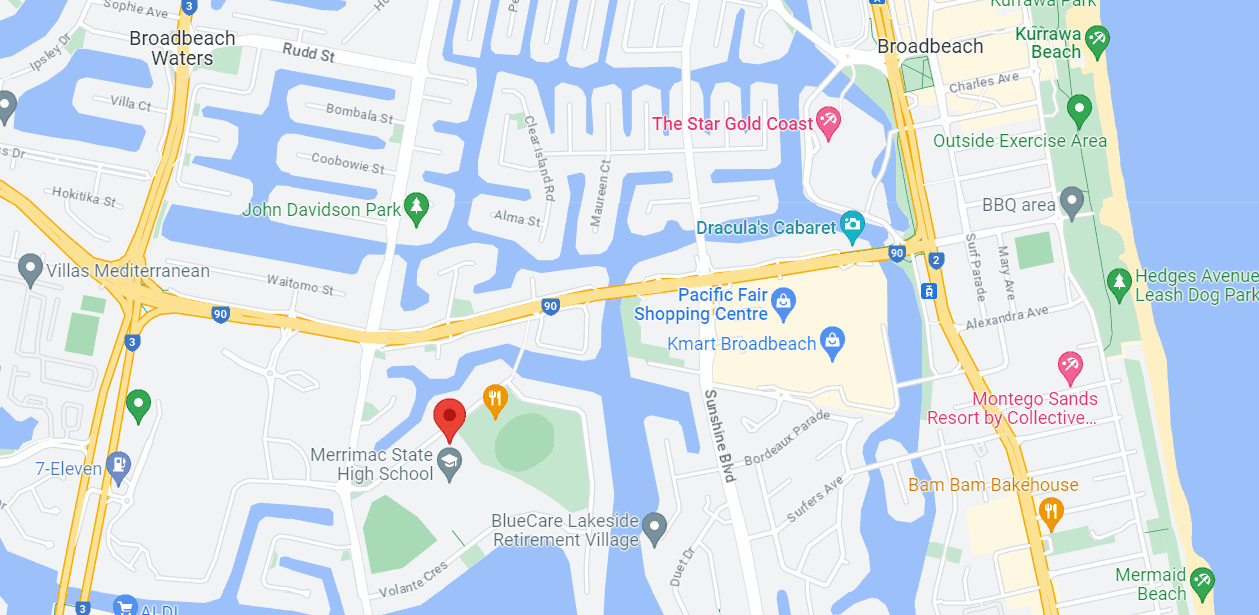 ---
Palm Beach Farmers Market
Possibly the most popular fresh food market on the Gold Coast, Palm Beach Farmers market is very popular with locals and tourists alike. With over 500,000 visitors every year, this is possibly Gold Coast's premiere fresh food marketplace.
Situated at Palm Beach Currumbin State High School the market is impossible to miss. As the school is very close to the beach, one of the best ways to get to PBC Farmers Markets is to ride your bike. There are a heap of bike racks and as parking can be a premium in the area (due to the beach access and sporting clubs close by) riding your bike is a great way for you, your friends and family to get to the markets.
Between 70 and 80 stall holders every week
Fresh fruits and vegetables
Seafood, meats and poultry
Dairy and non diary products
Artisan breads and baked goods
Flowers and plants
Coffee and breakfast options to enjoy on site or takeaway
Opening Hours:
Saturday from 6:00 am to 11:30am
!! Dogs are not allowed in the market area.
Parking Locations:
Parking is possible long Thrower Drive however it does fill up quickly. There is also a car park on the left as you continue down Thrower drive past the school toward Currumbin Creek. As you come off Gold Coast Highway, drive past the school and veer left at the roundabout past the crosswalk (which is very busy on a Saturday morning) and turn left into the carpark after the pool. Google Maps car park location
Palm Beach Farmers Market Location
---
HOTA Farmers & Artisan Markets
HOTA is Gold Coast's Home Of The Arts precinct in Bundall. Bundall is situated just behind Surfers Paradise and is an easy walk from the centre of the city. The markets feature a wide range of both fruit and vegetable stalls as well as locally made produce and even fashion and handcrafted items.
Immerse yourself in this lovely location, purchase some of your weekly produce, grab yourself a coffee and some breakfast while enjoying the performers on site. You will find a wide range of
Breads and breakfast goodies
Cookies and sweets
Fresh farm supplied fruits and vegetables
Flowers,
A wide range of herbs and spices & even
Genuine Sicilian Cannoli!! These are SO GOOD!
Opening Hours
Every Sunday from 6:00 am to 11:30 am.
!! Pets are not allowed in the market area. Please leave Fido safely at home.
Parking Locations & How To Get There
There is a massive carpark at HOTA so you shouldn't have any trouble parking. Situated at 135 Bundall Road, HOTA is easy to find and access (Google Maps Location).
Walking from Surfers Paradise is simple and easy. At around 2km its a nice half hour walk. From surfers head up Thomas Drive past the cafe's of Chevron Island, where you might like to have breakfast. Turn left at Mawarra Street and over the new pedestrian bridge to the back of the HOTA precinct.
Alternatively, the HOPO Ferry also services this stop and its also a great way to see some of the city from the water. Of course you can simply walk, ride or catch public transport.
---
Burleigh Farmers Market
With a "rain, hail or shine" mantra, Burleigh Farmers Market at Burleigh State School welcomes shoppers every Saturday. An easy stroll from the Burleigh shopping and cafe precinct, this is a very popular markets especially for visitors.
Along with live entertainment every week you will find:
Farm fresh produce,
Organically grown vegetables and fruits,
A wide range of fish, deli products & meats
Fresh flowers
Plants and seedlings
Hand made clothing and home wears
Antiques and collectables and of course
Coffee and breakfast options
Held in the grassed area beside the school oval, the market is easy to spot and has parking on site. Access is via "lower" Gold Coast highway which is an access road that runs alongside the main thoroughfare. Google Maps Location.
Opening Hours
Every Saturday (Rain, hail or shine) from 7:00 am to 12 noon
Parking And Access
Parking is available on site for free. Alternatively if you are early enough you might try one of the beach carparks or the paid carpark behind the bowls club in Burleigh if you plan to spend your day in the area.
---
Helensvale Farmers Market
The farmers market at Helensvale is much more of a local market. As a non tourist area, this weekly farmers market is attended primarily by local residents. With a wide variety of food available, this is one of the produce markets on the Gold Coast where you can not only take your furry friend, they are made very welcome.
Stall holders at Helensvale Farmer's Market stock a variety of fresh food options including
Organic breads and bakery products
Fresh fruit and veg from Farmer Paul
Home made Kombucha
Fresh pet treats
Sweets, chocolates and cupcakes
Nuts, seeds, mushrooms and greens
Food offerings such as smoothie bowls, juices and breakfast treats
Scented candles or hand made cutting boards
Seafood and smoked meats and of course
Coffee
Opening Hours
Saturday from 6:00 am to 11:00 am
Parking and Access
The Helensvale Farmers Markets are held on site at Helensvale State High School at 243 Discovery Drive. Google Maps Location . Parking is free onsite.
---
Gold Coast Saturday Markets
If you are limited to Saturday for your visit to on of our great farmers markets, these fresh food markets are open on Saturday.
Palm Beach Currumbin Farmers Market
Cnr Thrower Drive and Gold Coast Highway – Currumbin
Open 6am – 11:30am
Burleigh Farmers Markets
Lower Gold Coast Highway (Cnr Reedy Creek Road) – Burleigh Heads
Open 7am – 12 noon
Helensvale Farmers Markets
243 Discovery Drive, Helensvale
Open 6am – 11am
---
Gold Coast Sunday Markets
If you Sunday is the day you would prefer to wander the farmers markets, these fresh food markets are open on Sunday.
Gold Coast Organic Farmers Market
Merrimac High School, Dunlop Avenue – Merrimac
Open 6am – 11:30am
HOTA Farmers & Artisan Markets
Home Of The Arts Bundall Road – Bundall (Surfers Paradise)
Open 6am – 11:30 noon
---
No matter which markets you choose, I'm sure you will be able to find some fresh produce, local wares and some great coffee. We are getting to be known for our amazing food in Australia and this is the best way to buy it in my personal opinion.
---
---
---