Hiking Guide: The Overland Track Hike in Tasmania
The gorgeous and geographically diverse island state of Tasmania presents some of the most celebrated hiking opportunities in the entire world. The Overland Track, which is a maintained 70km track that goes through Cradle Mountain-Lake St. Clair National Park, connecting Ronny Creek and Lake St. Clair.
Since this popular hike can fill up with bookings pretty quickly, I recommend making a reservation at least a few months in advance and if you can plan that far ahead, I would suggest applying for a permit asap they open each year. You can book online and you simply choose your departure date.
What's The Best Time To Hike The Overland Track?
The summer walking period is from October 1st to May 31st and during this period you must walk southbound from Ronny Creek to Lake St Clair. While the weather in the area can be wild even over the summer, this is by far the best time to walk the track. I would try and plan on mid January to mid March to get the best weather.
In the winter season you can walk in either direction, however hiking the Overland Track in winter should only be attempted by very serious bush walkers who are exceptionally well prepared. While it is an Australian winter don't assume this will mean a much milder hiking experience that a lot of overseas winter hiking areas. The weather in and around Cradle Mountain is unpredictable at best and outright dangerous at worst.
Note: The registration and permit to hike are only payable during the summer season. This is to monitor the amount of hikers on the route, with daily quota being 60 trekkers per day. During COVID conditions that has been reduced to 24 per day. You only need a parks pass to do it in the winter so you will not have to purchase the trail permit.
Before we go too far, lets look at the general info about the Overland Track
Overland Hike Details
Difficulty Level: easy-to-moderate.

There are a few steep inclines but they don't last long. The first day there is a pretty steep climb up to Marion's Lookout and that is probably the toughest climb on the whole route.
While the track itself isn't aerobically challenging, most of the side walks can be tough and include a scramble at some point.

Length: 65 – 80k (Dependant on whether you catch the ferry out or walk around the lake which will add an extra day)
Duration: typically hiked over 6 or 7 days.
Options: there are a few options for mountains to summit. Cradle Mountain, Mount Ossa, Barn Bluff and more, however they are all based around weather conditions.
Hike Style: End to End. The track is walked southbound for the summer season but can be done either way in the winter.
Booking required: from October 1st to May 31st you must have an Overland Track pass.
Start/End Points: Ronny Creek and Lake St. Clair
Elevation Gain: +4,793 feet / 1,461 meters
Elevation Loss: -5,160 feet / 1,573 meters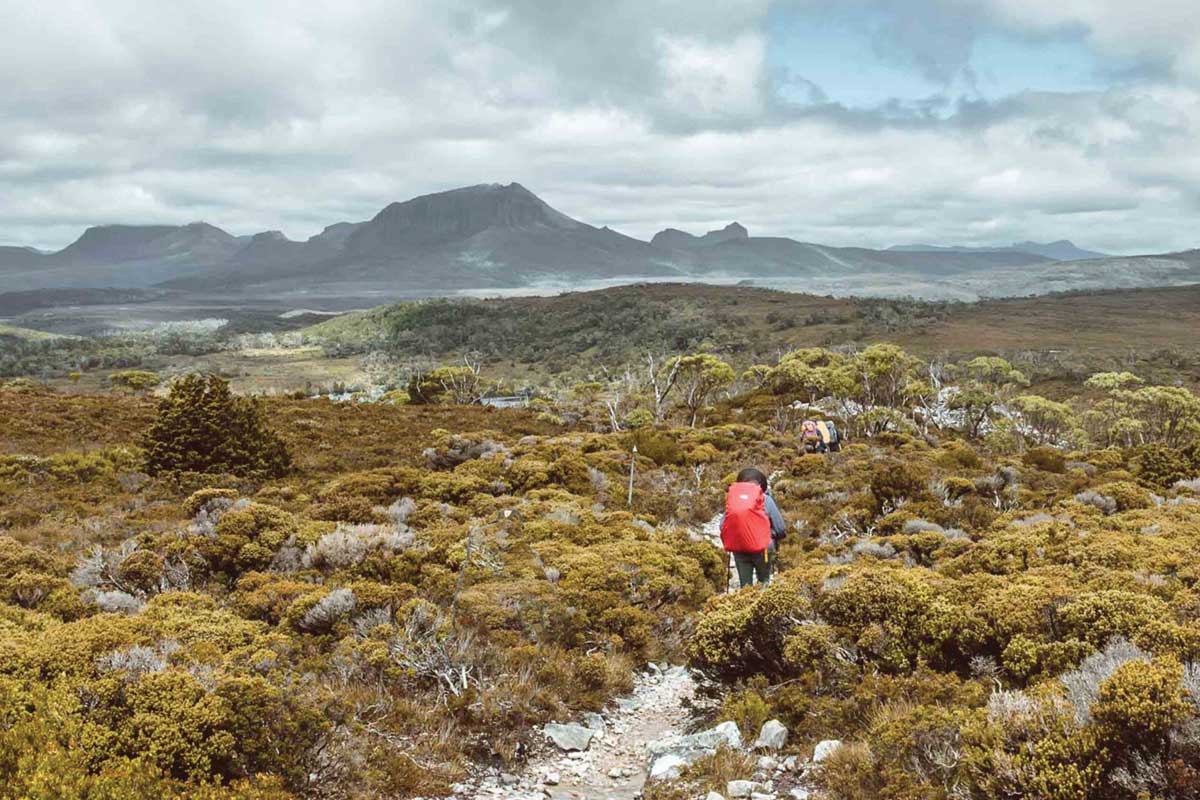 What does the permit for hiking the Overland Track cost?
If you get a permit to walk independently it will cost you $230 AUD. $200 for the track permit and $30 for a Tassie parks pass.
No matter when you go on this hike, it's mandatory that you purchase a National Parks Pass. You can do this right when you arrive at the track, or you can do it ahead of time at this link: https://passes.parks.tas.gov.au/. Since this is separate from the Overland Track permit process, you can do this at any time. It's recommended you do it ahead of time so it's one less thing to worry about day-of hiking.
What does the pass cost?
For a single trekker the pass is A$30. This will cover you for up to 8-weeks. If you are bringing a vehicle, the cost is A$60.
If you plan to hike in the summer period of October 1st and May 31st, the Overland Track costs A$200 per person. Therefore, if you are a single trekker, the total is A$230 or A$260 if you have a vehicle.
If you are hiking with a group they take care of the cost of the pass so you don't have to worry about it.
What are my walking options for the Overland Track?
There are two options for hiking this Tassie trail: as an independent hiker or with a guided group. There are a few options that exist as to what guided company to go with as well.
Walking as an independent hiker
You can walk the track as an independent hiker which is around 15% of the cost of doing it with a group so a lot more affordable. There is excellent infrastructure and a well marked track for the entire length of the hike. Small orange triangles signal the path, however they aren't always super obvious. Regardless the path is well worn and easy to follow.
While you are free to use the wonderful huts as an independent hiker, it is a first in best dressed situation so you do need to carry a tent to hike the track. This is non negotiable. If you miss a bed you do need to have a tent to use. There are also rangers that look after most of the huts so there is usually someone there to help with what you might need.
With regard to Overland Track huts booking, when you book your permit through Tas Parks, access to each hut is included in this booking. You don't pay extra to stay in the huts and the hut locations are set for each night.
Food Costs
The hike is a 6-7 day walk and while you can do it in less time if you are a fast hiker, Tasmanian Parks encourages you to complete it in the recommended stages. This helps them to manage numbers at huts and also to have some idea where you are on the trail should you have a challenge.
If you plan to finish at Narcissus Hut you will be on the trail for 5 nights so you will need:
– 5 dinners,
– 6 lunches,
– 5 breakfasts and
– snacks.
Heat-n-Eat meals on average cost around $15AUD each, and then you need to allow for packs of tuna, oatmeal, flat bread, muesli bars and possibly some chocolate and lollies (candy for you Americans). It would be a good idea to have at least one spare dinner just in case you get stuck anywhere. The weather is widely unpredictable and even in summer should a heavy rain depression come across you might have to stay in the hut for one day and wait it out. It's unlikely but it does happen. My cousin and her husband hiked the trail in 2017 in January in the height of summer and got snow one day!
I would budget around $200 for meals which should cover you well and truly. That should also get you a burger and a beer at Lake St Clair at the end.
I recommend getting your heat to eat meals in Launceston. You can buy Campers Pantry heat-n-eat meals at All Goods on York Street, and Paddy Palin on George Street have both Campers Pantry and Backcountry Cuisine. The Campers Pantry Apricot Chicken is very nice!
For the rest of your supplies I would suggest you use Woolworths or Coles in Launceston. Make sure you are fully stocked before getting your transfer to the park. The transfers do not stop at any point where you can get food so you need to be 100% ready to go before getting in the van.
Other Expenses For The Overland Track
You will need a camp stove and as you cannot fly with fuel or gas canisters, you will need to get that in Launceston the day prior. I personally use a fuel stove as I hate the disposability of canisters and my stove will burn around 23-25 litres on a 600ml bottle. That costs me around $1.30 in fuel for a week. Considering I never use it at lunch and usually boil enough for dinner and a hot drink in the evenings, and breakfast and a hot drink in the morning, I probably boil around 2-3 litres a day. A week of hiking is easily within my capabilities with this stove. I have a MSR Whisperlite International, however they now make this great combo stove which can be used with both canisters and fuel. Cool hey?
Camping Equipment
I am assuming you have everything else you might need. Pack, tent, sleeping pad and bag/quilt, clothing, shoes etc so I've not added them into the costs here. You won't need odour free bags as you can put your pack and food in the huts at night even if you are camping.
Note: If you are walking independently, you need to know that you MUST carry a tent. Huts are available on a first in best-dressed principle and won't sleep the 60 people that might be hiking with you. There are tent platforms surrounding the hut and you can use the hut for cooking and storing your packs overnight, but you will have to sleep in your tent so you do have to carry one.
Transfers Cost – Getting to and from the Overland Track
Transfers will cost you around $150-160 AUD however this will only be an added expense if you are hiking independently. If you do the hike with a company you will not need to add this onto your costs. It will be included.
During the summer months, you will need to start the hike at Ronny Creek in Cradle Mountain-Lake St. Clair National Park, which can be found here: https://goo.gl/maps/aMUeLCiDT6B2.
You will need to pick up your hiking permit from the Parks & Wildlife Service at Cradle Mountain Visitors Centre here: https://goo.gl/maps/aMUeLCiDT6B2
The closest major cities to this hike include Devonport and Launceston , however, if you don't have a car (which would be your main reason for taking the ferry into Devonport) and are flying into Tasmania, it's much easier to get from Launceston to the Overland Track than anywhere else. Launceston is the main jump off point for a lot of hikes in the area so it caters well to hikers.
The easiest way to get from either Hobart or Launceston to Cradle Mountain is to get a transfer. There are a few companies that do this so it's a pretty simple process. It does take 2 and a half hours to get from Launceston to Ronny Creek and almost 3 from Lake St Clair back to Launceston.
Wildland Adventures $80 each way
Island Adventure Shuttles have a van for private groups. Prices start at $440 for 4 people and go up to $770 for 7 of you. Great if you are travelling together as a family or with friends.
Overland Track Transport – $77.50 each way and they will also store your extra luggage for you for free.
---
About the author
Meet Jenny, a passionate Australian travel blogger who has explored 103 countries to date. With over 30 years of travel experience, Jenny has a wealth of knowledge to share with her readers about the cultures, landscapes, and people she has encountered on her journeys. She's always battling unfashionably frizzy hair and you will never catch Jenny in anything but comfortable shoes. Learn more about Jenny and her travels.
---
The Overland Track 6 day Itinerary: What Should I Expect?
Every hiker moves at their own pace, but it's generally assumed this hike will take six or seven days in total. It depends on how you choose to end the hike, since the final day can be from Narcissus to Cynthia Bay if you choose not to take the boat. For those that skip the final 17 kms, you will take a ferry across Lake St. Clair to finish off the adventure.
Here is how I would break down your six or seven days so you are able to enjoy the hike to its fullest:
First Day: Start at Ronny Creek and head to Waterfall Valley (6.65 miles / 10.7 km)
Second Day: Waterfall Valley to Lake Windermere (4.85 miles / 7.8 km)
Third Day: Lake Windermere to Pelion (10.44 miles / 16.8 km)
Fourth Day: Pelion to Kia Ora (5.34 miles / 8.6 km)
Fifth Day: Kia Ora to Windy Ridge, also known as Bert Nichols Hut (5.97 miles / 9.6 km)
Sixth Day: Windy Ridge to Narcissus and the ferry out (5.59 miles / 9 km) or
Seventh Day: Narcissus to Cynthia Bay via the Lakeside Track (10.88 miles / 17.5 km)
Would I do the extra day around the lake? Absolutely. I actually didn't realise we weren't doing that and was disappointed when I found out we finished at Narcissus hut. I just assumed we were "walking out" as they call it but the boat ride was a nice way to end the hike for sure.
If you want to expedite the time it takes and double the lengths above, you could do:
Ronny Creek to Lake Windemere (17.09 miles / 27.5 km) on your first day but that would be a tough day and you would have to stay at Cradle Mountain Lodge the day prior to be at the park to start early.
Windemere to Kia Ora (19 miles / 30.6 km)
Kia Ora to Pine Valley Hut (16.59 miles / 26.7 km)
and finally Pine Valley Hut to Cynthia Bay (16.59 miles / 26.7 km).
This level of mileage per day would mean that you get to do no side hikes and you would be just pacing it out with nothing else in mind. I wouldn't recommend it. Do the 6-7 days, take the time and see everything you want to.
One of my favourite features of this track is that you are free to go at your own pace. You do not have to book the huts ahead of time, and because the numbers are limited you know you will always get at least a campsite. That allows you to not be the slightest bit concerned about getting a slot in an Albergue, or finding a flat piece of land to pitch your tent. Plus, with so much to see and do out on this track, you will want some flexibility to sit back, take photos, and experience it as thoroughly as possible.
NB: Please be aware that TAS Parks prefers you to stick to one night in each hut. You are not really supposed to "double hut" and while they aren't going to fine you or anything silly, if you are hiking fast you are changing the numbers that should be arriving at each camp site for that day. If you are double hutting, please consider that because you are the one putting stress on the numbers for huts and campsites, it would be good hiking manners to camp and not use a bed in a hut where possible.
Note: weather can be fickle, which is why you will want to allow for flexibility in your estimated hike times.
Sleeping on the Hike
The hike is filled with huts that are welcoming and accommodating to hikers. Some of the huts are amazing (Waterfall Valley in particular) and all have elevated timber tent platforms with lock chains for anchoring your tent (instead of pegs). Please do not camp anywhere that isn't marked. This is a pristine area of diverse forests and bushland and you should respect that and only sleep at the camp sites.
The number of hikers each hut sleeps may be slightly off. I couldn't seem to find 100% accurate numbers anywhere.
Waterfall Valley Hut (Sleeps 34)
Windemere Hut (Sleeps 16)
Pelion Hut (Sleeps 36)
Kia Ora Hut (Sleeps 20)
Bert Nichols Hut (Sleeps 24)
Narcissus Hut (Sleeps 18)
Echo Point Hut – along the lakeside track should you decide to walk out to the visitors centre at Lake St Clair. (Sleeps 8)
In order to provide the safest hiking climate possible, there are a few emergency shelters that are accessible:
Old Pelion Hut
Du Cane Hut
Rangers Hut
Kitchen Hut
Note: should you leave the main track to explore some of the side trips, like Cradle Mountain and Mount Ossa, then those tracks come with some scrambling. They are still marked and manageable but are considered much more advanced than the main track.
Doing The Overland Track with a group
If you choose a group hike, one like Intrepid Travel's will set you back around $2200 AUD. This is a camping hike as you cannot stay in the huts if you are with a commercial group.
If you would like something more luxurious, Cradle Mountain Huts do the same walk, however they have private huts hidden along the trail where you get a bed to sleep in, a hot shower every night and even a glass of wine! This will set you back just under $4000 AUD. My cousin Cass and her husband Gav did this one a few years ago and loved it, however they are Americans so our dollar being rubbish at the time meant that was probably around $2800 USD.
I couldn't get a permit for the period I wanted to hike, which was why I investigated doing it with a group. I usually hike on my own, however, hiking with a group means that everything is taken care of. You just rock up and walk. I ended up paying around $1700 AUD but I did buy it during a special on TourRadar. It is usually around $2150 I believe.
I personally thought that $1700 was the absolute limit that I would have paid for the hike, but you have to be aware that I usually hike on my own so I didn't need to take advantage of any of the free equipment hire that is included in that cost. If you don't have the gear, knowing you will be fitted out with a sleeping bag, air mattress, tent and pack does make that cost more affordable for sure.
It was such an easy way to do it though. I never had to cook anything, I never had to wash a cup or plate and the food was divine. We were eating spaghetti Bolognese, chicken curry and all sorts of yummy stuff. We had dessert every night (from apple crumble and custard to Tim Tams) and lunch was anything from salad wraps to hummus or beetroot dip, and even lentil soup and crackers. Like I say the food was amazing and I didn't have to cook a single thing!
Transfers to and from Launceston were also included as was Stan and Ryder's experience and knowledge about not just the trail, but the local flora and fauna.
It also enabled me to pack way lighter as I didn't have to take my PLB and a battery pack to keep it charged, or carry any real food. I also didn't have to carry a first aid kit which was nice. You are given a food bag every day that starts out at around 1.4kg but is down to nothing by the end of the hike and you carry your own lunch box and cup.
Getting the ferry from Narcissus Hut to Lake St Clair Visitors Center
The ferry from Narcissus Hut to the visitors centre at Lake St Clair is $50 per person and takes around half an hour for the trip across the lake.
It does require pre-booking and I would recommend that as soon as you have your pass you book the ferry for the time that suits you.
There is a 9:45 ferry from Narcissus hut along with a 1:15pm and a 3:45pm service. If you can't get on one of the later options you might choose to stay the extra night at Narcissus hut so you're not rushing from Windy Ridge to make the ferry.
Its a good 3-4 hours from Windy Ridge to Narcissus and while most of it is pretty easy, the start of that day has some terrain that you probably wouldn't want to be doing in the dark. You can call 03 6289 1137, email [email protected] or book here
Ferry Timetable
| From | To | Morning | Lunch | Afternoon |
| --- | --- | --- | --- | --- |
| Cynthia Bay | Narcissus Hut | 9am | 12:30pm | 3:00pm |
| Narcissus Hut | Cynthia Bay | 9:45am | 1:15pm | 3:45pm |
---
Pre and post accommodation in Launceston
You will need at least one night in Launceston prior to the hike as the transfers leave early morning and of course you have to get your food and fuel.
I wouldn't recommend booking a flight out the night you finish your hike just in case you are late getting into Launceston. I would stay that extra night and be comfortable that you are going to be able to catch your flight OK.
The Pod Inn
BUDGET LEVEL:
From $45 AUD per night for one adult and only $68 for a couple, this pod hotel has everything you need with the privacy you can't get from a backpacker hostel.
The Art Hotel on York
MID RANGE:
Great value from only $125 per night, this hotel is small, close to everything and funky as well.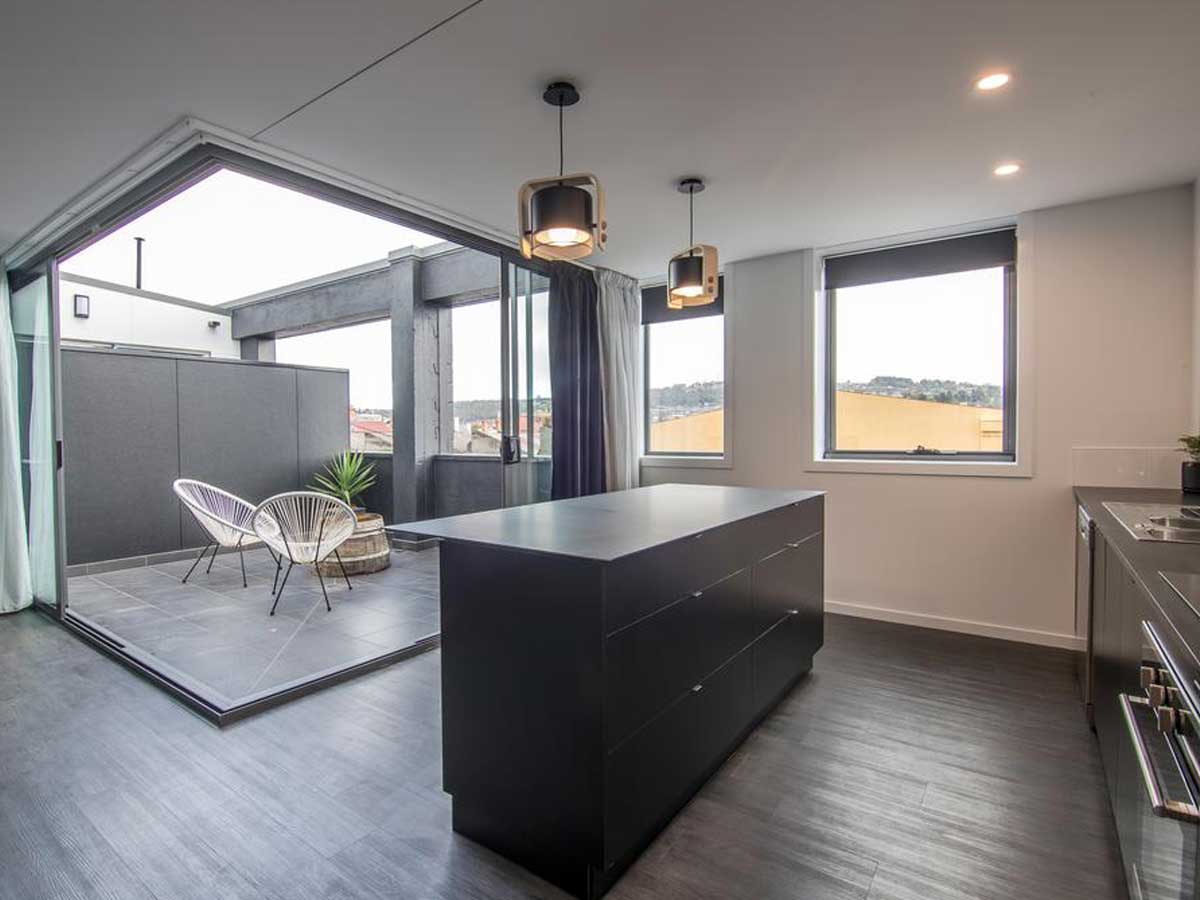 Change Overnight
UPPER RANGE:
$225 AUD per night. I loved this hotel. I got a studio room which had a full kitchen, washing machine and a very private outdoor area. Read more below.
If you are wanting to head out to start early from Ronny Creek you will have to stay at one of the Cradle Mountain accommodation options listed below:
Cradle Mountain Highlanders – from $213
Peppers Cradle Mountain Lodge – from $599
Discovery Parks Cradle Mountain – from $329
Cradle Mountain Hotel – from $170
How To Get Into The Change Overnight hotel
I stayed at the Change Overnight when I came back to Launceston as I was going to stay 4 more nights. I loved it. I did manage to get it for around $155 per night with my genius discount (and it was during COVID) so it was a great deal. It is a little challenging to find but I've added an image below that should help. If you can get it on sale it is really worth it. The rooms are large, there is a good kitchen, an actual dining table so you can sit and work or read, and a washing machine (which I was in desperate need of) and a really great sized private courtyard.
Get dropped off at the Balmoral Hotel on York Street.
As you are standing facing the Balmoral, turn to your right and head down the hill past the next building and then go up the driveway immediately after that building and the entry is about half way up. The afternoon sun can make it very hard to see to enter your code but when I called they were very helpful and told me how to work it.
The Change is a non reception hotel so you get your info (entry codes etc) about 3 days prior. They were very helpful when I needed anything and the location is very central. I really liked it.
---
How Would I Rate This Hike?
A lot of claims have been made that this hike is one of the 'best hikes in the world' and certainly the 'best hike in Tasmania.' I do feel that is over-hyping it a little bit, but it is a stunning slice of Australia and the diversity in the walk is incredible. As far as being one of the best hikes in the entire world, that's up to your personal discretion.
Sure, this is a world-class hiking track and one that you are going to never forget, and apart from an hour long lung busting hike up to Marion's lookout the first day, it's not a physically supremely difficult hike. The terrain can be pretty unforgiving though and there is one day of nothing but tree roots and mud. So while you aren't huffing and puffing its often a slow and steady pace.
Things You Should Know About Hiking The Overland Track
You are not allowed to get your pass early. You can only do so if:
You start the hike at Dove Lake as opposed to Ronny Creek.
The hike is not a gruelling test of endurance and focus. It's actually a fairly easy track that has been maintained well. Some of the trail is boardwalks but a lot of it is not. There are days of endless tree roots and mud through forested areas and open grasslands. Don't let yourself believe that those photos you see are what its all like. Only around 25% is on boardwalks and a lot of those are narrow.
There are a few points where you can hike out, the main one being the Arm River Track that comes in to New Pellion Hut. There are however helipads at each campsite that can be used by search and rescue.
The possums are very adept at breaking into backpacks and tents to get food. You should keep nothing edible at all in your tent overnight or in your backpack if you are leaving that in your tent vestibule. Put your pack and/or foodstuffs in the hut overnight for safe keeping. I'm not kidding the possums can smell a wrapper from a muesli bar you had 3 days ago and will destroy your pack to get to it.
The currawongs (black crow like looking birds) can undo zippers and can now even pull pack covers off so make sure you secure your pack cover really well before you leave your pack to do any side hikes.
Good quality wet weather gear is a must. Don't scrimp on this. You will get wet and if you don't you are one of the lucky 5%.
Tiger snakes are everywhere but don't seem overly concerned about you. Be aware that they are around, especially when you come into sunny areas. They are very black and shiny (as far as tiger snakes go) so are quite easy to spot. If you aren't from Australia our snake bite treatment is very different from treating a viper bite (most American snakes) so make sure you know what you are doing there. https://fluidfirstaid.com.au/first-aid-tip-how-to-treat-a-snake-bite-2/?gclid=CjwKCAjwscGjBhAXEiwAswQqNGAqhb6aaZtWtNjeQK2wwYsQUjH7T7g1vl8Z3UGGmPhsbs6jpw7a9BoCSLYQAvD_BwE. There is no need to be petrified of the snakes. I saw 3 and all just slithered off into the bush as soon as they felt me coming.
At least one night get up in the middle of the night and just look up. The stars are incredible. I didn't carry my good camera as I was trying to be more present and not focused on taking photos but this was the one time I was sorry. We only had 2 clear nights and the stars were just stunning.
If you have it, take a non down puffer. As Australian's we are the masters of sprinting across the carpark in the rain, mostly because if you live north like I do, it's almost never cold. I did that in Africa a few times in my amazing down jacket and learned very fast that wet down is no down. It's just a shell once its wet. I bought a North Face Thermoball jacket after that and it really suits my "sprints to the loo" when its slightly misty. I found myself getting up in the middle of the night to pee and being half way to the loo before I realised I was getting damp. My down jacket would have spent 3 days damp in my pack and would have been absolutely useless to me. The air is just thick and damp and misty so even when its not raining, you can still get quite damp very easily. And no, I"m not a spokesperson for The North Face – they are the only two North Face items I own but I love them both.
Specific notes for hiking the Overland Track if you are over 40
Trekking poles are a must for this hike. The terrain is quite gnarly in parts and you need your poles to keep you balanced over tree roots and to use as extra legs when you are hopping from rock to rock to avoid shin deep mud. OMG – the mud! There are also quite a few steep downs so if you need to protect your knees, poles are essential.
The tent platforms are great, however they are only around 20cm off the ground so if you have trouble getting up or down into your tent bring a sit pad to kneel on. I was pitching my tent right at the edge of the platform with the door opening to that side so I could just sit on the platform and swing my legs into my tent. I do have a horrible bad back though.
Despite the weather fluctuations, don't go too heavy or too light with your equipment. Even though it was February when I did it (the height of the Aussie summer) it was still only 2-3 degrees overnight for about half of the nights and the others were probably 5-6 degrees (Celsius). This made it a little tricky to decide what to carry and what to leave.
An insulated sleeping pad is a must and I would recommend a blow up pad and not a self inflating. They are way too heavy for what you get. Keep them for your camping trips and invest in a good inflatable pad.
Work out whether you need an extra layer of night time clothing OR a warmer sleeping bag. My super warm sleeping bag weighs almost a kilo, but my quilt and thermal liner together weigh only 550 grams. That allowed me to take an extra layer of clothing that I could either use at night or during the day for the days it was really cold. I ended up hiking in that longer layer the first two days when it was very cold. If you sleep very cold take both.
I would thoroughly recommend taking your own pack. I had my own North Face Banchee (I love that thing) but I was 1 of only 3 that had brought their own pack which really surprised me. There is nothing worse than an ill fitting pack, and as we get older we all need one that is suited to our exact needs. That is really difficult with a hire pack. Stan our guide was amazing at fitting the packs but there were still people that had bruising or chaffing by the end. If you're 20 a pack that's not 100% suited to you might be OK but if you're 55, not so much.
While you do need dry bags, don't go too crazy splitting every little thing up into separate bags. That can add weight to your pack very quickly and they get really annoying. Take one small one to wash your socks and smalls though.
Really think about taking the scroggin! If you do a group hike with either Intrepid or direct through Tasmanian hikes, you will be offered scroggin as part of your day to day snacks. This is weird I know but I felt like I should take the scroggin (it had been prepared for us after all) but it was a mistake. I reckon that damn scrogging weighed 500grams and I don't eat nuts! I love nuts but they are very mean to me so I ended up giving the scroggin away at the 3rd hut. I wished I'd never taken the damn stuff at all!
So there you have it. Everything you need to know to hike the Overland Track. Let me know if I've forgotten anything and of course ask any questions in the comment section below.
Looking for more info on what to do in the area? Carryn from TornTackies has a great post on 12 things to do around Cradle Mountain that is worth checking out.
---